Ebike News: US E-bikes Outstrip E-cars, Launches from Santa Cruz and Honbike and Lots More!
The UN Climate Conference Change (COP26) held in Glasgow, Scotland at the end of 2021 focused almost entirely on electric cars as the transport part of the equation in figuring out how to head off climate change. However, news reported by Bloomberg recently suggests there is another (and easier and better) solution.
Yes, you guessed it, e-bikes. Hundreds of thousands of Americans also put two and two together over the course of 2021 and bought e-bikes in record breaking numbers (or least it's a fair assumption that's what they did if e-bike import figures are anything to go by). Indeed e-bike imports in 2021 outpaced electric car sales (that's electric cars of any kind, hybrid variants and pure battery) – and by some margin. Clearly all these purchasers get it – e-bikes are good not only for the planet but good for your pocket and good for your health. A win, win, win situation.
In this week's e-bike news:
E-bikes accelerating away from electric cars in the US

Santa Cruz Heckler emtb gets bigger battery for 2022

Japan's shaft-driven Honbike gets ready to roll out across the globe

New city e-bike race series looks to launch in Dubai in late 2022

Pedego highlights how e-bikes help those recovering from serious health problems

A new warning noise standard for e-scooters?

In other news; Tektro's e-bike drivetrain, US cycle cities and Passpixi safety aid
E-BIKES WERE THE BEST SELLING ELECTRIC VEHICLES IN THE US IN 2021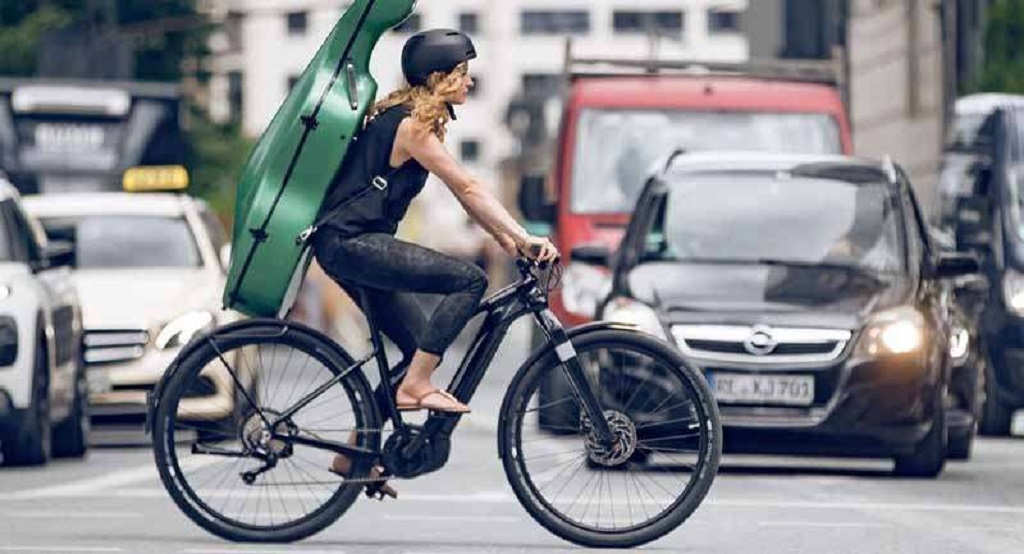 Bloomberg reports that 'The U.S. imported nearly 790,000 electric two-wheelers in 2021 according to LEVA's estimate, up from 463,000 in 2020. While not a sales figure, LEVA's tally is a useful proxy for the state of the U.S. e-bike market. The trade group's research suggests that e-bikes are the best-selling EVs in the country. Americans bought 652,000 electric cars in 2021, including plug-in hybrids, according to data from BloombergNEF.'
The article also notes 'As the U.S. climbs toward 1 million in annual e-bike sales, it still lags far behind Europe and Asia, where annual sales are about 3 million and 35 million respectively, according to Benjamin's estimates' (Ed Benjamin is founder and chairman of LEVA, whose figures Bloomberg is reporting).
SANTA CRUZ REWORK THEIR HIGH END HECKLER EMTB FOR 2022
California-based mtb specialists Santa Cruz have just released details of their 2022, carbon-framed Heckler e-mtb range. The 2022 Heckler range now has a bigger 720Wh Darfon battery (up from 504Wh in 2021) that powers Shimano's top-of-the-range EP8 mid drive (apparently Shimano's excellent battery guarantee still applies, even though it's a third party battery).
Other changes include two wheel size options (the MX option is a so-called mullet design with a smaller 27.5" wheel at the front only, whilst there is also a 29" wheeled option). The 2022 version also gets more suspension travel and alterable geometry through use of a 'flip chip' (meaning you can make small changes to the head tube angle and bottom bracket height).
INNOVATIVE JAPANESE SHAFT DRIVE FOLDER COMING TO EUROPE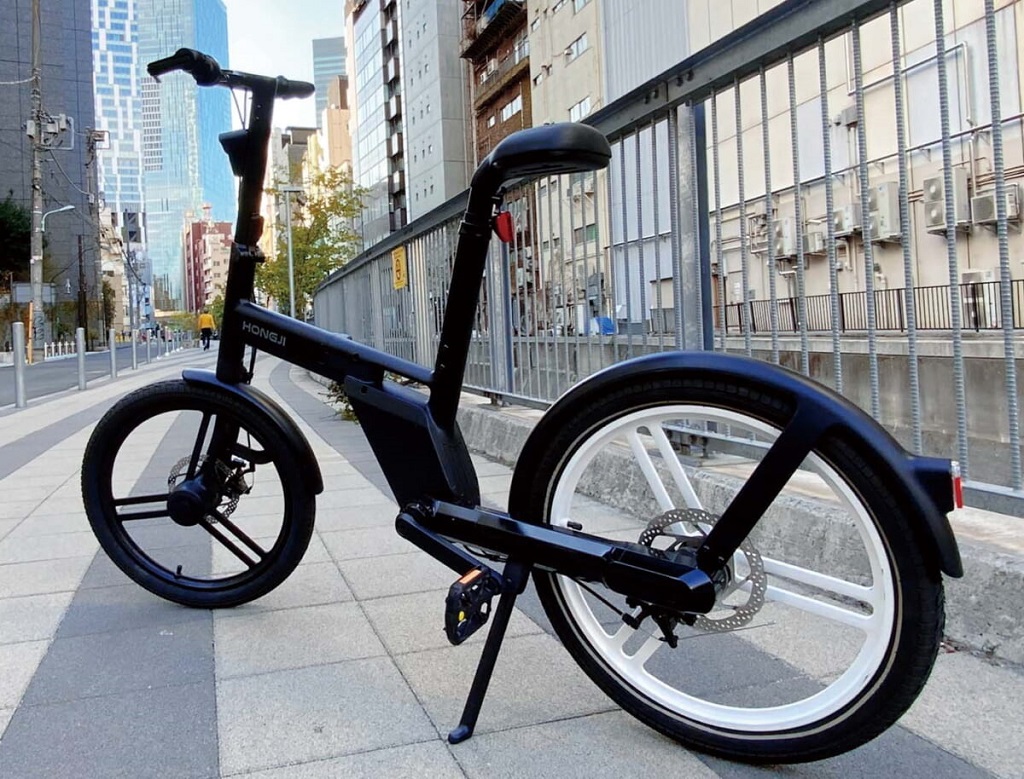 This Autoevolution report tells us that 'developed in Japan, the Honbike Pro electric bike is now getting ready to hit the global market, encouraged by the multiple design awards won and the high sales figures.'
An Indiegogo campaign is set to launch on 25th Feb and the RRP of $2,100 will have a 50% reduction for backers.
The shaft drive on this funky looking electric folder has the advantage of being completely enclosed but no doubt adds to the considerable 44lb / 20kg plus weight of the bike. Like the well-regarded Gocycle, the Honbike has single sided forks and a small front hub motor plus a small 230Wh battery.
An almost identical looking product appeared last year under the Igogomi brand but they now appear to be producing Brompton clones….
FORMULA-E RACING…..BUT ON E-BIKES

It's down to car website Autocar to get a scoop on what it describes as 'The first dedicated global electric bike racing championship' and apparently it 'will be launched this year and the organisers of the new E-Bike Grand Prix Racing (EBK) series are aiming for it to become a pedal-powered equivalent to the Formula E World Championship, with frenetic races held on feature-packed city centre courses.'
Autocar adds more detail, 'The inaugural EBK season is set to include 10 one-hour criterium-style races, each of which will take place on closed public roads within major cities, starting in Dubai.
There will be ten teams each required to enter both a female and male team. Apparently standard spec e-bikes will be used and Swiss manufacturer BMC has been given a contract to provide those, but no further details of what they will look like has been issued.
PEDEGO HIGHLIGHTS E-BIKE'S ROLE AS RECOVERY TOOL
Pedego have recently been in touch to highlight how 'electric bikes are being used as a rehabbing device for injuries or chronic physical illness such as Parkinson's, MS and spinal and muscular diseases.'
They add 'Ongoing studies suggest and support neuroplasticity is produced with aerobic exercise and high-rep exercise. The production of neuroplasticity in your brain is used to stimulate healing and rewiring, at any age. The electric bike can be relied on by anyone since the pedal rate and duration is up to the rider, and the repetition with each ride stimulates neuroplasticity.'
Pedego quote a study in Science Daily which says 'Cardiorespiratory exercise — walking briskly, running, biking and just about any other exercise that gets your heart pumping — is good for your body, but can it also slow cognitive changes in your brain?'
In fact, the SD report states 'The researchers found that increases in peak oxygen uptake were strongly associated with increased grey matter volume.'
Pedego also give several real life examples of their e-bikes helping those on the road to recovery – for example, the picture above shows Mary Cushing from Baltimore using her "Equalizer" Pedego to recover and build back strength from a prior heart transplant.
WHAT'S THAT NOISE?…..JUST A LONDON E-SCOOTER
According to the UK's Guardian, 'E-scooters could all be given the same distinctive artificial sound to warn people when they are approaching, after engineers and rival operators announced a joint research project to identify the best noise for them to make.'
The idea is to enhance the safety of e-scooters as the sound 'would help alert other road users, particularly people with sight loss.'
University College London's laboratories will be working with e-scooter trial operators Lime, Dott and Tier to identify a sound 'sufficiently distinctive and audible to alert those with sight loss, while not creating further difficulty for those with hearing loss and neurodiverse conditions.
Trials of legal rental e-scooter schemes continue across the UK (private e-scooters are illegal to use in public), with the government still giving no indication of its long-term decision over the vehicle's future.
IN OTHER NEWS
Pinkbike reports that 'Tektro announced today that it has created a nine-speed drivetrain system for e-bikes that is meant to be as beginner-friendly as possible. The ED9 groupset consists of the E-Drive rear derailleur, a corresponding nine-speed shift lever, and a cassette that uses a cluster of replaceable sprockets for the three smallest cogs to improve serviceability and lower maintenance costs.'
Bloomberg reports on five US cities where cycle use is booming. Despite just 0.5% of U.S. commuters riding a bike to work in 2019 the article highlights the positive efforts made by Boston; Chicago; Austin, Texas; Oakland, California; and Missoula, Montana — cities of diverse size and geography where bike commute shares are more than twice the national average and have increased over the last decade.
In last week's news we reported on the fact a new Highway Code for UK road users put more emphasis on cyclist safety and in particular the 'Dutch Reach' aimed at stopping car drivers inadvertently 'dooring' passing cyclists.
This recent BBC article takes a wider look at cyclists' safety on UK roads in the light of the new code and asks what will it really take to change bad driving habits that endanger cyclists. Interestingly one idea is that from Passpixi – a highly visible camera sign that attaches to your bike, clothing or pannier to tell passing motorists they are being filmed (whether they are or not…).
And finally news of a massive deal from Cycling Industry News that sees a staggering €1.56 billion buyout of the enormous European Accell Group (who own prime e-bike brands such as Haibike and Raleigh amongst many others) by investment firm KKR and Teslin Alpine Acquisition.