eBike News: Specialized eRoad, Titanium eCommuter, Autonomous eCargo, Ride Ideas, eTrikes in Use, & More! [VIDEOS]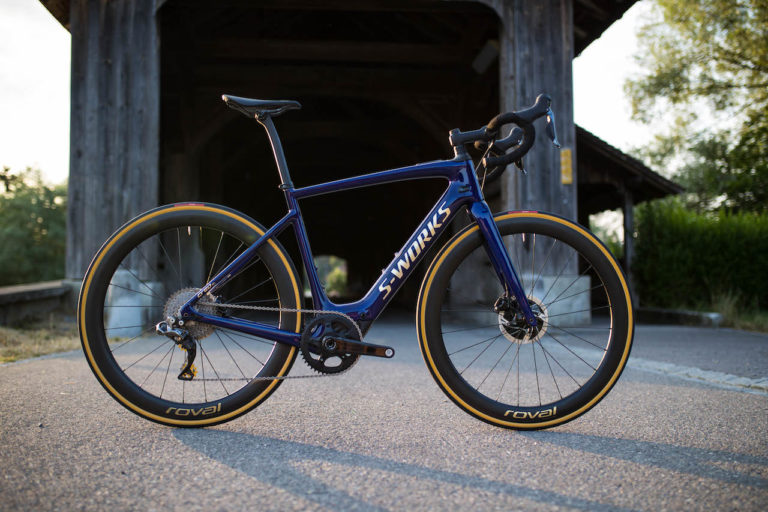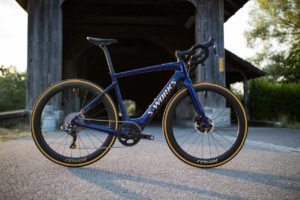 In this week's eBike news roundup:
New eRoad Bikes from Specialized & Forme
Wattwagons' Titanium eCommuter
Autonomous eCargo Deliveries
Riding Red Rock Canyon
RadBurro eCargo Trikes in Use
Paris Focuses More on 2 Wheels
Utrecht's Amazing Bike Infrastructure
And Much More!
New eBikes & eBike Systems
New Specialized E-road Bike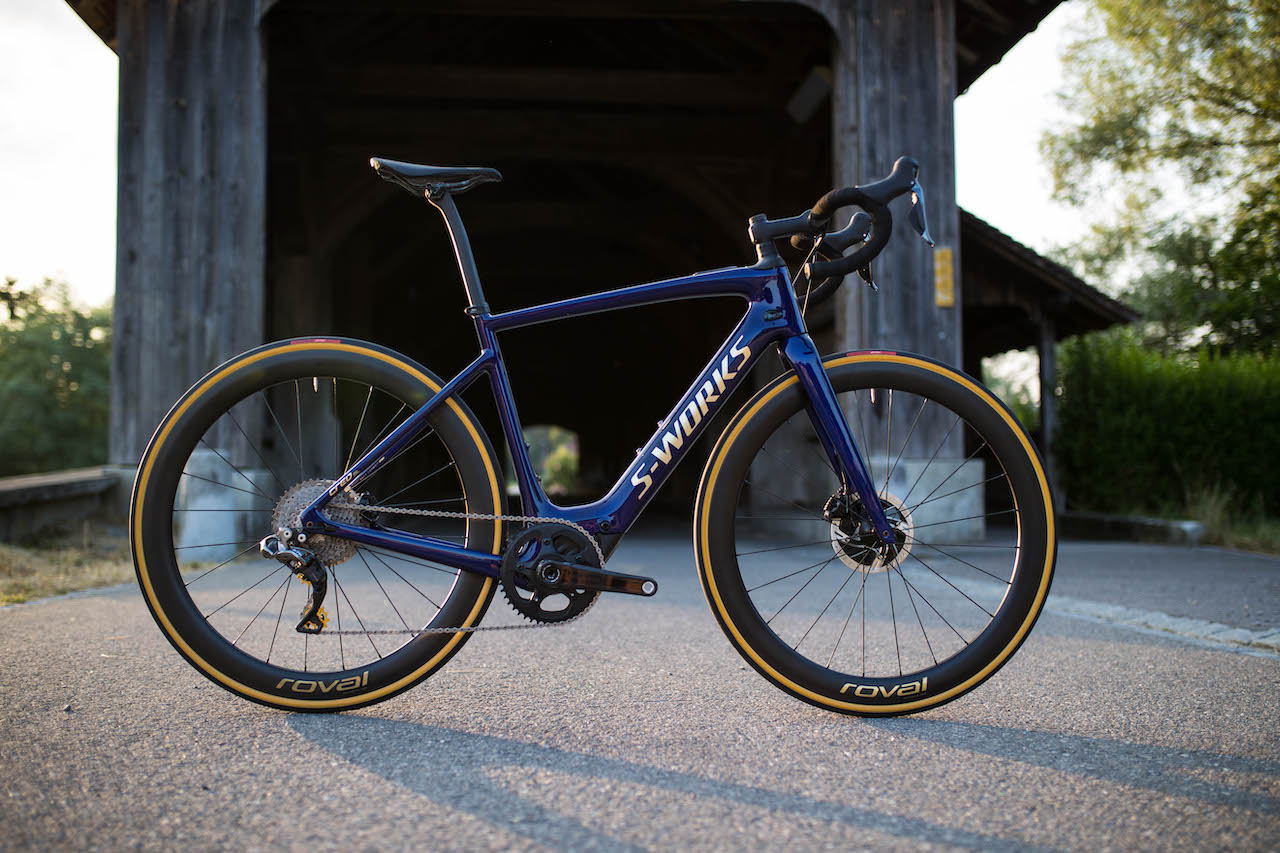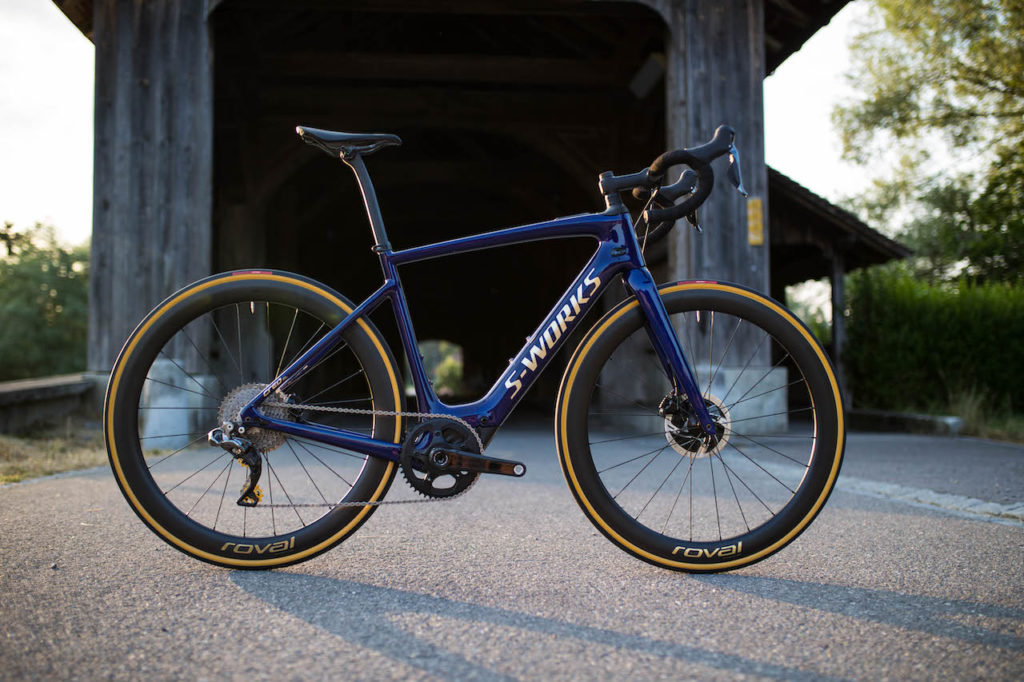 Specialized have announced the very lightweight Turbo Creo SL e-road bike. With a claimed weight of 26.2 to 29.3 pounds (11.9-13.3kg) (depending on spec), Specialized assure us that the bike is 'setting a new standard in the e-bike industry for light weight, power delivery, range and connectivity.'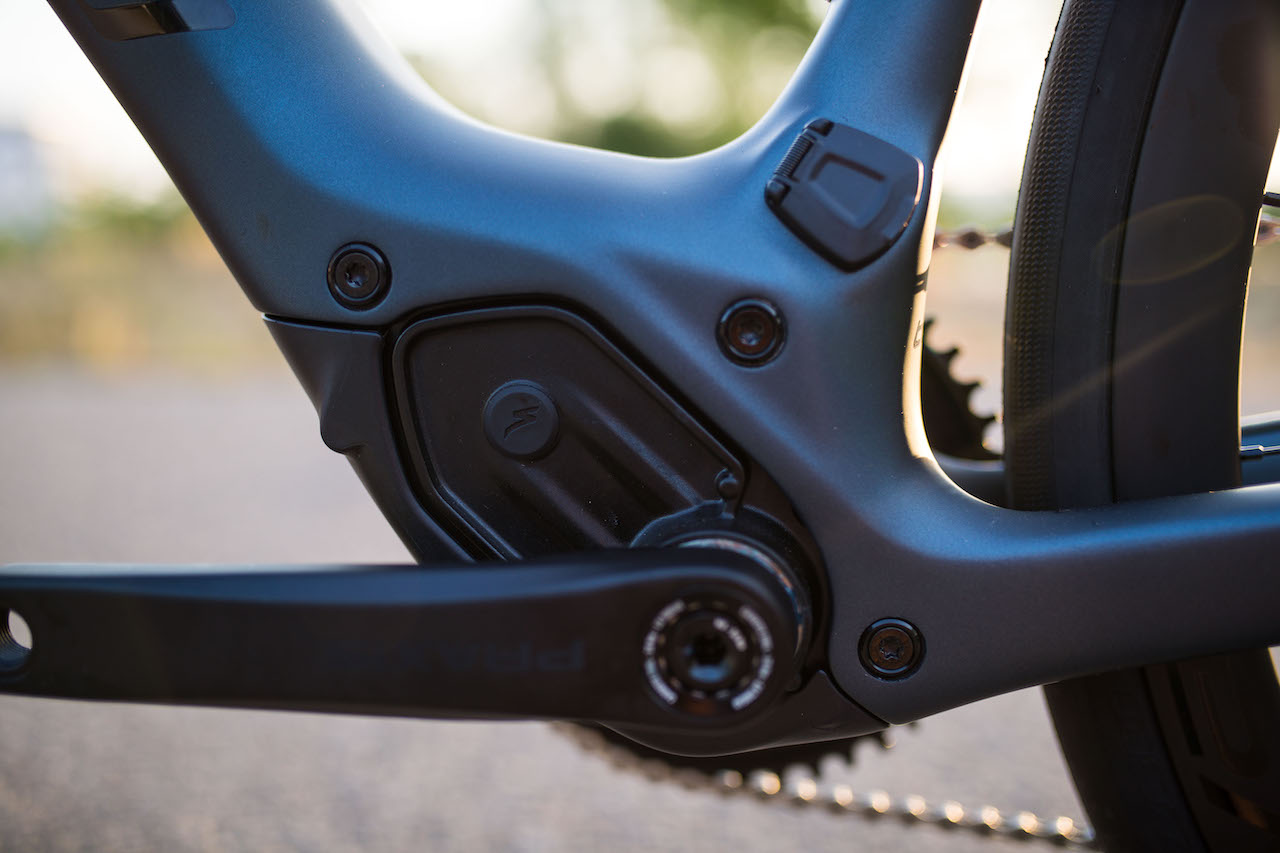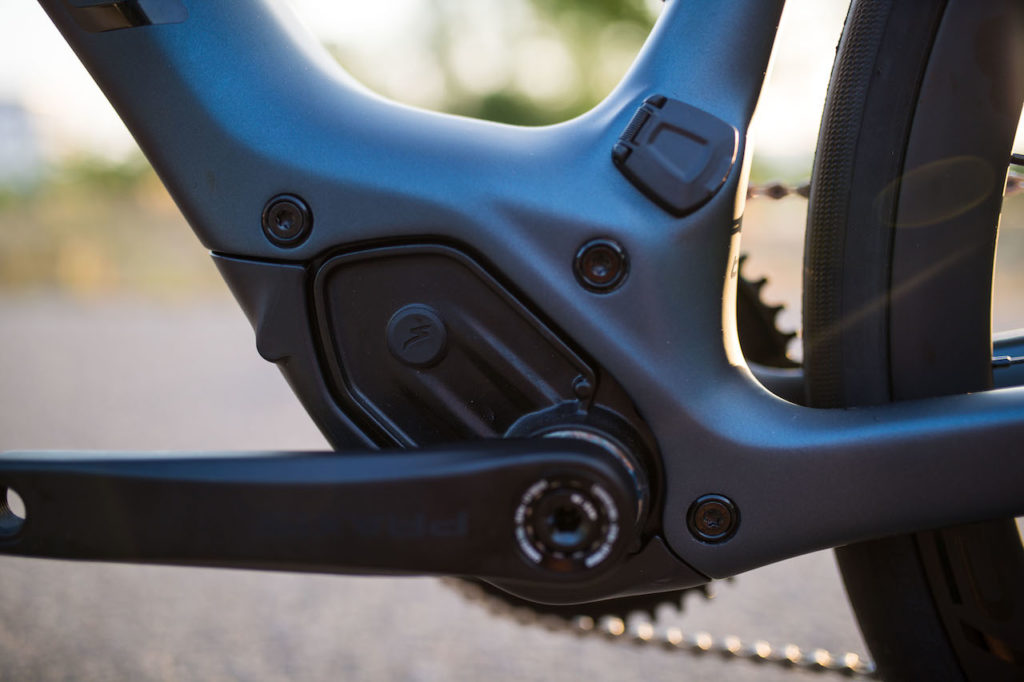 They add 'Specialized's California team collaborated with their Swiss e-bike engineering team to create a light and lively carbon fiber road bike, and an entirely new motor and battery system called the SL 1.1. Designed in California and engineered in Switzerland.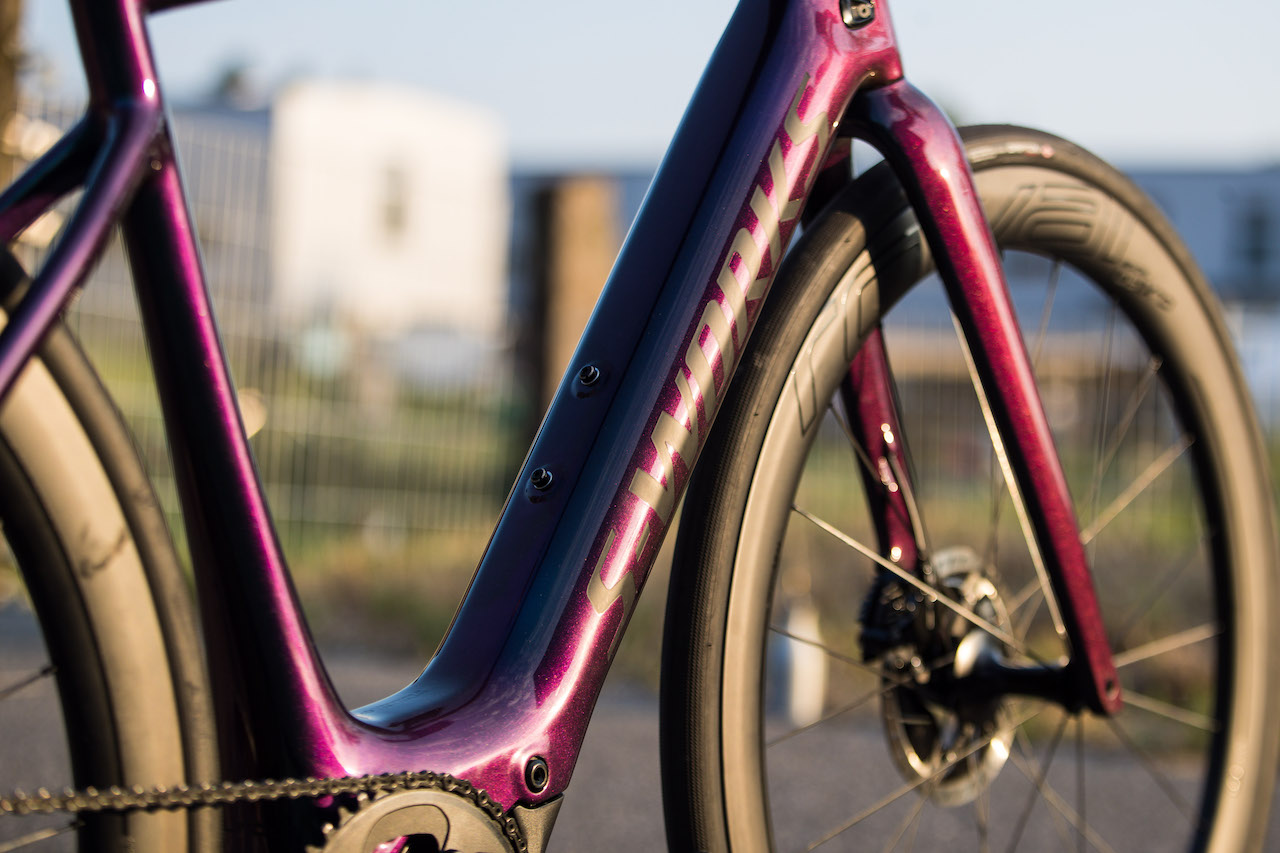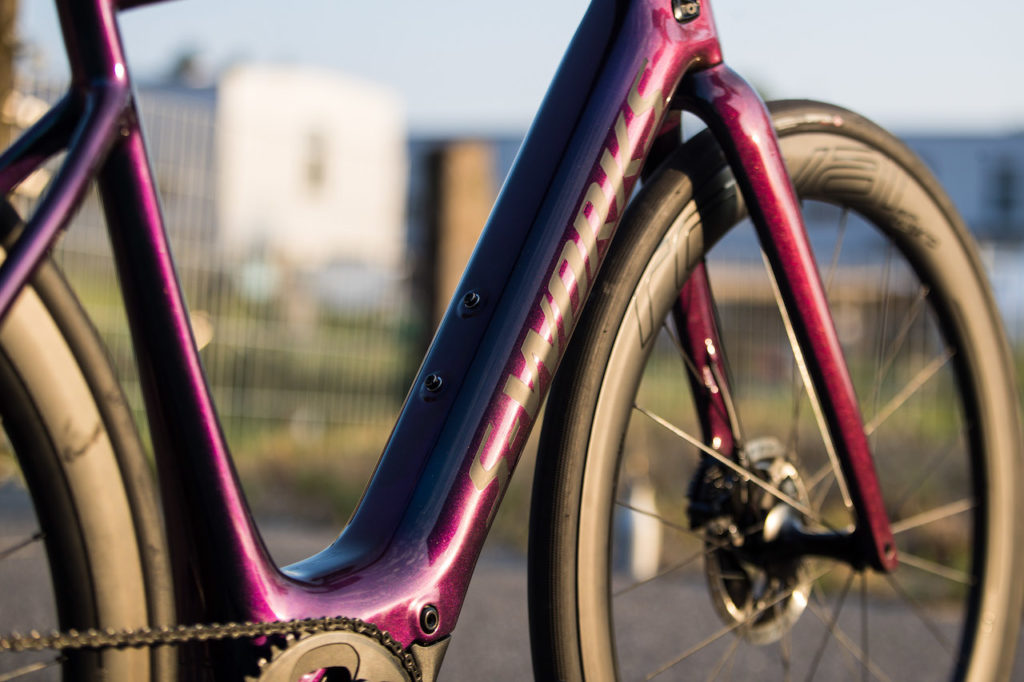 The Turbo Creo SL claims 195 km / 120 miles 'real-world range' – 130 km / 80 miles comes from the 320Wh internal battery located in the down tube and another 65 km / 40 miles from an optional 160Wh range extender.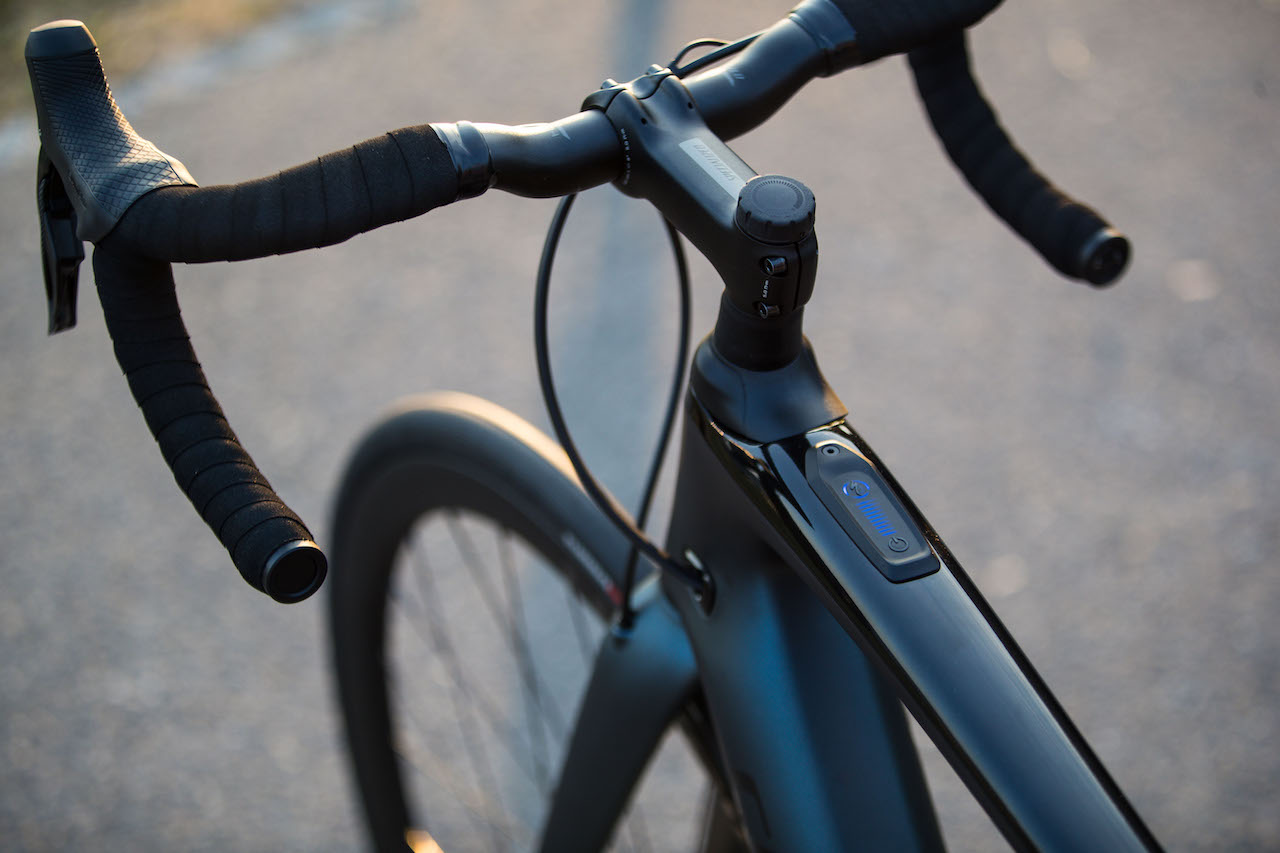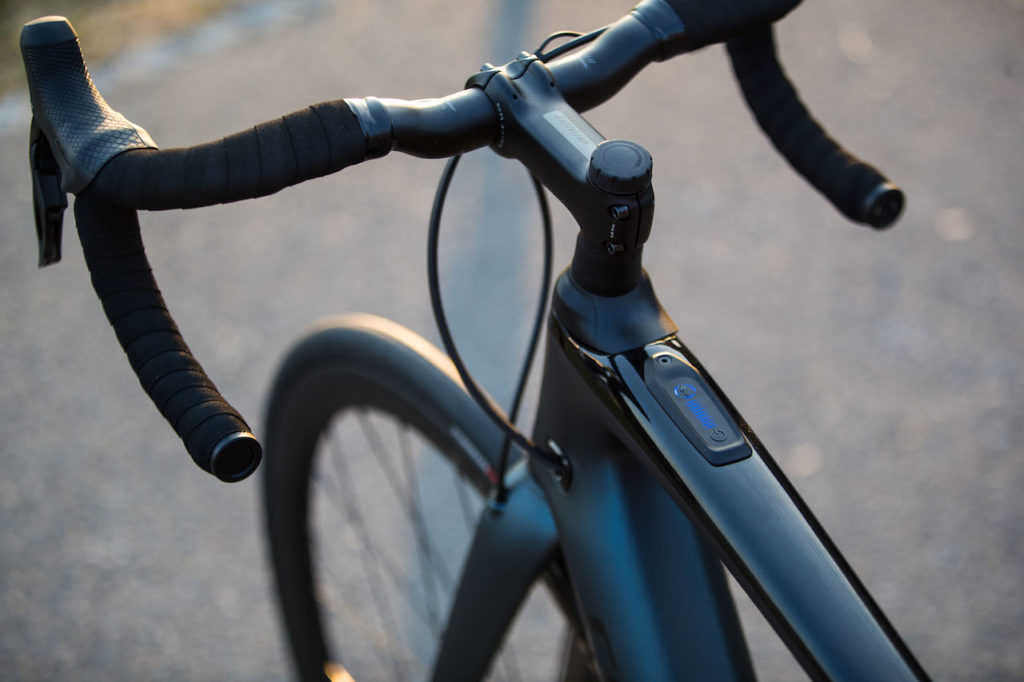 The high-tech stakes are raised even further with the Mission Control App. Specialized detail it's abilities; 'The bike has three riding modes – ECO, SPORT and TURBO….The app can also be used to manage the battery life automatically, by telling the Smart Control feature how long or how far the ride will approximately be. The Mission Control will calculate and ensure that the battery will last the entire ride. The SL1.1 motor also has integrated ANT+, a multicast wireless sensor network technology that connects to your power meter which tracks rider power.'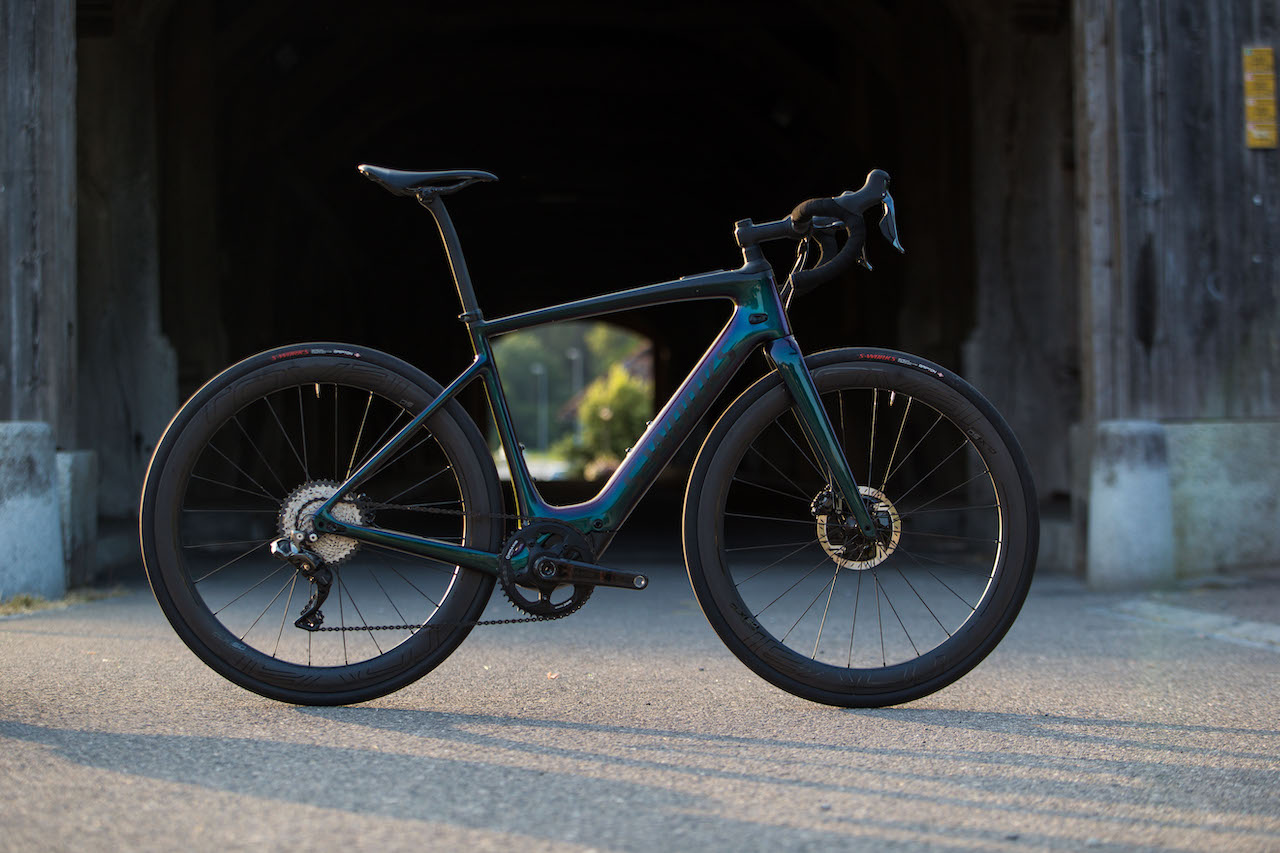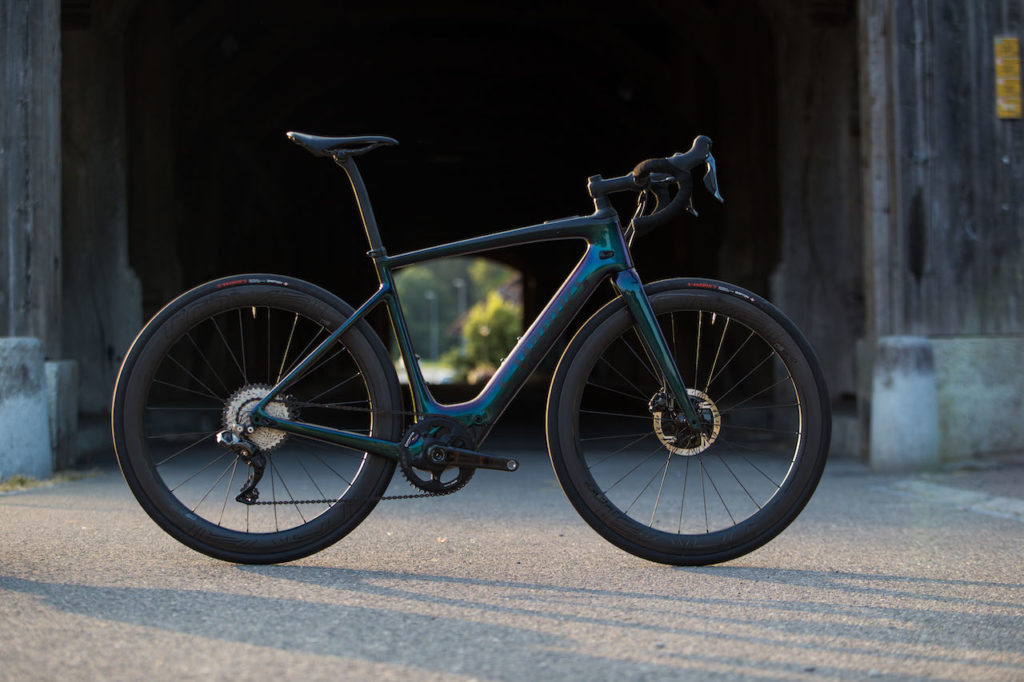 True to Specialized style here is a fun video with famous racing commentator Phil Ligget:
Price details of the variants on offer are:
S-Works Turbo Creo SL pinnacle build €12.499,90 /£10.500/ $14,000
Turbo Creo SL Expert EVO model has larger tires and other components for control in gravel
€ 8.499,90 /£7.500/ $9,000
Turbo Creo SL Expert has a carbon chassis and Future Shock 2.0 dampers
€8.499,90 /£7.500/ $9,000
S-Works Turbo Creo SL Founder's Edition has an 'incredible build' at 11.9kg. The very exclusive bike will be available for pre-order on launch day. Only 250 Creo SL Founder's Edition will ever be made and will each be individually numbered.
€14.000 /£13.499/ $17,000
Forme Thorpe-E eRoad Bike
UK-based Forme have launched the Thorpe-E, an electric road bike that uses the lightweight removable mid-drive system from Fazua.
Forme's website says of the Fazua system 'The combined weight of motor, battery and gearbox is only 4.6kg distributed across the lower, central area of the bike with perfect integration into the frame. The 4 power levels offer up to 400W of assistance, combined with 2 chain rings for a wider gear range' adding 'Once over the top of the climb and on the descent or sprinting accelerating over 15mph the drive unit and freewheel disengage seamlessly maintaining the comfort, steering and confidence expected from a carbon, endurance road bike.
Once over the top of the climb and on the descent or sprinting accelerating over 15mph the drive unit and freewheel disengage seamlessly maintaining the comfort, steering and confidence expected from a carbon, endurance road bike.'
The spec looks high quality as you would expect of a £4000 e-road bike, with 12mm thru-axles, carbon fork and Shimano Ultrega 8020 drive system.
Wattwagons 'Automotive Grade' E-bike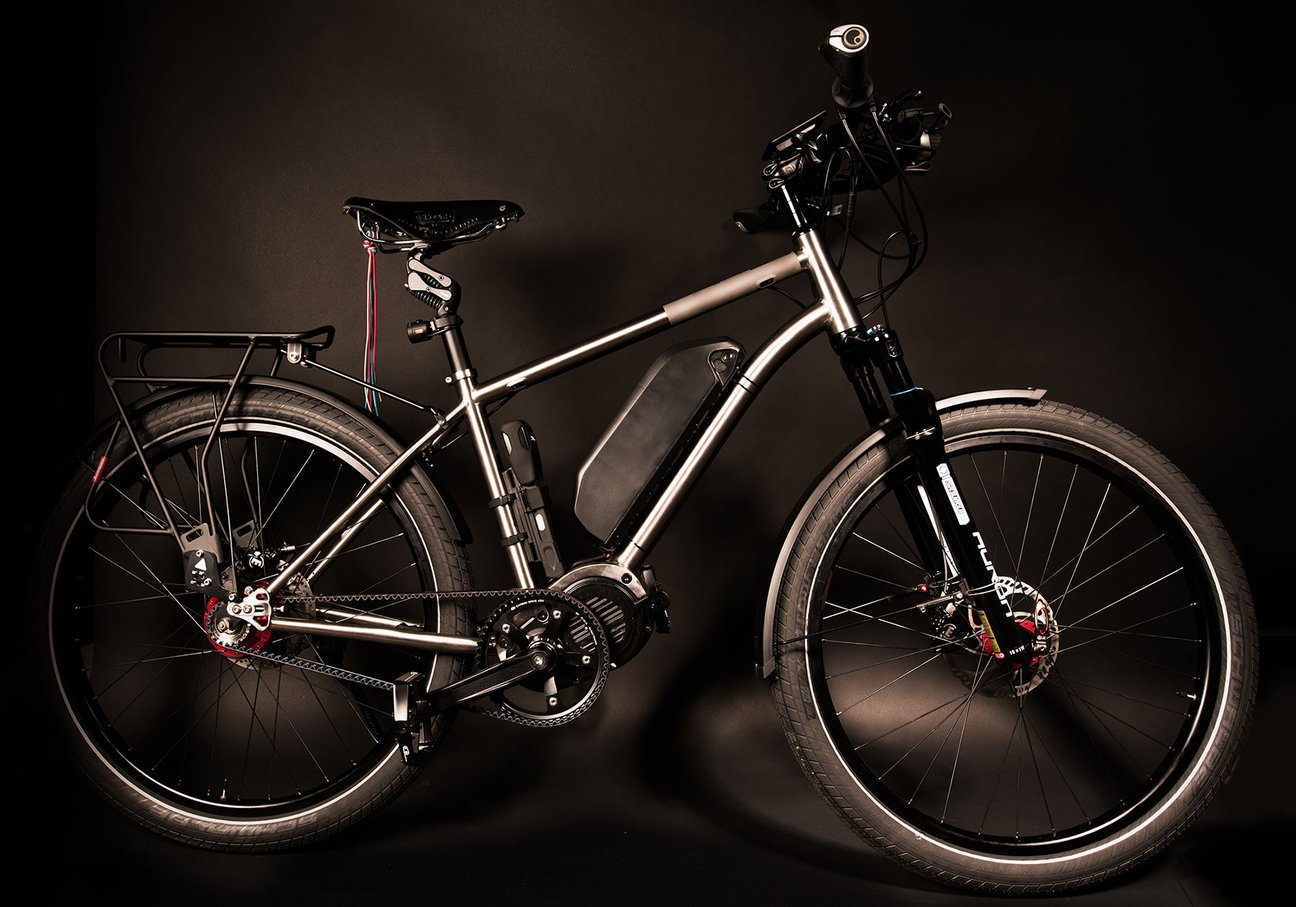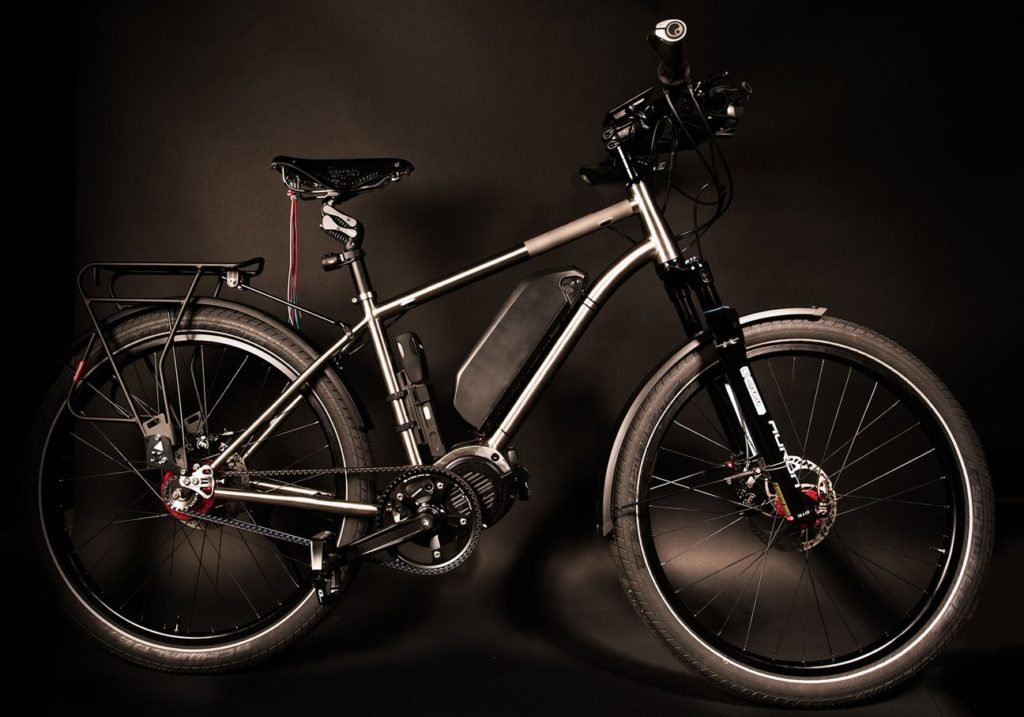 Wattwagons have recently released what they declare to be an 'automotive grade' e-bike – in other words pretty tough.
Their Ultimate Commuter Pro is a titanium speed pedelec (28mph assisted top speed) powered by a 'custom tuned', 750W, Bafang Ultra torque sensing motor claiming 160Nm of torque, and 52V 17Ah lithium battery.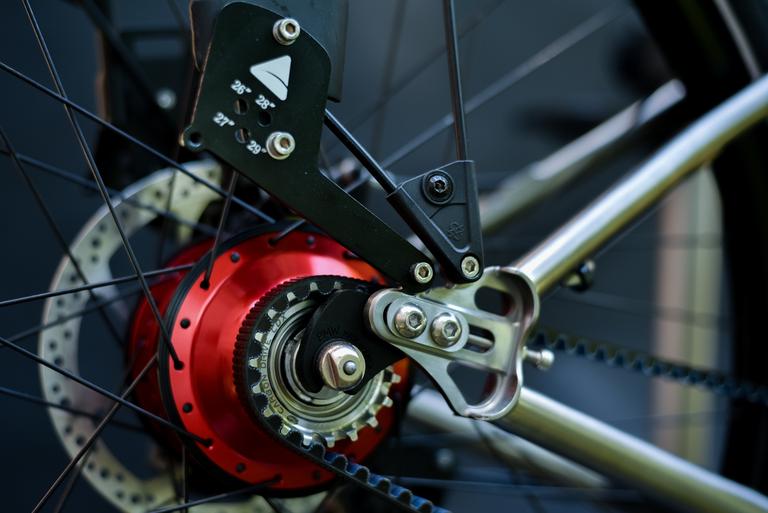 The impressively strong looking stats continue; Gates Carbon Drive Belt, Rohloff internally geared rear hub, rated to carry a 300lb (136kg) rider and with a 100 pound 45kg rated rear rack. The titanium frame is available in four sizes.
Price in the US with free shipping is US $6,299.
The low maintenance aspect of the bike is stressed in the following video – the Ultimate Commuter Pro is designed for virtually maintenance free commuting of 2,000 miles a year.
https://www.youtube.com/watch?time_continue=11&v=OUro54KUvck
REV-1 – The Driverless Vehicle for Bike Lanes
REV-1 from Refraction AI is a driverless vehicle with a difference; not only is it aimed at last mile delivery, it can operate in bike lanes too say its designers, as it can operate under e-bike regulations.
They also say the REV-1's balanced size and weight and very short stopping distance make it one of the safest vehicles out there.
Get Inspired
Ride Red Rock Canyon with Red E-bikes
Allison Messmore and her husband John opened Red E Bike in 2013 and have been riding the canyon's Scenic Loop ever since.
Their e-bike tour starts at the visitors center, and is a three-hour, 17-mile ride. If you're visiting, Messmore will pick you up from your hotel.
There are four stops along the way, where Messmore will teach riders about the wildlife in the canyon, but also about the history of the area.
Red E Bike recently made TripAdvisor's 2019 top 10 experiences in the U.S. coming in at number 2. They also won in the "Top 5 Experiences — World" category.
Here is more on riding Red Rock Canyon.
RadBurro in Action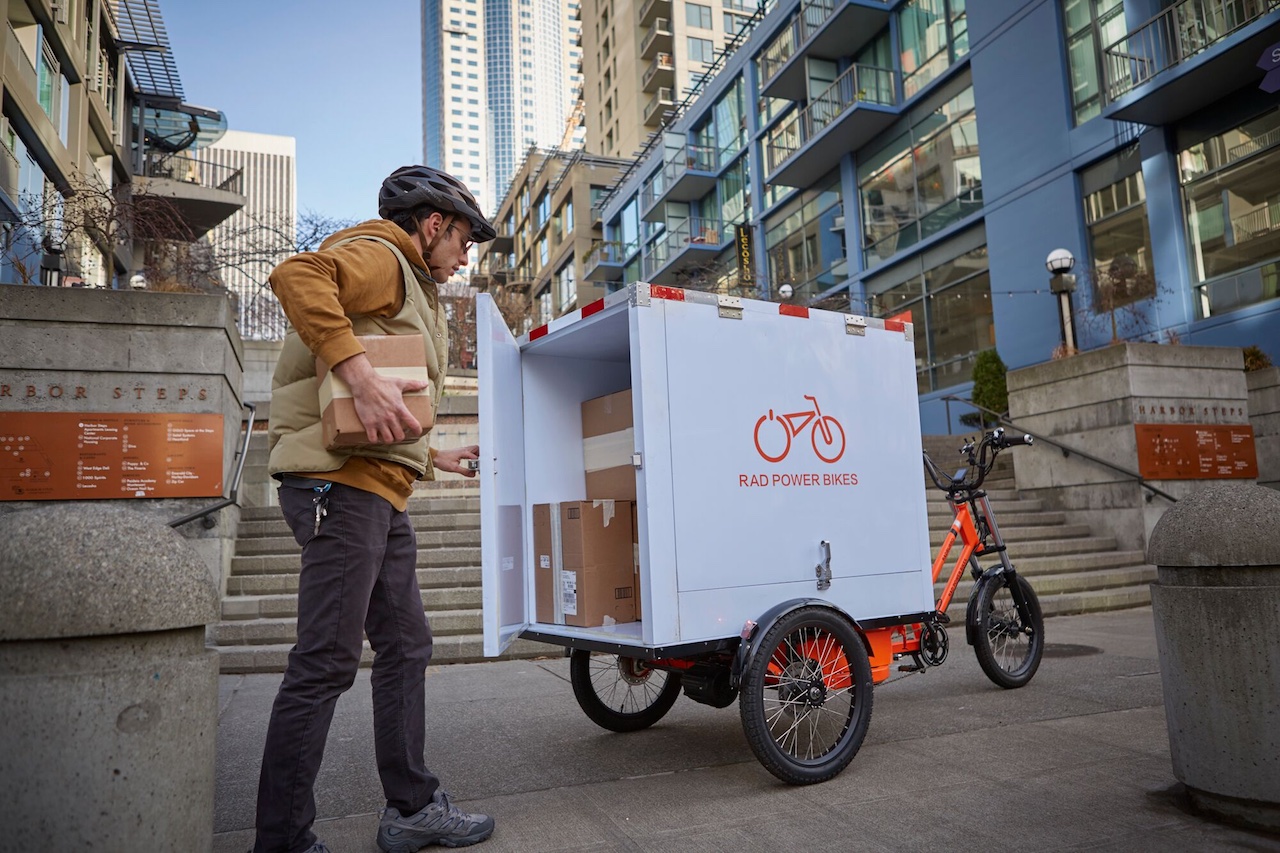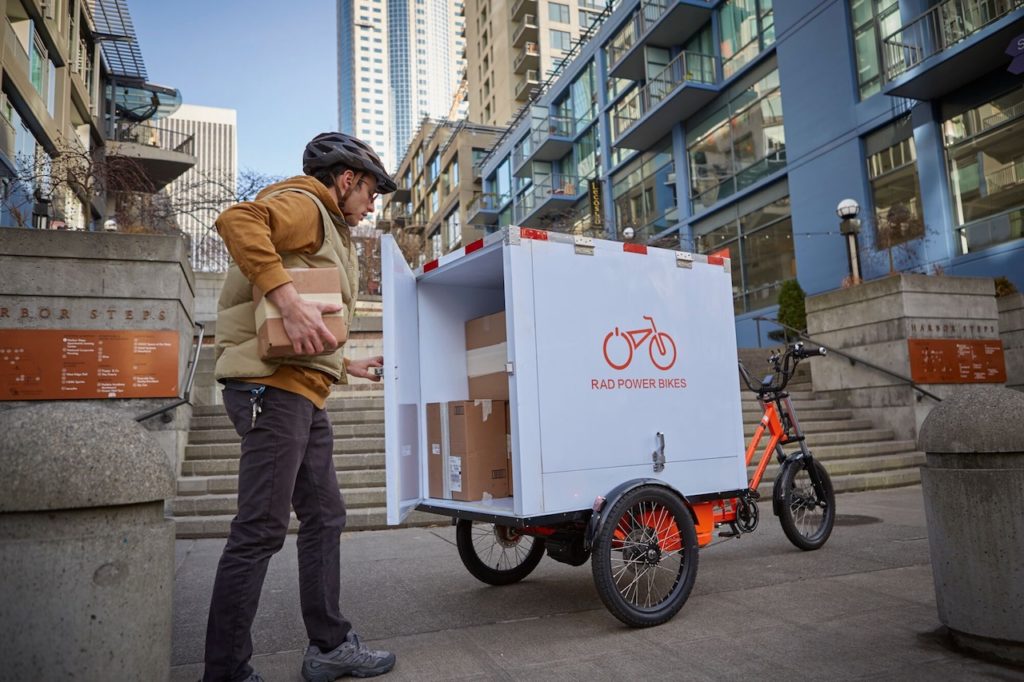 We have featured the Rad Power Bikes Rad Burro previously but here's a couple of great examples of it in use:
Seattle's Woodland Park Zoo uses the RadBurro for its facilities maintenance.
And organic food delivery by eCargo:
Infrastruture
Utrecht Biking Levels Forging Ahead
Utrecht is the fourth-largest and fastest-growing city in the Netherlands, where average daily bike trips number 125,000.
It sounds an amazing place; the central bike parking station is being enlarged from 8,000 places to 12,500 places whilst the city spends an average of $55 million annually to build and improve bike facilities.
Check out more details here and see the video above.
ELVITEN Project Rolls Showcases E-bikes Across Europe
Rad Power have been in touch to say that 'Nearly 200 electric bikes from Rad Power Bikes are being deployed in European cities through ELVITEN, a project demonstrating how electric light vehicles (EL-Vs) can improve mobility for urban travel and deliveries. ELVITEN, part of the European Union's Horizon 2020 program, is present in six cities (Malaga, Spain; Rome, Bari, and Genoa, Italy; Berlin, Germany; Trikala, Greece), each providing various forms of two, three, and four wheeled EL-Vs to select users. Rad Power Bikes' flagship model, the RadRhino Electric Fat Bike, was chosen as a solution to the infrastructure and transportation challenges facing Malaga, Rome, and Bari. Over the next three years, the projects will showcase the ease and advantages of implementing EL-Vs while collecting rider data to inform future ebike programs and sustainable transportation initiatives in Europe.'
Micromobility
New Standards for New Micromobility
Electrive reports that 'newly founded Technical Committee of the international electrotechnical standardisation organisation IEC will develop uniform standards for electric pedal scooters, monowheels and electric kick scooters starting in autumn this year.
According to communication notice from the Austrian Association for Electrical Engineering (OVE), the result should be uniform international requirements for manufacturers and users. This is not only about the safety and reliability of vehicles, charging stations and rechargeable batteries, but also about recycling.
Paris at the Crossroads
This interesting article details the efforts of Paris to rid itself of its infamous traffic jams, its latest car busting trend of course being share e-kickscooters from the likes of Lime and several other companies.
However, as the article points out, there is still quite a long way to go, with 15 million car trips made daily in the Paris region as against 10 million by public transport. As one traffic engineer quoted in the article points out, those using the newer means of transport are those who used to use the metro underground rail system.
It seems more bike lanes and more car curbs are needed to continue the rising popularity of public bike share schemes like Velib (which includes e-bikes) and, with 600 miles of bike lanes planned to be completed by 2020, Paris looks to headed in the right direction.
Industry News
Stefy Bau, former professional motocross women champion and established expert leader in the motorsport and bicycle business industry is pleased to announce her newly created Sport Management Agency, Init Sports.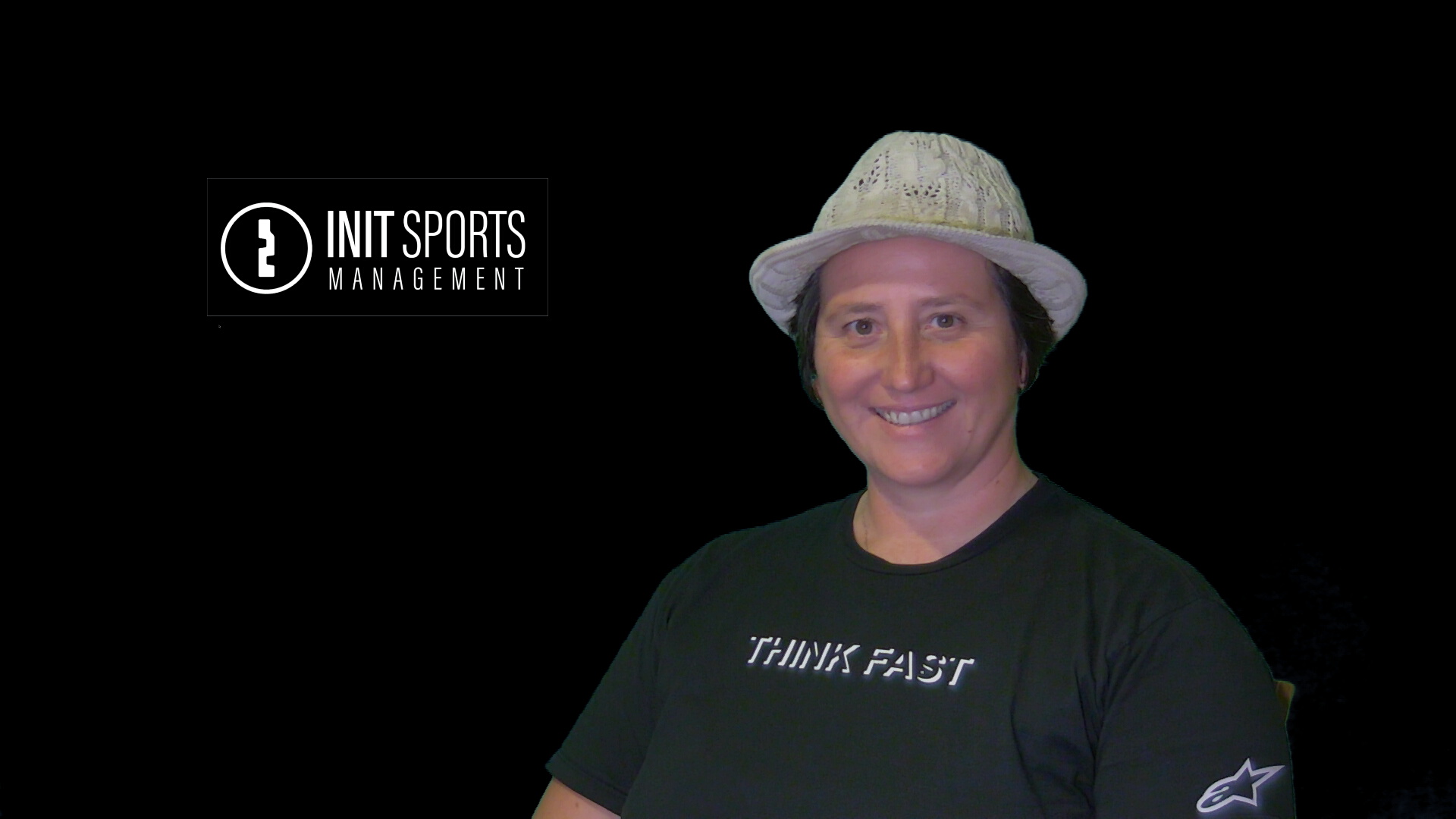 Stefy Bau: " After 3 very successful years as CEO of a leader ebike company in the US, it was time for me to expand my network and bring my knowledge and expertise to the services of the entire community that I love so much. With my background in the motorcycle and ebikes industry I have positioned myself as a link between the 2 markets. We are living in some exciting times and I am happy to be a resource and an asset for Companies and Athletes that want to grow. Since the word has been out, I've been receiving calls, which makes me happy. I look forward to turn INIT SPORTS into a point of reference for athletes and companies with a vision and passion. Our focus is going to be on MOTOGP, MXGP, SUPERCROSS and Ebikes, but we are inclusive so, feel free to reach out and see if we are a good fit for you."
About Stefy Bau: Stefy is a former 3 times women motocross world champion turned entrepreneur. After a very successful racing career, Stefy opened 211 LLC, a business development company focused on the motorsports industry. The last 3 years she brought Fantic USA to success in the American market and now she is back running her own business with Init Sports. Stefy has more than 25 years experience in the Motorsports industry.
Stay tuned for more e-bike news and reviews and thanks for reading!
-Richard
P.S. Don't forget to join the Electric Bike Report community for updates from the electric bike world, plus ebike riding and maintenance tips!
Reader Interactions