eBike News: Santa Cruz eMTB, Trek eRoad, 3D Printed Steel, Business eCargo, Golden Gate eBiking & More! [VIDEOS]
In this week's roundup:
Santa Cruz Heckler eMTB
Trek's New 28 mph eRoad
Urwahn's 3D Printed eBike
M2S eFat Bike Upgrade
Babboe Business E-cargo bikes
Kinesis Adventure and Flat Bar
Electric Bike Company's New Rack System
Golden Gate eBiking
And much more!
New eBikes & eBike Systems
Santa Cruz Goes Electric
One of the most respected names in mountain biking have, finally, gone electric with the launch of their new Heckler model.
It uses a Shimano E8000 drive system in a carbon frame and has a 46.3 pound 21kg weight for the top end build. Prices start at US$7,399.
Take a closer look at what appears to be a carefully thought-through design here:
Trek's Super fast New E-road Bike
Trek describes their new Domane+ HP as 'a drop-bar electric road bike that makes longer, faster road rides possible. A carbon frame with IsoSpeed and a stable endurance geometry, a light and powerful Bosch drive system, and a sleek design with integrated lighting features make Domane+ the ideal ride for cyclists who want speed, all-road performance, and endless style.'
There is also a 500Wh battery, a powerful Bosch Performance Speed motor that assists up to 28 mph, a Bosch Kiox display, 1×11 drivetrain, hydraulic disc brakes, and a kickstand.
With all that high quality motor tech and a carbon frame it's perhaps no surprise prices start at US$6,999 with more expensive variants including features such as carbon wheels and electronic shifting.
One unusual aspect of the bike is the IsoSpeed frame stiffness adjustment feature:
Urwahn's 3D-printed Ebike
eBikes with 3D printed frames are still very rare but are now appearing on the market for sale (or at least preorder in this case). The latest example is the Platzhirsch from Germany's Urwahn.
The distinctive frame design is made from steel that is 3D printed meaning no weld joins.
The unusual rear frame is designed to give a more comfortable ride, taking advantage of steel's ability to move slightly under load, unlike aluminum which is generally pretty rigid.
The drive system is the increasingly common MAHLE rear wheel hub with a single control button on the top tube. Other neat features include a Gates Carbon belt drive and integrated lights.
Available for pre-order now with a discount of 500 euros (3,999 euros instead of 4,499 euros).
Upgraded E-fat Bike from M2S
North Carolina's M2S (Mountains to Sea) is launching an all new version of their bestselling All Terrain R750 model on Kickstarter.
It uses a 750W Bafang rear hub motor, a 614Wh battery (upgradeable to 768Wh) and 4.5″ fat tires as well as coming fully equipped with fenders, lights and rack.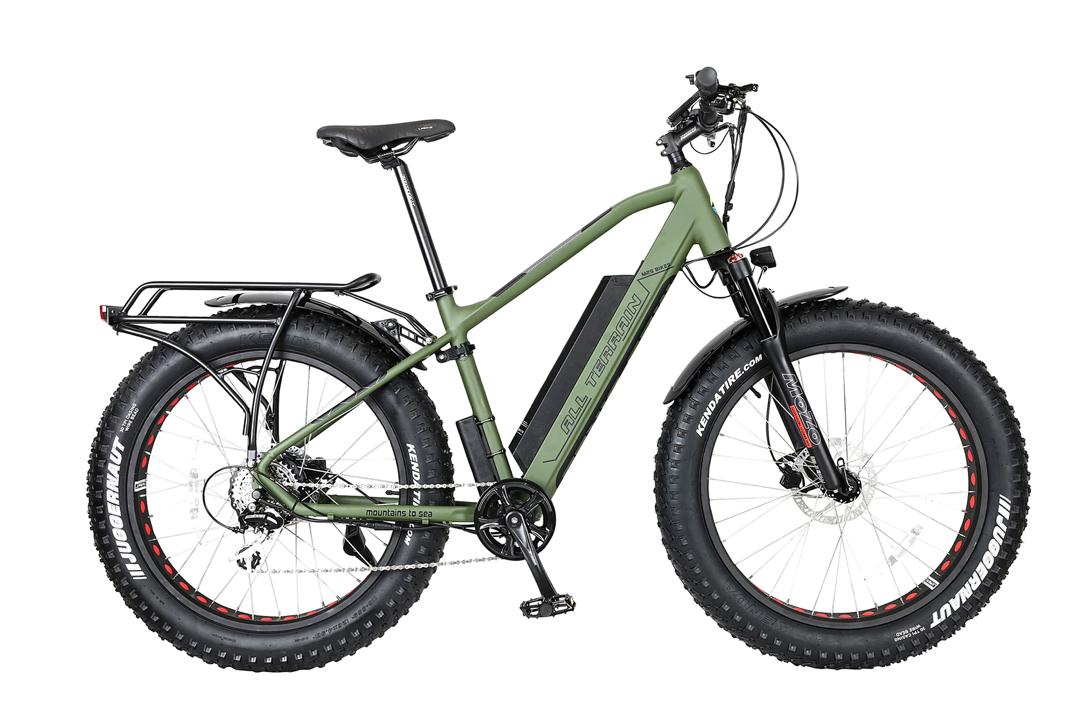 Key upgrades include air suspension fork with lockout, new tire options, multiple frame sizes, full color display with USB port, upgrade-able battery with expanded range for extra long rides, new frame design with increased strength and brushed weld finish and improved accessories with upgraded racks, fenders and lights.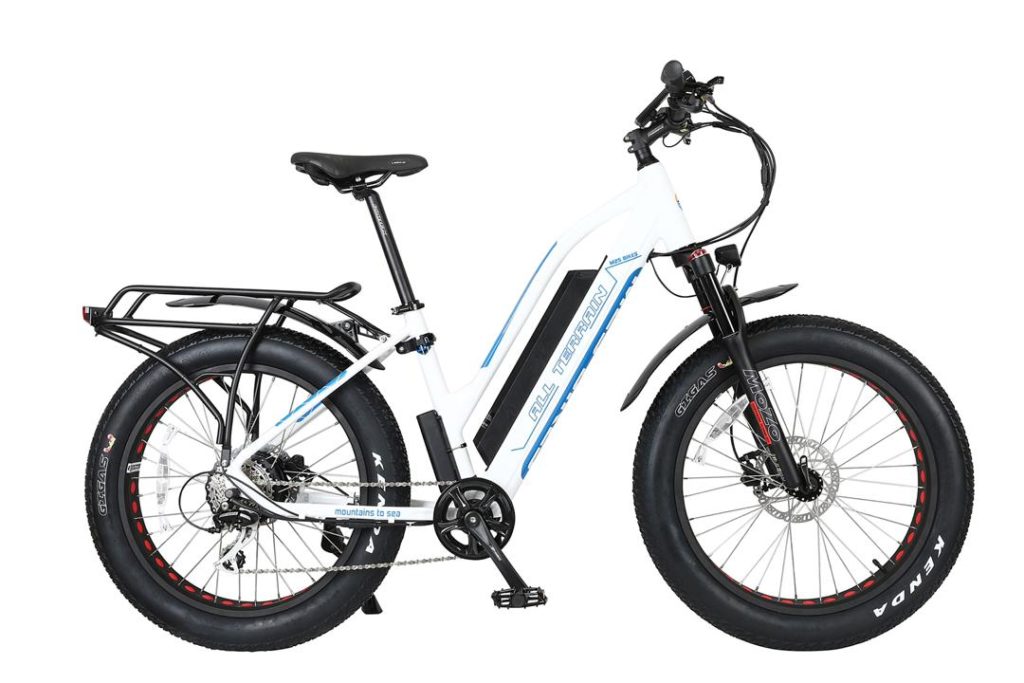 M2S are offering a US$299 deposit on Kickstarter with a remaining balance of $1000 and shipping is generally between US$75 and US$150 with estimated delivery May 2020.
Babboe Goes Pro
Up until now Dutch firm Babboe have been known for their family friendly range of very competitively priced cargo and e-cargo bikes.
They have recently launched the Pro series aimed at cargo loads rather than taking the smaller members of the family out and about.
The Pro range opens up their offering to businesses too with the ability to take 350 litres of cargo around.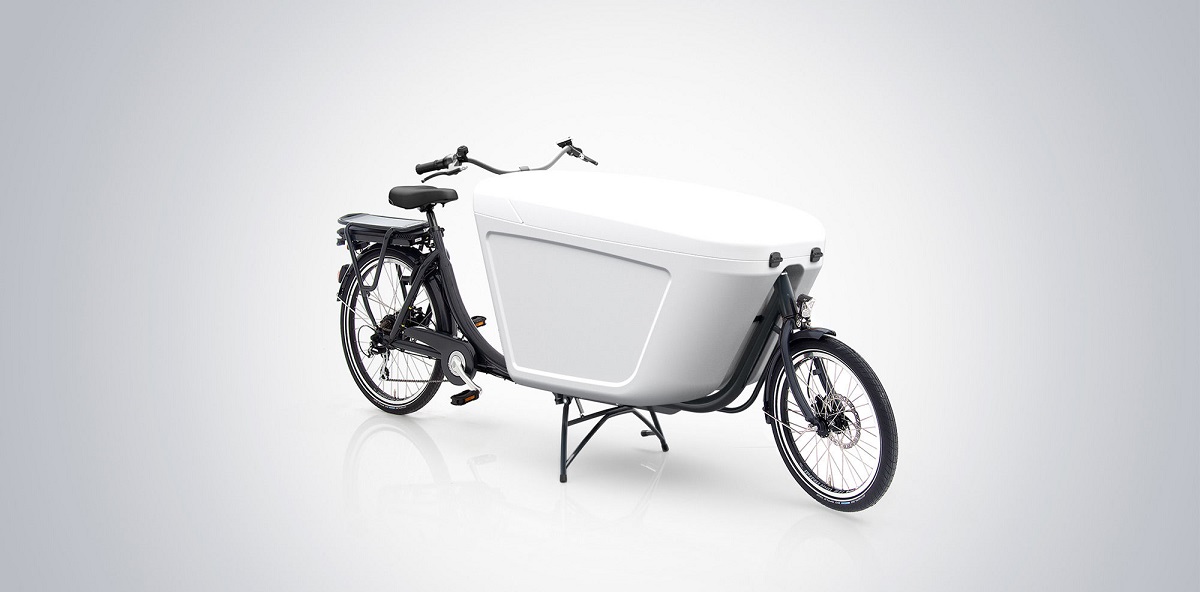 There are hub motor and mid motor variants (and non electric ones) with the choice of a flight case or composite boxes. Electric versions start at 4199 euros. They also offer a good value e-cargo trike at 2799 euros.
UK's Kinesis Launches New Range eBikes
UK based Kinesis have launched two new Range eBikes, a drop bar model called the Adventure and an eponymous Flat Bar model, both powered by the removable German designed, removable Fazua system.

Both models feature a full carbon Range fork with luggage mounting points, Fazua evation drive system with top tube remote, removable 252Wh battery and are rack and mudguard compatible. They retail at £3 and £3 respectively.
New Bike Accessories
California's Electric Bike Company have revealed they have partnered with MiK and Basil to provide their own MiK "Click" rack attachment system.
https://youtu.be/aTVcSjXiuqw
It will fit their model S and C and is already incorporated into their model X, Y, and R back rack options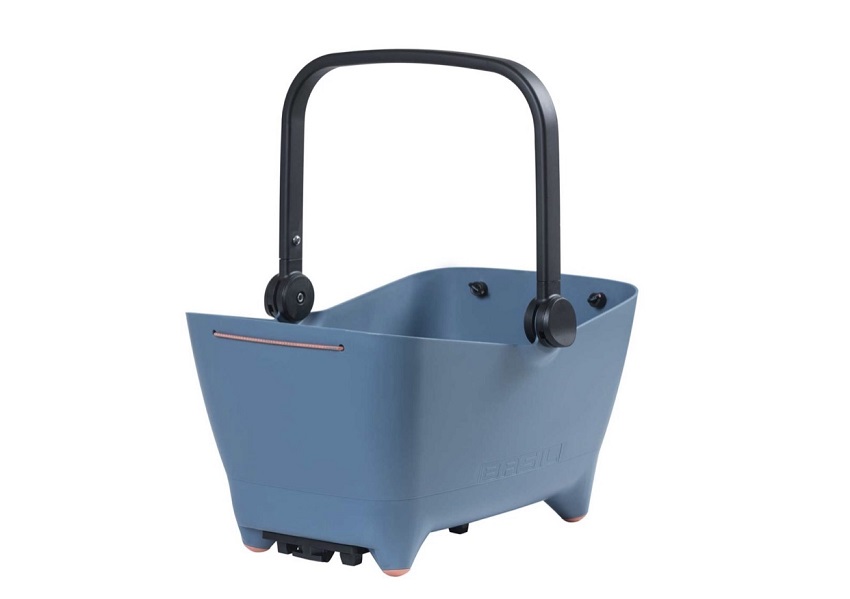 The MiK "Click" accessories will all come with an adaptor plate attached to the accessory so you simply click it on the rack when going for a ride and "unclick" when ready to use your back rack accessory.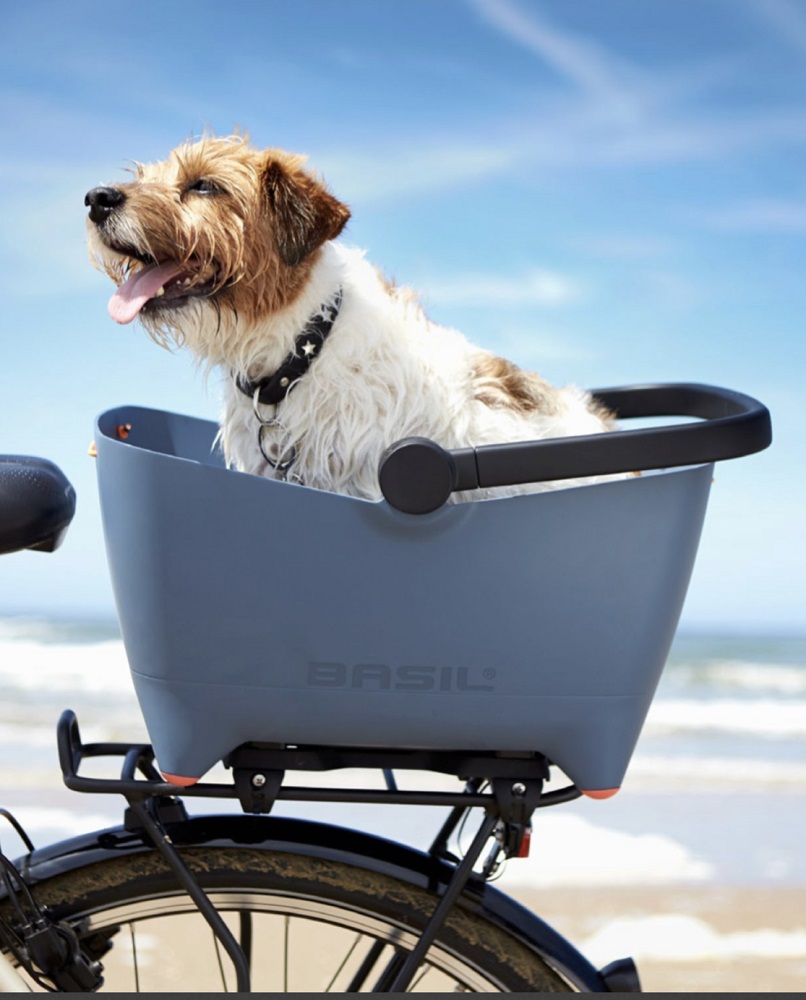 You can check out more detail on how the system works and the wide range of bags available here.
Get Inspired
On E-bikes in Golden Gate National Recreation Area
Check out this detailed article on e-biking around Golden Gate National Recreation Area including killer climbs and breathtaking views.
It also gives details of the authorities ongoing efforts to open up trails where regular bikes are allowed but not yet eBikes:
"There are a lot of great conversations happening at the local and national level around this issue," Golden Gate spokesman Charles Strickfaden…."so we cannot give a time frame for when we expect to finalize any e-bike approval. Until that time Golden Gate NRA cannot allow e-bikes [beyond the roads] in the parks it manages."
Hopefully that will be soon but in the meantime here's a video of an e-bike tour around and over the bridge itself, maybe a ride to consider….
Out With the Diesel Van, In With the E-cargo Bike
British Baker reports that Newcastle's Pink Lane Bakery is switching it's delivery transport from diesel van to e-cargo bike as it partners with e-bike delivery service ZMove.
E-cargo bike duties will include moving stock from production facility to shop and short range buffet deliveries.
Apparently the e-cargo bikes are expected to cover around 2,400 miles per year saving over a tonne of CO2 and 2.3kg of nitrous oxides.
Infrastructure
London Traffic Still Crawling Despite Popular Cycle Lanes
This fascinating Guardian piece tells us 'Figures from the Department for Transport show that traffic speeds have declined across Britain over the past decade, particularly in urban areas. Recovery from the financial crisis, plus cheap credit deals, has meant more cars on the road.'
According to David Brown of the GoAhead Group that runs London buses "Congestion has increased by 14% across all UK cities" and the article states it is a particular problem in London.
As fast as London has managed to curb private car use with congestion charging and raise cycling levels with some great infrastructure it seems other trends have cancelled out all the good work and there is one culprit in particular the article identifies:
'The fastest multiplying element of traffic everywhere is the light commercial vehicle – better known as the delivery van. Van journeys have shot up by 25% in the past decade in Britain, as online shopping has fuelled what Travers calls "the wild west of deliveries". Even logistics firms, the business of which is fuelled by shoppers, grumble privately about the craziness of Amazon Prime and similar next-day promises: deliveries that could have been efficiently combined are instead expedited, spawning more trips.'
There's also plenty of detail about Uber as a culprit and some are even blaming cycle lanes (without thinking that cycle lanes are part of the solution not part of the problem).
E-bike Competitions
Maaris Meier joins Miranda Factory Team and Takes Up E-biking
The Estonian rider, Maaris Meier, a former university World Champion, recently signed for the Miranda Factory Team. The experienced cross-country athlete has lived in Portugal for several years which is also where Miranda have a base.
In this season's racing program, Maaris will take part in the XCO Portuguese Cup, XCM European Championship, as well as participating in the European stages of eBike EWS and WES.
"A novelty will be eBikes. I've already had the opportunity to do some training and the feedback was very positive. In addition to the program already outlined, I also want to be present at extra events in Spain" said Meier.
Among the components that the athlete will use on their bikes are the Miranda XMOD (XC) and crankset/wheels with Miranda patented technology plus ChainFlow3D chain retention for e-bikes.
E-bike Biz
Boom in EU E-bike Manufacture
The European Bicycle Manufacturers' Association president, Moreno Fioravanti, says e-bike production in the EU has seen a more than 100 percent growth in just one year according to this Bike Europe article.
Bike Europe cites big e-bike making facilities being opened in Romania and in Bulgaria plus investments in large scale alloy frame manufacturing in Poland and Turkey and a new carbon producing factory in Belgium
The article attributes the production shift not only to EU anti-dumping tariffs on Chinese e-bikes but also on the quicker lead times needed that have been prompted by growing internet sales. Another phenomena taking place now is that former Chinese exporters are settling production in Europe and EU based importers are also transforming into producers.
Stay tuned for more e-bike news and reviews and thanks for reading!
-Rich
P.S. Don't forget to join the Electric Bike Report community for updates from the electric bike world, plus ebike riding and maintenance tips!
Reader Interactions