eBike News: Riese & Muller 2021 Innovations, Haibike, Trek, eBike Taxis & More! [VIDEOS]
In this week's news:
New Riese & Muller eBike Details
Yamaha Premium Mid-Drive for 2021 Haibike AllMtn
Trek's New Leisure-Orientated Powerfly
EAV's Innovative eBike Taxi for 2021
Tier eScooter Sound Alerts to be Introduced
All the Latest eBike Business News
New eBikes & eBike Systems
Riese & Muller's New eCargo Bike, the Packster 70 & Other Developments
German-based premium e-bike brand Riese and Muller announced the new Packster 70 back in late summer but it should now be arriving in dealers in the US – previously their Packster line of e-cargo bikes comprised three models, the 40, 60 and 80 with the numbers indicating the length of the load bed. The 60 and the 80 now disappear to be replaced with the 70 which has also had a design overhaul. R&M say it will carry up to three passengers in its secure EPP box and has a new 'minimal turning circle, thanks to its cable-operated steering system, combined with maximum storage space'.

It also gets a new Bosch Cargo Line motor, frame-integrated batteries in the bed area of the cargo bay in a completely new frame design, lightweight EPP cargo box with tons of carrying options. The continuously variable Enviolo rear hub gearing is also available as an automatic option. Riese and Muller are certainly showing the way with e-cargo bike innovation as Bike Europe recently reported that 'In cooperation with German cargo bike manufacturer Riese & Müller, the development team at TRP have designed a new disc brake specifically for cargo- and e-cargo bikes, named the TRP C2.3. The product is being introduced as Tektro's new premium cargo bike brake.'
There are also complete makeovers for a couple of older models the Roadster and the Homage.
The Homage  now has the option of two fully integrated 625 Wh batteries and the Bosch Performance Line CX motor is fully integrated in the frame design. The optional Comfort Kit allows riders to have a more upright seating position and the additionally configurable lowerable saddle enables them to conveniently stop without getting off. A front luggage carrier with bag provides space for luggage alongside the co-sprung rear luggage carrier.
The new Roadster brings a slimline look to their lighter city e-bike model and you can check out the main features in the video below (note there is also a Mixte option):
Of course there will also be a bunch of other changes to existing models but these are more in the form of upgrades to componentry than any total design overhauls. There is a new 'cockpit' design to integrate Bosch's smartphone compatible display the Kiox (Riese & Muller still use Bosch mid-drives across their entire range). To give one example the very popular powerful step-thru model the Nevo gets a the latest Bosch motor and a dual battery option and is now known as the Nevo 3.
There's some great detail on the new models in this Downtown article.
Haibike Reveal New AllMtn Range for 2021
With the 2021 Haibike Allmtn full-sus e-mtb models the German company has introduced Yamaha's top end PW-X2 into the range. Whilst the torque rating of 80 Newton meters is a little behind the 85Nm and the 120Nm used on the other mid-drives of models in the range (which feature the Bosch Performance Line CX and the amazingly powerful Flyon), it does have a reputation for super smooth and efficient power over a wide range of cadences. It also has an automatic power setting that means you don't have to toggle between different power levels over constantly changing terrain.  
The new Haibike Allmtn 6 and Haibike Allmtn 7 are also equipped with a powerful 600 watt-hour in-tube battery and have carbon frames, though reported weight of around 24kg isn't overly light despite the carbon. 
Other eMTB Rollouts…
In other eMTB news Trek have rolled out the 2021 variants of their well-known Powerfly full-suspension models, all with the latest Bosch Performance Line CX motor.  The new Powerfly now has 100mm of rear travel and a 120mm fork aimed more at 'first timers' than old timers. In other words it's a lighter more manageable full-sus e-mtb for those who won't want to venture into real hardcore off-road conditions.
French car manufacturer Peugeot were famed for their racing bikes in the 1970s but have now launched a the brand new Peugeot eM01 eMTB with its Bosch Performance Line CX motor, offering 170 mm travel up front and 160 mm at the rear.
Other e-mtb releases include the M1 Sporttechnik's Erzberg range spanning three models all using the Brose Smag mid-drive that has 90 Nm torque and combining it with huge 750 Wh in frame batteries. 
Cycling Accessories
Bamboo Active Clothing
Bamboo are UK-based manufacturers of clothing for those with active lifestyles like e-bikers. They have been in touch to tell us about the launch of their autumn collection. The fashion industry relies on water throughout the production process for textiles and garments. It takes on average 10,000 litres of water to cultivate just one kilogram of raw cotton, the material used in a third of textiles produced globally (and which represents 90 per cent of all natural fibres used). Bamboo is manufactured from, you guessed it, bamboo, and according to the manufacturers saves huge amounts of water compared to traditional cotton whilst maintaining its soft-feeling comfort and breathable qualities.
eCargo Bike Roundup
UK's EAV to Launch eBike Taxi in Spring 2021
E-bike taxis are a rare sight but make a lot of sense, especially for cities with well-developed bike infrastructure where they could become real congestion busters.
Electric & Hybrid reports on an intriguing new e-bike taxi; 'Electric Assisted Vehicles, the Oxfordshire-based micro-mobility manufacturer, has today revealed the latest design in their range of ultra-lightweight, zero emissions, urban commercial vehicles…..The 'EAV Taxi' is a development of the recently launched 'EAV2cubed' eCargo vehicle.  Having developed a separate front cab with multiple rear box and pod solutions for the already successful cargo application, EAV have now been able to create a passenger carrying solution on the established and patented Cloudframe chassis.'
They are clearly targeting taxis and the ride hailing business. The EAV Taxi, provisionally named the 'EAVGo!', has been designed to carry up to two passengers in a new rear compartment which has full suspension and lightweight side doors.  Inside the EAV Taxi the seats are fitted with memory foam seat and back cushions.  A video screen for journey or location information and cabin heating or cooling to create a comfortable ambient temperature are all part of the EAV Taxi experience. A luggage compartment under the seats is available with access either from the rear or from the side and it can comfortably accept a good size suitcase.
Production is slated for November and launch Spring 2021.
eMicromobility
Tier Adding Sound to Alert Blind and Partially Sighted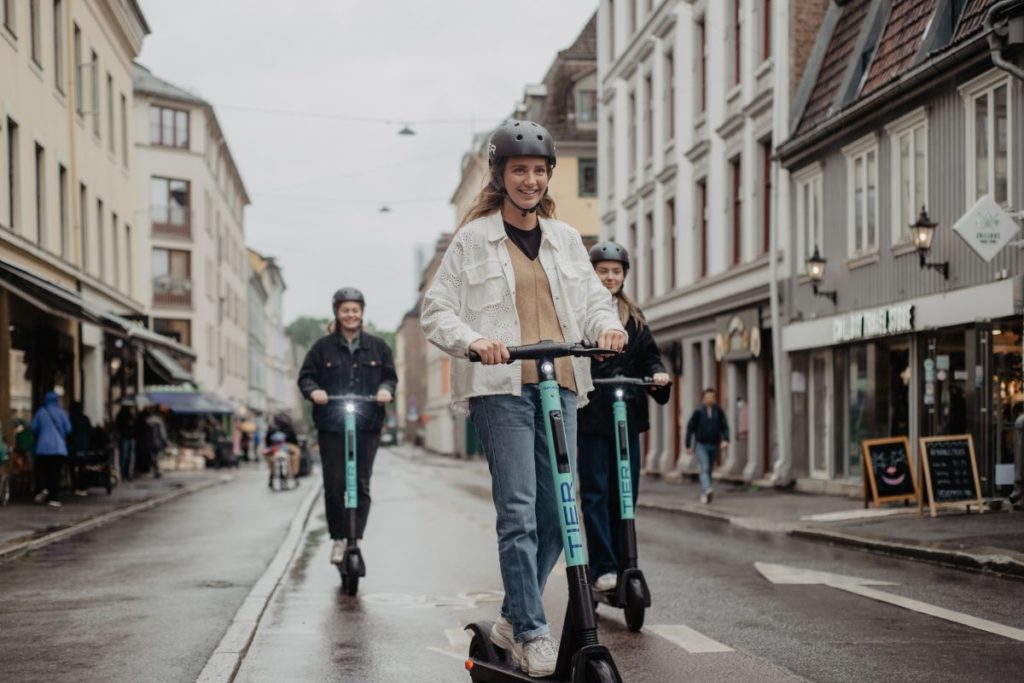 MMB reports that e-scooter share company Tier is to add sound to its vehicles to alert blind and partially sighted people of their approach with work pioneered in the UK.
MMB says 'The company has partnered with national charity Thomas Pocklington Trust (TPT) and will be using new research from the organisation to design the feature and roll it out across its fleet in 2021. The sound will complement Tier's existing technology, which slows vehicles to a halt in areas where riding is forbidden. Sight Loss Councils, funded by TPT and led by blind and partially sighted members, will be performing research and running focus groups across the UK to shape how the e-scooters should sound, when and where the sound should be used, and how visually impaired people can be educated on the feature.'
eBike Biz
English Bike Shops Remaining Open During Second COVID-19 Lockdown
The UK's BikeBiz reports that 'Bike shops will be allowed to remain open in the UK after prime minister Boris Johnson announced that all "non-essential" shops must now shut due to the spread of Covid-19.'
In an announcement made last night, Johnson said the public will only be allowed to leave their home for the following purposes:
– shopping for basic necessities, as infrequently as possible
– one form of exercise a day – for example, a run, walk, or cycle – alone or with members of your household
– any medical need, to provide care or to help a vulnerable person
– travelling to and from work, but only where this is absolutely necessary and cannot be done from home
LEVA-EU Proposes New Light Electric Vehicle Standard
LEVA-EU lobby to simplify the manufacture of light electric vehicles and so help popularise them. They have been in touch to tell us:
'Trade association LEVA-EU, the sole voice for the light electric vehicle (LEV) sector, has unveiled proposals to introduce a new concept for light electric vehicles to remove legal bottlenecks it says are blighting the industry.
The organisation says bringing in the concept of Zero Tailpipe Emission Vehicles (ZEVs) would finally set them apart from internal combustion engine (ICE) vehicles such as petrol motorbikes and mopeds when it comes to the lengthy legislation that can be difficult for manufacturers to navigate. LEVA-EU proposes to define ZEVs as "powered vehicles equipped with a motor that does not produce harmful tailpipe emissions".
Current regulations class all light electric vehicles, except electric bicycles with pedal assistance up to 25 km/h and 250W, in the same category as mopeds and motorbikes. This law, Regulation 168/2013, leaves manufacturers forced to navigate complicated and costly procedures, and presents considerable safety issues for riders. LEVA-EU says that, as a result, this market is not allowed to develop and LEVs are unable to achieve their potential.
LEVA-EU has developed a proposal aimed at simplifying the current Regulation 168/2013 in a major way. The proposal focusses on classifying ZEVs based on kinetic energy, that is the energy of mass in motion (i.e. weight X speed). Consequently, all low-speed ZEVs up to a certain weight and speed limit could be excluded from Regulation 168/2013, with exclusion limits to be discussed with the LEV- industry.'
Cannondale owner Dorel Industries to go Private
Bike Europe report that ' Dorel Industries has reached an agreement in principle whereby Dorel would be taken private by a buyer group led by affiliates of Cerberus Capital Management, LP and the current shareholders of families Schwartz and Segel. Dorel Sport's bicycle brands include Cannondale, Schwinn, GT, Mongoose, Caloi and IronHorse.'
Of course that means that as a private company Dorel shares would no longer be traded on the stock exchange.
Stay tuned for more e-bike news and reviews and thanks for reading!
-Rich
Reader Interactions