Ebike News: Propella's Fastest E-Bike Yet, Local E-Bike Rebate Plans and Much More!
The news that Propella have introduced their fastest and highest spec yet e-bike is welcome of course – EBR has already done lots of reviews on existing and previous models. However it was the fact that Propella will be using 21700 battery cells rather than the more usual 18650 cells seen in e-bikes that caught our eye this time around.
What's the big deal? Well, the 21700 cells are physically larger and so give better power density, which means more range for less weight compared to e-bikes using 18650 cells. Until now 21700 cells have been more common in ultra-powerful e-scooters and are also the mainstay of some electric car batteries including Tesla models. Is Propella marking the start of more budget e-bike companies using these more power dense cells, and so will their performance benefits spread to more and more e-bikers?
In this week's e-bike news:
Propella 9S Pro – bigger battery but still a budget price

With the federal e-bike tax credit stalled, will there be more local legislation in 2022?

Sea Otter Classic is here again

Honbike is crowdfunding a folding e-bike with a drive shaft and funky seat

Bafang M510 mid-drive – more torque and less weight than the M500

Rider sues e-bike company over brake lever position

Boston's financial support for business e-cargo bikes

Beam camera-equipped e-scooter claims to recognise riding surface and conditions

Utah's plans for a bike-friendly 15 minute city
Propella 9S Pro – Their Highest Spec E-Bike Yet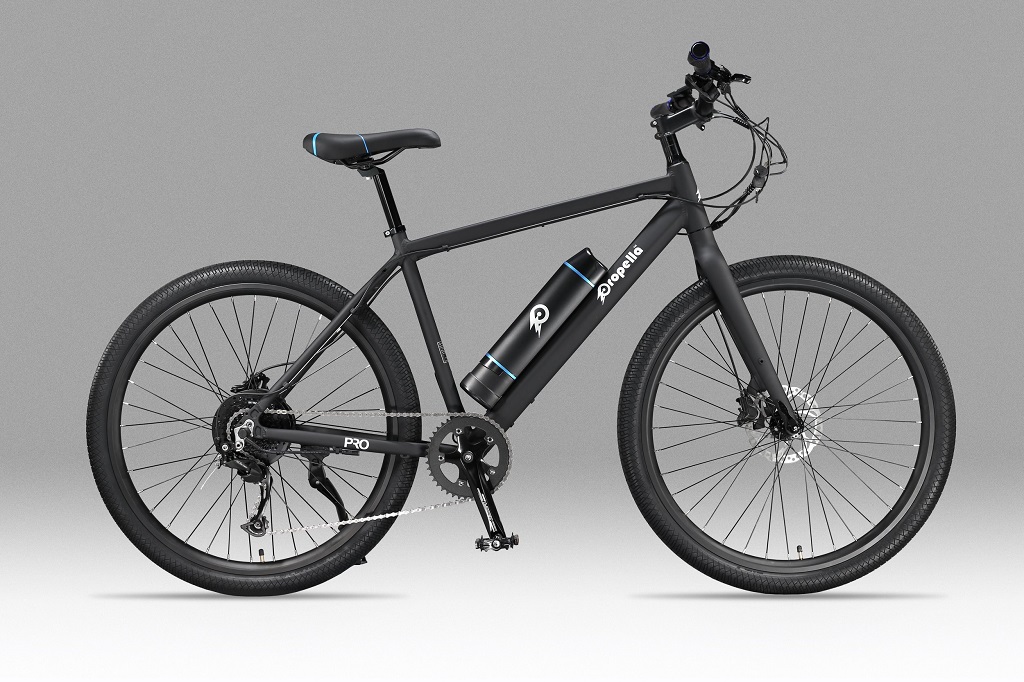 Propella have long been a firm budget e-bike favorite, opting for lightweight, urban e-bikes with relatively small batteries of 250Wh. Now comes their highest-spec yet, the Propella 9S Pro, now available for preorder, currently discounted by $200 to $1499. That's still the priciest e-bike in Propella's lineup but clearly not expensive in current e-bike terms.
The other three e-bikes in Propella's range are in the $949-$1299 price bracket so what do you get for the extra money that the 9S Pro costs? First off is the bigger 360Wh battery – not only that, it features 21700 cells – these have higher power density and higher potential discharge rates than the smaller 18650 cells used in many other e-bikes. In short, more range per kg of battery should be the result. And although the bike is the heaviest in the Propella range at 41 lb (18.6 kg), it's still pretty light for an e-bike.
A slightly higher peak-power rated 500 watt Vinka branded rear hub motor, together with those bigger battery cells, means the top speed of this Class 1 pedelec (no throttle) is increased to 20mph (other models max out at 18.5mph assist).
Lastly the 9S Pro gets upgrades in the form of hydraulic disc brakes, a front 12mm thru-axle, slightly smaller diameter but wider tire (27.5" x 2"), new color LCD display and more gears in the form of a 9-speed Shimano Altus derailleur. There are also plenty of attachment points on the frame for a whole host of accessories to be added.
Where Are E-Bike Tax Credits Headed In 2022?
PeopleForBikes do a great job of lobbying for the cause of bike and e-bike friendly legislation and their hard work, along with those who support them, may be paying off over the course of 2022.
Although the proposed U.S. federal tax credits for e-bikes stalled out in the U.S. Senate, People For Bikes remains hopeful there may be hope yet in the coming year. "The good news is that the E-BIKE Act has already left a legacy of intrigued state and local officials nationwide," People For Bikes argued in a recent article posted to their site
The article highlights the work of John MacArthur, the transportation program manager at Portland State University, who has been tracking new e-bike incentive legislation at the local level from municipalities across North America.
One of the most promising initiatives is in California, which is on the verge of offering a state-wide subsidy for e-bikes. "Legislators have approved $10 million for e-bike incentives in their annual budget, but the state has not yet selected an administrator for the program or defined its rules," the article says.
There are numerous other states with promising sounding plans and as the article points out, if things continue to stall at a federal level, local initiatives will only become more likely over time.
The Sea Otter Classic Is Here!
Sea Otter Classic is the largest gathering of cycling enthusiasts in North America and takes place in Monterey, California from 7th to 10th April.
This year the organizers promise "four days of action-packed camaraderie and fun" with nearly every type of competitive bike racing and recreational tours imaginable for all ages and abilities.
Of course there will be a very strong e-bike presence with a huge number of the major brands present and the chance to try out many of the very latest models. E-bike races cater for the more competitive e-bikers out there too.
Honbike is crowdfunding a folding e-bike with a drive shaft and super funky seat
There are lots of funky ideas and designs out there in e-bike-land, and Japan's Honbike has managed to cram several of them into one compact, foldable package.
The front hub-driven Honbike has already found success in Japan and the company is using a crowdfunding campaign to bring the e-bike to North America. In addition to its futuristic looks, the Honbike boasts a unique driveshaft design that's entirely encased inside a shroud. It's also got one of the most eyebrow-raising seat designs we've seen.
It also features spoked magnesium wheels, a very cool looking LCD display and some altered geometry that, according to Honbike, better lends itself to North American and European riders.
A Honbike is en route to the Electric Bike Report review staff, so we'll report back when we get one in our hands. I Imagine that a lot of you (like us) have some pointed questions about that seat…
Bafang Continues its Mid-Drive Push With The M510
Bafang introduced an updated version of the M500 mid-drive. The M510 is a powerful sounding mid-drive, claiming improved torque and a significant 500g weight loss (2.9kg compared to the previous 3.4kg).
The weight loss is partly down to a magnesium case. Other updated features include high cadence support of 120 rpm and motor performance software optimisation for smoother off-road riding. There is also improved waterproofing, a 12V light module, integrated connections and compatibility with a chain guard. It's also good to see the motor mounting is the same as the M500 and M410.
The M510 motor is compatible with most of the products in the Bafang portfolio, such as the Intube battery, the displays DP E180/181 with a clean LED HMI, the optional upgraded color version DP C242 HMI, the hidden speed sensor with two different magnetic fixation solutions, and the upcoming new Bafang App.
Bafang mid-drives are appearing in an increasing number of e-bikes despite the fact the company has traditionally been associated with hub motors. A case in point is the latest Forestal e-MTB range, with the Cyon, Siryon, and Hydra now brought into the UK by Silverfish.
Bird Tests Motorized Wheelchairs in NYC
Micromobility share specialists Bird "is launching a limited pilot to test a battery-powered attachment for wheelchairs in an effort to increase accessible mobility for persons with disabilities," says Techcrunch.
Apparently, "The new 'adaptive program' will be a part of the New York City e-scooter pilot in the Bronx, which is being expanded this summer. Individuals in the pilot area can apply for the program and, if they qualify, someone from the Bird team will meet them in person to deliver the attachment, set it up and show them how to use it."
Techcrunch added that "Competitor Lime has a similar accessibility program called Lime Able, which involves Lime home-delivering (for 24-hour rentals) adaptive vehicles, like three-wheeled scooters or scooters with a seat, to disabled persons or those who are less confident on the standard scooter."
Rider Sues E-Bike Brand Over Brake Lever Setup
Bicycle Retailer and Industry News (BRAIN) reports how an Arizona woman "lost an eye and had other injuries she blames on an illegal brake-lever setup."
The lady in question is suing San Diego e-bike company Phantom Bikes and Costco Wholesale for $6 million. The suit claims her bike came set up so the right brake lever operated the front brake, which caused her to flip over the handlebar and sustain serious injuries.
The Consumer Product Safety Commission mandates that bikes sold in the U.S. be set up so that the right brake lever activates the rear brake.
Boston To Launch E-Cargo Bike Pilot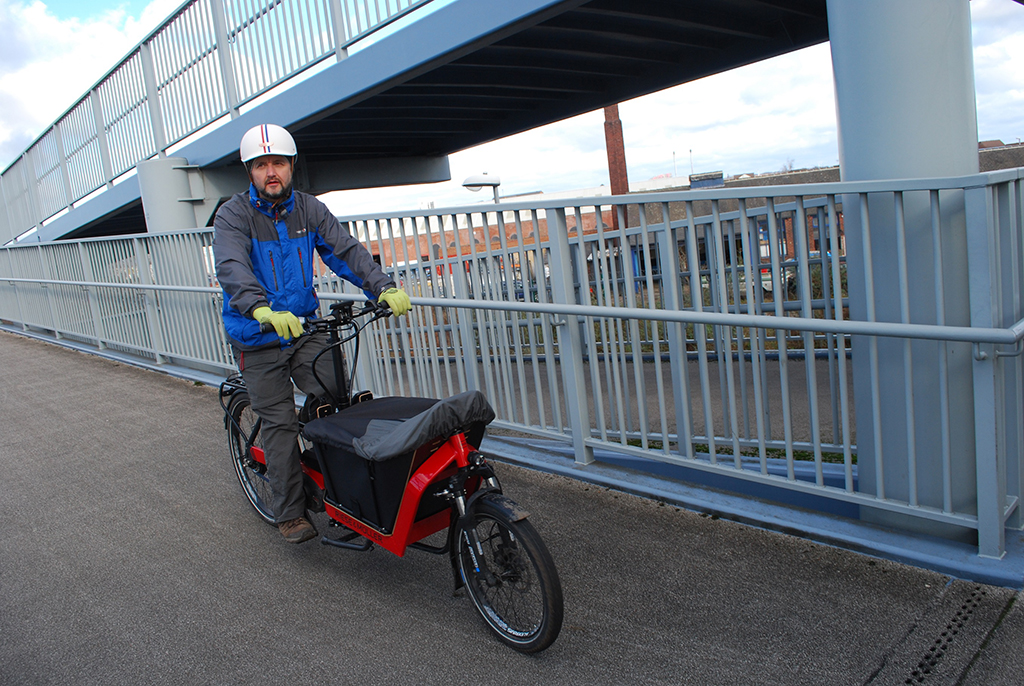 Smart Cities Dive reports that summer will see the launch of an e-cargo bike pilot program in Boston, focusing on deliveries to and from small businesses.
It's an 18-month e-cargo bike pilot program, which received nearly $493,000 in funding through the Massachusetts Clean Energy Center.
The article also notes "Boston's e-cargo bike pilot follows the path laid out by cities including Madison, Wisconsin, and Portland, Oregon, which have launched programs that provide municipal employees with e-cargo bikes. But Boston's focus on small business deliveries is unique."
Can A Scooter Tell What Surface It's Riding On?
"Micromobility company Beam has announced its plan to test a new AI-powered system for its electric scooters, which will enhance safety by adjusting the speed of the vehicle based on road surfaces," says Autoevolution.
While GPS tech has been trialed by other e-scooter manufacturers looking to make e-scooters safer and more responsibly ridden, the Beam approach is different:
"Beam has teamed up with technology company Drover AI, to test its PathPilot, an advanced IoT (internet of things) module that can detect a city's infrastructure (like footpaths, roads, etc.) in real-time using an onboard camera. The system doesn't require perfect positioning or precise mapping, being able to rely on its camera to identify bike lanes, sidewalks, and other structures, which makes it very useful in areas that are GPS-challenged."
What Do Utah's 15 Minute City Proposals Look Like?
A 15 minute city refers to distance away from things you need on a daily basis, like shops, schools and medical care – the idea being these are never more than a fifteen minute walk, bike or scooters ride away.
Bloomberg City Lab reports on recent plans for just such a city in the US:
"The developers of "The Point," a master-planned community set to rise in a Utah suburb between Salt Lake City and Provo, envision their project as a '15-minute city': Plans describe a live-work community with some 7,400 residential units and at least 30,000 jobs, all located just a short walk from schools, workplaces, retail, restaurants and recreation."
The article also notes "the framework plan also identifies more than 40,800 parking spaces — to be housed mainly inside buildings, out of view — for the 13,000 residents and 31,000 office workers projected to populate the area."