Ebike News: Okai and Rivian May Expand E-bike Choices, New Lime Auto-Gear Bike and More!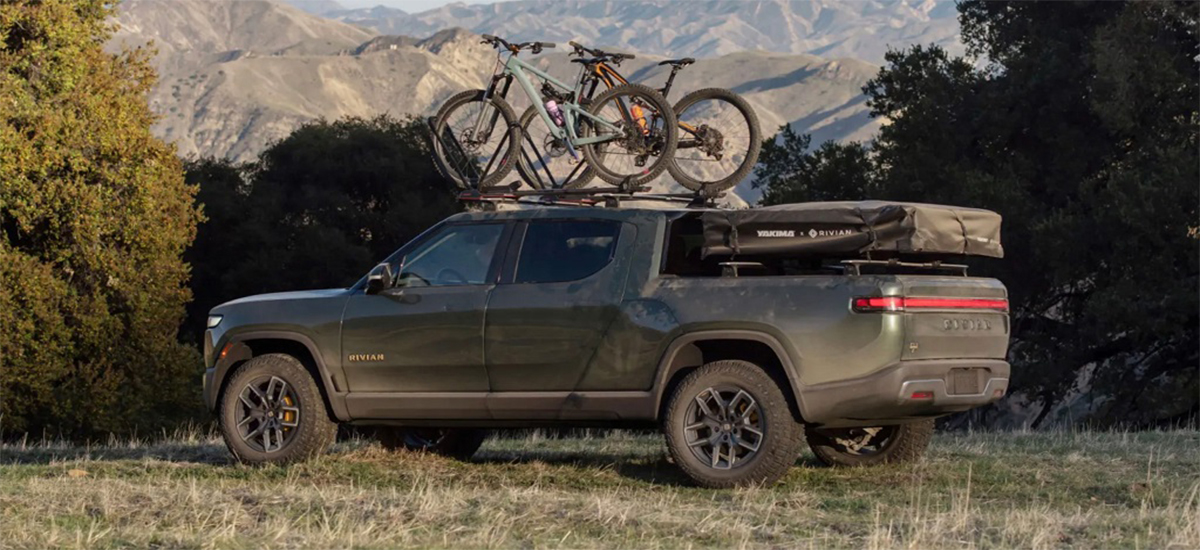 This week's news is looking to the future slightly more than usual. First we have the news of what looks to be a very powerful yet reasonably light e-mtb from e-scooter specialist Okai followed by the revelation electric truck specialist Rivian might just be getting into e-bikes. There are no dates or prices from either company (in Rivian's case just a tantalising trademark application) but it does hold a glimpse of possible future trends.
More in the here and now is new fat tire brand Magicycle and we take a look at just how light you might be able to make Brompton's iconic folding bike if electrifying it yourself plus a look at where e-scooters might (or might not) be heading in the UK.
In this week's news:
E-scooter and e-car specialists Okai and Rivian head towards e-bikes

Magicycle, the affordable fat tire e-bike

Brompton looks headed for a lightweight future

Lime's new auto-gear changing e-bike

E-scooter delay and debate in the UK

A novel new way to keep that cycle lane a puncture-free delight
WHAT HAVE RIVIAN AND OKAI IN COMMON?
The short answer, of course, is e-bikes. The longer answer is that whilst both companies come from different areas of electric mobility (US-based Rivian being a company developing SUVs and Okai being a Chinese based 'fleet' provider of both e-scooters and e-bikes), the signs are you might be able to buy e-bikes from both of them at some point in the future.
Let's start with Okai as they clearly have the most experience in e-bike manufacture and have just exhibited their carbon fiber full-suspension framed EB20 e-mtb at CES 2022. It features a powerful looking Bafang mid-drive that OKAI say is 750W rated (but claim it can be swapped for 250W or 500W versions for local compliance). There is also a 705Wh battery with Samsung cells (huge by e-mtb standards) and plenty of other premium components. Perhaps most notable is the claim of a 2.8″ touchscreen integrated into the cockpit area. Pricing and date of release are TBA.
Okai are perhaps most notable for producing e-scooters for public share fleets such as Bird and Lime and also electric mopeds – a huge market in Asia but they may yet be coming to an e-bike shop near you. Okai are already selling e-scooters direct to the public via their website.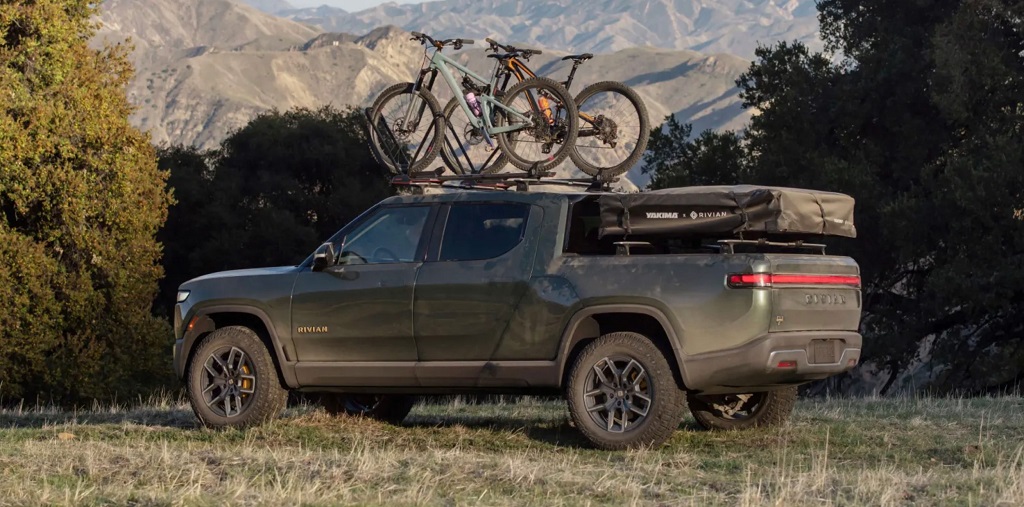 Rivian are making an even bigger potential leap as Cycling Industry News reveal that 'US-based electric vehicle manufacturer Rivian, a challenger brand to the likes of Tesla, Nio and other EV giants, has registered an electric bike trademark for the first time, possibly signalling a broader family of electric products. '
According to the filing, which was first revealed by Rivian Forums, Rivian wants to expand the use of its trademark to a whole host of bike related terms and interestingly Rivian also recently filed a patent for an integrated tailgate cargo system for automotive vehicle, which is essentially a tailgate bike rack that will allow drivers to carry a bike in their pickup without losing bed space.
MAGICYCLE, THE NEW(ISH) BUDGET FAT TIRE BRAND
Magicycle came on the US scene in 2021 and have one model of fat tire e-bike available in step over and low step frames, both priced at an appealing $1549 given the spec.
That spec includes a 750W, 86Nm rated rear Shengyi hub motor, 780Wh battery, Tektro Aries mechanical disk brakes, 26" x 4" Kenda knobbly fat tires plus rack, fenders and full lighting.
Apparently the source factory in China is capable of producing some 300,000 units a year so it's not surprising you are seeing some economies of scale here!
HOW LIGHT WILL BROMPTON BIKES GET?
Brompton are widely regarded as making some of the quickest and most compact folding bikes in the world, not to mention some of the toughest, and their electric version made it onto our list of the
best electric folders for 2022
.
The current electric version – recently rebranded as the C line – comes in 2 and 6 speed versions and both use steel frames. However, as part of an overhaul of their model names, Brompton recently released a new non-electric 4 speed lightweight branded as the P line claiming to weigh only around 21lb / 9.65kg through the use of titanium forks and rear triangle. Adding a lightweight conversion kit like a Cytronex or a Nano means you would have a superbly tough electric folder for small city hops weighing only around 28lbs / 12.7kg. There are even online rumours of a fully titanium version soon to be announced by Brompton which would give potential for an even lighter retrofit e-Brompton…
WHAT FUTURE FOR E-SCOOTERS IN THE UK?
It would be fair to say the e-scooter trials in the UK have had a mixed history with the Guardian reporting 'e-scooter trials are to be prolonged until late 2022 as the government weighs up legalisation, with use of public rental vehicles dwarfed by that of an estimated half a million illegal e-scooters in Britain.'
There are concerns over battery safety (with Transport for London banning e-scooters from its trains and buses after a spate of battery fires), potential for injury whilst riding (nine people are known to have died in 2021 in accidents involving e-scooters) and complaints about misuse and vandalism of e-scooter share systems.
However, the Guardian article points that many of the problems could be due to a lack of regulation, suggesting that the current regulated schemes could be proving how safe regulation is as opposed to a lack of it (ie the often cheaper flimsier e-scooters used illegally are often cited as being more dangerous); 'According to Alan Clarke, director of public policy at Lime, which launched its e-scooters in Milton Keynes in August 2020, followed by Greater Manchester and London this year, Lime e-scooters and the like have "two independent brakes, [are] stability tested, [with] lights you can see 300 metres away"; most people will buy a model with "small wheels, one handbrake, and not fit to be used on roads or cycle lanes."'
As if to reinforce that point the UK's Ebiketips reports that 'Ford's e-scooter share start-up, Spin, is pulling out of Germany, Portugal and Spain, as well as a number of US markets, citing, "an uncertain operating environment." CEO Ben Bear said it was hard to see how to attain profitability in open permit markets where multiple firms can operate with no cap on fleet sizes.' Of course it's also perhaps no coincidence that Spin is pulling out of territories where it is legal to own and use e-scooters such as the US (in most states at least), Spain and Germany.
As the map from Xiaomi above shows, the UK is in a significant minority when it comes to not allowing e-scooters, at the very least, on public roads (you can see the full interactive map here).
Surely all this is an argument for strictly enforced manufacturing standards on e-scooters and sensible laws on usage that are fairly enforced – not as some are suggesting, an outright ban once e-scooter trials in the UK have ended. After all, as advisory body PACTS note (this is the same body warning the government of the dangers of poorly manufactured e-scooters), 'Most people who die on the roads are much more likely to be killed in a car, or by a car, than any other mode. By contrast, pedestrians and cyclists are rarely involved in collisions that result in the death of other road users.' And no one is calling for an outright ban on car use across the country…
LIME'S NEW E-BIKES HIT NORTH AMERICA – AND HAVE AUTO GEAR CHANGING

The Verge reports 'Lime's next-generation electric bikes are finally making their North American debut. Nearly a year after announcing its plans to spend $50 million on a major e-bike expansion, the San Francisco-based micromobility company says it will deploy the first wave of new bikes in Washington, DC, starting this week.'
The bikes apparently feature dual speed automatic gear changing, swappable batteries and what's claimed to be a more powerful 350W motor.
MEET THE ELECTRIC CYCLE LANE SWEEPER…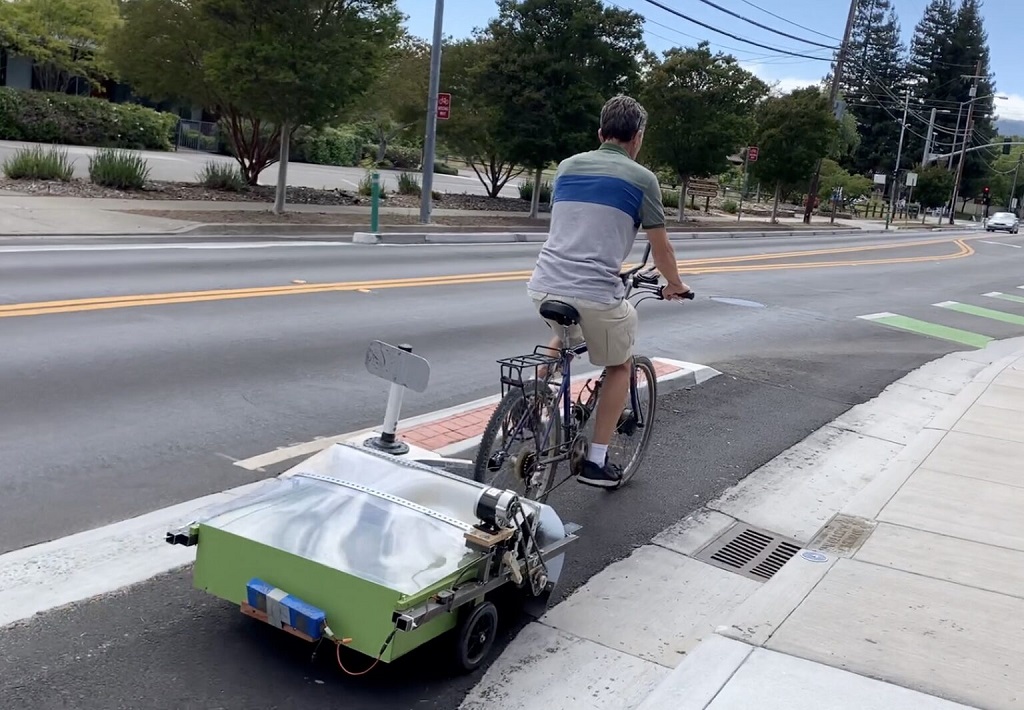 OK, you're real happy to be cycling along in a protected roadside cycle lane on your e-bike so what could possibly spoil the joyful experience? Well, it's fair to say that not all cycle lanes, protected or not, are clean of the dreaded puncture-inducing detritus that can be found in quite a number.
Enter the Streetsweeper concept – brainchild of San Francisco Bay Area's Pierre Lermant who has a background in mechanical and software engineering and has developed several prototypes of a bike lane sweeper that can be towed behind a bicycle.
Of course many municipalities have mini-sweeper vehicles – essentially tiny versions of full-sized road sweepers – but the cycle lane sweeper looks to hold potential for a more economic and greener solution as well as having DIY applications…
Reader Interactions