eBike News: NYC & eBikes, Bikes for Business, Shatner eBikes, Modular eCargo, & More! [VIDEOS]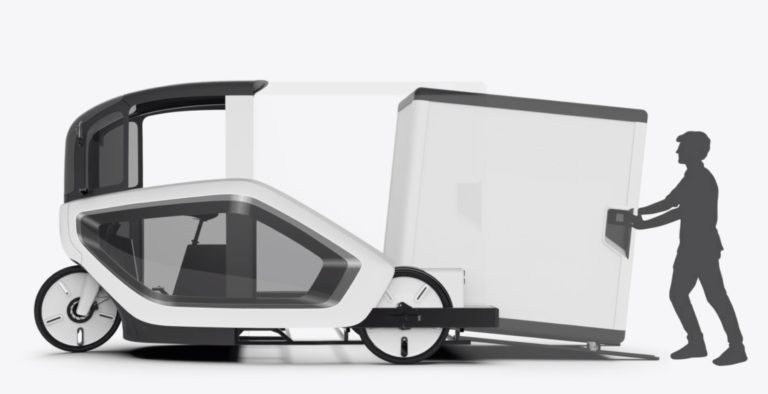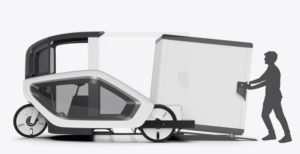 In this week's eBike news roundup:
Is New York Ready for More eBikes & eScooters?
Tern's #BikesforBusiness Program
William Shatner is an eBike Fan
Modular ONO eCargo Trike
New Gas Gas, Juicy & Neomouv eBikes
Kids' seats for eMTBs
Fully Charged Blog Energy Roundup
The latest from eBike-Shares
Bosch's eBike Backstory
And Much More!
Headline News
Are eBikes Making the Breakthrough in New York?
Several recent news items have indicated that New York may finally be moving towards a fuller acceptance of e-bikes.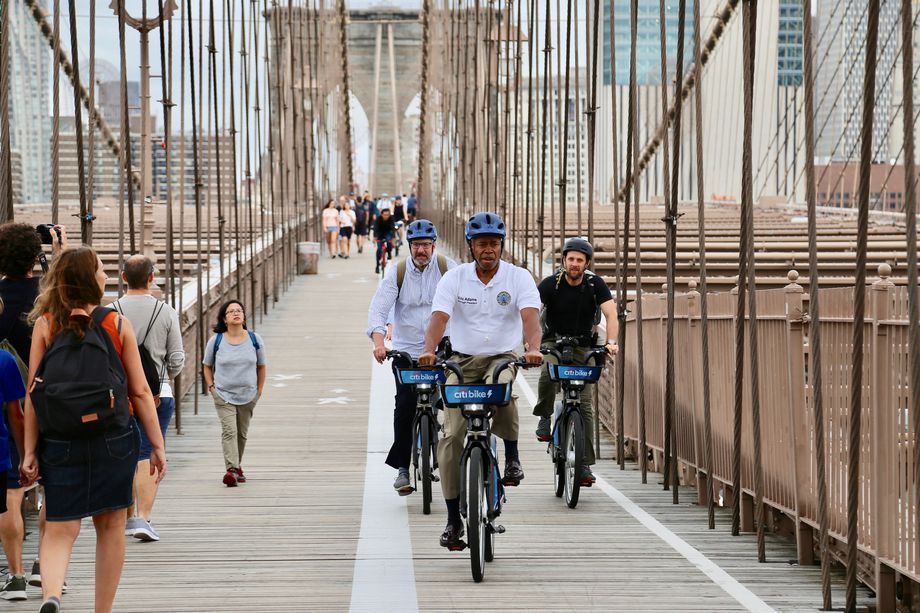 Legislation is making its way through City Hall, as 'a package of four City Council bills….would legalize most forms of the so-called e-bikes….The legislation, which would also legalize electric scooters, would allow not only electric bicycles that give extra support to a pedaling rider, but also those that could be operated without pedaling, by engaging a motorcycle-like handlebar throttle' reported The New York Times.
All this comes against a backdrop of conflict between Mayor Di Blasio, some anti-e-bike city residents and those who want to see e-bikes legalised and actively promoted as a sustainable transport solution within the city.
There have been well publicised official crackdowns in the past. However the current proposed changes aim to introduce what looks like a technical change to legal wording so that, according to supporters of the prospective legislation, the bills won't require changes to state law because they loosen the regulation of electric bikes and scooters by labeling them devices rather than vehicles.
If the legal framework is put in place and e-bikes encouraged then it could well be the case that there will be no holding back e-bikes and e-kickscooters in New York – certainly that is what evidence from the existing limited e-bike share trials that have been taking place indicate, as the following articles reveal.
According to the New York Post, 'Motivate, which runs the (New York) bike-rental service, rolled out 200 of the battery-powered, pedal-assist rides under a pilot program over the summer, and New Yorkers have been bolting for them ever since.'
Stats show that each Citibike e-bike is used around 14 times a day compared to the 7 times that non-electric versions average and that only around 10 of the 200 e-bikes are available when demand is high.
But how much of the short supply is due to demand and how much due to batteries running low seems to be a critical point (e-bikes are out of action for at least 45 minutes to achieve recharging).
Despite the logistical challenge of battery charging e-bikes are a key part of plan to keep the city moving as it is planned to roll out 800 more e-bikes by the time the L train stops running to Manhattam on April 27, bringing the total to 1,000.
There are also plans to rely on e-kickscooters which look like they will also be legalised by the train the L-train stops.
If New Yorker's come to rely on the e-bikes and e-kickscooters and the city's bike infrastructure keeps expanding, could this see public share e-bikes and e-bikes in general become a truly familiar feature of the street scene?
And what's more this Curbed report tells us that 'Citi Bike isn't the only service that has seen big interest in pedal-assist bikes: Jump, the Uber-owned e-bike operator that's part of the city's dockless pilot program, says that users have taken more than 20,000 trips on Staten Island since the pilot began, and more than 10,000 in the Bronx. Earlier this month, the DOT announced that it would extend the dockless bike share pilot for another 90 days, which means those bikes will be sticking around through the beginning of next year.'
Of course, no one wants to see unregulated and dangerous use of e-bikes and (a particular media scare story of late) e-kickscooters in major cities.
This interesting piece in Digital Trends makes a plea for more safe infrastructure in US cities to accommodate the rising number of e-micromobility vehicles.
Perhaps those who still oppose the introduction of e-bikes and e-kickscooters into cities like New York should read this opinion piece about the dangers of relying on a car-dominated future, as envisaged by Elon Musk. As it concludes, 'Instead of fighting against the influx of bikes and scooters — or deriding them as uncool or undignified — we should embrace them. And frankly, given the high cost of automobility and the pressing challenge of climate change, holding onto the status quo is the worst possible option.'
Elon Musk has mentioned that Tesla might make an electric bike though……
Tern's Bikes for Business Program
Urban transportation specialist Tern today announced a new #BikesForBusiness program, which aims to help organizations integrate bicycles into their business operations and gives Independent Bicycle Dealers product and materials needed to approach local businesses and organizations.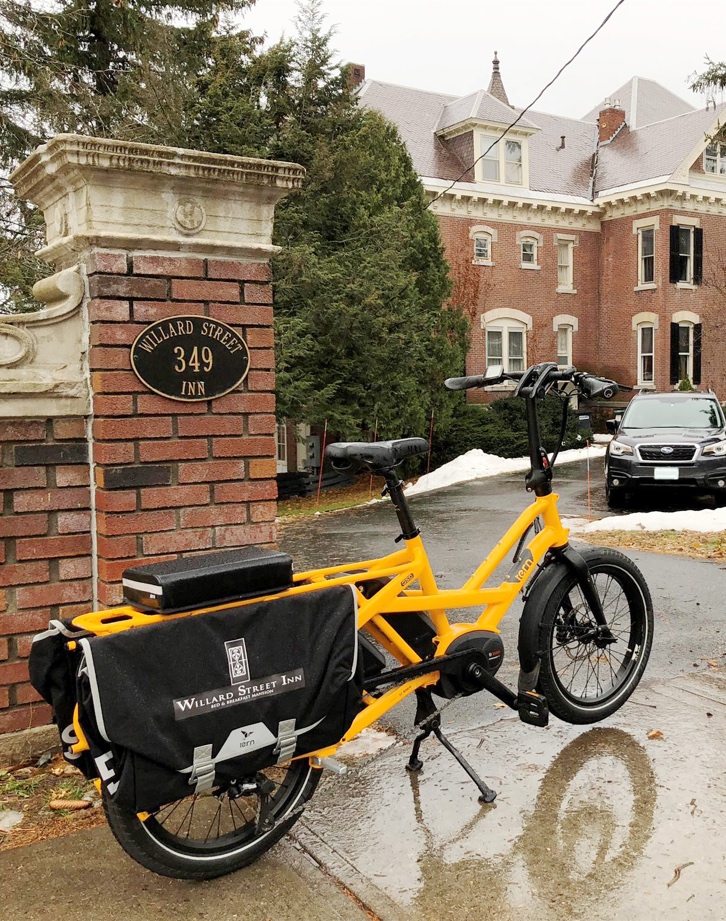 The program centers around the Tern GSD, a compact utility ebike that helps small businesses carry more and do more. It can carry up to 378 lbs., yet stores small enough that a small fleet can fit into a van or food truck. The GSD adjusts to fit a wide range of riders and doesn't require any insurance or license to operate. By dodging city traffic, the GSD is able to fulfill deliveries faster while keeping costs low.
The #BikesForBusiness program includes:
Pitch decks for IBDs targeting hotels, food delivery businesses, etc.
Sample service/warranty contracts that dealers can offer in addition to selling the bicycles.
Customizable, cloud-based, fleet management software and locking hardware.
Customization options for the GSD, including colors, decals, and logos on panniers.
Commercial accessory options, including customized pizza boxes and food delivery pouches.
New eBikes & eBike Systems
Versatile ONO eCargo Trike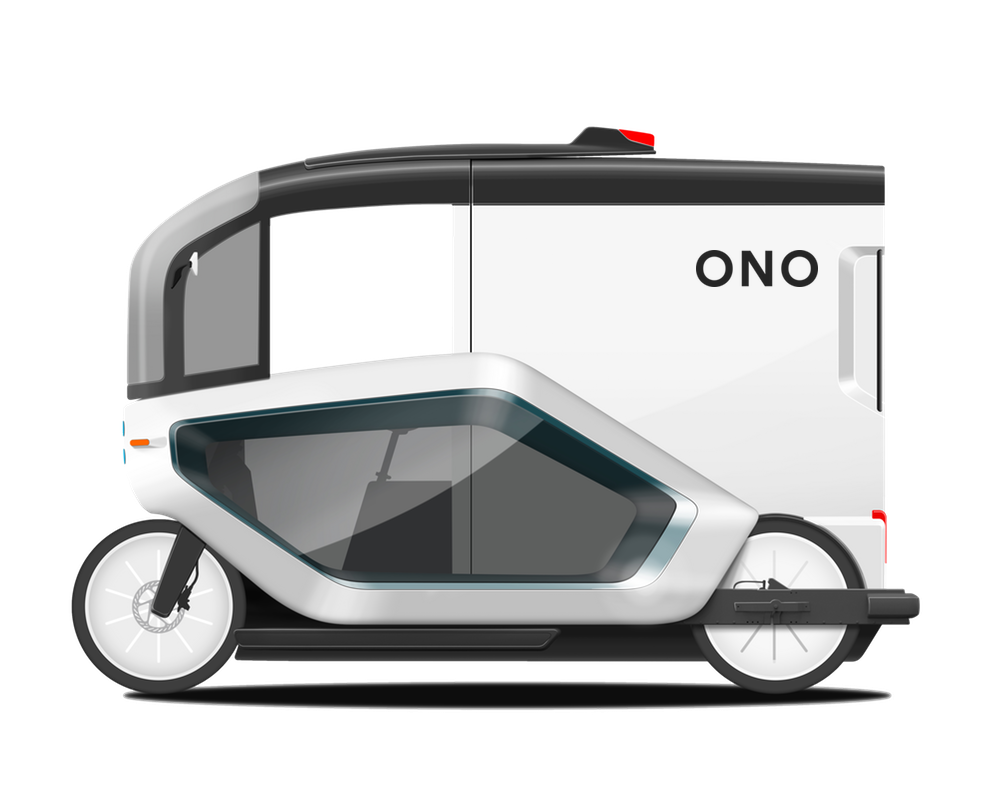 This Berlin based design called ONO hauls two cubic metres of cargo and is aimed at the express delivery and small cargo markets. There is also the option of it being an eCargo Taxi!
It even has its own design of cargo box and can be ridden without a drivers' licence.
Here is a video about why ONO is being brought to the market:
Here is a video with a closer look at the ONO (in German):
Here is a quick look at their recent launch:
The design is especially narrow enabling it to negotiate your typical cycle network, often full of cut-throughs and width-restricted paths.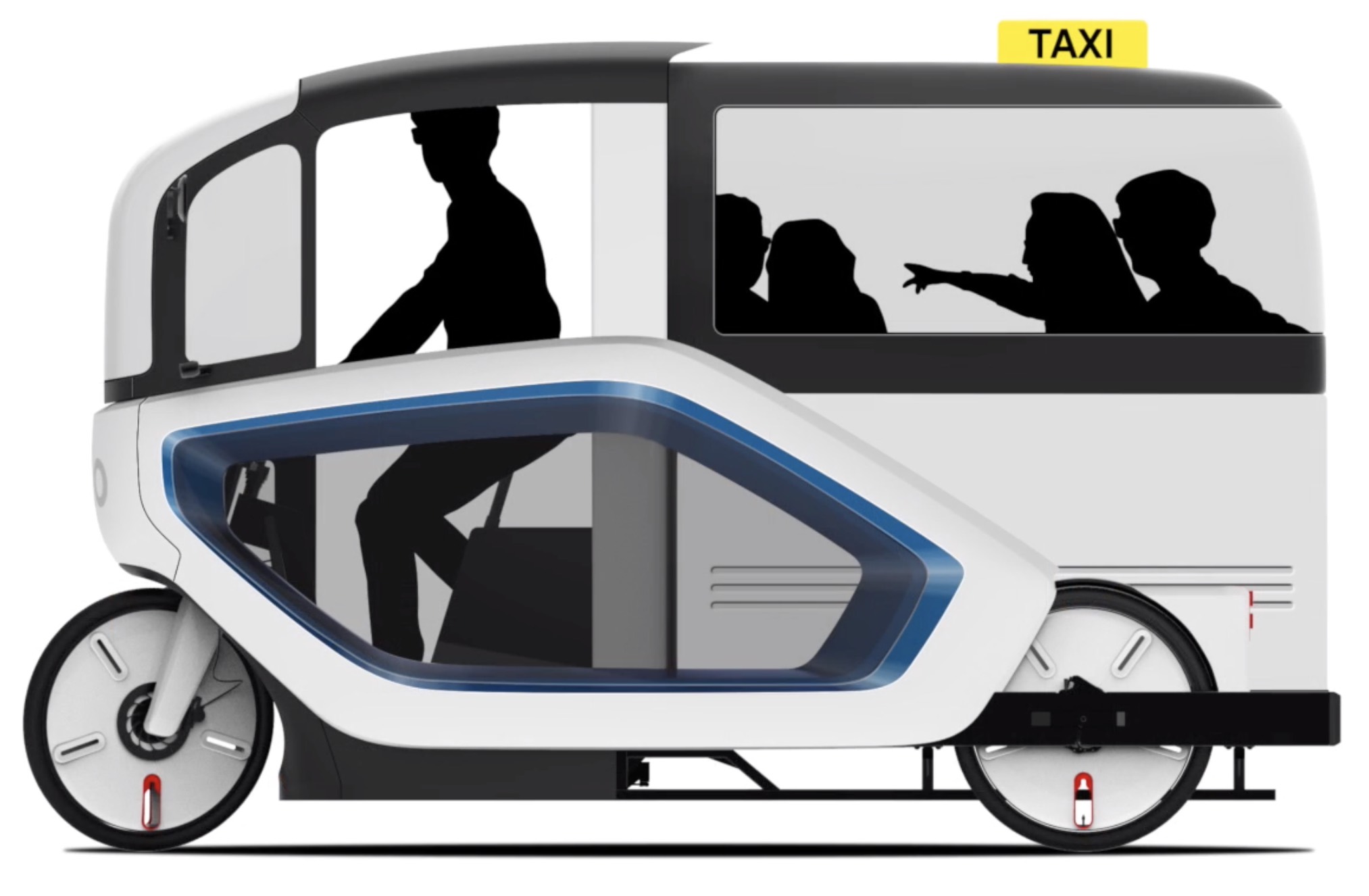 It recently announced the first prototype rolling off the production line and the start of the seedfunding stage – details here (German only).
Gas Gas E-bikes
Gas Gas are a well-known trials motorbike manufacturer but have recently announced a 2019 eMTB, the Pyrenees.
Currently available details include a Bafang mid-drive, semi frame-integrated 468Wh battery, SR Suntour XCR 29 front fork – with 100mm of travel, Kenda Slantsixpro tyres mounted on 29-inch rims, 9 speed Shimano Alivio gears and Shimano MT200 disc brakes.
We'll let you know price details as soon as we get them.
Juicy Partners with Neomouv
Based in the UK's Peak District, electric bike brand Juicy has partnered with the French company, Neomouv. Between them both brands will offer a wide range of interesting e-bikes for 2019. Here's small selection: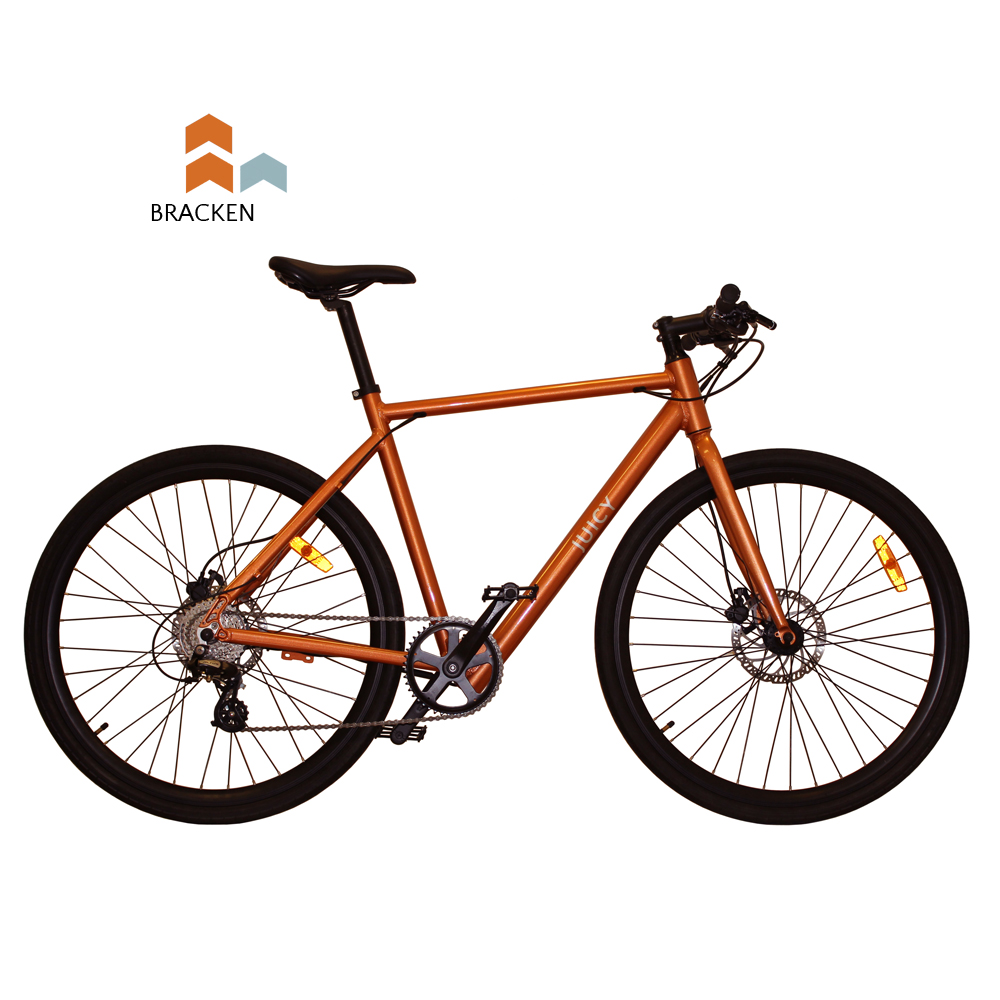 The Juicy Ticket claims to be a sub 33 pounds or 15kg model and looks sleek and fast. According to Juicy 'We wanted to produce a really lightweight and powerful electric bike, that's comfortable to ride and yet affordable for everyday use. Ticket's motor is a high torque Aikema producing over 50NM and is virtually silent with some very nicely engineered internal gearing that produces an amazing amount of power from such a small unit weighing just 2.1kgs'.
Lim-bo is a very striking yet comfortable looking stepthrough town bike with Bosch's highly regarded Active Line Plus mid-drive.
Also with a mid-drive is the Enara e-mtb, that feature's a Neoassist motor and the option of a sizeable 680Wh battery.
Check out Juicy's full range here.
Get Inspired
Beam Me Up!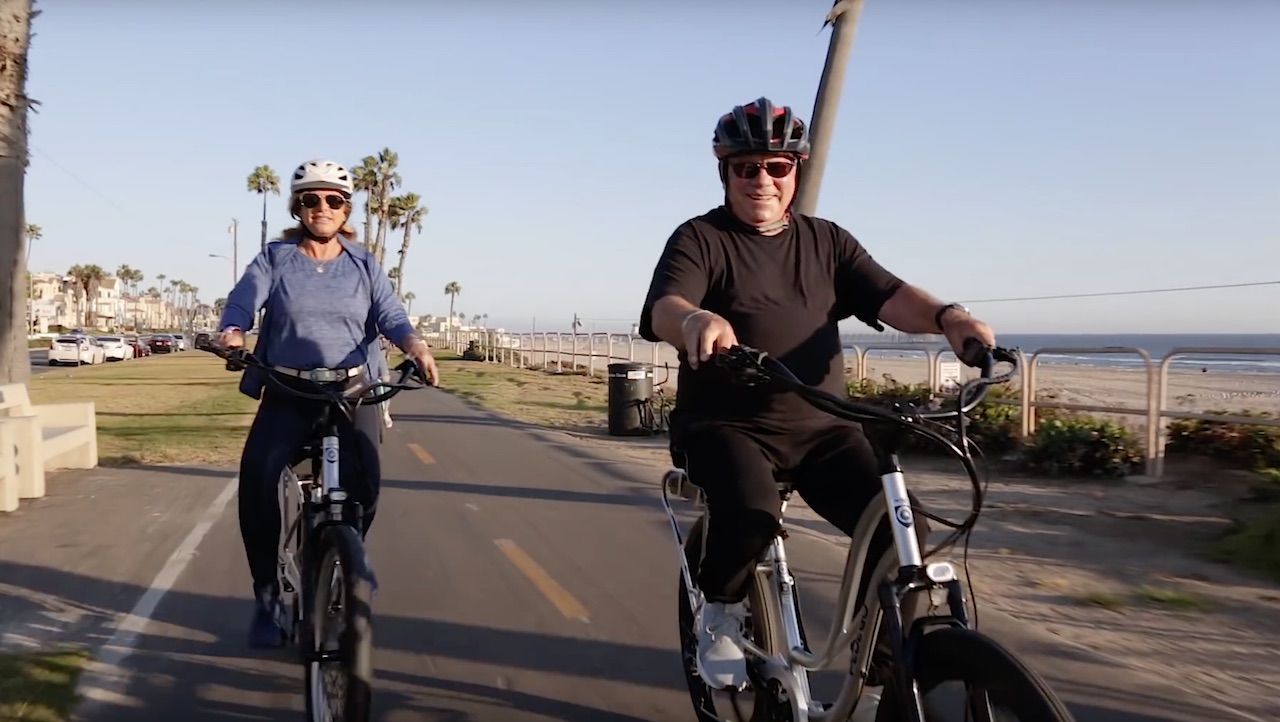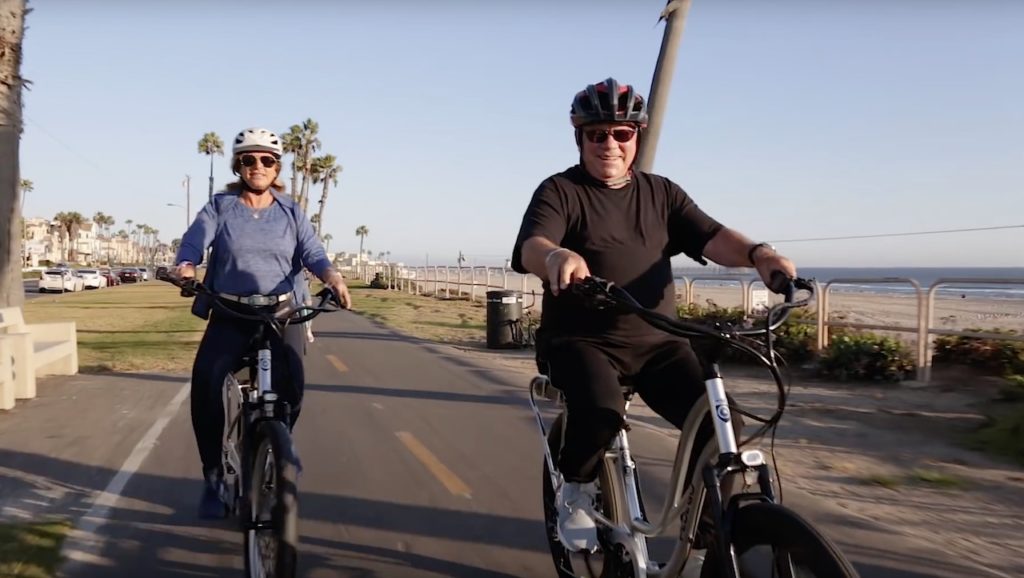 William Shatner (Captain Kirk of Star Trek) is a big fan of eBiking and he enjoys regular rides to stay fit. He is such a fan that he and his family enjoy regular rides to catchup and have fun on their Pedego's. Checkout this interview with Mr. Shatner about eBiking in the LA Times.
Kids Seats Suitable for E-mtbs
A mountain bike might be the last place you might expect to see a child seat, but if you are riding on reasonably gentle tracks and trails then why the heck not take the kids along. So thanks to E-mountainbike Magazine for doing this interesting group test on child seats that will fit onto e-mtbs. Mountain bikes pose a particular problem for child seats as they very often lack rear racks where many child seats are made to fit.
The test loved the very novel looking Mac-Ride which helps tots learn to get the feel of a bike – the leaning and balancing skills in particular – at a very early age.
Fully Charged
We've featured this UK blog before as they are huge fans of e-bikes. Whilst there is not much on e-bikes in particular there's lots on green technology including why hydrogen isn't the future for small electric vehicles, electric-powered oil rigs, the first commercial electric plane entering testing and replacements for single use plastics.
Infrastructure and Bike Share
Lime Launches in the UK
The Guardian reports that 'The Uber-backed electric scooter and bike-sharing company Lime has launched its first UK operation with dockless e-bikes in Milton Keynes.'
Panasonic and Mobike Partner to Push Japan's E-Bike Business
Bike Europe reports that Panasonic has partnered with Chinese bike share giant Mobike to explore the possibilities of an electric-bike-sharing service in Japan. The article also notes that bike sharing has not taken off in Japan as it has in many other countries.
Is the E-bike Motor Market Overcrowded? No Says Bike Europe
Heard of e-bike motor systems from ZF/Sachs, Mubea, Metz, Factor, e Vinka, Hycore, and Shengyi? I certainly hadn't until I read this article in Bike Europe.
As well as noting that many of the latest entrants come from the automotive sector the article poses the question whether there are now too many e-bike motor manufacturers out there. Their conclusion is 'That's doubtful taking in mind that by 2025 annual revenue of the e-bike motor market is expected to stand at some 7 billion euro.'
Major New London Junction to be Cyclist-Friendly
Cycling Weekly reports that Old Street roundabout in London, one of the capital's busiest, is being redesigned with segregated cycle lanes to make it cycle friendly.
New Manchester Cycle Route
Bikebiz reports that a new high quality cycle route is planned between Manchester and Chorlton.
It's part of the Beelines plan to create thousands of miles of safe cycling and walking routes throughout Greater Manchester.
E-bike History
The Bosch Backstory
This interesting piece in Forbes traces the evolution of the Bosch mid-drive, from it's genesis with Bosch engineers through to its appearance at trade shows in 2010 to being at the heart of a thriving global e-bike business.
As the article summarises: 'In the U.S, ebike sales doubled between 2016 and 2017, reaching $77 million. In much of Europe, ebikes are even more popular. In Germany, for example, nearly 20% of bikes sold are electric, and analysts predict that will soon increase to one-in-three. Global ebike sales are expected to grow 6.3% annually through 2025.'
Legal Lookout
New 50 Point Plan to Make UK Roads Safer for Cyclists
The UK's Department for Transport has proposed a series of 50 measures in a bid to make the country's roads safer for cyclists and walkers.
Proposed measures included:
– Motorists should be offered cheaper insurance if they take a course to make them more aware of cyclists on the roads.
– Giving councils more powers to tackle parking in cycling lanes.
– New national 'Cycling and Walking Champion' to be appointed.
– Local authorities will be encouraged to spend about 15% of their local transport infrastructure funding on walking and cycling.
-Creation of a new police unit to analyse evidence of dangerous driving that has been caught on camera by other road users.
Stay tuned for more e-bike news and reviews and thanks for reading!
-Richard
P.S. Don't forget to join the Electric Bike Report community for updates from the electric bike world, plus ebike riding and maintenance tips!
Reader Interactions