eBike News: New Yuba, eCargo Trike, Solar eBike Tour, Electric Shifting, & More! [VIDEOS]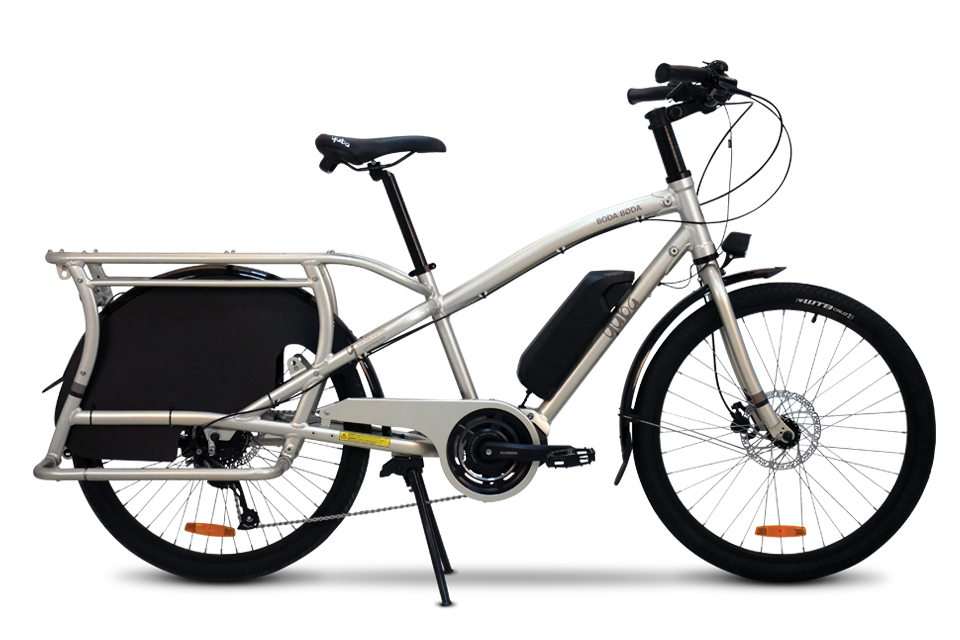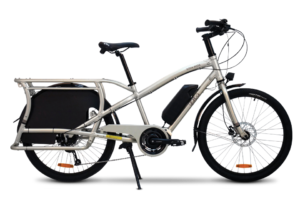 In this week's eBike news roundup:
Yuba's New Electric Boda Boda Cargo Bike
Iceni eCargo Trikes from the UK
Solar eBike Tour of India, US, France
Rohloff IGH with Electronic Shifting
Plus news from New Zealand, Germany, Far East and Netherlands
And Much More!
New E-Bikes and E-bike Systems
Yuba Launchs Electric Boda Boda
California's Yuba Bikes has just launched the Shimano Steps-powered Electric Boda Boda. It's named after African motorbikes that operate as taxis, with a passenger riding pillion on the rear.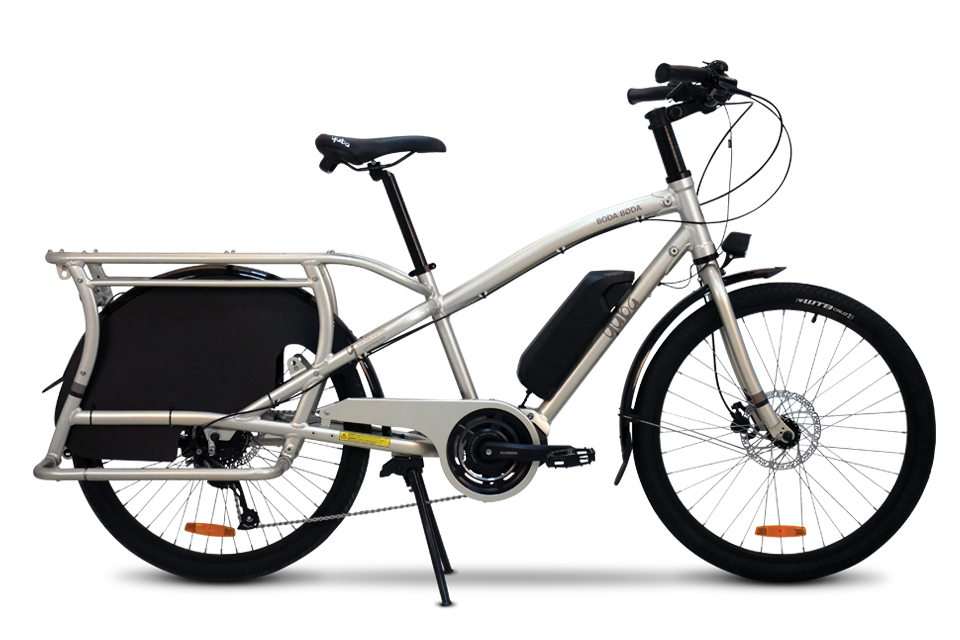 The rear cargo limit of 220 pounds (not including rider) is impressive so it will take a medium-sized passenger or a very large amount of groceries! It comes as standard with fenders, wheelskirts, chain guard, and LED lights and retails at US$3,399.
Meet Iceni eTrikes from the UK
Iceni are a UK venture with an interesting and attractive range of cargo trikes, all with electric assist options. This article describes how a simple visit to a trade event has helped popularise their range and lead to success; 'momentum came for the business…..last March when it launched its trikes at the European Cycle Logistics Federation Conference in Vienna. The business, with a workforce of just eight, showed off their family, cargo and adventure trikes, where two dozen have been sold for between £4,000-6,800, and since then, the offers have been flying in.'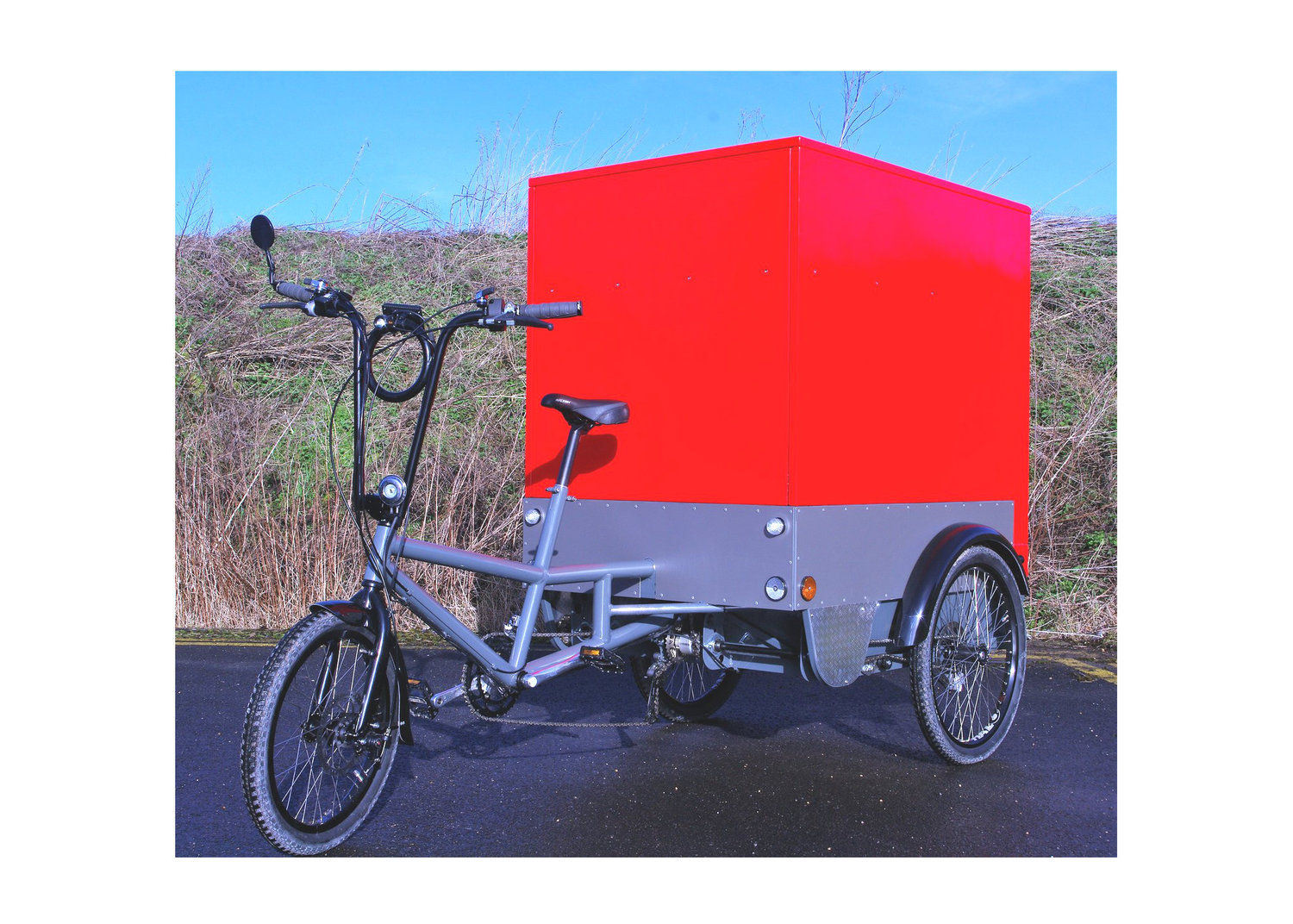 The most utilitarian model is based around a 1.5 cubed capacity cargo box capable of taking 250kg. However there is also a family model with comfortable looking seat and canopy and an 'adventure' model especially designed for taking a wheelchair passenger.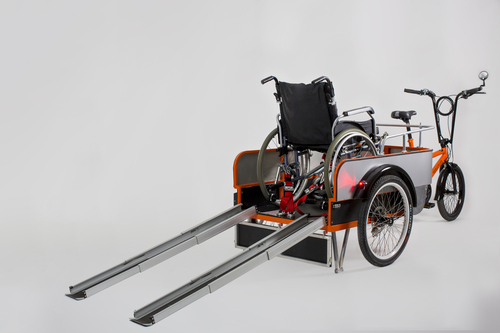 Rohloff 14 Speed IGH with Electronic Shifting
The famously tough Rohloff internally geared hubs now have electronic shifting that works with the Bosch eBike systems. For now it will only be available on complete bikes but there is rumors of a retrofit option in the future…..
Get Inspired
Solar eBiking Across India, US, and France
We have featured Sushil Pakala Reddy's incredible long distance trips before but this article is a good recap of the amazing work he is doing to promote sustainable power and mobility.
Kiwi Pizza Deliveries From Hell
This is an impressive commercial e-bike investment: New Zealand pizza delivery firm HELL is investing more than $160,000 in e-bikes to speed up deliveries, improve staff health and reduce its environmental footprint. There are now 45 electric delivery bikes of theirs across the country, reports New Zealand business.
Battery Roundup
Battery Maestro on Radio
Clare Grey is a UK scientist who has worked with major battery producers on making lithium-ion batteries the much, much more reliable products they are today (compared to early models that is).
If you want to know the level of technology that has gone into their development and Grey's thoughts on future technologies this BBC programme is worth a listen.
E-bike Biz
RadPower's New Directors
Rad Power Bikes, which describes itself as 'the nation's largest direct-to-consumer electric bike company', is adding two new directors to its leadership team.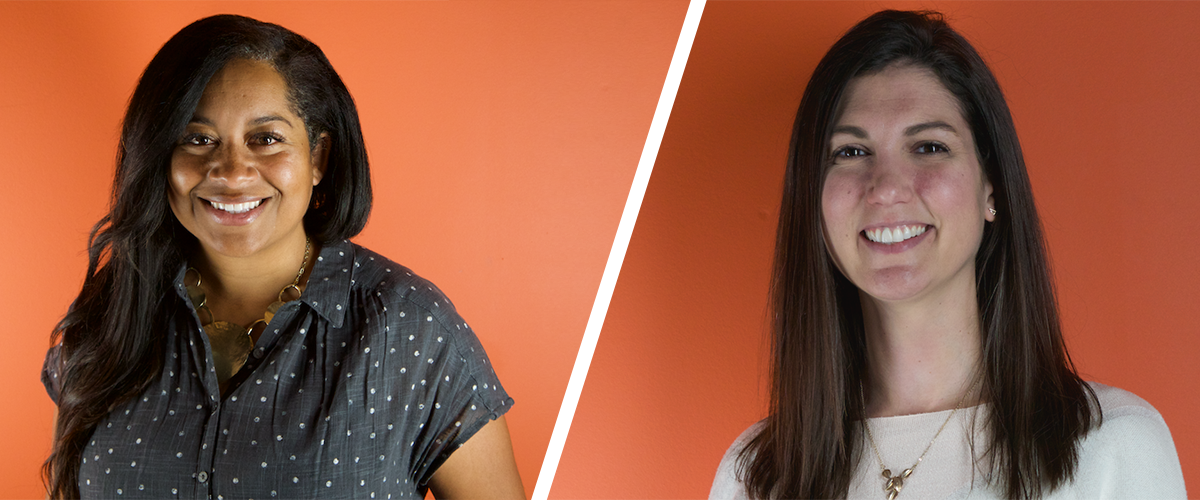 Quan Ralkowski, Director of Operations, and Janna Bassett, Director of Supply Chain. Both women will utilize their experience working for global brands (Amazon and L'Oreal respectively) to 'continue driving quality, efficiency, and customer satisfaction' say the Seattle-based company.
"We are very excited to have the opportunity and capability to bring on two such talented experts. We are at a very important stage in our business where we need leaders in these key management roles in order to scale and meet domestic and international high-volume demand," said Mike Radenbaugh, CEO of Rad Power Bikes. "Quan and Janna will work to ensure our company continues operating as smoothly as our ebikes."
US$ 8 Million for FAZUA
This press release reveals the innovative and lightweight removable FAZUA motor drive system from Munich has received a further US$8 million in venture capital funding. It is already used on e-bikes from the likes of Cube.
Podcast Now Available
An Interbike podcast, focusing on e-bikes, is now available here. There are interesting facts in here – not least a 92% increase in e-bike sales last year.
One in Five Bikes Sold in Germany Electric in 2017
German e-bike sales are at record levels (around one in five bike sales are electric) says Bike Europe.
Giant and Merida Step Up E-bike Capacity
Bike Europe again – far-eastern firms Giant and Merida both expect great things from e-bikes in 2018, which will in part take up the gap in sales left by a dramatic decline in the export of conventional bikes.
E-bike Law
Those Against E-bikes May Not Recognize Them
This interesting article from Colorado Public Radio details the potential e-bike / other trail user clash of interest that may lie ahead in Jefferson and Boulder counties. What really stands out is the fact that more public education and research is needed to come to careful decisions in order to avoid a backlash against off-roading on e-bikes.
Certainly misperceptions still abound, as many of those interviewed on the trail who responded negatively to e-bikes didn't even realise the questionner was on one!
Dutch Gelderland Allows S-peds on some Bike Paths
This Dutch-language report highlights the fact that in the Dutch Wageningen area in Gelderland province speed-pedelecs will now be allowed on some bike paths.
My Week on E-bikes
I've been out testing the remarkable Retyre system. I admit to being sceptical at first – zip on tires – really? Initial ride impressions are really good though, so watch out for a full report in due course.
Stay tuned for more e-bike news and reviews and keep on riding.
-Richard
P.S. Don't forget to join the Electric Bike Report community for updates from the electric bike world, plus ebike riding and maintenance tips.
Reader Interactions