eBike News: New Vintage, Canyon eMTB, & Bafang Motor, Danny MacAskill on eMTB, Modification Fines, & More! [VIDEOS]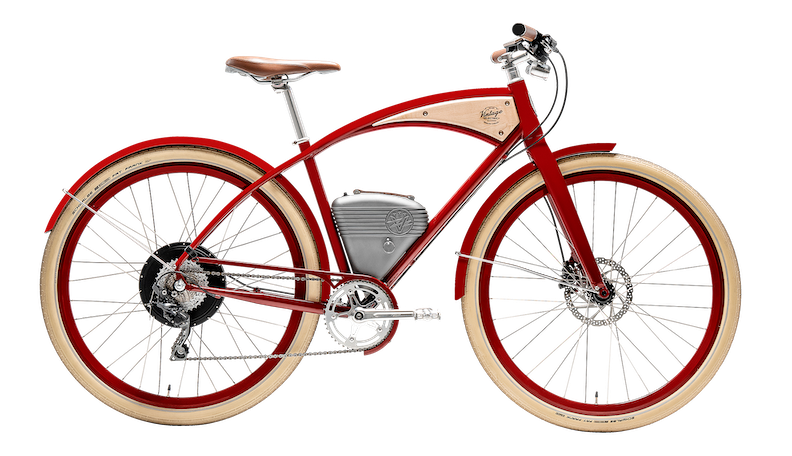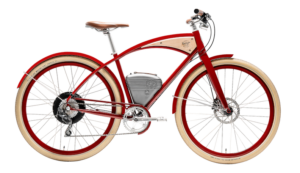 In this week's news:
2020 Vintage Cafe
Updated Canyon Neuron:ON eMTB
Bafang's New Entry Level Mid Drive
Danny MacAskill Video on New Santa Cruz eMTB
Velove's Amazing eCargo Armadillo
Encouraging eBike Ideas from Chicago & New York
eMTB Race Team
Big Penalties for Modifying eBikes in France
Sea Otter Moves to October
Latest eBike Biz News & More!
New eBikes & eBike Systems
2020 Vintage Electric Bikes Cafe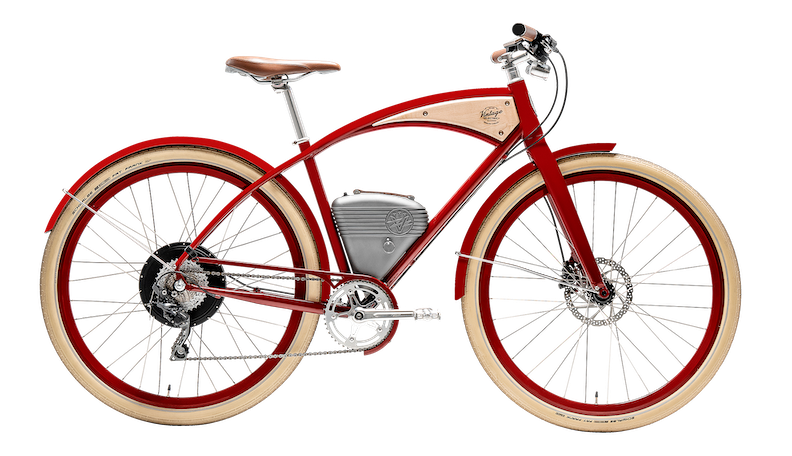 Vintage Electric Bikes has launched their 28 mph 2020 Cafe with the new 2020 Vintorque™ Drivetrain Technology for $3,995.
From Vintage 'The pedal assist input, which includes Vintage's most finely attuned torque sensor ever, reacts instantly and seamlessly to the motion of your feet melding you to the machine. The instant you need power, you've got it, resulting in a super-smooth ride, be it uphill or a long straightaway. The Cafe's bluetooth-enabled controller guarantees frictionless integration between all components, pumping up performance and power for the top-of-the-line 750-watt rear-hub motor.'
"The all new Vintorque™ drivetrain allows the rider to harness all of the power we are known for. Our main focus on this project was to relay every rider input into a precise yet powerful riding experience." Andrew Davidge, founder of Vintage Electric says.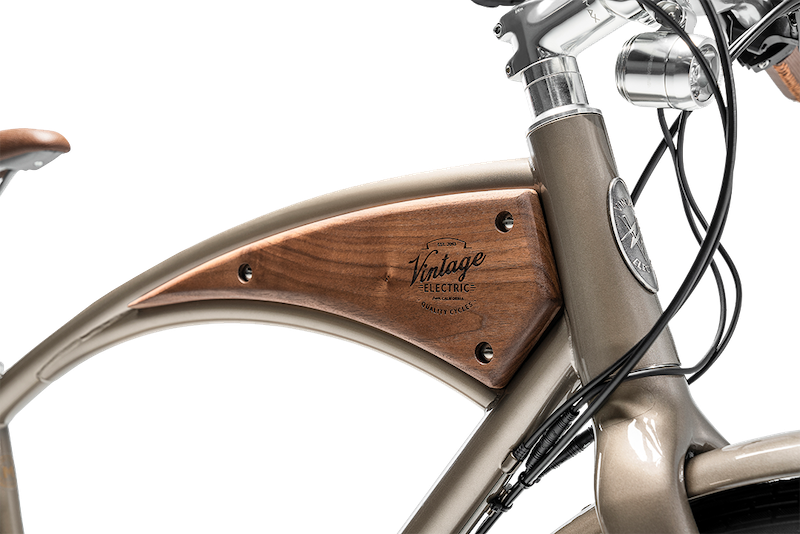 True to Vintage Electric Bike style, classic finishes include supple leather handles while the all new wood inlay, made of either maple or walnut.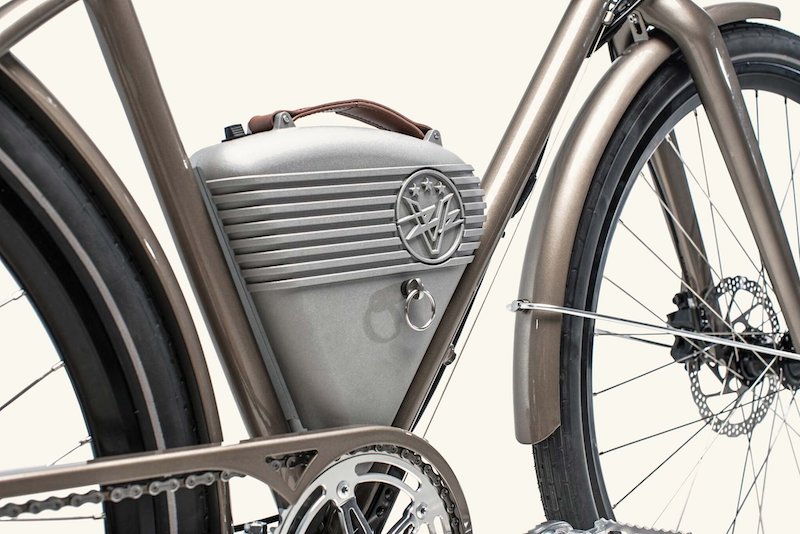 That is the 500 Wh lithium battery that has a stated charge time of 2 hours.
Learn more about the Cafe here.
More Integrated Canyon Neuron:ON for 2020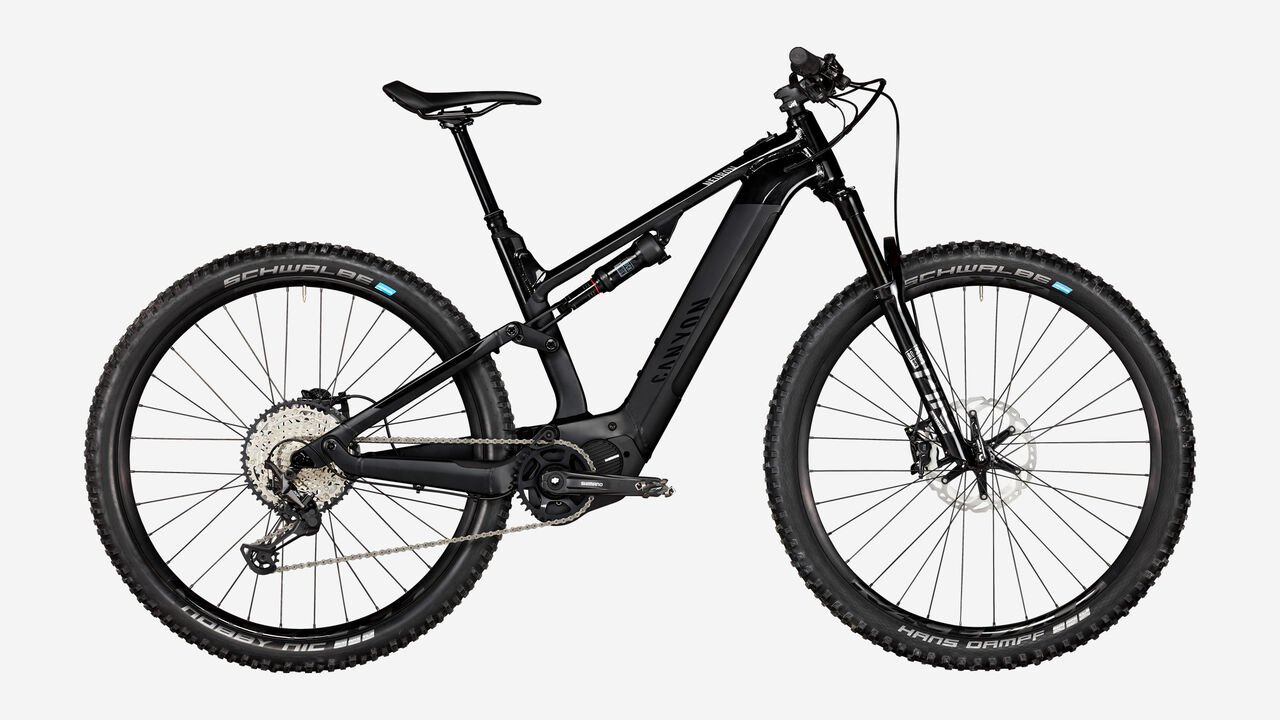 German manufacturer Canyon recently announced an updated version its Neuron:ON emtb for 2020. Emountainbike gives a nice summary of the changes for 2020.
It remains aimed 'at trail riders looking for an easy-handling and versatile eMTB on a budget' and utilizes a Shimano Steps mid-drive and 504Wh battery.
The main changes are aimed at a smoother more integrated look and greater connectivity, with in-frame batteries and the rear magnetic speed sensor migrating from the wheel spokes to the frame.
There is also a new USB-C charging port that can be used to charge a device or power a headlight.
Priced at € 3,599–€ 4,499, depending on the model.
Bafang's new M200 Mid Drive
The UK's Bike Biz reports that:
'Bafang's new M200 mid drive system will focus on the entry-level e-city and e-touring segment, creating a "strong offering for a booming market".
The company's development team has worked on the internal construction of mechanical and electrical parts of the motor, reducing the number of gears and switching to a combination of nylon and steel gears, resulting in an "even smoother and almost 100% silent function without compromising the motor power".'
The claimed 65 Nm of torque would make it powerful for an entry level mid-drive. The motor's stated weight is 7 pounds (3.2kg).
The M200 drive system is already in full production and first deliveries of bikes to the market are expected as of Q2 2020.
Get inspired
Danny MacAskill Tests the Santa Cruz E-bike at Home
Ever think you are not getting the most out of your e-bike?
Professional trials rider Danny MacAskill is one rider who certainly does take things to the performance limit as you can see in his latest video testing Santa Cruz's Heckler on an uninhabited Scottish island and his home island of Skye.
Sea Otter Rescheduled for October
California's Subaru Sea Otter Classic powered by SRAM is one of the world's largest, if not the largest cycling festival.
It is described as part recreational biking, part competitive event, part festival, part expo and features a whole host of the latest e-bikes for tryout.
The April event was cancelled due to concerns over the coronavirus but has been rescheduled to take place in Monterey, California from October 1-4, 2020.
Tribe Rocky Mountain Go Electric
The Tribe Rocky Mountain racing team are targeting e-bike events this season according to PinkBike:
'After a couple of victories in Enduro Series French Cup, an EWS crowning in 2016, it's time for us to fully commit once again, and this time to E-Enduro. Targets are set on E-Enduro Series French Cup, French E-Enduro Championship and, of course, the EWS-E kicking off this year. To achieve these goals, we rely on our fellows from Rocky Mountain Bicycles and the amazing PowerPlay tools they are offering.'
eCargobike Watch
Low Down on the Armadillo
We have featured Velove's Armadillo eCargobike in previous posts, but Core 77 has taken a closer look at what makes the Swedish designed and manufactured bike one of the most functional out there in this article.
Features include a 660 pound (300kg) payload but only a 34″ width (handy for bike paths), comfortable riding thanks to the seating and suspension arrangements and a tight turning circle.
A second article here details how DB Schenker are trialling the bikes in Norway and how they are leading to increases in productivity and a reduction in CO2 emissions.
A further article describes how Velove fonder Johan Erlandsson also founded a delivery company that help iron out any initial problems with the bikes, including the introduction of quickly removing wheels to fix punctures quickly en route.
Infrastructure and Micromobility
How Can Chicago Support the eBike Revolution?
The above is the title of this interesting article on the Streetsblog website.
Some of the ideas are clearly accepted and often demanded by those wanting to encourage bike and e-bike use in their city, such as well-protected bike lanes and e-bike share (now present in Chicago in the form of Divvy Bikes).
Other touted helpful ideas in the article are more secure bike parking that is flexible, space efficient and inexpensive for the user; enter the Oonee Pod – the pioneering example is in NYC but of course they would work in any big city.
And there also a simple plea to make alternative transportation more attractive by making it more fun.
eBike Research
Call for Bosch e-Bike Users to Join University Study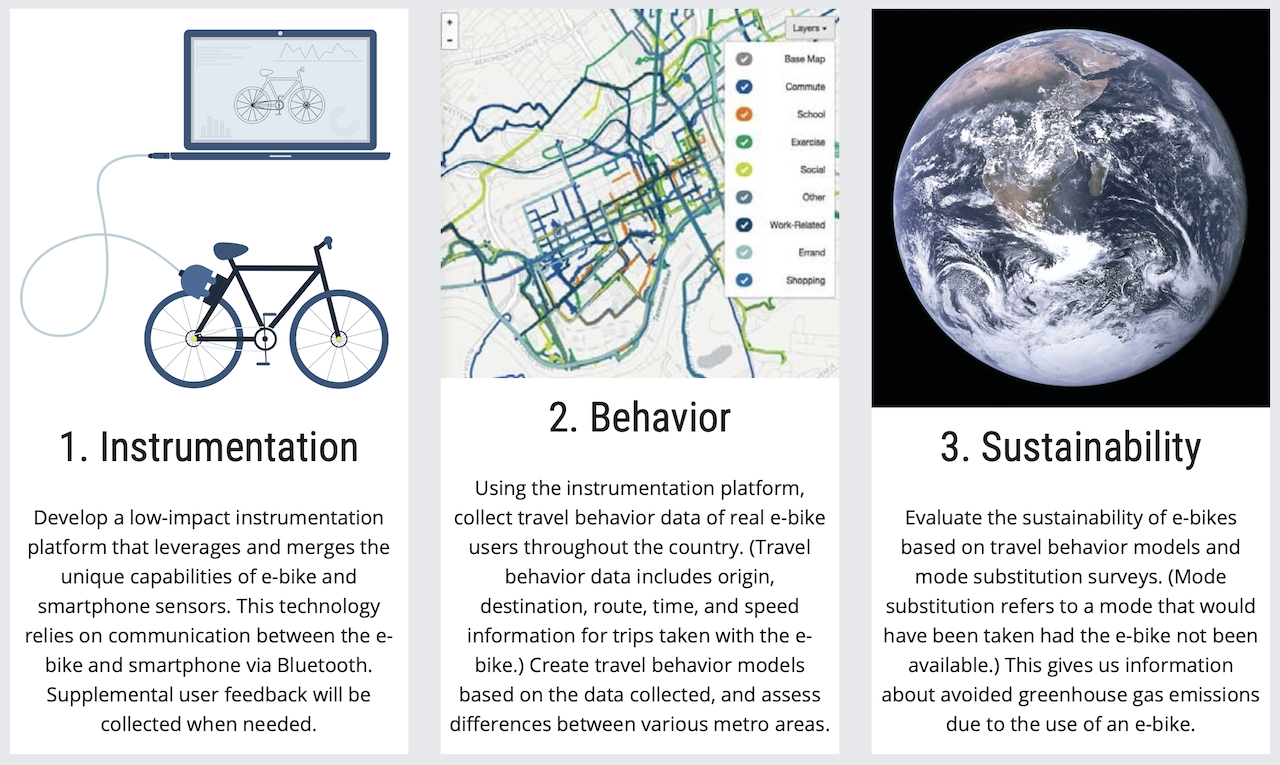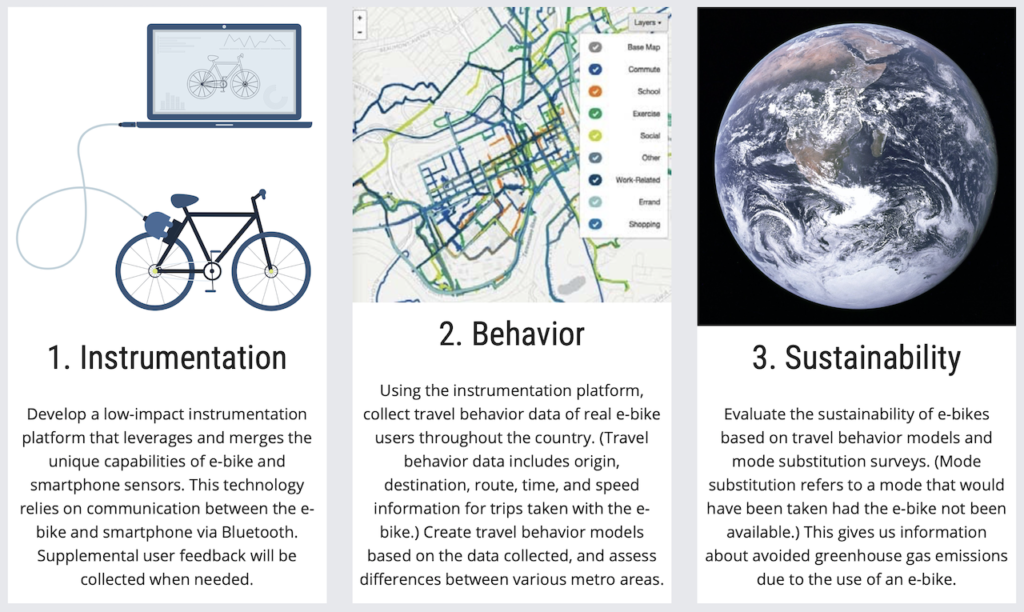 Portland State University have been in touch to say they are conducting a new joint e-bike research project with the University of Tennessee, Knoxville.
They say they are 'looking at the sustainability effects of e-bikes and utilitarian travel behavior of e-bike users, including origin, destination, route, time, speed, mode replacement, and trip purpose.
They are inviting e-bike riders to 'passively share your trips with us – just plug in a dongle, download our app, and ride like you normally do. The study is open to U.S.-based participants who ride an e-bike with a Bosch onboard computer, and use an iPhone.'
You can learn more and apply here.
eBike Law & Standards
Big Penalties for Modifying eBikes in France
Bike EU reports that 'the French government has legislated the prevention of e-bike tuning. With the start of 2020, it's forbidden for an individual, a retailer or a brand to increase the support power of the e-bike drive system with which the regulated speeds of 25 km (for regular electric bicycles) or 45 km (for speed pedelecs) can be exceeded. The new law provides for the possibility of imposing fines of up to 30,000 euro, or even one year in jail in the event of violations.'
New Test Procedure for Speed Pedelecs
In the European Union Speed Pedelecs are classed as mopeds and are subject to more stringent manufacturing and testing requirements such as the type approval process.
Germany's EMEC make testing equipment that covers everything from eBikes to autonomous lawnmowers. They have been in touch with EBR to let us know about a change in the testing procedures for speed pedelecs:
'Starting from the 1st of January 2020, the test procedure for the energy efficiency changed from R200 to WMTC (World Motorcycle Test Cycle). Thus an adjustment of the test procedure has become necessary….(for all) the classes L1e-B, L2e or L6e.'
EMEC point out the existing test regime of R200 for regular pedelecs assisted up to 25kmh / 15.5mph continues but the WMTC test now applies to speed pedelecs.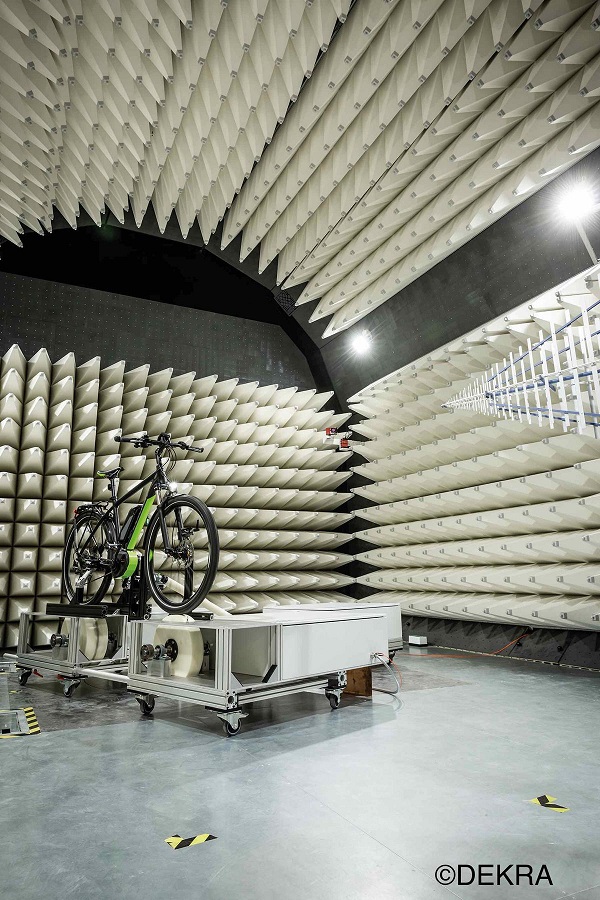 As manufacturers of pedelec test benches, EMEC point out the requirements for the new WMTC test are that 'the test bench must have a high-performance class but also a very large control dynamic, since the test cycle includes frequent acceleration and deceleration/recuperation.'
eBike Biz
eMTBs 'Phenomenal Opportunity' Say Fox
This interesting report from Bicycle Retailer has a quote from suspension specialist Fox's CEO Mike Dennison:
"Initially e-bikes really weren't much for the mountain bike category, they were more city bikes and things like that," he told analysts. "As that transitions to the mountain bike — and the premium mountain bike at that — we think that's a phenomenal opportunity for us, so we are focused on that in 2020 and beyond.
Stay tuned for more e-bike news and reviews and thanks for reading!
-Rich
P.S. Don't forget to join the Electric Bike Report community for updates from the electric bike world, plus ebike riding and maintenance tips!
Reader Interactions