eBike News: New OHM & Canyon eBikes, World Record Attempt, Speed eBikes, Germany's Bike Highway & More! [VIDEOS]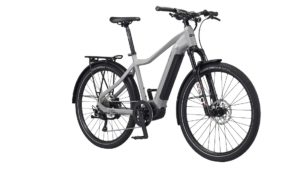 In this week's news:
OHM's New Lightweight eBikes
Canyon Pathlite:ON E-Trekking eBike
Aventon Sinch Ride Characteristics & Video
New eBike World Record Attempt
Intelligent Speed Control for Speed Pedelecs in Holland
Germany's RS1 Superfast Bike Highway Progressing
Bafang China Factory Reopens After Coronavirus
Sea Otter Classic & Handmade Bike Show Postponed
And Much More!
New eBikes & eBike Systems
OHM's New Lightweight Models with Shimano Steps
Canadian e-bike pioneer OHM have just revealed their next generation of completely redesigned electric bicycles at the BC Bike Show in Vancouver, BC.
All three of the new models are built around the Shimano STePS mid-drive motor and fully frame integrated higher capacity batteries.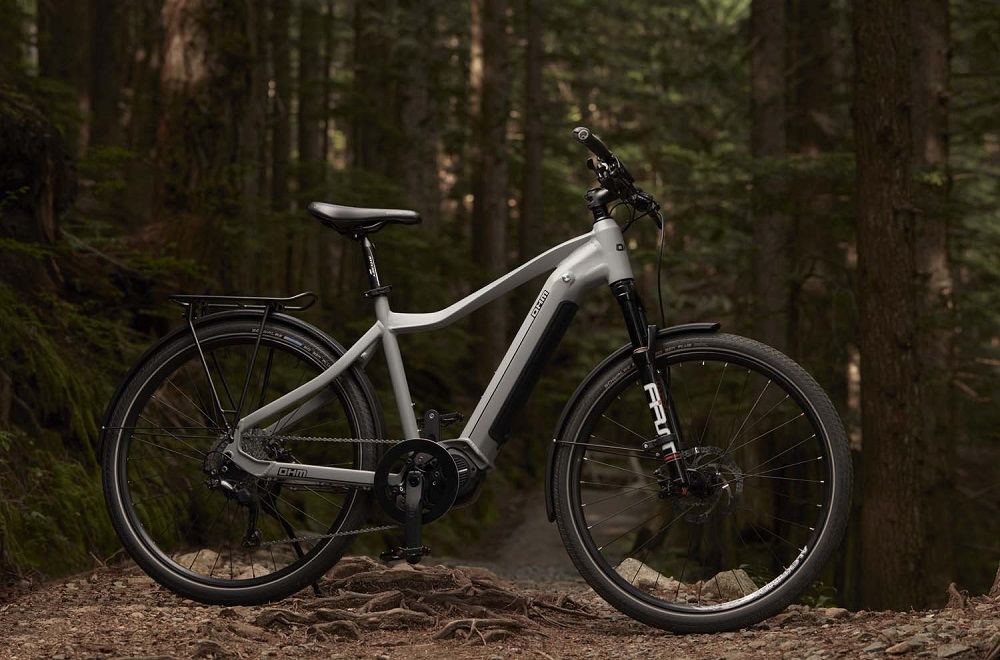 The new Cruise and Discover models lean more towards the beginner end of the market, or simply those happy with a slightly gentler ride as they use Shimano's E6100 motor whilst the Quest uses the punchier E7000 mid drive.
OHM stress the light weight of the bikes – from 48lbs / 21.7kg – which is indeed pretty impressive for e-bikes that come with 504Wh batteries, pannier rack, kickstand and mudguards as standard.
There is also smartphone integration which allows customisation of settings and multiple frame sizes. Cruise and Discover models retail at US$2,899 and the Quest at US$3,399.
Canyon Pathlite:ON – High Capacity, High Quality E-trekking Bike
German bike and e-bike manufacturers Canyon have just launched an impressive looking e-trekking model, the Pathlite:ON aimed at long distance, on and off-road tours and adventure riding but of course it could be pressed into service for any day to day e-bike task too.
It features the latest Bosch Gen 4 Performance Line CX motor – the smallest, lightest and most powerful Bosch mid-motor. There are various model options but for a full road test check out Emountainbike's real world test of a dual battery model here.
In the UK the range retails at £2349 to £4649.
Elsewhere on EBR
Aventon Sinch Fat Folding eBike – Part 2 with Video
The Aventon Sinch is a fun and adventurous eFolding fat bike that is great for exploring the town and backroads and Part 2 of our review – ride report with video – is now published.
For Part 1 – detailed spec and pics – see here.
Get Inspired
Aiken Resident Aims to eBike into the Guinness Book of World Records
The Aiken Standard reports that 63 year old resident of Aiken, South Carolina, Michael Wiltse, 'is striving to break the Guinness Book of World Records for the longest journey on a motorized bicycle within the next couple of months.'
Apparently Wiltse's ultimate goal is to document the problem of homelessness as he travels around the country. Wiltse, who himself battled homelessness for years, converted his Schwinn DSB Hybrid bicycle to an electric bike and added additional support for him – nearly 200 pounds of equipment and his 100-pound bulldog, Bella, who is coming along for the ride in a portable dog carrier.
The article tells us that the current record for the longest journey on a motorized bicycle is currently held by Ravindra Kempaiah, who cycled over 5,100 miles for 34 days through 12 states in 2016.
All the very very best to Michael on his trip – EBR will keep you posted on his progress! In the meantime you can visit Michael's GoFundMe page here.
Speed Pedelec News
The Verge reports that Schiphol Airport near Amsterdam, is preparing to test a new system that automatically slows down 28mph / 45kmh electric bikes to the speed of 'regular' e-bikes as they approach the airport.
Whilst sales of these speed pedelec models are growing rapidly in some European countries they are posing problems of just how and where they fit into the current traffic landscape.
Clever sounding tech involved the bicycle lanes around Schiphol being mapped and photographed to include traffic signs. The maps, combined with GPS and speed limiters on the s-pedelecs' electric drives, can automatically slow down the so-called s-pedelecs.
This automated 'intelligent speed control' approach is just one approach to encourage the safe and responsible use of speed pedelecs in order to get more people out of their cars and cycling to work with the focus in Schipol's case being on employees who live within 15.5 miles / 25km from the airport.
Whilst the takeup of speed pedelecs in the Netherlands has recently been quite strong there are some inconveniences when compared to riding slower pedelecs – riders of s-pedelecs must wear helmets and are forbidden to use some bike paths because of the unsafe speed disparity they create.
As the article points out, S-pedelecs are also expensive, but a new government-backed scheme introduced in January allows employees to lease one for less than the cost of a Netflix subscription. A €3,000 (about $3,260) e-bike, for example, could be leased through an employer for about €7 or around US$7.60 per month.
Infrastructure
Germany's Fast Cycleway Progressing – Slowly
Nature Knows reports that 'Germany has opened the first three-mile stretch of a bicycle highway that will eventually span over 62 miles, connecting 10 western cities including Duisburg, Bochum, and Hamm, as well as four universities. And this highway is an entirely separate roadway that will remain completely car-free.'
What the post is actually referring to is RS1 – the Rad-Schnellweg or 'fast bikeway' that has been years in planning and should have been opened this year. German language reports say that a 10 mile stretch was recently opened in Bochum but they report that 'it will probably take at least three years until the RS1 is finished. However, there have been delays in construction, for example due to contaminated soil or planning holdups.'
It sounds like it will be a fantastic facility when complete and EBR will keep you posted on its progress. In the meantime here's the official launch video from 2016 – even if you don't understand German it gives an idea of the quality of build they are aiming for:
E-bike Biz
Bafang Factory Resumes Production
Bike Europe reports that one of the world's biggest manufacturers of e-bike motor systems, China's Bafang is back in business after a shutdown due to the coronavirus. The company has resumed production at its Suzhou facility.
The report from Bafang that it has resumed production is one of many signals that indicate that the coronavirus is on the retreat in China. Earlier, Bike Europe reported on Giant and Merida reopening production at their Chinese factories.
Sea Otter Classic Postponed
The Sea Otter Classic bike event near Monterey California has been postponed due to coronavirus concerns. The SOC staff will have a new date for the event available this next week.
Handmade Bike Show Postponed
Like the Sea Otter Classic, the North American Handmade Bike Show is being rescheduled to August 21-23 in Dallas, Texas.
Stay tuned for more e-bike news and reviews and thanks for reading!
-Rich
P.S. Don't forget to join the Electric Bike Report community for updates from the electric bike world, plus ebike riding and maintenance tips!
Reader Interactions