eBike News: New Lightweights from Trek and Coleen, eBike Bargains, Battery Sustainability & More! [VIDEOS]
In this week's news:
Trek's New Superlight eMTB
Coleen's Carbon Fiber Framed Speed Pedelec
Porsche eCar and eBikes
Great Deals on Rad Power's RadRunner Plus and Chrisson's eOctant
POC's Batteryless Helmet
Mody Camping-Caravan Trailers
Alpen's Tern Compatible Storage Comes to North America
Seattle Gets Food Deliveries With the Help of eCargobikes
Lime's Huge New Investment and a New eBike
Can the EU Makes Battery Production Sustainable?
Insight from Dutch Battery Repair Specialists
Eurobike Plans to be Back in Person for 2021
New eBikes and eBike Systems
Trek Launch New Super Light eMTB Range
Trek recently launched a superlight range of carbon-framed eMTBs, the 2021 E-Caliber line all powered by the lightweight and removable Fazua assist system. The highest-end version of the pricey e-bike line is claimed to be the lightest full-suspension eMTB on the market. The E-Caliber is based on the non-electric Supercaliber mountain bikes Trek launched towards the end of last year.
The top end E-Caliber 9.9 XX1 AXS is claimed to weigh 15.75 kg 34.72 lbs (12.45 kg / 27.45 lbs without the motor drive) – that may or may not be the lightest emtb in the world but either way it's mightily impressive. The Fazua mid-drive is not as powerful as the bigger, heavier mid-drives from the likes of Bosch, Shimano and Yamaha and the battery is smaller than average at 250Wh, though Trek claim is will achieve 43.5 mi / 70km range.
More on just who it is for can be seen here directly from Trek:

[youtube https://www.youtube.com/watch?v=4RpxRnQbQSA&w=942&h=530]
Prices are not cheap as you might guess; Trek is a leading, high-quality manufacturer and this is their top-of-the-line lightweight full-sus emtb range. They range from US$6499 to US$12,999.
French High-End Brand Coleen Announces Carbon Fibre Speed Pedelec
French e-bike manufacturer makes some beautiful looking e-bikes and are known for their lightweight, high quality, minimalist design and for being manufactured in France.
Coleen have just developed what they claim is the first speed pedelec (28mph assist capable) in carbon fiber with a pedal axle-mounted Pinion gearbox, named the Speed. It weighs between 22,5 and 24,5 kg / 49.5-54 lbs according to Coleen.
The 750Watt rear hub motor combines with 6 Pinion gears based around the pedal area, making for an ultra-low maintenance e-bike. There is also a 6 speed option.  The removable battery requires no physical key and Coleen say 'One full charge takes a record time of 2h30, with 50% of the battery recharged in 1h. Coleen opted for a battery with built-in microprocessors, to manage each cells level, optimizing the ergonomics design and energy efficiency. Its BMS (Battery Management System)
is inspired by the same technology as the one used in aeronautics to ensure up to 8 years of battery life. The Pinion gearbox is said to be good for around 375,000 miles.
Coleen's innovative design includes a cockpit style, high visibility, HD transflective display. It shows the speed according to the selected assistance mode, battery life, as well as incoming calls or text messages. An integrated GPS tracker alerts the user if any suspicious movement is detected, on a dedicated app.
Prices for Coleen's current range of standard build e-bikes e-bikes are €7960 to €9990 but there are also many options that can be specified individually via Coleen's website for buyers to get the spec they require with numerous options available and prices starting at €6860.
Porsche New Car Launch Accompanied by New eBikes
Porsche recently launched their most expensive version of their first electric car, the Taycan 4 Cross Turismo whose retail price starts at £79,340 (around US$110,000) – launched at the same time were the Sport and Cross e-bikes. They cost a little less but are still at the very top end of the e-bike scale at $8,500 and $10,700. Both weigh around 22kg or 48lbs – certainly not astonishingly light for e-bikes.
They were developed in collaboration with German e-bike manufacturers Rotwild and both feature Shimano's latest and most powerful mid-drive the EP8.
The Sport is described as a road bike but has a full-suspension carbon fiber frame and  integrated front and rear lights,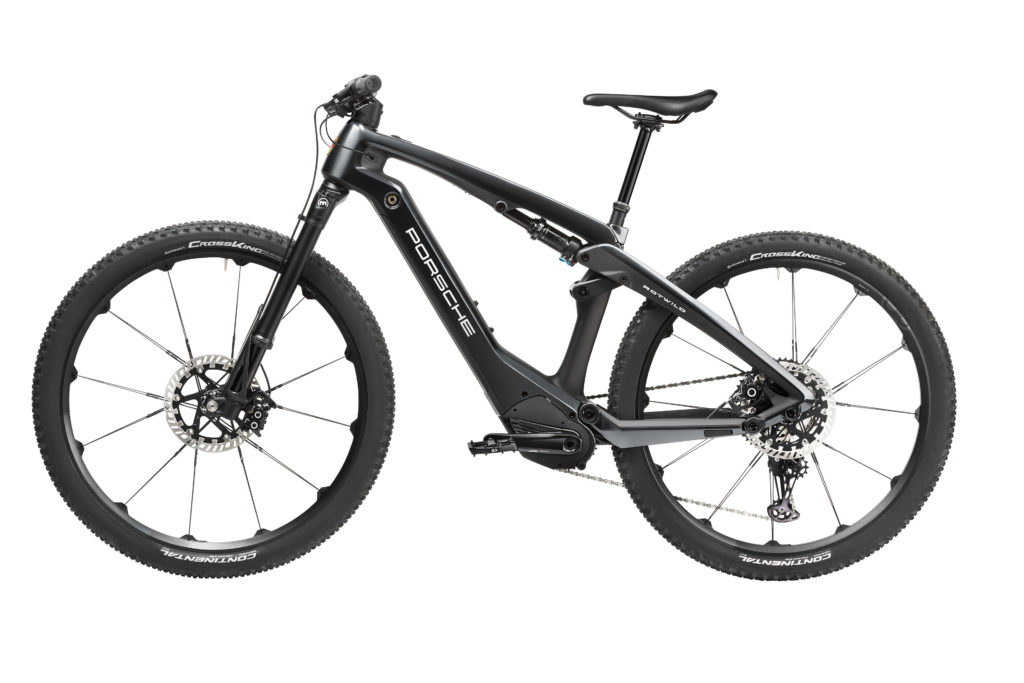 The Cross is clearly off-road specced with large disk brake rotors, dropper seatpost and a large 12 gear derailleur gear range.
eBike Deals
RadRunner Plus Limited Edition Available Again in Europe
Rad Power's RadRunner Plus Limited Edition ebike is back and available at €1599 for European customers.
The basic RadRunner design combines a step thru cargo bike frame and relatively small 20 inch wheels plus a 54kg / 119lb rated rear rack – a rare combination and one that is proving very popular due to its huge capability and small footprint. second its rear rack is rated to carry a mighty 54kg. It also packs a powerful rear hub motor and large 672Wh battery.
The limited edition version of the RadRunner Plus comes equipped with the Espresso Passenger Pack (including matching seat, passenger seat and grips) and Premium Headlight. At only €100 more than the RadRunner Plus, you save €137 according to Rad Power Bikes.
Chrisson eOctant – Well-priced, Lightweight Belt Drive
It's always of interest to see what is on offer in mature e-bike markets like the Netherlands and Germany; because sales numbers are so phenomenal customers are well-experienced in what to look for and will know what is good value and such intense competition can produce surprisingly good value models.
Chrisson's eOctant is a lightweight city e-bike with some great low maintenance and high performance features; Aikema rear hub motor, Gates carbon belt drive, inbuilt LED lighting, good capacity 360Wh battery all add up to a claimed weight of around 17kg / 37.5lbs. The belt drive is currently priced at €1449.
New Cycling Accessories
POC's Omne Eternal – the Helmet with a Batteryless Light
There are numerous bike helmets on the market with some kind of integrated lighting but nearly all of them rely on batteries that need to be replaced or recharged so for both there is a level of inconvenience and lack of sustainability.
Enter POC's Omne Eternal, described as 'the world's first self-powered helmet', using a technology called Powerfoyle, a kind of light-harvesting material distinct from silicon-based photoelectric solar panels. Unlike regular solar panels, Powerfoyle can convert any light source, indoor or outdoor, into electrical power. A rear light is built into the back of the helmet and it's automatic and self-powered, so there's no need to remember to turn it on or charge it before a ride.
The company behind the Powerfoyle technology, Exeger, appear a little reluctant to comment on it's actual efficiency, nor have POC released figures on how bright the light is, or its runtime.
The Omne Eternal will cost €250 ($302 USD) and be available online from June 2021.
[youtube https://www.youtube.com/watch?v=bwo2OzzrUlA&w=942&h=530]
Caravan Campervan Camping by eBike Anyone?
If you fancy caravan camping and e-biking the Mody range of what are described as miniature caravans from Germany will let you do just that. As this New Atlas article points out, previously there have been a number of these types of vehicle but often they have been one-off hobbyist creations or they may have involved an element of 'putting up and taking down' every night like the Scout or the B-turtle.
The 'pod's' body is made of fiber-glass (or can be upgraded to carbon-fiber) there are three versions based on the type of terrain the rider expects to encounter – the Touring (paved roads), the Trekking (dirt roads) and the Outdoor (rougher, looser terrain).
Modys are still at the prototype phase and Mody say they currently weigh around 50 kg /110lbs but they expect production versions to weigh from 40 to 45 kg / 88-99lbs.
Modys comply with the German Highway Code and so come with lighting systems at the front and rear, and reflectors to the sides. They also include Shimano disc brakes and an overrun brake.
Interior measurements are 208 x 86 x 102 cm (82 x 34 x 40 in) and standard features include roof vent, door ventilation, LED interior light, gray fabric wall paneling, lower corner leg supports, and a single window as part of the standard package with options for stowaway kitchen, exterior solar panel with interior battery and an awning.
Fiberglass Touring and Trekking models are estimated to launch at at €4,999 (approx. US$6,025), with the carbon fiber variants starting at €6,999 ($8,450). The Outdoors models run €500 ($600) higher.
[youtube https://www.youtube.com/watch?v=-X1b7PA0l7w&w=730&h=400]
Tern Bring Alpen Bike Storage Capsules to North America
Tern Bikes recently announced a partnership between Alpen Storage and Stile Products, Tern's North American distributor and branch office. Alpen bike capsules will now be available for sale through the Stile website and at independent bike shops across the U.S. 
Tern say 'The Alpen capsule provides a simple and innovative solution to lock your bike up, whether you're storing your bike on a corporate campus, in your apartment complex, or in your backyard. The lockable capsule is commercial-grade, weather-protected, can be bolted to the ground for added security, and compatible with all of Stile's flagship products, including Tern's GSD electric cargo bike and HSD electric commuter bikes.'
Get Inspired
Food Deliveries for Seattle with the Help of eBikes
Bicycle Retailer and Industry News (BRAIN) has recently detailed the work of  Seattle Pedaling Relief Project – created in the early days of the pandemic, when layoffs and job losses caused a sharp spike in demand for food assistance, the project has enlisted more than 450 volunteer bicyclists to deliver 176,000 pounds of goods over the past nine months, mainly to low income neighborhoods in the area.
Looking at the pictures in the article they use a mixture of regular and electric pedal power and it's clear they are helping not just deliver food where needed but to fight the spread of Covid –  'By delivering food directly to homes….it eliminates the need for people to visit food banks and risk contracting or spreading COVID-19' says the article.
It also gives an insight into the thought processes of two key staff on the project, Maxwell Burton and Mike Lang. Burton and Lang came up with the idea for Seattle Pedaling Relief last spring while collaborating on plans for the next Disaster Relief Trials, a competition where cargo bikes are used to deliver heavy supplies as part of a mock disaster such as an earthquake. "When COVID-19 hit, we realized we had a disaster on our hands and this was no longer a trial," Burton says.
eMicrombility
Lime to Invest US$50 Million in Its Share eBikes by 2022
Lime has announced it plans to invest US$50 million in its e-bike fleets with the goal of doubling the amount of global cities it operates in by 2022.
Most of that 50 million will head to Europe, where Lime are looking to introduce e-bike share to 15 new cities in France, Germany, the UK, Italy and Spain.
Lime has also revealed plans for their new share e-bike due to appear during the summer, which they are calling a 'game changer'. It features swappable batteries with a claimed range of 25 miles which will hopefully lead to a drop in trips being made by the firm's operations support vans.
The new ebike features an automatic two-speed transmission and a more powerful 350 watt / 20mph max capable motor plus phone holder so users and integrated rear hub lock.
Last November Lime detailed its first quarter of profitability, despite a huge drop in revenue at the beginning of the COVID-19 pandemic.
Battery Watch
Tips on eBike Battery Repair and Replacement
There is some great insight in this Bike EU article about Dutch e-bike battery repair and refurbishment specialist Heskon.  The company 'has been working with lithium-ion batteries for about ten years and has a thorough understanding of the ins-and-outs of the refurbishing process' according to the article.
It covers everything from types of battery management system to the ins and outs of spot welding and cell replacement.
Can the EU Makes Battery Production Sustainable?
With the use of electrical batteries looking set to skyrocket over the coming years the EU Commission published a proposal for a new Battery Regulation in December last year looking to promote the sustainability, safety and recyclability of batteries throughout their entire life. It's all part of the European Green Deal and its zero-pollution ambition.
The European Commission proposed raising the 45% collection rate for portable batteries to 65% in 2025 and 70% in 2030 – as the Commission estimates Europe's battery demand is set to increase fourteen fold this decade it seems vital recycling of batteries becomes as widespread as possible
There were also proposals that producers of rechargeable electric vehicle and industrial batteries sold in Europe must disclose their carbon footprint from 2024 and comply with a CO2 emissions limit from 2027.
This all sounds highly positive (though these are only proposals at the minute and not laws), but light electric vehicle trade association LEVA-EU has recently criticised the proposed legislation. To be classed as 'portable batteries' (which, presumably, will have less onerous laws attached to them) such batteries need to fall within a fairly strict definition according to LEVA-EU:
'The idea is that sealed LEV-batteries of less than 5 kg will be considered portable batteries, but only on condition that they are used in wheeled vehicles with a seating position, with a motor of less than 750 W to be powered by the motor alone or by a combination of motor and human power.'
LEVA-EU point out this would exclude both more powerful light electric vehicles but also smaller forms lacking seats, such as e-scooters, e-monowheels and e-hoverboards.
Hopefully more detail and clarity will emerge as the legislation progresses.
eBike Biz
Eurobike, held in Friedrichshafen every year, has just announced that more than 800 exhibitors have signed up for the 29th edition of one of the world's biggest bike trade shows, which is scheduled from 1 to 4 September 2021. Eurobike show manager Stefan Reisinger reveals how the international bike trade show landscape is changing and they are confident of holding the 2021 show.
There will also be an earlier and smaller event in Frankfurt-am-Main, 24 to 26 July.
Last year's 'physical' show was cancelled due to Covid and virtual events held in its place.
Stay tuned for more e-bike news and reviews and thanks for reading!
Rich
Reader Interactions