eBike News: New Kona & Devron eBikes, Swiftmile Charging, NYC Streetfilms, eCargo Developments & Much More! [VIDEOS]
In this week's news:
Kona's New eBike Range
Devron Budget Models for the UK's Halfords
eKickscooters Push for Legalisation in the UK
Access Clarification for US eBike Access
Swiftmile Charging Funding Success
Cargobike Specific Area for Eurobike
ONOMOTION eCargo Project Gets Euro Rollout Funding
Manchester's eBike Hire A Step Closer
New eBikes & eBike Systems
Kona Remote Gets a Makeover
Kona recently launched it's 2021 range of e-bikes and here are some of the highlights:
The Kona Remote 160 DL full-suspension e-mtb features the latest, most powerful Shimano EP8 mid-drive system and a 504Wh frame integrated battery. Display and controls are very minimalist with a small top tube on/off button and a small color LCD display on the handlebars. There is also plenty of wireless connectivity to use Shimano's own app and also allowing you to connect with other third party devices.

The Remote 160 DL will retail at $6,999. Note the new Remote 130 electric mountain bike offers the older Shimano STEPS E8000 mid-drive and a 504Wh battery and retails for $5,999.
The hardtail Remote is a longstanding favourite in the Kona range and now has a redesigned frame with Shimano's E7000 motor and 504Wh of battery. Aimed at more leisurely e-mtb rides.
Halfords New Sub £1000 Devron eBikes Arrive
The UK's largest bricks and mortar bike and auto retail chain, Halfords, have just seen the delivery of a three strong range of budget Devron e-bikes, all coming in at under £1000.
The Womens City model looks a great value Dutch style e-bike at £999. It features a traditional step-through frame, front hub motor, three internal hub gears at the rear plus the full complement of lights, rack, mudguards, shopping lock and kickstand. The battery is 317Wh and it costs £999. There are 26″ and 28″ wheel variants.
The Mens City model is naturally enough a top tube version of the step thru model and has a similar spec otherwise and also costs £999.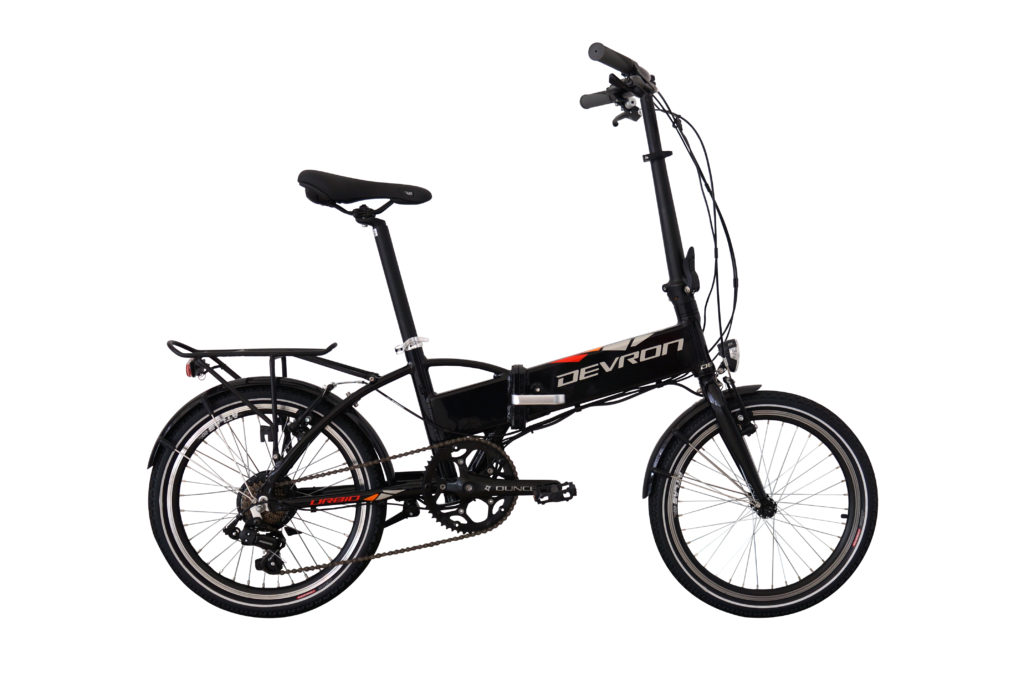 The folding model comes in at £899 and features a rear hub motor, aluminium frame and suspension fork and frame-integrated 280Wh battery. It's equipped with mechanical disc brakes, lights, mudguards and kickstand and has a stated weight of 19kg.
MBM eBikes Heading to the UK
Bikebiz reports that the UK's Powabyke will be stocking the full range of MBM e-bikes which feature the relatively little encountered Oli mid-drives.
eBike Access
Bike Europe reports that in the US the ' Department of the Interior released final rules for electric bicycle use on public lands. This new regulation more clearly defines electric bicycles and no longer describes them as motor vehicles. This gives local land managers the authority to permit their use on non-motorized trails.'
The article adds 'According to the U.S. Department of Interior, the final rules in large part adopt the existing federal definition of e-bikes as a two- or three-wheeled cycle with fully operable pedals and an electric motor of not more than 750 watts. The rules look to the classification system developed by a majority of states to differentiate between different types of e-bikes. These new regulations clarify the authority of the National Park Service, the Bureau of Land Management, the Fish and Wildlife Service and the Bureau of Reclamation to increase recreational opportunities with e-bikes. The regulations make clear the agencies can allow e-bikes on roads and trails that are open to traditional bicycles through the issuance of site-specific decisions.'
eMicromobility
eMicromobility Debate in the UK Hots Up
Micromobilitybiz reports on a letter to the UK government from the London Micromobility Alliance urging the government to accelerate moves to promote e-kickscooters and other forms personal electric transport. The start of the letter reads:
'Dear Minister,
While we need to socially distance, public transport capacity will remain under intense pressure. Overlapping this crisis is the climate emergency.
There needs to be a new normal for travel in London: extra capacity and lower carbon ways of getting around. The danger is this comes from private cars. Transport for London estimates that without intervention vehicle numbers could double. That could mean double the congestion, air pollution, emissions and road danger. We cannot let that happen.
We must radically rethink how Londoners can safely and sustainably move around. There are many cities to emulate. In Amsterdam, 48% of commuting trips are made by bike. Paris has embraced radical steps to make transport safer and greener, closing roads to cars, building more cycling infrastructure, and welcoming 'micromobility' vehicles – e-scooters, e-cargo bikes and e-bikes – onto streets and cycle lanes.'
There is clear frustration at the pace of change from advocates for more forms of 'micro' electric transport; despite a string of officially sanctioned 'trials', the latest being in Liverpool and Canterbury, London will have to wait until next year at the earliest for any trail to begin and e-kickscooters remain illegal for use on public roads and cycleways unless part of an officially sanctioned trial.
Lime App Looks to Offer Other Companies Vehicles for Hire
Electrive reports 'Lime has announced its own micromobility platform, which can also be used to book e-scooters and e-bikes from other suppliers. The first partner for the Lime platform is Wheels from Berlin.'
The article adds:
'However, the platform is not yet ready for use, which should be the case in winter. From then on, the vehicles of the first partner Wheels will be available in the Lime App in Berlin as well as in the U.S. cities of Austin, Miami and Seattle. Other providers and markets are to follow. Wheels was launched in Berlin only a few weeks ago. Initially 200 of the two-wheelers will be offered, these are mopeds and not e-bikes. Therefore a driving license of the class AM is required for the use. According to Wheels, the costs for the rental are "based on standard market fees", specifically one euro starting fee and subsequently 20 cents per minute.'
Potential Manchester Bike and eBike Hire Operators Down to Four
The UK's BikeBiz tells us 'Greater Manchester's bike hire scheme has moved one step closer with four operators shortlisted, Transport for Greater Manchester (TfGM) has announced. In partnership with Manchester City Council, Salford City Council and Trafford Council, the scheme is set to launch in spring 2021 with an initial 1,500 strong fleet, including e-bikes.'
The plan will be introduced in the midst of lots of new cycling infrastructure too which should make using the bikes much easier and safer. The Manchester Evening News details how £85m will bring 55 miles of protected routes and 140 new crossings to roads across Greater Manchester by the end of 2021.
Infrastructure
Jackson Heights Open Street Success
Streetfilms make some great short films about progressive transport initiatives. Here is their latest described and shown below:
'The Jackson Heights, Corona and Elmhurst areas of Queens were among the hardest hit in the United States by the Covid-19 epidemic. This film looks at the months-long struggle in Jackson Heights to get an open street on its beautiful tree-lined 34th Avenue. Featuring two-way streets separated by a median, it was the perfect place in the neighborhood to allow more social distancing, allow people to get some exercise and have better mental health due to the virus's long shadow on our city. Now that the open street runs for 1.3 miles every day from 8am to 8pm, you will see children, families, exercisers, seniors and people using it that need to shop & run vital errands.'
Light Electric Cargo Vehicles
Eurobike Announces Separate Cargobike Area for November Show
Eurobike trade show in Friedrichshafen in Germany (24th-26th November reports:
'Cargo bikes are on-trend – and not just since the Corona lockdown. According to a survey by the European project CityChangerCargoBike, in 2019 the growth rate in Europe among 38 cargo bike producers was around 60 percent. A further increase of 53 percent is forecast for 2020. The rising demand is bringing new players onto the market with fresh ideas and topics. Yet the established manufacturers are also constantly refining their products. To provide a swift overview of the new developments, a separate exhibition space has been reserved for everything connected with cargo bikes at the special-edition Eurobike in Zeppelin Cat Hall A1.'
Check out their video to see just a small sample of the designs that will be there:
ONO Motion Funding for European Rollout
Bike Europe reports that ' To support the roll-out and European market launch of its Pedal Assisted Transporter (PAT), start-up Onomotion GmbH received a € 3 million cash-injection from InnoEnergy SE.'
According to Onomotion their PAT, "combines the flexibility of a bicycle with the capacity and durability of a transport van, and is technically classified as an e-cargobike.
Battery Watch
More Funding for Swiftmile's Free eBike Charging Stations
Bicycle Retailer and Industry News (BRAIN) reports on the growing success of the Swiftmile charging hub for e-kickscooters and e-bikes. Swiftmile has around 200 solar-powered charging stations in the US and Europe and, despite Covid19, 2020 has seen them attract extra funding.
BRAIN quotes Swiftmile founder Colin Roche on the effects of COVID 19;  "The picture started to become clear to not only investors but cities as well that they need to deploy more infrastructure to handle this massive surge in biking and scooting but also encourage a way of getting around with fewer carbon emissions. For it to work well, you need mobility hubs for the shared e-bikes and scooters and private owners to charge off of." BRAIN adds 'That helped Swiftmile raise $5 million in July, bringing total funding to $11 million.'
The system can be made available to cities wanting to roll out public projects as an advertising screen will pay for the installation costs. Large organizations may also benefit and the system is being put into use at Edwards Air Force base in California. Swiftmile are also about to roll out a program for bike shops who rent e-bikes so that bikes are always charged using green energy and displayed prominently as an effective advert for potential purchasers too.
eBike Biz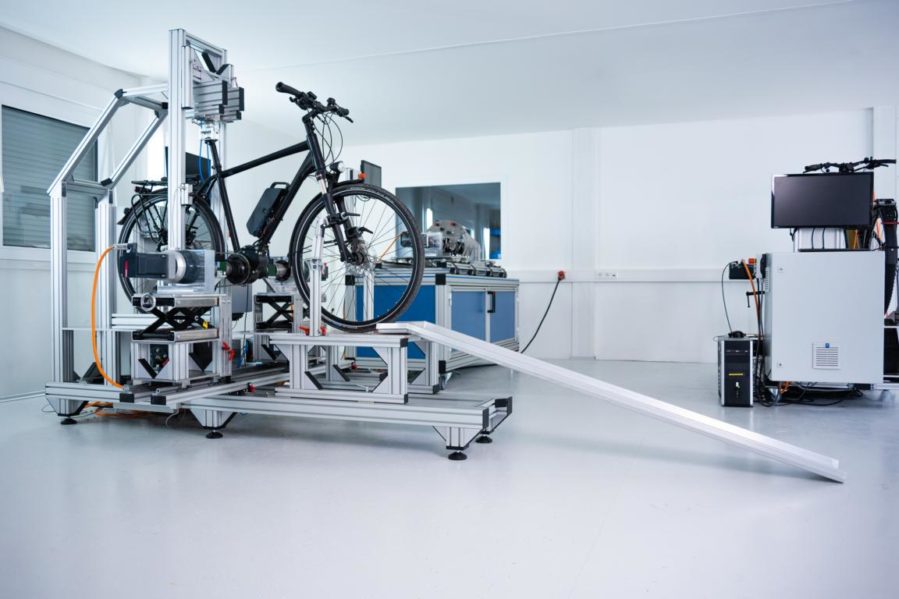 EMEC-Prototyping have been in touch to tell us about their e-bike testing service for manufacturers looking to add some quality assurance to their product. EMEC tell us:
'The testing technology for the laboratory has been extended to include endurance, component, engine comparison and special testing processes such as R200 and WMTC. The range of tests includes electromechanical and mechanical durability of pedelecs, e-bikes and all L standard vehicles.'
To give one example, here is information about a project they did with one of Germany's biggest e-bike manufacturers, Derby Cycles.
Stay tuned for more e-bike news and reviews and thanks for reading!
-Rich
Reader Interactions