eBike News: New DOST & TerraTrike eBikes, Gocycle & Stromer Updates, Tern + Cargo Trailers, Bamboo eCargo, & More! [VIDEOS]
In this week's news:
DOST Super Long Range eBike
Bosch-powered TerraTrike Recumbents
Gocycle at 2020 Tokyo Olympics
Stromer Wins Design Award
Tern & Carla Cargo Trailers
BULLS Fazua eBikes Available Soon
Pedal Porteur Cargo System
Rad Power Bikes Partners with Cascade Bicycle Club
Nepal Bamboo eCargo Bike
And Much More!
New eBikes & eBike Systems
Dost Launch New Long Range E-bike
Canada's DŌST Bikes have just launched an ultra-long range (claimed 120 mi/180 km per charge) e-bike.
The two bike line up packs a 750W mid-drive motor (500W in Canada) capable of speeds of 28 mph (45 km/h).
Other key features include a throttle, rear rack with 100 lb capacity and low-step frame option. Prices start at $2799 USD.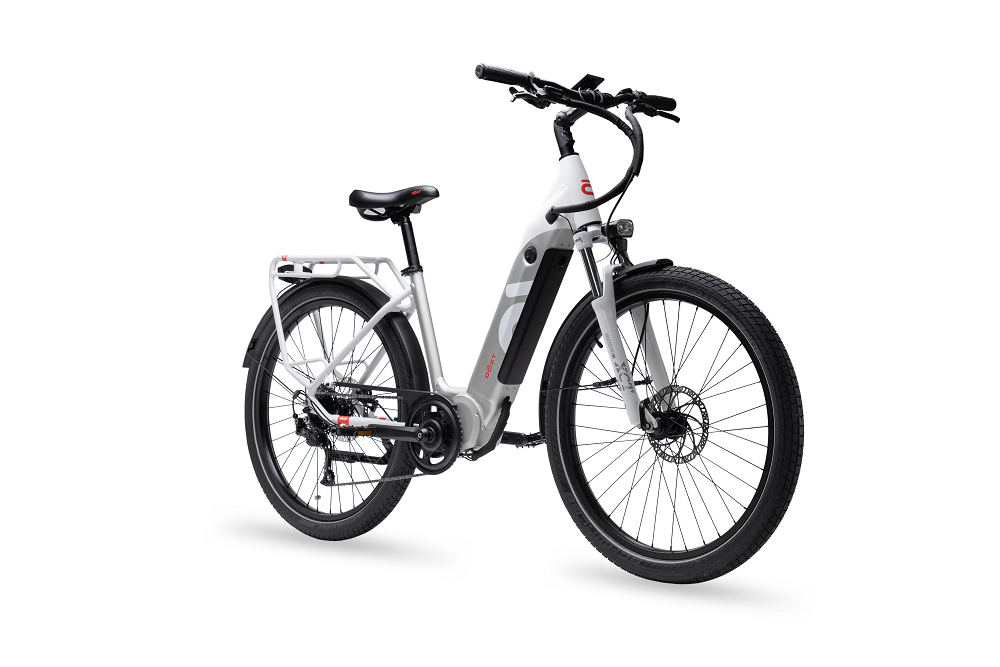 The DŌST Drop has a low-step frame and the Kope a mid-step frame. Both bikes are available in one size to fit riders between 4'10" and 6' and will offer these standard features:
Dual Battery System – The primary battery is a Samsung 672 Wh battery that's integrated into the downtube. For longer rides there is a secondary battery (sold separately), a Samsung 528 Wh. Together the total capacity is 1200 Wh.
DŌST say the 750W Bafang BBS02 mid-drive is one of the most powerful mid-drives available and puts out 120 Nm of torque.
Throttle + Pedal Assist – The motor is engaged either by pedaling or using the thumb throttle so riders can choose whether to pedal or not.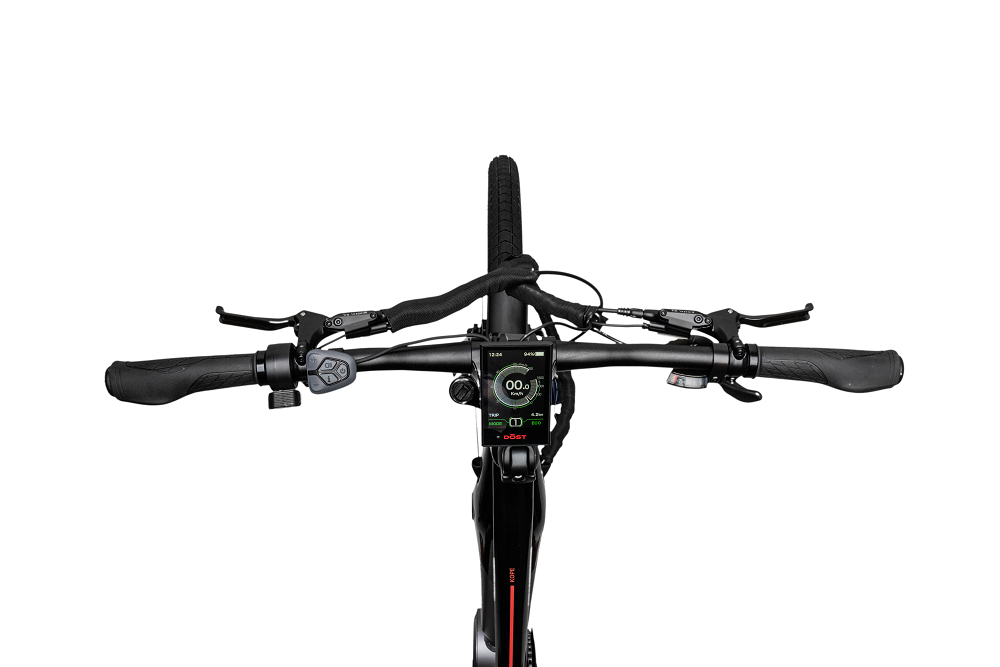 Integrated Rear Rack with 100 lb Capacity – The rear rack is welded on to reduce frame flex and designed to carry twice the weight of bolt-on racks. It fits most aftermarket accessories including panniers, kid seats and surf racks.
Full accessories include suspension fork, hydraulic front/rear disc brakes, puncture resistant Schwalbe Super Moto X tires (27.5" x 2.4"), integrated Spanninga front/rear LED lights, full coverage fenders, kickstand, chainguard, DŌST gel wide saddle with lifting handle, adjustable handlebars and more.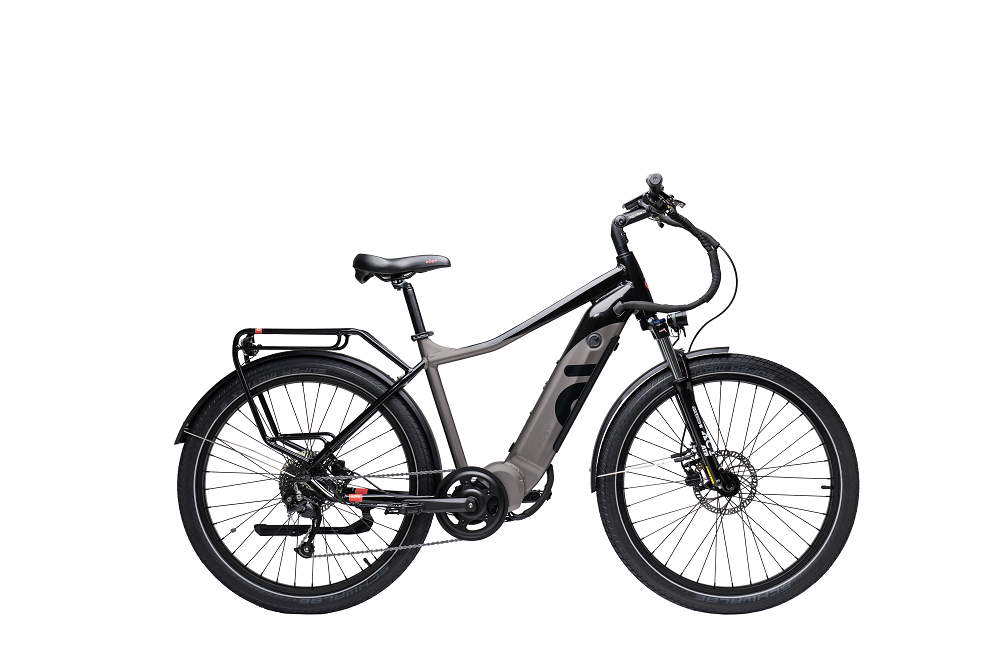 DŌST Bikes will be sold across North America through a network of dealers and directly to consumers through the DostBikes.com website, with free shipping in Canada and the continental USA.
DŌST will be taking pre-orders starting in February and pre-order customers will start receiveing bikes in May-June.
TerraTrike's Bosch-powered Recumbent Trike
Major recumbent trike producer TerraTrike has announced its partnership with Bosch to release the Boost Kit, a non-integral power assist kit
compatible with most TerraTrike models and available to consumers now.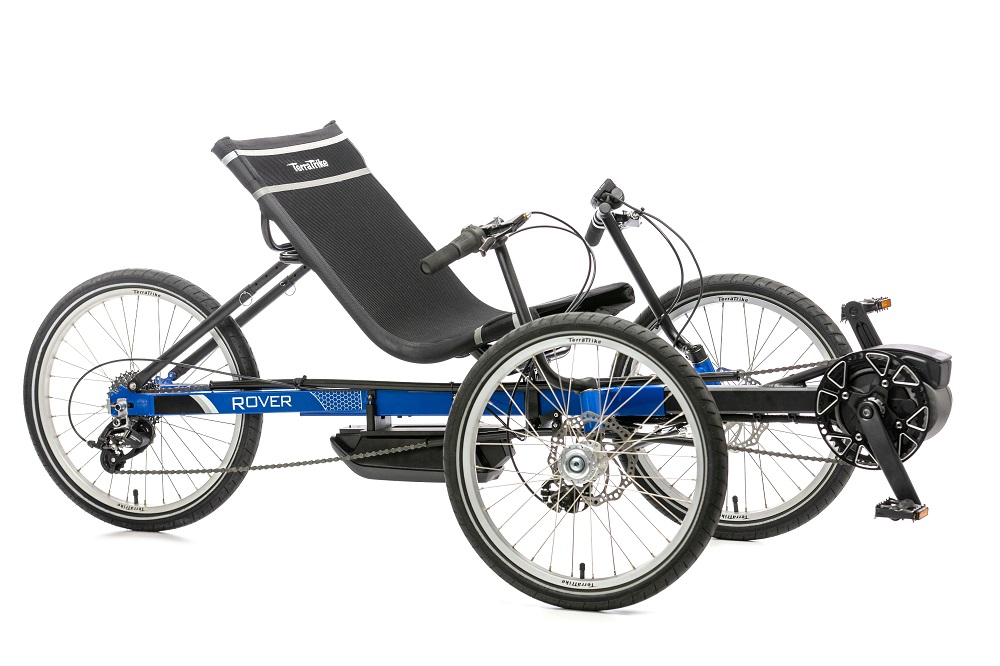 The Boost Kit's Bosch Active Line Plus motor gives gentle acceleration up to 20 mph on pedalling, making it a class 1 e-bike. It comes with a Bosch PowerPack 400Wh battery and Purion control unit.
TerraTrike Maverick, Rambler, Rover, Gran Tourismo and Traveler models are all compatible with the Boost kit whose MSRP is $2,499.
TerraTrike, part of the WizWheelz, Inc., is the largest producer of recumbent trikes in the U.S. and is based in Grand Rapids, Michigan. It has over 250 dealers and 300 doors internationally.
Aventon Sinch in for Testing & Review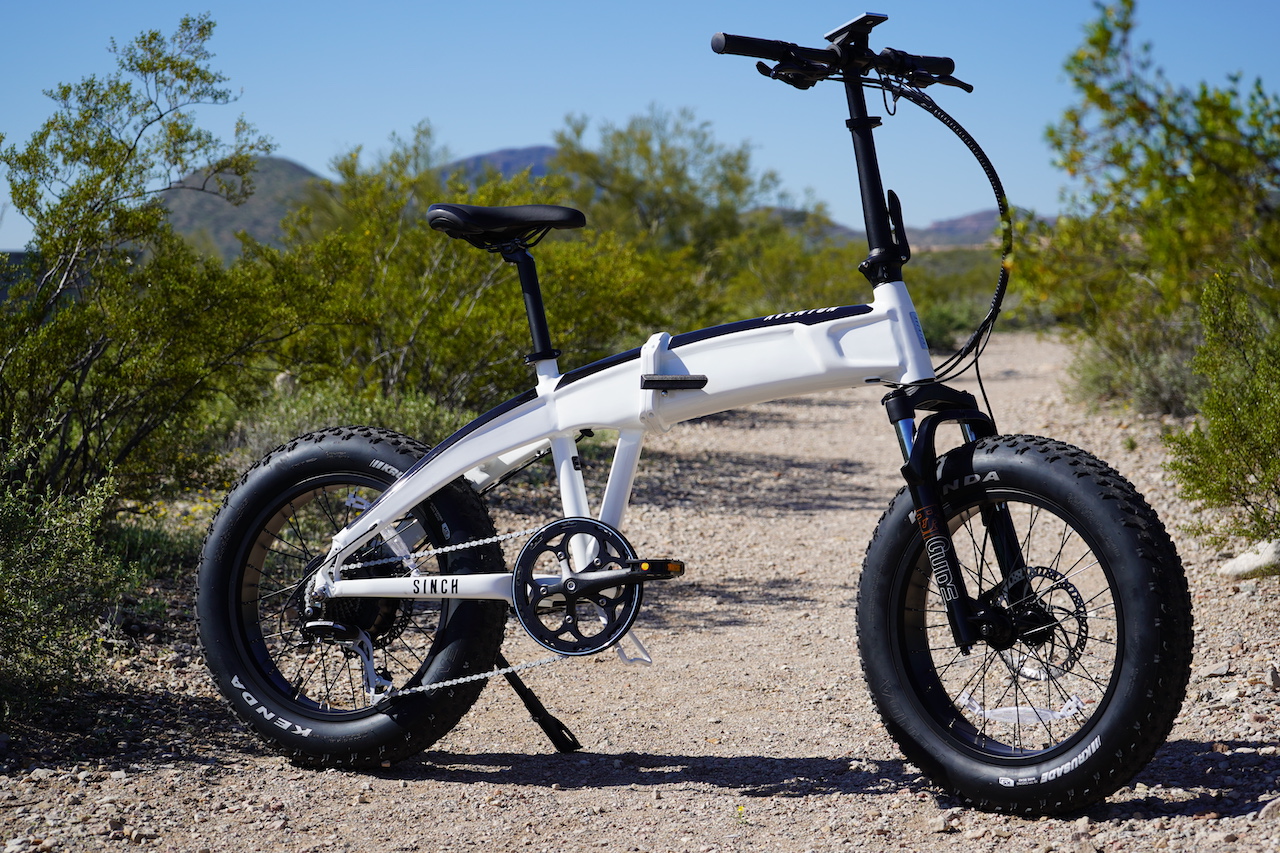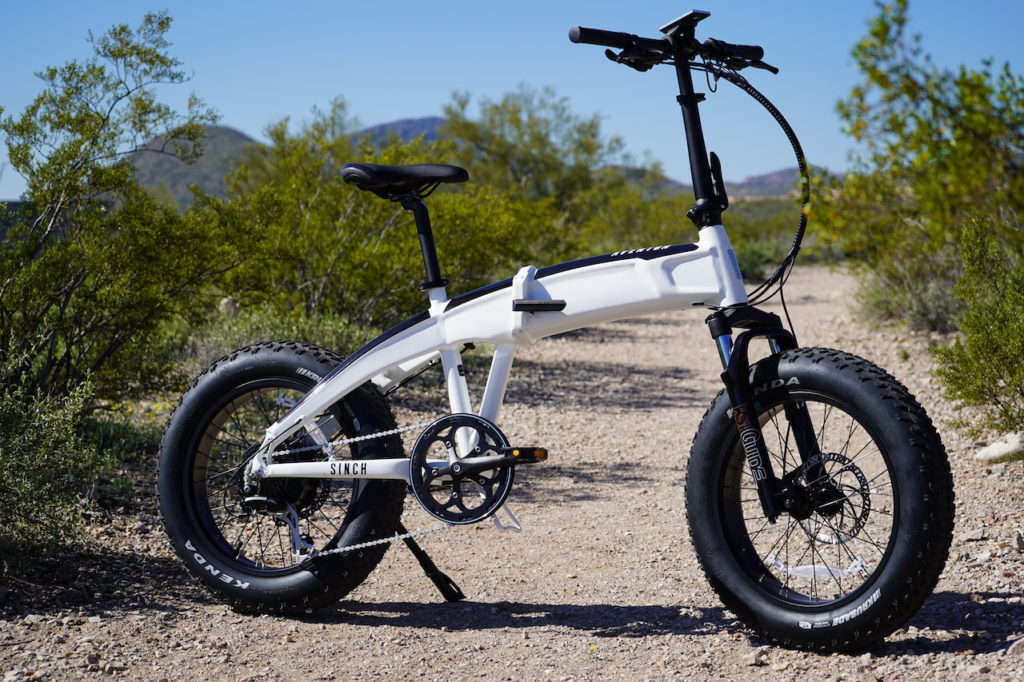 Aventon's Sinch folding electric fat bike is in for testing and review and it is an extremely versatile e-bike, joining the ranks of a small group of folding fat eBikes.
The Sinch is based around a fold-in-half frame, 4″ wide off-road 'fat' tires, a clean looking frame and powerful electric assist.
Highlights include a 500 watt motor (750W peak power), high capacity 48V 14ah (672Wh) lithium Samsung in-frame battery and RST suspension fork.
The Aventon Sinch is priced at $1,499 with free shipping to the lower 48 states.
In this first part of the Sinch review you will get a detailed look at this bike with a BUNCH of pictures and the specifications.
Gocycle & British Sailing Team for Tokyo 2020
The UK designed Gocycle says it is set to become a partner of the British Sailing Team, providing a fleet of specially branded fast-folding GX models for Britain's Olympic sailors and support staff to use for travel between their team base and the sailing venue at the Tokyo 2020 Olympics.
Here's a video with some background to the Gocycle brand and more on the G3 and newer folding GX models.
Gocycle will display the fast-folding GX at this weekend's Royal Yachting Association Dinghy Show held at Alexandra Palace.
Stromer ST5 Wins Award
It's just been announced that the Stromer ST5 has just been declared a Design & Innovation Award winner for 2020.
The sporty high-end S-pedelec is capable of assisted speeds up to 45km/h / 28mph (making it a class 3 pedelec in the US).
Features include integrated theft protection in the form of GPS tracking sensor and Smartlock controlled via smartphone.
Regenerative braking means low brake pad wear and there is also powerful integrated lighting, the option of a suspension fork and a huge 983Wh frame-integrated battery.
Stated weight is 30.46 kg and price is € 9,490 / US$10,335.
BULLS Fazua Equipped eBikes Available Soon
BULLS is launching 3 new eBikes in the US with the lightweight and quickly removable Fazua Drivepack system.
The Fazua system includes a 255Wh battery and 250W motor weighing only 7.27 pounds combined.
"We want riders to have options capable of matching their skill with nearly any terrain, condition, or speed," said Adam Anderson, Marketing and Sales of BULLS Bikes USA. "Adding the Fazua system's three select ride modes, gives the customer the opportunity to push their limits to go higher and farther or to enjoy a weekend cruise."
Below is some information on the 3 bikes from BULLS: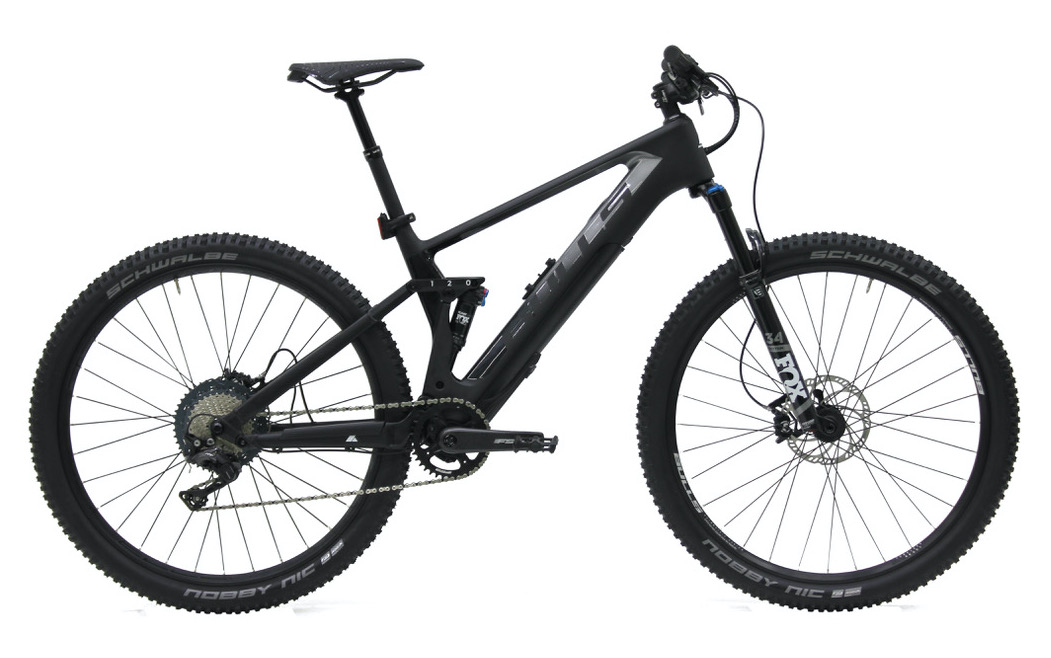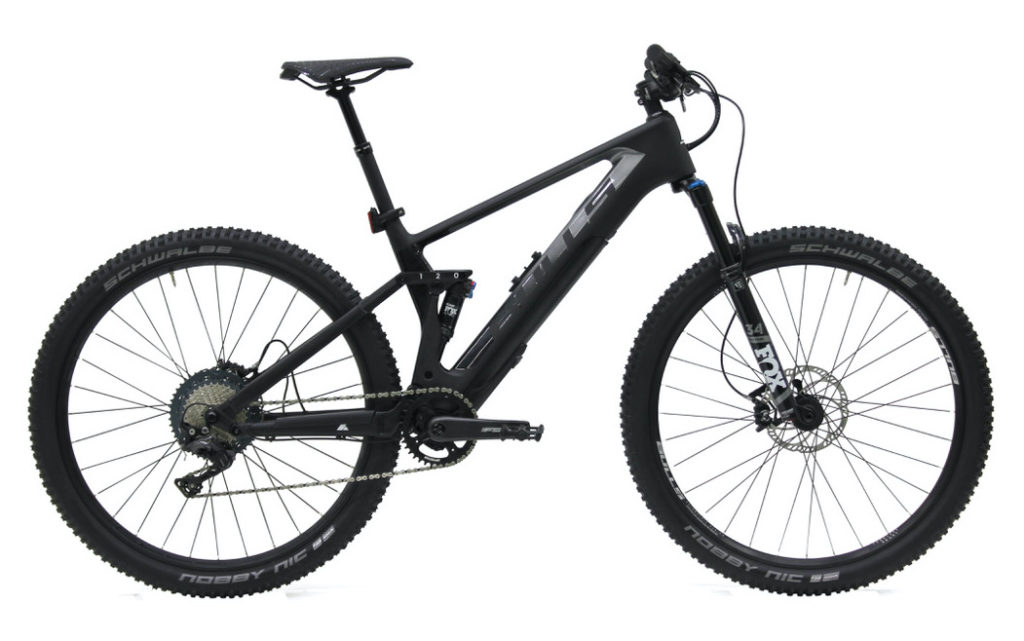 Wild Flow RS eMTB – The fully carbon bike is redefined with a resistance-free Fazua motor. When the Fazua motor is not in use or exceeds the maximum assisted speed, it disengages allowing the bike to ride as if it were a conventional mountain bike. The entire Wild Flow RS weighs 42 pounds.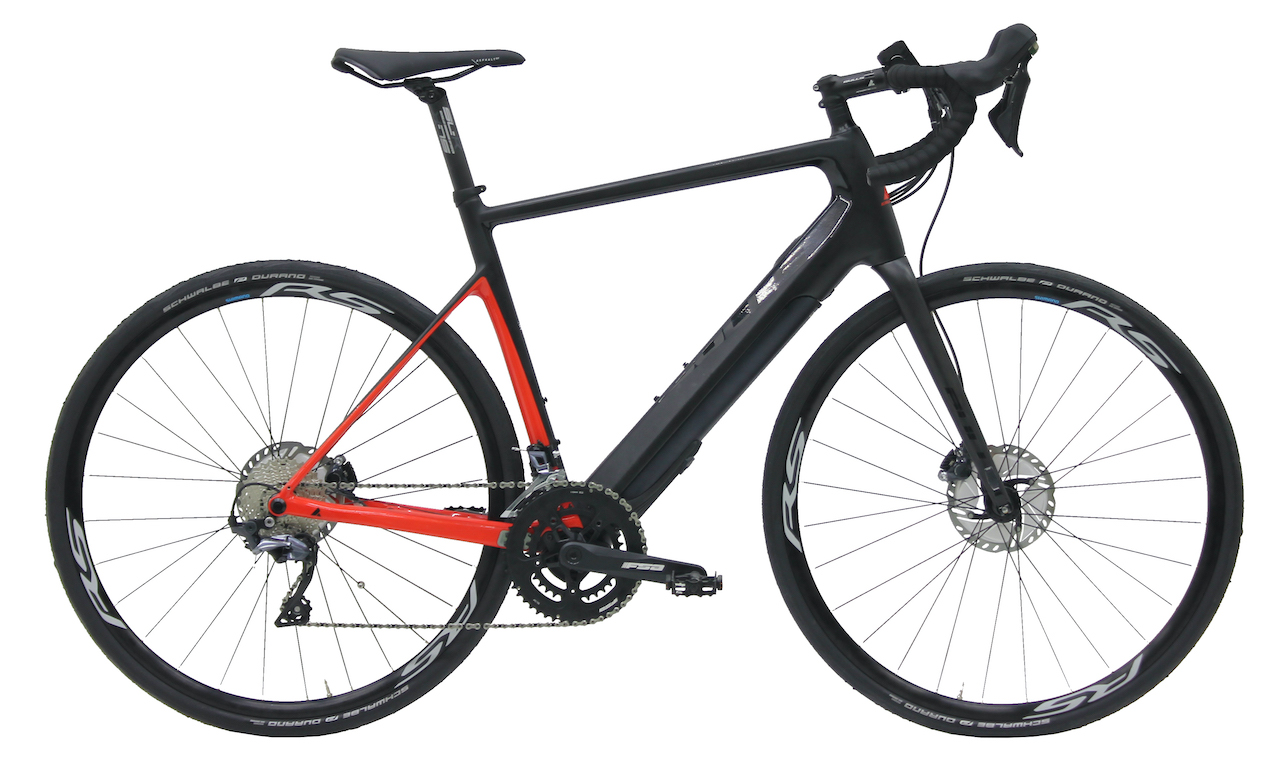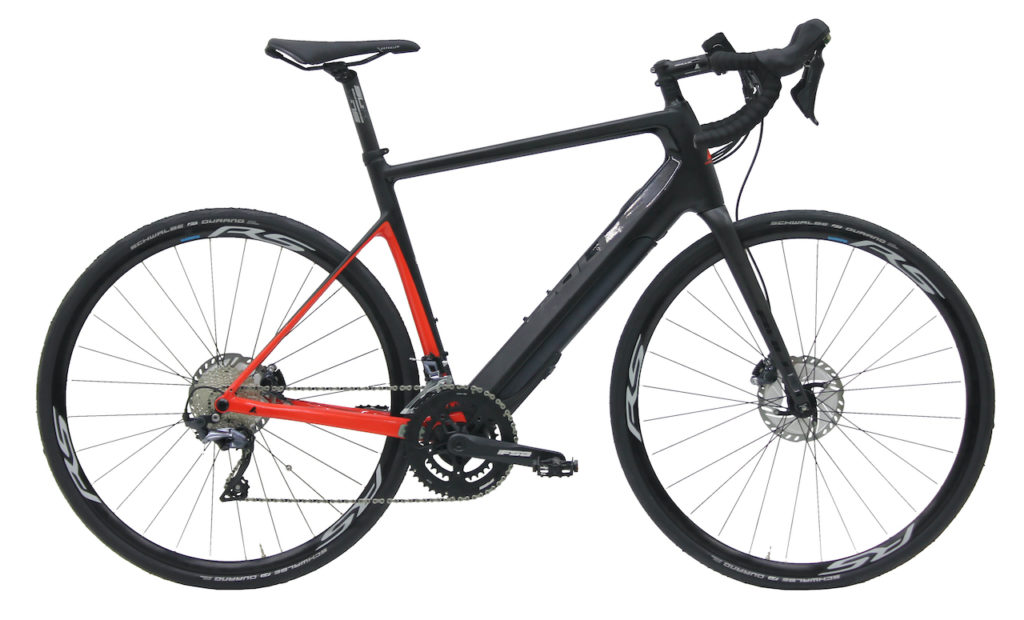 ALPINE HAWK EVO – This bike introduced the FAZUA drivetrain system to the BULLS family. Consisting of a motor, battery and display, the FAZUA drivetrain is the lightest and most compact drive system in the industry. This system combined with the ALPINE HAWK's carbon frame, make it one of the lightest and sleekest eRoad bikes on the market.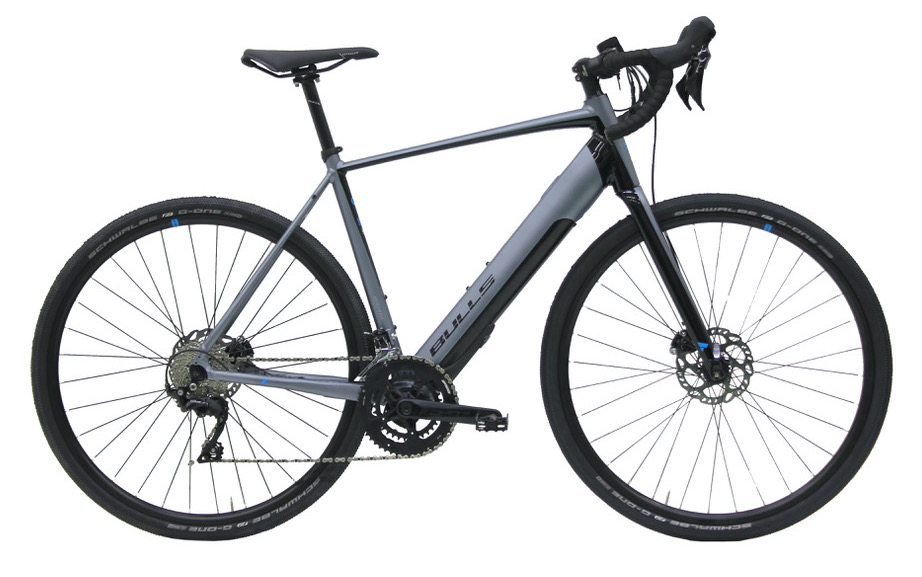 Grinder EVO Lite – BULLS' flagship e-gravel bike, with the Fazua Evation, is camouflaged as a traditional gravel bike with its minimalist, unobtrusive in-tube motor solution.
The BULLS Bikes' integrated with Fazua Evation for Wild Flow RS, Alpine Hawk EVO and Grinder EVO Lite will be available Spring 2020 on BullsBikesUSA.com starting at $4,499.
Bike Accessories
Tern with Carla Cargo Trailers
Tern Bicycles recently announced a North American partnership between Carla Cargo Engineering and Stile Products, Tern's North American distributor and subsidiary.
Stile will distribute Carla Cargo's heavy-duty cargo trailers to commercial customers looking for a more sustainable form of transportation.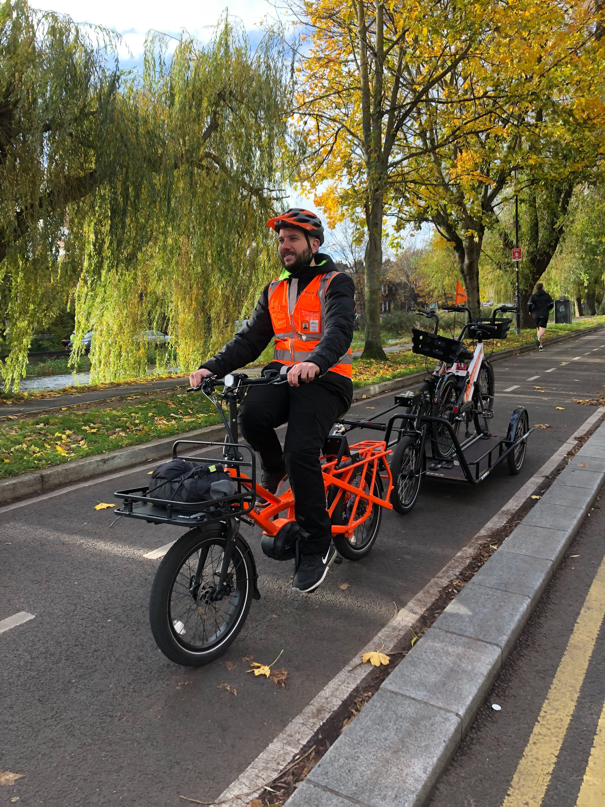 Tern has designed a dedicated hitch to attach its compact utility ebike, the GSD, to the Carla Cargo trailer.
When attached to a bike, Carla Cargo trailers can haul heavy loads up to 330 lbs. and when used in "Hand Truck mode" detached from a bike, it can carry up to 440 lbs. of cargo.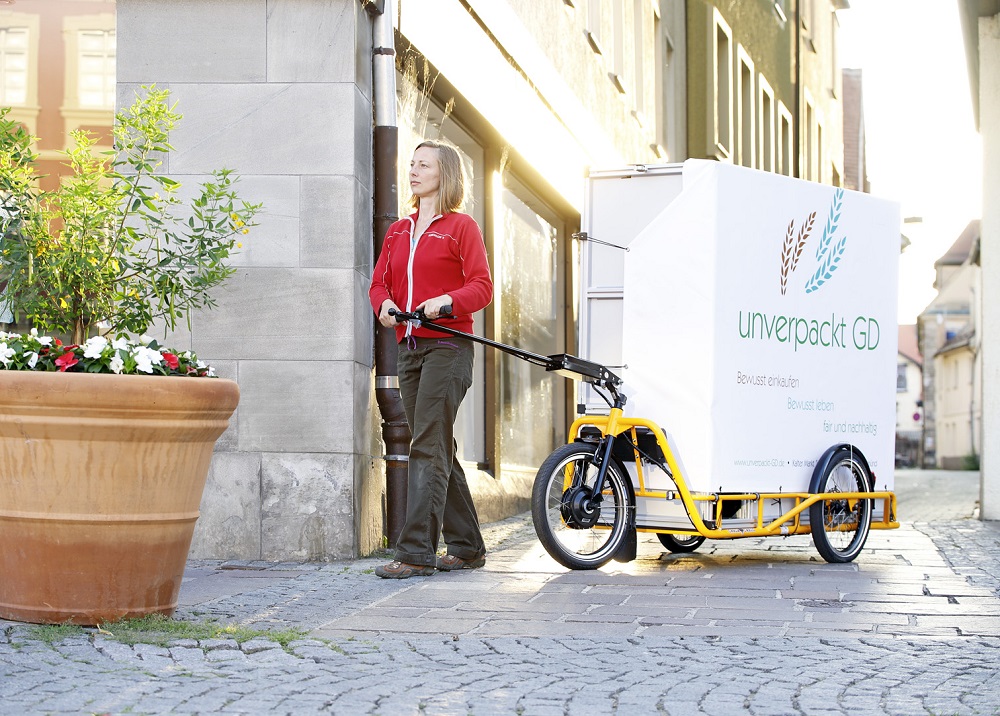 Pedal Porteur Expanding Storage Solution
Pedal Porteur have been in touch to let us know that they will be launching their innovative looking expanding bike rack later in the year.
The graphic below shows the system's flexibility. To sign up for details of when the system is available check the Pedal Porteur website (link above).
Get Inspired
Jam Busting by E-bike
Thanks to Mark Newton for sending in a link to this video that shows how an e-biker can breeze past more than 200 cars with ease…..every day….without breaking sweat…
https://www.facebook.com/mattlawrey7010/videos/2808708309356009/
Rad Power Bikes Partners with Cascade Bicycle Club
Seattle-based Rad Power Bikes has renewed its partnership with Cascade Bicycle Club, the nation's largest state-wide bicycle nonprofit, to continue supporting efforts that expand bicycling in Washington state, grow the region's cycling infrastructure, and generate awareness about the benefits of electric bikes.
Rad Power Bikes will contribute $60,000 to support Cascade's policy initiatives aimed at expanding bicycle infrastructure and protected bike lanes in Seattle.
The nonprofit will also use the financial support from Rad Power Bikes to organize community rides and open streets events.
In addition to its financial support, Rad Power Bikes will donate four eBikes to Cascade to use as part of the group's fundraising.
The consumer-direct brand will also support Cascade's policy efforts by supplying eBikes for community leaders to ride during a trip to Vancouver, BC, to learn about the successes of the Canadian city's urban bike network.
New Transport Service Along the Scottish C2C
Various kinds of C2C (sea to sea) route exist in the UK, from the classic C2C to the more recently launched Scottish C2C.
The Scottish C2C links Annan on the Solway Firth and South Queensferry on the Firth of Forth near Edinburgh and is a 125 mile signed cycle route.
It mixes country lanes, high quality cycle paths and seaside promenades. It also features two challenging climbs, over the classic Devil's Beef Tub and through the Moorfoot Hills, before opening out onto a panoramic view of the Lothians, Edinburgh Castle, and the Firth of Forth. It finishes under the mighty Forth Rail Bridge.
One of the potential logistical problems if you do the route one way (ie don't want to cycle another 125 miles back to your start) is how to return to your start if you have left other transport there.
SLM Cycle Transport have been in touch to let us know they can accommodate cycle (including e-bike) and passenger transport along the route and they have even done the route personally – check out this blog for their experience riding it.
Bamboo E-trike to Help Get About Kathmandu
The UK's ebiketips reports that 'The brainchild of an American university professor and built by locals in Kathmandu, the Habre Eco Bike was launched to improve the notoriously poor air quality in the Nepalese capital.'
The article adds 'Professor Lance Rake of Kansas University came up with a design for a bamboo e-cargo bike that would allow locals to get around the city emission free – and in collaboration with local bamboo builders Abari, the bikes are now an increasingly common site around the bustling city.'
Back to the Future – but This Time with Electric Cargo Bikes
This great Treehugger article points out that a hundred years ago, cargo bikes were the standard vehicle for many trades and deliveries, as witnessed by a link in the article to some marvellous pictures: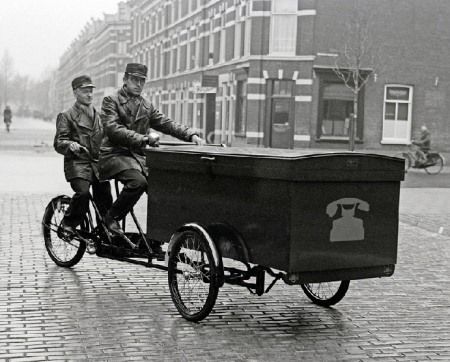 There's a great selection of the amazing variety of things people are currently carrying around on cargo and e-cargo bikes.
The article's central point though is that the potential of e-cargo bikes is huge – 'Electrification of cargo bikes makes it a whole new world, letting more people carry more stuff greater distances….Research commissioned by the European Union concludes that 25% of all goods and 50% of all light deliveries in urban settings could be serviced by cargo bikes.'
And it also highlights some areas where e-cargo bikes really are taking off such as Germany and London.
E-mobility & Infrastructure
Edinburgh E-bike Share Available Imminently
New share e-bikes will be available to ride from 2nd March in Scotland's capital city according to the UK's BikeBiz.
168 pedelec e-bikes will be phased into the current scheme and use the same Just Eat Cycles app. They will be available to hire and drop off at the existing 90 hire points which are already home to over 500 pedal bikes.
Made in Britain by Pashley, the UK's second largest bike manufacturer after Brompton, the e-bikes are similar to the existing pedal models but have a slightly different frame and a new colour scheme.
The rentable e-bikes will be unlockable for £1.50, the same price as a single journey on the existing pedal bikes, but will come with an additional per minute charge of 10p.
E-kickscooters Banned in Montreal
Reports in the Montreal Gazette and Global News bring the news that Lime and Bird electric scooters are to be banned from the city. The city's executive committee announced recently that the self-service rental vehicles will be outlawed for this year.
The main cited problem appears to have been inappropriate parking – Éric Alan Caldwell, the city's executive committee member in charge of transit and urban planning, said the city doesn't want to have to police e-scooters. "We weren't ready for this," he said, adding only 20 per cent of the vehicles were parked in their designated spaces.
Jump e-bikes remain as Global News reported users of them complied more readily with bye-laws including returning them to docking stations.
My Week on eBikes
I've been out and about recently testing four more electrically powered Brompton folding bikes as a follow up to our popular group test. Watch out for the forthcoming reports including Brompton retrofit kits from ARCC, Grin, Pendix and Sparticle (pictured below).
Stay tuned for more e-bike news and reviews and thanks for reading!
-Rich
P.S. Don't forget to join the Electric Bike Report community for updates from the electric bike world, plus ebike riding and maintenance tips!
Reader Interactions