eBike News: Modular eCargo, Bosch ABS + More, Friction Drive, New eMTB, & More! [VIDEOS]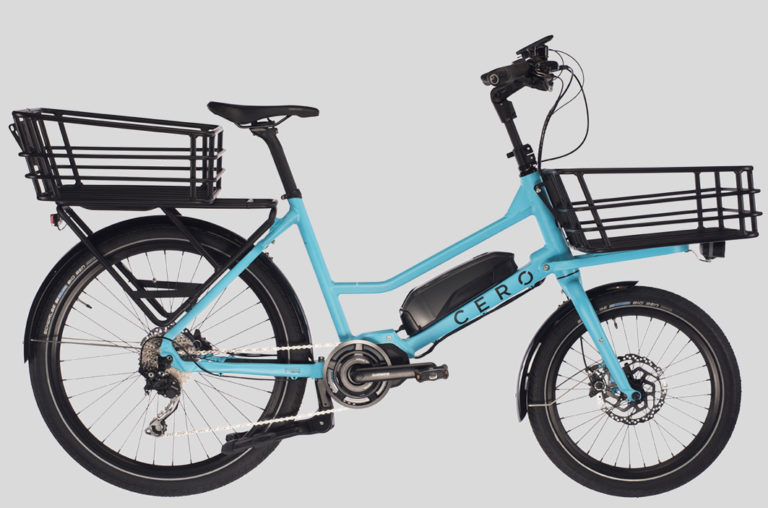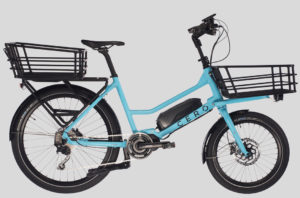 In this week's eBike news roundup:
Cero One – New Modular eCargo Bike
Michelin Friction Drive
BMC's New eMTB
Bosch ABS Braking, Frame Battery, & More
Carbon Fiber Battery Cooling
Secure Car Rack for eBikes
Epic eBike Charity Riding
And much more!
New Bikes
CERO One – A Modular eCargo Bike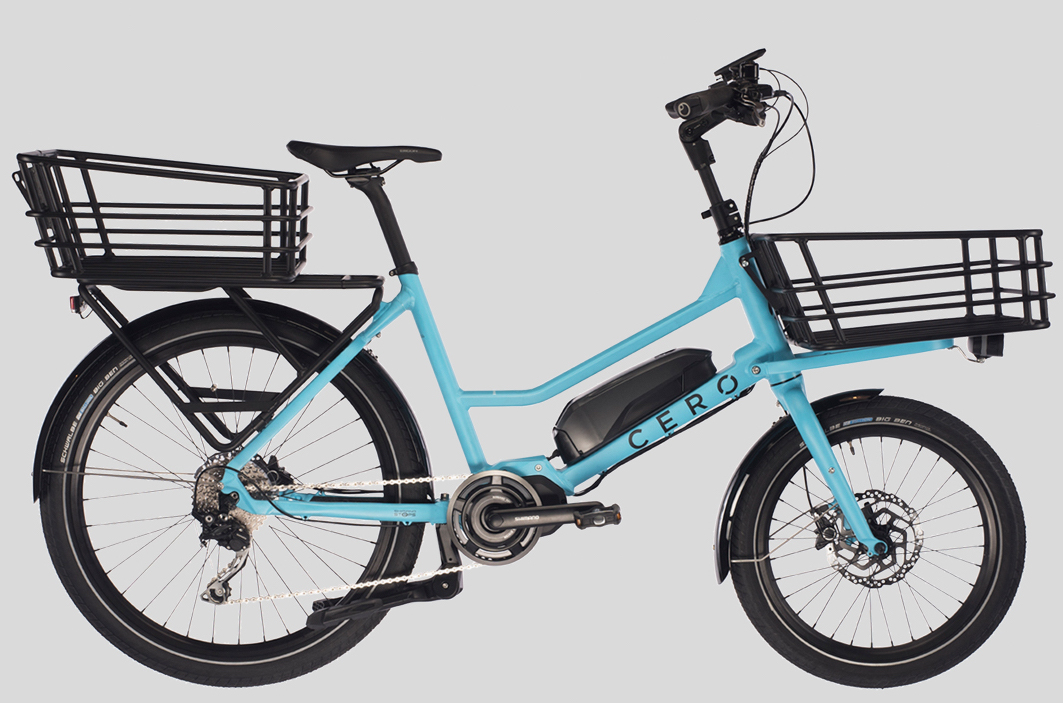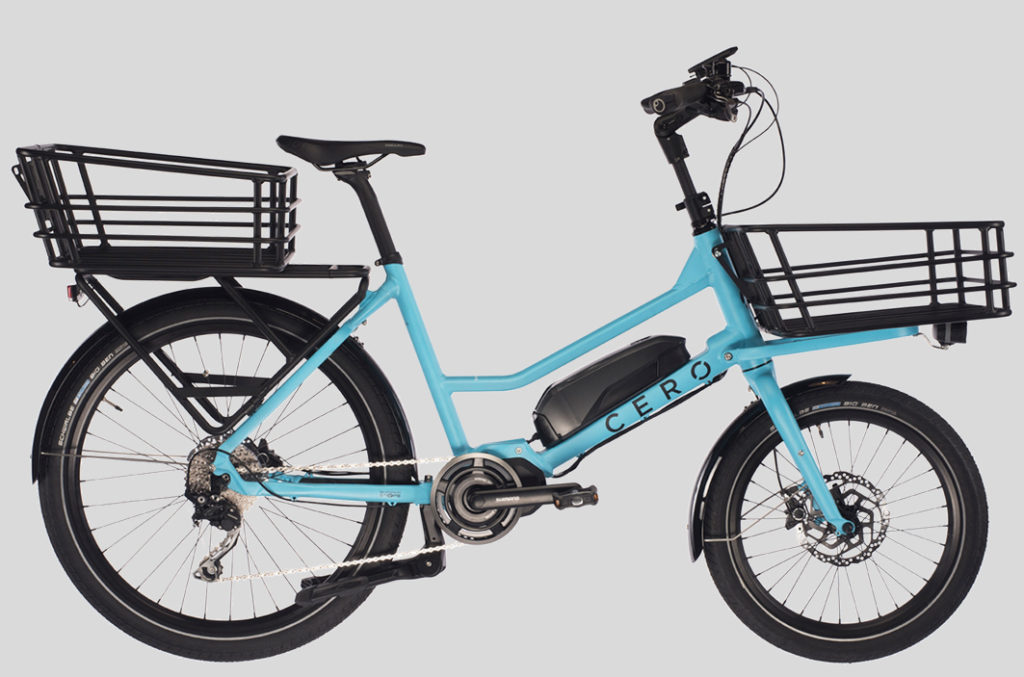 This interesting looking Kickstarter campaign emphasizes the versatility of e-bikes for carrying all kinds of stuff.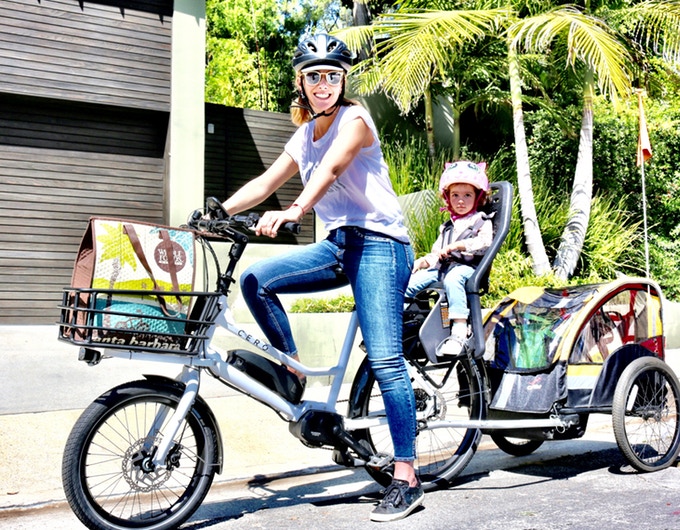 Depending on what you want to carry the very compact CERO One has several basket and rack options for spacious front and rear carrying and space over the rear wheel for a child seat (Yepp compatible mounting).
There are also tons of useful looking 'extras' as standard including mudguards, lighting and an adjustable stem – and of course moving loads is so much easier with the high quality Shimano Steps crank drive system.
Early Bird offers start at US$2799. Ships only to the US.
Here's the engineer behind the project:
And learn about the Japanese inspiration behind the project here:
Michelin Showcases their New Friction Drive
We have this BMW blog to thank for bringing us news of this e-bike system from French tyre manufacturers Michelin.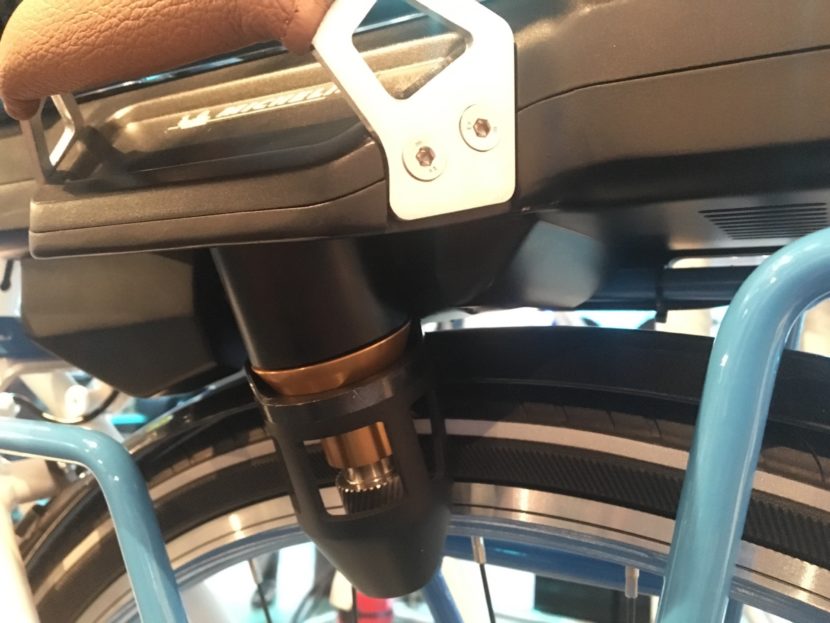 Friction drives that power directly onto the bike tyre or wheel rim have been tried many times with very mixed success. The fundamental problem is getting the system to grip sufficiently on tyre or rim to transfer the power. In other words they can be prone to slipping, especially in the wet.
Michelin are looking to get around this by making their own special tyre with grooves that mesh onto the drive motor. Something else we've not seen is the on-off power mechanism; e-assist can be toggled on and off quite simply by back pedalling. Sounds simple and weight saving but possibly prone to the rider turning the system on and off inadvertently.
The E-Drive unit is also equipped with an accelerometer, speed sensor and crank sensor and is bluetooth compatible (for Smartphone connectivity). The 252 Wh battery is claimed to be good for 30 miles, though that sounds rather optimistic for hilly country.
On price and availability, the article states 'This Michelin E-Drive system comes as an entire package, with the actual E-Drive unit, the rack and the special rear tire all for around 450 Euros. It goes on sale in March, 2018 in France and Germany but Michelin still hasn't' announced if or when it will go on sale in other countries.'
BMC Launch Premiun-priced Shimano-powered E-mtb Range
BMC (Bicycle Manufacturing Company) are based in Switzerland and have a strong history in supplying professional road racing teams and also having their own carbon fibre manufacturing plant in Switzerland.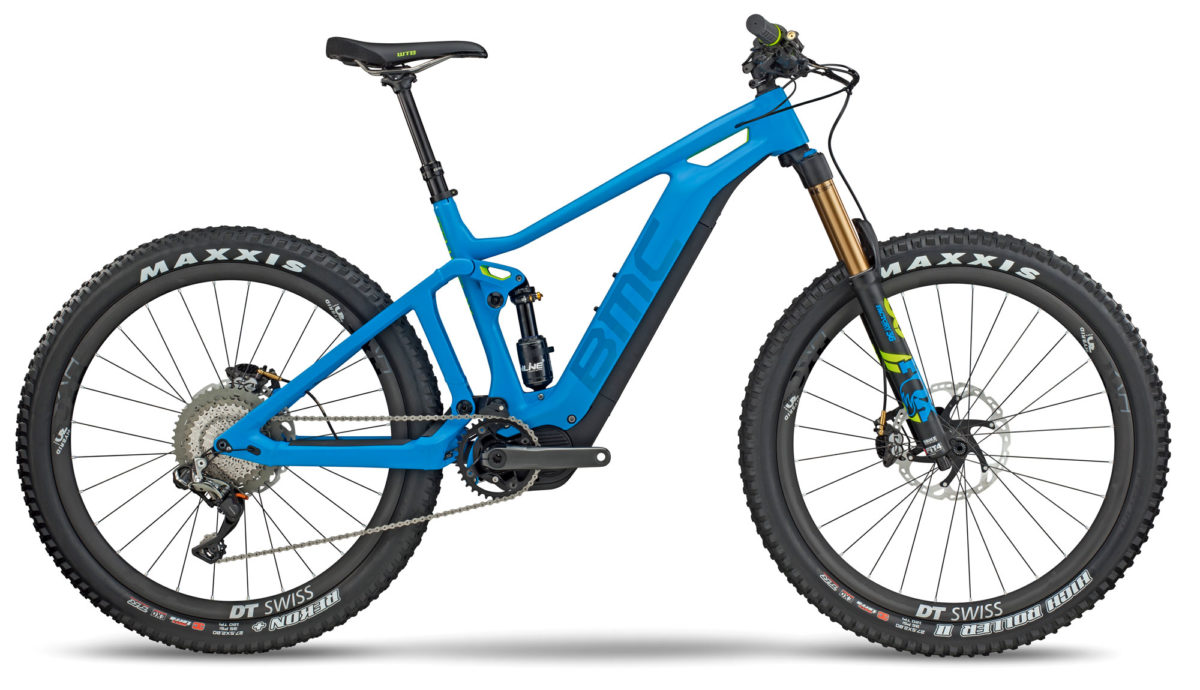 So it's testimony to the strength of the e-bike scene that they have launched an e-mtb powered by Shimano's Steps E-8000 mountain bike-specific crank drive system.
The BMC Trailfox AMP has a frame-integrated 504Wh battery. The main frame is made of carbon, whereas the rear frame is made of aluminium.
Much of the bike geometry is based on its non-powered BMC cousins but larger bearings in several key areas are one main difference.
The Trailfox AMP is offered in three model version:
Trailfox AMP – Fox suspension components, electronic Shimano XTR Di2 shift and Shimano Saint brakes. €9,999 / Circa US$ 13,375
Below that there's the Trailfox AMP One – XT Di2 electronic shifting in place of the top spec XTR and downrated shocks. €11,999 / Circa US$ 11,145
Trailfox AMP Two – Shimano XT mechanical shifting, heavier wheels and downrated suspension. €6,999 / Circa US$ 7,800
New Tech
Bosch Announces ABS Braking and Other 2018 Developments
This looks like a real first from Bosch – ABS (Anti-lock Braking System) will appear (European markets only at this time) on e-bike fleet bikes in 2018 with a move to introduce offer it to consumers in 2019.
Sensors in Magura's MT5 brakes tell the system when the front wheel may be prone to locking and Bosch claim the system works no matter the terrain.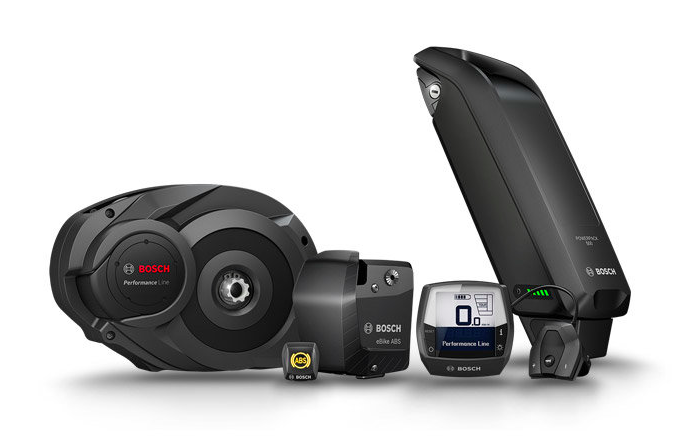 Stated extra weight is 800 grams in weight and power is drawn from the battery, but Bosch says that the levels taken are so negligible the system will still function when the battery has shut off power to the bike's motor.
Also due in 2018 (European markets only at this time), Bosch have announced the arrival of PowerTube 500, a sleek 500Wh battery that allows bike manufacturers to integrate the battery into electric bike frames.
Bosch has made improvements to their Active Line and Active Line Plus. The motor has a new sleek look, is lighter, has more torque, and is claimed to be nearly silent! These will be available in European and North American markets for 2018.
There is the new eMTB mode that will be available in July 2017 as a software upgrade. It is a blend of Tour, Sport, and Turbo modes so that you can set it in eMTB mode and enjoy the ride. Available in all markets.
Also due 2018 are more automatic and/or electronic gear shifting options allowing the Bosch system to work with several more gear systems from the likes of Nuvinci and Rohloff. Available in European and North American markets for 2018.
KULR Aims for Cooler Batteries
Forbes report that KULR have partnered with NASA to develop a cooling system for e-bike batteries designed decrease the risk of overheating and fire (which does happen very, very rarely on e-bike batteries).
The article states 'Together with NASA, KULR developed a carbon insulation that can not only prevent battery fires from becoming serious explosions, but keeps batteries cooler overall. KULR, populated with former NASA rocket scientists and Boeing engineers, has taken that carbon insulation and put it in a rechargeable, military-grade battery that can be custom manufactured for designers of products including drones, robots, medical equipment and e-bikes…..Michael Mo, KULR's CEO….states that their battery cools better, it is about 30% lighter than other battery options and it is therefore an appealing design option for bikes – and an energy saver for those who use them.'
Accessories
Secure and Strong Bike Rack From SCS
Neil Johnson of SCS Racks has been in touch to highlight their 2017 Magnum Anti-theft bike carriers with a carrying weight limit of 150lbs – that would enable you to carry at least two, or possibly even three e-bikes on your vehicle.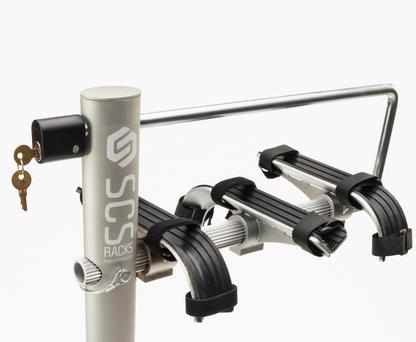 Your bikes need to be of a traditional diamond-frame design for the rack's very strong looking locking bar to pass over the frame.
SCS say ' There are no hinges which become weak points. There are no flimsy cables with lightweight locks as SCS Racks utilize 5/8 inch steel to create a bolt cutter proof cage around your bikes. Being a modular unit, the Magnum can carry 1-3 bikes with the short load bar or 1-4 bikes with the long load bar. The rack can be dismantled to fit into your closet or small trunk space in seconds, and only weighs 20 pounds.'
From US $379
Get Inspired
Custom Battery Box Maker Turns Hobby into Business
You might think that with the multitude of off the peg e-bikes available that bespoke systems would be in decline. Well, not according to Dave Adabie of Kansas who makes custom battery boxes for e-bikes.
E-bikes Reduce Car Mileage In UK Study
Check out this Cycling Industry News report on the effects of loaning e-bikes to car users – a reduction of 20% in car miles traveled it says.
UK Man with MS In Epic E-Bike Fundraiser
Duncan Booth is cycling to Sweden to raise money for a Multiple Sclerosis charity (Duncan suffers from the disease) and will also attend his cousin's wedding at his journey's end – and he's going by e-bike.
Great to hear Duncan's verdict on e-bikes, "Everything I do is uncomfortable, but when I'm on my e-bike it's not uncomfortable. It's changed my life completely."
He is a real inspiration as he and his wife also organise the annual 10in10 hiking challenge in Cumbria.
To donate to Duncan's trip go to www.justgiving.com/fundraising/duncanbooth
See more about Duncan's efforts here.
E-Bike Biz
Japanese Giant Nidec-Copal Expands Outside Japan
Bike Europe reports that Nidec-Copal (claiming to be the world's largest motor maker) – traditionally a maker of automotive motors with its e-bike motors sold only in Japan – are making a move with its e-bike system in Taiwan. Nidec say the motor system is one of the lightest and most powerful systems available.
Stay tuned for more e-bike news & reviews and thanks for reading!
-Richard
P.S. Don't forget to join the Electric Bike Report community for updates from the electric bike world, plus ebike riding and maintenance tips.
Reader Interactions