eBike News: Lyft Back in NYC, Passenger Carrying eBike, eMTB Racing, New Norco & Tout Terrain, & More! [VIDEOS]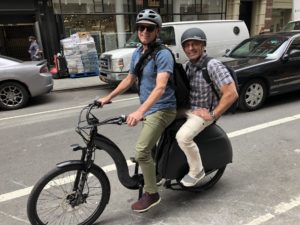 In this week's news:
Lyft eBike Share Back in NYC
Civilized's Passenger Carrying eBike
NORCO's New Sight VLT eMTB
Tout Terrain Go Electric – Again
Electric Bike Company Offers Suspension Forks
Winter eBiking in Colorado
UCI's New eMTB Race Series
And Much More!
Headline News
Public Share eBikes Roll Again in NYC
Great news – Reuters reports that ' Lyft Inc will roll out a fleet of several hundred electric bikes for rent across New York City…..10 months after it pulled them following complaints and injury reports.'
It was back in April 2019 that the company announced it would temporarily pull its fleet electric bikes in three US cities (Citi Bike-New York City, Ford GoBike-San Francisco and Capital Bikeshare-Washington DC) due to problems with the braking systems.
Since the withdrawal Lyft have apparently changed battery suppliers and changed the brake setup on the bikes.
The new bikes will be available at any of the city's nearly 900 Citi Bike stations for a per-minute fee, versus a flat rate for non-electric shared bikes.
New eBikes & eBike Systems
Civilzed Cycles – For eBike Rider Plus One
Civilzed Cycles say their new Model 1 'is designed from the ground up for an adult passenger. With a peak torque assist more than twice as strong as a Bosch mid-drive, our Launch Control™ throttle, step through frame, passenger footrests and a fully enclosed driveline and rear wheel, every aspect has been optimized to easily bring someone along.'
What's more fold out style integrated panniers hold 50lbs whilst it also boasts full suspension that automatically adjusts in response to payload, highbeam headlight, integrated brake and turn signals, PIN locking and over the air software updates.
Civilzed say there are 350w/500w/750w high torque mid-drive options and throttle, pedal assist and power-on-demand modes dependent on jurisdiction.
Civilized cycles is producing 40 numbered, Founders Team Model 1 e-bikes based on a $100 refundable deposit out of a $5999 total.
Founders Team members enjoy 3 years of complimentary routine service, 2 years of complimentary hardware and software upgrades, 1 year of roadside assistance, and an invitation to an awesome party. Estimated delivery Q2 2020.
Norco's 2020 Slight VLT Details
Canadian bike manufacturer Norco have launched an all new 2020 version of their Sight VLT e-mtb.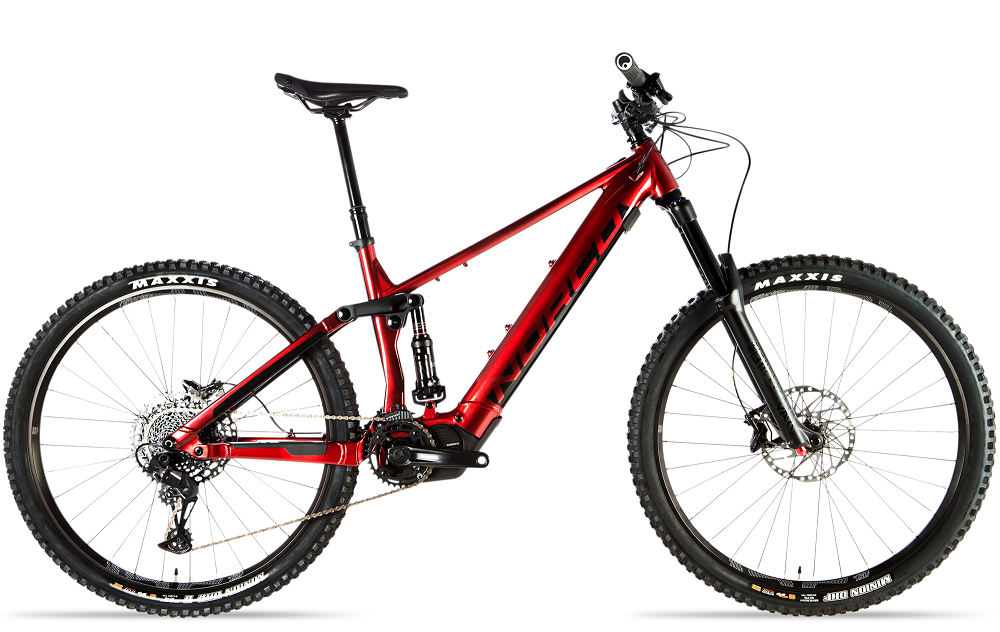 It is their first electric full suspension mountain bike that's available in both carbon and aluminum models and uses 29″ wheels, Shimano Steps mid-drive, in frame battery and optional range extender battery.
Electric Bike Company Now Offering Suspension Fork Option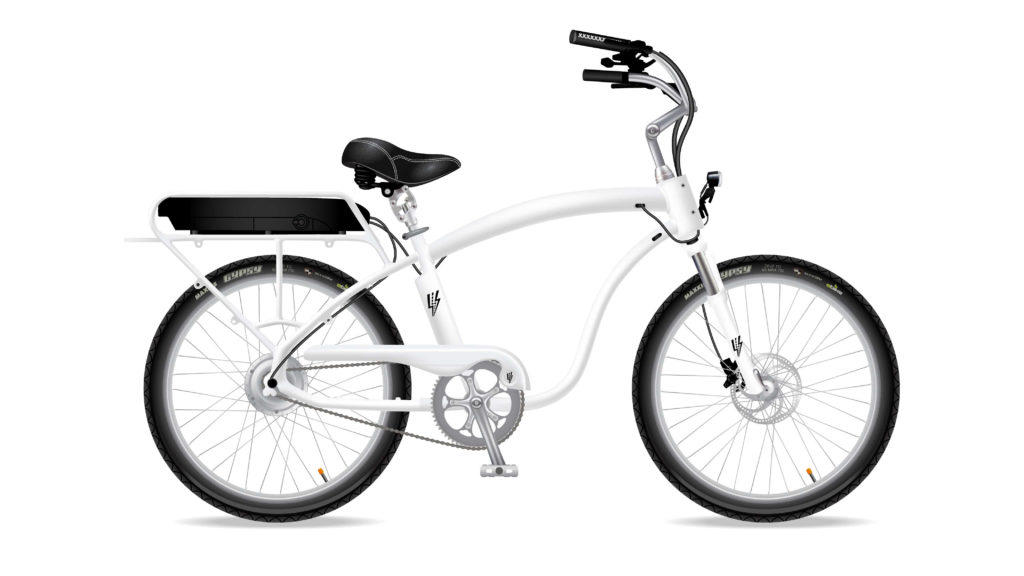 California's Electric Bike Company is now offering suspension forks on all their models with features including hydraulic lock out and preset adjustments. The upgrade is $129 and is available on all models in any color.
This is in addition to other recent additions such as 7 speed options on all models.
Tout Terrain Re-enters eBike Market
Tout Terrain is a German bike manufacturer with a reputation for making very practical and durable commuting and adventure bikes.
They have announced their re-entry into the European e-bike market with trekking and urban models, all based on a newly designed chromoly steel frame with signature welded rear trekking rack.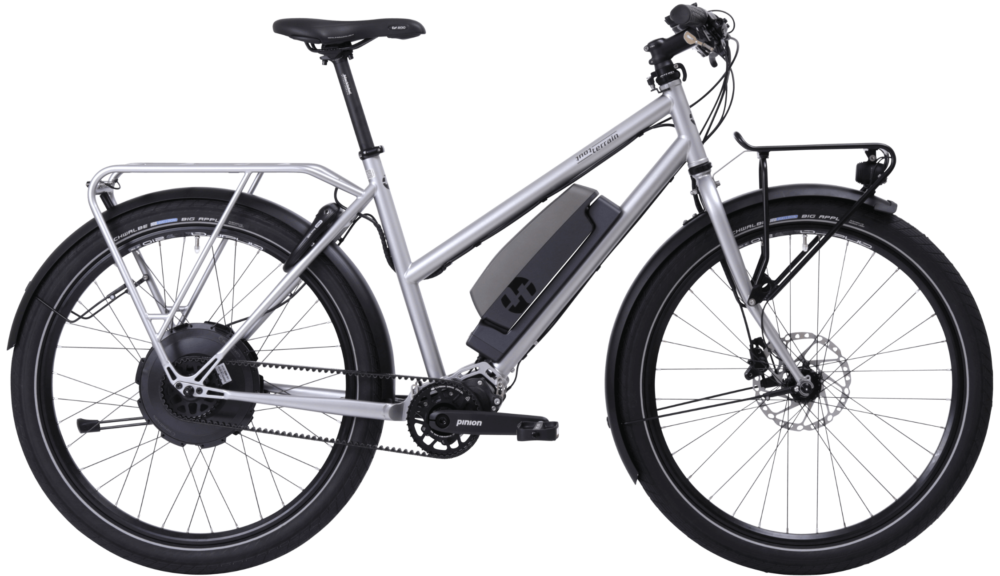 Tout Terrain's customizable build approach will mean brand new Silent E-Drive componentry can be integrated. They use Pinion bottom bracket gearboxes and Neodrives (Alber) rear hub-motors that have replaced Go-Swiss motors (the latter exited the German market in 2019).
Marketing manager Damian Bradley explained that the bikes can be easily converted to analog (non E-Bikes), giving the bike a whole second life – something that is easy to realize when the drivetrain has a 10,000km service interval.
"When you take the entire product lifecycle into account, this is probably one of the most environmentally responsible E-bikes on the market."
The key Silent E-Drive components are also manufactured in Germany, not far away from one another.
This minimizes shipping and service turn-around times, and makes collaboration easy – vital parts of bringing a sustainable E-Bike product to market.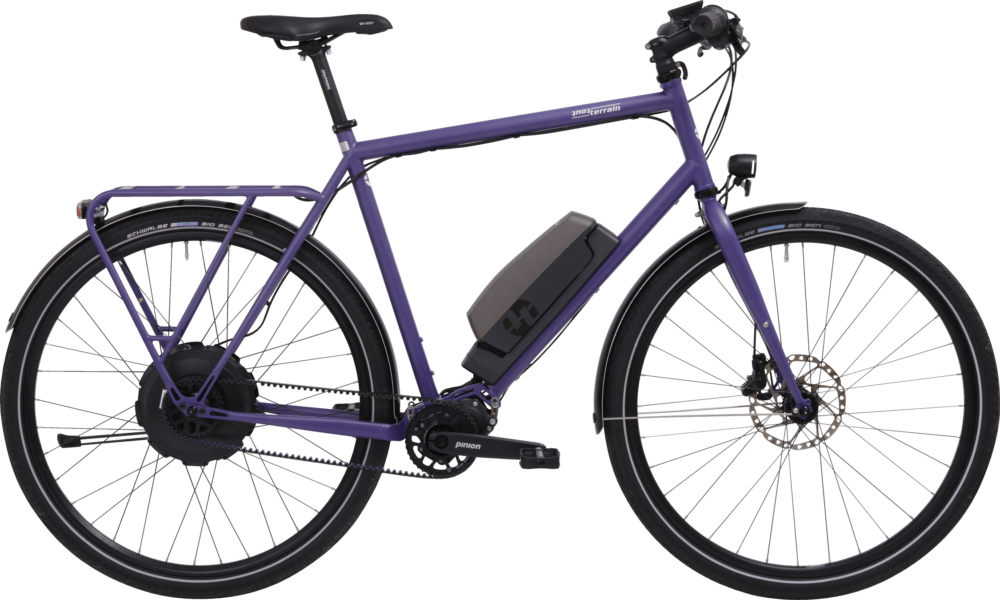 Full electric system spec is:
Tout Terrain chromoly steel frameset with TBA Pinion mounting system
Neodrives Z20 brushless hub-motor
250W, 40Nm torque with up to 300% of power assist
Power assist up to 25 km/h
System weight 4kg
500 Wh Neodrives V5 battery
neoMMI 20c 2″ Colour Display
Gates Carbon Drive CDX belt and sprockets
Full model listing can be found here.
New Color for Xtracycle RFA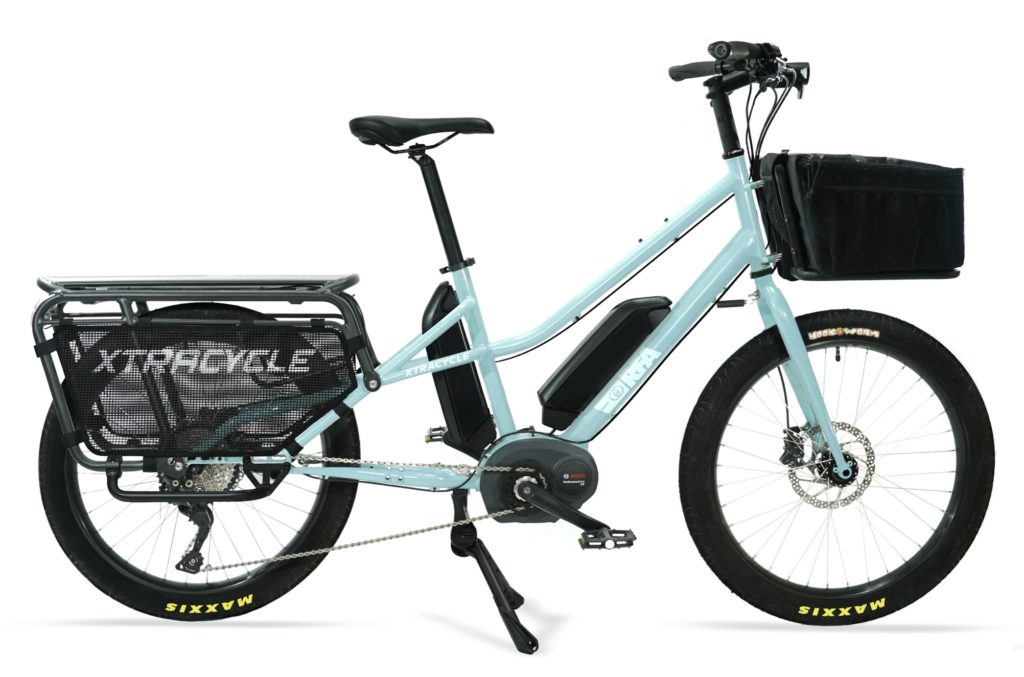 The Xtracycle RFA is a super versatile eCargo bike that has many options to meet your eCargo needs. Here is a video of the RFA highlights:
Xtracycle has launched a new limited-edition color, Vista and there is only a small quantity of these.
Elsewhere on EBR
Check out the latest review posting – Part 2 on the new RadRover Step-Thru – that combines eFat bike performance with a comfortable upright and step-thru design.
The 4″ wide fat tires are built for almost any terrain while the 750 watt motor and 48V 14ah lithium battery can give you some long range assist!
Get Inspired
Great news from Colorado – bike commuting has jumped by 26% in Denver over the last three years, according to a survey done by the Downtown Denver Partnership.
Winter Bike to Work Day is an international celebration of those who pedal to work all year long. That's according to CBS Denver.
Perhaps just as inspiring is the example of Joel Davis who credits e-bikes with rekindling his ability to cycle to work.
Despite Feb 14th being winter bike to work day, Joel manages to e-bike to work just about every day, come rain, shine or snow.
eBike Competitions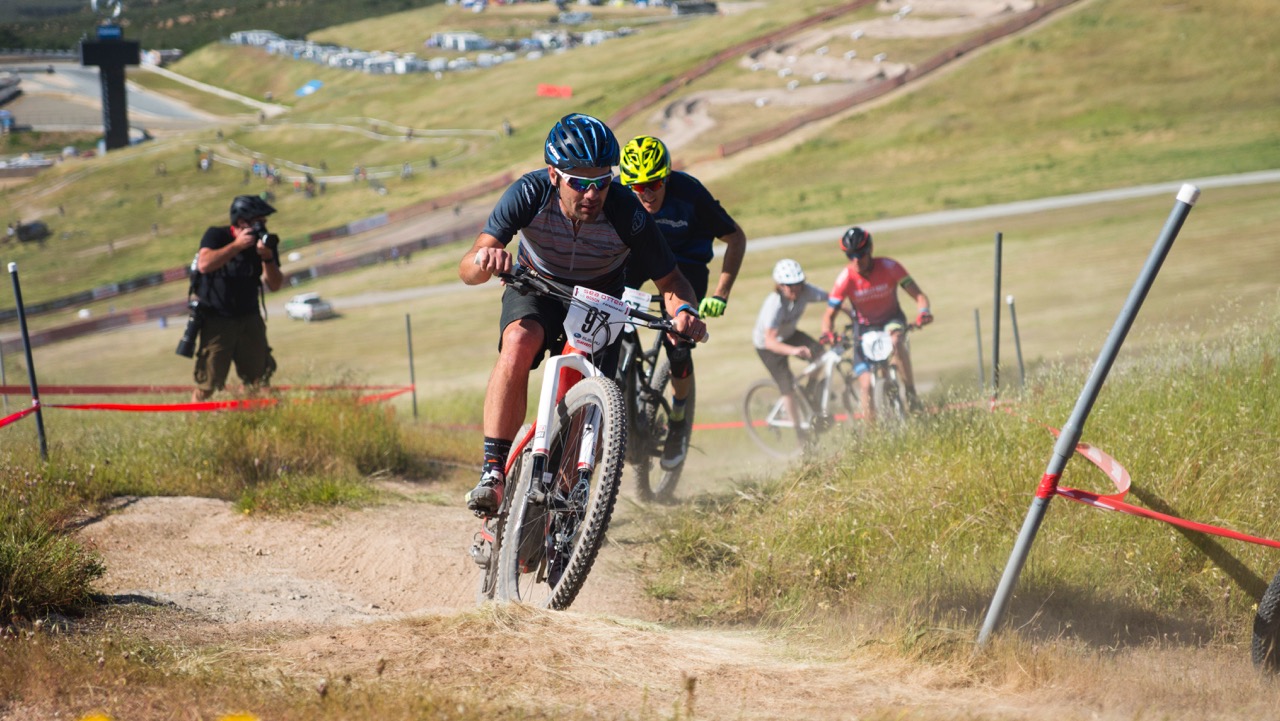 VeloNews tells us that the UCI (Union Cycliste Internationale – the world governing body for sports cycling) has launched the inaugural UCI E-Mountain Bike Cross-country World Cup.
Comprising five rounds, the new series will kick off in Monaco in early March, and conclude seven months later, in Barcelona.
The UCI included E-MTB in its regulations in 2018 and on August 28, 2019, the first UCI E-mountainbike World Championships took place in Mont-Sainte-Anne, Canada.
A growing number of E-MTB events are now being included on the UCI International Calendar, with some high-profile mountain bike cross-country athletes taking part, such as two-time Olympic Champion and five-time UCI World Champion Julien Absalon, three-time UCI World Championships medallist and former Junior UCI World Champion Nathalie Schneitter, and Olympic bronze medallist and seven-time UCI World Championships medallist Marco Aurelio Fontana.
The schedule for the recently announced cross country series is:
6-7 March: Monaco
17-18 April: Ascona-Locarno (Switzerland)
5-6 June: Bologna (Italy)
11-12 September: TBD
2-3 October: Barcelona (Spain)
eBike Law
California Lags Behind on eBike Subsidies
This interesting Streetsblog piece berates the state of California as, despite undoubted green credentials in many areas, 'there is a gaping hole in state efforts to reduce our carbon footprint even further: electric bikes.'
With transport the leading contributor to the state's greenhouse emissions why do electric cars qualify for subsidies and e-bikes don't the piece asks.
In a nutshell it argues that e-bike subsidies would be far more effective to a much wider segment of society:
'Indeed, given e-bikes are dramatically cheaper than electric cars, such rebates could be useful to a much broader slice of the population. Before discounts, the median price for an electric car in America in 2019 was $55.000, far above what many can pay, or obtain financing for. This doesn't include the additional costs of insurance, maintenance, parking, and charging. On the other hand, e-bikes start at under $1,000, with higher-end models topping out at $9,000 and may models available at the lower end of this spectrum. Moreover, e-bikes do not require insurance, can be parked inside homes and offices, and can be charged from wall outlets. Why not direct rebates toward more affordable transportation options to begin with?'
Type Approval for eBikes and eKickscooters?
This Bike Europe article reports on the possibility that all Light Electric Vehicles – including regular 250W/15.5mph e-bikes and e-kickscooters – could be included in type-approval procedures as now in place for speed pedelecs.
Within EU countries speed pedelecs are e-bikes with a top assisted speed of 28mph. However there are more stringent technical and regulatory standards for speed pedelecs than for regular 15.5mph e-bikes.
The rider must also (depending on the particular country he is riding in) comply with extra road traffic law requirements such as compulsory helmet wearing, insurance and affixing a number plate.
There is a revealing report here on a symposium that took place in early February. It's from LEVA-EU who are the trade association for light electric vehicles.
Two things stand out. Firstly Belgium's Flanders region is singled out as a place that encourages speed pedelecs successfully by being more liberal in its traffic code towards them (ie not classifying them outright as mopeds).
Secondly the technical requirements for speed pedelecs from a manufacturer's point of view are pretty complex and demanding.
Stay tuned for more e-bike news and reviews and thanks for reading!
-Rich
P.S. Don't forget to join the Electric Bike Report community for updates from the electric bike world, plus ebike riding and maintenance tips!
Reader Interactions