eBike News: LIV Women's eMTB, Forest Trails, Lyft eBike Share & Much More [VIDEOS]
In this week's news:
LIV's New Women's eMTB
Forest Service Considers More eMTB Access
California Trails Project
People for Bikes New Data
New Uses for eCargo Bikes in London and Paris
Share e-bikes in Santa Monica and Leeds, UK
Plus All the Latest eBike Battery and Business News
New eBikes and eBike Systems
LIV CYCLING INTRODUCES INTRIGUE X E+ TRAIL E-BIKE SERIES
Liv Cycling, the company dedicated to getting more women on bikes, has just introduced the Intrigue X E+, its first trail E-bike with 29-inch wheels. Liv add that 'The Intrigue X E+ also features a suspension tuned specifically for women by women, flip chip adjustable frame geometry, and a powerful motor making it the perfect trail E-bike for those who want to go further. The Intrigue X E+ is available in XS, S, M and L sizes. Designed to match riders with just the right wheel size for balance and maneuverability, XS frames come with 27.5-inch wheels, while S-L frames come with 29-inch wheels.'

Liv have based all aspects of the bike on women's needs: 'Gathering worldwide female-only dimensional data, Liv designs and engineers frame geometry specifically for women by optimizing weight distribution on the bike. This puts the rider in the best position to maximize power and efficiency, and employ her most powerful muscles. Further, Liv custom-tuned the Intrigue X E+ suspension for women so it performs optimally for female riders and the bike's intended use, resulting in improved traction, control and confidence.'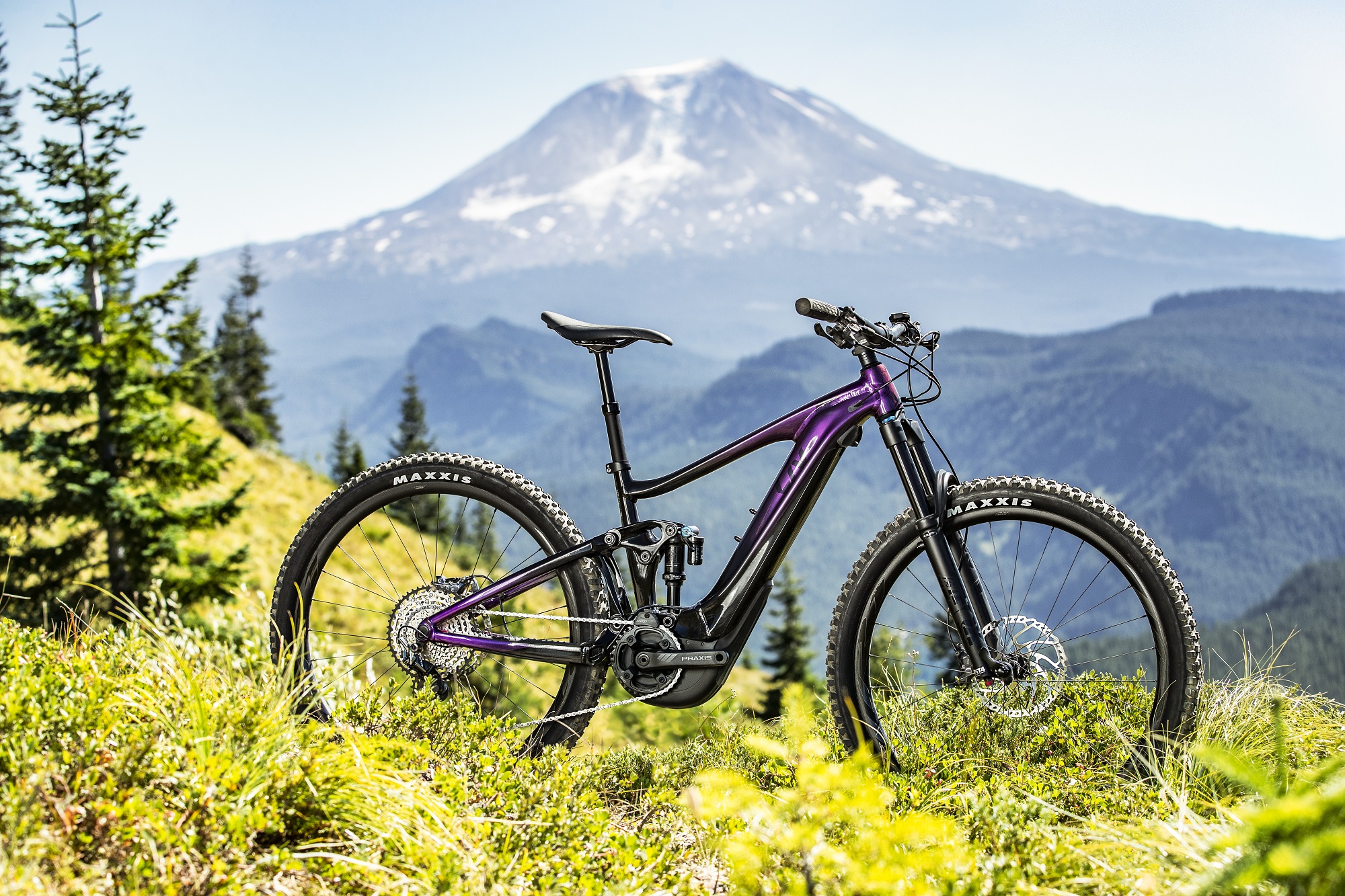 The bike uses a Yamaha SyncDrive Pro featuring assist modes that range from 100 to 360% of a rider's effort. The new EnergyPak Smart 625wh battery is integrated into the downtube of the lightweight and durable ALUXX SL-Grade Aluminum frame. There is also a handlebar-mounted RideControl Ergo that allows the rider to adjust riding modes with two key data indicators – battery level and support level. RideControl Ergo also improves the riding experience by providing Smart Assist Mode and a Walk Assist feature. Smart Assist automatically provides pedal assistance when and where needed, while the Walk Assist feature offers convenient, appropriate power for walking the bike over varied terrain.
Further tech specs include a 1×12 drivetrain, hydraulic disc brakes, dropper seatpost, new and improved chainstay protector and Liv's all-new Sylvia SL E+ saddle.
Trail Access
Forest Service Sets Stage for E-Bike Access on Non-Motorized Trails
This is the headline in this Bike Mag article which tells us that 'The U.S. Forest Service, which manages 193 million acres of land and many of the country's best mountain biking trails, became the latest federal agency to publicize its intentions to expand e-bike access last week. The proposed changes, announced in the Federal Register on Sept. 24, essentially pave the way for local jurisdictions to manage each trail individually in their travel plans, while more precisely defining the three e-bike classes and further distinguishing them from traditional mountain bikes—a possible gateway to permitting Class 1 e-bikes on non-motorized trails.'
Of course it is still early days in opening up more forest trails to eMTBS but EBR will keep you posted on developments in this story.
Get Inspired
New Project to Help Create More Trails for California – Offering US $8000 eMTB Package Giveway in the Process
Bosch eBike Systems in tandem with Cannondale and the California Mountain Biking Coalition (CAMTB) has announced a new statewide trail stewardship program, "Can You Dig It?!" which will help raise awareness and provide much needed financial support for nonprofit trail riding advocacy groups across California, with the funding being used to bring shovel-ready trail projects to life and underwrite education programs for both Trail Crews and Trail Riding Communities.
In hopes of raising fifty thousand dollars to support the "Can You Dig It?!" initiative, Bosch eBike Systems and Cannondale are hosting a giveaway with CAMTB of an eight thousand dollar grand prize package including a Cannondale Moterra Neo 3 Carbon eBike, Burley Coho XC Trailer, Trail Boss USA hand tool, and a tricked-out Bosch Power Tool Kit.
The winner also gets to select one lucky trail advocacy organization to receive a grant to help build and maintain epic trails in their region. For every five dollars donated, entrants will receive one chance to win. The winning ticket will be chosen on October 31 with donations accepted until Oct 30, 2020 at 11:59 p.m. The selected organization must be a recognized 501(c)3 organization or fiscally sponsored 501(c)3 with an established mission that focuses on multi-use trail stewardship.
PeopleForBikes Reveals Revealing Data
The
PeopleForBikes
Business Intelligence Hub is a dashboard for daily and weekly insights on the bicycle industry covering ridership, retail sales and consumer attitudes.
Their new data shows that more people nationwide are getting on their bicycles in 2020 as the Physical Activity Council reports that 19% of Americans over the age of 5 have ridden a bicycle within the past year — an increase of 14% over the previous 12-month period.
Further data reveals nearly half of PeopleForBikes supporters are riding more often now than this time last year, with many of those bicyclists riding much more often. This is backed up by the results of a similar survey fielded in June 2020 which found that 48% of PeopleForBikes supporters rode more often compared to 2019.
It's also worth noting all the great work People for Bikes do to promote use of all kinds of e-bike. For example check out this news post from back in August highlighting the eMTB trail opportunities in north-west Arkansas. There's also a great map showing trail centres across the US.
eCargo Bikes
Parisian Medics Get eCargo Bikes
Bike Europe reports that 'French e-bike retailer Ecox has partnered with WPP agency, Wunderman Thompson Paris, for the launch of Emergency Bikes, a new e-bike created to help Parisian emergency doctors move faster through the congested streets. Designed exclusively for doctor's needs, the first fleet of Emergency Bikes were deployed in early September.'
London Building Firm Introduces eCargo Bikes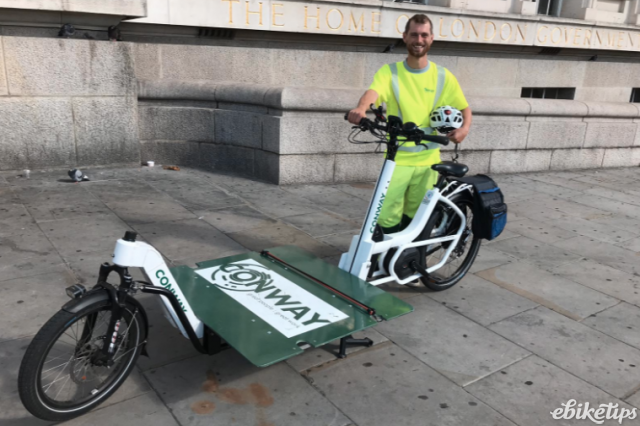 The UK's ebiketips reports that in an effort to cut their carbon footprint, some workers from construction firm FM Conway will be delivering materials around the streets of London by electric cargo bike. The bikes can carry loads of up to 550lbs/250kg and can carry various items such as sandbags, fittings and tools. GPS tracking is included on the bikes, as well as the electric assist. The trial is being used to transport materials while FM Conway work on phase two of the Illuminated River project, which will see 14 of London's bridges lit up to "transform nocturnal views of the city" on completion. FM Conway are currently working on Westminster Bridge, which is set to be completed by spring 2021.
eMicromobility
Lyft eBikes Now In Santa Monica and the Westside
Spectrum News1 tells us that Lyft are now offering share e-bikes in Santa Monica. 'Docked at the same stations that currently house the city's human-powered Breeze bicycles, Lyft's pedal-assist e-bikes are designed to ensure continuous access to a bike share system as the city ends its Breeze program Nov. 1.'
The article adds 'Available through the Lyft app, the bikes are $1 to unlock and $0.34 per minute to ride. Cyclists scan the bike's QR code to unlock the bikes, which use an electric motor to enhance riders' pedaling and make them move with less effort. Each bicycle comes with a cable lock that allows it to be locked to any public bike rack within the program's service area for $1.
The bikes will also be available through the Lyft Community pass system, which allows low-income residents and qualifying Santa Monica Community College students to pay just $5 a month and take e-bike rides for the reduced rate of $0.05 per minute.'
UK's Leeds Offers 'Free' eBikes
The BBC reports that people living in the northern UK city of Leeds are being offered the free use of an electric bike on a fortnight trial. 'Commuters have to pay a £200 refundable deposit to take part and are able to charge the bikes at home or workplace. Leeds City Council, which is running the project with a fleet of 15 e-bikes' says the article.
Battery Watch
LEVA-EU reports that 'After developing LEV battery packs for 2 years, LEVA-EU member VESTEL Electronics is now ready to start mass production. The IONIA battery solution is equipped with a smart BMS board, designed by VESTEL engineers. It is compatible with most of the popular e-bike systems.'
eBike Biz
Pedego Recall
Considertheconsumer reports that around 11,600 electric bicycles will be recalled by Pedego Electric Bikes for an improperly manufactured electrical cable that has been reported to cause the bicycle to unexpectedly accelerate, thus posing as a fall hazard to the user. Pedego has voluntarily recalled six bike models after five reports of malfunctions. No injuries have occurred, but Pedego is taking precautions with the remaining bikes that were manufactured from January 2018 to August 2020.
According to the U.S. Consumer Product Safety Commission, the six models involved in the recall are:
Interceptor (including Platinum Edition)
City Commuter (including Mid Drive Edition and Black Edition)
Boomerang Plus
Ridge Rider
Trail Tracker (including Gorilla Edition)
Stretch (including Dual Drive Edition)
The bike's model name can be found printed on the chain guard or chainstay of the bike. If you are a Pedego owner and have further questions about the recall, you can visit Pedego's recall page here.
European Union Launches Review of Type Approval for Light Electric Vehicles
LEVA-EU, the European trade association for light electric vehicles, has been in touch to tell us that the European Commission has initiated a review of the law relating to light electric vehicles (LEVS). The current EU law (Regulation 168/2013) exempts 'regular' e-bikes, limited to 25kmh assist  speed and 250W rated motors, from its requirements so that they are classed as regulation free, regular non-powered bikes.
However, the problem comes, says LEVA, with more powerful or faster e-bikes and other light electric vehicles which require 'type approval' based on the detailed technical requirements laid down in this regulation:
'LEVs that have remained in the Regulation, on the other hand, have a particularly difficult time. Speed ​​pedelecs, for example, have great difficulties to really develop because in most cases they are categorized as classic mopeds. However, the terms of use for mopeds are unsuitable for speed pedelecs. And so, massive uptake of speed pedelecs is not forthcoming. In L1e-A, powered cycles, the situation is even worse. In this category for electric bicycles limited to 25 km/h but with motors rated at more than 250W, virtually no type approvals have been carried out since 2013.
It is particularly important that as many LEV companies as possible participate in this review. To help them in this, LEVA-EU organizes info–meetings.
From its start, LEVA-EU has argued long and hard for a review of Directive 168/2013. The professional organization has extensively argued how the market potential of light electric vehicles (LEVs) covered by that type of approval is being thwarted.
The European Commission has asked TRL, a research centre specialized in mobility, to investigate the position of LEVs in the type approval and their position in national traffic codes. All LEVs are scrutinized, i.e. electric scooters, self-balancing vehicles, electric bicycles in and outside the type approval, electric cargo bicycles, etc.
UK's Cytronex Wants UK Manufacturing 'Dating Agency'
UK firm Cytronex are looking to scale up production within the UK but are having difficulty finding manufacturing partners within the country. Enter their idea for a manufacturing dating agency. You can see the news video below or check out the full BBC report.
Stay tuned for more e-bike news and reviews and thanks for reading!
-Rich
Reader Interactions