eBike News: Light Specialized eMTB, Roselandia eBike, Jeep eMTB, Ridgeback's eCargo, Battery Tech, & More [VIDEOS]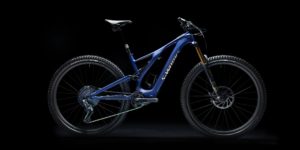 In this week's news roundup:
Superlight eMTB from Specialized
Roselandia for Easy Yet Powerful Pedaling
Jeep Branded eBike
UK's Ridgeback eCargo
Rad Power Bikes $25M Investment
High Capacity Battery
Glasgow eBikes Get New Sponsors
eBiking along South Africa's Coast
And lots more!
New eBikes & eBike Systems
New Lightweight Specialized Turbo Levo SL
The Specialized Turbo Levo SL has been designed to be an ultra lightweight version of the company's popular Turbo Levo electric mountain bike.
In its lightest weight form, it tips the scales at just 17.3 kg (38.3 lb).
It uses Specialzed's own SL1.1 (Brose) mid-drive motor and a relatively small 320Wh in frame battery. If you need more range Specialized offers an auxiliary battery that slips into a bottle cage and can be plugged into the main pack's charge port to piggy-back on another 160Wh of capacity.
Here's the official promo video:
There are various options but the base model starts at US$6,525
Rose City Roselandia Aims to be Comfortable and Fun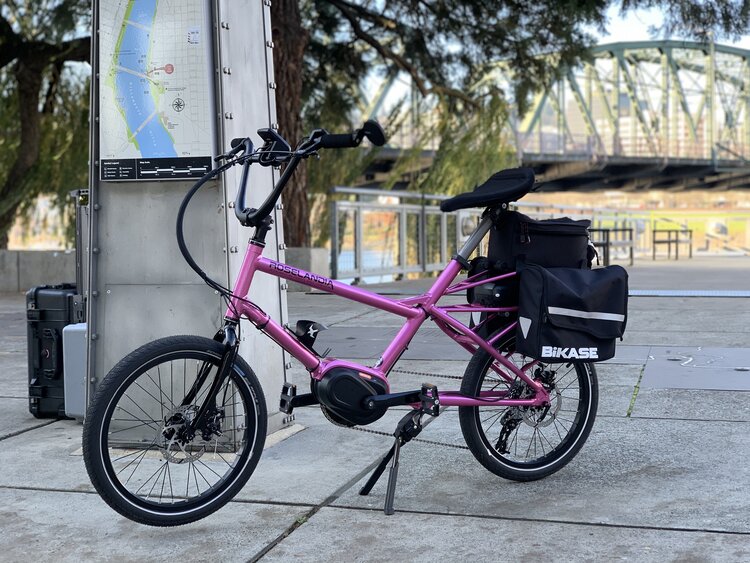 Rose City's Roselandia describes itself as 'a brand new Class 1 e-bike designed in Portland, Oregon by Rose City Recumbent Cycles…. The Roselandia is comfortable, easy to ride, simple to operate, and adjusts easily for different rider heights. Quite simply this compact e-bike is the most fun ride in town.'
The Kickstarter campaign has discounted offers from US$2400 with estimated shipping in December 2020.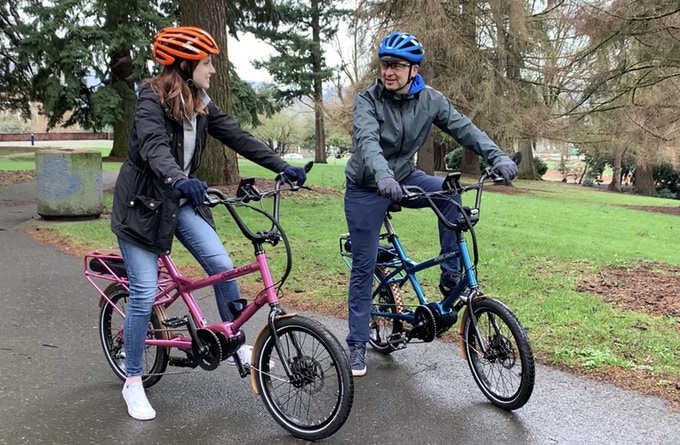 The most innovative aspect is really the 'crank forward' design – as Rose City say 'The compact aluminum frame is designed to ride smoothly while maintaining the feel of a solid, full size bicycle. Unlike many e-bikes that are tall, heavy, and cumbersome to ride – our light crank-forward design allows riders to be near flat footed at a stop, even while staying fully planted in the amazingly comfortable ergonomic seat. This makes for a safe, solid, spirited feeling ride that never gets uncomfortable.'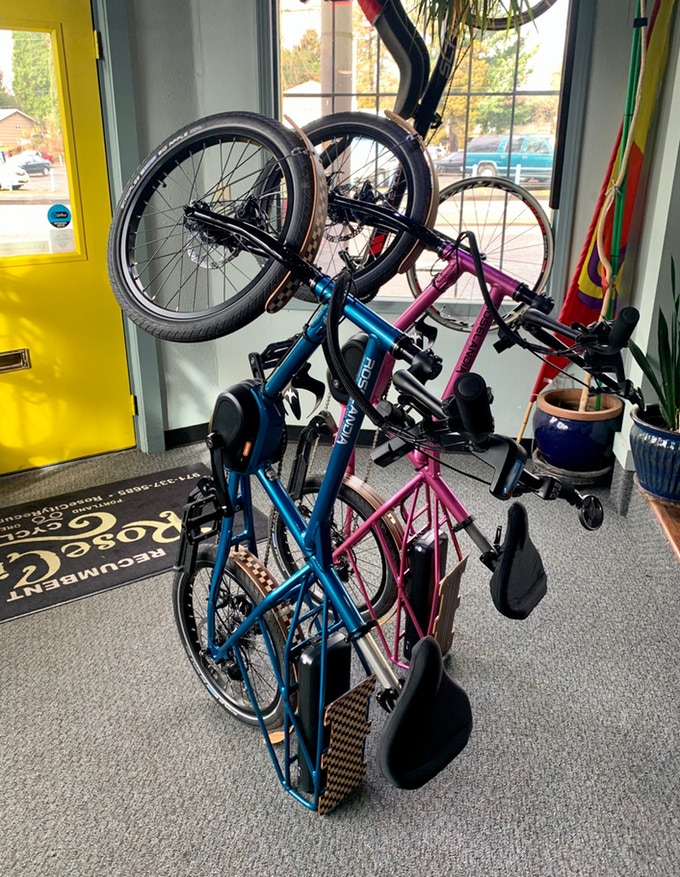 The 20″ wheels allow for a compact design and Rose City say it should fit in the rear of many hatchbacks whilst it can also be stored vertically. They also help keep the centre of gravity low for a nice stable ride.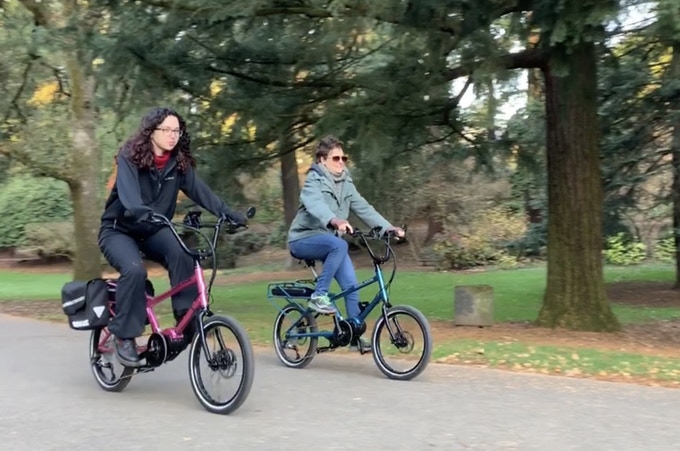 It uses a Bafang M400 mid drive and has SRAM 10-speed shifting, TRP disc brakes, a very solid looking integrated rear rack and a stated weight of 49lbs / 22.2kg.
Jeep E-bike Appears in Superbowl Ad
Whilst Jeep are better known for four wheel drives a Jeep e-bike appeared in their recent Superbowl ad. As The Independnet revealed, while the ad itself was for one of the company's cars, it also showed (Bill) Murray pedalling an electric bike that is due out later this year.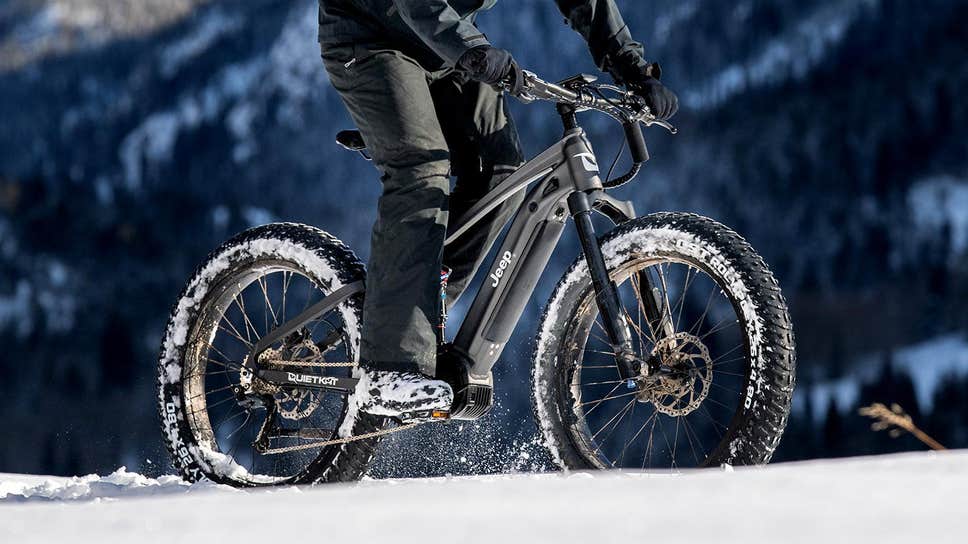 The Groundhog Day-themed ad was primarily focused on the Gladiator pickup truck, but also served as the first introduction of the bike.
After the ad was shown, Jeep published a website that gave information on the bike and asked people to sign up ahead of an expected release date later this year.
The site gave no information about price but did confirm that the bike would be available in June.
The article also revealed 'It is not clear how extensive Jeep's involvement in the bike is. The website makes repeated references to the bike being "powered by QuietKat", a company that makes similar bikes to the one revealed by Jeep.' You can keep up to date with the future Jeep e-bike release at Quietkat's website.'
Ridgeback Make a Big Statement with 2020 E-bike Range
UK-based bike manufacturer Ridgeback have added ten new e-bike models to their 2020 range, bringing their total electric offering up to 18.
Check out all the new models here.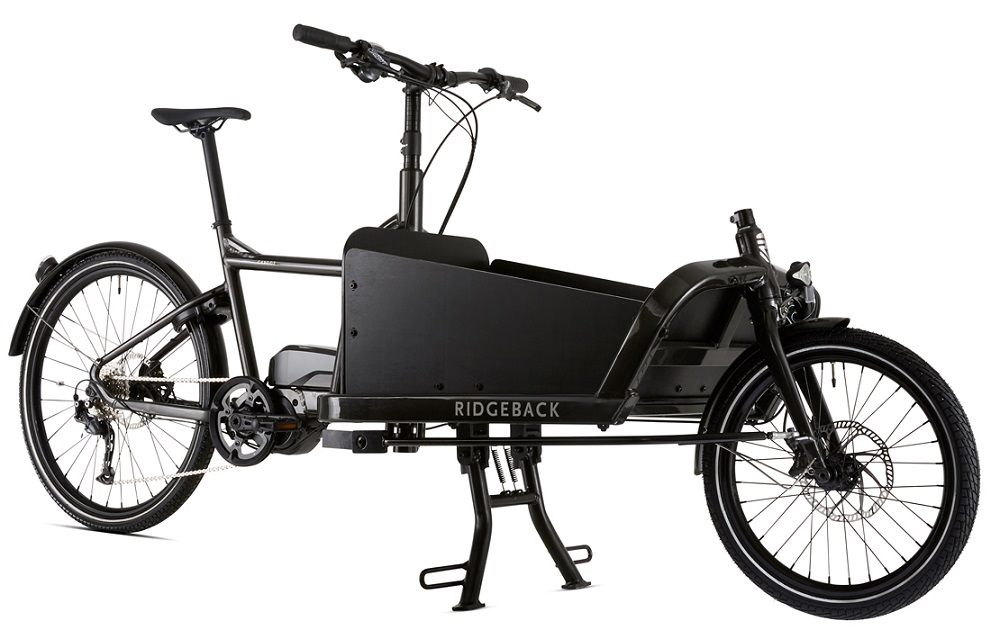 Perhaps most noteworthy of all though was the addition of the Cargo-E, a Shimano mid-drive powered cargo model that you would expect to see from a continental European manufacturer rather than one aiming at the UK market where such bike designs are much rarer.
A really encouraging statement from a mainstream UK manufacturer about where the UK market is going – after all at £3799.99 represents a major investment for Ridgeback as well as the end buyer!
Also of note was the use of the Sport Drive mid-motor system (a Czech-based company), for example on the competitively priced leisure / adventure model the Arcus.
Bike Tech
University of Minnesota Professor Developing Self-protecting Smart Bike
"We're trying to make a smart bicycle that protects itself," said Professor Rajesh Rajamani from the U of M mechanical engineering department, as reported in this news report.
His work sees a prototype bike equipped with sensors, microprocessors and low-density LIDAR lasers.
"And it not only scans the road, but once it detects a car, it follows the car and decides whether the car is posing a danger to the bicycle or not," added Rajamani.
The sensors are connected to two black box video cameras, all controlled by a set of microprocessors. Out on the road, the components work together to detect a car moving into the path of the bike and sound an alarm.
One of the biggest engineering challenges is cost. The sensors on a Google self-driving car are about $80,000. Professor Rajamani is trying to put them on bikes for $500 or less. Rajamani's ultimate aim is to licence the technology to a bicycle manufacturer.
Accessories
Versatile Old Man Mountain Racks
Old Man Mountain Racks have been around for many years and they are some of the most versatile and tough racks on the market.
They can work with almost any type of bike, even if they don't have traditional rack eyelets. That includes front and rear racks for full suspension mountain bikes!
They also have a Fit Kit to adapt one rack to multiple bikes or adapt one rack to the front or rear of the bike.
The Sherpa racks are made in the USA with 6063 aluminum and stainless hardware, rated for loads up to 70 lbs, and backed by a lifetime warranty.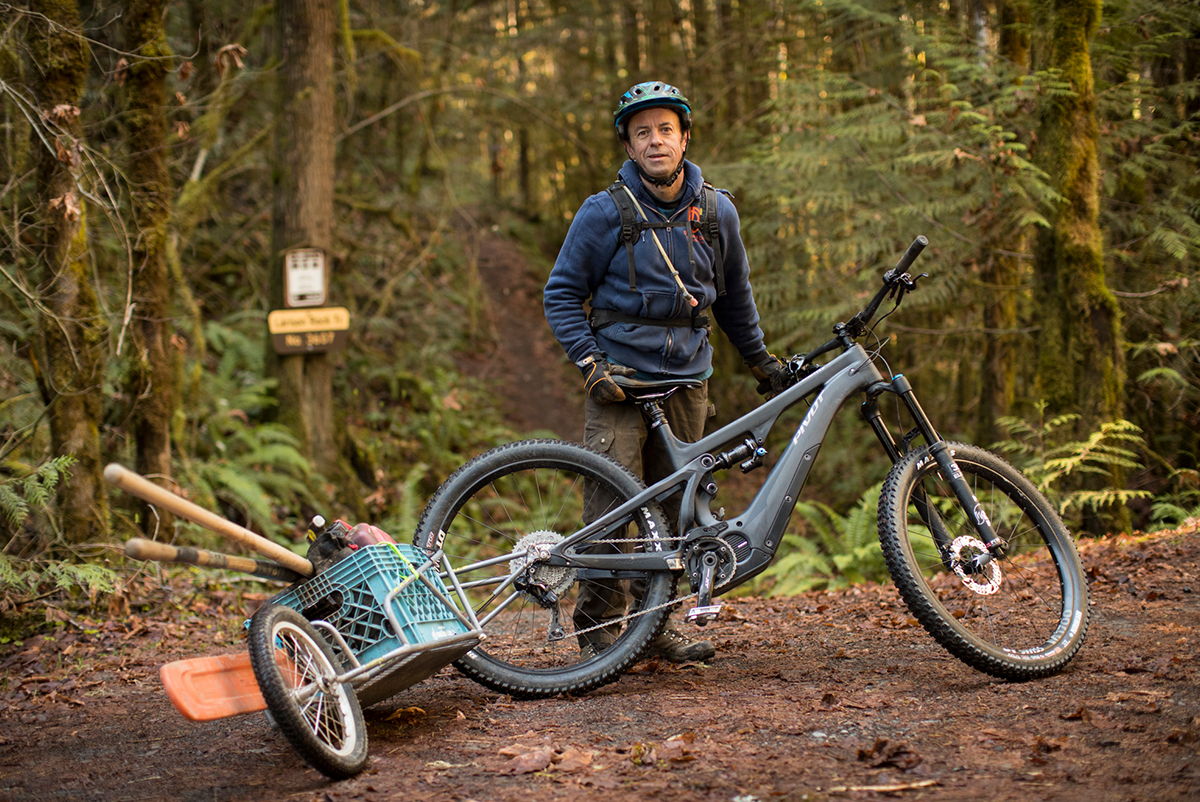 Recently Old Man Mountain was acquired by The Robert Axle Project, a manufacturer of high-quality thru-axles and cargo attachment solutions for mountain, road and gravel bikes.
"We've continued to watch bike touring and bikepacking evolve, and see the continued need for a superior rack system. Old Man Mountain makes the most durable, strongest cargo rack that fits nearly any bicycle," said brand co-owner Chris Kratsch. "We've used Old Man Mountain racks on our bikes since 2000, including a full summer on the entire Great Divide Mountain Bike Route in 2003. I love the durability and function of the product," he added.
Get Inspired
E-bike Above South Africa's Southern Coast
This enticing sounding e-bike ride is to be found on South Africa's southern coast between Cape Town and Port Elizabeth and will take you up into the Outeniqua Mountains that run along what is know as the Garden Route coast. This ride is known locally as The Ride to Cliffy's Corner.
It promises 'fynbos covered slopes (fynbos being local verdant shrubland reflecting the Mediterranean style climate here), offering great views of the coastal plans, the sea and, in the distance, Mosselbay.'
New E-bike Book from Velopress
Velopress are based in Boulder, Colorado and specialise in cycling and fitness book titles. Mid February will see the release of E-Bike which they descibe as 'the essential guide to this exciting technology and way of riding. From features, benefits, pros and cons, and the best ways to take advantage of motor-assisted cycling, E-Bike shows how to get the best bike for you and how your new e-bike will improve your cycling.'
Full details are:
E-Bike: A Guide to E-Bike Models, Technology & Riding Essentials
Martin Haussermann
Paperback with full-color interior and photographs throughout.
8.25″ x 11″, 162 pp., $19.95, 9781948007146
E-bike Share and Infrastructure
The Big E-cycle Launches Aim for UK's First Net-zero City – Glasgow, Scotland
Taking place as this article is being written, ScottishPower is hosting The Big E-Cycle – a launch event to mark ScottishPower's sponsorship of Glasgow's new fleet of e-bikes.
The event is part of ScottishPower's initiative to turn Glasgow into a 'Zero Carbon Community' and the Scottish government's efforts to become the UK's first net-zero emissions city by 2030. Indeed Glasgow will shortly host the latest UN Climate Summit.
The 63 Nextbike e-bikes would be made available to the public, with 21 electric stations set up around Glasgow.
The e-bikes build on the fleet of 650 standard bikes that the council currently have available for use since the launch of the Nextbike rental scheme in 2014.
E-bike Opinion
Where do E-bikes fit in Mass Participation Events?
This interesting Velonews piece looks at how -bikes may (or may not) fit into competiton bike events and most specifically those known as Gran Fondos.
Gran Fondos, literally big ride in Italian, are traditionally mass participation events with a mass start and 'competitors' go against the clock rather than other riders.
The piece believes that 'Gran fondos present the flashpoint for the integration of e-bikes, since the mass-participant events are both for competition and enjoyment.There's no single recognized governing body to sanction Gran Fondo events, and no central, agreed-on series of rules. Promoters essentially create their own, and the range runs from detailed, multi-point manifestos complete with anti-doping regimes, to homegrown approaches that basically come down to, "don't be a dick." Some promoters explicitly allow e-bikes; some explicitly disallow them. Others still don't mention the tech one way or another.'
Whilst there are clearly designated e-bike classes in many other areas, including UCI sanctioned races, Gran Fondos appear to be much more ad hoc in nature.
As the article points out, there may be push back from non e-bike riders, organisational issues like vetting the class of e-bike allowed (assist limits etc) set against the fact there will likely be more and more demand to participate from a growing class of e-bike rider.
Only time will tell if a separate e-bike only series of Gran Fondos springs up as it already has done in other event disciplines.
Battery Watch
E-Bike Designer Packing Big Inframe Batteries
This German language article tells us that e-bike designer Brian Hoehl together with the Italian design company Pininfarina has developed a new inframe battery with impressively large capacities from 720 Wh to 1150 Wh. The article adds 'The high-performance battery, developed in cooperation with the Taiwanese service provider Dynapack, is made up of 21700 Samsung cells and should correspond in size to the PowerPack 625 from Bosch eBike Systems.'
Apparently the team has also developed a range of frames to house the batteries, covering everything from step-thru through a racing bike to e-hardtail. The frames can be purchased as an OEM frame with the customer logo on them.
The new battery is said to be compatible with Bafang, Shimano and Brose mid-motors as well as with all types of rear-wheel drives.
Flexible Battery Pack
The Jenax flexible rechargeable battery looks like it could have plenty of applications, both on and off e-bikes, especially as e-bikes become evermore wirelessly interconnected with sensors and the like. In particular wearable technology looks tailor made for this kind of technology.
They don't appear to be readily available for sale yet but Jenax say they are looking to partner with other manufacturing companies.
E-bike Biz
Rad Power Bikes Closes $25 Million in Funding to Grow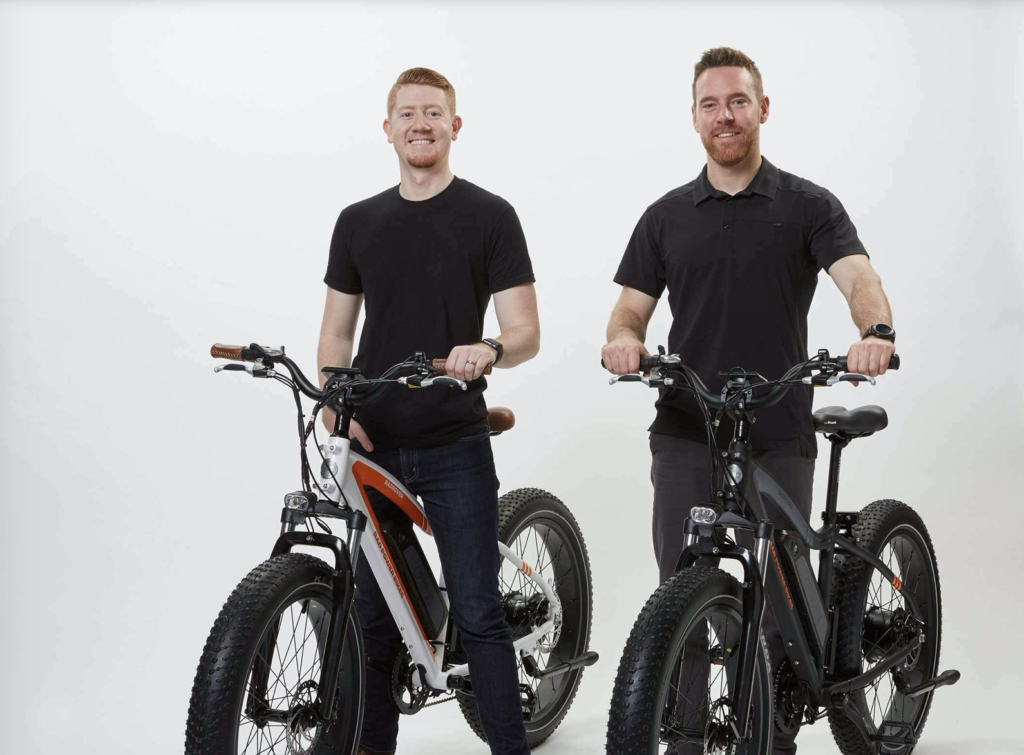 The Seattle-based, direct to consumer ebike business Rad Power Bikes have announced that they have just closed $25 million in funding led by Vulcan Capital and Durable Capital Partners LP. The funding will support new brick and mortar retail locations around the world, along with expansion of the company's mobile service and white glove delivery offerings.
"I've been passionate about achieving a future where ebikes are king and transportation is energy efficient, enjoyable and accessible for all since I was 15 years old," said Mike Radenbaugh, Rad Power Bikes' founder and CEO. "We found two groups of world class consumer and retail investors who believe in our vision and will help us surprise and delight our customers in new and exciting ways."
Leading the investment is Stuart Nagae, Director at Vulcan Capital and early Rad Power Bikes customer. "This additional capital will enable the company to broaden its market, accelerate growth and continue to deliver the exceptional experience today's customers expect" Nagae said.
Henry Ellenbogen, founder and CIO at Durable Capital Partners LP, is also a lead investor in this round. "As demand for new and affordable solutions in the micromobility and electric vehicle sector advances, this investment will accelerate Rad Power Bikes' continued growth" he commented
Rad Power Bikes describe themselves as 'the largest electric bike brand in North America, with more than 100,000 owners across 30 countries and a full lineup of ebikes packed with power, comfort, and utility for both personal and commercial use. Founded in 2007, the company has 200 employees spread across offices in Seattle, Wash., Vancouver, British Columbia, and Utrecht, the Netherlands.'
This round of funding comes nearly a year after Rad Power Bikes secured a private investment from Darrell Cavens and Mark Vadon, Seattle-area entrepreneurs and co-founders of the e-commerce retailer Zulily. As part of the transaction, Nagae will also join Rad Power Bikes' board of directors along with Vadon, who joined the board as a result of his growing involvement with the company, and Cavens who joined in 2019.
Stay tuned for more e-bike news and reviews and thanks for reading!
-Rich
P.S. Don't forget to join the Electric Bike Report community for updates from the electric bike world, plus ebike riding and maintenance tips!
Reader Interactions