eBike News: LAPD eBikers, Rock Star on eMTBs, Blix eCruiser, eBiking Cryptocurrency, Tariffs, & More! [VIDEOS]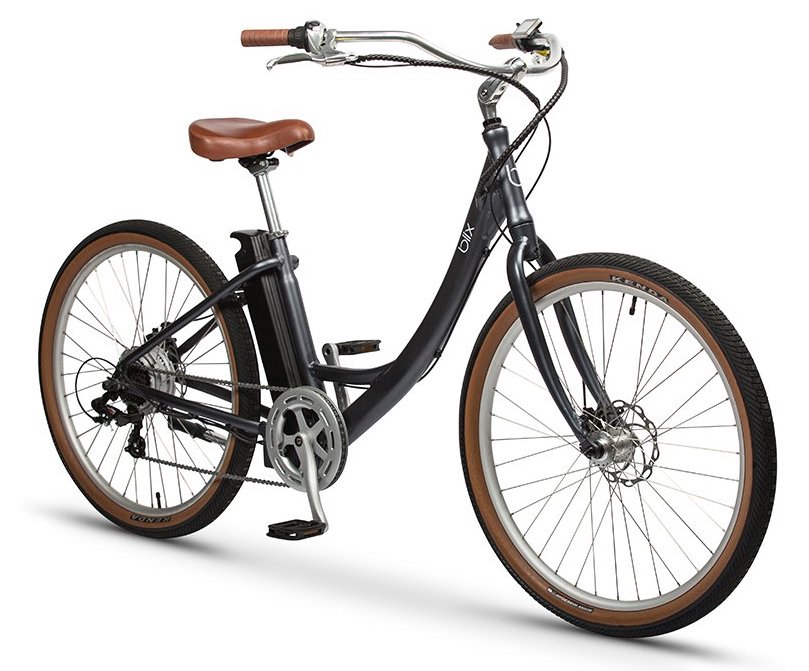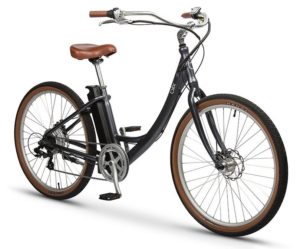 In this week's eBike news roundup:
Potential US Tariffs on Chinese Made E-bikes
Scottish Government Grant Support for E-bikes
LAPD's new BULLS eBike Fleet
Blix Affordable Sol E-cruiser
Tern Upgrades Vektron E-folders
Gazelle's 28mph E-bike Hits US
E-biking for Cryptocurrency
New Welsh E-biking Business Near World Class Trails
Hexi Bringing Dockless Bike Share to India
And Much More!
Headline News
US Proposes 25% Tariff on Chinese-Made E-bikes
Bicycle Retailer and Industry News reveals 'Chinese-made e-bikes, which include bikes sold by Trek, Giant, Raleigh Electric, Pedego and other brands, would be subject to a 25 percent tariff under a proposal released Friday. The tariff, which could take effect in a matter of months, would increase the retail price of the bikes by hundreds of dollars, perhaps enough to make them uncompetitive with e-bikes made elsewhere, and dampening interest in one of the bike industry's most promising sectors.'
However, the article also notes 'The list will go through a public comment process, including public hearings, before the U.S. Trade Representative decides whether each product code should be subject to the tariff. The process is likely to take several months.'
The majority of e-bikes sold in the US are imported from China so potential consequences are clearly significant, especially at the budget end of the market.
Scotland Announces Government Funding for E-bikes
The Scottish government has stolen a march on its English counterpart at Westminster with the announcement of a significant pot of money to help fund demonstration and purchase of e-bikes.
Transport Scotland announced £1.3 million funding to promote e-bikes, including interest-free loans up to £3,000 for citizens and businesses with applications invited as part of the £500,000 Low Carbon Transport Loan Fund.
There will also be an e-Bike Grant Fund totalling £700,000 to go to Scottish councils and other bodies for e-Bike pool schemes including e-bikes and infrastructure and accessories for the bikes themselves.
LAPD's New BULLS eBike Fleet
LAPD have announced a pilot program that is part of the department's ongoing Green initiative, that includes a custom-designed fleet of 20 BULLS Sentinel eBIKES. The new eBIKES are capable of reaching speeds of up to 28 mph across varying terrains.
BULLS Bikes USA worked with the LAPD over a nine-month RFP process to build the bikes to meet the specific needs of the department's urban law enforcement and patrol division, giving LAPD the largest eBIKE fleet in the nation.
LAPD | BULLS Sentinel eBIKE Key features:
– Pedal assist with speed up to 28 mph
– Bosch Performance Speed motor
– Aluminum frame designed for easy mounting and dismounting when carrying police gear
– Magura hydraulic disc brakes
– Schwalbe Super Moto tires that ensures a smooth ride and stronger puncture protection
– Rock Shox Pike heavy duty front suspension for better handling on urban scenarios like pedaling up and down hill
New eBikes & eBike Systems
Blix Launches Affordable Sol eCruiser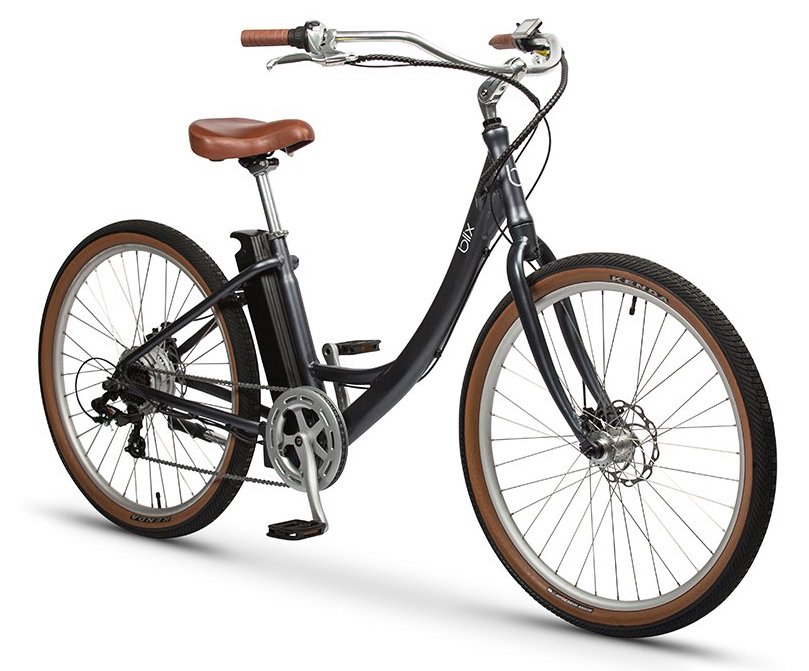 Blix Bikes has launched the Sol described as a 'cruiser for a comfortable ride along the boardwalk, to the office or around town' that 'brings a Scandinavian minimalist design to the nostalgic, upright cruiser.'
The Sol features '27.5" wheels, wider swept-back handlebars and a comfy wide seat for laid-back, relaxed riding.' Main spec details are:
– Smooth, quiet ride with a 350W rear-hub motor and upgradable battery system.
– 7-speed shifting, disc brake equipped.
– 20 mph Class 2-pedal assist with throttle option including 4 levels of assist available to tune the ride.
– Accessories available including fenders and racks
$1,599 MSRP and pre-orders begin in July at www.blixbike.com. The Sol will be available at select bike shops and online starting in August 2018.
Tern Announces Upgrades Vektron Line
Tern has announced upgrades to its Vektron folding ebike lineup. These include:
– New Bosch drivetrains: Bosch's new smaller, smoother and quieter Active Line and Active Line Plus.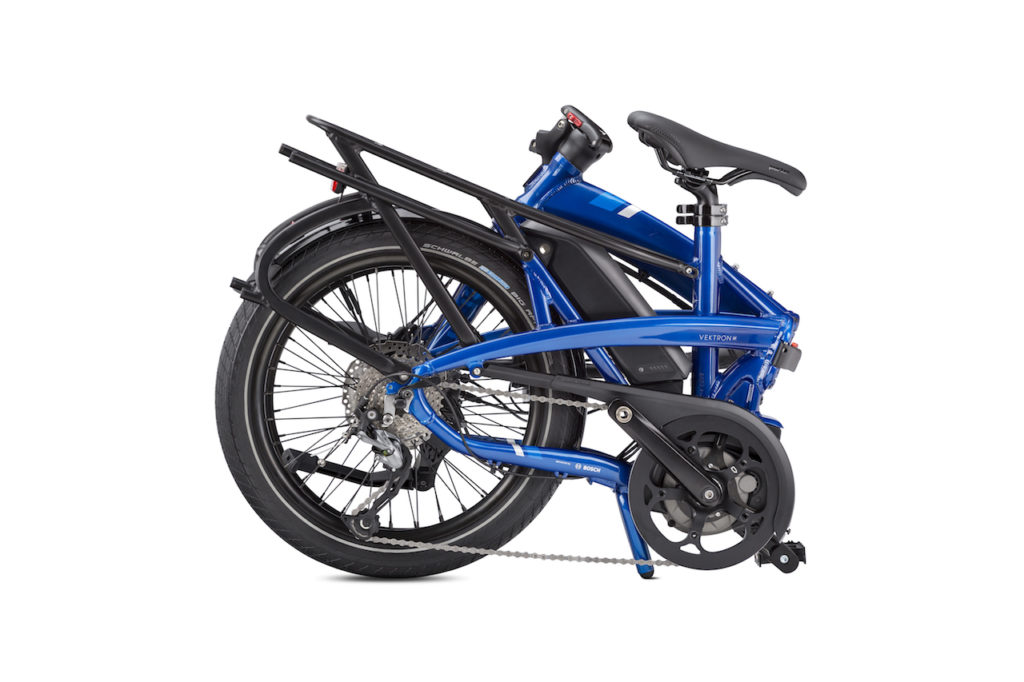 – Completely re-engineered frame and frame geometry for more room, strength and rideability.
– New stronger rack with lower centre of gravity for safer use with child seat.
– Optional bucketload pannier that folds flat when not in use or when the bike is folded.
The three new models include the Vektron Q9 at $2995, the Vektron P7i at $3195, and the Vektron S10 at $3595. Shipping to the US starts in Q3 2018.
Gazelle Launches Class-3 CityZen T10 Speed
Gazelle Bikes has launched the CityZen T10 Speed in the US electric bike market. It is Bosch-powered, has a claimed 85-mile range and a top pedal-assist speed of 28mph.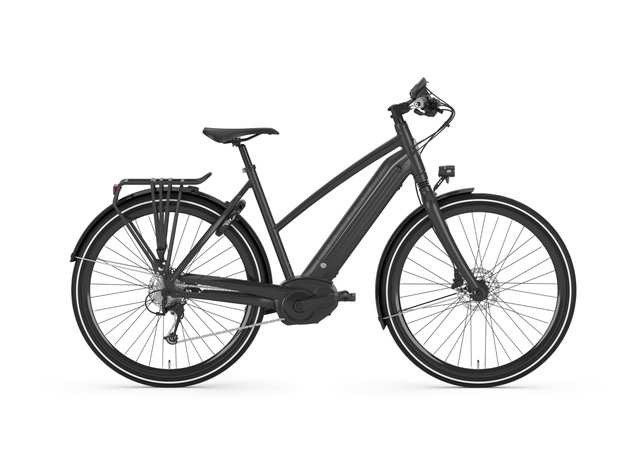 There is a 500Wh in-tube battery and a 'sturdy and minimalistic design to quickly and efficiently deliver the performance minded rider to their destination in style.' Shimano Deore 10-speed derailleur gears, AXA Blue Line 30 front light, Spanninga Solo rear light and AXA Defender ring lock complete the package. There will be 49cm, 53cm, and 57cm frame sizes.
MSRP is $4,299 and availability at Gazelle Bikes partner retailers beginning July 18.
Get Inspired
E-bikes to Earn you Cryptocurrency?
This interesting article from the UK's Richmond and Twickenham Times details how 50 Cycles own-brand Toba e-bike is planned to earn it's users cryptocurrency simply by accumulating miles.
'TOBAs will reward riders for hitting the road by generating around twenty pounds' worth of cryptocurrency tokens for every 1,000 miles they pedal.'
Rock Star Loves eMTBs
Tim Commerford is the bassist for rock band Rage Against the Machine and he is very excited about electric mountain bikes. Here is the promo video from Specialized:
'Legendary' Cycle Hire Business Goes E-bike
This article from Wales' Daily Post reports that Sion Parri, a 'legend' in the mountain biking world has sold his cycle hire business, Beics Betws in north Wales, after more than 30 years running it, during which time he helped get the funding and support to create some of the first biking trails in the region.
The good news for e-bike fans is that Louise Jowett and Graham Tayler are taking over the business and are planning some new developments including the hire of e-bikes, touring bikes, trailers and accessories.
Bike Share and Infrastructure
Hexi Look to Bring Bike Share to India
According to this article at BW Smartcities Hexi, the bike share arm of India's Hero Motor Company (claiming the title of world's largest bike manufacturer), is rolling out bike share across India. More associated with Chinese companies, Hexi are looking to pilot bike share schemes at universities across India and are also in talks with city authorities with a view to a wider public rollout.
eBike Biz
BionX Ceases Canada Operation
BionX has shutdown operations in Canada completely while the European division is handling production and support. This article also notes that Elby is not affected by this change.
Stay tuned for more e-bike news and reviews and keep on riding.
-Richard
P.S. Don't forget to join the Electric Bike Report community for updates from the electric bike world, plus ebike riding and maintenance tips!
SaveSave
SaveSave
SaveSave
SaveSave
SaveSave
SaveSave
SaveSave
SaveSave
SaveSave
SaveSave
SaveSave
SaveSave
SaveSave
SaveSave
SaveSave
SaveSave
SaveSave
Reader Interactions