eBike News: Hydrogen eTrikes, New Trek & Focus eBikes, Improved Battery Life, Safety Bike, & More! [VIDEOS]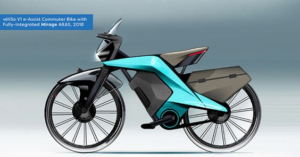 In this week's eBike news roundup:
Pragma Hydrogen Delivery eTrikes
Trek's Verve + With New Bosch Active Line
New Focus Enduro Emtb
Witt's Designer Ebike
Automatic Safety Systems From Véliso
Improve Battery Life
Plastic Bike Frames
Foam Tire Inserts
Inspirational E-Biking Stories
And Much More!
New eBikes & eBike Systems
Hydrogen Electric Cargo Trikes
Pragma Industries has been working on their hydrogen eBikes and now they are revealing hydrogen eTrikes intended for delivery.
These pictures are some initial cargo designs for last mile delivery.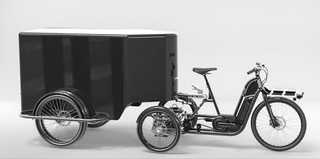 From Allyson Vought of Pragma "What better solution for power than our hydrogen system that affords the user the extended range only H2 can offer as well as full operating specs no mater the outside temperatures that is an issue for many of the usual battery driven options that are available today."
Pragma is now in the process of delivering their hydrogen eBike.
Trek Unveils Verve+ with All-new Bosch Active Line Motor System
Trek has announced the Verve+ e-bike for 2018 which uses Bosch's all-new Active Line Plus motor system.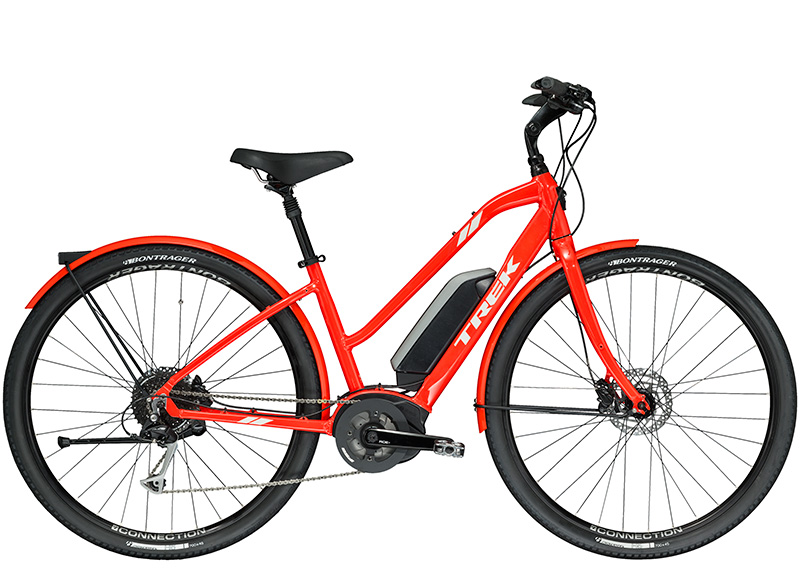 The new mid-drive system is claimed to be much quieter than other Bosch models and also to ride better once the power-assisted speed limit is exceeded, though it is rated a lower 40Nm of torque, aiming it squarely at the leisure and commuting market rather than the performance market.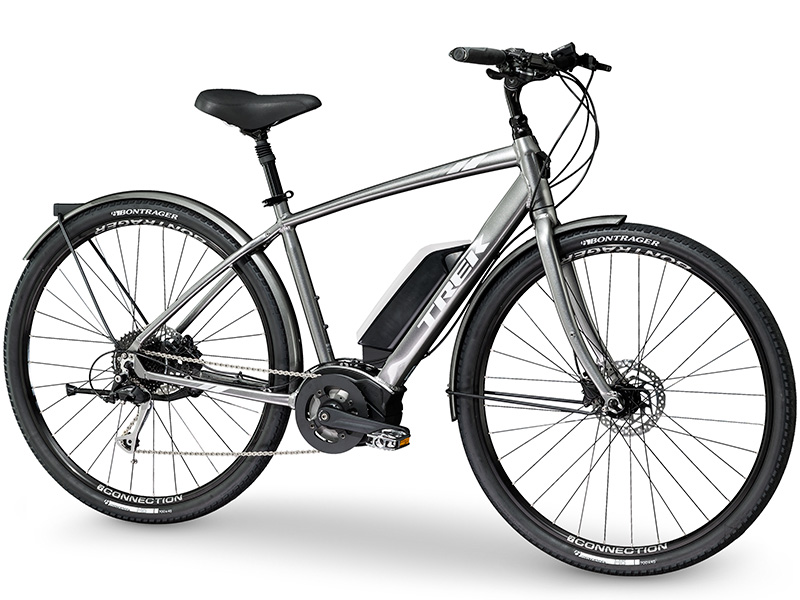 The Verve+ price is $2,299 USD seems to indicate the new system will help e-bike manufacturers deliver competitively priced models too.
The Verve+ comes with suspension seatpost, color-matched fenders, Shimano hydraulic disc brakes, rear rack mounts, a wide-range Shimano 9-speed derailleur, kickstand, a 500-lumen headlight and a Flare R City tail light.
There are step-thru and crossbar models, both available in small, medium and large frame sizes.
Focus Sam2 Joins Jam2 & Bold2 eMTBs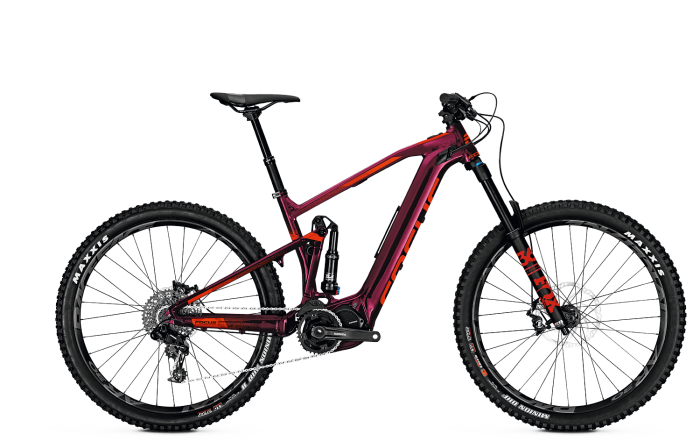 Focus has used the same selling points as for its existing Shimano-powered e-mtbs – the highlight being its own in-frame battery design with the option to add a frame-mounted battery – to add an enduro styled twist (170mm travel front and rear) in the form of the new Sam2 . Enduro bikes being mtbs with plenty of suspension travel and geometry designed for both downhill drops and with manoeuvrable climbing ability.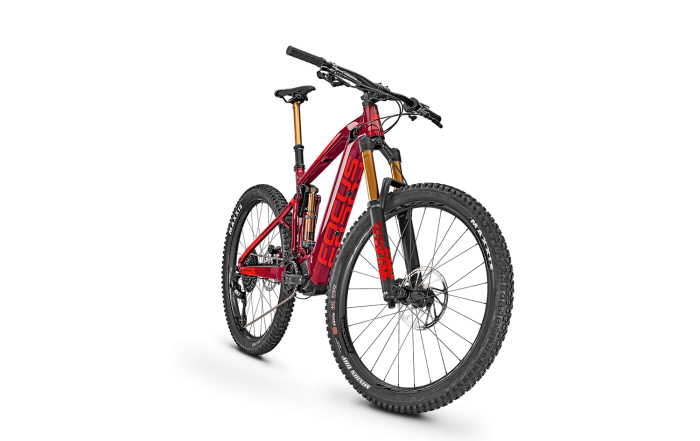 Here's an overview of the three models and here's EBR's summary of the previous 'dual battery' e-mtbs from Focus – all of the 'squared' range give up to 760Wh of battery power, one of the most impressive on the market.
Danish Designers Witt Get in on the E-bike Act
Witt are a Danish design company and have just announced their first e-bike.
It has a Pininfarina-designed Evoluzione frame and what looks like a Brose motor. Keep your eyes on the launch site for more details and EBR will keep you updated too.
Will the Véliso V-1 Be the Safest E-bike Out There?
This incredible looking machine has just launched on IndieGoGo.
It's collection of sensors and electrically powered devices is claimed to deliver collision warning, automatic emergency braking, automatic tire pressure management and optimal brake control.
Parts making up the system include radar, ultrasound and infrared sensors, an air compressor and electromechanical brake calipers.
Mirage ARAS (Advanced Riding Assistance System) is also available as a standalone product that can be fitted to non e-bikes with prices starting at US$175 for the automatic air pressure system on its own.
The V1 e-bike is planned to be available from US$6,775 from October 2018.
Here's the full explanation:
https://youtu.be/I9GjqJcuq_g
Pushme Wants you To Swap Batteries
At first glance Pushme looks like an e-kit launch for single speed bikes but in fact it aims to persuade enough retail outlets to have charged batteries available in a counter-top 'Pushpod' so that battery swapping just takes a few minutes.
It looks a good idea if you want to keep the weight of the bike down (the Pushme kit in total claims to weigh 4.7kg) but of course it depends on having a 'critical mass' of participating retailers to provide the swappable batteries.
Bikebiz reports that Pushme has been trialling pre-production units with Deliveroo riders. "Pushme riders were 4 percent faster than motorcycle couriers, made 40 percent more money and had a 100 percent electric grin on their faces," claims Pushme.
Russia's ECZO Release Teaser Info on New Mid-drive Kit
This Clean Tecnica article details how this powerful sounding and unsual add-on kit has evolved from Vladivostok in Russia and is now aiming to expand globally.
According to the article 970Wh and 620Wh batteries from Samsung and LG Chem are currently slated for availability and the kit should mount on most bikes.
After exploring various options "ECZO decided to build its own motor, build its own battery management system (BMS), assemble the battery cells into packs, create their own controllers, and create the control panel, hardware, and software."
The taster video is below and you can keep tabs on ECZO's progress at their website. They say they will be taking orders from January 2018.
Get Inspired
eCargo Bikes the Future of Urban Delivery
This well-researched Newsweek article reveals just why e-cargo bikes – like regular e-bikes – can help save people money and save the planet at the same time.
It reveals the average US citizen generates more than 60 tons of freight each year and that whilst urban trucks constitute 7% of urban traffic they account for a disproportionate 17% of congestion costs in wasted gas and hours stuck in traffic jams.
It also gives a plug for the Bicylift from French firm Fleximodal – a big thumbs up to New York's Breakaway Couriers for being Fleximodal's first US customers!
We like it so much here's the video again…
https://youtu.be/hgbZTNIMn48
E-trike Upgrade for Woman With Cerebral Palsy
Thanks to a thief, Bridget Kuhlman, who has difficulty walking due to cerebral palsy, now has a new e-trike.
After the theft of her old non-powered trike a Go Fund Me page was started by those who know Bridget and the result was a new e-trike and other new complementary equipment.
New Tech
Longer Battery Life
University of Maryland electronics/lithium-ion test lab (CALCE) has conducted a study that concludes that the life span of a lithium battery can be dramatically improved by keeping lithium batteries in a state of charge between 20% and 80%.
They are indicating that with this charge range, manufacturers can provide an 8 year battery warranty.
The study also found that long term battery storage "between 30% and 50% charge/discharge levels is very favourable".
There is a product in development called "E-Bike Battery Saver" that is intended to be a universal device that limits the charge to what the user wants from their battery.
From Bike Europe, "the user selects the levels to which she/he wants to charge. This can be in a low-power mode (usually OK at 65 – 80%) and if necessary (occasionally – for a longer trip) 100%. During winter storage the battery is automatically kept at a 40 – 50% charge."
Plastic Bike Frames?
Thanks to Bike Europe for this report on the claims made by an award-winning Austrian firm.
Plastic Innovation GmbH's advanced composite injection molding process was one of the top-three winners of the Austrian startup award contest Greenstart.
The Greenstart jury said '"Thanks to the fundamental changes in the production process Plastic Innovations makes it possible to create a recyclable and reusable bicycle frame out of thermoplastic resin instead of the currently used steel or aluminum…Bicycle frames in all kinds of designs can be produced fully automated within a minute. This technology allows for a close to the market production what will result in much shorter lead times. Next to that CO2 emission can be reduced by more than 50% compared with current steel and aluminum frame production."
Tire Tech Update
Mountain bikers, whether electric assist or not, will often want to run their tires at low pressure to get more grip in off-road conditions.
This can create the dual problems of pinch flats and, when you are back on firmer surfaces and cornering at speed, tyre roll.
Cushcore foamed inserts claim to stop these two problems without any significant increase in weight or rolling resistance. Note they are made to work with tubeless tires.
Just for Fun
Okay, this is not an electric bike and it doesn't have any electric assist, but maybe it should……
Checkout the Sno-Go bike:
Enjoy Your Rides!
Over the winter I'll be riding this Heinzmann-powered e-bike with its newly fitted, latest technology Gecko cellular rubber puncture-proof tires. There will be a full report on EBR on how the tires perform.
Enjoy your next ride and stay tuned for more e-bike news & reviews!
Thanks for reading.
-Richard
P.S. Don't forget to join the Electric Bike Report community for updates from the electric bike world, plus ebike riding and maintenance tips.
Reader Interactions