eBike News: Golf eFolder, Mid Drive eTrike & eFolders, Innovative Locks, New Bike Infrastructure, & More! [VIDEOS]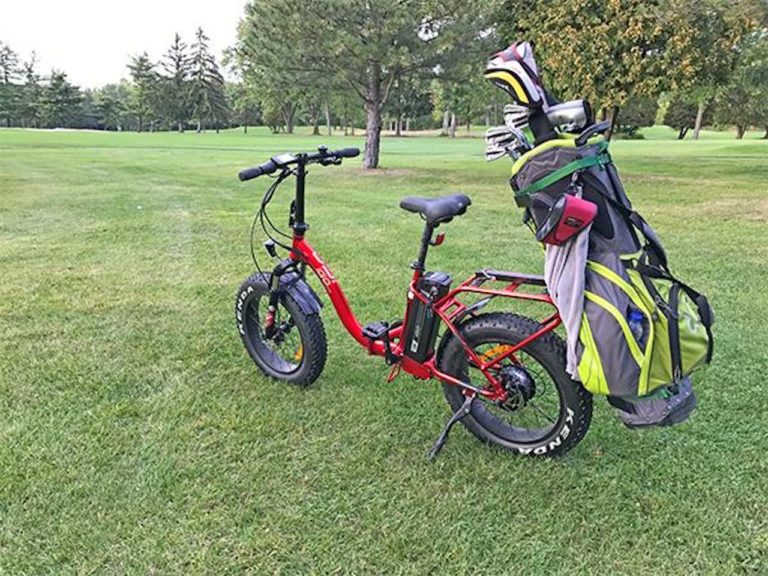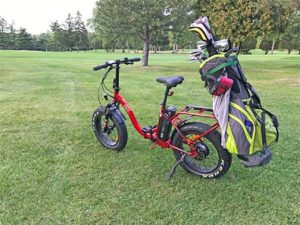 In this week's eBike news roundup:
iGo's Fat eFolder for Golfing & Shopping
New EVELO Mid Drive eTrike
New Economical Tern Mid Drive Vektron's
Fantic eMTB Wins Award
Alarm Lock
Lock Built Into Seat
Infrastructure from London and the US
And Much More!
New E-Bikes and E-Bike Systems
i-GO's Folding Fat E-bike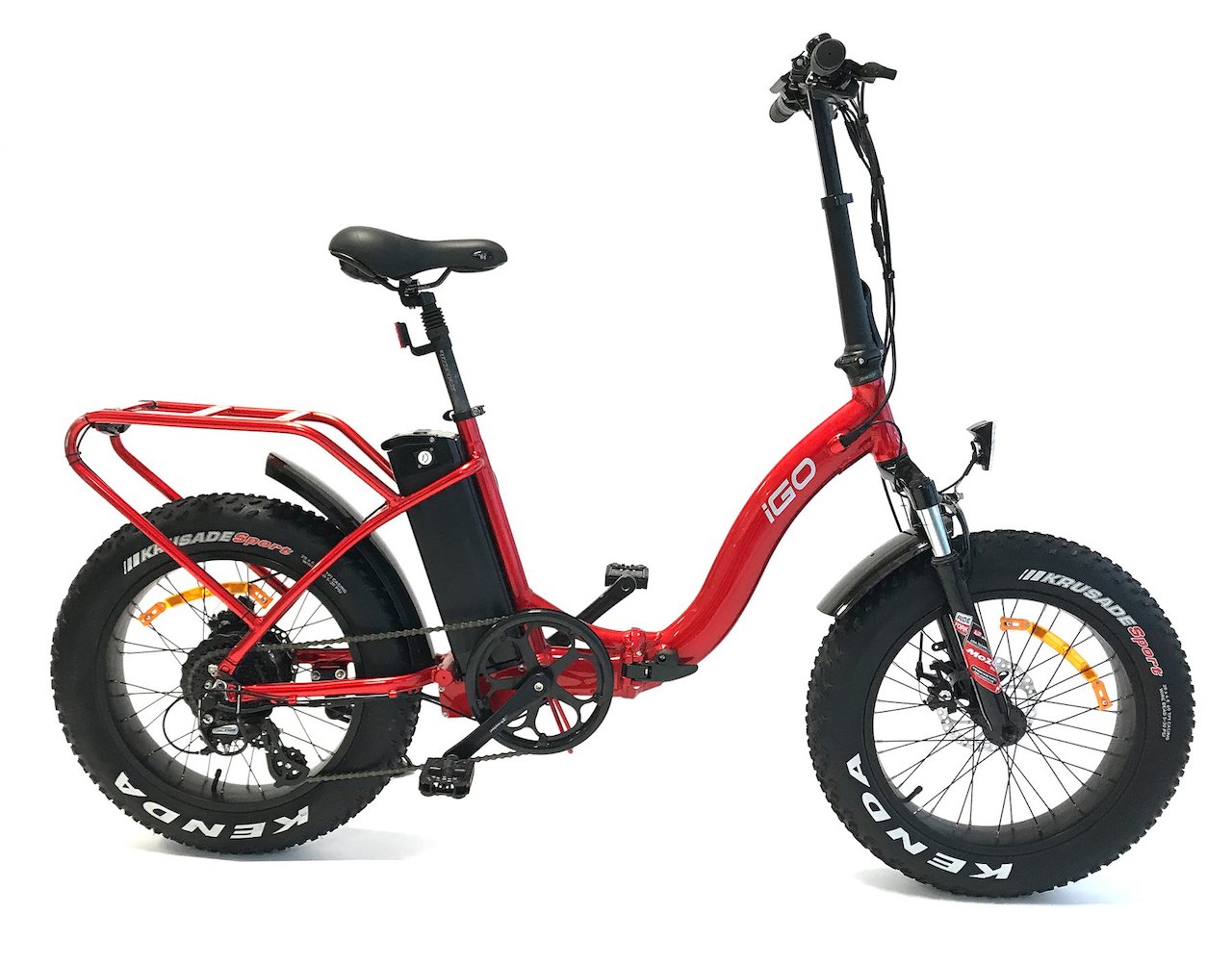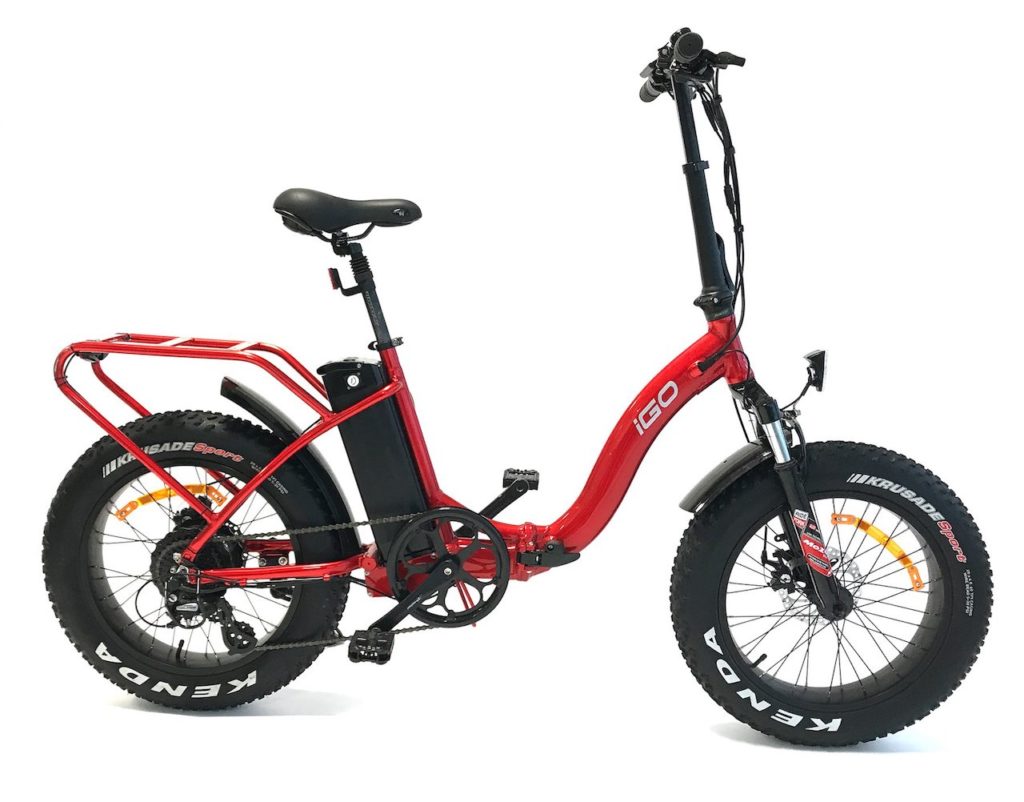 Amongst this Canadian firm's 2018 offerings we came across this very novel looking fat folder.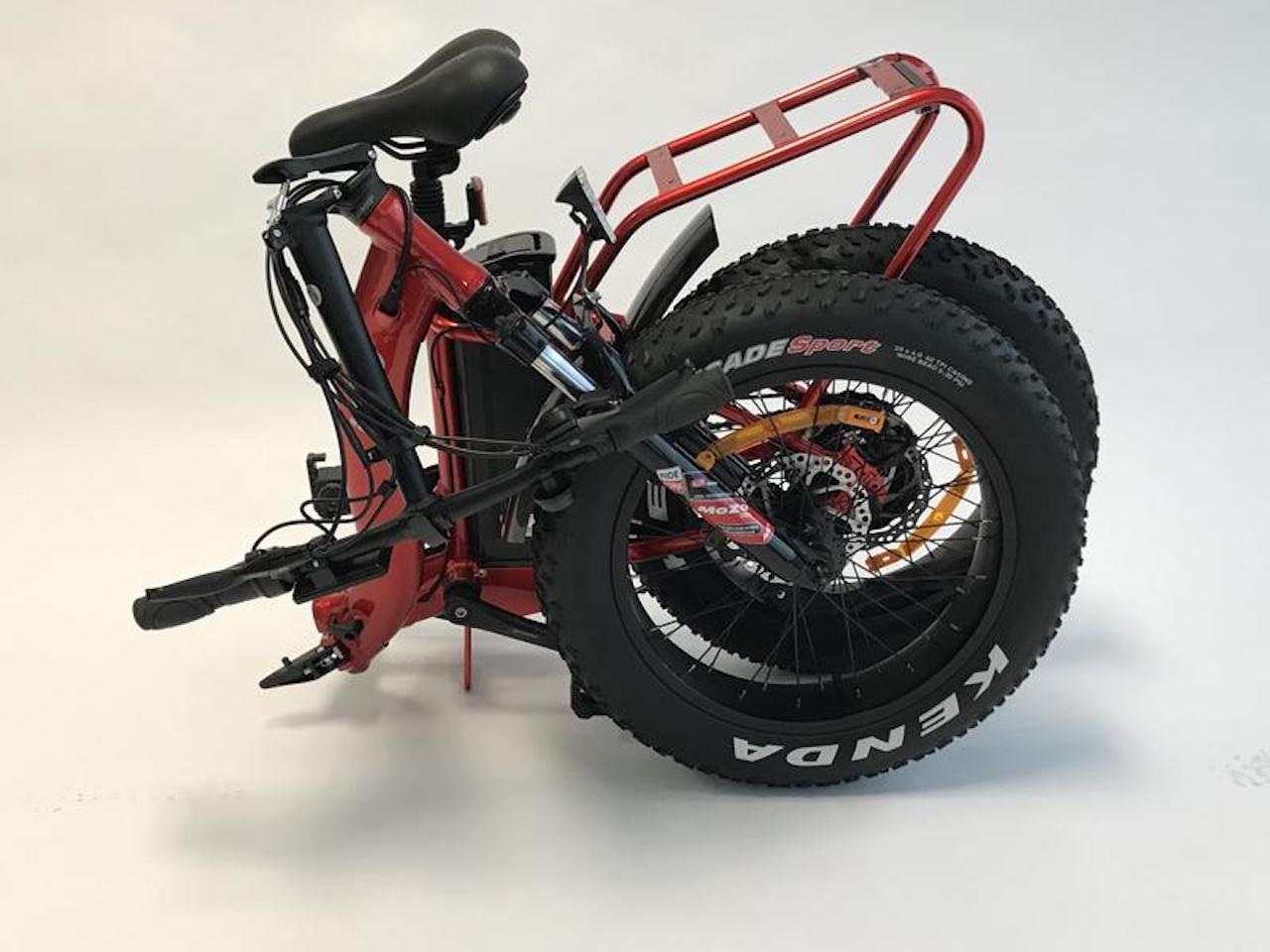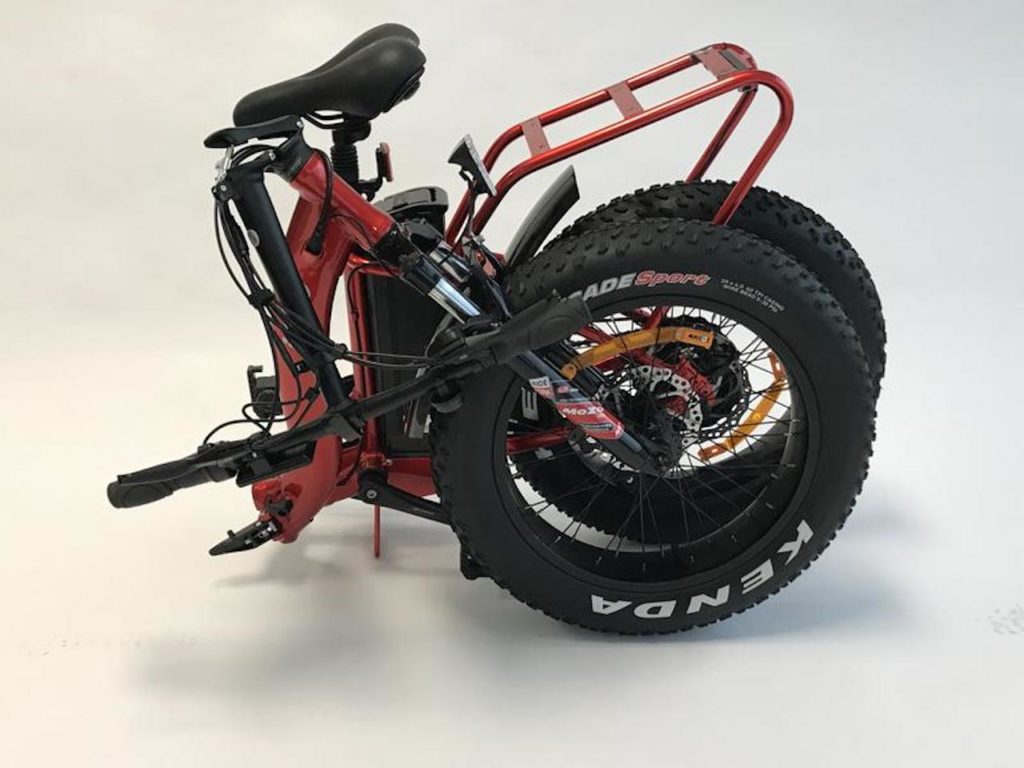 It has a sizeable 624Wh battery, 4 inch wide knobbly tires and even the option of a golf bag attachment.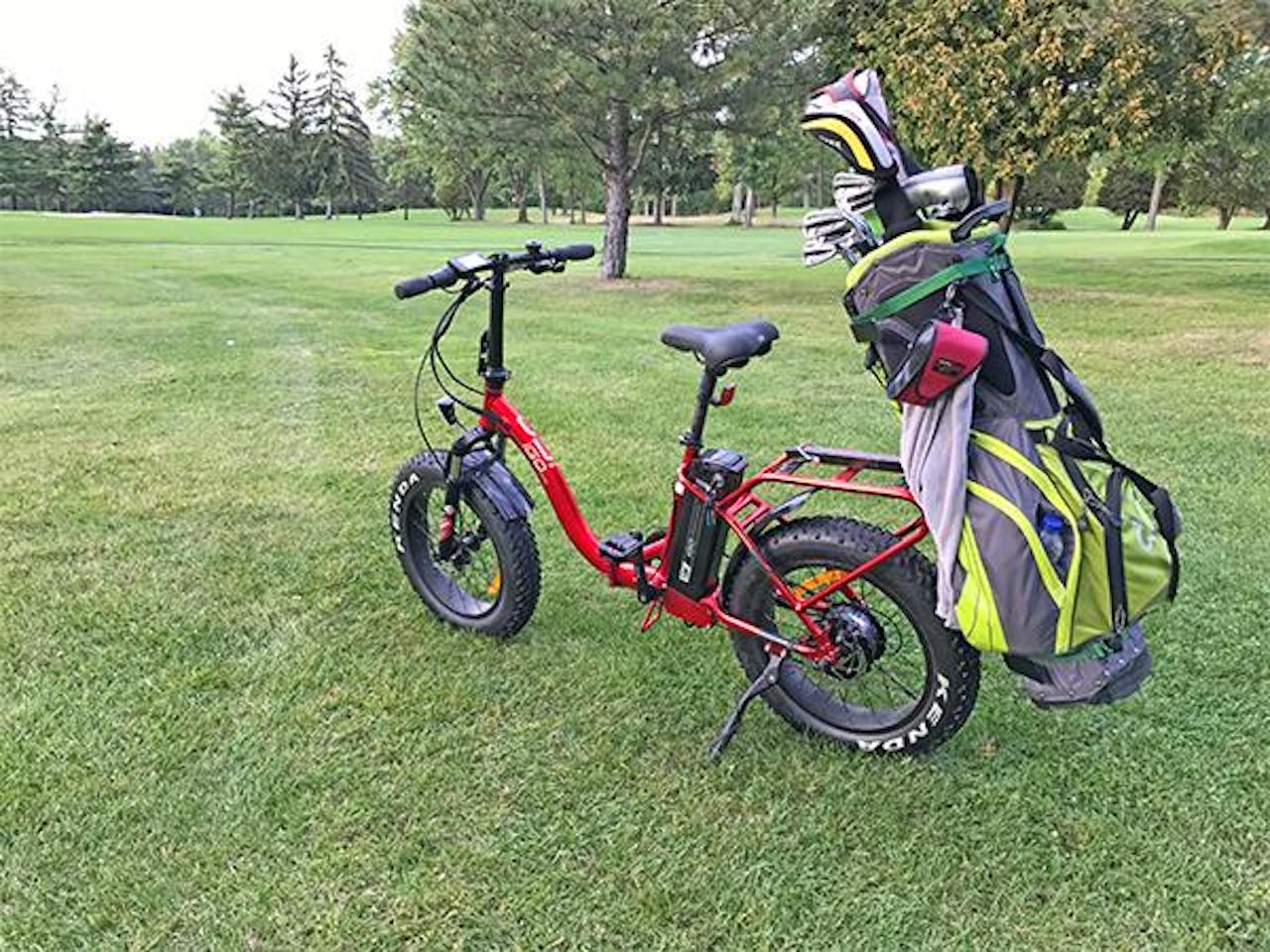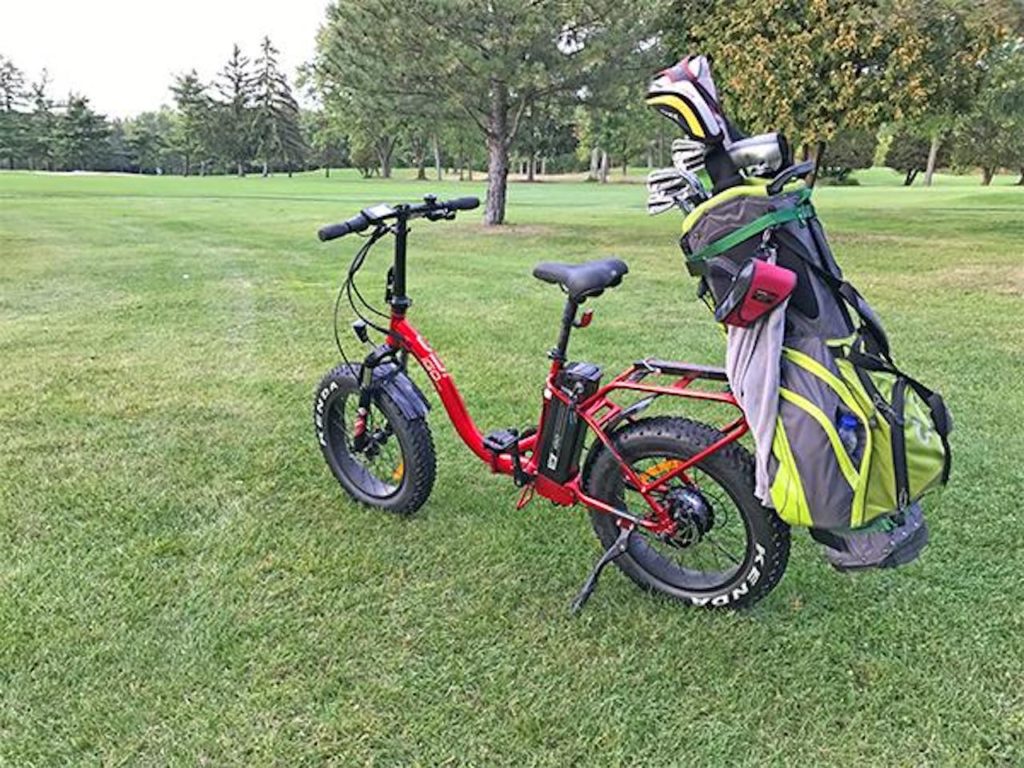 From $1,499 USD and $1999 CAD.
https://vimeo.com/244285435
New EVELO Compass eTrike
EVELO just launched their mid drive eTrike called the Compass. Here are some of the highlights of the Compass:
True to the EVELO drivetrain philosophy, it features a 500W mid-drive motor.
A 48V 11.6Ah battery, giving it a stated range of up to 40 miles on a single charge. It also has room for a second battery, doubling the effective range.
It has 3 levels of pedal assist and a full throttle option.
The trike features 24″ tires and a step-through frame capable of supporting riders up to 350lbs.
The trike is priced at $2399 as part of the pre-order campaign. The MSRP is $2999 but it is being sold at 20% off until the end of the month.
Here is more info on the EVELO Compass.
New Economical Tern Vektrons Launched for 2018
The Tern Vektron S10, powered by the ubiquitous Bosch crank drive, made quite a splash when it was launched as it was one of the few fully folding e-bikes out there with a good quality crank drive.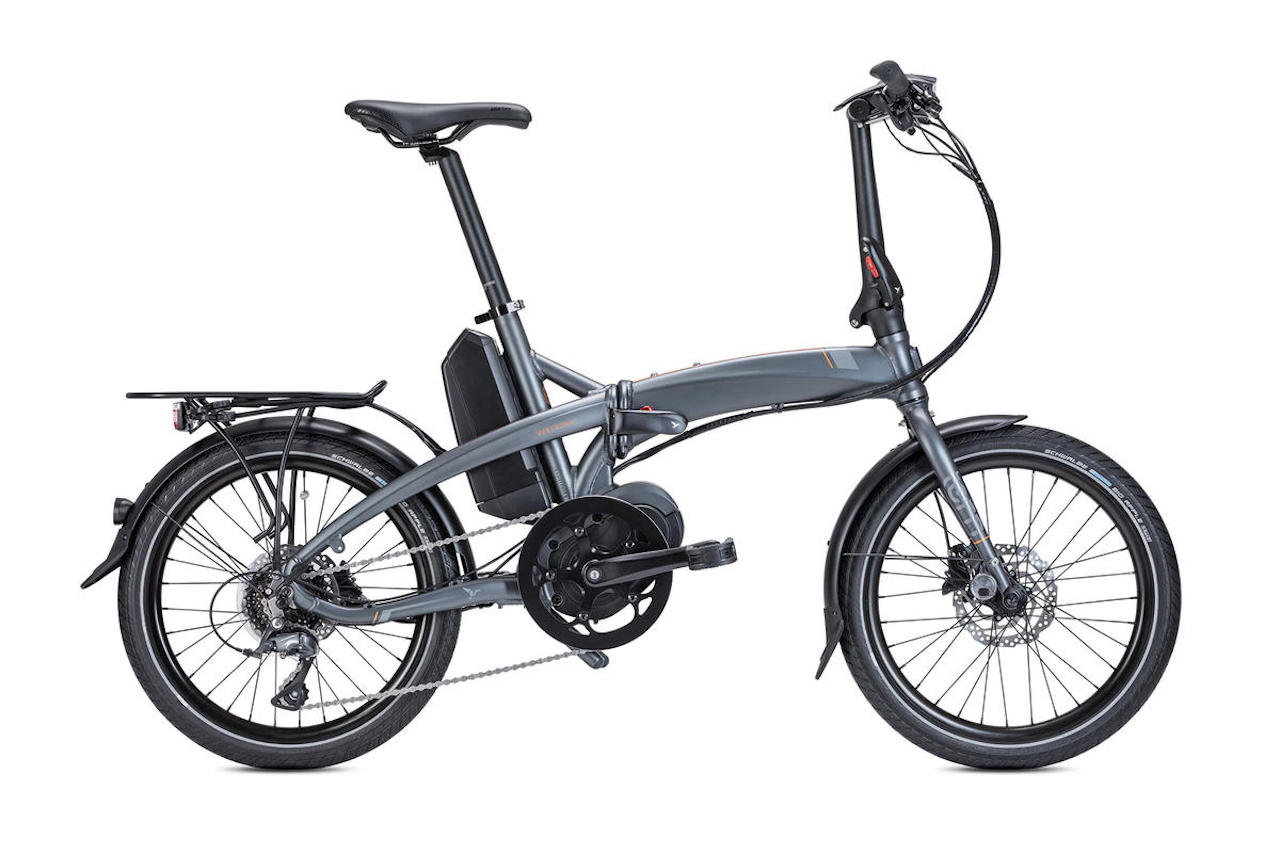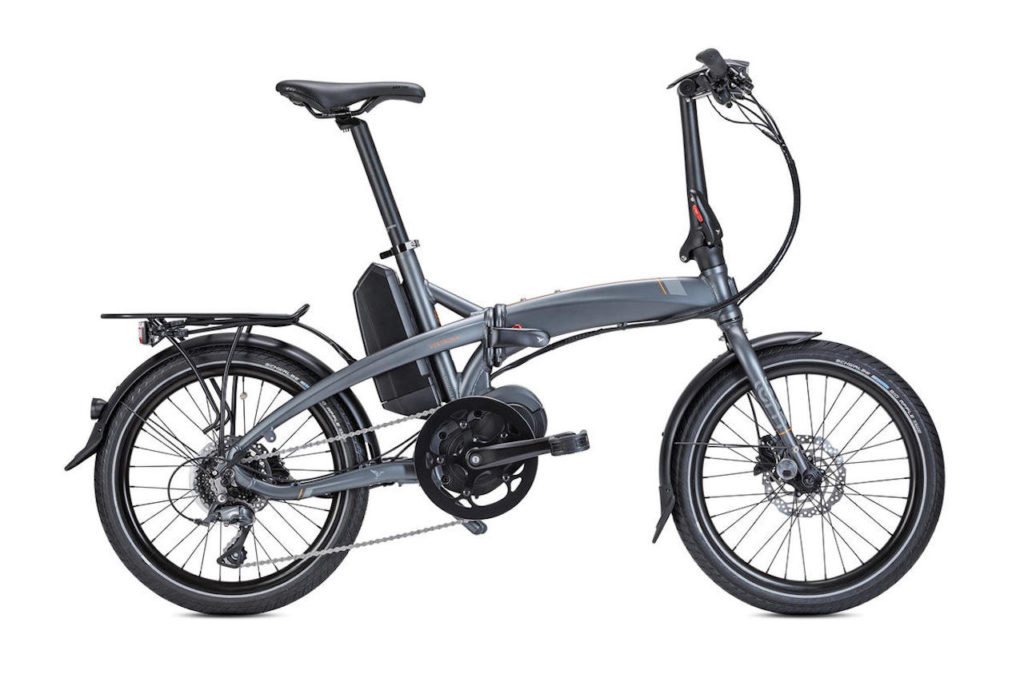 For 2018 Tern are launching the D8 and D9, less expensive models with a similar overall folding design but powered by Bafang crank drives.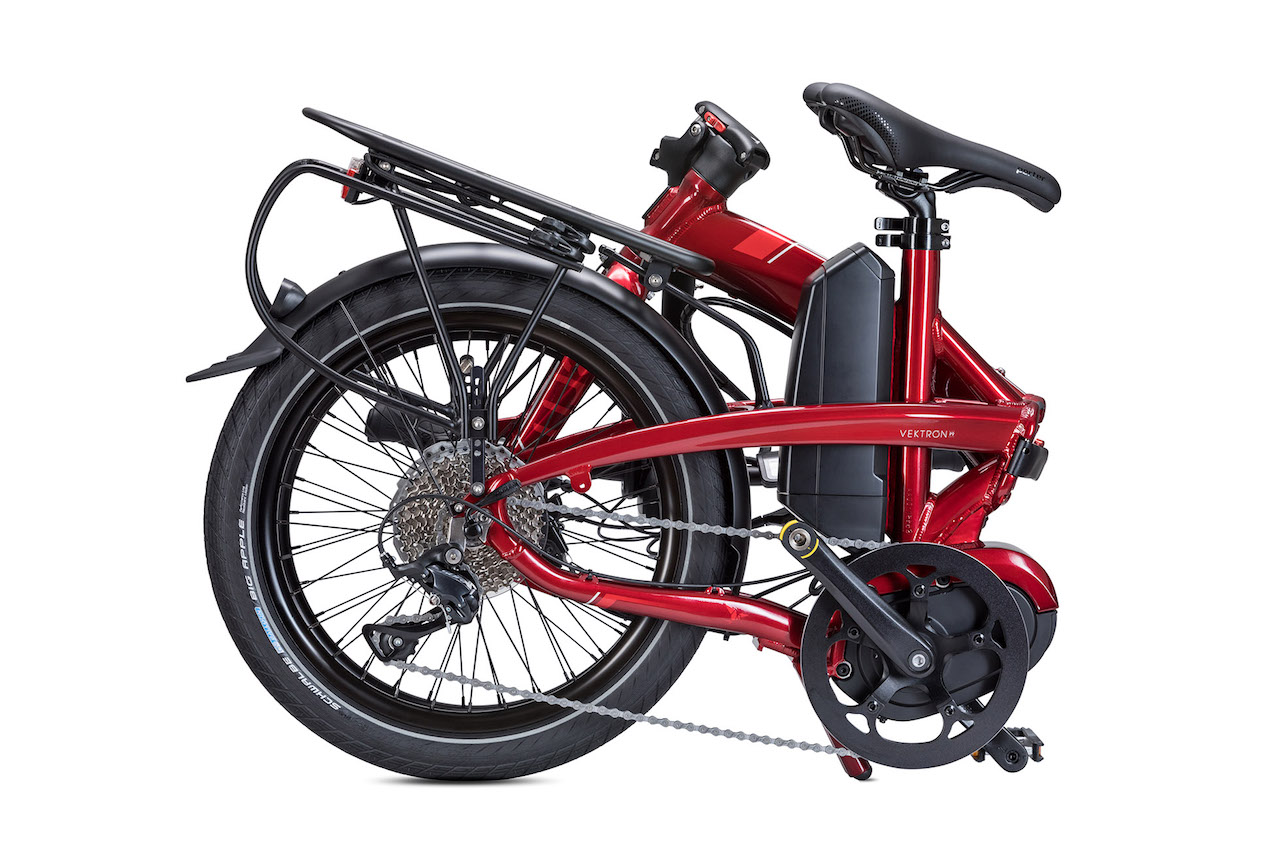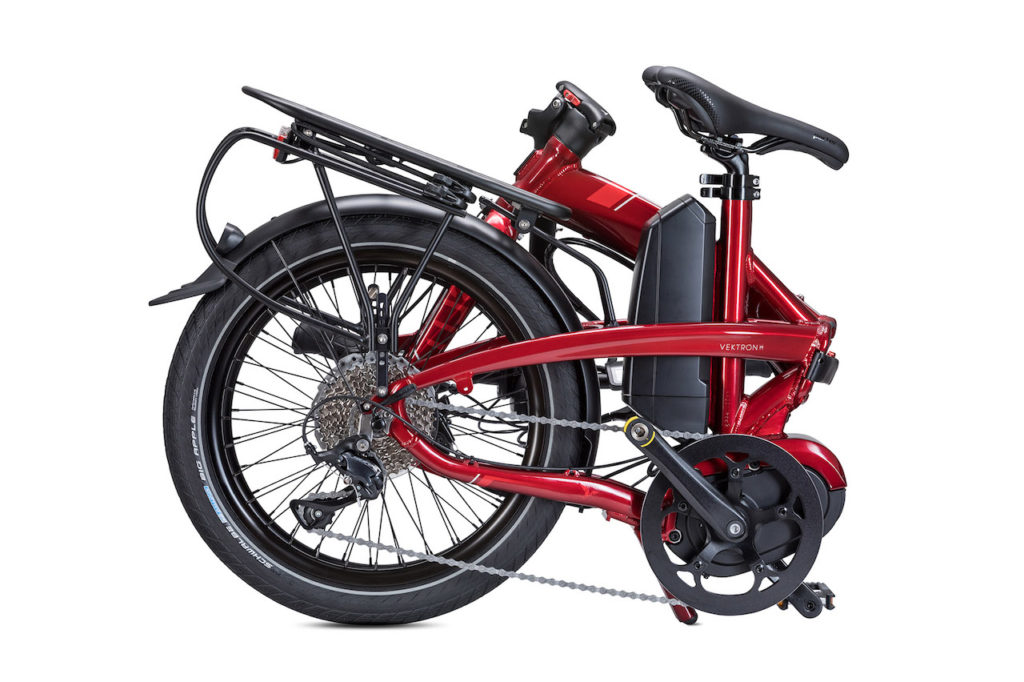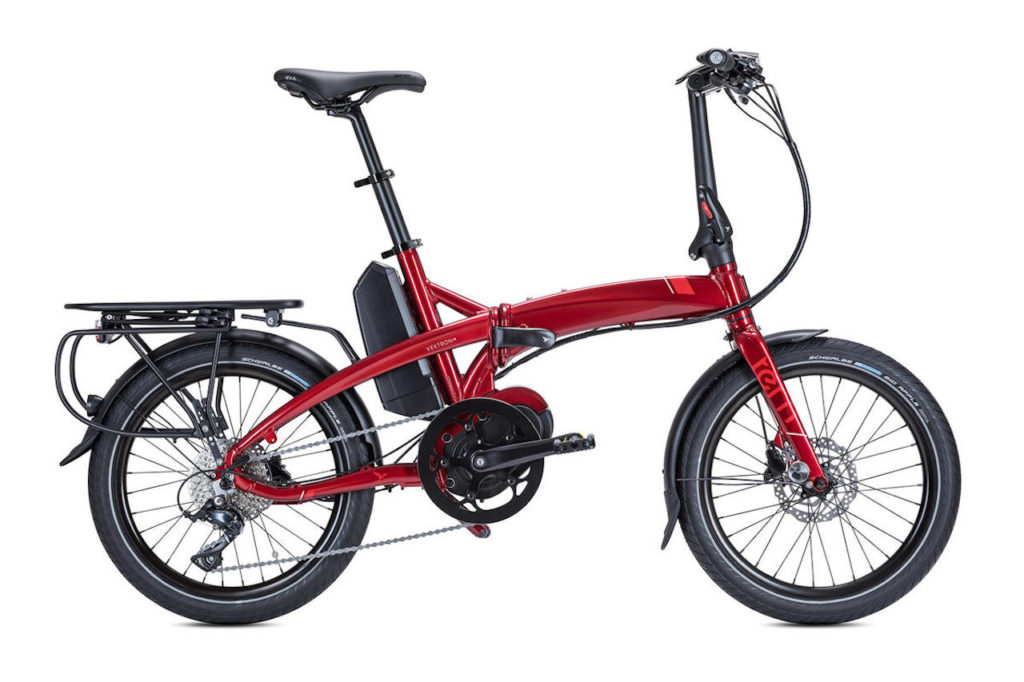 The D8 looks to reduce the UK RRP of the bike from around £3000 for the S10 to around £2500 for the D8, with the P9 (also Bafang powered) sitting in the middle of the range.
Award for Fantic e-mtb
Italian brand best Fantic recently won an award for their full-on full suspension e-mtb the XF1 Integra Enduro 180.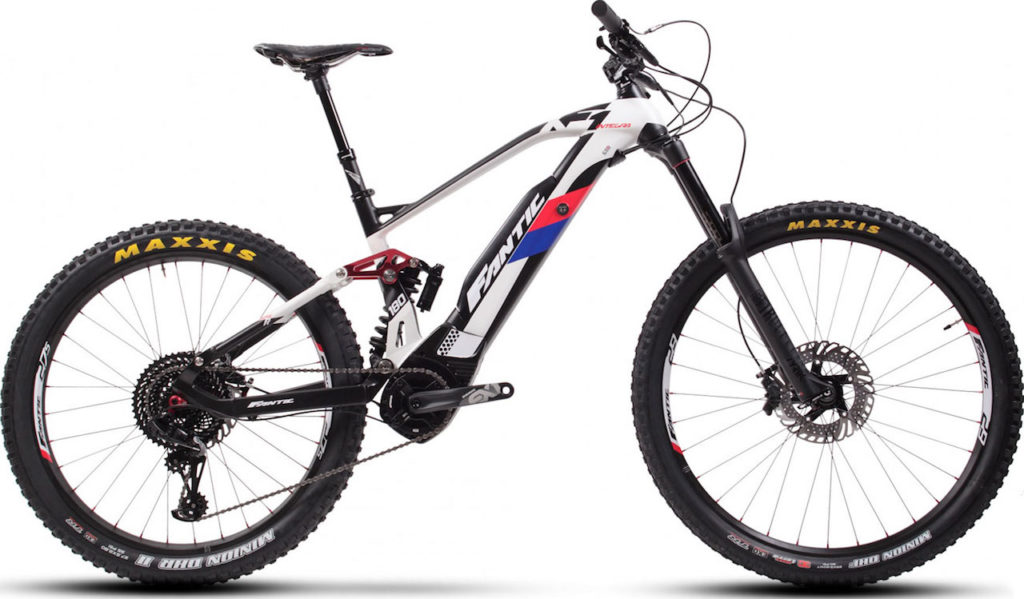 It features dual wheel size (29″ wheel at the front and 27.5″ at the rear fitted). There's a potent rear coil shock, SRAM Code hydraulic disc brakes and downhill frame geometry. The new high torque Brose Drive S motor is allied to a frame-integrated 630 Wh battery.
Other vital stats are a weight of 24.07 kg and a price tag of € 5,990.
It won a 2018 Design and Innovation Award. See Fantic's full e-bike range here. Fantic's e-mtbs were seen at the 'sneak preview' Eurobike days in summer 2017 which showcase 2018 models to journalists and the trade, and here are E-Mountainbike's thoughts on the matter.
Juiced Bikes CrossCurrent S
We covered the new Juiced Bikes CrossCurrent S in a previous news post and here is a video showing their new speed pedelec in action:
https://youtu.be/bWhhcfJGQBs
E-bike Accessories
Seatylock Gel Gets Kickstarted
This is Seatylock's fourth Kickstarter campaign and is being used to launch a comfort Gel model of their already established Seatylock line.
As the name suggests, their product combines seat and lock, the idea being it makes it impossible to leave home without a high quality, strong lock with which to secure your bike.
Check out all of Seatylock's existing products here.
Alarmed by ABUS
Talking of folding locks, German company Abus have just launched this folding lock, claimed to be the first of its kind that contains an integral alarm.
Its 90 decibels should be enough to deter anyone tampering with your e-bike.
See ABUS's complete range of security products here.
Infrastructure
London Update
Once upon a time London was viewed as a dangerous place to cycle and cycling levels were low. In recent years it has undergone something of a cycling revolution, based on a popular hire bike scheme, a motor congestion charge and the introduction of 'arterial' protected cycle lanes known as 'cycling superhighways'.
London Cycling Campaign keeps cyclists updated on the progress of the latest schemes which are Cycling Superhighways 4 and 9 (CS4 and CS9) – these are not built yet but are at the stage of public consultation with pretty detailed plans published. CS11 has been consulted on and parts are under construction.
There are also proposals for a spectacular looking cyclist and pedestrian bridge across the Thames in the far east of London.
What is the Future of the City Street?
Bikes and e-bikes have had to fight hard to get their place on city streets in the face of often competing claims for space from motor vehicles and pedestrians. Where they have done so it is often thanks to the efforts of tireless local groups and forward looking city leaders.
Whilst the writing might seem to be on the wall for gas-powered vehicles, this thoughtful article from NewYork website says we shouldn't assume that trend will automatically mean more space for people as opposed to larger vehicles. Indeed we have only really just begun to make our streets civilised, 'In recent years, New York, like other cities around the world, has started to rethink its streets, fitting them out with bike lanes, corner curb cuts, and free Wi-Fi stations. But we're still catching up, trying to refine 20th-century priorities without satisfying present needs, let alone planning for future ones. We should start with a few basic principles.'
These principles include:
– Cities (not auto manufacturers or software engineers) deciding what kind of future technology they want.
– Intelligently planned charges for driving motor vehicles in the city: "We should be working toward a GPS-based system that puts a virtual taximeter in every vehicle and charges drivers for time spent and distance traveled in high-traffic hot spots in multiple boroughs, with fees varying according to time of day."
– Promote air quality and separate heavy auto traffic from vulnerable users like cyclists and pedestrians.
Any thoughts on how you would go about making your perfect e-biking city? Let us know…
Biking to CES in Vegas…
The above article also charts the sometimes slow progress of making some of New York's main thoroughfares fit for biking and healthy living in general. If you want to know how far behind NY a city near the bottom of the bike-friendly league table is, check out this article about visiting Las Vegas CES electronics show by bike.
There's also a great summary of e-bikes on display.
E-Bike Law
Di Blasio Should Pick On Someone His Own…Says Eben Weiss
In this nicely worded and researched article Eben Weiss reveals what he thinks to NYC Mayor Bill Di Blasio's crackdown on illegal e-bikes, and in particular e-bike delivery drivers who tend to be poorly paid and hard working…
For more of Eben's very amusing articles check out this link.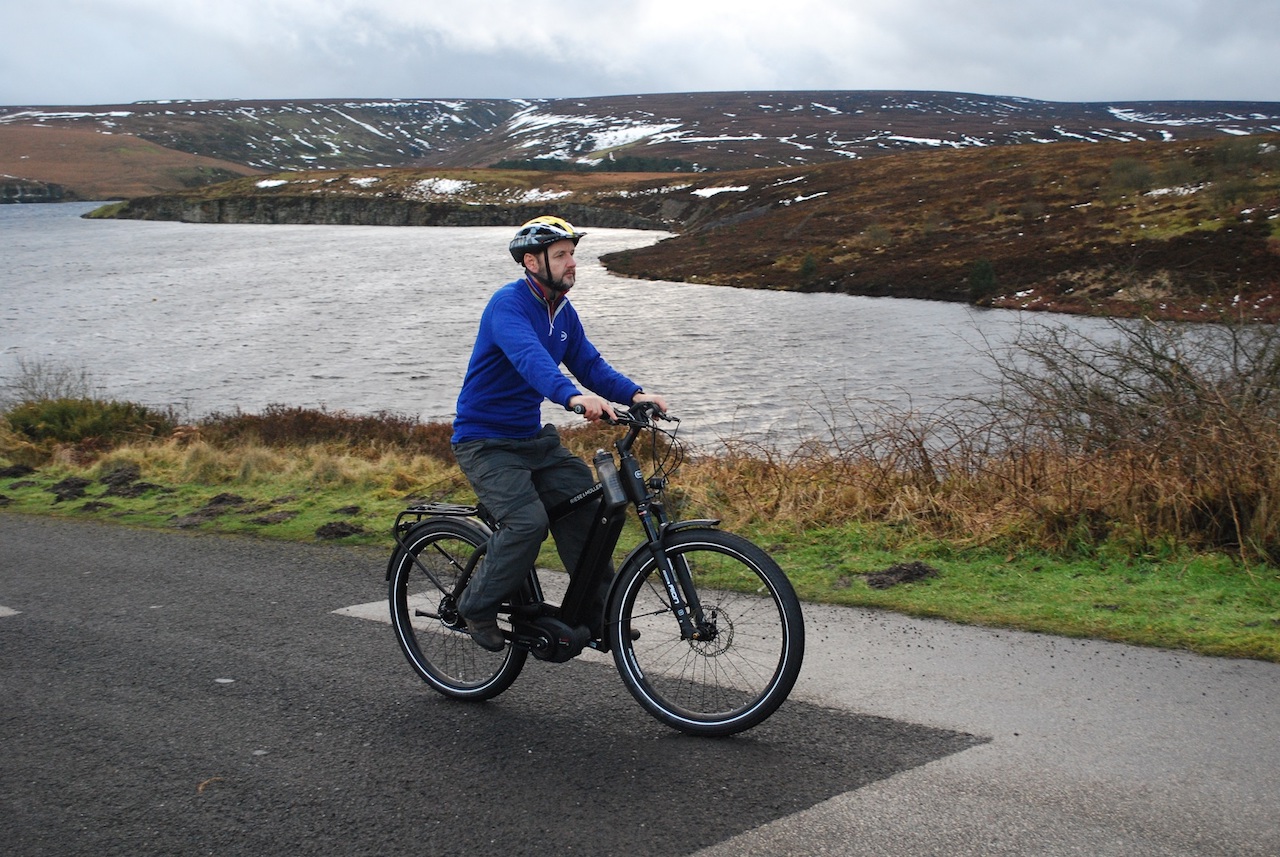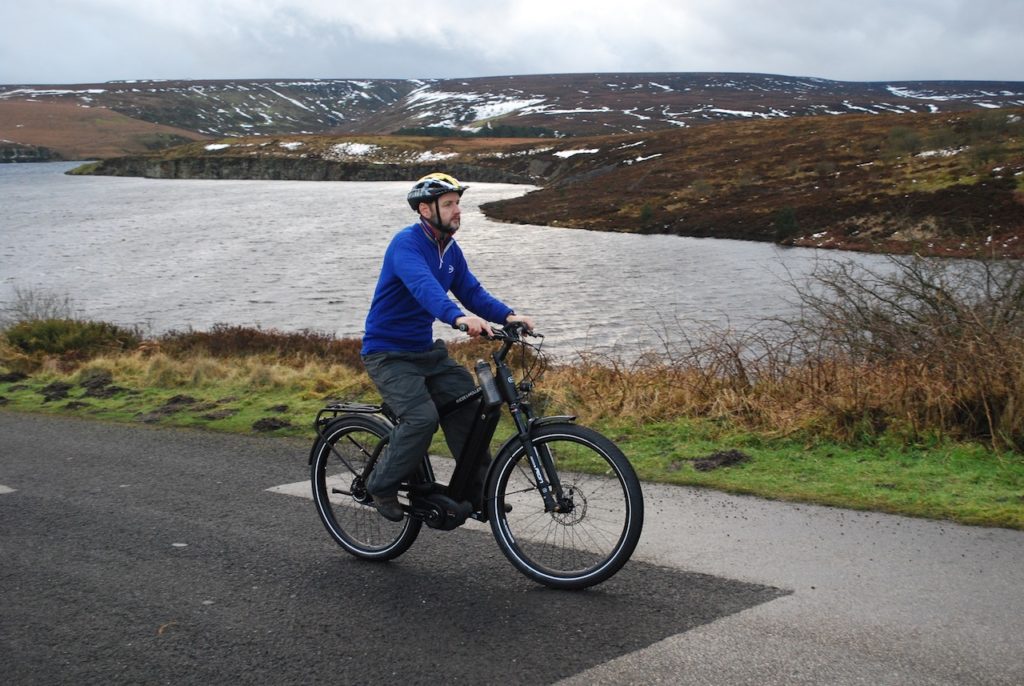 One of the great things about e-bikes is that they allow you to get out and about in all weather when the thought or indeed the actual practice of regular cycling might be just too difficult. This last week has been a case in point; despite snow, seemingly endless rain and gale force winds I still managed to get out and about on the powerful and low maintenance Riese and Muller New Charger with belt drive. Here's a pic of me on the UK's Pennine Cycleway at Winscar reservoir, having powered into 30mph winds and up steep climbs to get there.
Stay tuned for more e-bike news and reviews and keep on riding.
-Richard
P.S. Don't forget to join the Electric Bike Report community for updates from the electric bike world, plus ebike riding and maintenance tips.
Reader Interactions