eBike News: Gocycle Carbon, Modmo Saigon, Longer Commutes, Food Delivery, & More! [VIDEOS]
In this week's news:
Gocycle Lightweight Carbon G3C
Modmo Saigon Modular High Tech Design
E-bikes Inspire Longer Commutes
Aventon Level & iGO Elite 2 Testing & Review
New Yorkers Help Coronavirus Fight on Two Wheels
eBikes for Dayton
UK E-kickscooter Trial
And Much More!
New E-bikes & E-bike Systems
GoCycle Lightweight Carbon G3C
EBR has featured Gocycle many times and are pleased to see them going from strength to strength with the announcement of their new 2020 G3Carbon which features a high modulus carbon front frame and weighs just 34.2 lbs / 15.5kg.
Other features include:
375 Wh battery seamlessly routed inside a lightweight, carbon frame
PitstopWheels with small, lightweight yet powerful motor in the front wheel
Patented automotive-inspired Daytime Running Light, LED cockpit and electronic predictive shifting
Bespoke G3Carbon green, red and yellow editions are available in limited numbers to celebrate Gocycle's best-ever year in 2019
G3Carbon and bespoke color editions are available to order now, priced from $5,499 MSRP / £4499
The G3Carbon will sit alongside the all-rounder Gocycle GS and the fast-folding GX & GXi models to complete the brand's 2020 line-up.
Futuristic Modmo Saigon Now Available for Pre Order
The Modmo Saigon features integrated 666Wh battery, Bluetooth, GPS, integrated lighting as standard with a powerful front light built into the handlebars, electroluminescent paint for turn signals, belt drive and a modular mounting system.
The battery is removable from the bike for charging or it can be charged in frame. There are also dual piston hydraulic disc brakes and an integrated handlebar display.
Price and ordering details are: RRP €2,799. Early reservations €1,999. Refundable €99 deposit. Worldwide delivery in September. There are 250W European and 350W US specs.
Get Inspired
The Moustache Story
French e-bike manufacturers Moustache have been in touch with a video that tells how they expanded from a meeting and an idea between the founders to an e-bike only manufacturing business that is the pride of the local area.
Moustache say 'In this video we wanted to highlight who we are and what we stand for. It will take you for a tour in our factory, with some interviews of our two founders (Greg and Manu), and will show people the complete process to build a Moustache bike, from R&D to production, logistics, etc.'
E-bikes Can Help You Tackle Those Longer Commutes
This interesting BBC article takes suggests ways of cutting down your carbon footprint. Whilst local journeys, frequently carried out by car, are often bikeable the article also highlights how e-bikes could be a real game changer:
'Often people may discard cycling as a viable option for longer distance travel. But electric bikes and networks of segregated cycle lanes are beginning to change what is possible in terms of commuting distance, says Leo Murray, director of innovation at climate change charity Possible.
In Copenhagen's Farum cycle superhighway, the average bike commute is now 15km (9 miles), largely thanks to electric bikes.
A recent report from advocacy organisation Transport for Quality of Life argued evidence from Europe shows electric bikes can transform our cities and should be financially incentivised in places like the UK.
"Journeys that you just wouldn't have made by bike before, now are actually trivial to make by e-bike," says Murray. "And they are faster because you never sit in a traffic jam. The same is true to an extent for electric scooters."
Elsewhere on EBR
Aventon Level Review
Both part 1 and part 2 reviews on the Aventon Level are now posted on EBR. The Level is one of the latest eBikes from Aventon and it has a lot of features generally found in more expensive eBikes.
This Class 3 eBike features pedal assist up to 28 mph and a thumb throttle providing assist to 20 mph.
Spec highlights include a 500 watt (750 watt peak) geared rear hub motor, an internal frame battery (48V 14Ah 672Wh), hydraulic disc brakes, Shimano Acera drivetrain, and a range of quality accessories. The $1,599 price includes free shipping to 48 US states.
iGO Elite 2 Review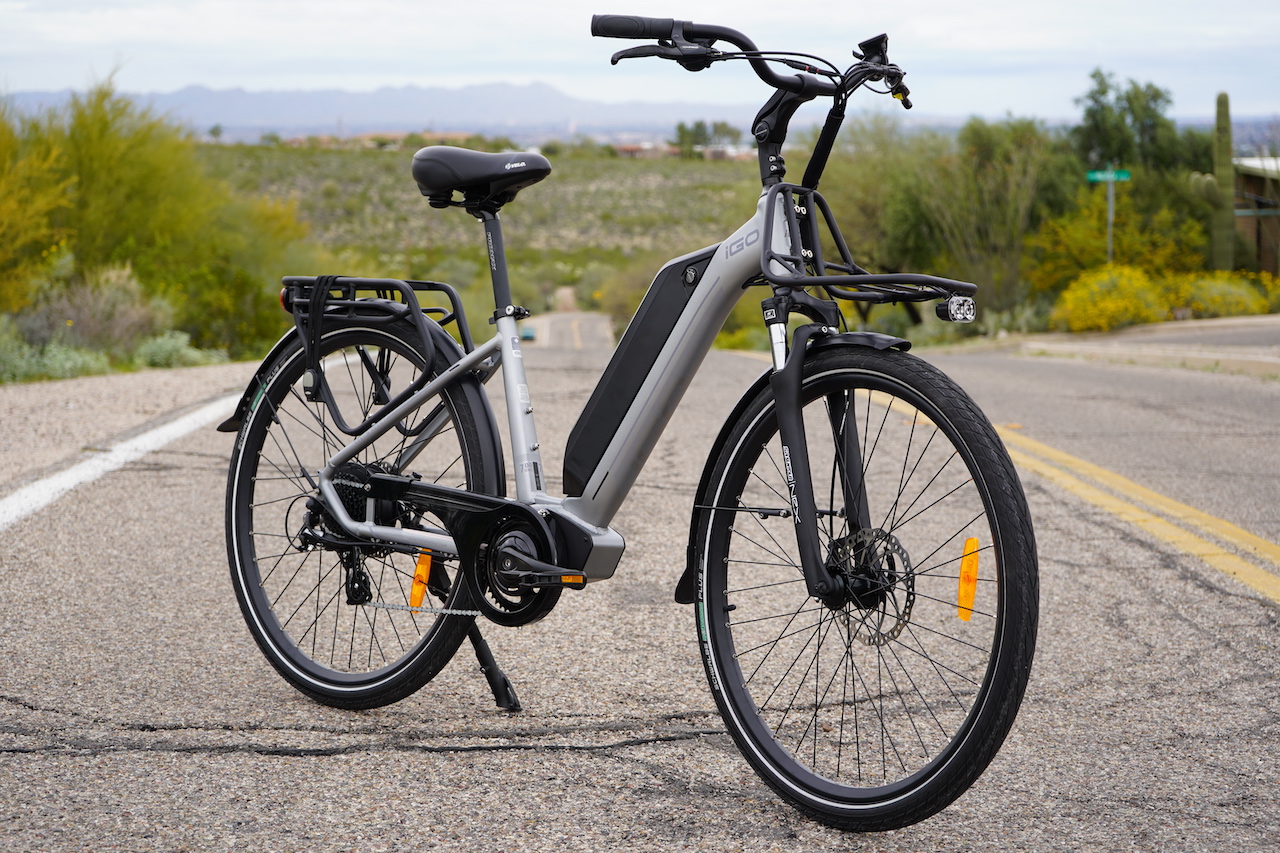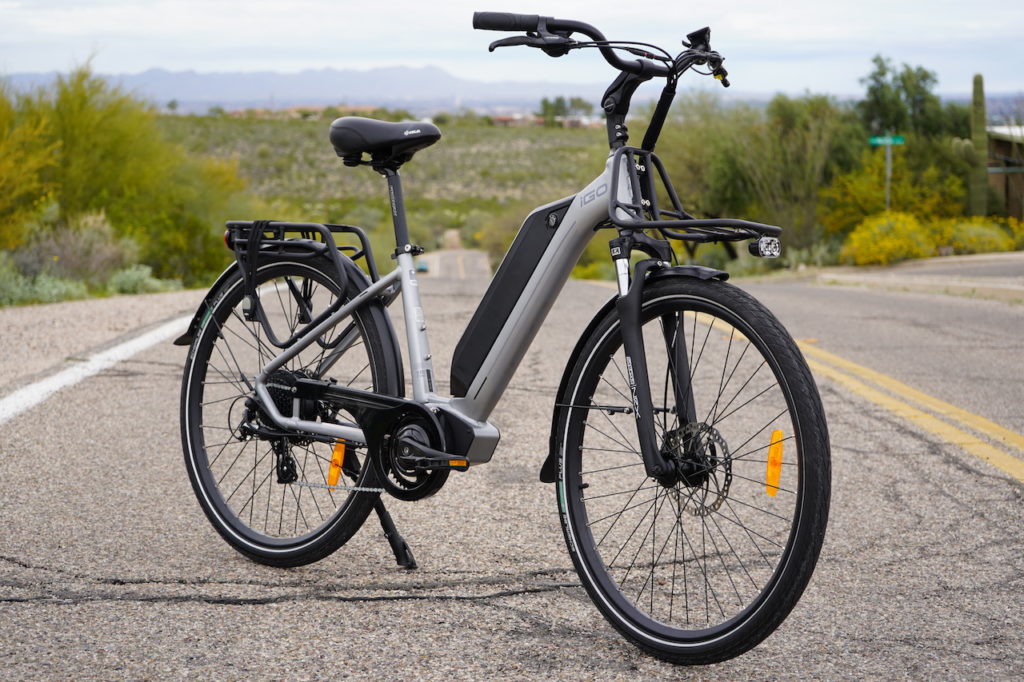 The new 2020 iGO Elite 2 step thru eCommuter is in for testing and review!
The Canadian designed iGo Elite 2 has a single downtube for a low step thru area, clean battery integration, and front and rear racks as standard.
The Elite features a high capacity (48V 13ah 624 Wh) lithium battery, 500 watt geared rear hub motor, Shimano and Tektro components, and a lot of stock accessories.
This commuter style eBike is priced at $1,899 with free shipping.
Infrastructure, Micromobility and City E-biking
Coronavirus Highlights Importance of NY's E-bike Delivery Riders
A couple of stories this week show how the spread of coronavirus is directly impacting on city e-biking. Gothamist reports that 'With a growing number of New Yorkers relying on delivery workers for food and other necessities, Mayor Bill de Blasio said on Monday that he would end the war on e-bikes that he began waging over two years ago.'
The city has been accused of persecuting many of the low paid immigrant workers by fining them and / or confiscating their throttle powered e-bikes, technically not allowed by New York law.
Indeed demand for two-wheeled delivery workers, fuelled by those wanting to distance themselves from society due to the virus outbreak, appears to be outstripping supply in New York.
This Streetsblog report tells us that 'Whole Foods says it needs scores of new cyclists to bring groceries to people who are keeping their distance from their neighbors. The chain, which is owned by Amazon, has been participating in the city's cargo e-bike delivery pilot through the Dutch Express Courier Service, which is technically doing the hiring.'
Dayton Goes Electric
Elsewhere Dayton Daily News tells us that Link Dayton Bike Share in coming months expects to roll out 100 new electric bicycles.
Dayton has an e-kickscooter share scheme too and this article about it also reveals that Dayton has the largest paved bike trail network in the nation.
E-kickscooter Trial for the UK
BikeBiz reports that 'Plans to allow e-kickscooters on UK roads have been unveiled by the government as part of a "transport revolution".
Requirements for both e-scooters and those using them are being explored, including a minimum age, vehicle standards and insurance requirements. Local authorities could also have extra powers to manage the impacts of e-scooters on public space, for example where they can be parked.'
The e-kickscooter testing will be included alongside other new transport innovations in three new 'future transport zones'.
The zones will provide real-world testing for experts, allowing them to work with a range of local bodies such as councils, hospitals, airports and universities to test innovative ways to transport people and goods the article says.
Stay tuned for more e-bike news and reviews and thanks for reading!
-Rich
P.S. Don't forget to join the Electric Bike Report community for updates from the electric bike world, plus ebike riding and maintenance tips!
Reader Interactions