eBike News: Family eBikes, Ellen Rides, eMTB Rides Map, GPS Tracker, Bike RV, & More [VIDEOS]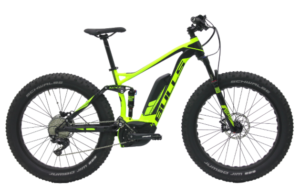 In this week's eBike news round up:
New eBikes: Recon, Pedego, Carrera
Ellen rides a Haibike
eMTB ride & trail map
eFat Bikes for all-terrain transportation
Hidden GPS tracker for all eBikes
The New Wheel trade in program
Helmet air-bag
RV's for bikes
And much more!
New Products
Recon Mono E-bikes Launch on IndieGoGo
Recon, based in Seoul, South Korea, has launched an IndieGoGo campaign for their compact and innovative looking Mono series of three e-bike models.
There are 20″, 26″ and fat-bike models all based around their funky and unusual frame design which integrates both batteries and lights into it (though these are detachable if required). There is unusual mono-suspension at the top of the forks on the Mono 20 model and all models come with pedelec and throttle modes. Bike weights range from 19.2kg – 22.8kg.
Early bird 50% discounts start at $749 with shipping to China, Korea and the North Americas. Recon say they will be marketed in Europe by Spine Bikes of Italy.
https://youtu.be/EesEo_TWtzE
Reconbikes, started in 2015, specialise in e-bikes and started out with a single office and have expanded to 30 branches.
Here is a link to their Indiegogo campaign.
Pedego Announce Bikes for All the Family
Pedego has just introduced two new Trail Tracker fat-tire electric bikes, now available in 20-inch and 24-inch sizes, which join the original 26-inch Trail Tracker, making Pedego one of the few companies that cater for children and younger e-bike enthusiasts.
Details are:
20" wheel Trail Tracker for 4'11" to 5'3" height riders. Safety is paramount for child riders so the bike has a top speed of 12mph and the bike's throttle-only system allows riders to maintain manual control over their speeds.
24" wheel Trail Tracker for 5'4" to 5'9" height riders. This model has the same features as the larger Trail Tracker bike, including a pedal assist and six levels of power plus a throttle option. Top speed is 20 mph.
Trail Trackers are available now at more than 90 Pedego-branded stores and hundreds of independent electric bike dealers worldwide.
UK's Halfords Extend Own Brand Carrera Electric Range
Halfords are the UK's market-leading bike (and auto repair and accessory) chain store and recently sent along details of new Carrera models which add the option of a folder or mountain bike to their existing Carrera Crossfire commuter model.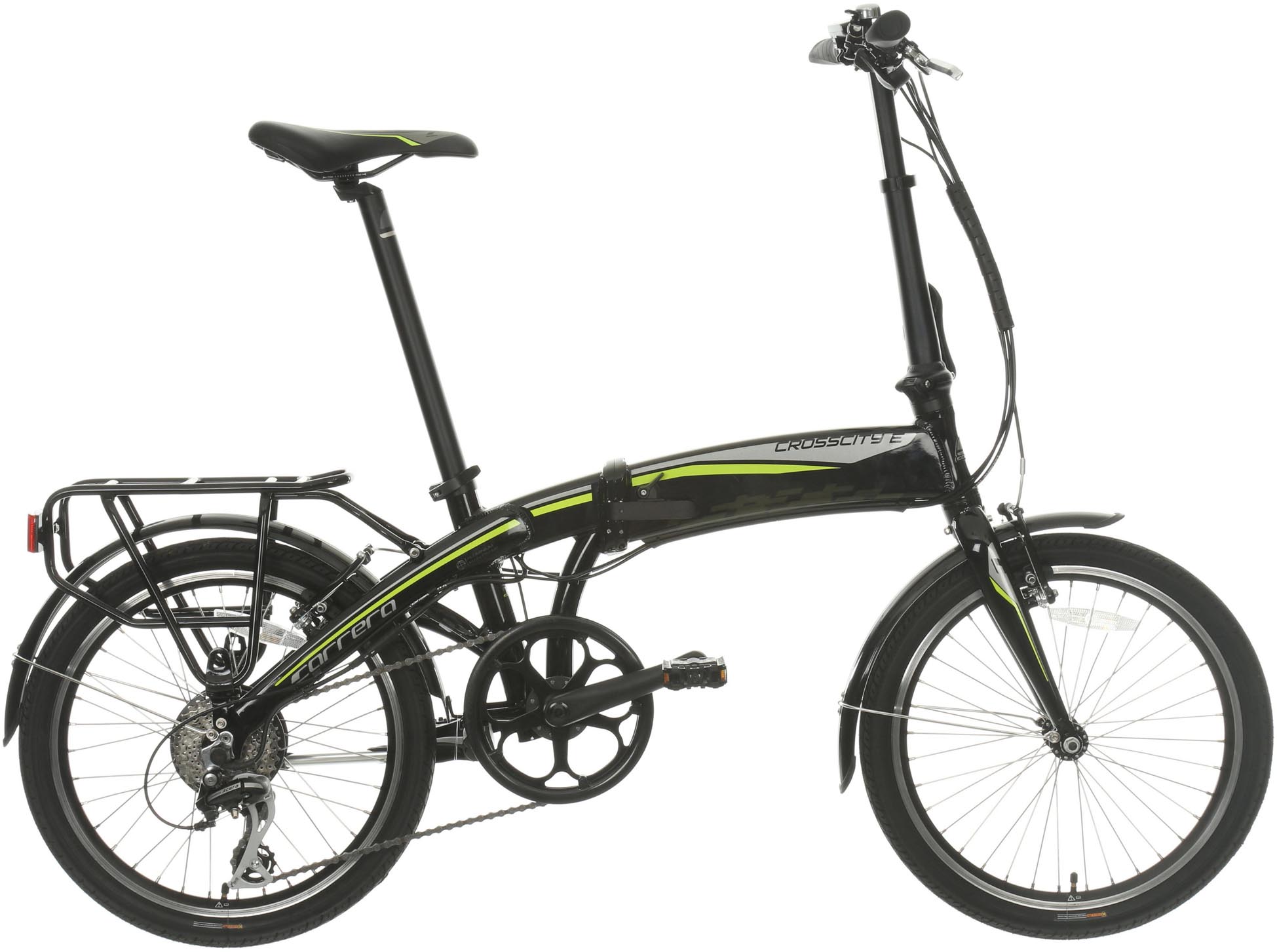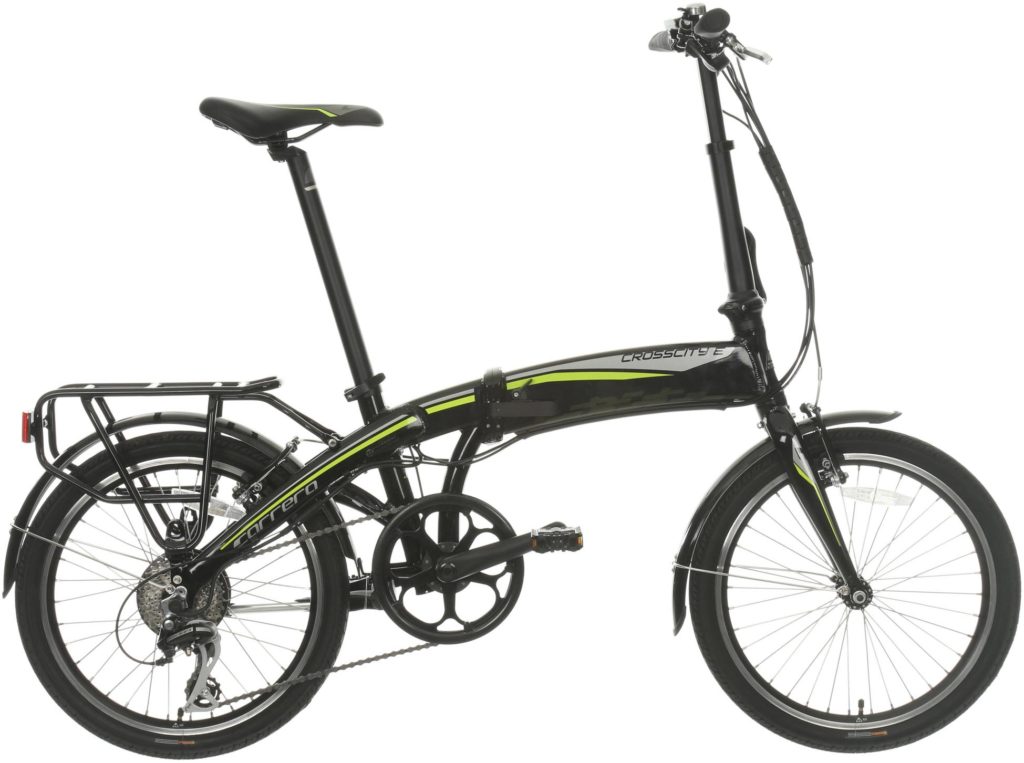 The folding option is the Carrera Crosscity with frame-enclosed batteries and a claimed range of up to 30 miles. It also features also 8-speed Shimano Acera gears, v-Brakes and Kenda tyres. RRP £650.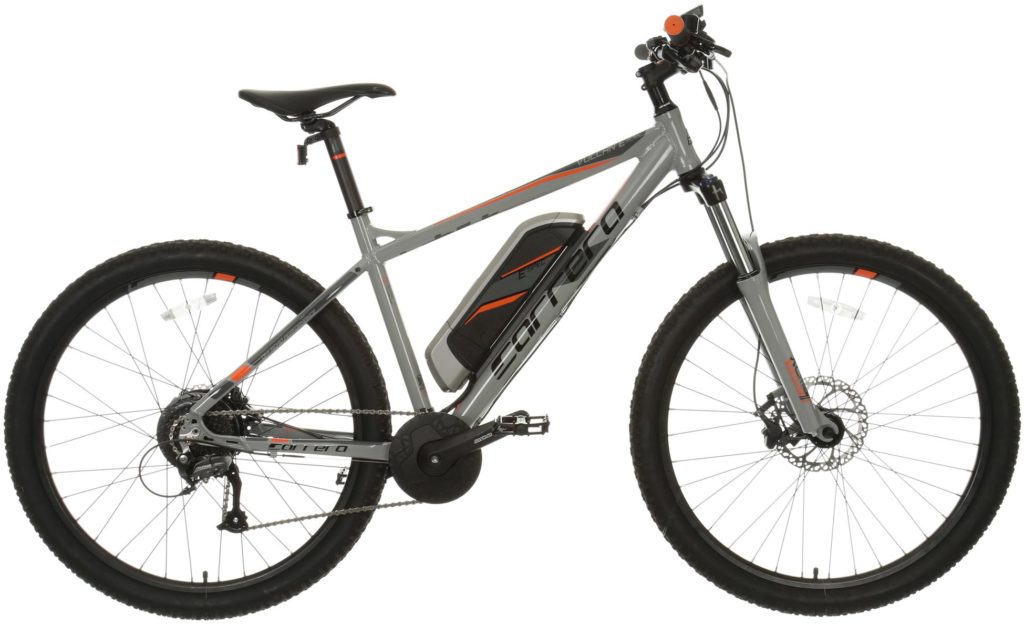 The Carrera Vulcan e-MTB offers 9 speed Shimano Altus gears, 120mm travel Suntour forks and hydralic disc brakes. RRP £1000. Both models are powered by rear hub motors.
Bafang's New Hub Motors Aim for Folding Market
Bafang is a well-known and well-respected Chinese motor manufacturer whose products are fitted to many thousands of e-bikes worldwide.
They are using the Taipei Cycle Show to launch two new hub motors especially aimed at folding bikes with 14", 16"or 20" wheels and there are three-speed and single-speed versions.
The RM G353 is a 3 speed hub with its own shifting components (short cage rear derailleur and 3–speed trigger shifter made by Sensah). Power rating is 220W and its designed to fit the narrower 120mm standard dropouts found on many folding bikes. Claimed weight is 2.4kg and it comes as a disc brake only version.
The hub can take a speed or torque sensor bottom bracket and will combine with Bafang's extensive range of displays. Apparently manufacturers who use the motors are free to specify their own battery system.
RM G351 is a single speed rear hub motor with a claimed weight of 2,2 kg – 'one of the lightest geared hub motors on the market' say Bafang.
Just In
UK's Wisper 705 Torque
Wisper are an experienced UK manufacturer of e-bikes for the leisure and commuting markets.
Their Torque range of bikes are their latest development, featuring, as the name suggests, torque sensing technology.
We have the step-thru 705 Torque model just in for testing so stay tuned for a Ride Impressions report. In the meantime here is a link to the manufacturer's website.
Get Inspired
Ellen Rides a Haibike
Celebrities on eBikes is a great way to raise awareness of eBikes in general. Ellen looks like she is enjoying her ride on a Haibike!
Electric Mountain Bike Maps
People for Bikes is building a map of eMountain bike rides and trails and they want your input in making it better. They are asking everyone to contribute their their local rides and trails for eMountain bikes.
Take the stairs
And here is an example of what eMTBs are capable of:
eFat Bikes as All-Terrain Transportation
This interesting Outside Online report on the BULLS Monster E FS E-fat bike makes interesting reading.
Whilst it acknowledges that 'jumping this Bulls is….essentially out of the question' the article praises its ability in 'plowing through rock gardens or climbing over fallen logs'.
New Wheel Trade-In Program for Bay Area Residents
Starting April 1st, the New Wheel Electric Bike Shop is launching the country's first vehicle trade-in program towards the purchase of environmentally-friendly electric bikes.
New Wheel explained the deal;
'Customers bring their used bike or car to one of The New Wheel's two Bay Area locations, along with a valid ID. A member of The New Wheel team evaluates the trade-in within 20 minutes. While they wait, customers can test ride electric bikes from over 25 models available at The New Wheel. Available electric bikes range from European-inspired commuter bikes to mountain bikes to cargo bikes able to carry two kids. All bikes at The New Wheel are legal to ride in California and covered by a manufacturer's warranty of at least 2 years.'
RV for Bikes
Electric assist allows us to do more with a bicycle. In this case RV'ing by bike!
New Accessories
Sherlock GPS Tracker
Bike theft sucks but now there is a way to track your eBike if it is stolen. The Sherlock GPS tracker hides in your handlebar and it can alert you if your bike is tampered with via its smartphone app. Here is video with more info:
https://youtu.be/Dnh8qEhUb3A
Hövding Helmet Airbags Arrive at Justebikes
London's Justebikes have announced themselves as the first UK e-bike retail partner for Hövding cyclist airbags.
Launched in 2012, a Hövding is worn around the neck and reads a cyclist's body movements at 200 times per second. If an accident takes place, Hövding is triggered by unusual body movements and activates fully in 0.1 seconds.
The Hövding press release said 'To date, more than 50,000 Hövding airbags have been sold around the world, and the company is aware of at least 800 cases where the Hövding has protected a cyclist in an accident, potentially saving the cyclist's life. Hövding is now sold in over 840 stores across 17 countries.'
Price varies and though it looks pricey at first inspection you get a free replacement after each deployment.
Check it out in action!
E-Bike Biz
Bosch Mid-Drive E-bike Prices Set to Fall in 2018?
News released by Bosch at the Taipei cycle show suggests that e-bikes using their Active Line mid-drive motors on 2018 model years could see typical prices tumble to around 1300-1500 euros (around $1400 to $1600). Officially described as Active Line Plus Generation 3 motor. This will bring them into direct competition with many 'budget' hub motor models.
At this stage there doesn't appear to be any changes planned for the premium-priced Performance Line mid-drives used on many e-MTBS. It may also lead to more competition for the often more keenly priced Yamaha mid-drives.
Bafang Invests in Batteries in Move for Higher Price E-bike Segment Sales
Bafang has announced a significant investment in its own battery development and production facility reports Cycling Industry News. The USD $12 million investment is 'primarily to enhance its OEM offering and to deliver a more complete systems solution for electric bikes.'
The article also states 'this is part of a move to position Bafang as a supplier of e-drivetrain and batteries in the middle and higher segments of the e-bike market.'
Trek Makes Move On Euro Speed Pedelec Market
Bike Europe reveals that US firm Trek has unveiled a line up of four commuter e-bikes, the Super Commuter + Range.
Two of the four models will be speed pedelecs (top assisted speed 45kmh) partly aimed at and available in European markets from 15th March. The Super Commuter+ 8S is currently available for order in the US through US Trek retailers, with delivery expected from 1 June.
Battery Watch
Newport Beach Bike Battery Fire
There was some bad battery news this week as an eBike battery caught fire on Newport Beach, California, thankfully no one was hurt. eBike battery fires are very rare but when they happen they make the news.
Safer & Better eBike Battery Tech
Solid electrolyte battery technology appears to be on the horizon and this has the potential to be noncombustible with much higher energy density (more range or smaller battery packs), shorter charge times, and longer lifespans.
Here is a very recent report on this new battery tech from the University of Texas at Austin and from Stanford.
Stay tuned for more e-bike news & reviews and thanks for reading!
-Richard
P.S. Don't forget to join the Electric Bike Report community for updates from the electric bike world, plus ebike riding and maintenance tips!
Reader Interactions