eBike News: eTandem, Tilting eTrike, Light eFolder, eMTB Racing, eBike Share, & More! [VIDEOS]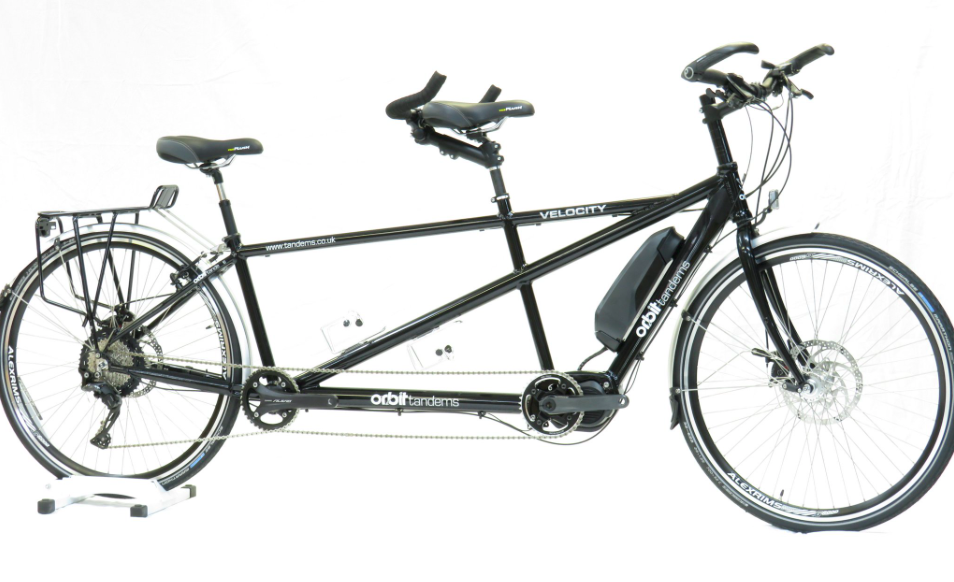 In this week's eBike news roundup:
Chike Tilting Cargo eTrike
New Pedego Mid Drives
Orbit's Electric Tandem
New Orbea Gain eRoad & eGravel bikes
Video of eMTB Racing in So Cal
26+ Pound Folding Electric Bike
Schwarzenegger Rides an eBike
eBike Share in Sacramento & Davis
2018 E-JOE eBikes & Discounts
And Much More!
New eBikes & E-bike Systems
Chike is a pretty new brand cargo and e-cargo bike and they stress the relatively small size and maneuverability of their trikes.
Their design uses smaller wheels and sprung suspension and the overall dimensions are kept to an impressive 2 metres length and 73cm width.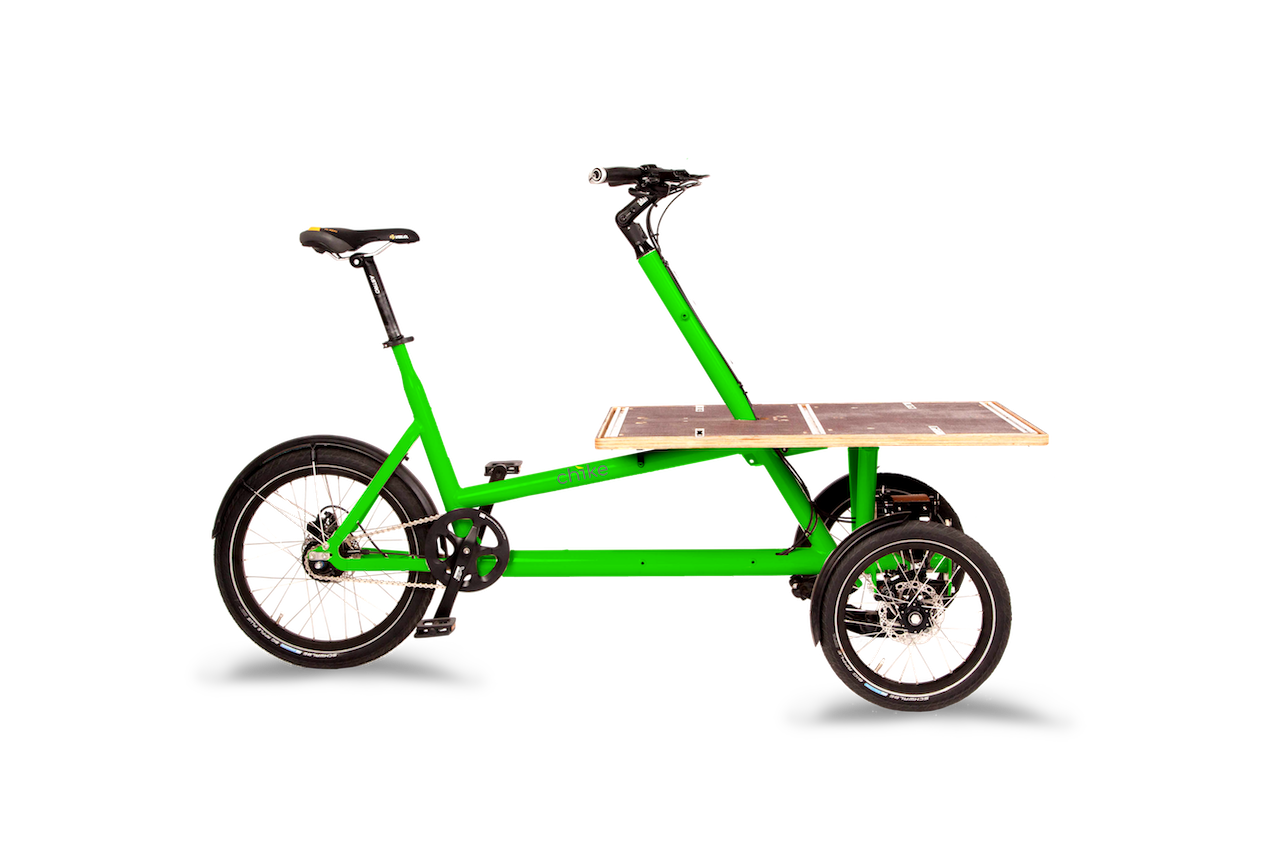 It's modular design means the load carrying capability at the front can be changed between platform, box or kiddie compartment. Prices start from €5195.

New Pedego's
Pedego just launched 2 new mid drive eBikes that are definitely a new direction for their overall eBike line up.
The Conveyor is their new eCommuter that features the Brose S mid-drive 250 Watt and a 36V 13Ah integrated downtube battery, belt drive, internally geared rear hub, GPS anti-theft tracking, balloon style tires, a full assortment of accessories, and a price of $4,995.
The Elevate is a full suspension eMTB with the Shimano STEPS E8000 system, semi-integrated battery 36v 15ah, 140mm X-Fusion fork and 130mm RockShox rear travel. Priced at $5,495
Orbea Gain
This recently launched line of e-racing styled bikes from Spanish firm Orbea is their own take on the new breed of lightweight electrically assisted racers using a discrete rear hub motor and an in-frame battery.
There is the Gain Road and the Gain All Road (the latter cyclo-cross styled) plus a straight bar styled Urban Gain range.
The sleek design is added to by a simple button on the top tube that performs many of the functions of the usual handlebar buttons and display screen; it's series of colour coded lights means you can tell the assist mode and remaining battery capacity for example.
Here's the official launch video:
26.5 Pound (12kg) Hinton eFolder Update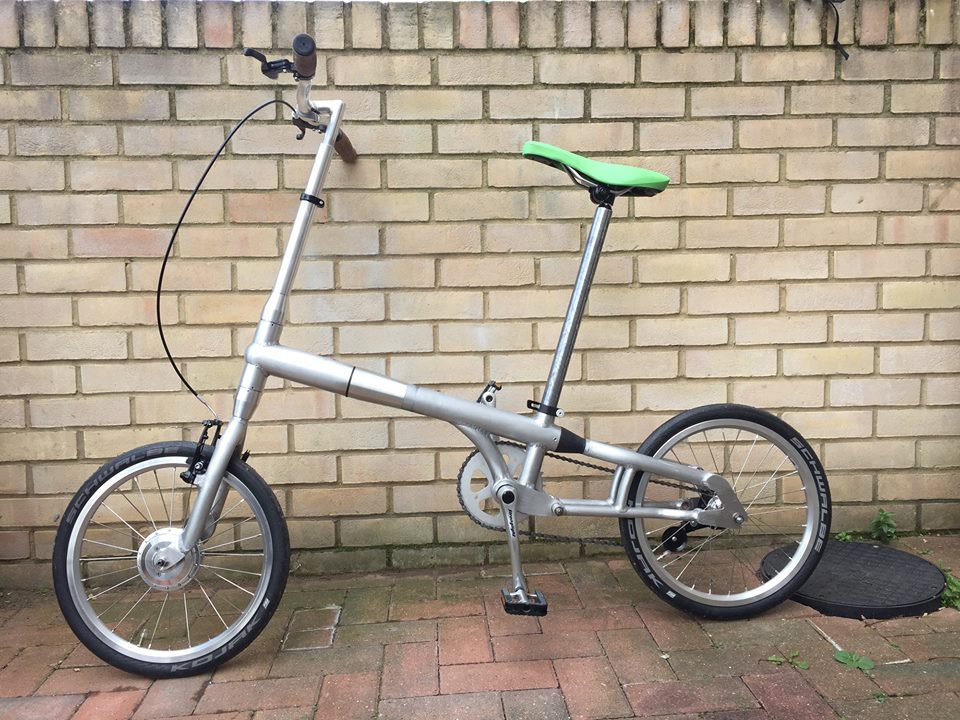 We've previously mentioned the Hinton e-folder from Cambridge, UK and now they have released an update on the protoype.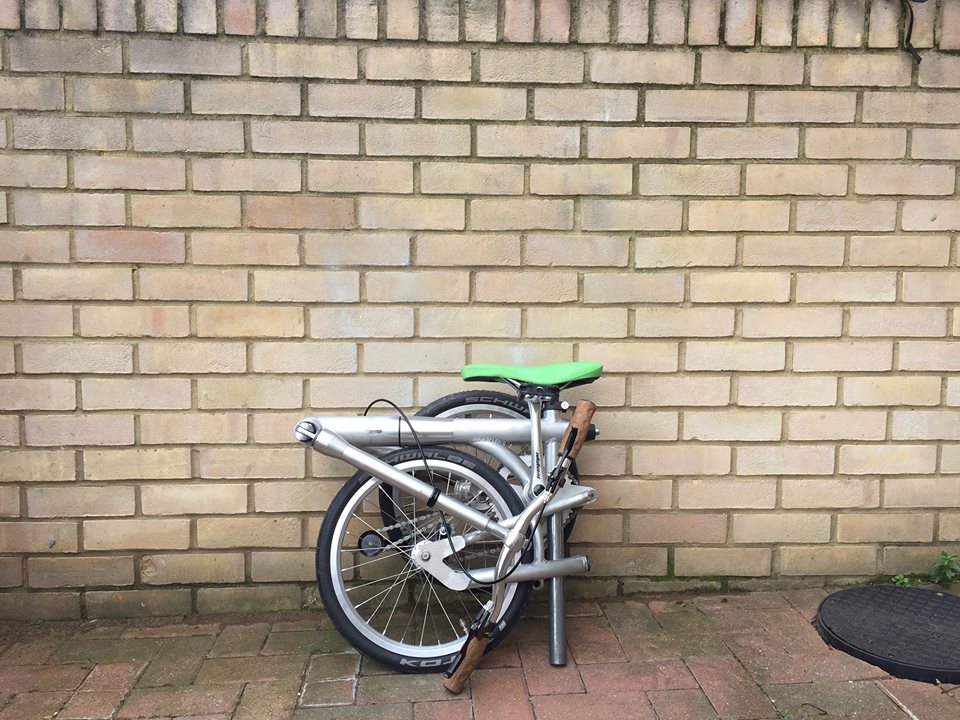 It's still on track to be a 12kg e-folder and there are also some interesting blogs on their site, for example this one on the decline of larger, heavier e-bikes in China and the rise of lighter, 'smarter' models like Tsinova and Qicycle.
Electric Tandem from UK's Orbit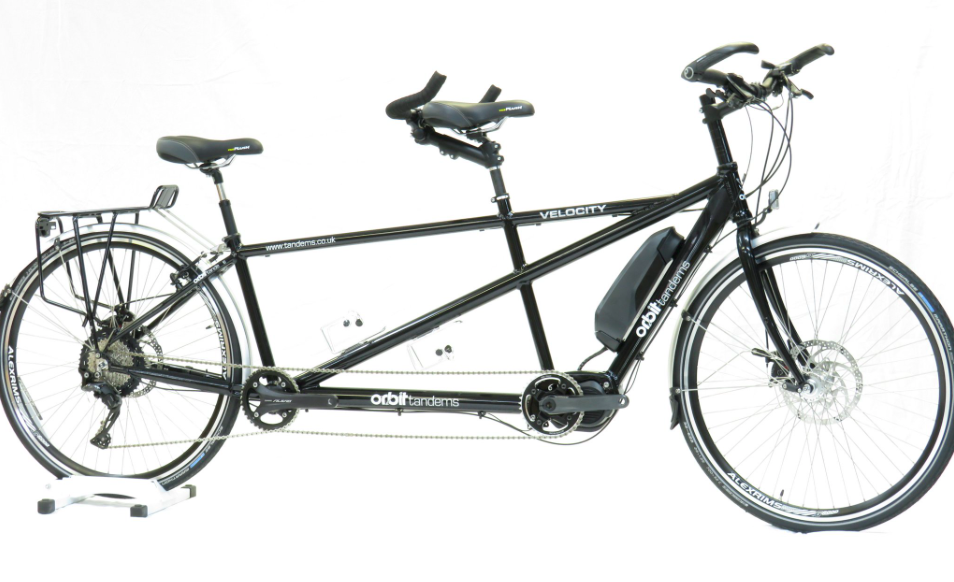 According to Cycling Industry News a new e-tandem from UK-based tandem specialist Orbit will use Shimano's E8000, paired to a 504Wh battery and is likely to be available from spring of 2018. Also available is a Hungarian-made tandem with a Bosch system and a German semi-recumbent with the Shimano system. Learn more about Orbit here.
2018 E-JOE eBikes & Holiday Discounts
E-JOE Bike has announced exclusive holiday discounts at participating dealers up to $150.00 off MSRP for its three newly available 2018 models the KODA Speed Commuter e-bike, the Gadis cruiser/commuter and the EPIK SE folding e-bike.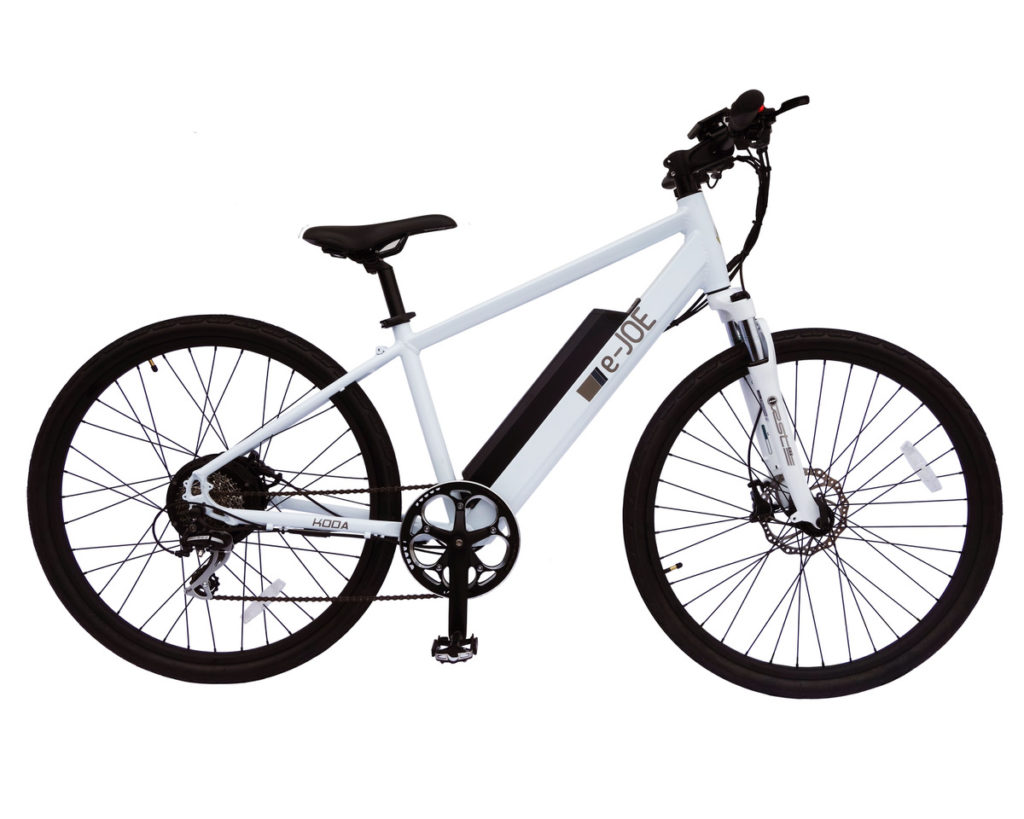 The 2018 e-JOE KODA is now available in both Frosty White and Titanium Grey. It combines a seven-speed transmission with a 500-watt rated geared rear hub motor and 528Wh frame-integral battery. Holiday price is US$1999.
The e-JOE Gadis has a similar spec to the Koda and has a holiday price of US$1799.
The folding EPIK SE also with a similar motor and seven speed drive train has a holiday price of $1,699.00.
Tern Vektron Lands in the UK
The UK's Bikebiz reports that the folding Tern Vektron is now available in the UK via distributor Moore Large. RRP is from £3000.
Get Inspired
Boogaloo Rider's Eye View
You may have been following the Boogaloo e-mtb race and tryout events here on EBR and wondered what it's actually like to race in one. Here's a video to show you first hand.
Stay tuned to the Boogaloo website for the 2018 race schedule.
South African TransCape Event Opens to E-bikes
It looks gruelling; an off-road bike event over 630km with some 10,200m of climbing through some of South Africa's most spectacular scenery. And this year it's open to e-bikes for the first time say Singletrackworld.
Runners Fitness Mag Says Get an E-bike
You might not expect Runners World magazine to be endorsing e-bikes but contributor Coach Jenny does just that in this article. In short when she switched from an activity based job to a more sedentary one she got on an e-bike and now does as much activity as she can whilst doing her daily chores – many via e-bike.
Schwarzenegger Rides eBike to Highlight Paris Climate Accord
Activist / campaigner Arnold Schwarzenegger featured in this video from Global News.
He was in Paris to highlight how although the US may have pulled out of the Paris agreement there are still many sub-national bodies in the US willing to support it.
eBike Sharing
New eBike Sharing for Davis & Sacramento, CA
Next City report that SoBi (Social Bike) are bringing e-bike share to Davis, Sacramento and West Sacramento which will receive a total of 900 e-bikes for public use by next summer.
E-bike sharing (also from SoBi) has already launched in Washington D.C and we have covered this a couple of times already.
There appears to be fierce competition for official approval of dockless bike share startups right across the US and indeed right across the globe. The numbers are staggering, especially in China; according to this interesting article from Bicycling, Ofo bike share company (just one of many) has said that it expects to double the number of available bikes globally from 10 million to 20 million in the next three months. Indeed, the article suggests the Chinese bike share boom may be eating into China's petrol consumption.
Bikeshare Map from Bikemunk
Speaking of bikeshare, bicycle review site Bikemunk have come up with this excellent map of the US bike systems (not limited to e-bikes) and it looks both easy to use and fantastically detailed with comprehensive thru links.
Cycle Infrastructure
UK Labour to Make Protected Cycle Lanes Pledge
According the Bikebiz the UK's Labour Party might make protected cycle lanes a manifesto pledge. 'It is a statement of social justice; that a resident on a £100 bike is as valued as a resident in a £10,000 car," say Labour Cycles pressure group.
New E-Tech
Car Industry Answer to Speed Pedelecs?
In some European countries superfast speed pedelecs – with their own legal category allowing them to go up to 28mph – are proving popular for fast and speedy journeys that can compete with car travel over longer distances than traditional pedelecs limited to 15mph.
This intriguing looking vehicle is a hybrid mesasuring only 2.4m x 0.85m with two hub motor drives plus a small gas-powered engine for higher speeds, aiming to fill the gap between s-pedelecs and cars. It also claims a top speed of 130kmh (circa 81mph) and a 300kmh (circa 186 mile) range. It is a cooperative, experimental project between a number of European partner firms looking to develop the electric drive trains of the future.
Enjoy your next ride and stay tuned for more e-bike news & reviews!
Thanks for reading.
-Richard
P.S. Don't forget to join the Electric Bike Report community for updates from the electric bike world, plus ebike riding and maintenance tips.
Reader Interactions