eBike News: eMTB Comparison, Double Range, German Post Fleet, Hydrogen eCargo, & More! [VIDEOS]
In this week's eBike news roundup:
Electric mountain bike & motor comparisons
Double batteries & range on R&M Delite
German post office now has 1,000 eBike fleet
Forbes: Stromer ST1X "E-Bike is a people magnet"
San Francisco Expo report
Hydrogen fuel cell for eCargo bikes
New Colorado eBike law
And much more!
Comprehensive E-MTB Test Summary
German based E-MountainBike website – itself a testimony to the huge rise in popularity of e-MTBs on continental Europe. They recently selected a winner out of 14 high-quality entrants in a very detailed looking test.
Check out the test bikes in action:
Their general conclusions were extremely interesting; weight balance and handling, after several years of refinements honed via incremental changes through various model years, seem to be both effective for jumping and agile handling. Perhaps most interesting was their conclusion on the competition between the 'big four' motor systems – Bosch, Brose, Shimano and Yamaha:
"Our findings? The Bosch has slightly higher maximum power, but its big size, abrupt binary "on-off" power delivery, and the bulky integration of its display are no rival for the Shimano system. Brose have come up trumps, designing a motor that behaves with more natural characteristics. They've also updated the software to eliminate the once-common concern that the motor would switch off if it got too hot. In terms of power though, the Brose motor is worlds apart from its Shimano and Bosch peers. On our 600 metre climb, with a gradient of 11%, the Brose could only clock an average time of 2 minutes and 38 seconds, while the Bosch-equipped bike stopped the clock at 2:16, and Shimano at 2:21."
Unfortunately the Yamaha system was not the most recent PW-X model so wasn't directly comparable to the above.
There's a summary weight table showing that the lightest bikes are now in the 44 to 46 pounds (20-21kg) bracket, though a price range of 4599 – 10,328 euros ($4915 – $11035) shows that you have to pay for top end technology and quality.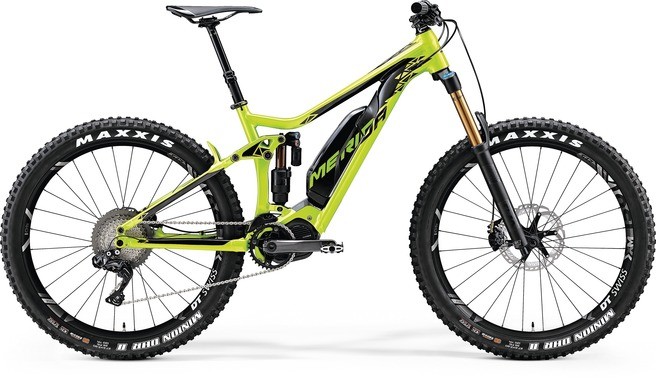 And the best individual e-MTB on test? The Merida eOne-Sixty 900E, described as 'the sickest, meanest e-MTB on the market.'
New Products
Riese & Muller Delite Heads for the US
Riese & Muller are a German e-bike manufacturer of stylish and unusual designs and are looking to enter the US market, in particular by highlighting the strengths of their Delite model.
It boasts dual battery technology with 1,000 watt hours of capacity, Bosch Performance Drive with pedal assistance up to 300%, carbon belt drive, true full suspension and a Nuvinci seamless hub gear.
Bigger Battery for Pendix / Pendix Brompton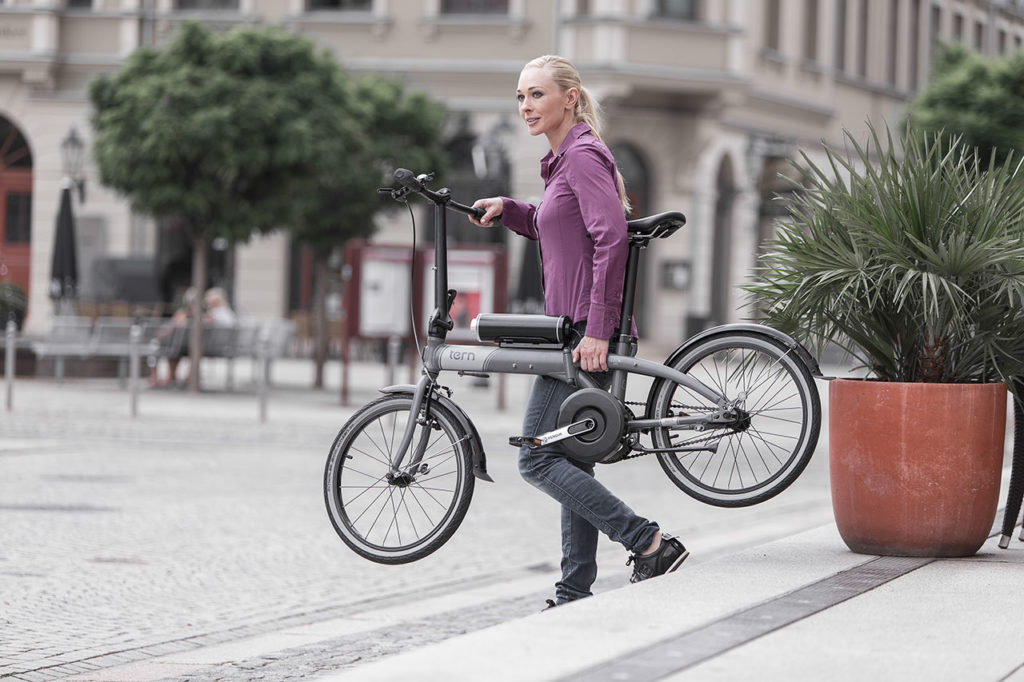 Pendix, the innovative mid drive kit now has a bigger battery option (customers can now choose between 300Wh and 500Wh.
The kit has been rolled out to the UK, recently been featured on a Brompton folding bike with the conversion done by Bespoke e-bikes of Cumbria. They offer a range of kits.
Check Out Benno as an E-cargo Option
The Benno Boost-E gets a great recommendation for its stylish appearance at Bicycling website.
Get Inspired
Forbes "This E-Bike is a People Magnet"
Forbes has been doing a good job of covering electric bikes and their latest article is about how the Stromer ST1X is a real attention getter! "I've never used a product of any kind before that has attracted as much curiosity and attention as the Stromer."
Electric Bike Expo A Big Hit says Mercury News
Mercury news had a great feature on electric bikes, in particular the try out customers reactions are full of enthusiasm. It's also interesting to see California touted as a leader in the field of progressive e-bike laws.
E-bikes Take Off With Canberra Workers
More positive reactions to e-bikes, here in Canberra, Australia. 150 local government employees have been inducted in how to use the bikes and they are proving real popular for running between local government offices.
Deutsche Post Reaches 1,000 StreetScooter E-bikes
Post & Parcel reports that 'Deutsche Post has put the 1,000th e-bike from its StreetScooter subsidiary into service on the streets of Osnabruck today, 30 March'
The German post office is a fine example on how to use e-bikes to provide a public service, with about 2,500 StreetScooter Work electric trucks and approximately 10,500 pedelecs (e-bikes and e-trikes) in service.
Battery Watch
How Long Do Batteries Take to Charge?
UK retailer E-bikeshop has written a useful little summary of how long various popular battery systems take to charge; typically 3.5 – 5 hours is the answer.
Hydrogen Fuel Cell for Cargo Bikes?
Cycling Industry News reports that the German Aerospace Center is developing a fuel cell aimed at powerful e-cargo bikes where an on-bike capacity of more than 1500Wh would be useful.
The real weakness of hydrogen fuel cells has always been manufacturing and storing the hydrogen which traditonally needs to be compressed so enough energy is available for vehicular use; an expensive and power-thirsty process.
Two possibilities GAC is exploring are a mini-electrolyser/compressor unit to create hydrogen or using a chemical 'PowerPaste' solution that releases hydrogen when water is added.
E-Bike Security
Enter the E-bike Cops…
Hot from The Netherlands 'security hub' comes this interesting story of how a collaboration between e-bike manufacturer Sparta, security company BHD and insurer ASR.
What's most intriguing is that the pilot scheme of 10,000 GPS enabled e-bikes may be tracked by 'special investigators' from BHD operating 24/7, if stolen. That's service!
E-Bikes & The Law
NYPD Seized 247 E-Bikes, Saving Zero Lives
Streetsblog NYC reports that 247 ebikes were confiscated by the New York City police department in a 24 hour period and this appears to be in an effort to make the streets safer.
The article points out that "People riding bicycles — both conventional and electric — are responsible for a vanishing trace of pedestrian fatalities in NYC. Drivers who speed and fail to yield remain the biggest causes of death. Yet the Midtown North precinct, which only issued 37 speeding tickets in the month of February, confiscated 38 bikes on Wednesday."
Colorado eBike Law
Colorado is working on creating an eBike law that will be very similar to the California law and classifications of eBikes:
Class 1: pedal-assist with a maximum speed of 20 mph
Class 2: pedal assist and/or throttle up to 20 mph
Class 3: pedal assist up to 28 mph
"The bill itself doesn't regulate e-bikes. We leave that to local governments to handle that and decided where these different categories of e-bikes can be used," said Rep. Chris Hansen, D-Denver, who co-sponsored the legislation.
E-bike Biz
London Cycle Hire Shelves Plans for E-Bikes
Cycling Industry News reports that the long-running plans to pilot an e-bike public hire scheme won't now go ahead as it is considered 'not value for money'. As the article points out though, there is plenty of interest at London's transport body, TfL, in the benefits and promotion of e-bikes.
ProdecoTech Now Available at Broward Motorsports
Major US e-bike manufactuer ProdecoTech are expanding their reach to South Florida's sports retailer Broward Motorsports, who will feature their full range.
Check out the full ProdecoTech range on Youtube.
Motostrano Goes Mobile
In addition to their 2 shops in the San Francisco Bay Area, Motostrano has now launched their Ebikelane Mobile eBike shop that will provide service to customers at their home or work place.
"Many e-bike owners are actually ditching their cars and replacing them with e-bikes entirely, which means getting to either of our stores for service or repair can be a pain in and of itself," said Joe Witherspoon Motostrano founder and President.
"Additionally, once they make the switch, they don't want to go back and often need their bikes fixed asap just to keep getting around."
The mobile repair service is also being offered to e-bike manufacturers who are selling direct to customers or don't have a strong dealer network in the area. The company has already signed on two manufacturers to deliver the service, allowing them to service their customers directly when the need arises.
New Branch Of UK's Cycle Republic Packs Plenty of E-bikes
One of the most famous cyclists in the UK, Olympian Chris Boardman, recently opened the fifteenth shop in the city centre retail chain Cycle Republic, a brand of the UK's market leading bike retailer Halfords. It's in the Scottish capital, Edinburgh.
Best of all Cycle Republic Edingburgh will stock a large range of e-bikes starting from £500 hybrid bikes to latest KTM MTB e-bikes, plus the stylish G3 Gocycle folding commuter.
Stay tuned for more e-bike news & reviews and thanks for reading!
-Richard
P.S. Don't forget to join the Electric Bike Report community for updates from the electric bike world, plus ebike riding and maintenance tips!
Reader Interactions