eBike News: eCargo Deliveries, Electric Bike Company Double Battery, New Triumph BULLS MiRider, Rebates, & More! [VIDEOS]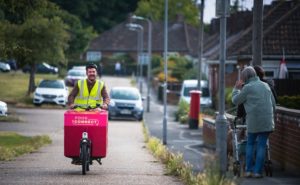 In this week's eBike news:
eCargo Food Deliveries During Coronavirus
eBike Sales Surge
Top North American eBike Companies
Electric Bike Company Double Battery
New eBikes from Triumph, BULLS, and MiRider
New England eBike Rebates
eCargo Push in Euro Cities
eBike Technical Training
eBike Biz Updates
And Much More!
Coronavirus Update
eBikes & Vans Deliver Surplus Food to Vulnerable
Business Insider reports that 'Environmental charity Hubbub will deploy a fleet of electric vehicles to deliver surplus food to communities in Milton Keynes unable to access food banks and community fridges during the lockdown.'
The report adds:
'The fleet of electric delivery vehicles was funded in part by the government's eCargo Bike Grant Fund, a £2m fund to support low-carbon delivery services that is administered by the Energy Saving Trust. CAF Venturesome and the National Lottery Community Fund have also backed the pilot project.
Hubbub is aiming to replicate the low-carbon service, dubbed 'Food Connect', in other parts of country where community fridge and food bank operations have been disrupted by the pandemic.
Community fridges are refrigerators in public spaces that are shared by locals in a bid to reduce food waste and provide fresh food to vulnerable people.
But social distancing measures enacted due to Covid-19 have prompted many of the UK's community fridge network to temporarily switch to delivery services, Hubbub said.'
US eBike Imports Could Reach Record Levels in 2020
Despite concerns over Trump's tariffs and the mayhem to e-bike supply chains caused by coronavirus, US imports could reach 400,000 in 2020, up from 287,000 in 2019. That is according to eCycleElectric as quoted in this Bicycle Retailer and Industry News piece.
According the eCycleElectric's Ed Benjamin '"By 2019, the largest share of imports had shifted away from a handful of companies who sold primarily through Amazon under various brands. Instead, the bulk is now going to consumer-direct e-bike specialists, brick and mortar e-bike specialists (EBDs), and conventional bicycle brands in the IBD channel."
This goes hand in hand with a move to higher price, higher quality e-bikes. "Americans have shown us in the last year" Benjamin explains, "that they understand and are willing to pay for the value in a better ebike" adding "So we see the $1,500 to $3,000 price point is really taking off."
According to Benjamin the top five brands are as follows:

Rad Power Bikes Details Sales Surge and Their Response
'The pandemic is proving that e-bikes are essential to an even wider audience of people' says Rad Power Bikes founder Mike Radenbaugh in this Bloomberg video report.
He outlines how he feels the surge in sales has been powered partly by people wanting to make the most of allowable time outside their homes during lockdown but even more so by a desire to avoid the risks associated with using public transport.
Even as steps are taken to come out of lockdown the e-bike sales surge shows no sign of abating says Radenbaugh.
Radenbaugh puts Rad Power Bikes own success down to an attractive price and being able to get e-bikes direct from Rad Power Bikes to customers effectively.
Such is the continuing surge in demand that extra investment will be taking place to ramp up Rad Power Bikes supply chain and customer service abilities to keep up with what Radenbaugh describes as 'exponential growth'. He quotes 297% growth 'April over April'.
New eBikes & eBike Systems
Electric Bike Company Increased Range
Electric Bike Company has added a double battery configuration to all of their models by adding the front basket with battery.
The new stated ranges from Electric Bike Company are the following with the double battery option:
MODEL C and S – can go from 100 miles to 140 miles
MODEL X and R – go from 70 miles to 110 miles
MODEL Y – double battery 40 miles to 80 miles
The additional basket and battery option adds $699 to the price of an Electric Bike Company eBike.
More info at Electric Bike Company.
Triumph Moves into eBikes
Famous motorcycle manufacturer Triumph have revealed they are moving into the world of e-bikes with the introduction of their new Trekker GT featuring a Shimano mid-drive and RockShox front suspension.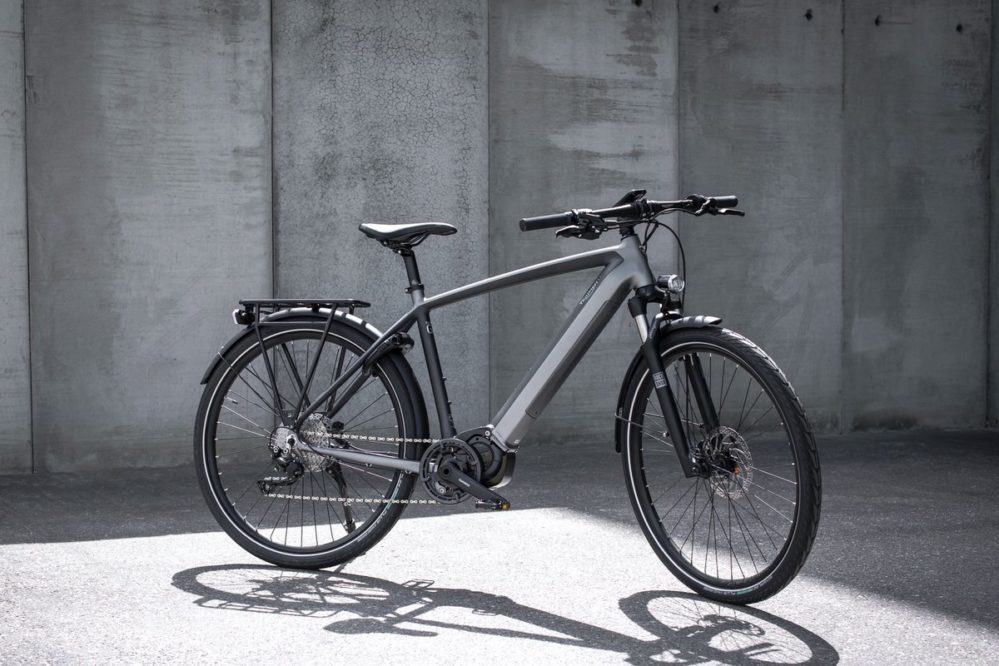 The 53 pounds / 24kg e-bike has a 504Wh frame integrated battery, hydraulic disk brakes, 10 speed derailleur gearing and is fully equipped with pannier rack, kickstand, mudguards and LED lighting.
All New BULLS Cross Lite EVO
BULLS Bikes USA recently announced the release of the all new Cross Lite EVO apparently 'one of BULLS' all-time most popular e-bikes'.
It features the new Bosch Gen4 CX motor and 625Wh Powertube battery, 63mm Suntour NSX front fork, 180mm Shimano Deore hydraulic disc brakes and a 12-speed Shimano SLX groupset.
It comes in wave, step-thru and diamond frame styles, multiple sizes and is complete with fenders, lights and a rear carrier.
The Cross Lite EVO is available now in step-thru and diamond frames at a BULLS Dealer near you and at bullsbikesusa.com.
The wave frame will arrive July 2020, but may be preordered through any local BULLS Dealer. Retail price is set at $4,899.
Teaser Info On Upgrades for MiRider One
UK firm MiRider have had success in the leisure market with their novel folding, magnesium-framed single speed MiRider One.
They have been in touch to tell us about plans to offer customizable upgrades as follows, offering the potential of a lighter more powerful bike:
'MiRider have been working on an evolution of the One to entice a different consumer onto their bike with a stronger focus on weight and performance, whilst maintaining the core values of the bike.
They can't give too much away yet, but the headline changes are a torque sensing bottom bracket mated to a lighter weight rear hub motor, although pushing out a healthy 5 NM more torque than the standard motor.
The main weight saving elements are a switch to lightweight wire spoked wheels, sports tires, carbon fiber seat, stem and handlebars.
To keep the extra performance in check, the brakes will be upgraded to hydraulic and able to make use of the extra tire grip on the road.
The rider computer screen will also be upgraded to an LED version and will retain the thumb throttle boost feature loved so much in the current model.
Although we expect greater range efficiencies in the torque sensing drive system, a 10Ah battery is also in development in recognition to the more commuter focused city audience the bike will appeal too.
What MiRiDER are keen to achieve in this new bike is the ability for the current model to be upgraded with as many parts as possible retrospectively, therefore current and new customers can pick and choose upgrades to suit their needs and have a bike specially built for them.'
Get Inspired
Call for eBike Rebates in New England
Energy News US reports 'About 80 organizations, businesses and individuals have signed a letter to state officials seeking rebates for e-bikes…The state's existing electric vehicle rebate program is "inequitable," they argue, because it only applies to electric cars, which are unaffordable for many middle- to lower-income households.'
eCargobike Update
Santa Monica to be First Zero-Emission Delivery Zone in North America?
Greenbiz reports that 'The sunny city of Santa Monica, California, in greater Los Angeles, soon could become the first zero-emission delivery zone in America. That means every good delivered in the region, from food to packages, would be transported in a zero-emission vehicle (ZEV), whether that's an electric delivery van, a hydrogen fuel cell truck or an e-cargo bike.'
It should be noted that at this stage this is just a pilot scheme and that many more will be needed as the Los Angeles area suffers the worst air pollution in the US.
The new pilot project — which includes a one-square-mile area of Santa Monica's downtown corridor — is under development by the city and the Los Angeles Cleantech Incubator (LACI).
Los Angeles' green leaders hope to use learnings from the initiative to expand ZEV zones to other Los Angeles regions such as Culver City, Pasadena and downtown L.A.
ECF Urges European Cities to Fufill Cargo Bikes Potential
According this Cycling Industry News article:
'The European Cyclists' Federation (ECF) held a webinar today discussing the EU-funded City Changer Cargo Bike Project, which hopes to help cities realise the 'enormous potential' of cargo bikes for both transport and logistics.
The project aims to facilitate a faster and larger-scale uptake of cargo bikes in urban sectors, estimating a third of delivery trips in cities could be replaced by this form of transport.'
More congestion charging zones and subsidies are just two of the ideas to promote greater use of cargo and e-cargo bikes mentioned in the article.
eBike Skills
LEVA Offering Online Tech Classes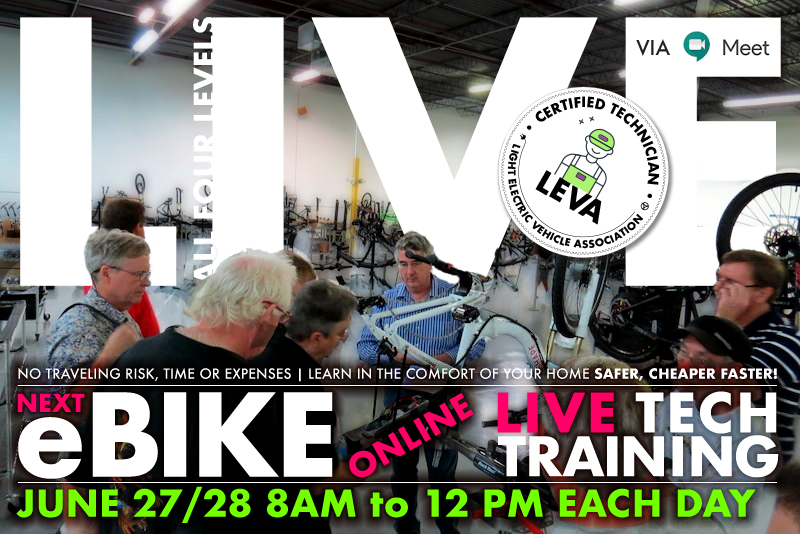 The Light Electric Vehicle Association (LEVA) E-Bike Technician Training and Certification Program has been developed for LEVA by Dr. Don Gerhardt and various LEVA members and E-Bike manufacturers. The training is based on training developed on battery systems and electric vehicles for universities and community colleges by Dr. Gerhardt.
Edward Benjamin teaches many of the courses. He has worked in bicycle shops as a mechanic and store owner since 1969. For the last 20 years, he has been involved in sourcing and technical issues as a consultant to the industry.
The Syllabus for the course is the same in any location or with either instructor. But the instructors will add material and information from their particular backgrounds. Dr. Gerhardt is more engineering and science, Ed Benjamin is more bike shop, bike mechanic, and maximizing profitability.
https://www.facebook.com/LEVAssoc/videos/584517065696596/
Four levels of certification plus technician training are available for $550. The live online course is available for $325.
More information at the LEVA website.
eBike Biz
New Industry Resource from People for Bikes
The PeopleForBikes Coalition Research and Statistics Subcommittee has developed a new Business Intelligence Hub to provide a comprehensive package of ridership, retail sales and consumer data that will serve as a weekly snapshot of the state of the bike business and bicycling participation in the U.S.
Yamaha Move Distribution to Europe
From July 1st, 2020 Yamaha Motor Europe N.V. will assume the responsibility for distributing OEM e-Bike Systems to the expanding European marketplace.
Yamaha say 'This will enable Yamaha Motor to provide stronger support for OEM partners at a centralized location, from its European headquarters in Schiphol-Rijk, theNetherlands.'
Stay tuned for more e-bike news and reviews and thanks for reading!
-Rich
P.S. Don't forget to join the Electric Bike Report community for updates from the electric bike world, plus ebike riding and maintenance tips!
Reader Interactions