eBike News: eBiking & Health, 2019 Rotwild, Solar eTrike, Lyft Buys Citibike, & More! [VIDEOS]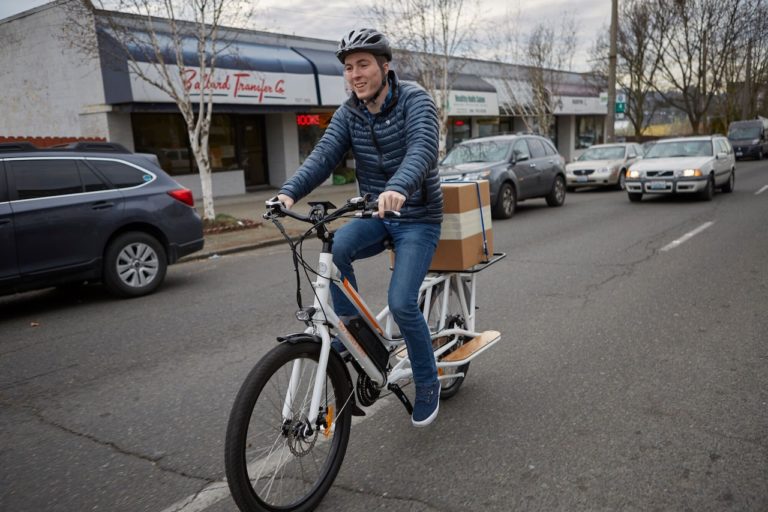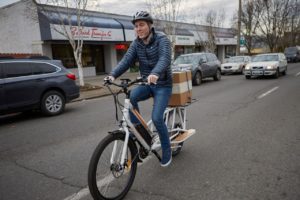 In this week's eBike news roundup:
2019 Rotwild R.T. Range
Study: eBiking Health Benefits
DIY Solar eTrike
High School eBike Challenge
Better Bike Routes with Lanespotter App
Encouraging More People to eBike
Rad Power Bikes's Building Green Award
Lyft Buys Citibike
20,000 Paris eBike Share
Superpedestrian eScooter
And More!
New E-bikes
Rotwild To Relaunch R.T. Range for 2019
German mountain bike specialists Rotwild, one of the first companies to use the high regarded Brose motor system on an e-mtb, are to relaunch their R.T. range for 2019, with the aim of combining the best of a touring bike and an e-mountain bike.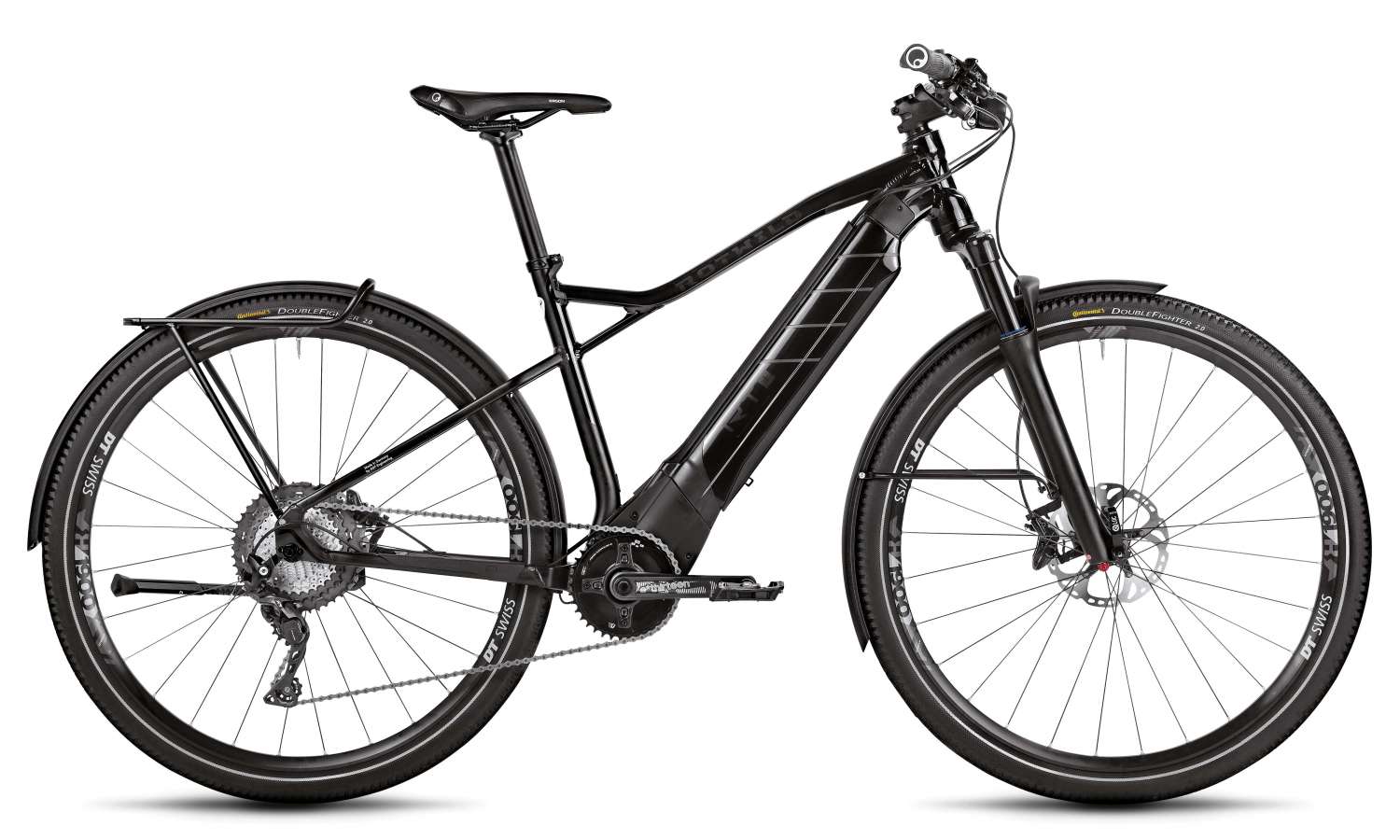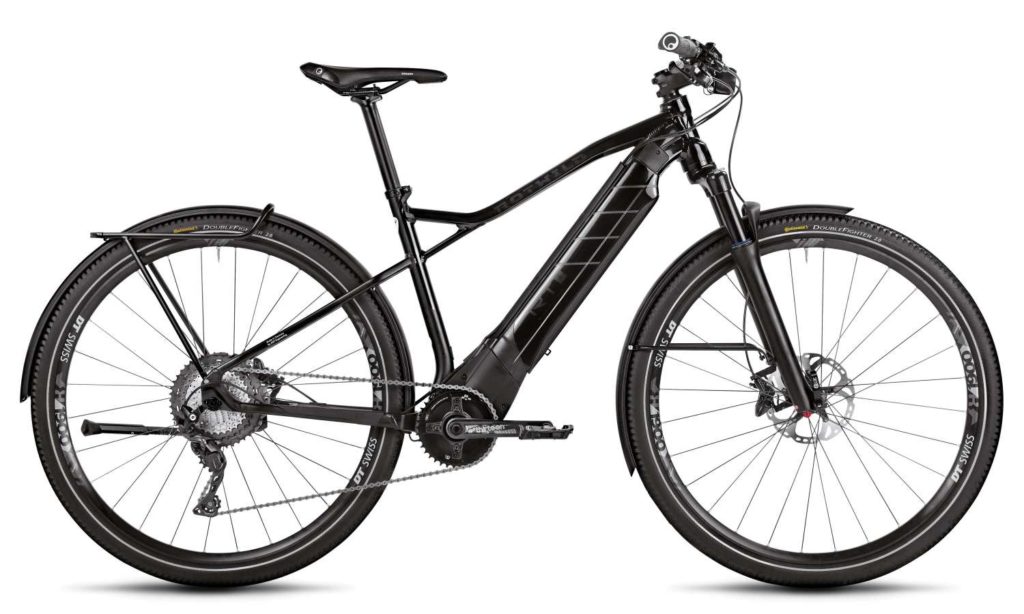 As a 'modern E-SUV' the new models claim to skilfully bridge the gap between road and off-road use.
In three variants, the performance characteristics of the new hardtail e-bikes are to be fast on the road, smooth and manageable on forest roads and gravel roads whilst retaining full control off-road.
More details here.
Get Inspired
Major Study Finds that eBiking is Good for Your Health
Clean Technica breaks down the points of a study on "Health benefits of electrically-assisted cycling: a systematic review" that was published November 21, 2018 in the International Journal of Behavioral Nutrition and Physical Activity (IJBNPA).
Here are a couple of the highlights from the systematic review:
eBiking provides more exercise than walking
eBikes tend to be ridden more often and further distances than conventional bikes
eBikes are used to carry more cargo
Checkout the Clean Technica article for more.
Designing Your Own Solar Trike
The Rambling Shepherd has made this interesting video of how to put together a solar-powered electric recumbent trike.
Perhaps most impressive is that the setup is ridden with the battery unplugged a lot of the time.
High School eBike Challenge
This article describes how Richmond High Engineering Partnership Academy tested out electric-powered bicycles they built as part of the 6th Annual Chevron E-Bike Challenge.
The event is a culmination of an engineering-learning initiative during the fall semester at Richmond High that pairs mentors with students to guide them through the process of designing and building e-bikes.
Nearly 30 students participated in the challenge sponsored annually by Chevron.
Here's a video of the culmination of all the budding engineer's work:
https://youtu.be/fhusfUppscc
So congratulations to Team ZOE who won the overall competition and earned the honor of being engraved on the event trophy along with winners from past years.
Lanespotter App Crowdfunds US$395,000
Lanespotter is a mapping and navigation app created by cyclists in an attempt to use big data feedback from riders on the ground to create more helpful mapping and routing advice.
As this Forbes article explains, 'Founder Lynsie Campbell had been a bike commuter before becoming a parent, but when she was on a Pittsburgh street two years ago with her son in tow, safety became more important than ever. She looked around for resources but everything mainstream was car-centric.'
Hence the need for Lanespotter, which can, for example flag up danger areas where there are likely to be parked cars opening doors or lots of potholes. Lanespotter can also alert cyclists to the opening of new stretches of cycleway.
The Forbes article gives more detail, 'So far LaneSpotter is in 18 U.S. and two Canadian cities. New expansion starts with local bike advocacy groups, seeking their input as the first layer of needed information. Then less experienced cyclists have a bit more of a grid to navigate when they set out and start uploading their own warnings and reviews.'
eBikes Can Make Cities Safer
This Curbed article describes how research suggests that e-bikes are one of the keys to getting the majority of citizens – who may well want to bike but have too many safety concerns to do so on a regular basis – out there on two wheels.
E-bikes have clearly transformed the author's life, allowing her to tackle hills, feel safe in motor traffic and carry plenty of her stuff around L.A.
The article shows that many people probably would bike if their concerns and unanswered questions could be satisfactorily addressed.
There are various studies showing how more than 50% of those questioned see themselves as potential cyclists, but are too scared to ride.
And whilst 'E-bikes are not a substitute for safer infrastructure, but they could help move more riders from "Interested but Concerned" to "Enthused and Confident," which should be the number-one goal for every city. That 60 percent of adults who might decide to ride is who cities should be catering to when welcoming new modes and designing new infrastructure—not the 10 percent of adults who are already out there. And e-bikes can make that decision easier—for women, for older adults, for those with different abilities, for people who have to haul more than a MacBook to work every day.'
RadWagon Wins Building Green Award
Seattle-based Rad Power Bikes have revealed that their RadWagon Electric Cargo Bike is a Top 10 Product for 2019 in Building Green's annual awards which are aimed at helping building professionals improve their impact on the environment.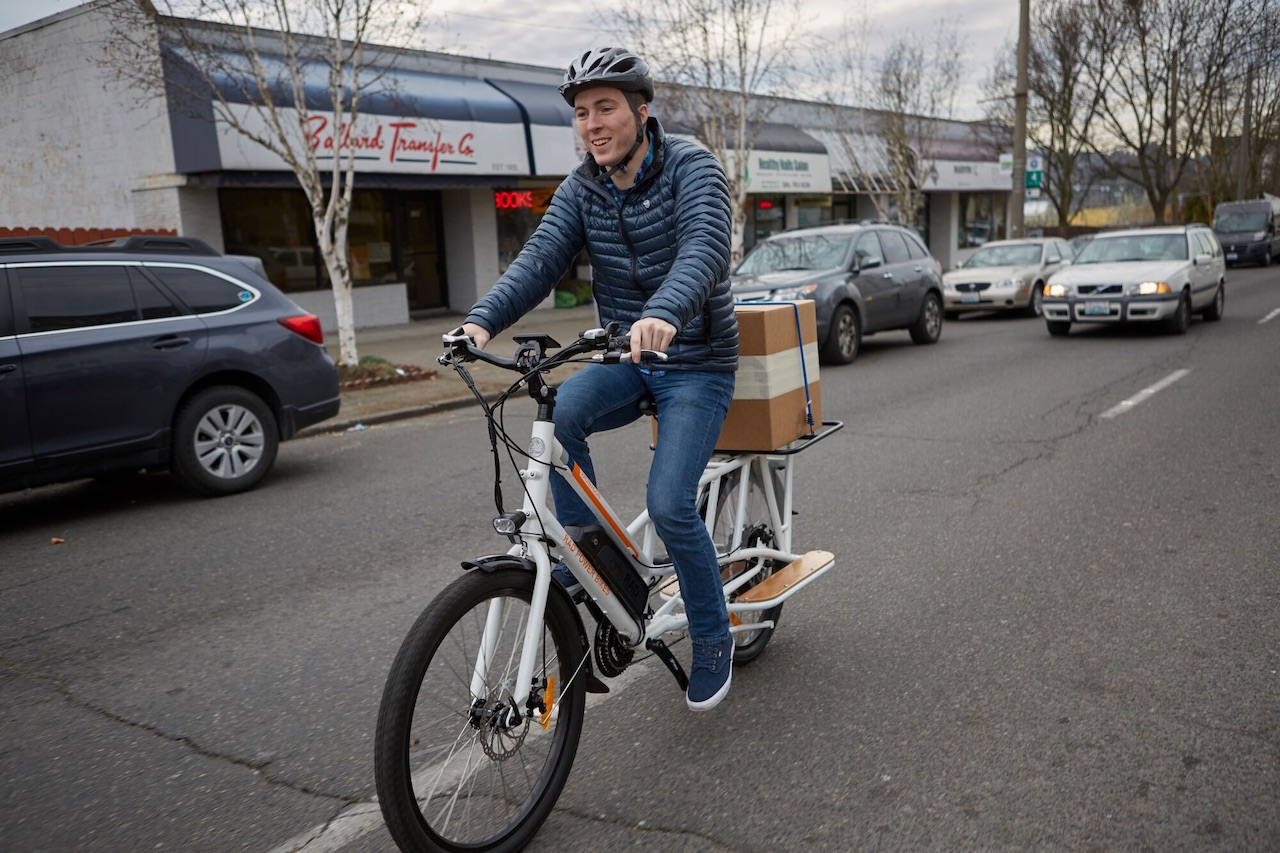 Rad Power Bikes say 'As the first mode of transportation ever included on the list, the RadWagon provides a solution for reducing carbon emissions and energy consumption.'
Mike Radenbaugh, Co-Founder and CEO of Rad Power Bikes added "Sustainable transportation options are an important tool for buildings and businesses striving to bring down their overall carbon footprint. This is exactly why we built the RadWagon – to replace car trips, reduce traffic congestion and emissions, and make commuting and the movement of goods so much more fun."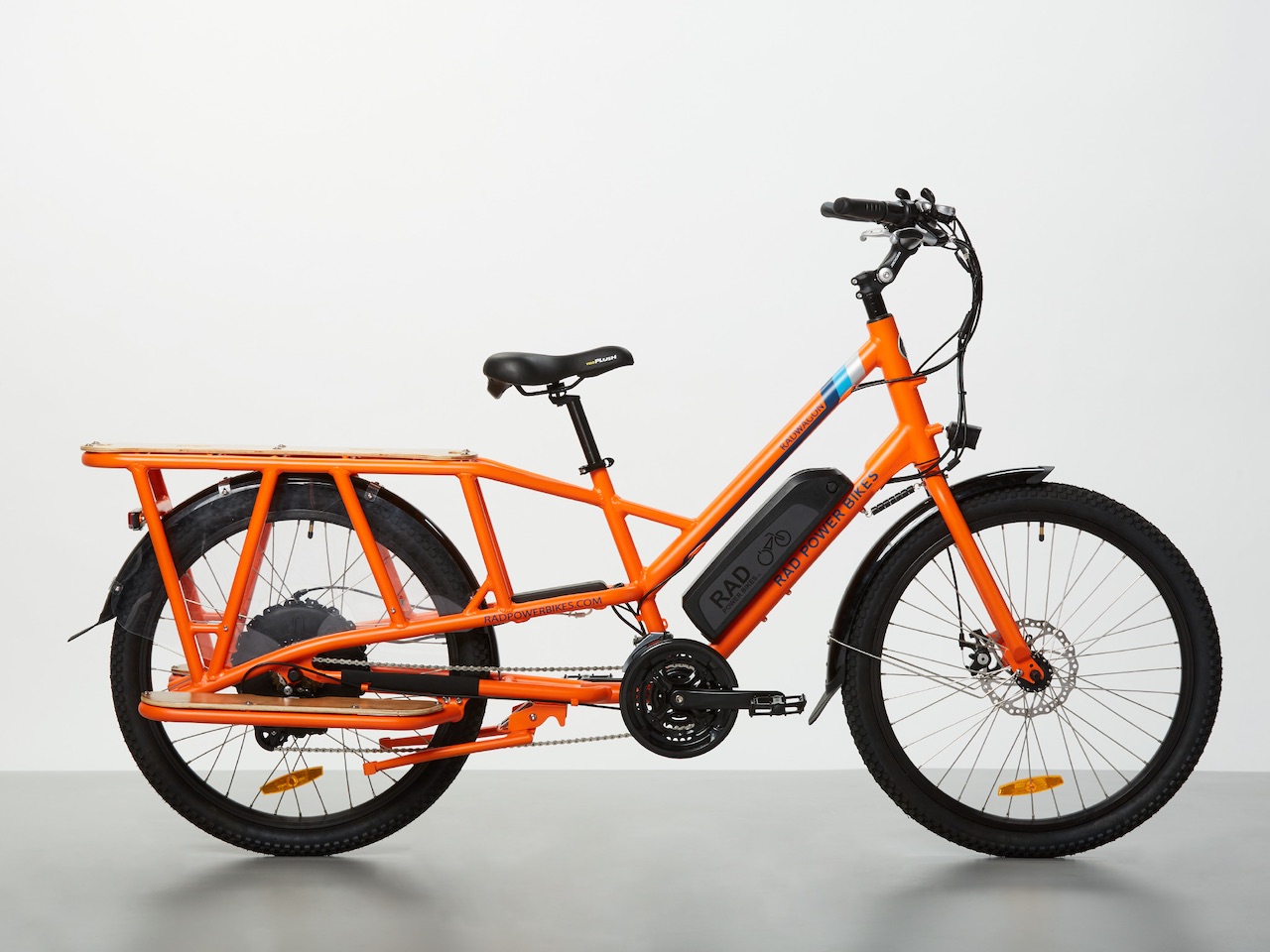 As reported by Building Green, employees driving to and from work can cause as much pollution as the office building produces during operation—or more.
In the U.S., transportation consumes almost 30% of the country's energy and produces almost 30% of its carbon dioxide emissions, according to the Energy Information Administration, which is higher than industrial, commercial, residential, and electricity sectors.
The RadWagon is a realistic alternative to gas-powered vehicles with its 750-watt electric motor, pedal assistance and on-demand throttle, 350 pound carrying capacity, and direct-to-consumer price. It handles just like a standard-sized bike, yet allows riders to conquer long commutes and hilly terrain while hauling everything from equipment to groceries to kids.
eMicromobility
Superpedestrian eKickscooter
Superpedestrian is best known as the designer of the 'all-in-one' Copenhagen Wheel that can turn a regular bike into an e-bike but they are now turning their attention to e-kickscooters and are aiming to launch a model next year which they believe will be a big improvement on what is out there.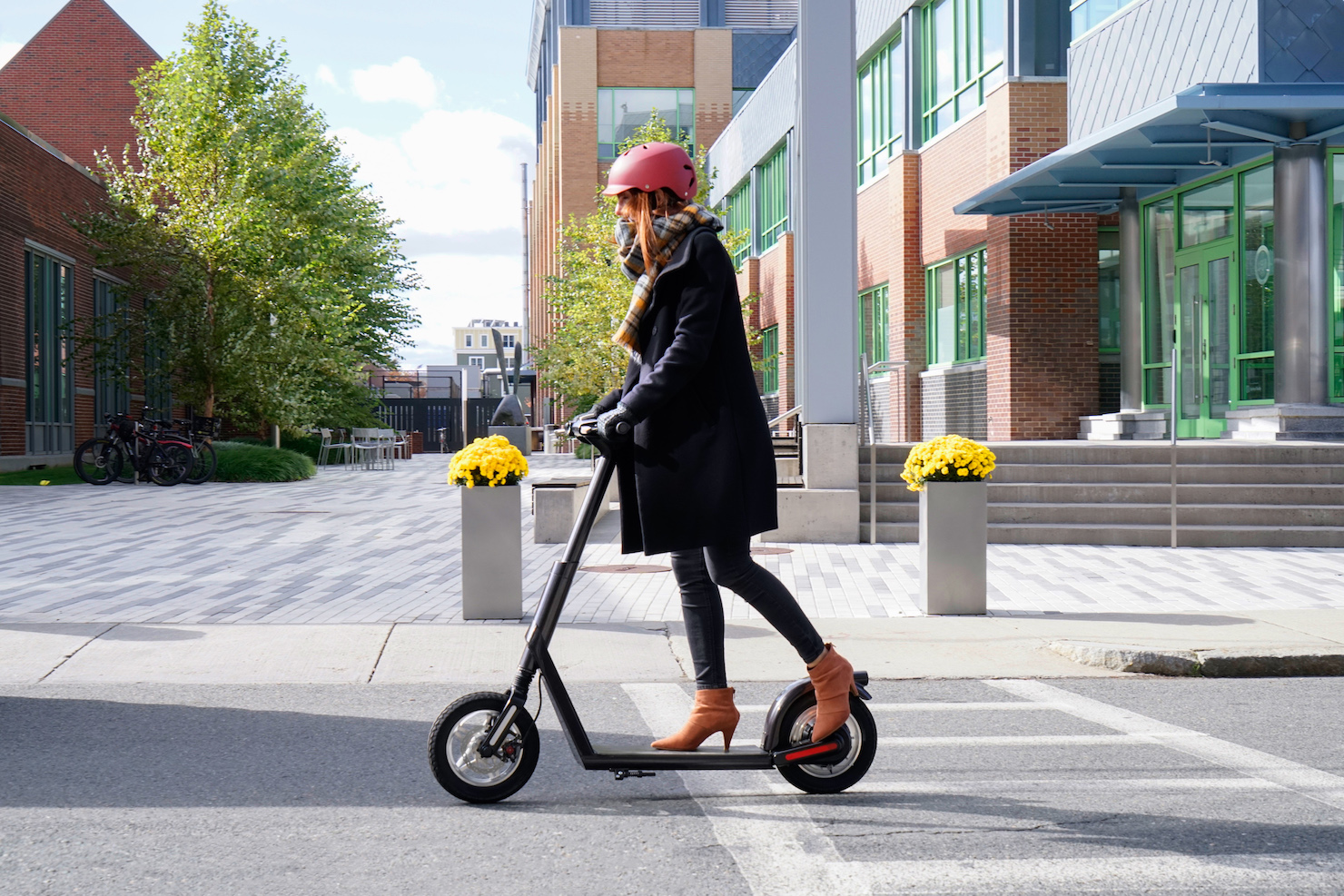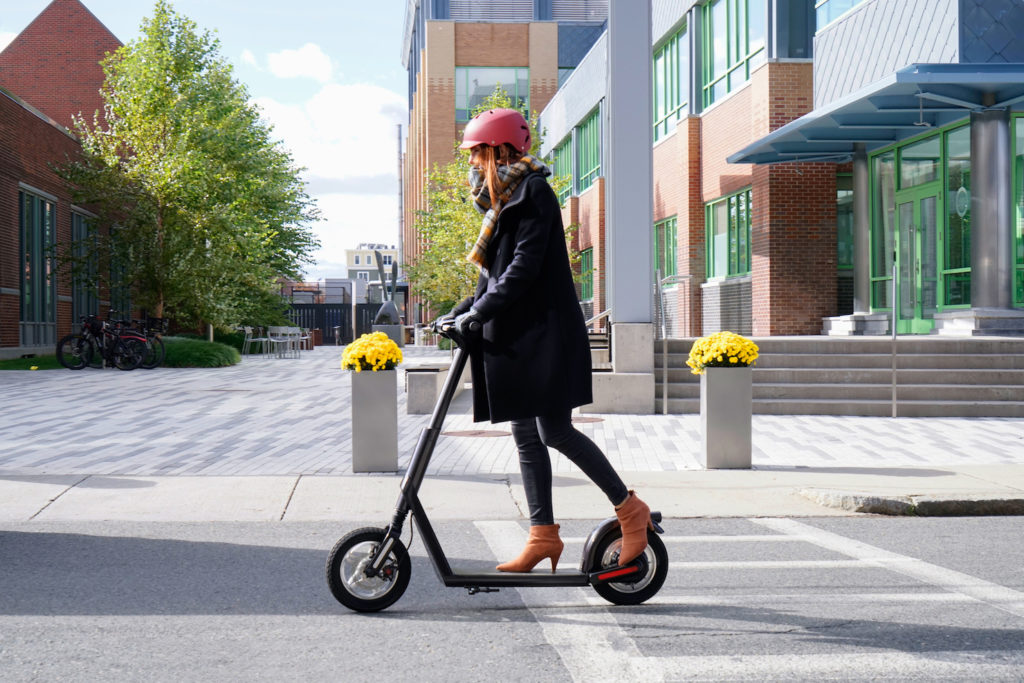 Superpedestrian CEO Assaf Biderman believes that 'bike- and scooter-share startups know far too little about bikes and scooters' according to this article in Xconomy.
Biderman says his ressearch found 'scooters that need to be repaired or replaced every 30 to 90 days.' And teams of locally hired contractors are required to charge the batteries on the scooters once a day, something that Biderman says sucks up 40 percent of some companies' revenues.
After the initial "land grab" phase whereby tech companies have been seeking to
in as many cities as possible as quickly as possible, the article says Biderman sees the next phase as an opening for transportation technology companies like Superpedestrian: Make the bikes and scooters street-hardy and economical for operators.
A third stage for the industry will someday tackle ride quality, he says. But that's still at least a year or two off.
The touted benefits of the new Superpedestrian e-kickscooter will include going 9 to 18 months, an electricity top-up every three to seven days, instead of once a day, self-diagnosis of mechanical issues, speed limit and other operating parameters can also be set remotely to conform with local regulations.
Lyft Completes Motivate Purchase and Invests in Citibike
Bicycle Retailer and Industry News reports that 'Ride share company Lyft has completed its purchase of Motivate, the country's largest bike share company. The purchase was originally announced in July', adding that 'Lyft has announced that it will invest $100 million in New York's Citi Bike program, which is operated by Motivate.'
This will triple the size of the Citi Bike system, adding 40,000 new bikes. Motivate also operates bike share systems in the San Francisco Bay Area, Chicago, Boston, Washington, D.C., Portland, Oregon, Columbus, Ohio, and Minneapolis and claims an 80% market share.
New Monthly E-bike Rental Scheme for Paris
Cleantechnica reports that 'A new e-bike rental program called Veligo will be launched in the Paris region in September 2019 with 10,000 ebikes by Ile-de-France Mobilités (IDFM), a transport agency.'
It adds more detail on what looks to be a very financially attractive scheme for anyone interested in using it, 'If the Veligo program is successful with 10,000 e-bikes, another 10,000 might be added, raising the total to 20,000. At this level, it would be the largest e-bike program in the world. Veligo's e-bikes will be rentable for just 40 Euros per month, unlike some bike rentals which are hourly. If you are one of the program's renters, it may also be possible to have half the monthly fee covered by your employer, leaving you with only 20 Euros to pay each month. The program's budget reaches up to $111 million and it will be operated by Transdev and the postal service.'
Yellow Bikes Roll Out Across Latin America
Forbes reports that 'After introducing the dockless bicycle sharing model in Brazil earlier this year, local startup Yellow is now readying its expansion in Latin America. Over the next few weeks, the company will be actively working on setting up operations in other regional markets, starting with Colombia, Argentina, Mexico, Chile and Uruguay, where it is hiring general managers and other senior roles.'
Stay tuned for more e-bike news and reviews and thanks for reading!
-Richard
P.S. Don't forget to join the Electric Bike Report community for updates from the electric bike world, plus ebike riding and maintenance tips!
Reader Interactions