eBike News: Domino's eBike Deliveries, Economical eCommuter, 2020 eBikes, Healthy Food by eCargo, & More! [VIDEOS]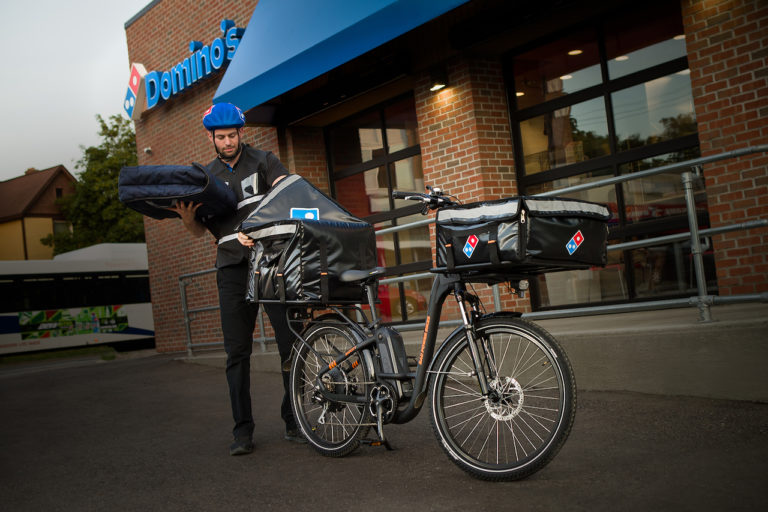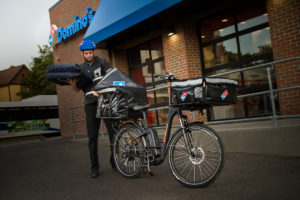 In this week's eBike news roundup:
Domino's Pizza Deliveries with Rad Power Bikes
2020 eBikes from Cube, Pacific, & Fuell
Economical Batch eCommuter
Gates Expands Carbon Belt Drive's
Study Shows eBikes Give Plenty of Exercise
eMicromobility Group Ride in Bay Area
Healthy Food by eCargo Bike
And Much More!
Headlines
Rad Power Bikes Lands National Partnership with Domino's – and Lands in the Inc. 5000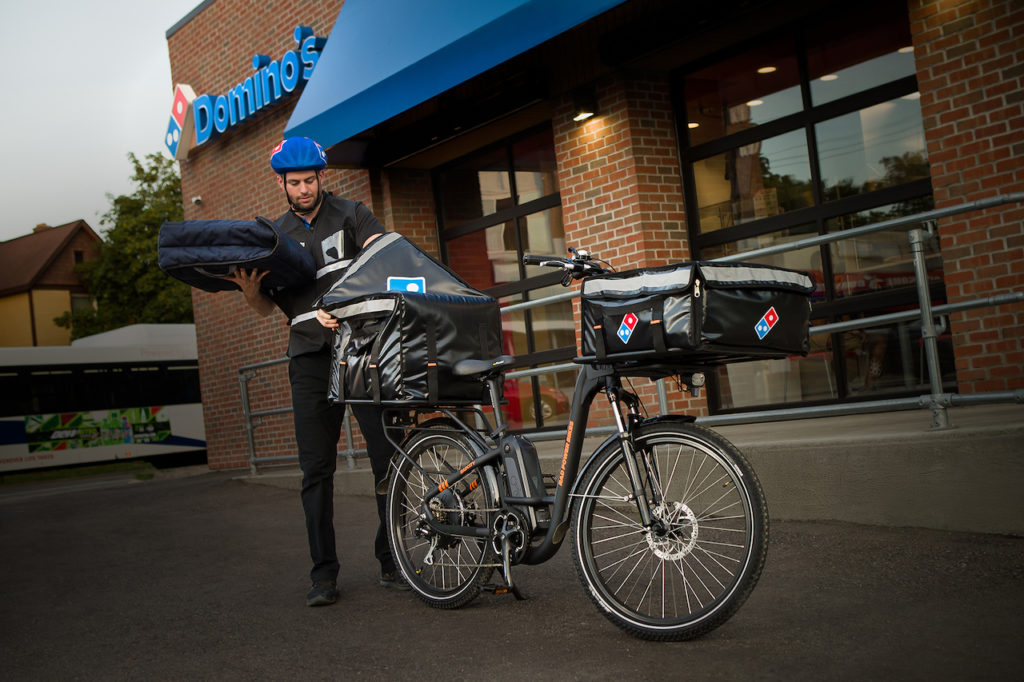 Rad Power Bikes have teamed up with the largest pizza company in the world for pedal-powered pizza delivery.
A press release tells us 'Rad Power Bikes will deploy fleets of custom ebikes to Domino's stores across the country later this year. The partnership was won by Rad Power Bikes' Commercial Division, which brings sustainable transportation and last-mile delivery solutions to businesses around the world.'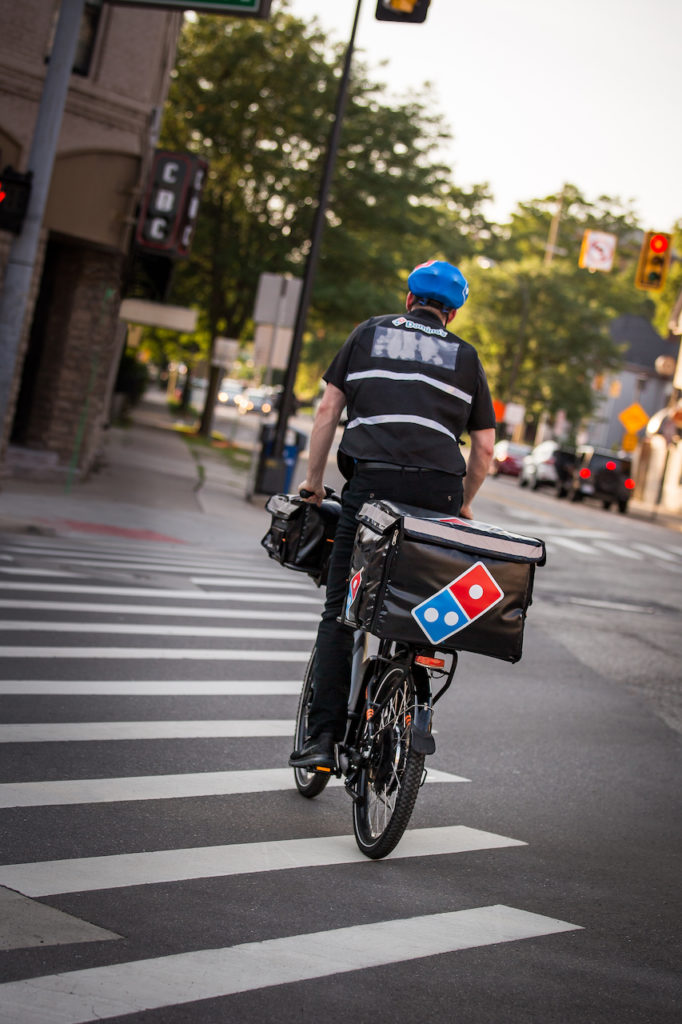 It adds 'Dominos launched a pilot program to test the efficiency of e-bike deliveries earlier this year. Locations that used e-bikes from Rad Power Bikes achieved better delivery times and service scores, and those that were already using traditional bikes saw an increase in team member satisfaction after switching to e-bikes. As a result of the successful pilot program, Rad Power Bikes is now Domino's exclusive e-bike provider for franchise owners and corporate stores in the United States.'
The e-bikes are designed based on the brand's popular RadCity Step-Thru electric commuter bike.
Each custom e-bike includes insulated soft-sided cargo areas that can hold up to 12 large pizzas in Domino's Heatwave bags, along with drinks, sides, and dipping cups.
The bikes are also equipped with popular features found across all Rad Power Bikes' models, including puncture-resistant tires, integrated headlight, taillight, and brakelight, reflective materials for driver safety, and a top speed of 20 mph.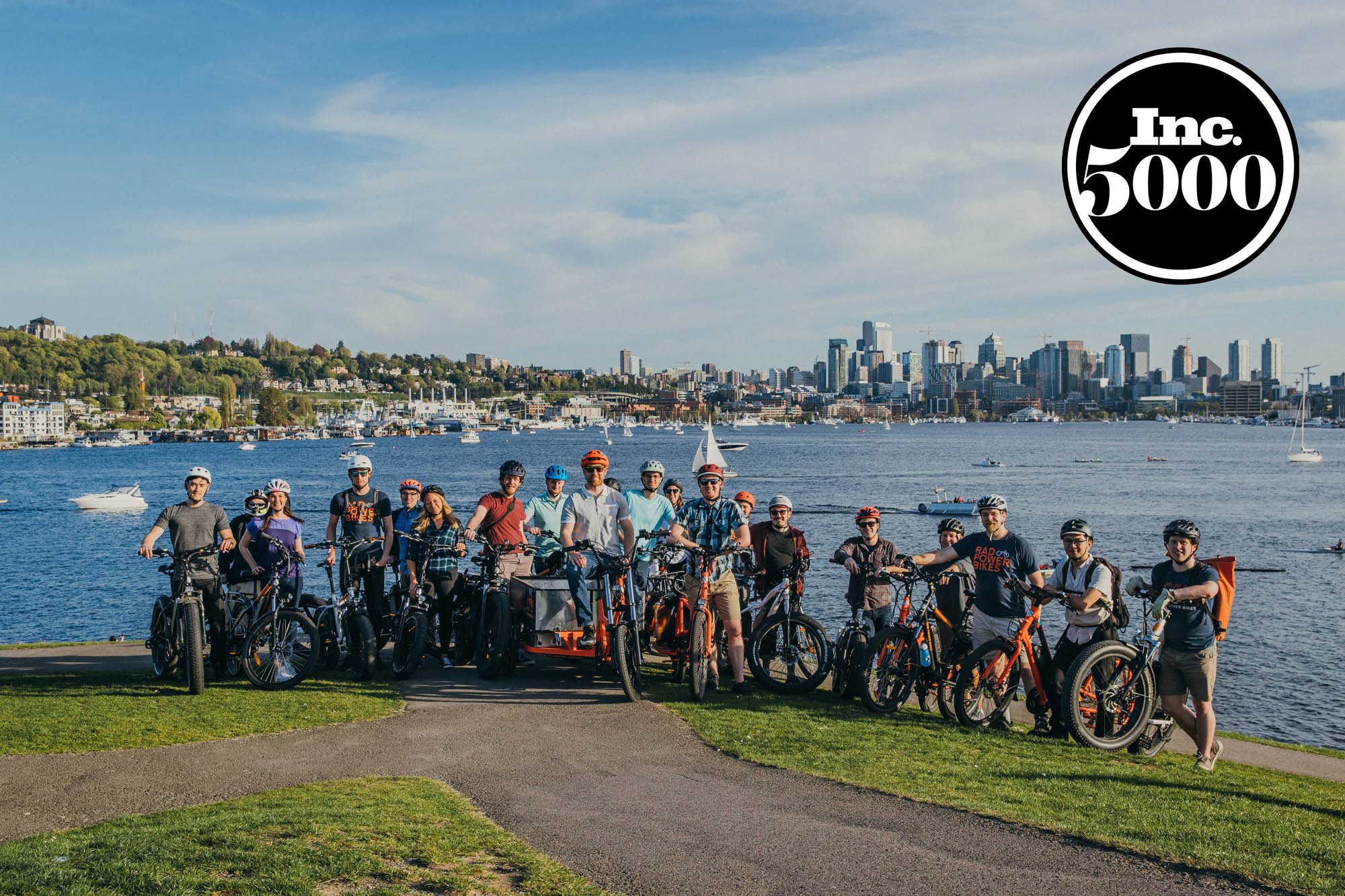 Rad Power Bikes have also recently been placed at number 63 on the Inc. 5000 list of the US's fastest-growing private companies. Many well-known names, including Microsoft, Dell, Domino's Pizza, Pandora, and Timberland have been featured there.
The 2019 Inc. 5000 is ranked according to percentage revenue growth between 2015 and 2018. To qualify, companies must have been founded and generating revenue by March 31, 2015 and independent as of December 31, 2018.
Rad Power Bikes said that their brand 'grew its revenue more than 4,400 percent over the last three years through its thriving consumer-direct business model, rapid international expansion into Canada and Europe, and launch of a dedicated commercial division.'
Ranked within the top 100 companies, Rad Power Bikes will be featured in the September issue of Inc., available on newsstands on August 20th.
New eBikes & eBike Systems
Cube Unveils 2020 Range
Three models stand out in Cube's new 2020 e-bike range as entirely new ventures for the very popular German-based manufacturer.
They were revealed as part of a Cube dealer event in Germany recently. They are extremely popular in continental Europe and the UK and are one of the biggest bike makers in the world as well as being Bosch's biggest single customer for e-bike motors.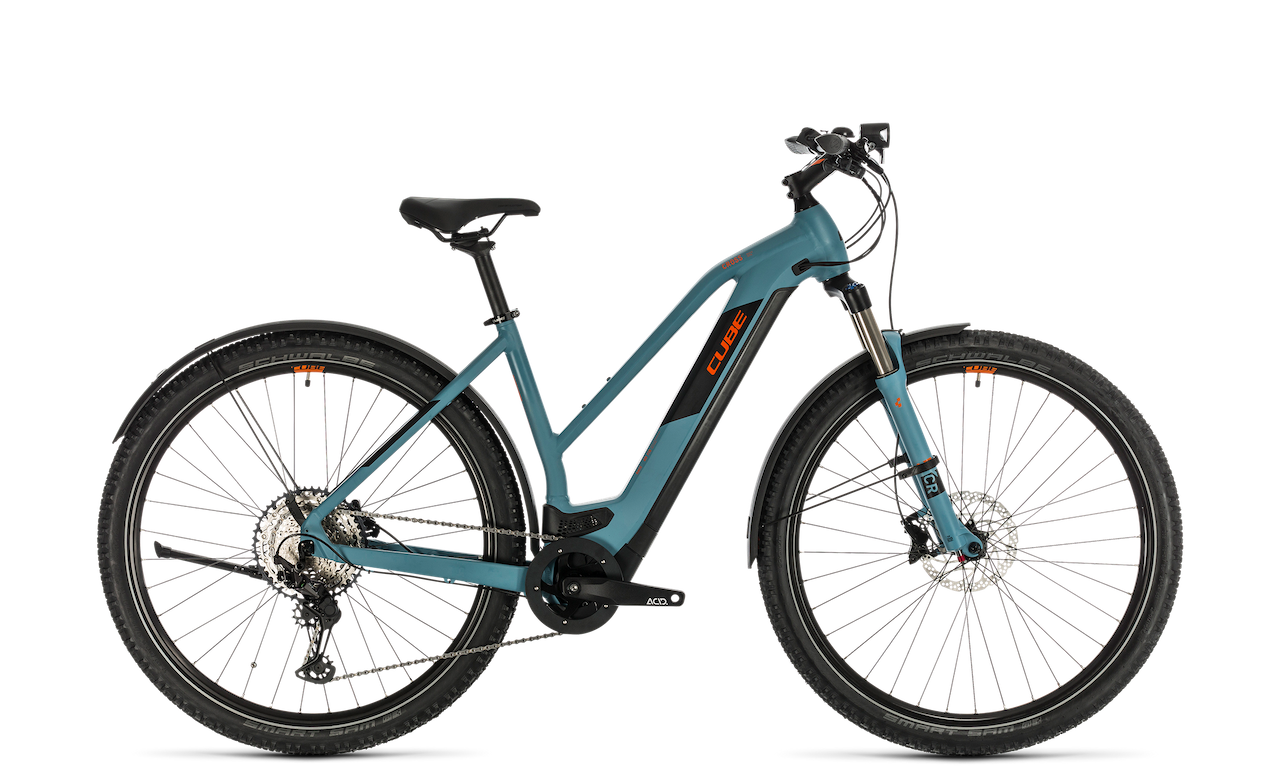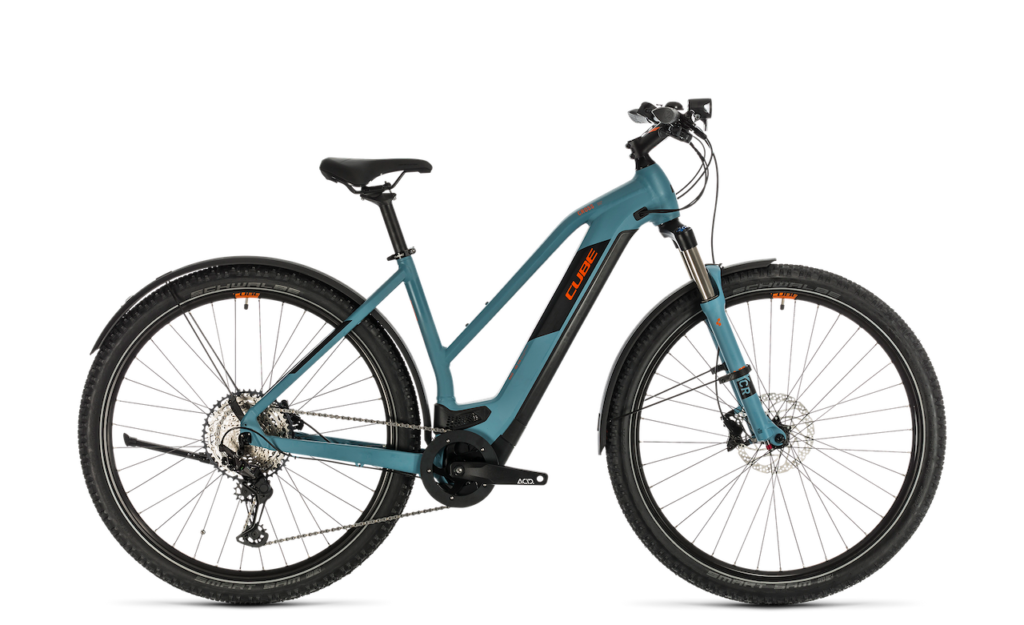 The Kathmandu Hybrid 45 625 is a speed pedelec and features the new Bosch CX motor and new larger PowerTube 625 battery and gives speeds up to 45 km/h.
Cube's 2020 range will also see the new Cargo Hybrid (from £4,199) with four models available in the UK and a dual battery option.
Max weight capacity rating is 200kg and there will be a choice of derailleur gears or continuously variable Enviolo hub gears.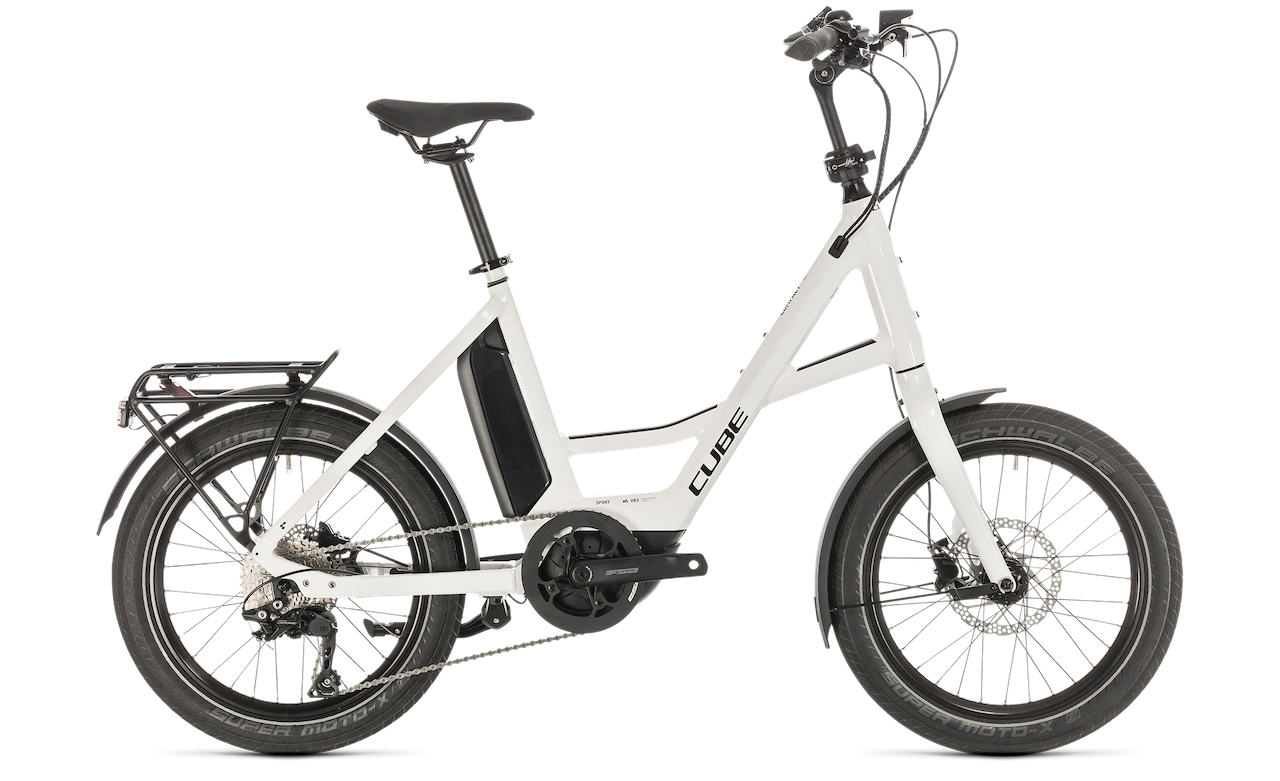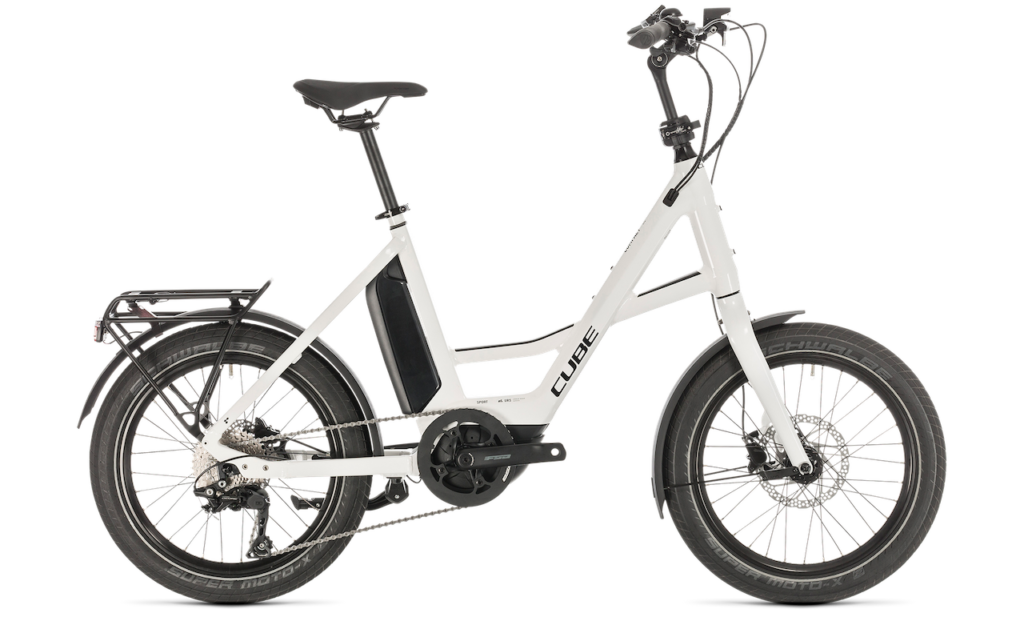 The Compact Hybrid (£2299) is one size fits all, neat looking little city e-bike with adjustable height handlebar (that also turned sideways with a quick release for easy storage) and low standover height. It has built in lights, mudguards and a rear rack plus optional front rack.
The latter two models seem to indicate even more focus on city e-bikes, as does the presence on the Cube range of more step thru models.
E-mtbs have undergone an overhaul too, with the latest fourth generation Bosch motors in use and new 625Wh batteries also featuring in the range.
Thanks to Singletrack World for many of these details.
Batch Bicycles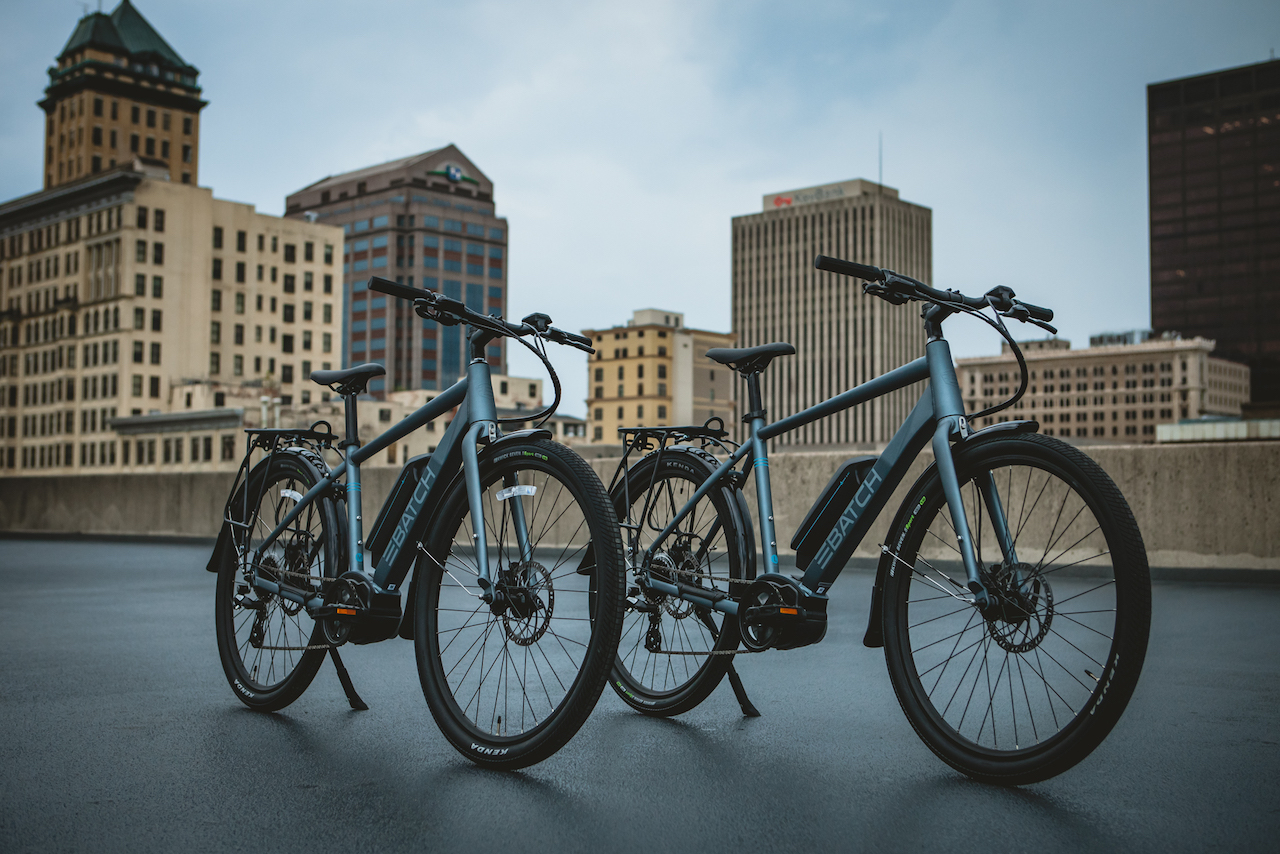 Batch Bicycles have been in touch to say they are launching a new economical E-Commuter with a Bosch system for $1,999.99.
The main spec points are:
Drive Train – Bosch Active Line Motor, Shimano Altus 8sp, FSW Crank 38T
Frame – 6061 Alloy with Internal Cable Routing in small, medium and large.
Wheels – 27.5 inches
Brakes – Tektro HD M275
Included Add-Ons – Rear Rack and Fenders
Price – $1,999.99
The bike will be available for sale consumers in mid-September on www.batchbicycles.com. Retailers and distributors can pre-order starting in mid-August.
Batch Bicycles say they aim 'to reintroduce riders to simple, comfortable, and fully capable bikes'
Pacific Moove – Brief Details
EBR has spotted these brief details of this interesting looking design, the Moove, from Taiwan-based Pacific Cycles.
It features a Shimano Steps E5000 mid-drive, frame-integrated battery and sizeable looking front and rear rack options. We'll let you know if and when we get more detail.
Fuell Fluid goes Past US$ 1 Million on IndieGoGo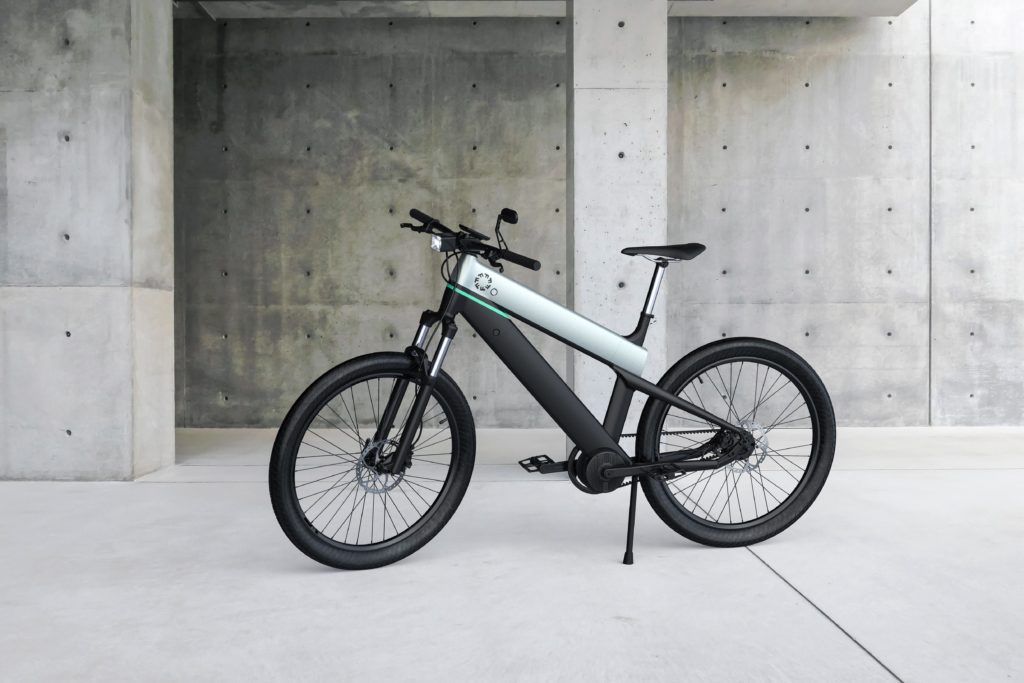 We have featured the Fuell Fluid before but Fuell have been in touch with update news; their IndieGoGo crowdfunding campaign has now passed the $1 million mark and the first batch of e-bikes will be shipped to backers around August-September.
The Fluid is the brainchild of well-known motorbike designer Erik Buell and is a sleek urban model with Fuell's own exclusive mid-drive with a claimed 100Nm of torque and two totally frame-integrated batteries.
Gates Expand Offerings
Gates make the increasingly popular carbon belt drives now seen on many e-bikes, offering a low maintenance, quiet-running alternative to the traditional chain drive.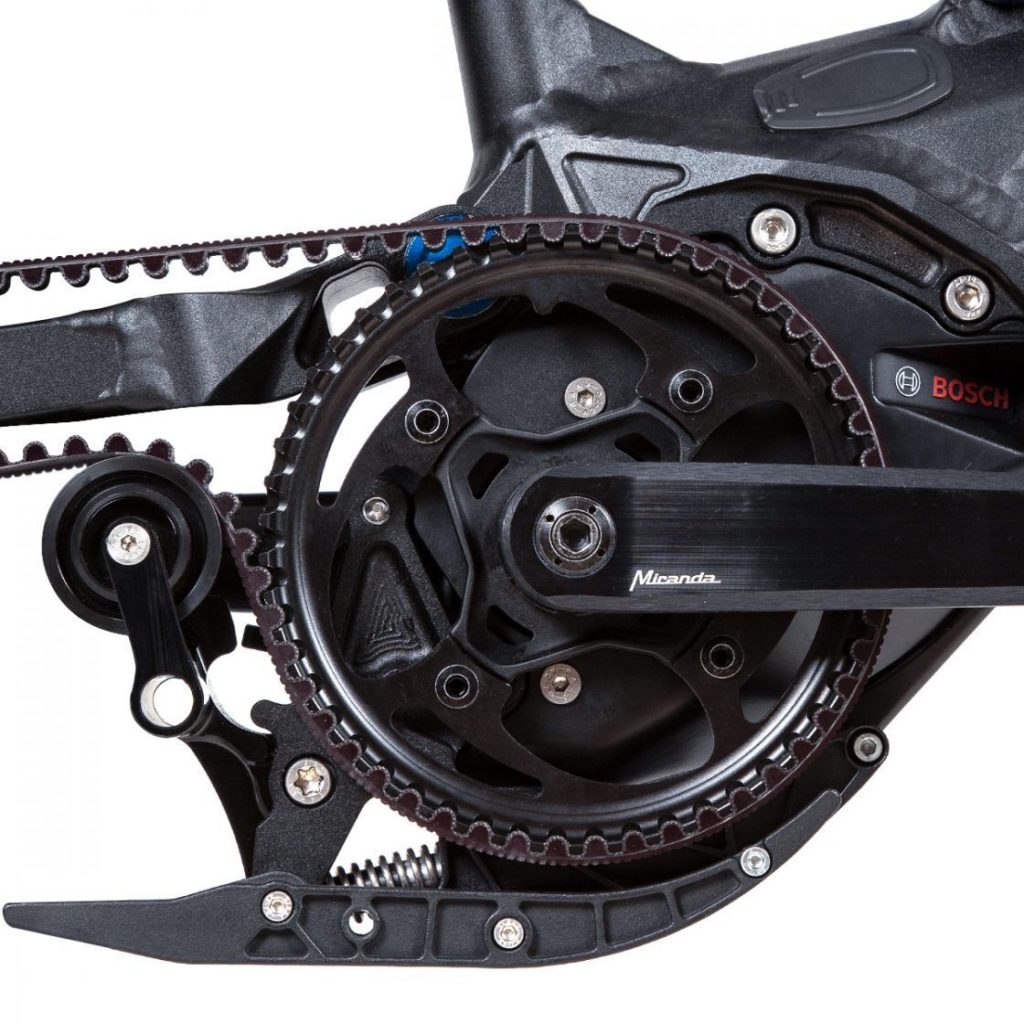 They will be at the forthcoming Eurobike show to display their largest-ever portfolio which they describe as 'including new belts, sprockets, cranksets and spider assemblies. New products include more than 60 unique spider assembly options for Bosch 2020 Performance Line Speed, Performance Line CX, Cargo Line and Cargo Line Speed systems. In addition, Gates is offering more than 35 unique spider assemblies for Shimano STEPS mid-motors.'
Gates say they are also introducing a new rear sprocket line, CDC, that provides designers of lower-torque mid-motor eBikes with a value alternative to the premium CDX line. 'Manufactured of hardened chromoly steel, the CDC rear sprockets feature the Gates proprietary CenterTrack design and are engineered to meet the demands of urban eBikes of 50Nm or less.'
Other new products include:
-Two new premium CDX belt lengths
-An expanded range of rear sprockets for Shimano Di2 and Nexus Inter-5E hubs
-Two additional CDX front sprocket sizes
If you happen to be at Eurobike (Sept 4th – 7th in Friedrichshafen in Germany) you can check out the belts fitted to a range of the latest e-bikes at the Gates booth (A2-201).
Get Inspired
New Study on E-bikes Promoting Exercise
10,000 participants in seven European cities were questioned in this study that aimed to compare physical activity levels of e-bikers and non-electric bicycle users as well as analysing data across e-bike user groups based on the transport mode substituted by e-bike.
Physical activity levels were measured in Metabolic Equivalent Task minutes per week (MET min/wk) with the following results:
-Exercise levels were similar among e-bikers and cyclists (4463 vs. 4085).
-E-bikers reported significantly longer trip distances for both e-bike (9.4 km) and bicycle trips (8.4 km) compared to cyclists for bicycle trips (4.8 km), as well as longer daily travel distances for e-bike than cyclists for bicycle (8.0 vs. 5.3 km per person, per day, respectively).
-Travel-related activities of e-bikers who switched from cycling decreased by around 200 MET min/wk., while those switching from private motorized vehicle and public transport gained around 550 and 800 MET min/wk. respectively.
As the report says '…this data suggests that e-bike use leads to substantial increases in physical activity in e-bikers switching from private motorized vehicle and public transport, while net losses in physical activity in e-bikers switching from cycling were much less due to increases in overall travel distance.'
The data also suggests that looking across all user groups, irrespective of what their previous transport mode was, e-bikers actually get more exercise than regular cyclists.
Beyond E-bikes with the Esk8 Group
Ever been tempted to try one of the newer electric forms of transport on the scene – an electric scooter, skateboard or maybe even an electric wheel?
Dan Gentile of Sfgate took a ride with the Bay Area Esk8 group to see if he could keep up…
Vegan Food by E-bike
UK resident Magda Zuber is somewhat of an inspiration to those who want to run a truly green business with the help of an e-bike.
Not only does her catering business, Holy Cow, use an electric cargo bike but it also stresses minimal waste in the food prep and cooking.
"I do everything by myself – marketing, cooking delivery on my bike. My huge thing is zero waste. I don't use any single use plastics, or as little as possible," Magda says.
She sources her fruit and vegetables locally where her suppliers are happy to provide them loose. She uses seasonal ingredients to avoid contributing to the environmental impact of transporting food by air.
When transporting the food on her cargo bike, she reuses her own plastic containers, wrapping individual items in paper as far as possible. She says catering for 50-70 people on the bike is "totally doable".
Infrastructure
E-kickscooters Leading to More Bike Lanes?
This interesting Cycling Industry News article details how the growing popularity of the electric kickscooter might just lead to an increase in safe cycling infrastructure – in Vienna at least.
CIN says 'At present, there are 7,000 of the light mobility vehicles on the streets of Vienna; Lime, Bird, Tier Mobility, Wind Mobility, Circ and Hive have invested in providing hire units……In turn, this uptick of use of the city's infrastructure has prompted the Pedestrian Commissioner of the Vienna Mobility Agency, Petra Jens, to call for quick development of new and safe cycling infrastructure that would be shared with electric scooter users.'
My Week on E-bikes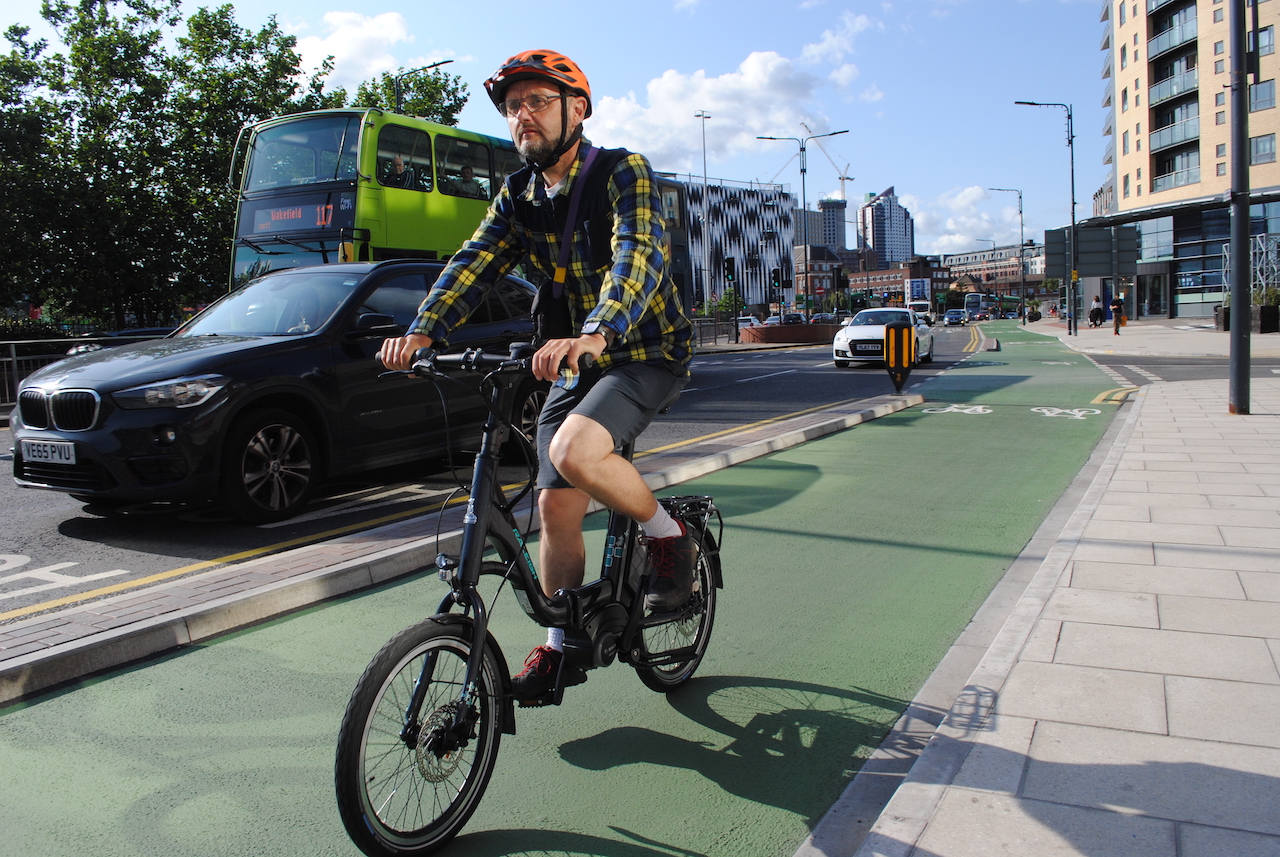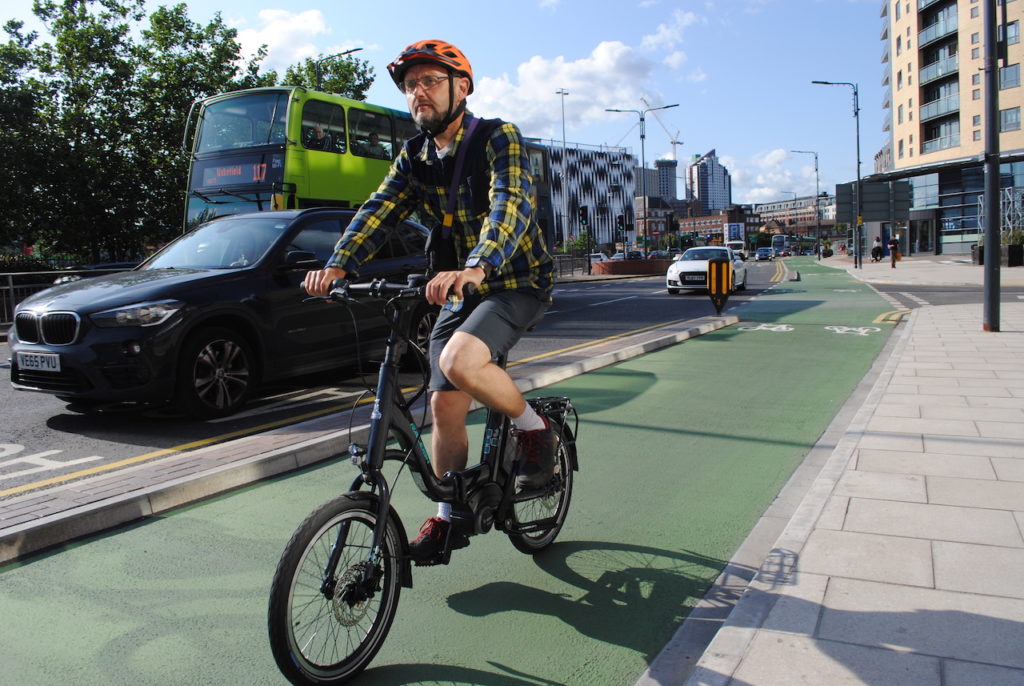 This week I have been checking out the newly launched sections of the Leeds Cycling Superhighway which recently saw it's one millionth cyclist.
I was also trying out a compact e-folder, the Raleigh Motus Kompact which proved ideal for use in the busy city.
Stay tuned for more e-bike news and reviews and thanks for reading!
-Richard
P.S. Don't forget to join the Electric Bike Report community for updates from the electric bike world, plus ebike riding and maintenance tips!
Reader Interactions