eBike News: Coronavirus Update, New Yuba, Gazelle, Pegasus, Muto, eCargo Documentary, & Much More! [VIDEOS]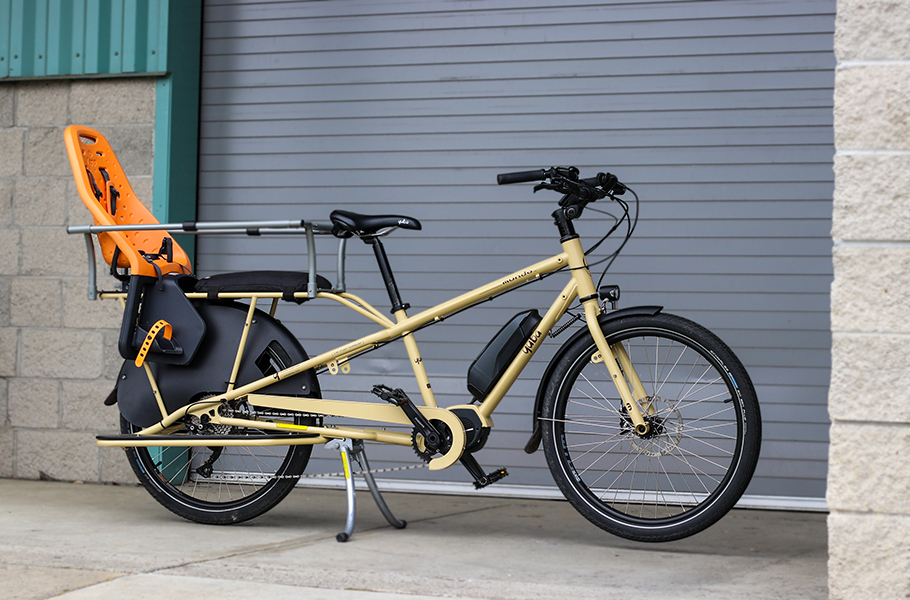 In this week's eBike news:
eBike Coronavirus Update
New Yuba Electric Mundo eCargo
Economical Gazelle & New Speed Pedelec
New Pegasus US eBikes
Muto and Aldi eBikes
New Gearsensors
DZR & Shimano eBike Shoes
eCargo Documentary & LIV Videos
Raleigh UK eBike Finance
And Much More!
Coronavirus Update
With more areas of the US and indeed the world heading into 'lockdown' e-bikes are still playing a vital role helping people get out and about. Here's the latest.
EVELO Sources Protective Equipment
With their manufacturing connections, EVELO has started a campaign to source protective equipment for medical workers who are in short supply.
Boris Mordkovich, CEO of EVELO explains, "We have started EVELO back in 2011 and over the last 9 years, we have worked with a number of suppliers and factories in China and Taiwan to produce electric bikes and other products for our company and our customers.
Fortunately, our suppliers have recently gave us access to order the much needed personal protective equipment directly from factories in China & Hong Kong and have it shipped to the U.S.
The supplies can generally be ordered and delivered to the U.S. within 2 weeks. As such, we want to use our access to trusted suppliers to source the Personal Protective Equipment and distribute it to local medical professionals in need.
We Need Your Help to Get More Masks & Supplies
We have already placed and successfully received the first batch and now want to scale it further.
To facilitate this process, we're coordinating the efforts through a fundraising platform – GoFundMe. Our goal is to use our relationships overseas to quickly source and distribute PPE to medical professionals and facilities that are most in need.
To get things started, my co-founder, Yevgeniy, and I will personally donate $1,000 to this campaign and we would like to invite you to join in as well. All funds will be used exclusively towards purchase and shipping costs.
Moreover, if you are a doctor, nurse or medical professional in need anywhere in the country, please send me a message with your information and what you need. We'll work to get you the supplies that you need as quickly as possible.
This is quite a time we're living through. I thank you in advance for coming together to do what we can to protect our front-line medical heroes."
E-bikes for London NHS Workers
Keep the Faith reports ' Fully Charged, London's largest specialist electric bike retailer, is providing eBikes to NHS workers in London for free to ensure they have a healthy and safe alternative to public transport. From Monday 30th march, more than 20 eBikes are available on a three-month loan at no charge, with many more being added to the supply. The initiative aims to minimise NHS workers' disruption and chances of infection as they travel to and from London's hospitals to complete crucial work in treating COVID-19 patients.'
Interested NHS workers, as well as cycle industry businesses keen to offer their support to the project, can register their interest via the Fully Charged website: https://promo.fullycharged.com/nhs-support
In last week's news we reported how Brompton Bicycles (who make electric and non-electric folding bikes) were donating bikes to NHS workers in London. They have since issued the following appeal reproduced here in full:
Two weeks ago, Brompton Bike Hire approached St Barts Hospital and NHS London to provide bikes for their front-line staff who wished to avoid being crammed onto buses and trains during the Coronavirus Crisis. This rapidly spread and has since gone national.
'To date, over 500 NHS staff have registered for the free rental of a Brompton Bike and we want to do more, but we simply don't have enough bikes available in our hire fleet.
We are ready and willing to set aside manufacturing time and materials and we will donate up to £100k in manufacturing costs ourselves, but the more we can raise, the more we can do to keep NHS staff moving safely, for free.
We plan for this to have a lasting impact beyond the current crisis; the bikes will continue to be made available for NHS staff for a nominal maintenance fee (£1 per hire) and will also be donated to hospitals to manage as a fleet for graduate doctors and nurses. ​
Please join our Crowdfunder, and as well as helping support these key workers with bikes, you'll also get some great rewards, including free membership days and the opportunity to have your name on a Wheels for Heroes bike.​'
Dublin Health Workers Get Free Use of E-bikes
Dublin Live reports 'An Irish electric bike company will be providing a fleet of e-bikes free of charge to healthcare workers during the coronavirus pandemic.'
The company, Moby, say 'Our goal is to get 60 electric bikes to healthcare staff for one month which has a total cost of €9,000 and if we raise more than this we can extend the free rental period.'
Their GoFundMe page, which you can donate to here, has raised nearly €22,000 so far, smashing the €9,000 target.
Trek Delivers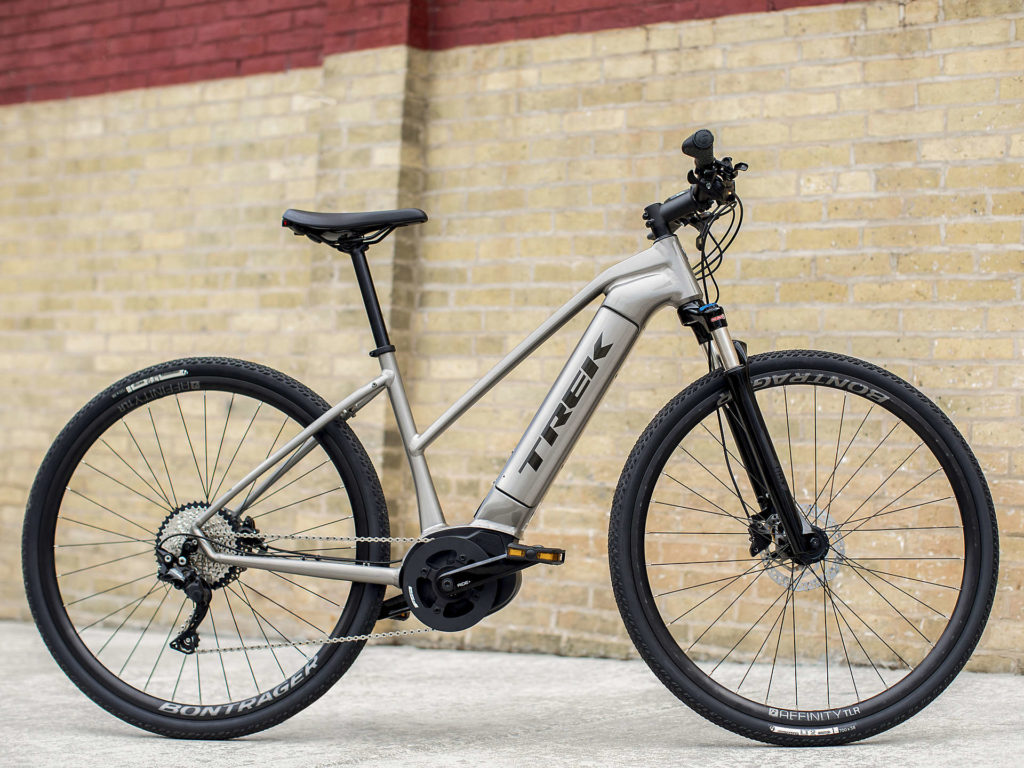 Trek Bicycle is launching free home delivery throughout the continental US for online bike orders, giving riders better access to cycling during the COVID-19 pandemic.
With Americans "social distancing" and seeking out less public essential travel options, cycling has taken center stage—and, has proven mental and physical health benefits, from increased cardiovascular fitness to decreased stress.
Trek is working with independent and Trek-owned bike shops regionally on delivery logistics.
Micromobility – Lime Under Pressure, Bird Cuts Jobs
Whilst e-bikes are helping vital workers get to work Coronavirus could spell the end for e-kickscooter company Lime according to this Electrive report.
It tells us 'Due to the coronavirus crisis, the electric kick scooter rental company Lime has largely ceased operations, and sales have therefore shrunk sharply. According to a media report, this could even call the future of the company into question'.
The report adds 'daily turnover had thus also fallen from a good 600,000 to less than 200,000 dollars. Since the costs of operation exceed this $200,000, the money reserves (allegedly $50 million in January) are shrinking daily – and at the current rate would probably only suffice for the twelve weeks mentioned. Since 17 March, however, several US states, including the crucial markets of California and New York, have decided to impose further restrictions – which should make the situation at Lime even tenser.'
An April 1st update tells us that e-kickscooter competitor Bird's business in Europe is also going on pause according to Handelsblatt. Bird has apparently made 30 per cent of its workforce redundant at short notice.
New eBikes and eBike Systems
New Yuba Electric Mundo eCargo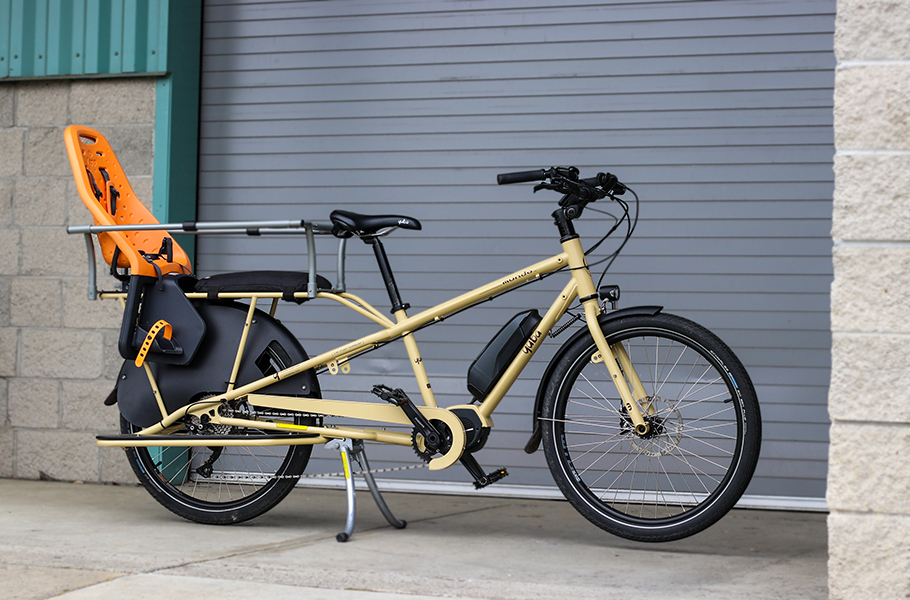 The Yuba Mundo was one of the original long tail cargo bikes on the market back in the day and Yuba just announced the new electrified version!
Checkout the video below:
The Electric Mundo features a sturdy steel frame that is built to handle up to 3 kiddos for a total payload of 550 lbs.
Yuba offers all sorts of cargo accessories to make the Mundo "the minivan of cargo bikes". That includes bags, baskets, racks, kid carrying gear, and more.
The component spec is focused on quality with the Shimano E8000 mid-drive system, Magura hydraulic disc brakes, Schwalbe Big Ben tires, etc.
The Yuba Electric Mundo is priced at $4,400.
Gazelle Medeo T9 at Lower Price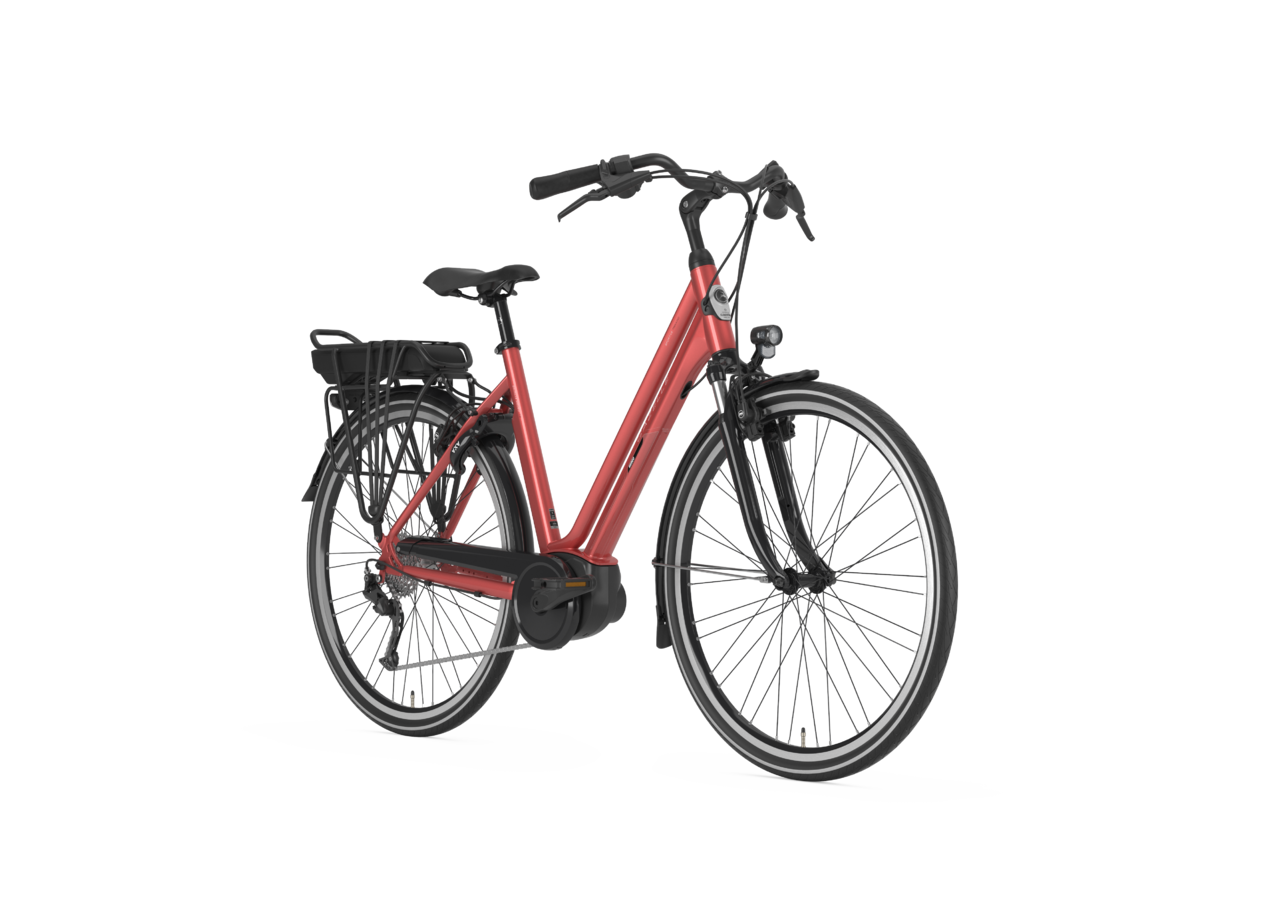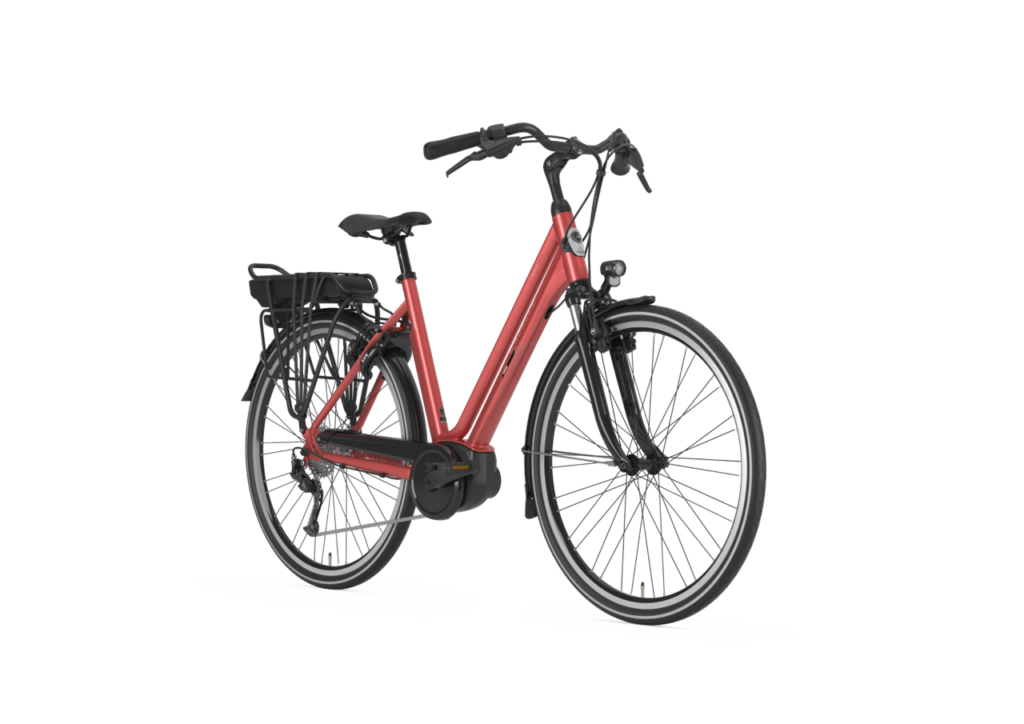 Gazelle just lowered the price on their Medeo T9 Classic step-thru eBike by $500 to $1,999 as a way to lower any potential barrier to entry and foster new ebike ridership.
"In our home country of the Netherlands, Gazelle is very much seen as an inclusive brand that solves transportation needs, and we've long wanted to bring that same Dutch sensibility to a lower opening price point here in North America and welcome more people to the wonderful world of ebiking." said Ewoud van Leeuwen, General Manager of Gazelle North America. "The reduced MSRP of the Medeo T9 Classic delivers our high-quality electric bikes to customers at an incredible price while retaining strong margins and good terms to our incredible network of North American retail partners."
The Medeo T9 Classic features the Bosch Active Line mid-drive, Shimano Deore drivetrain, Magura brakes, and more.
Learn more about the Medeo T9 Classic here.
New Gazelle Speed Pedelec T10+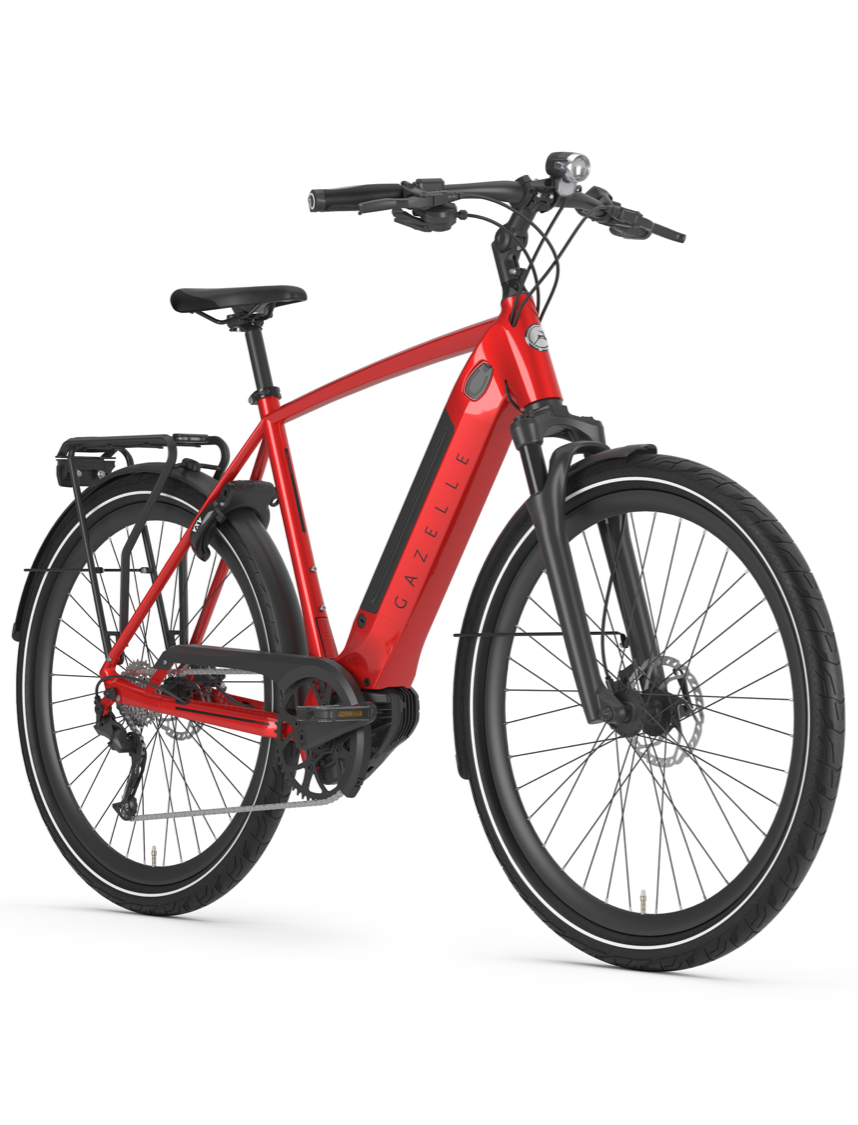 Gazelle Bikes have recently launched the Class-3 Gazelle Ultimate T10+.
It offers both mid-step or high-step frame options and uses the newest generation Bosch Performance Line Speed motor with integrated PowerTube 500 battery, Shimano XT components, and a Suntour suspension fork.
This is essentially an upgrade on the previous T10 model, with Gazelle saying the bike 'kicks things into a higher gear with sporty mid and high-step frame options, and more power.
The Gazelle Ultimate T10+ features a Bosch Performance Line Speed motor that combines a whopping 75 Nm of maximum torque and pedal-assistance up to 28 mph.
Developed for a lively ride experience in everyday life or in leisure use, high speeds are reached quickly and safely and are the perfect way to cover long distances at a rapid pace. The faster you travel, the greater the support from the drive.'
The Ultimate T10+ will begin delivering to Gazelle partner retailers in April 2020 with an MSRP of $3,999 USD.
New Models and Website for Pegasus US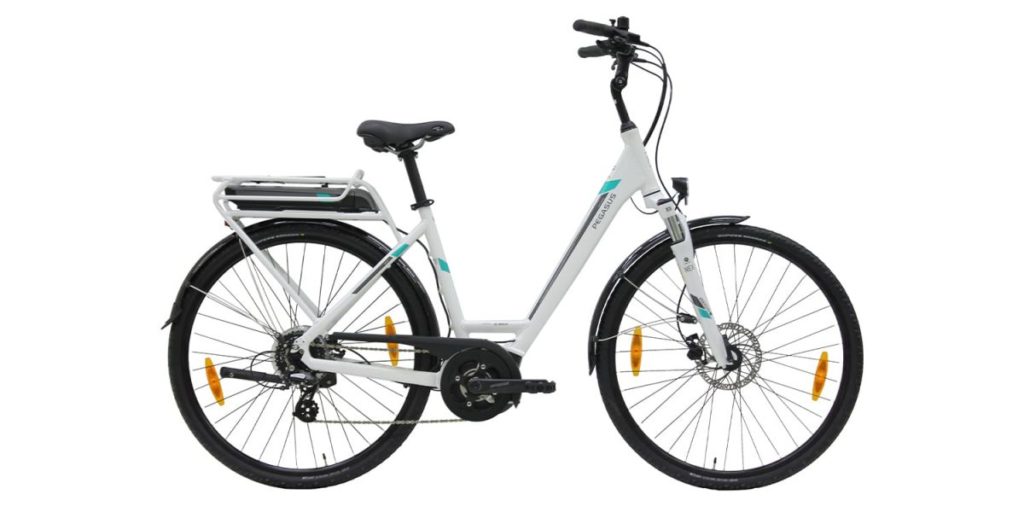 PEGASUS Bikes USA, an e-bike company that originates in Germany and is the sister company of Bulls, recently announced the launch of the company's new U.S. website (www.PegasusBikes.us).
The site features product pages and simple click-to-brick shopping of the latest models, including the recently announced 2020 Premio Cross and Premio Speed.
All Pegasus eBikes in the U.S. are equipped with Bosch e-Bike systems. The entry level Premio Cross starts the lineup off at $2,799 with the Bosch Active Line Plus motor.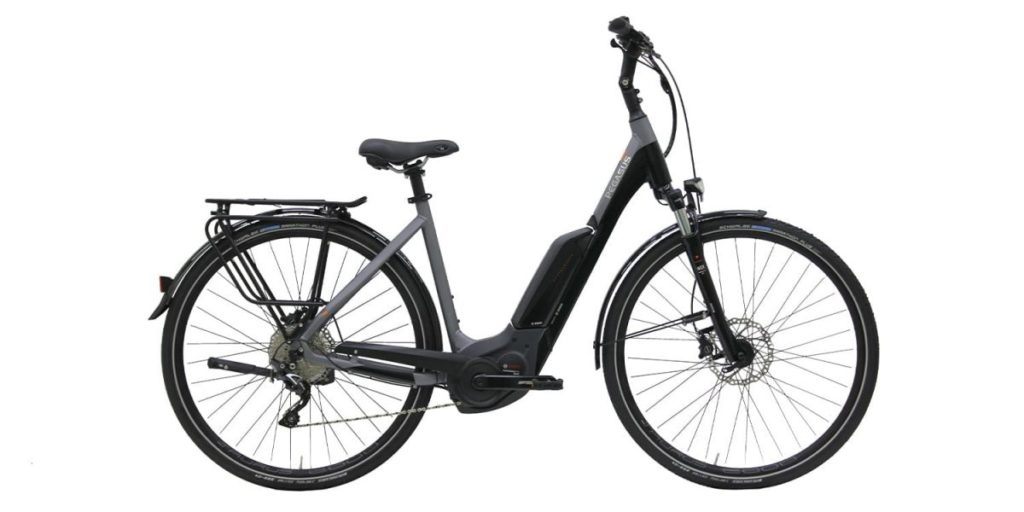 Customers are able to pick up their fully assembled bikes at their local shop.
PEGASUS officially made their U.S. debut at Interbike 2018 but has been present on the German market for the past 30 years.
Pegasus Bikes USA is distributed by BULLS Bikes USA.
Muto – A New Urban eBike With Modular Carrying
The Muto is an interesting looking e-bike from Dutch budget e-bike manufacturer Stella.
The biggest innovation is really non-electric in the form of the interchangeable "Click & Roll" system.
It lets you quickly add or remove a wide variety of Muto-designed boxes, bags, and carriers to the front and rear of the bike, including a bespoke child seat. The mounts can be locked with a key to prevent theft.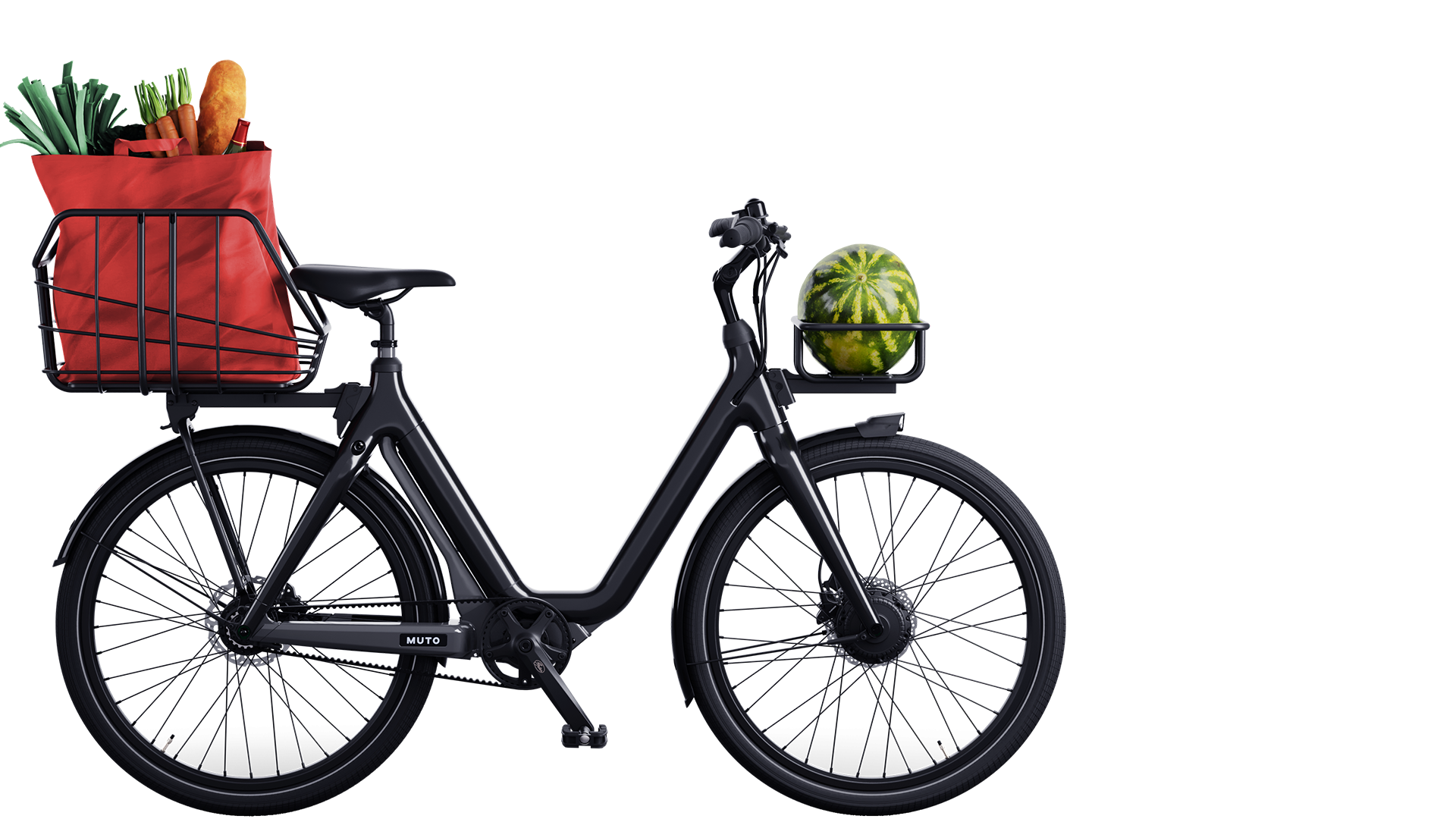 Other neat features include sleekly integrated LED lighting, a belt drive and a frame integrated battery. It is also reportedly easy to pedal without power if the battery runs out.
Muto is being offered for an introductory price of €1,549 (plus shipping) that jumps to €1,699 at some undefined point in the future.
Muto say the bike can be purchased anywhere, but it's prioritizing four European countries – shipping to the Netherlands, Belgium, and Germany costs €30, or €49 to Denmark.
Aldi Supermarket Chain's 999 euro Mid-drive Model
The 2020 version of the Aldi Prophete pedelec is launched in the German supermarket's stores Aldi Nord (where is costs 999 euros) and Aldi Sud (where it costs 1099 euros).
Many aspects of the spec make it look great value; for example there are hydraulic rim brakes from Magura and a 461 Wh battery with cells from LG plus a mid-drive that originates with Bafang. What's more it has a stand, luggage rack, fenders and a 70 lux LED front light and rear LED with parking feature and 7 Shimano Nexus hub gears.
New Gearsensor Sensors
Shifting sensors in e-bikes are one of those little regarded but very important components on a good e-bike system. You may never have noticed it even if your eBike has one, but a gear sensor is usually installed on the shifting cable by cutting out a small section of the cable housing and it senses when you shift gear, momentarily cutting the power to give a smoother shift by reducing motor load on the transmission.
Back in 2016 when Czech firm Gearsensor pioneered the technology it took a while for the industry to wake up to its usefulness but it is now commonplace. So much so that Gearsensor have been in touch to tell us they have two new models of gear sensor out- the GSSS and GSGI). So their three model offering is now:
GS model: The standard model provides comfortable shifting. The GS model provides a signal about the shifting activity directly to the controller of the mid drive unit. The result is temporary cut off/reduction of the current motor torque.
GSSS model: This model uses features of the standard model "GS" and provides an additional speedsensor function in the same time. It means that the GSSS model has 2 functions in 1 device (gear sensor and speed sensor).
GSGI model: This new model uses features of the standard model "GS" as well as constantly recognizing current gear position.
Gearsensor say the two new models are not compatible with any drive unit yet, but they are in touch with the mid drive unit producers about incorporating them into new e-bikes. Brands that use the current Gearsensor model can be found here.
New Bike Accessories
Stylish DZR Shoes
DZR has just launched some vintage style shoes that have the foundation of solid bike shoe with SPD cleat attachments.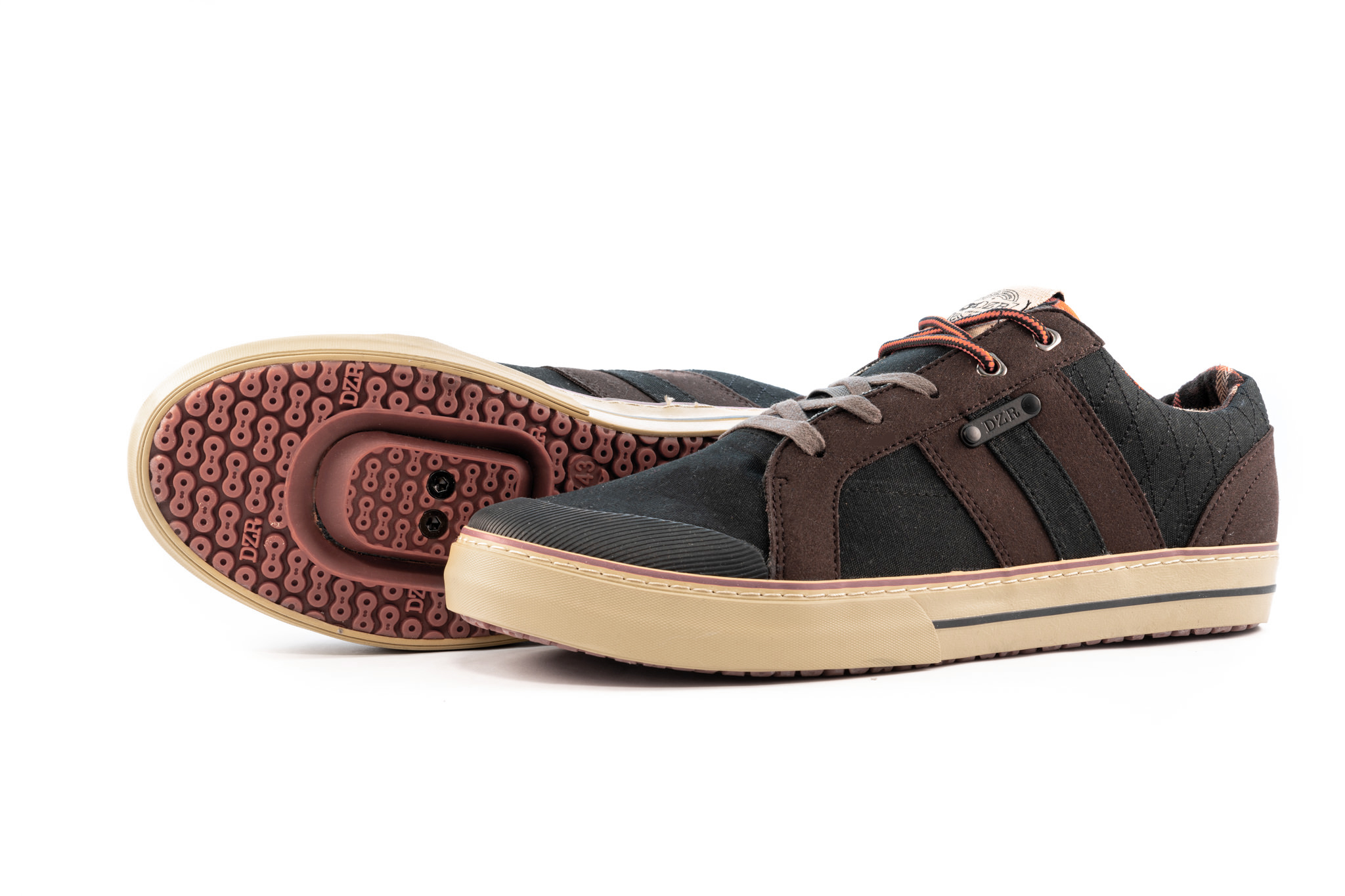 The Cove is a vintage styled SPD that is packed with features to ensure performance and durability. A Variable Flex Shank is added for maximum power transfer, a quilted side panel with a checkered flannel lining for added style, canvas and synthetic upper for durability and our traditional gum rubber out-sole for maximum traction.
3 color options: Timber, Midnight (dark grey), Cypress (teal/grey)
Sizes: 41-47
Priced at $99.
EBR has a pair of the Cove on test and a full report will follow.
The S240 shoe has a slightly higher top with recessed SPD cleat area and "features a lightweight leather which is tough, breathable, and breaks in like a good pair of work gloves."
Color options: Mustard and Navy
Sizes: 41-47
Priced at $149.
Learn more about the new DZR Cove and S240 here.
Shimano's ET5 E-bike Shoes Launched
Shimano are best known in the e-bike world for their highly rated range of mid-drives, but they also have their own line of apparel and recently launched the ET5 e-bike specific shoe.
Features include a semi-rigid midsole plate for efficient pedalling power transfer. You'll feel that your full effort is converted into watts. Outsole made of high-friction material, super tough and grippy treads in contact with the pedal, toe box protection, mini Power Strap lacing system for a secure fit.
EBR has a pair on test and a full report will follow.
Get Inspired
See the Motherload Cargo Bike Documentary Now
Here's how this video about cargo bikes came about….'Filmmaker Liz Canning cycled everywhere until she had twins in 2008. Hauling babies via car was not only unsustainable but took the freedom and adventure out of life, and Liz felt trapped. She Googled "family bike" and uncovered a global movement of people replacing cars with cargo bikes: long-frame bicycles designed for carrying passengers and heavy loads. Liz set out to learn more, and MOTHERLOAD was born.'
It is available to rent for $7 online at Vimeo.
LIV Videos
Liv are the women-specific arm of one of the world's biggest bike and e-bike manufacturers, Giant. Liv's latest women's cycling videos — from bike maintenance, how-tos and skills guides, to inspiring athlete stories and much more are now available here.

E-bike Finance
The UK's Raleigh Cycles have recently announced the launch of Electric Bike Access, their cycle to work benefit scheme where they say 'customers can save up to 42% on retail prices of electric bikes'. Raleigh have given more detail:
The cycle to work benefit allows employees to purchase bikes with savings of up to 42% and spread the cost interest free over twelve months by paying for a bike from their pre tax salary. Choose from a range of bikes from Raleigh, Haibike and Lapierre, shop online and have the bike delivered to your home or one of Raleigh's authorised retailers.
For the employer there are savings of 13.8% on the value of the agreements by reducing your national insurance bill. The scheme is uncapped with credit terms available and the online process means no unnecessary administration work. View, approve and manage the benefit centrally through your unique employer portal.
Raleigh has a network of authorised retailers across the UK, supported by their customer service teams at head office in Nottingham. Each business will have a dedicated account manager and have access to free events to engage staff with test riding electric bikes.
Stay tuned for more e-bike news and reviews and thanks for reading!
-Rich
P.S. Don't forget to join the Electric Bike Report community for updates from the electric bike world, plus ebike riding and maintenance tips!
Reader Interactions