Ebike News: Bosch 2022 'Smart' System and New Mid-drives from Yamaha, Fazua and Others
It's Eurobike right now – Europe's biggest bike trade show – so new announcements on e-bikes come thick and fast. Some are more predictable than others; bigger batteries and more powerful mid-drives from the likes of Bosch and Yamaha may be welcome developments for some but they are hardly massive surprises.
The more exciting changes these days seem to be at the lightweight end of the market with lightweight yet powerful mid-drives announced by Fazua and the little known Maxon – to give just two examples. Of course, only time will tell which systems will endure and which will be less popular or even fade away (see the mention of the Mando Footloose below….) – but Eurobike remains a great showcase for all the new developments and an exciting time for e-bike tech watchers, whichever tech goes on to succeed.
In this week's news:
Bosch 2022 Smart System

All new Yamaha PW-X3 mid-drive launches

Lighweight Maxon mid-drive

Fazua's new removable mid-drives

Schaeffler's Free Drive that needs no chain or belt

New Gen4 Lime e-scooters launch in New York City

E-bike charging stations set to grow says report
BOSCH MID-DRIVE GOES 'SMART' AND NOW HAS A BIGGER BATTERY – AND NEW MODELS FEATURING IT ARE ALREADY ANNOUNCED
EBR has already covered the announcement from one of the biggest players in the e-bike world, Bosch, of their new 2022 mid-drive system with headline grabbing features being a bigger 750Wh battery, new (optional and buttonless) Kiox display with remote bluetooth and new app. At the heart of it all is their powerful Performance Line CX motor which has been tweaked to work alongside the new 2022 elements.
It will be quite easily distinguishable from previous Bosch mid-drive systems as none of the elements are retrofittable to older bikes and, for now at least, the 750Wh battery is only compatible with the new system elements.
Apparently there is a whole new system architecture which means the new elements are not backwardly compatible – the 2022 'smart' system relies on smaller modular connectors to hook up the motor to the battery, display and remote. As it stands you can't use the current and recently entirely remodelled and pretty capable Nyon display from 2021 with the new 2022 system, only the new, sleeker Kiox display. But if any of this changes EBR will keep you posted!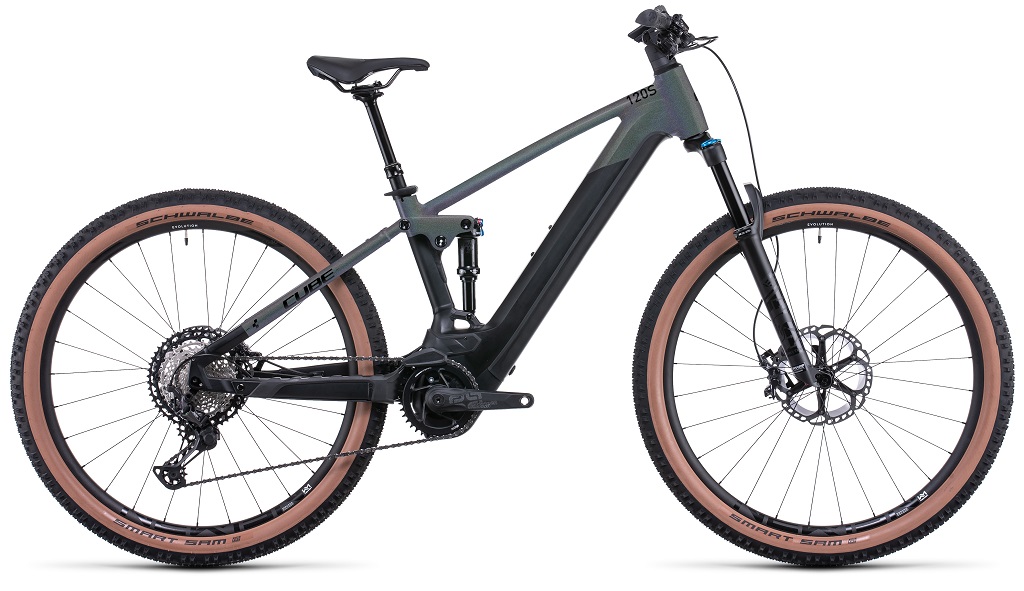 The new system is already appearing on 2022 models, for example on e-bikes from high end manufacturers like Haibike, Bulls and Cube with e-mtbs the most popular category to feature it followed by hybrid and trekking models.
MORE DETAIL ON YAMAHA'S NEW MID-DRIVE WITH MORE E-BIKES TO FEATURE IT
Whilst Bosch seems to have admitted it can make it's top performing mid-drive any lighter or more powerful (for now at least) rival motor manufacturer Yamaha have recently announced the all new PW-X3 mid-drive, designed from the ground up and like Bosch it also includes a new battery, display and remote.
Compared to its predecessor, the PW-X2, the PW-X3 isn't just more compact it's also reportedly 300g / 10oz lighter and with an increased torque rating of 85 Nm torque – the same as top line competitors the Bosch Performance Line CX and the Shimano EP8 mid-drives.
Like the new Bosch Smart system, 2022 bikes to take up Yamaha's PW-X3 system are firmly in the off-road camp, Haibike's Nduro 7 and Giant's Reign E+ being just a couple of examples.
Although manufacturers can mix and match other elements with the mid-drive motor Haibike have chosen the complete Interface X Yamaha cockpit system which features a compact remote and small LED display. Yamaha say Interface X supports selected devices from SIGMA, Garmin and Echowell as it uses ANT+ connectivity. In contrast to Bosch's approach the Interface X is backwards compatible with the older PW-X2 motor.
Yamaha are expanding their range of batteries with a small, lightweight external 400 Wh battery adding to their current range of frame-internal 400 Wh, 500 Wh and 600 Wh models.
AND YET MORE MID-DRIVES…
Swiss firm Maxon are not aiming to compete with the likes of Bosch and Yamaha for mid drive power; their new Bikedrive Air system claims only a 30 Nm torque rating but is made specifically for lightweight high-performance e-bikes with the Cipollini Flusso e-road bike (claimed weight 10.7 kg / 23.5lbs) and the TRANSALPES E1 e-mtb (claimed weight sub 16kg / 35lbs) – two of the first manufacturers to pick up Maxon's first mid-drive straight away.
More established are German lightweight mid-drive specialists Fazua, who just announced two new mid-drives, the Ride 50 Trail and Ride 50 Street, both claiming to be more powerful than the company's original removable Evation drive – but as before both motor and battery are removable.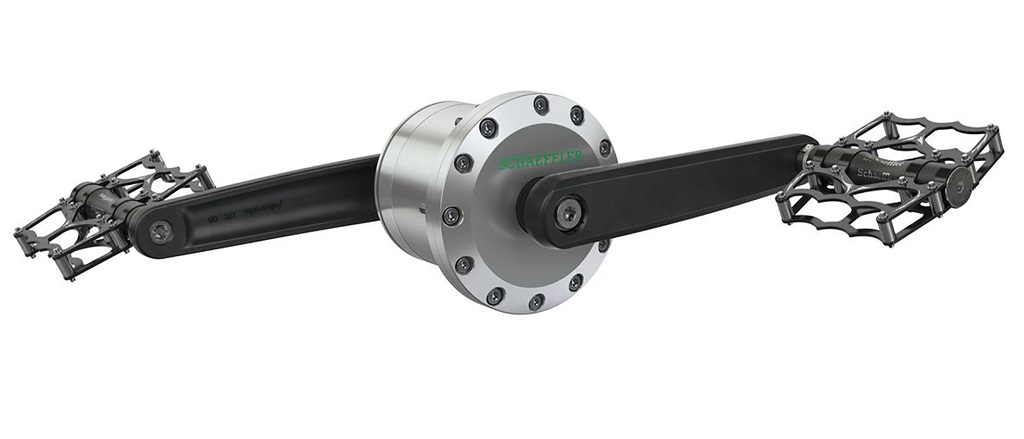 Lastly and most radically of all comes German company Schaeffler's chain-free mid-drive the Free Drive, apparently co-developed with electric motor specialists Heinzmann.
It's a so called series hybrid whereby the rider pedals to generate electricity that is sent by wires to power a hub motor (or motors) meaning there is no need for a chain, belt or shaft drive as mechanical propulsion directly from the cranks is dispensed with altogether – you are effectively pedalling an electrical generator. There is a battery which can store any excess energy the rider is capable of producing if pedalling hard. Schaeffler claim only a 5% loss of efficiency over conventional – and very efficient – chain drives.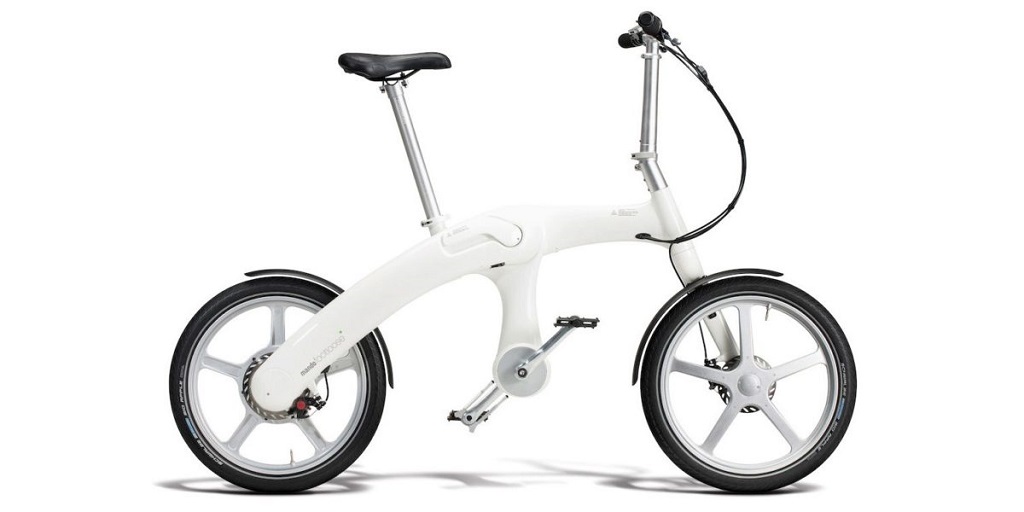 Despite its radical appearance the series hybrid is not a new concept; in 1975 Augustus Kinzel claimed to have invented the first series hybrid e-bike and the Mando Footloose from South Korea made a brief appearance in western Europe around 2015 before fading from view.
LIME LAUNCHES 1000 E-SCOOTERS IN NYC
Electrive reports that 'Lime has launched 1,000 electric scooters in New York City to kick off the Department of Transportation's East Bronx scooter-sharing pilot. New York will become just the second city in the United States to launch Lime's latest generation scooter, the Gen4.
Lime says it designed the new kick scooter in-house with a view to longer service life and "systematic reuse and then recycling of materials and batteries." In New York City, the electric scooters add to Lime's fleet of shared electric mopeds, which launched in April '21 and operates in Manhattan, Brooklyn, Queens and the Bronx.'
E-BIKE CHARGING STATIONS FORECAST FOR GROWTH
Global E-bike Charging Station Market, is expected to be valued at US$ 3,498.13 million by 2028 says this report from Coherent Market Insights.
According to the report Asia Pacific region is expected to exhibit the highest growth in the global e-bike charging station market during the forecast period, owing to the early adoption of advanced technologies in this region.
Major companies operating in the global e-bike charging station market include Amezeus (HFS Group), Ather Energy, Bikeep, CYCLE WORKS, EV Motors India Pvt. Ltd, Robert Bosch GmbH, RTL, Spelsberg, SWIFTMILE, and Zoov.
Reader Interactions