eBike News: Big eCargo, New Moustache eRoad, 2020 eBikes, Solar Train, & More! [VIDEOS]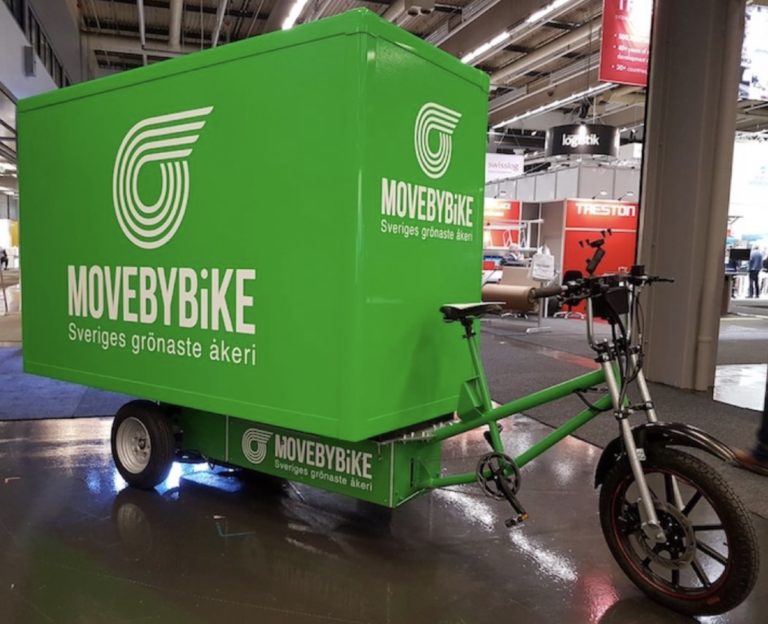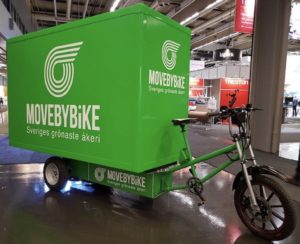 In this week's eBike news roundup:
Starke eCargo Bike w/ Massive Payload
New Moustache eRoad Bikes
More 2019/2020 eBikes from Sea Otter
Solar-Powered Trains
Video: Why Do the Dutch Cycle?
San Francisco eBike Festival
EVELO Podcast
Possible California eBike Subsidies….
And More!
New E-bikes and E-bike Systems
Starke's 300kg Payload E-cargo Bike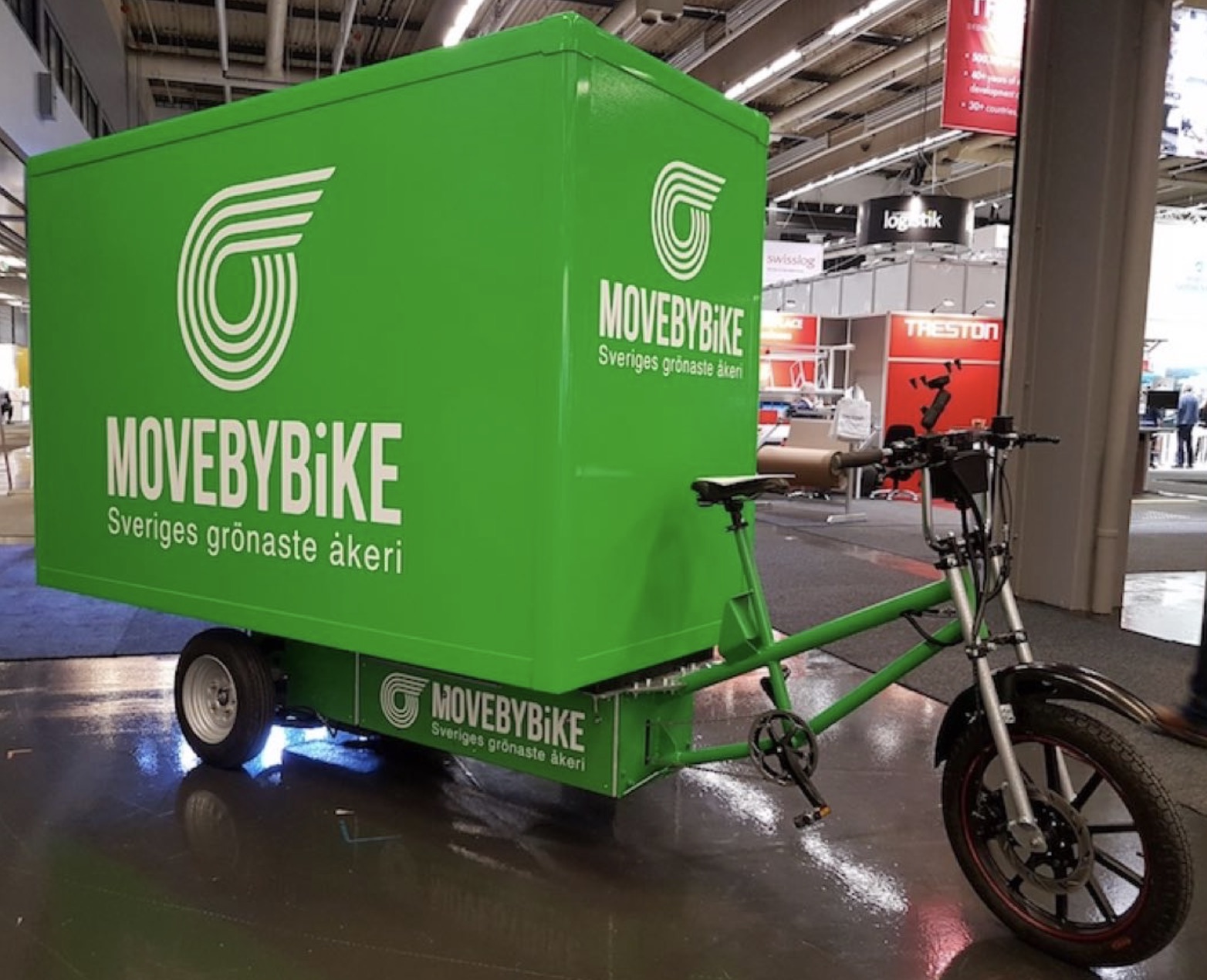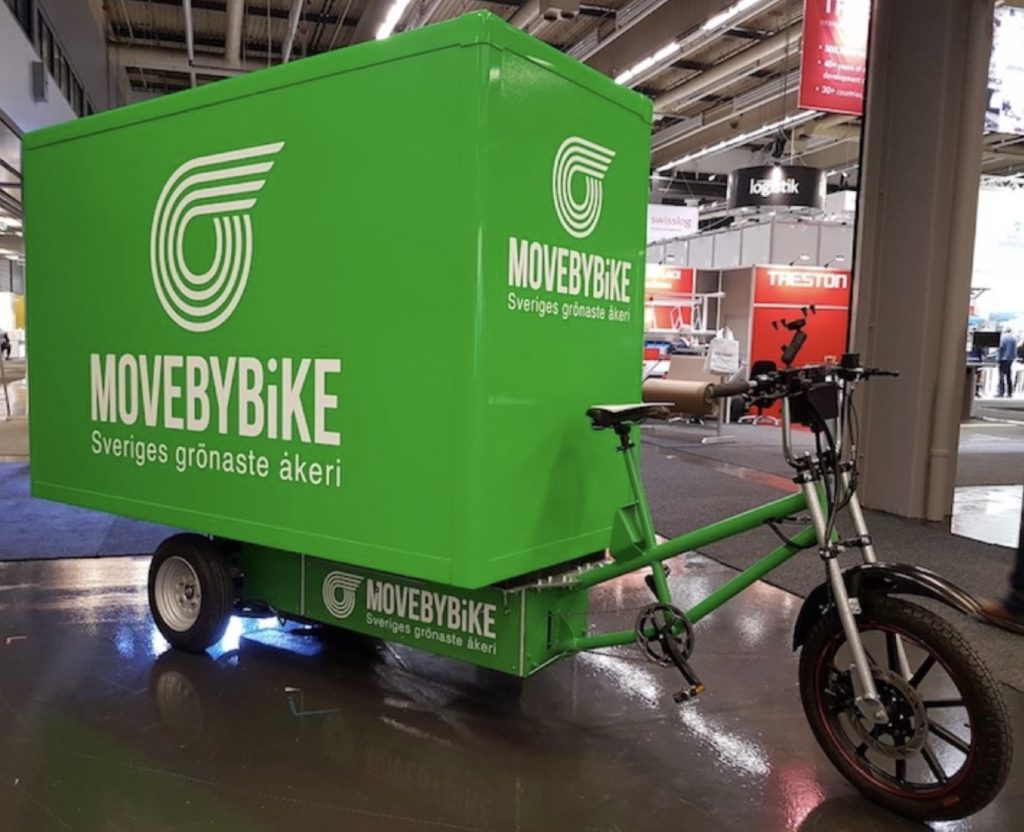 Swedish firm Starke's eCargo bike makes an eye-catching claim – a 300kg payload capacity. That's far in excess of the vast majority of e-cargo bikes.
It's other stats are encouraging too; 3 m3 volume, room for 2 Euro pallets and traction coming from a 1000 W electric motor and driver pedal power.
Starke says it uses less than 10% of the power required for an electric van yet at 1m wide it can be accommodated in many city bike lanes.
The company has recently completed a round of funding and will launch the production model of their e-cargo bike soon and are also looking at further raising of funds to enable Europe-wide expansion.
They have even incorporated a winch system operable by a single driver.
Moustache Dimanche 28 eRoad Bikes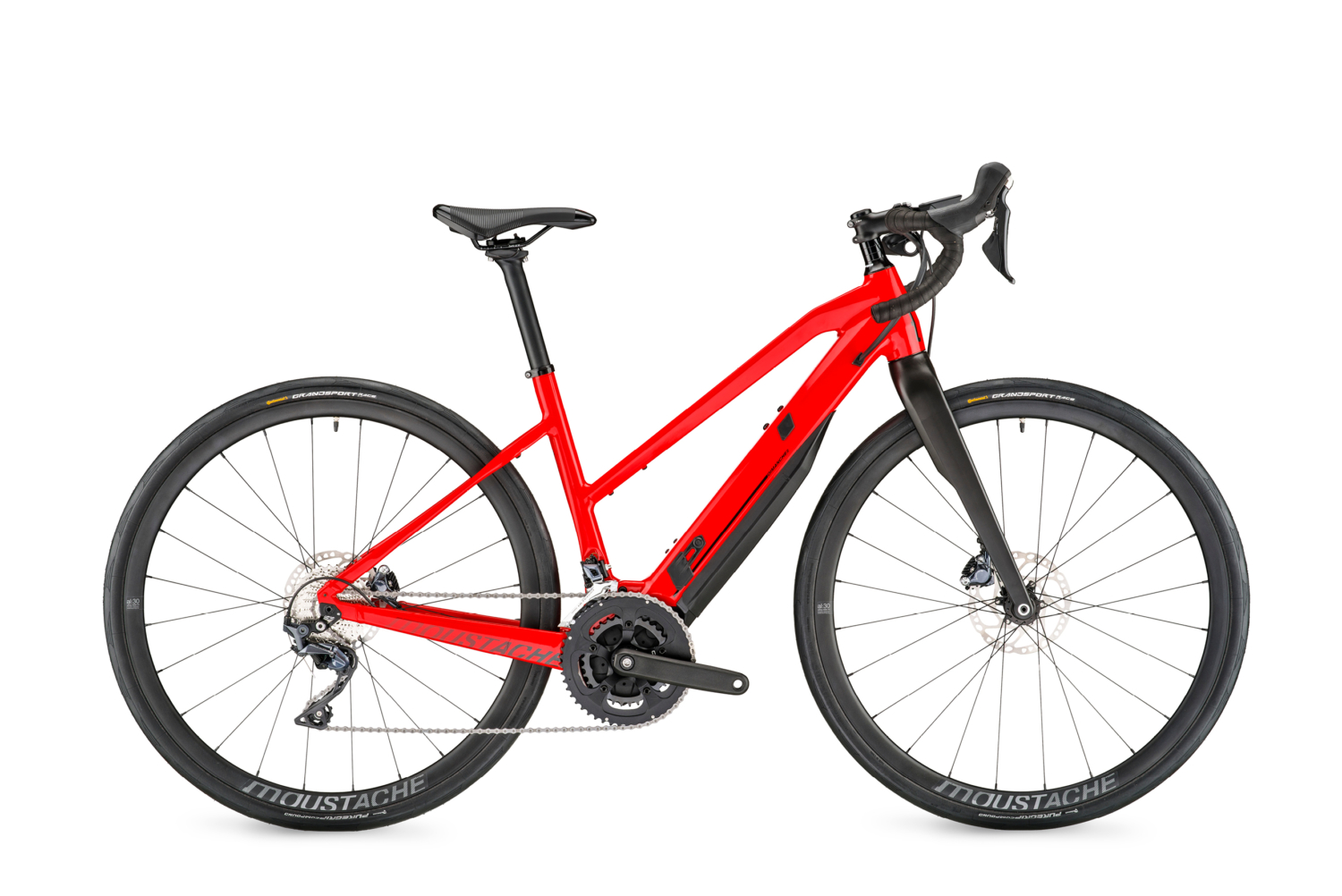 Moustache has just launched 6 new eRoad style bikes with the Bosch Active Line mid-drive with the battery located in the bottom of the downtube.
All 6 models feature a hydroformed aluminum frame and carbon fiber fork.
There are various different component groups depending on the model and there are step-over and step-thru frame types.
Here is more info on the new Moustache Dimanche line up.
More New eBikes from Sea Otter
The 2019 Sea Otter Classic was a busy show for electric bike! Here is the full video list that includes 2019 and some 2020 eBikes from this popular cycling event: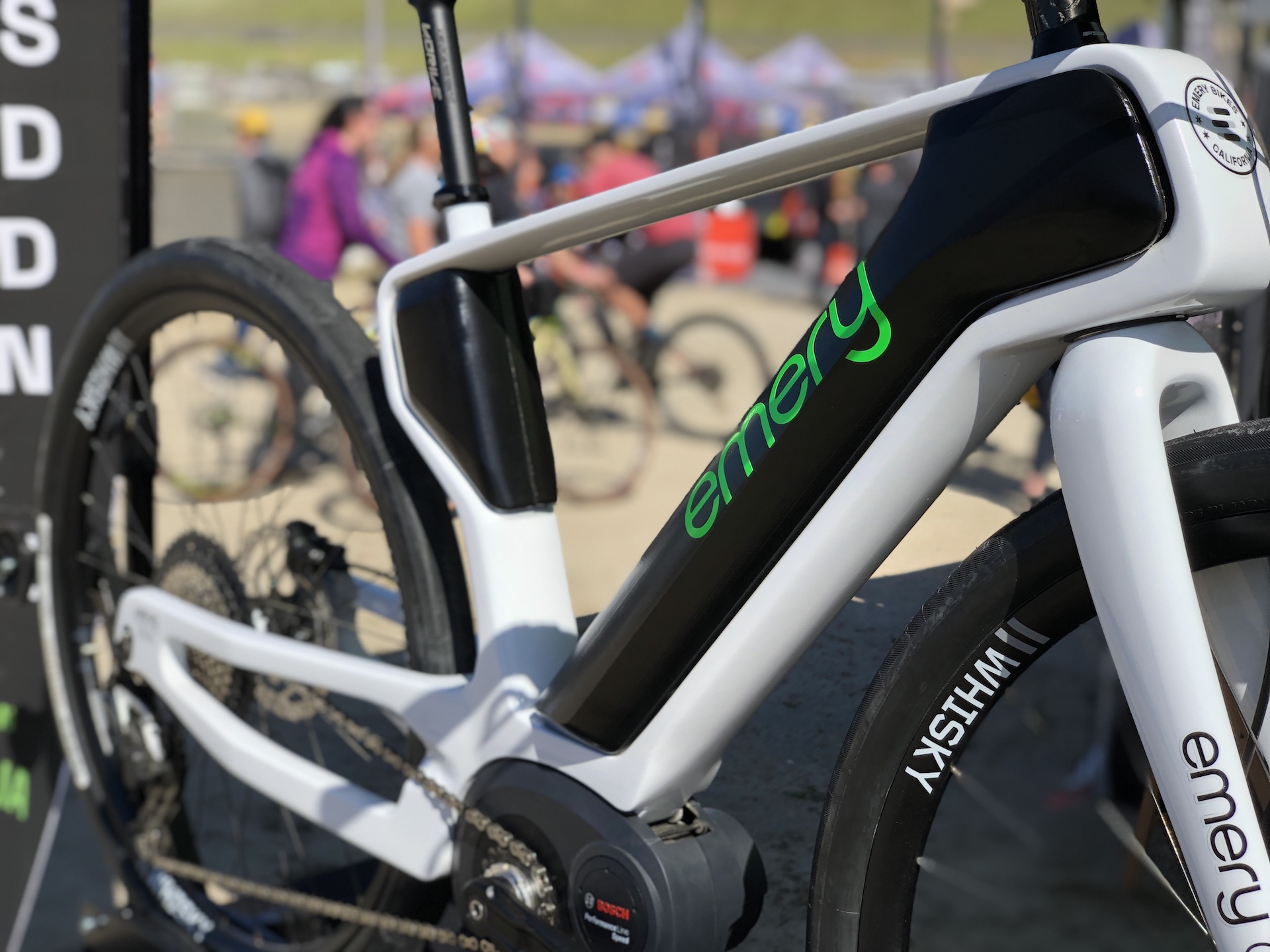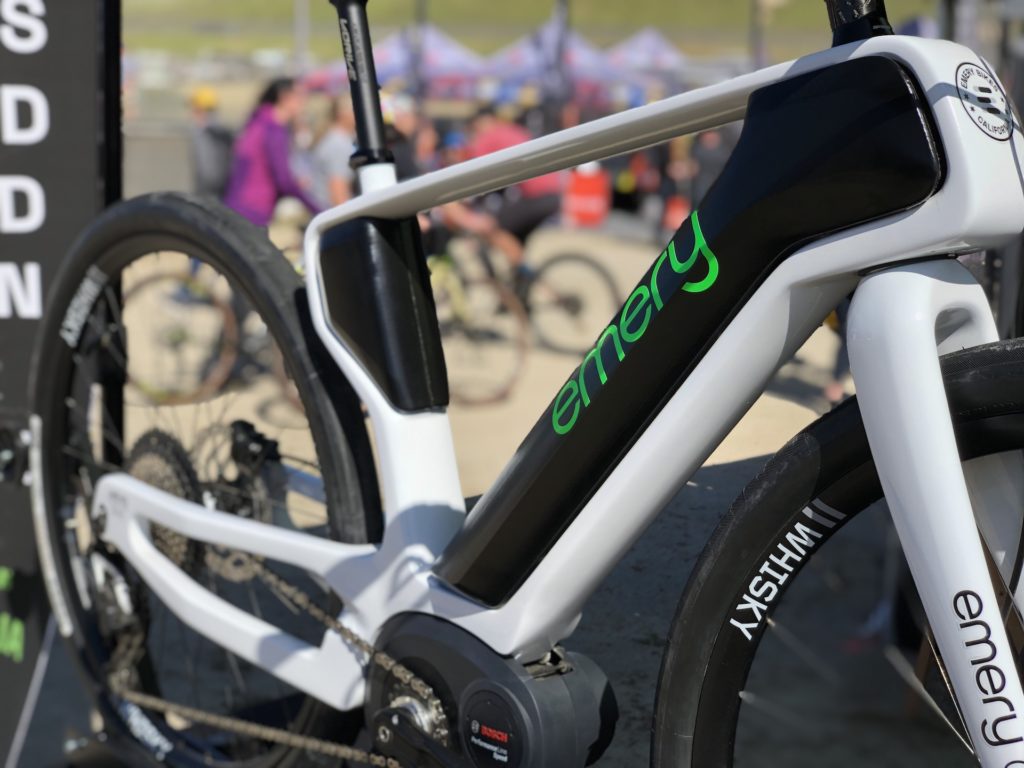 New eBikes from Aventon, Brose, BULLS, Emery, Haro, & Intense.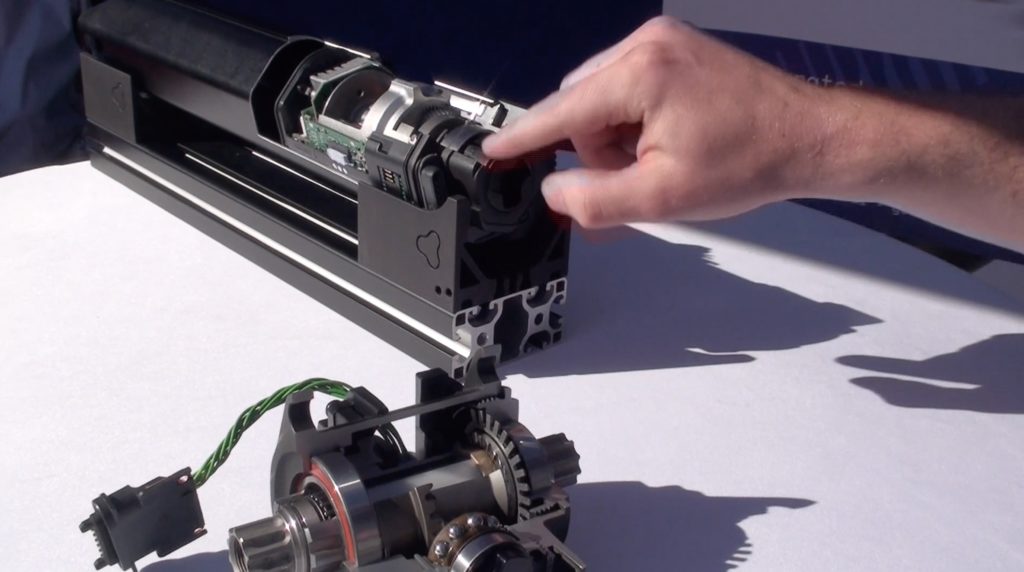 New eBikes from BMC, Brompton, Donnelly, EVO, Fazua, Raleigh, & Yamaha.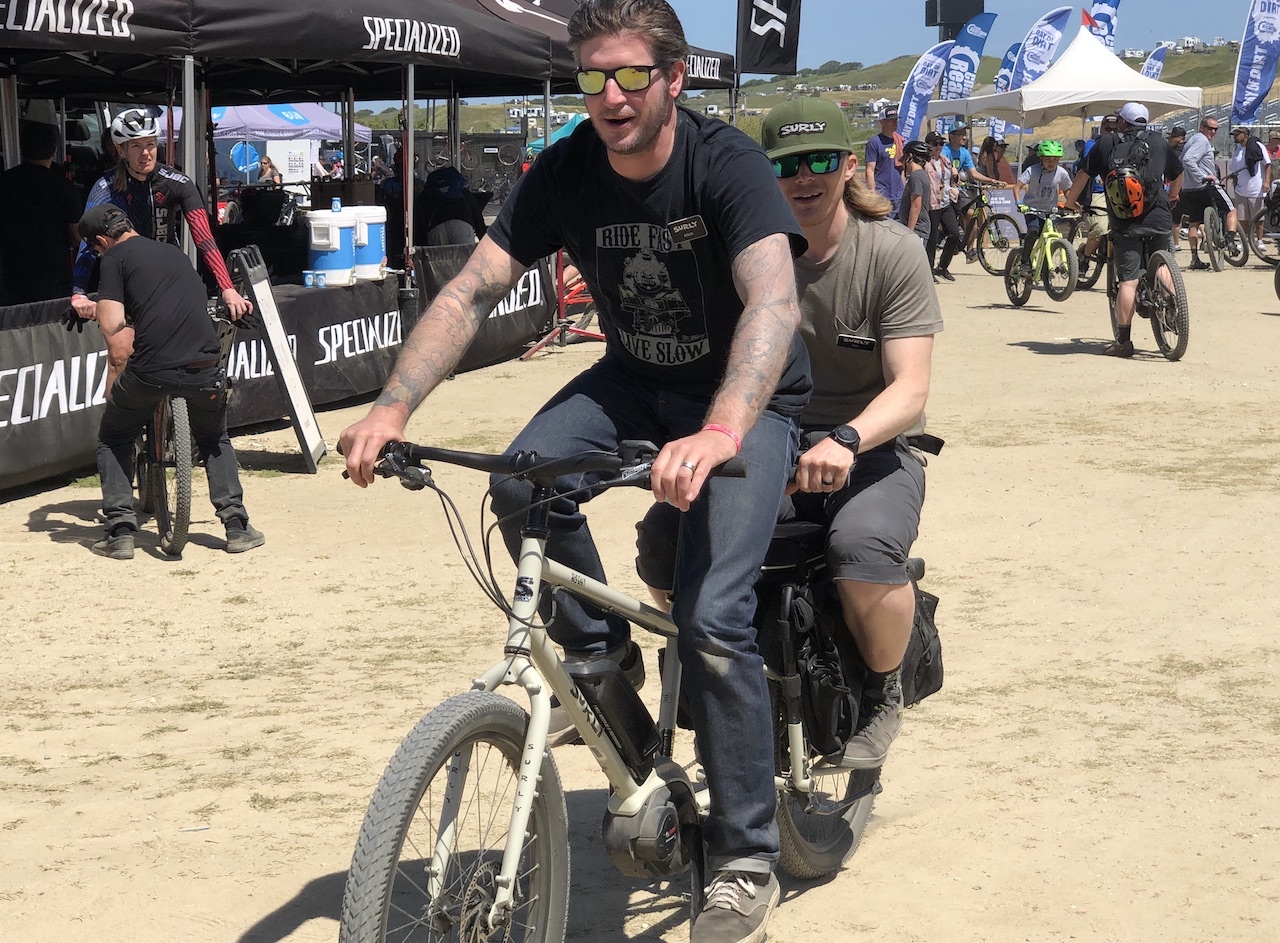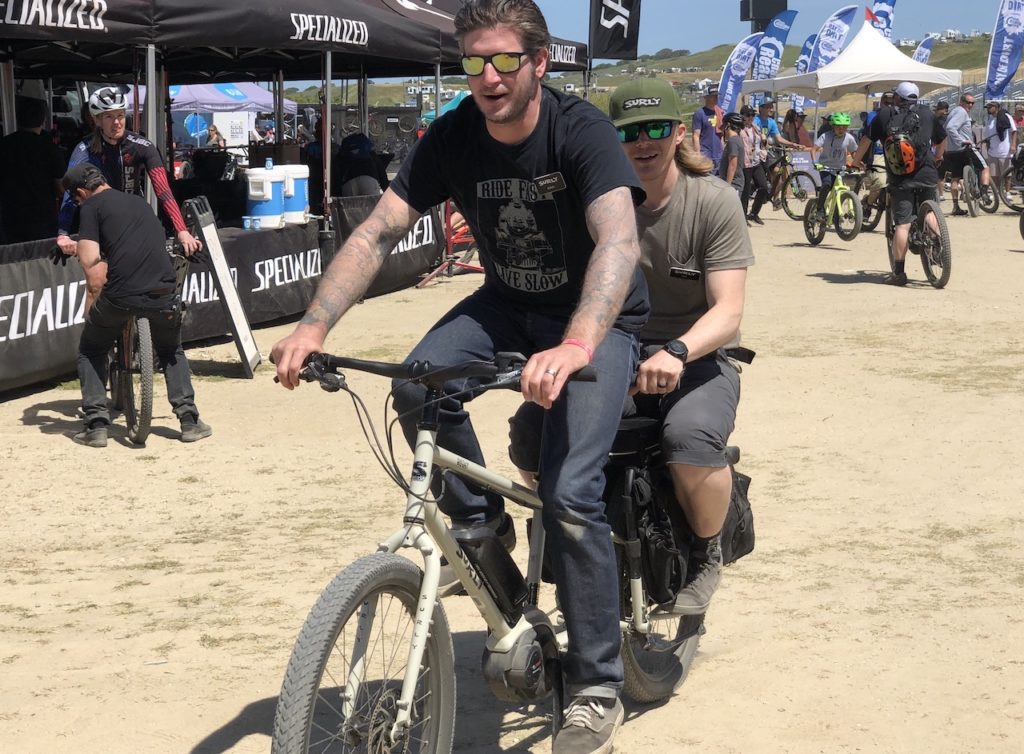 New eBikes from BESV, Cube, eBike Tour, Fantic, Giant, Gazelle, Surly, & Tern.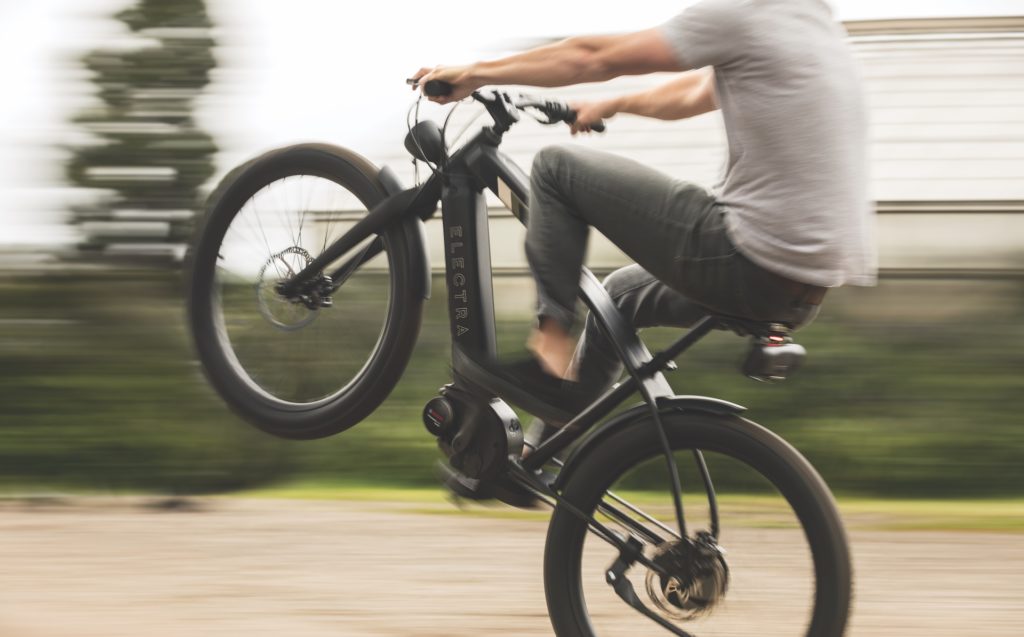 New eBikes from Commencal, Electra, Fezzari, PedalCell, Pinarello, Specialized, Xtracycle, & Zeitgeist.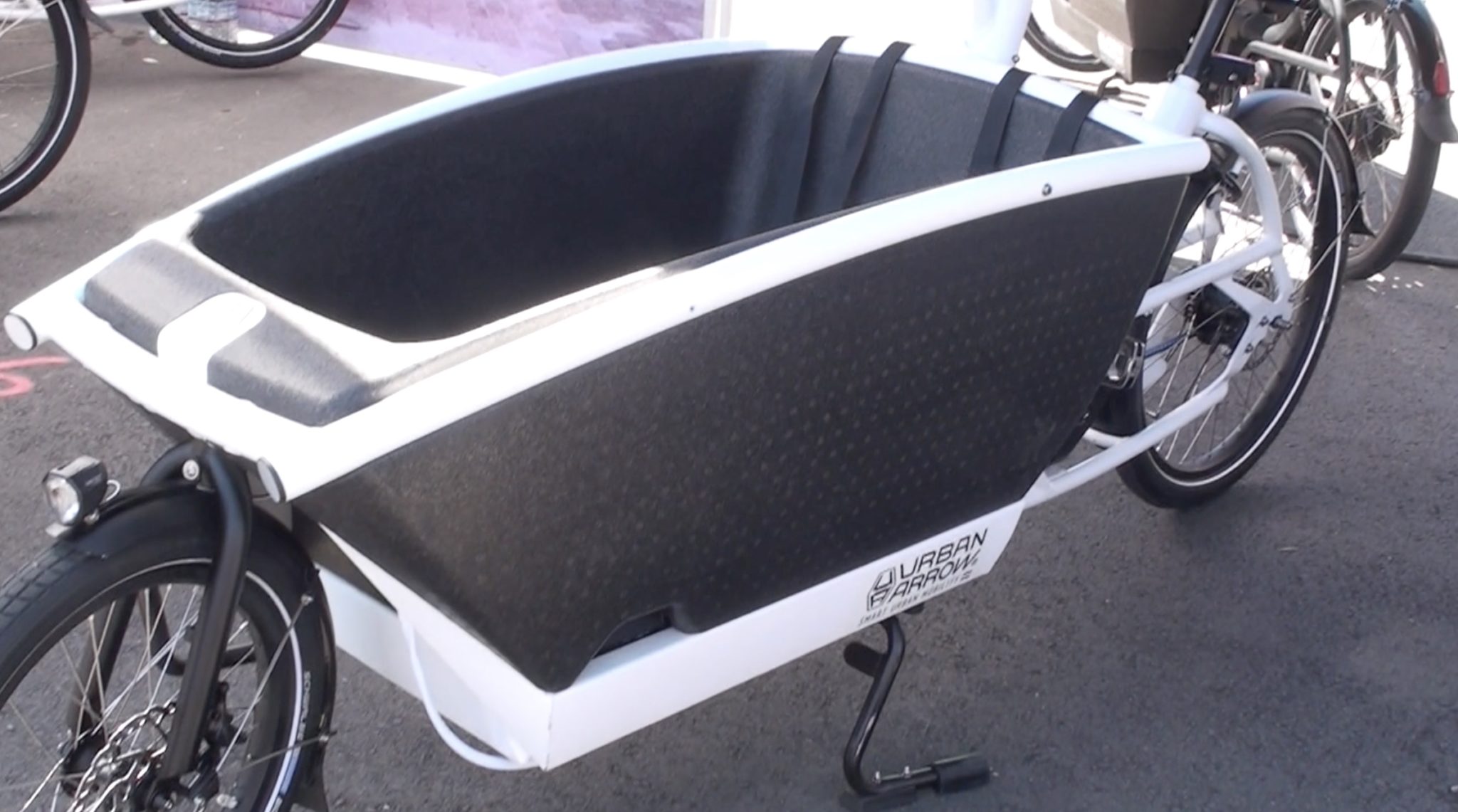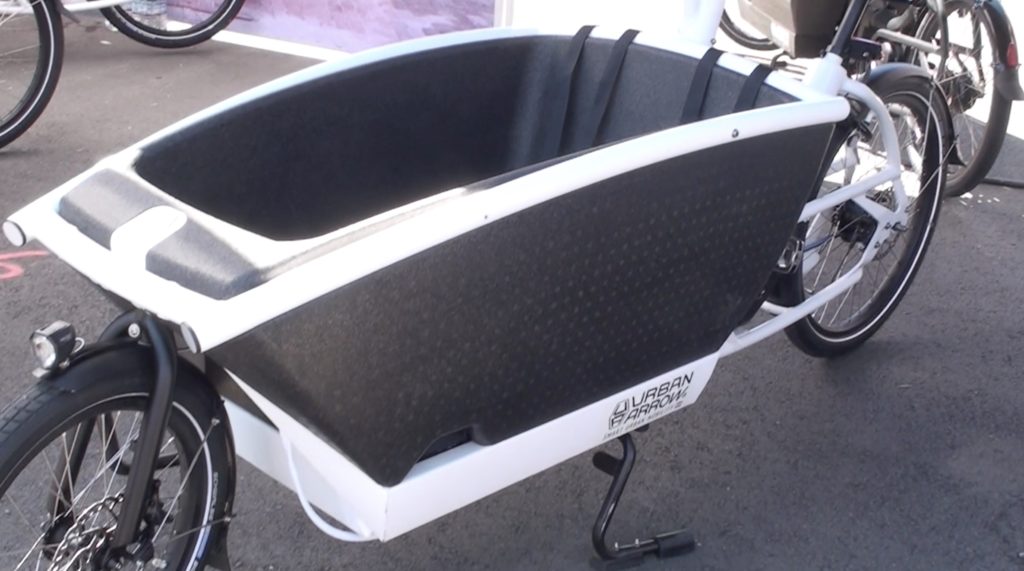 New eBikes from Dahon, Scott, Shimano, Trek, Urban Arrow, Van Dessel, & YT Industries.
Get Inspired
Claimed World First Train Powered Exclusively Powered by Solar Power
Photo-electric solar power has been used for many e-bike trips, often on a 'DIY' basis rather than using any commercially available products.
But powering a 70 tonne train 100% by solar power is a step up in achievement but it's what the Byron Bay Railroad Company in Australia have managed to do…
Why Do the Dutch Cycle?
As the opening lines of this website says 'To the Dutch, cycling is as normal as breathing. We don't think about it, we just do it. Perhaps the fact that we don't think about it, is the key to the bicycle's success in this country.'
Now a documentary film 'Why we cycle' looks under the skin of why the Dutch cycle so much. It's one of the leading, if not the leading European country in terms of everyday cycling rates and it's also a country where e-bikes have proved massively popular in recent years.
Research May Help Give E-bikes Zero Emission Status and Subsidies in California
You might soon be able to opt to get a 'scrappage subsidy' in the form of an e-bike voucher in exchange for your old polluting car if you are a Californian resident.
Streetsblog reports that 'UC Davis just published a policy brief that will be very useful for legislators considering expanding state zero emission vehicle incentives to include e-bikes.
Dillon Fitch, a researcher at UC Davis' Institute of Transportation Studies, combed through reports and studies on existing e-bike incentive programs to evaluate whether they help reduce car trips. While available research is limited, he found that the programs report that between 35 and 50 percent of e-bike trips would have been made by car if an e-bike had not been available.'
This isn't just of academic interest as the same article points out 'The analysis and research findings are relevant for the legislature, which on Tuesday will discuss S.B. 400, from Senator Tom Umberg (D-Santa Ana). That bill would add e-bikes to the list of zero emission vehicles eligible for financial incentives in the existing EFMP/Clean Cars 4 All program. According to its sponsor, the California Bicycle Coalition, the bill would "basically give anyone (low-income) that is applying to scrap and replace their polluting car an additional choice, to opt for a voucher for an e-bike."
San Francisco eBike Festival
Super Bicycle is described as 'the only event of its kind, blending electric bike test rides, great food, community & fun.'
It runs over the weekend of May 4th and 5th at The New Wheel Electric Bikes, 14 East Sir Francis Drake Boulevard, Larkspur, CA 94939.
It promises over 50 test e-bikes, deals on demo models, info on future transport in the area and a van shuttle service from San Franciso centre.
EVELO Starts Podcast
EVELO has just launched an electric bike podcast and Pete Prebus is the guest on their first episode. There is a bit of background on Pete and electricbikereport.com along with why electric bikes are just a lot of fun to ride.
E-bike Biz
Van Moof Hits 11,000 E-bike Sales Worth Almost 30 Million Euros
This Forbes report details how VanMoof has sold 11,000 of its electric S2 and X2 city bikes, worth nearly €30 million. And these are direct sales, coming via the company website or through one of their eight bricks and mortar stores.
The article also tells us 'Pre-ordering for the bikes started last summer, with the first bikes shipped to consumers in November and 5,000 delivered to date.' Trademarks of the Dutch-designed e-bikes are framed-embedded LED lights and integral GPS tracking including the claim that a 'Bike Hunter' team will be able to track it down if stolen….they certainly seem to go to some lengths to track any bikes that are stolen…
Draft Cargo Bike Standard Published in Europe
Bike Europe reports that 'The German draft standard for cargo bikes DIN 79010 has been published for public review. At this point, it is only available in German.'
The article adds 'This new document specifies requirements and test methods for single and multi-lane transport and cargo bicycles. It includes those with electric motor support for the transport of goods and persons.'
It appears that there is somewhat of a gap in the European legislation, as safety standards for many other kinds of bike (including 'regular' e-bikes) exist, but there are no specific cargo and e-cargo bike regs.
With work currently going on on a country by country basis it is hoped a European Union wide standard will emerge. The problem was recognised by Bike Europe back in 2017.
Computer Firm Acer's Subsidiary Joins E-bike Market
Bike Europe again; 'a multi-billion computer laptop and tablet maker based in Taiwan….is now stepping into the electric bicycle market through one of its subsidiaries….' The firm in question is MPS Energy Inc and the article intimates that it will bring more in the way of 'smart' and 'cloud-connected' batteries to the market.
Stay tuned for more e-bike news and reviews and thanks for reading!
-Richard
P.S. Don't forget to join the Electric Bike Report community for updates from the electric bike world, plus ebike riding and maintenance tips!
Reader Interactions