eBike News: Affordable Gocycle, Wireless Solar Charging, N.A. eBike Tour, & More! [VIDEO]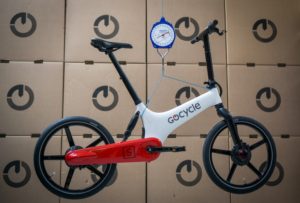 By Richard Peace
Gocycle
Gocycle is a well-known name in the US and the UK where it was invented and they have recently taken to Kickstarter with a US goal of raising $250,000 to introduce the GoCycle GS to the US market.
The GS starts at $1,699 with the limited supply of "early bird" orders.
Already in Europe there have been three successive designs of the foldable e-bike that uses its own hi-tech technologies such an injection-molded magnesium alloy frame and miniature hub motor integrated into quick release wheels.
Here is a video with more about the new GS:
More details about the new GS here.
Ampler
E-bikes seem to be filling the lists of successful crowdfunding campaigns at the minute. Estonias' Hannes Laar launched the clean looking Ampler earlier in the year and at $147,000 raised it is already 132% funded.
It claims to be 35% lighter than the average electric bike at 17kg and features a frame integrated battery and rear hub motor. Hand-assembled in Europe, shipping is scheduled to start in November 2016 with prices from US $1790 to US $2990. The full spec of all Ampler bikes can be found at amplerbikes.com
Low Cost Ebikes on the Way?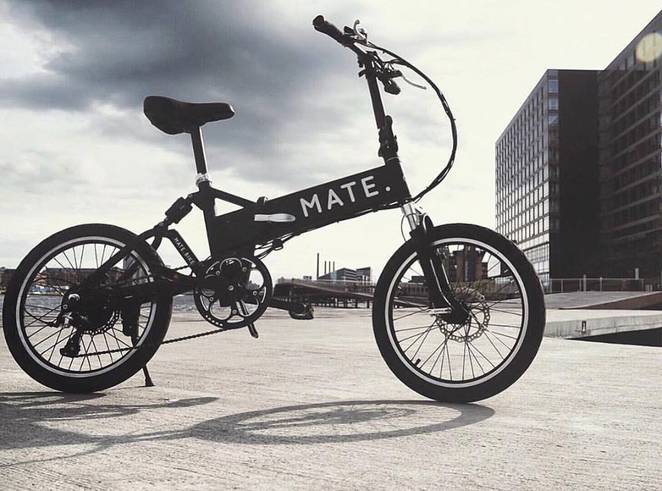 An e-bike for US $599? Really? A folding e-bike for US $599? Well, yes, if you claimed an Early Bird offer at Danish e-bike firm Mate's Indiegogo site. Funds reached by Mate via Indiegogo were approaching US$3 million at the time of writing and shipping should have started.
Founder Christian Michael describes the bike as 'electric, foldable and affordable'. You might expect a bike hailing from Denmark to have city styling but the Mate is full suspension and I particularly like the useful looking carry handle. The full retail price of the US $599, package is US $1400.
More details on EU and US spec bikes at the Mate website. 
Trends
Major UK Bike Retailer Predict E-bikes to be the Next Big Thing With Launch of Own Brand Model
Halfords will be a familiar name to UK readers as the self-proclaimed country's largest bike retailer. They employ 11,000 staff in the UK and Ireland across 465 stores and 298 autocentres (though it is difficult to separate out specific cycle staff within this figure – but it certainly won't be insignificant). Their Cycle Republic brand also boasts 12 branches mainly in prime town centre sites.
And these impressive figures mean their recent move towards electric bikes is such good news for the profile of e-bikes in the UK, traditionally seen as a rather sceptical and difficult place to sell e-bikes. The retailer said two out of five people now believed e-bikes were an effective means of transport and their Olympian cyclist team of brand endorsers has now entered the e-bike fray with Victoria Pendleton to launch a new electric bike in November; keep reading EBR news posts for details when it appears.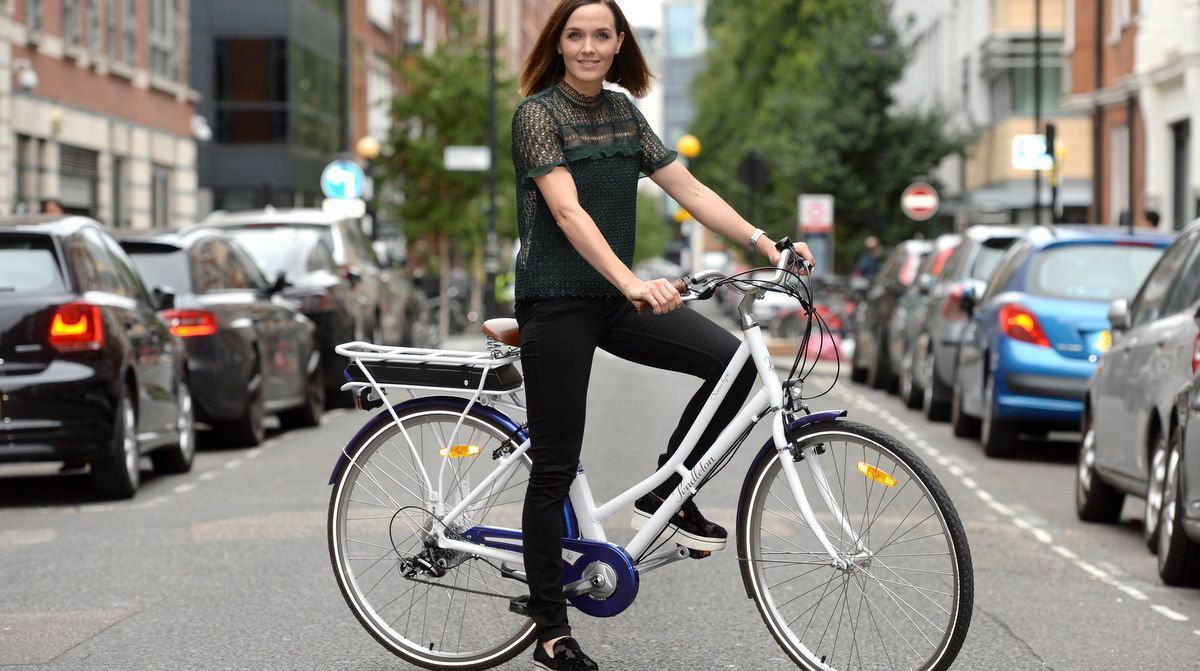 Commercial director Emma Fox said: "We have seen innovations in commuting go from strength to strength and predict that e-bikes will be the next big thing not only for commuters but also for a whole range of cyclists."
Technology
New V-light System for Koga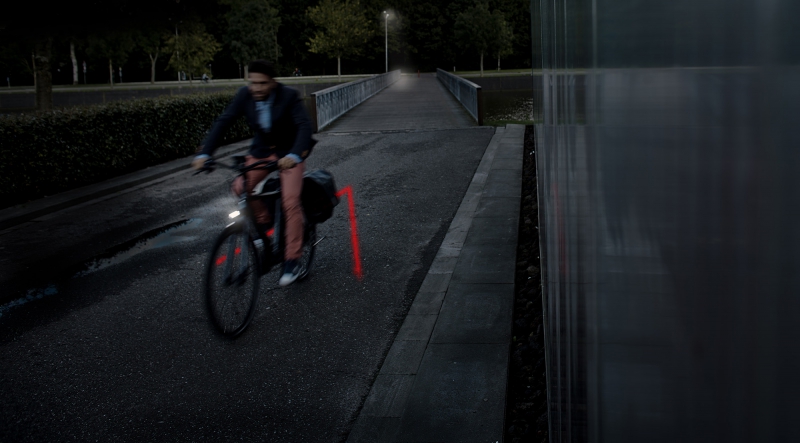 Reports from Europe say that Accell's premiun brand, Koga, is to introduce a new rear lighting system, the V-light, aimed specifically at e-bikes.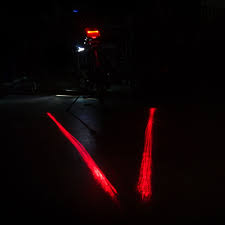 Two red laser beams are projected in a V shaped behind the rider with the aim of making it easier for motor traffic approaching from behind to judge the e-bikers speed. Developed in collaboration with lighting company Spanninga, it will appear on selected 2017 Koga e-bikes.
Wireless Solar E-bike Charging for Delft
Renowned further education institute Deflt University of Technology (Delft TU) in the Netherlands has just launched an e-bike solar charging station with input from students. The large, angled single panel will apparently be able to charge up to 5 e-bikes and one e-scooter. Not so unusual you might think but this station has wireless (induction) technology.
Check out the concept video:
Other News
Omaha's E-Startup from a Shipping Container
Talking of solar power, a report from Omaha, Nebraska details how startup rental Quikbyke has been trying out its concept mobile e-bike renting station over the summer, aiming to bring solar-powered mobile e-bike rental stations to the US.
It details how the 20ft shipping container with integrated solar charging panel has fared over the summer whilst stationed in Omaha, in an attempt to challenge people's objections to e-bikes (I won't get any exercise, they are too expensive etc…).
Quikbyke is a spin-off of the digital publication EV Word and was kickstarted with a grant from Nebraska Department of Economic Development alongside private investment. Although still in the technology development stage the company's website also hints that they may be near a commercial rollout.
If you are interested in taking a look at the mobile e-bike station it should be appearing in the Florida Gulf area sometime soon. EBR will keep you up to date. For now there's more detail in this video:
Canada to Southern US by e-bike for Veteran Bike Tourer
54 year old John Langille has just completed an epic trip from his home in Nelson in British Columbia, Canada, arriving in Indio, California, a trip of nearly 2000 miles by e-bike (1553 miles was the original estimate but John says 'If you believe Google maps, they take you on some pretty direct routes that aren't exactly realistic, including some dirt roads ').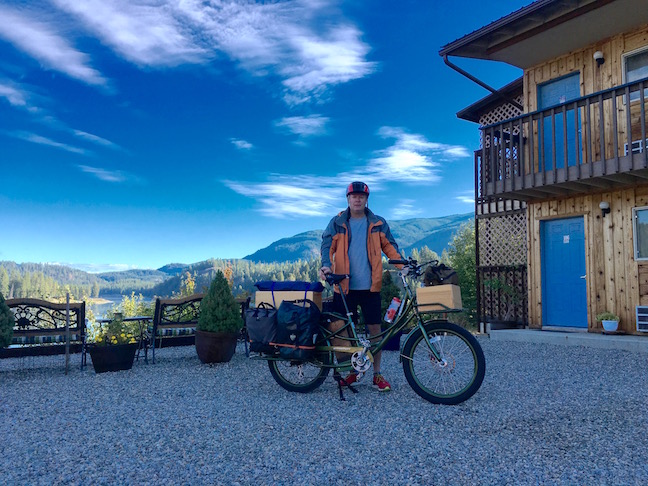 John rode his 'stretch' cargo carrying Pedego e-bike to get around Nelson but was inspired to make the marathon journey to visit the Desert Trip music festival, renowned for its ability to attract some stellar names from the rock world.
He carried two extra batteries for the bike, never went more than 100 miles in a single day and  also packed a sleeping bag, tent and air mattress, allowing him to camp during the nights. As well as being a veteran of many rock concerts John is also a cycling veteran, recounting his trips with some relish, "I have done really a lot of bike trips," he said. "Down the California coast, throughout Australia and Asia and Great Britain and Ireland. I remember these as being the most fun travels I have ever done. You are self-contained. You have everything you need right here on two wheels."
An unexpected bonus from his latest e-bike trip was that he also managed to loose around 20 pounds in weight…
That's it for now, stay tuned for more eBike news!
-Richard
P.S. Don't forget to join the Electric Bike Report community for updates from the electric bike world, plus ebike riding and maintenance tips!
Reader Interactions