eBike News: 2019 Rad Power Bikes, Cyber Monday Deals, Solar eQuadricycle, & More! [VIDEOS]
In this week's eBike news roundup:
New 2019 Rad Power Bikes + Cyber Monday Deals
Affordable Solar eQuadricycle
EMOV Brina 2 Carbon eBike
Klever Commuters
Olieds-powered MBM eBikes
Mom Gets a Surprise eBike
Ford Acquires Spin
New eBike Rental Scheme for Paris
Gates Visits HNF
And Much More!
New eBikes & eBike Systems
2019 Rad Power Bikes
Rad Power Bikes just announced their 2019 line up that includes the new RadMini Step-Thru eFolding bike.
It features an easy get on & off design with a super low step-thru area and it has a lot of adjustability in the handlebar and seat height to fit a variety of riders. The 20″ x 4″ wide Kenda Kraze slick tires offer an efficient and stable ride. It is priced at $1,699.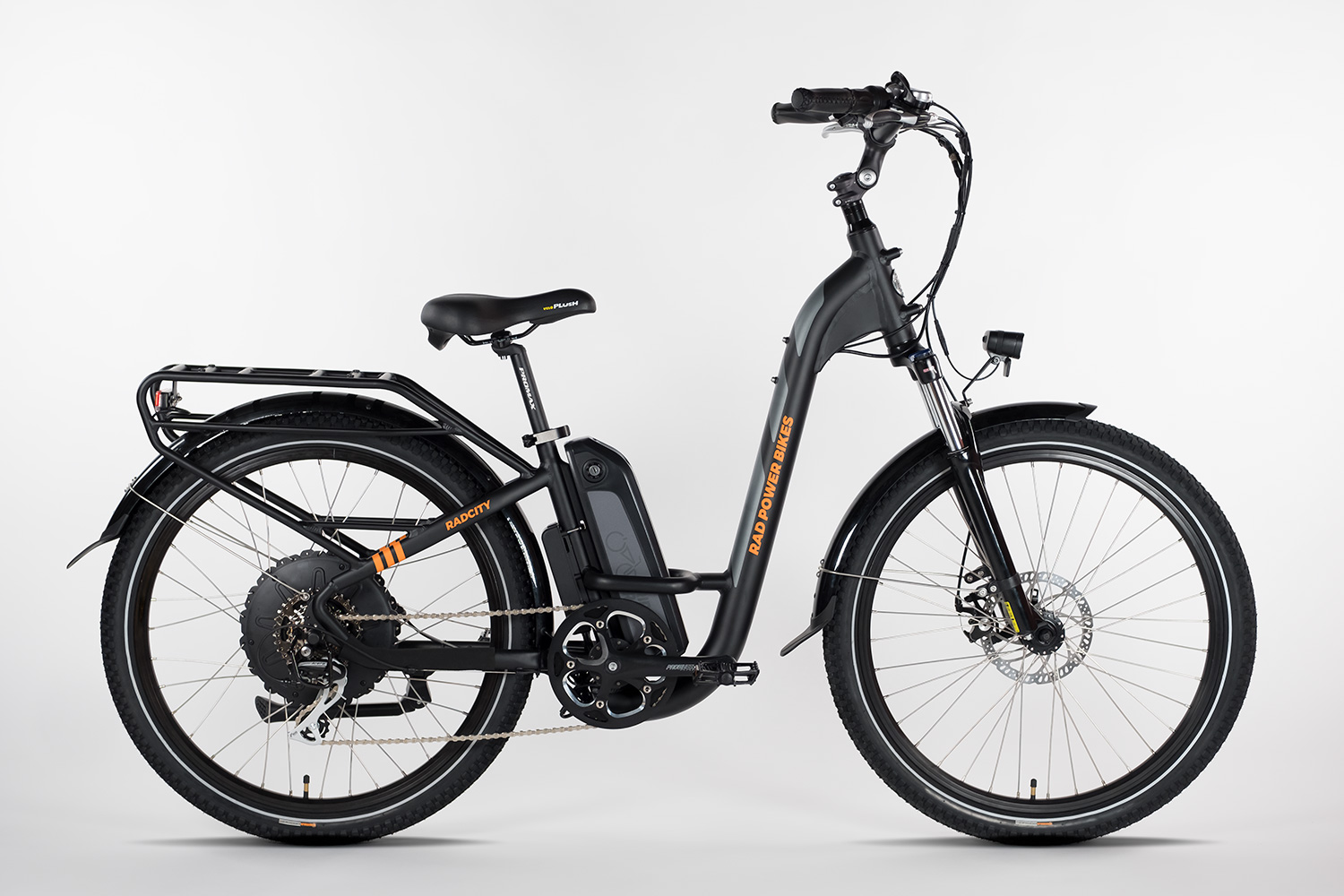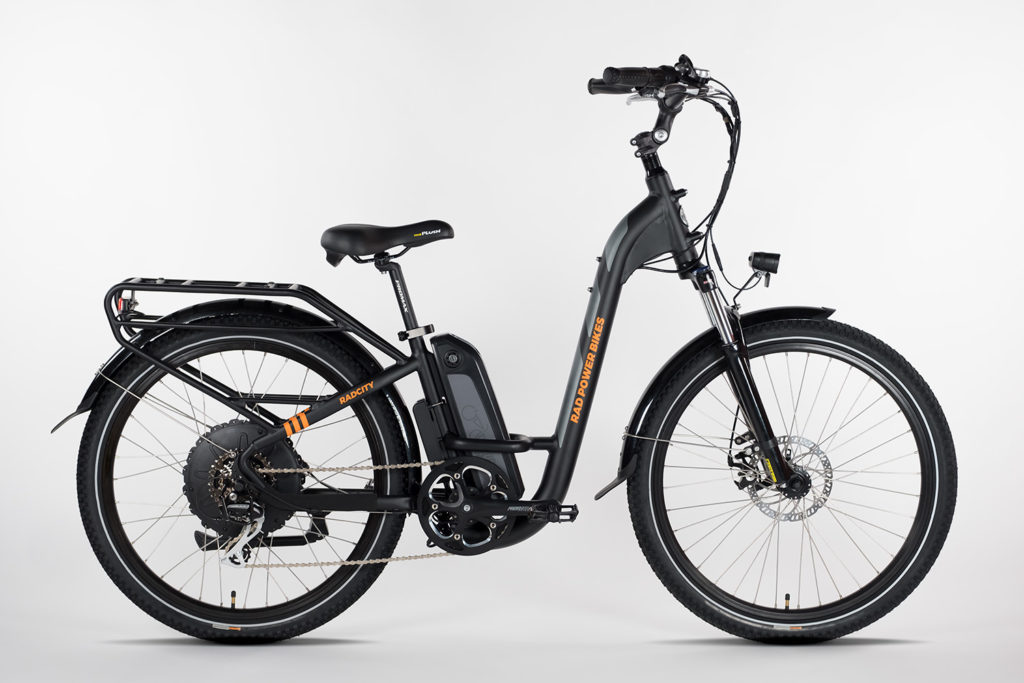 The popular RadCity Step-Thru gets a new black color and it is priced at $1,699. Here is the full testing & review of the 2018 RadCity Step-Thru.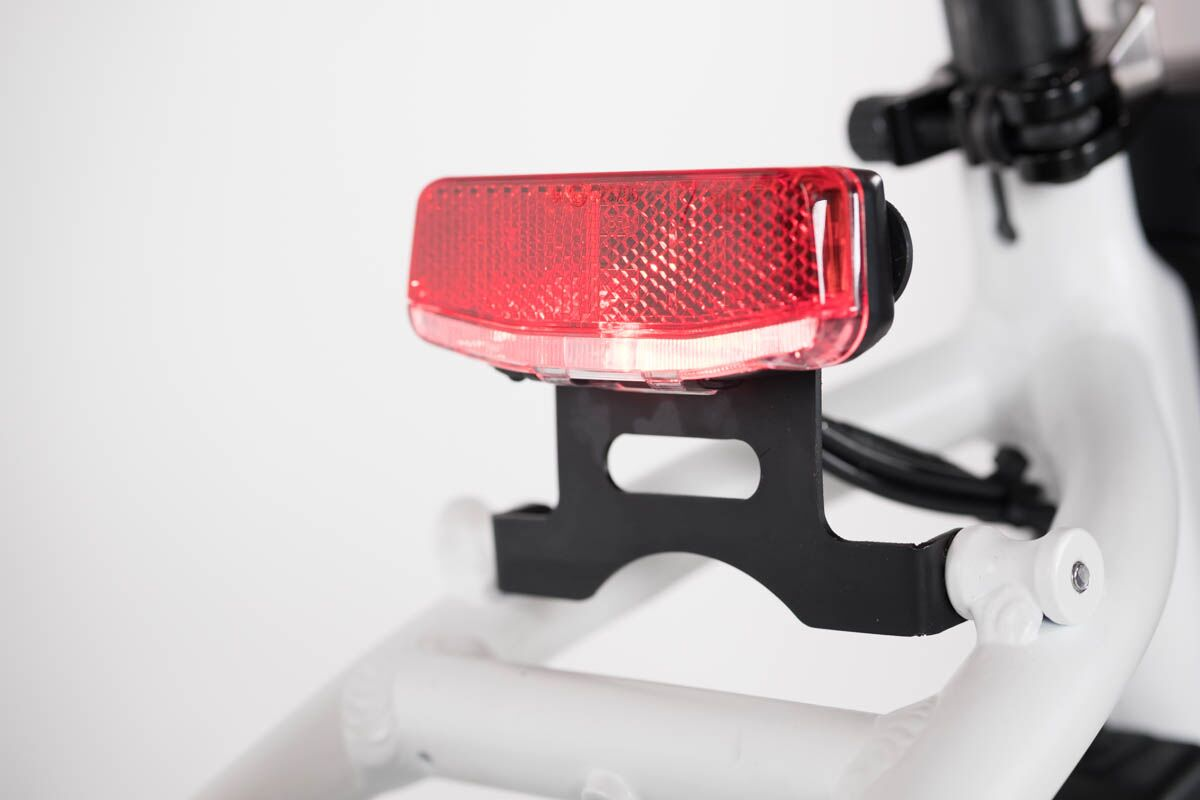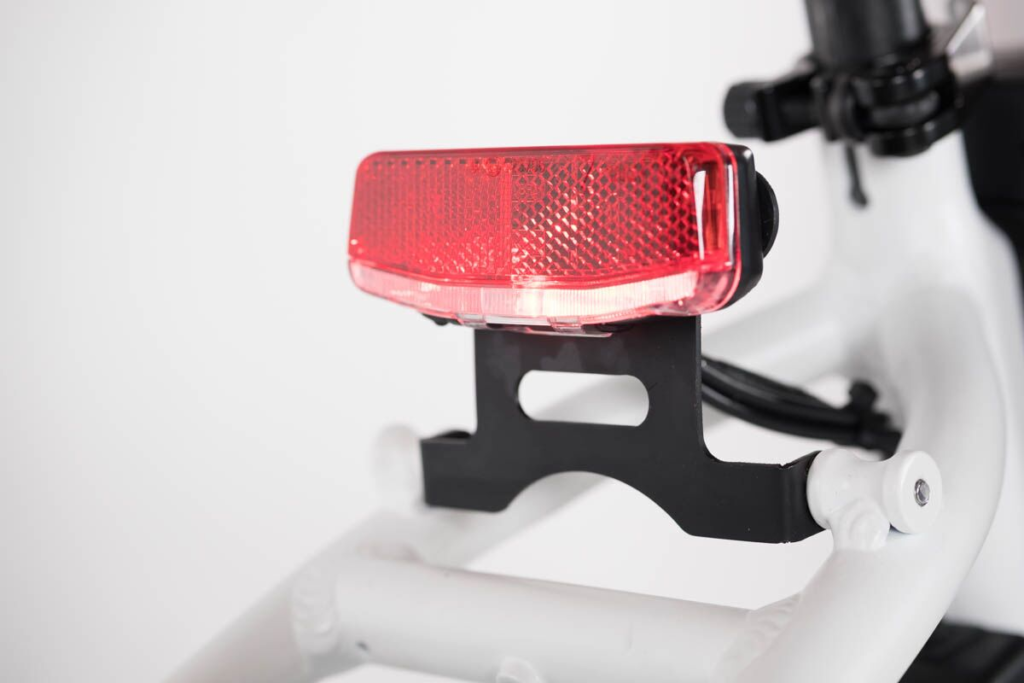 Rad Power Bikes has updated components on many of their bikes for 2019. Here are some of the updates:
A new tail light on all models that is powered by the eBike battery and has a brake light that is activated any time the brakes are engaged.
Puncture resistant Kenda's K-Shield tires with reflective sidewalls are used on all models.
New wider gear range with 11-34T freewheel.
Streamlined component improvements and redesigned colors and accents.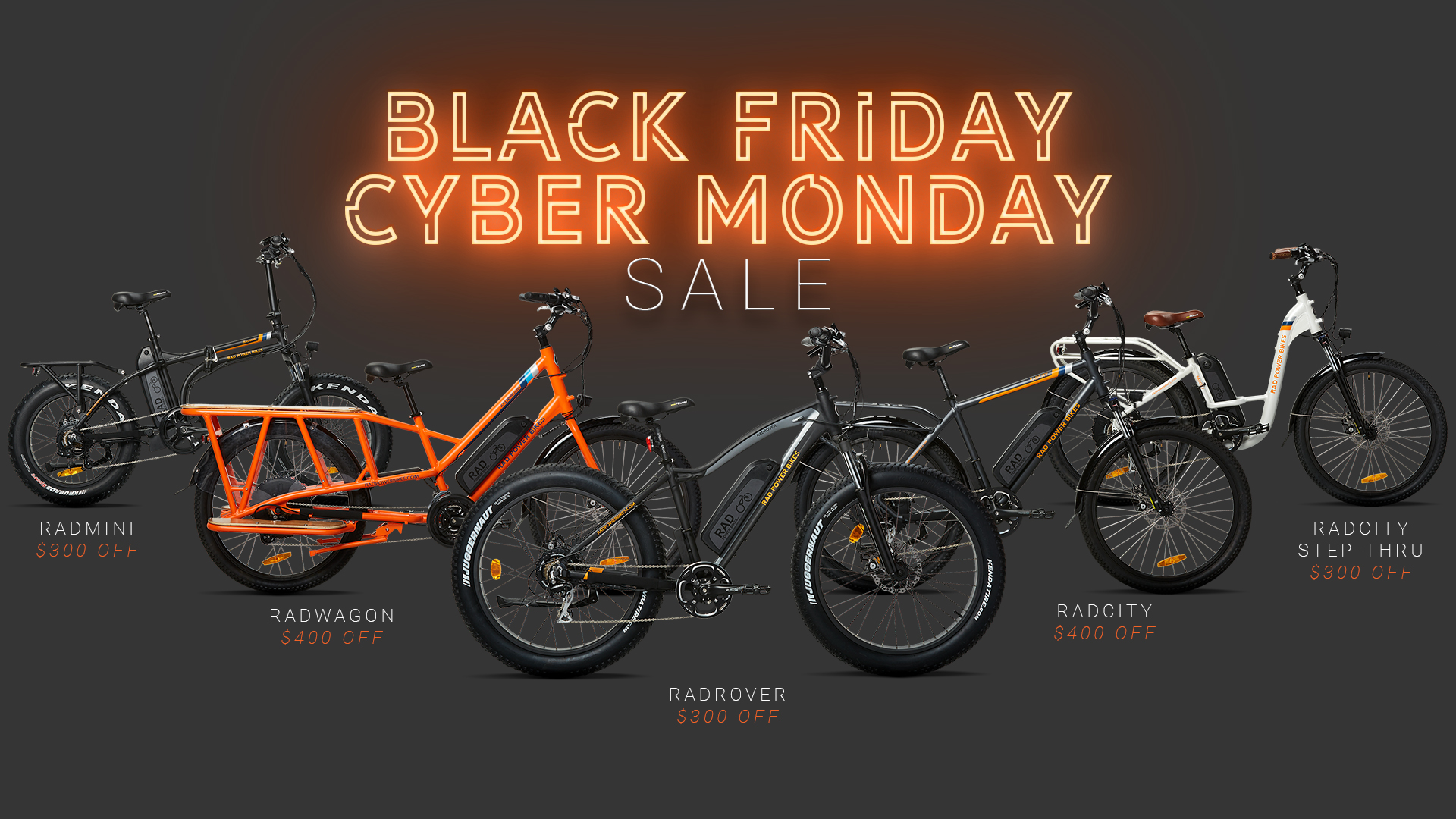 Rad Power Bikes has announced their Black Friday and Cyber Monday deals that are up to $400 USD off (up to €200 Off and $150 CAD) their 2018 model eBikes.
Purchase online at Rad Power Bikes' websites starting at 12:01 AM PT on Monday, November 26.
EMOV Brina 2 Smart E-bike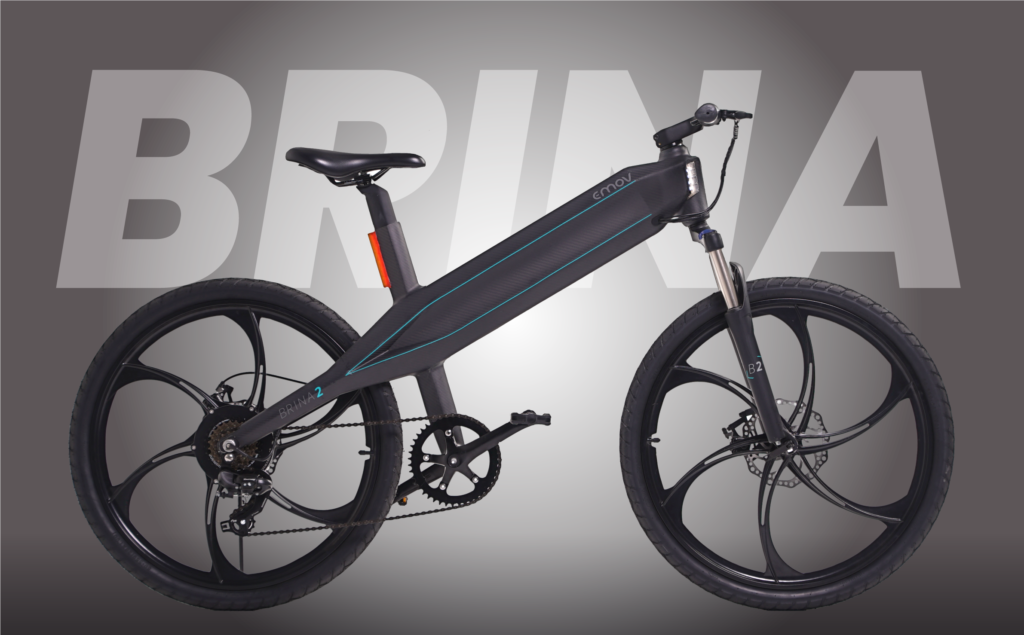 EMOV Inc from Newark, Delaware, U.S., will launch the Brina 2, a carbon e-bike designed in America described as having 'a hyper-smart app' and a stated weight of only 35 pounds (around 16kg).


EMOV describe BRINA2 as 'a cutting-edge e-bike, with an affordable price tag'.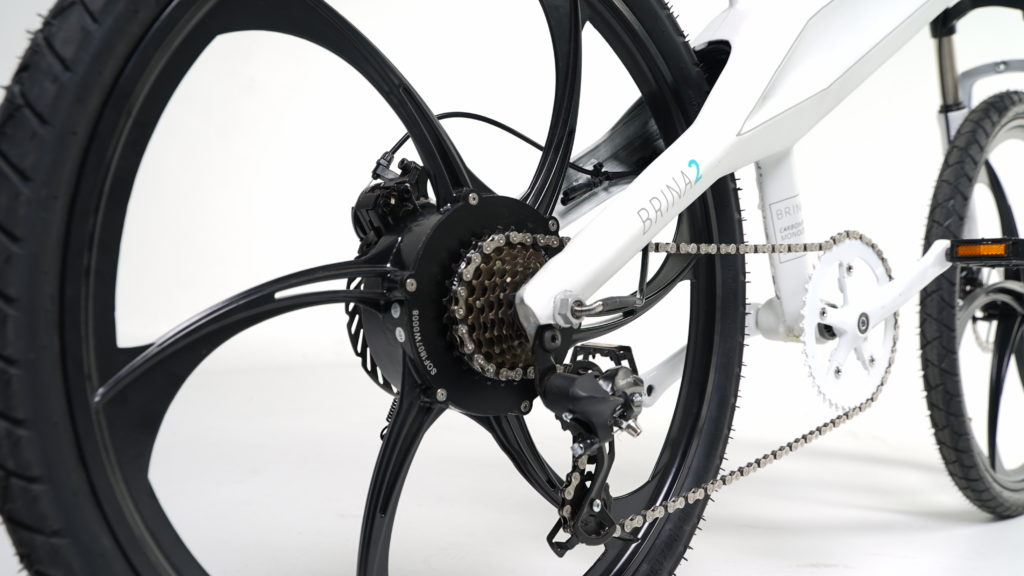 New Klever Speed Commuter
Klever are based in Cologne, Germany and offer a range of funky looking e-bikes aimed at commuters.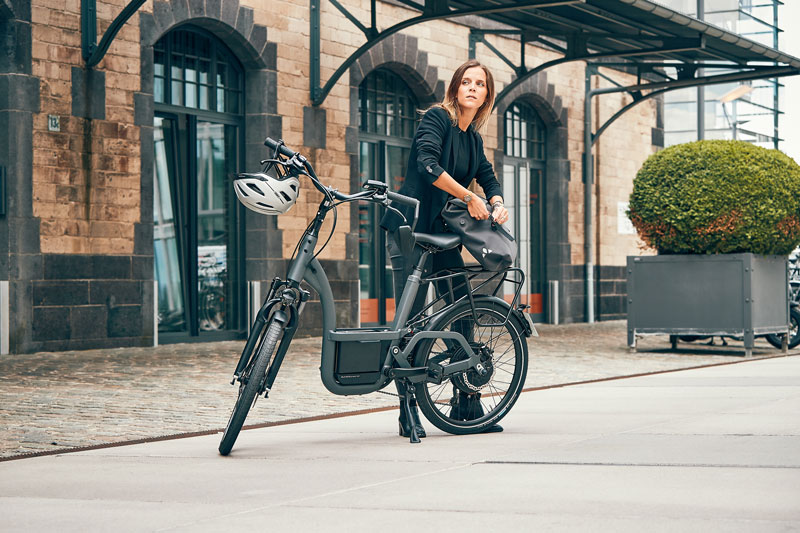 They recently launched a new version of their powerful, fully suspended, low-step frame pedelec (with speed pedelec option) called the "B Series"
Klever e-bikes are particularly distinctive due to their own brand Biactron rear-wheel motor and unique frame designs.
All their e-bikes are equipped with a Bluetooth display as well as electronic anti-theft protection including an immobiliser system and an 850 Wh battery option (570Wh is standard).
There are 10-speed derailleur gears and 24-inch wheels with very broad tyres (Schwalbe Big Ben 24×2.15). Suitable for daily use and commuting, the maximum load is rated at 120 kg.
The Pedelec model "B Comfort" comes with a 350W motor, with its output reduced to 250 Watts in accordance with EU legislation.
The sister model "B Power" is equipped with a 500-Watts motor with a reduced 250-Watts output as well as stronger, hydraulic disk brakes.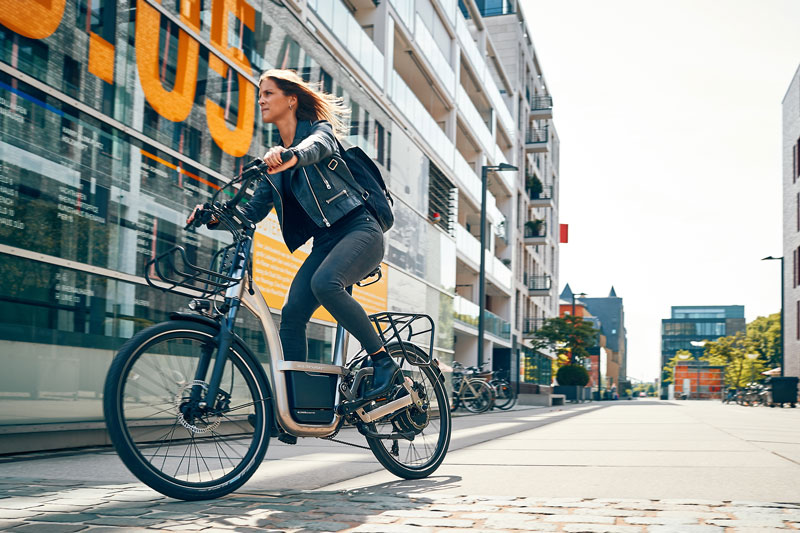 Klever say that 'With these features and the 56 newton metre torque it brings to the rear hub without transmission-related loss of power, this e-bike is ideal as a traction engine or for demanding gradients.'
The new B Speed and the premium B Speed Plus s-pedelecs both feature a 600W version of the motor, in line with EU speed pedelec regulations. The Plus version is equipped with an especially bright Supernova M99 Pure+ light with 310 Lux output and even more powerful brakes.
Prices: starting at 3,399 Euros / 3,899 Euros for B Comfort / B Power models and
Euros / 4,899 Euros for the B Speed / B Speed Plus (Pricing for Germany)
MBM with Olieds Mid-drive Powas into UK
UK e-bike manufacturer Powabyke have now started selling Italian e-bike brand MBM in the UK after signing a distribution deal with MBM.
Most notably MBM e-bikes are powered by the little known mid-drive Olieds and all three models have decent sized 522Wh batteries.
Will Screecher Break the Mould for Electric Quadricycles?
https://youtu.be/cC_ZRnMzZ_s
We've featured e-quads before at EBR but the Screecher is an e-quad with a difference – the price of US $2,500.
"Our goal was to solve a particular problem: The lack of affordable, electric-powered, carbon-neutral transportation. We did not set out to build an expensive and over-engineered product, available to only a few. The design and engineering are elegant, functional, and simple. The result is a fun, practical, green, and affordable form of transportation' is their summary of their new machine, due to roll off the production line from December 2018."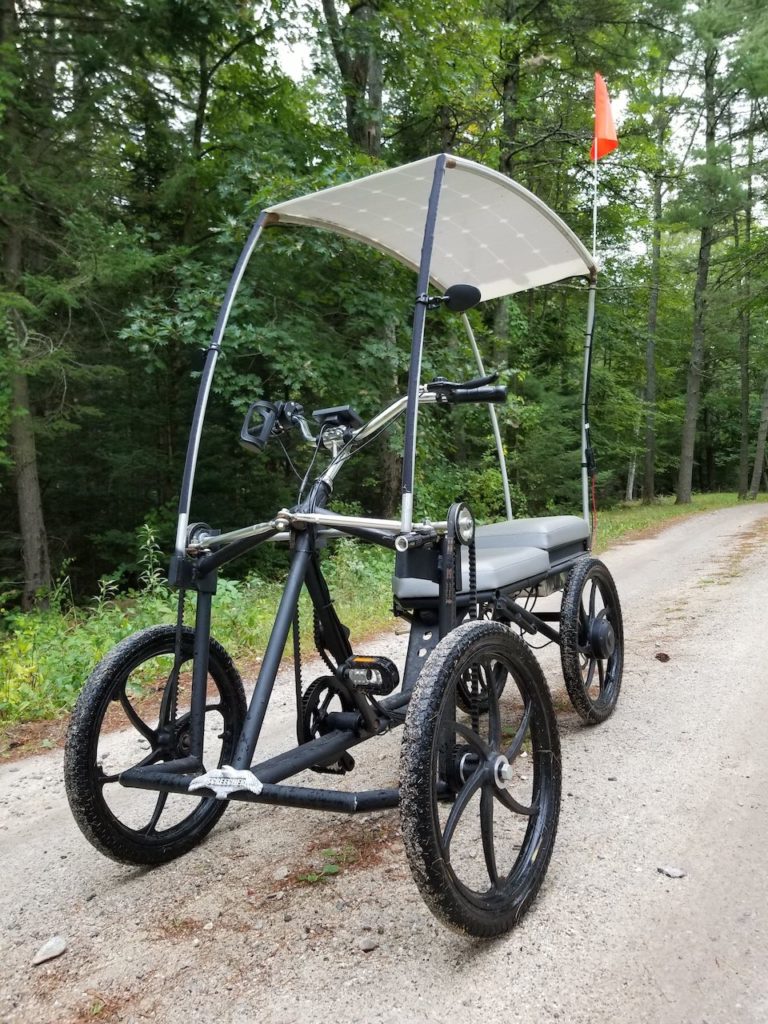 Machines like this have been popping up at regular intervals over recent years but it would be fair to say none have hit the heights of mass popularity.
In part this is no doubt simply that four wheels don't offer the manoeuvrability and convenience of two wheels but price and availability has also certainly been a factor, with other machines costing several times more than the Screecher.
It has a solar panel roof, rider and passenger seats, two 350W hub motors, 614Wh battery and a claimed weight / range of 54 kg (120lbs) / 20 miles max.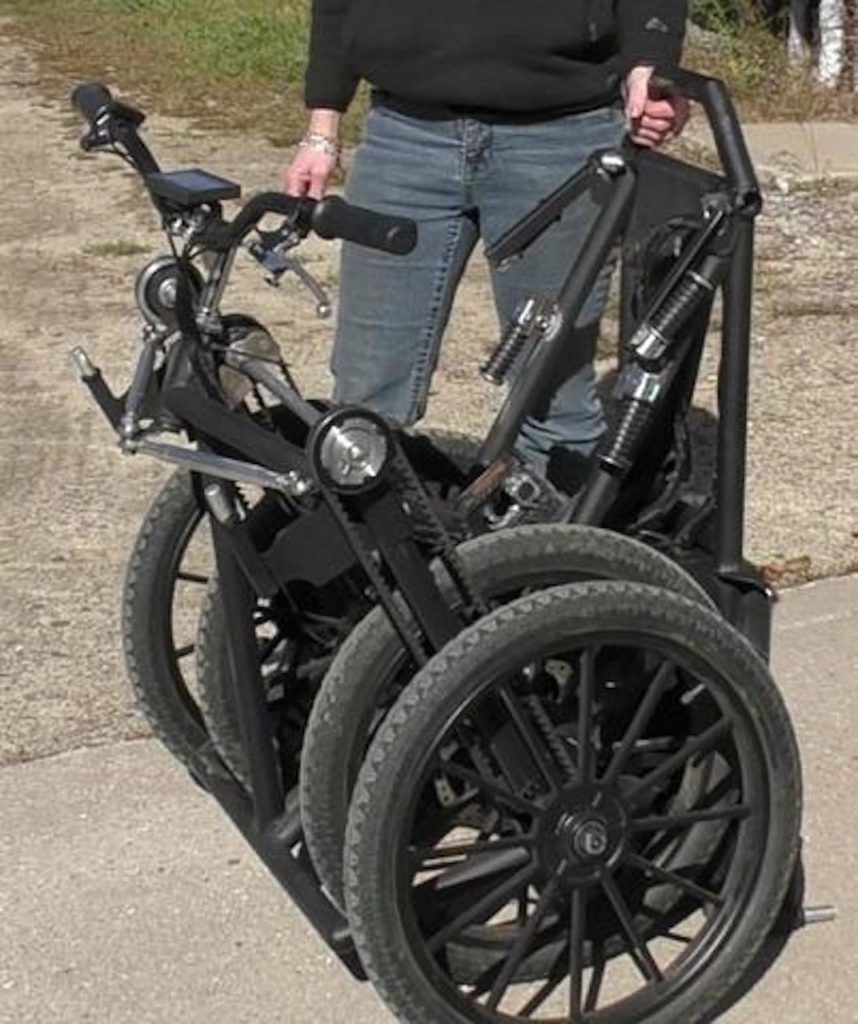 Its stated fold-in-half size is 32"x28"x40" and Screecher say the solar recharge time for the battery is around 6 hours.
Get Inspired
Surprise Mom
Here's a great video about what happens when someone gets a Priority Embark as a family gift…
Here is the full testing & review of the Priority Embark.
E-bike Biz
Ford Acquires Spin
A Ford press release has reported that Ford Smart Mobility, LLC has acquired Spin, a San Francisco-based electric scooter-sharing company and that "The acquisition of Spin is the latest strategic move by Ford in the mobility space, as the company builds a mobility portfolio to help customers get places more easily, more quickly and less expensively."
The Daily Telegraph gave more perspective on the deal in this article, stating "Ford will become the first major carmaker to launch its own fleet of electric scooters after securing a deal to buy California start-up Spin. The car giant paid a reported $100m for the electric scooter company, according to Axios…. It plans to roll out its scooters in more than 100 cities by 2020."
Of course some competitor e-kickscooter companies also offer e-bike share (such as Lime) so it will be interesting to see how Ford's own e-bike share scheme will compare in future to the rollout of the their scooter scheme.
Long Term E-bike Rental Scheme for Paris
Engadget reports that "Residents of Paris and its suburbs may soon have access to up to 20,000 electric bicycles. Public transit company Ile-de-France Mobilités (IDFM) is launching an e-bike renting scheme called Véligo with 10,000 e-bikes to start with. If that works out, IDFM will expand to 20,000, which would make it the world's largest electric bike rental system."
Véligo bikes will be rented for €40 per month and can be kept by users at home.
As with metro passes in in the Paris region, employers can cover half the costs, leaving users with just a €20 monthly bill.
Here's an interesting take on the move from Forbes columnist Enrique Dans who believes that the carrot such as e-bike rental schemes are the easy part and that "the stick also has a role to play by gradually increasing restrictions on private car use such as restricting traffic in more and more areas, implementing tolls, prohibiting street parking and above all, creating bike and scooter lanes, measures that will make it clear private cars are not welcome in cities that, in many cases, were designed to facilitate car use. We can put as many bicycles and scooters on to our cities' streets as we like, but if using them means taking our lives in our hands in cities where cars rule, we're not going to bring about change any time soon."
Gates Visits HNF
Carbon belt drive manufacturer Gates recently visited premium e-bike maker HNF-Nicolai who have recently opened a new production factory.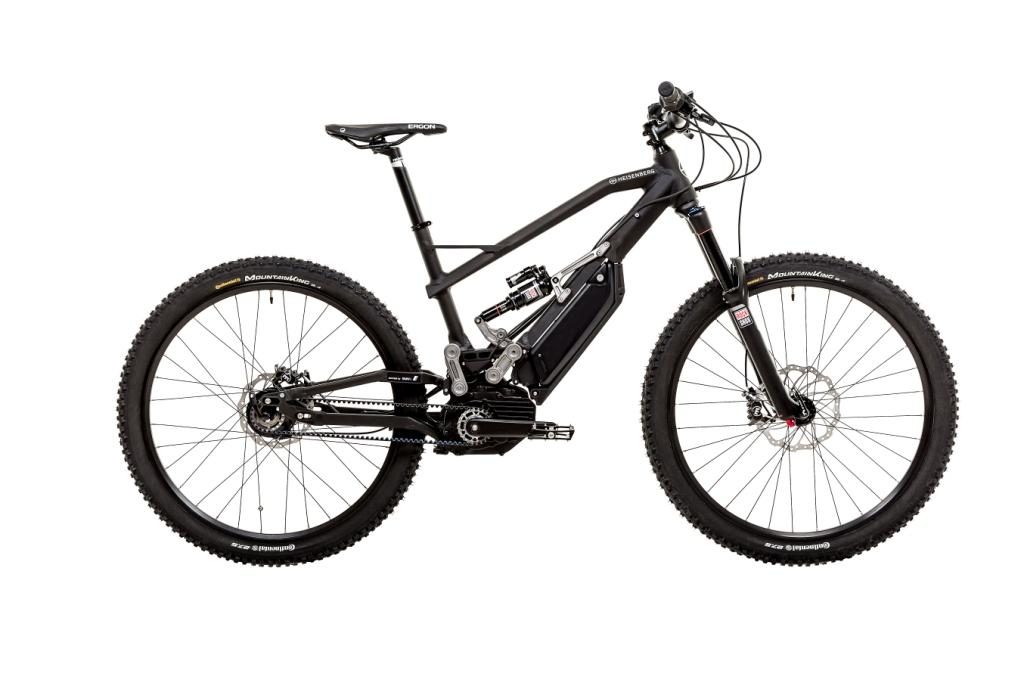 It's clear Gates are impressed with the forward thinking design approach behind high end e-bikes such as the XF-1 and their direct to consumer approach.
My Week on E-bikes
This week I've been exploring yet more of northern England's trails on Riese and Muller's new 2019 model, the Nevo GX Rohloff.
It combines a step-thru frame with off-road capability and the usual high build and accessory standard. A full report will follow soon.
Stay tuned for more e-bike news and reviews and thanks for reading!
-Richard
P.S. Don't forget to join the Electric Bike Report community for updates from the electric bike world, plus ebike riding and maintenance tips!
Reader Interactions