eBike Industry Leaders: An Interview w/ Don DiCostanzo of Pedego Electric Bikes
Here at ElectricBikeReport, we had the opportunity to sit down with Don DiCostanzo of Pedego Electric Bikes for an in depth discussion about Pedego, e-bikes, and the industry in general.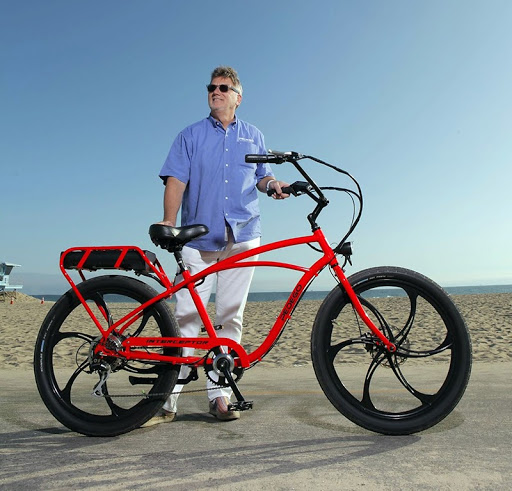 Don is the CEO and founder of Pedego Electric Bikes, located in Fountain Valley, California. In 2006, Don purchased an ebike to help him ride up a large hill to his home. But after many frustrating experiences with several different ebikes, Don decided the only way to get the ebike he wanted would be to design it himself. So he set out to create a bike that was powerful, durable, stylish, and comfortable to ride. He and a partner began Pedego bikes in 2008 and Don has been learning from and influencing the ebike industry ever since then.
Today, Pedego is the number one brand of electric bikes in the US (according to Navigant Research) with over 140 stores and 30 more set to open soon.
We asked Don to tell us a little bit about Pedego, what makes this company unique, and to give us some insights into the history and evolution of the ebike industry.

Thanks for joining us today Don, we are thrilled to visit with you here at ElectricBikeReport! Can you tell us, what sets Pedego apart from other ebike manufacturers?
Well, first and foremost, we're not just a manufacturer. We're not just selling ebikes, we're selling an experience. We want people to come in and see how much fun they can have on an ebike. You can buy one, rent one or take a tour! We are interested in developing a relationship with our customers as they gain our shared love for ebikes.
Tell us about Pedego. How did you get started?
As you mentioned, I started Pedego bikes because I got tired of riding up the steep hill to my house! The first ebike I bought was a piece of junk — it was a clunky, ugly bike, but it got me up the hill. I ended up buying seven of them and storing them in my garage. I thought, "there's value in these electric bikes," but at the time manufacturing was poor and customer care was terrible. I determined the only way to get the ebike I wanted was to build one.
In 2007 I opened a retail store in Newport Beach to sell nothing but electric vehicles. We had electric scooters, electric golf carts and electric skateboards, but it quickly became apparent that electric bikes were the most useful. At the time, premade electric bikes were poor quality so we converted beach cruisers to electric bikes which were very popular. In 2008 I decided to start Pedego where all we did was build electric bikes. We wanted to be the Schwinn of electric bikes. We are now 100% focused on the electric bike business. In 2009 we sold 410 bikes, in 2010 we sold 1200 bikes and it just went up from there. The secret was having the right styles, quality and accessories.
In 2012 we opened three Pedego stores — which only sell Pedego bikes. It spiraled from there and now we have over 140 stores nationwide.
Our business model is built on the foundation of a quality product, good customer care, and ongoing service. We determined early on that electric bikes were the way to go, so we stopped selling other vehicles and just focused on the bikes. Having a focus and understanding your market are keys to building a quality brand. We use the Four P's of Marketing to help us stay focused and provide the service our customers expect at Pedego.
The first "P" is Product and from the beginning my goal has been to provide a premier product. My experience with low-quality bikes was the impetus for wanting to build a quality e-bike. I always say, "You can buy twice or you can buy quality." With Pedego, you are getting a solid ebike that is well-built and well-engineered.
In addition to quality — ebikes should be fun! We also focus on making our bikes stylish and powerful. The first ebikes I bought were so ugly even I didn't want to ride them! When women come into our stores the first question they invariably ask is, "What colors do you have?" We have 19 models of bikes in various sizes and colors. If someone wants a pink bike, no other color will do — and if someone doesn't want a pink bike, you won't be able to talk them into it. We want our customers to be delighted with their bikes, and this includes how they look! We have different styles and we make our bikes attractive with clean lines and sharp engineering. Also, we know the men want power. The question men always ask is, "How fast does it go?" We've outfitted Pedego bikes with 500watt motors that will take you up to 20mph for a quick, sporty ride. Pedego bikes are fun, stylish, well built, and powerful. We design quality products — because that's our starting point for value.
The second "P" is Price. I've found that there is a sweet spot for ebike pricing. When tariffs went up in China it affected our production costs and we had to adjust pricing. We found this affected sales significantly. Most ebike buyers have a set value that they will spend on an ebike and we try to stay around that sweet spot.
Many ebike manufacturers are in a race to build the cheapest ebike available. We don't want to get caught in the "race to the bottom." This descending struggle to make ebikes ever-cheaper leads to low quality ebikes, angry customers, and a poor reputation. We have fused quality with affordability so Pedego owners get a solid, well-built bike that is comfortable and fun — at a fair price.
The third "P" is Place and this is where Pedego has made headway in the market. We have actual brick and mortar stores that are locally owned and operated right in your hometown. Right now we have 140 stores with 30 more opening soon. My goal is to have a store within 30 miles of any location so Pedego owners anywhere can quickly get to a local store.
Many ebike sellers are direct-to-consumer, which means you buy the bike online (without being able to test it), and then it is shipped in pieces that you — the buyer — then have to assemble. Assembling an ebike is tricky! There are cables that need to be connected correctly and other elements of the bike that absolutely have to be done properly for safe operation. If you buy a bike online, you are then responsible for assembly, maintenance, and all ongoing repairs. The seller basically washes their hands of the whole transaction.
We don't want to just ship out a bike. We want to have a continued relationship with each owner. You can buy a bike from us online, but whenever possible it will be delivered to your local store where they will assemble it for you and provide guidance and support. Each of our stores has a service department so we can service your bike anytime you need. We have accessories that you can add to your bike along with helmets and sunglasses and even recommendations on bike locks and car racks. If there are already good products out there, we don't duplicate. There are several great attachable cup holders, so we don't make cup holders. But we do look for what the customer is going to need and if it's not available on the market, we manufacture and sell a quality version. There are sales reps on hand and technicians in our stores to answer any question. We aim to provide whatever a Pedego owner may need throughout the life of their ebike.
A while ago a Pedego owner in Georgia traveled to South Carolina for a week's vacation. While there, his Pedego battery had an issue. He walked into the Pedego store in South Carolina and learned that repairing the battery would take several days. Since he planned to ride his Pedego bike during vacation he was very disappointed. Our store owner in South Carolina gave him a battery to use free of charge while his was being repaired so he could continue to enjoy his vacation. The bike owner was thrilled. We want to have local dealers who are there for the customer when they need it. Having a place you can go for service and support is vital.
The fourth "P" is Promotion. We are currently the largest ebike seller in the United States (according to Navigant research), and we want to continue to be the brand people think of when they think of ebikes. We have 19 models of ebikes in various styles so we can satisfy the needs of any ebike customer. We have cruisers and commuters, fat tire bikes, tandem ebikes, tricycles for carrying cargo and even specialty bikes like a full suspension mountain bike. We have multiple colors so any buyer can get exactly what she wants. We want to build a community of riders who then share the good news of Pedego with their friends and family. Word of mouth promotion thanks to a quality product and ongoing support is the best form of promotion.
We actually visited the local Pedego store here in our city. It opened just a few months ago. We were impressed with the helpful staff and clean service center. Do you only sell Pedego ebikes at your shops? What other services do you provide?
We only stock Pedego electric bikes in our stores. This helps us stay focused on our product and service. We carry all the parts you will need for your bike and our technicians are skilled with ebikes and know how to care and repair them. We provide free test rides of all our bikes so you can get an idea of comfort and power before you buy.
Often if you walk into a traditional bike store you'll find they either don't service ebikes or they don't have the parts needed for repairs. Many traditional bike shops look down on ebikes and their technicians often don't have the experience necessary to properly repair ebikes. Getting the right parts can also be challenging. Because we are focused on our line of products, our technicians can order parts directly from Pedego headquarters and fix them in a timely manner.
We offer both bike rentals and tours. Whenever anyone asks me what ebike to buy I say, "Don't buy one. Go rent one first." Renting a bike and riding it for a day is the best way to really know how a bike feels and operates. Also, some people don't want to own an ebike, but they will come in and rent some a few times a year when they want to get out with family or friends. Other people come in for a weekend rental and then realize they absolutely love the bike, so they come back and buy one later. Renting an ebike is a great way to learn and enjoy an ebike experience before you make the commitment to buy one.
Many Pedego stores also offer guided ebike tours through the local trails and cityscapes. These depend on the owner and location, but they too are a fantastic way to get outside, enjoy your day, and get some exercise, all while enjoying local trails or learning about the city history.
Why did you decide to go with local shop owners as opposed to corporate Pedego stores?
Local owners connect with people because they live there — these are their friends and family — so they give good care and advice on all our ebikes. Most of our store owners are previous Pedego customers who have come to love the brand and the bikes so much they set up a local shop!
We initially started with company-managed stores, but these didn't succeed like locally owned stores, so we shifted our model to corporate-supported but individually owned stores. We don't micromanage their operations. We allow our store owners to create a shop that caters to their local clientele. Pedego store owners are the backbone of our business model. They interact with the customer, provide support, correlate repairs, and help with other day to day needs of their customers.
What experience can customers expect once they purchase a Pedego electric bike?
We provide ongoing support for each ebike and owner. We offer a 5-year warranty on our bikes and we have in house technicians that can service and repair all our bikes. The fact that you can buy your bike and have it serviced at the same shop is a tremendous benefit for Pedego owners. Have a question about your bike? Need a replacement part? Want information about matching accessories? Just walk into a local Pedego shop and ask the technicians; they are there to provide ongoing support to our bike owners.
We have worked to build a community of Pedego bike owners. We established the Pedego Owners Group where riders can connect with other Pedego owners all over the country. We have rewards for riding 100 miles, 500 miles, 1000 miles, etc. This allows for Pedego owners to make friends with each other and enjoy a community of fellow riders. We want to build a community, not just sell you a bike. This is the Pedego experience.
As I mentioned before, many of our store owners are Pedego ebike owners who love the brand and the community so much, they decided to open a shop in their local area. We want people to love their bikes but also create friendships and a sense of community.
You've personally been involved in the design of your whole fleet of bikes. What do you focus on when designing a bike?
Our first bike was the Comfort Cruiser — and the name says it all, I wanted something comfortable and functional. I build a bike around the parts that the customer touches: the seat, handlebars, and pedals. You can have the best components on your bike, but if the seat is uncomfortable, you'll hate the ride. We take care of the componentry by focusing on quality, but I want the customer to focus on the feel of the ride: the comfort, ease, and enjoyment.
Most of our bikes have an upright geometry so riders can sit up on a wide saddle with raised handlebars which is a more pleasant position and makes it easier to see. We use memory foam in our seats because it is so comfortable. Pedego bikes are probably the only ebikes on the market with a memory foam seat! Each Pedego bike has soft, comfortable grips that are easy to hold so your hand doesn't get tired. Even the pedals provide a solid but supportive feel. We want our customers to enjoy their ride and have fun.
What is your target demographic? How do you want ebikes to play a part in the lives of regular people?
Our target demographic is the Baby Boomers. These are people who have worked hard their entire lives and now have a little more time and resources to do things. But, like me, many people in this age group have certain health limitations. I have sciaticus, which is why I want a comfortable bike. Ebikes make it so those who can't — or haven't — ridden a regular bicycle in a while — can still get out and enjoy life! We had one woman come into one of our stores a while back who hadn't been on a bicycle in 40 years! But she climbed on a Pedego and zipped around the parking lot.
There's a sentiment out there that ebikes are not "real" bikes or somehow riding an ebike is "cheating." It's not cheating to get outdoors and enjoy the scenery! It's not cheating to enjoy time with family touring local sites or riding along a bike trail! Ebikes allow people of all ages and abilities to still be active and enjoy time with friends and family. We find that many people who come in want to spend time together. 62% of our sales are dual, which means couples buy two bikes so they can ride together — which is exactly what we promote: time together with friends and family.
You've had a hand in shaping some of the legislation surrounding ebikes, can you expand on that for us?
Back in 2012 or 2013 there were a few laws — particularly in California — that were not favorable to electric bikes. In fact, most people thought they should be classified as electric scooters and needed to be registered and insured, which created a big challenge for us. So, I got together with other industry leaders, including one of my competitors, and we drafted a bill to change the law in the California state legislature. Our first go-around we were somewhat naive and thought we could just push this through, but it was completely hijacked by the scooter industry! As a result, a committee of industry leaders called the BPSA — Bicycle Product Suppliers Association — was formed and I was asked to join the committee. Our goal was to define and outline what electric bikes are and how they should be regulated and then present another bill to the legislature. We had a meeting in Las Vegas in 2013. There were 13 members on the committee that represented the major electric bike manufacturers. There was a vote at that time to follow the European definition of an ebike and eliminate throttles in the U.S. Now, I believe throttles are an essential component on an ebike that make it both easier and more fun to ride — so I wanted to keep throttles on ebikes. I was the only person to vote against the mandate to eliminate throttles — it was 12 to 1. Everyone else disagreed and felt that a bike should be powered by pedal only. After that meeting, I immediately raced back to California, got in contact with my local legislator, and we quickly drafted a bill that allowed for throttles on electric bikes. There were many in the industry who were upset with me about this, but I knew eliminating throttles would take an important feature away from electric bikes. We came to a compromise with the AB-1096 Electric Bike Law that classifies ebikes into three categories: Class 1, which has pedal assist up to 20mph, Class 2, which has pedal assist and a throttle up to 20mph, and Class 3, which will go up to 28mph. This law was adopted in California on January 1, 2015 and has since been adopted in 27 other states. Essentially, this gives us three classes of bikes so we can identify and legally define what an electric bike is and what it is not.
The bikes we sell at Pedego are mainly class 2 bikes. I am a firm believer that a throttle makes riding an ebike easier, especially for older riders who may need a bit of electric power. A 250 watt motor with pedal assist only isn't going to get a big guy like me up the hill. Throttles make ebikes more functional — and more fun. Between one half and one quarter of all the electric bikes imported into the U.S. now have throttles.
Others in the industry don't agree with me; there are many who support pedal assist alone and that's fine. But at Pedego we find our demographic use and appreciate the throttle on an ebike.
What are your goals for Pedego Electric Bikes?
We want to get 500 stores throughout the country. This will enable us to provide service everywhere. We are focused on continuing to build quality ebikes that are comfortable to ride. We also want to extend our Pedego community to include more friends and colleagues who share a love of being active and outdoors on an ebike.
What do you predict for the future of the ebike market?
This is an exciting time in the ebike industry. In the recent Deloitte report, which predicts the top five industries in the future, ebike were listed second. The ebike market has been strong in Europe and China for years, but now the U.S. is picking up on that trend.
According to Deloitte, in 2019 ebike sales increased to more than 400,000 units, which is a 73% increase over 2018. And, by 2023, the total number of ebikes around the world is predicted to reach 300 million — which is a 50% increase over 2019. Due to COVID and other factors, this year people have been buying more electric bikes than ever before because it is something they can do together at home as a family.
People are just starting to see what ebikes can do; how much freedom they grant you. Ebikes are an exciting industry to be a part of. I haven't worked a day in my life since I started this company because I love it so much!
Thank you Don for spending time with us here at Electric Bike Report! We appreciate your insight and background and look forward to watching Pedego Electric Bikes continue to grow.
Reader Interactions