E-Bikes at CES 2022: How E-bikes and e-mobility stole the show
We were supposed to go see the latest e-bikes at CES this year, but for reasons that start with "C" and end with "OVID," we stayed home and watched the show unfold through a computer screen.
The yearly CES show in Las Vegas is one of the world's largest stages for consumer electronics companies to show off their latest and greatest. With record growth over the past several years, electric bikes and other micro mobility solutions were set to steal the show this year, and they did not disappoint.
From e-bikes with record-setting battery range to electrified ways to travel over snow, CES 2022 brought a number of new innovations and shined a very bright light on electric mobility. We may have missed the show in person, but we logged in virtually to see what brands were bringing to the table.
Here's the cool new e-bikes and e-bike-adjacent things we missed playing with at CES 2022:
Delfast Top 3.0
Once you're already the
Guiness World Record holder for the longest range e-bike
, what's more left for you to do? Try to build a bike that goes further.
Delfast unveiled their new Top 3.0 model, a very dirt bike looking e-bike that promises a range of up to 200 miles on a single charge. Though it has cranks and pedals, the Top 3.0's spec sheet quickly begins to look more like an electric motorcycle than an e-bike.
Though Delfast says the Top 3.0's speed can be limited to Class 2 settings, marketing materials and Delfast's website boast the bike's claimed 50 mph (80 kph) "default" speed and 56 mph (90 kph) "max" speed. There's also the 3,000W motor, which, combined with those eye-watering speeds, make this e-bike less of an e-bike and more of an electric motorcycle. That is, unless you change the speed settings using the app.
The Bosch Smart System
Bosch's Smart System may not be brand new, but now it's award winning.
Representing the next generation of Bosch drive systems, the Smart System is Bosch's vision for an ultra-connected e-bike future. It was formally released last August, but it earned Bosch recognition as a 2022 Innovation Awards Honoree at CES.
The Smart System is currently built around the tried and trued Performance Line CX motor and a few other new parts unveiled in August, including a larger 750Wh battery and a new wireless remote and display combo. We got to give the Smart System a try at last year's Sea Otter Classic on a couple of BULLS e-bikes, which at the time were the only e-bikes in the U.S. equipped with the system.
Momentum Voya E+ Series
Like most of our New Year's resolutions, cutting weight seems to be all the rage in early 2022.
We'll see how long that lasts.
Momentum, the urban and lifestyle e-bike arm of bicycle super company the Giant Group, unveiled the all-new Voya E+ Series at CES, a family of two lightweight commuters that claim to weigh in at just 39.7 lbs.
There's a flat bar and drop bar model to choose from, both of which have the SyncDrive Move rear hub motor and a brand new micro battery integrated into the frame. That new battery, the EnergyPak Micro, promises a full charge in 3.5 hours and weighs in at just 8.8 lbs.
We've seen a handful of new e-bikes at the turn of this year that emphasize lightweight designs, including the new Aventon Soltera, which was also on show at CES but we got a sneak peek at before the show.
OKAI EB20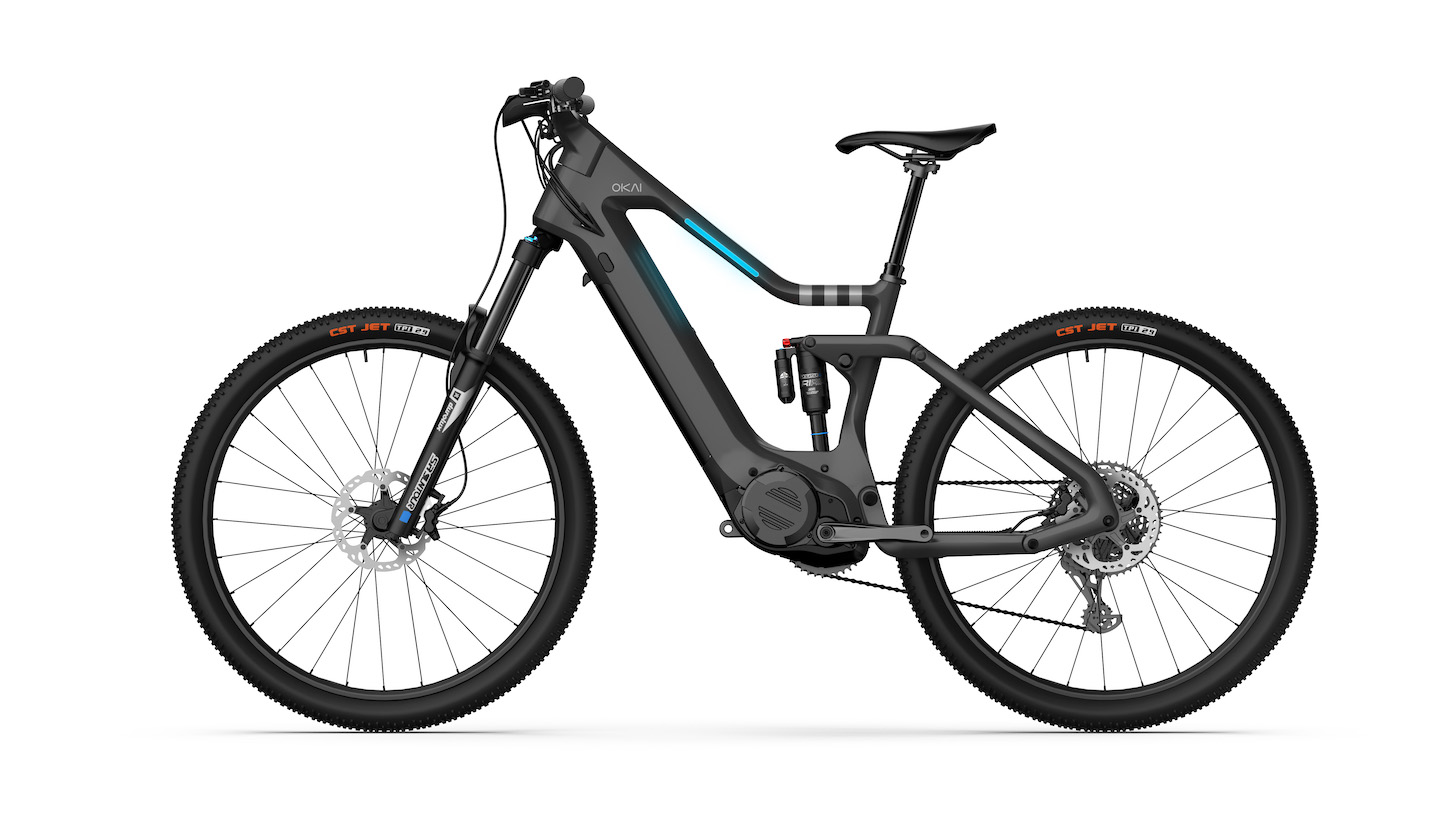 It's carbon, has one of the most powerful mid-drive motors on the market and a full suspension design. The newly-unveiled OKAI EB20 is the first electric bike from the Chinese company best known for its electric scooters.
The new EB20 comes with the 750W Bafang Ultra mid-drive motor, a SR Suntour suspension setup and promises a full Shimano XT drivetrain (though those have been notoriously difficult to source, lately). We don't know much about this new e-bike aside from what we've read in a press release and seen in photos, but it looks like it could be a neat new offering.
Moonbikes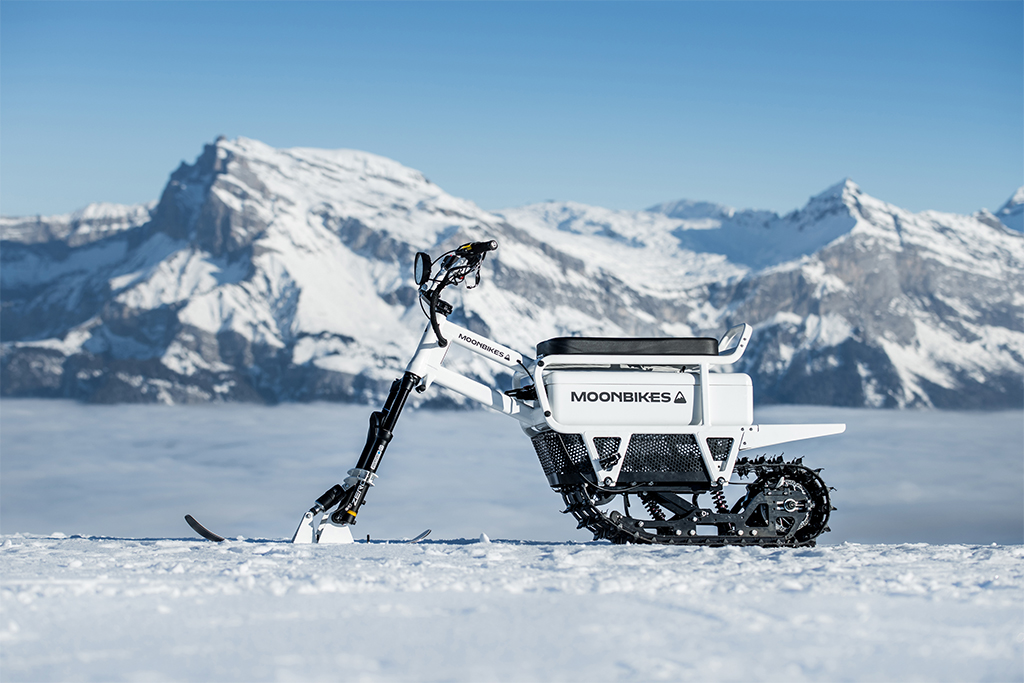 It's not an e-bike, but the new Moonbikes electric snow bike unveiled at CES is just too darn cool to not mention.
With a 10 inch track and a whopping 3,000W motor, the Moonbike is a cross between a traditional snowmobile and an e-bike. Photos and the spec sheet show an amalgamation of parts we'd typically see on a bicycle — TRP disk brakes, an SR Suntour fork and a bicycle-ish looking front end — with parts more typical of a snow machine, namely the front ski and rear track.
It looks fun to say the least, just educate yourself on avalanche terrain and local regulations should you get one and want to venture into the wild. Snow can move on its own, people, and it tends to be not super friendly to humans when it does.
Reader Interactions