E-bike News: Yet Another New E-bike from Tern, BMX Electric Style, Heavy Cargo and Much More!
In the early days of e-bikes the aim was simply to make reliable systems with enough power and battery range that weren't too heavy. Now it's more about pushing the limits of what is possible and catering for as many potential e-bikers as possible.
This week's news shows these trends very clearly; we have a newly announced e-cargo bike with a revolutionary-sounding motor system that is one of several mammoth e-cargo offerings now on the market (we are talking several hundred lbs of cargo carrying…) whilst Tern's new NBD looks to cater for smaller or older riders or those who just want to get into biking the easiest way possible. High speed, high performance BMX electric stunts anyone? Yep, we've got that covered too….Or if you just suffer overly from punctures we look and the 2nd gen puncture proof Geck tires, their lightest yet.
In this week's e-bike news:
Tern's NBD looks to broaden the appeal of the e-bike

Chimera's titanium e-BMX with patented high performance motor system

Are Rivian autos the latest auto company getting seriously into e-bikes?

Heavy duty e-cargo bike category now includes Finland's Ouca

Gecko 2nd gen cellular rubber puncture-proof tires now on Kickstarter
TERN LOOKS TO BROADEN E-BIKE APPEAL WITH NBD
Tern, specialists in smaller wheeled bikes and e-bikes, have just launched the NBD (New Bike Day) e-bike. It is described as 'Small in size and big on features….. an ultra-low step urban e-bike designed to deliver the joy of cycling to a much wider audience.'
It's also described by Tern as easy-to-handle and easy-to-ride bike and to appeal to as wide a range of riders as possible. Smaller riders, older riders, riders who might have balance or physical issues, or riders who are just intimidated by the sheer size and weight of the average e-bike are all mentioned as target audiences by Tern.
There are two models, the S5i and the P8i, both of which use Bosch's mid-drive motor system and come fully equipped with hard-wired lights, a 27kg rated rack (designed to allow vertical storage of the bike itself), mudguards, kickstand and fold-down handlebar stem. The S5i is the higher spec, with five hub gears and belt drive, 500Wh battery and Performance Line motor against the eight derailleur gears, 400Wh battery and Active Line Plus motor of the P8i. Relative weights of the bikes are 51.6lbs / 23.4kg and 52.2lbs / 23.7kg and quoted rider sizes are 4'10" to 6'3".
Retail prices are $3899 / £4,000 for the P8i and $4,699 / £4,700 for the S5i with availability from Q1 2023.
CHIMERA BMX LAUNCHING THIS SUMMER
Chimera have developed their own high performance 'high drive' system for what they see as the ultimate performance BMX….and they plan to launch it over the summer.
Details are fairly brief at the moment but it's clear this is aimed at performance riders rather than commuters, with 28mph and 35mph versions available and a high power motor giving short ranges from the 470Wh battery because of the powerful, patent-pending motor system – though Chimera say that they will make a large 'commuter' battery back available. The frame is brushed titanium.
The Indiegogo signup page can be found here. And if you want to read more about the Californian university philosophy lecturer behind Chimera you can do so here.
ARE RIVIAN ELECTRIC AUTO MAKERS ABOUT TO GET INTO E-BIKES?
This article in Elektrek highlights further evidence that Rivian – specialist in truck and SUV type designs that use the company's adaptable 'skateboard' platform – may be getting into e-bikes.
The latest evidence is the hiring of Chirs Yu; as the article says, Yu 'spent more than 10 years at Specialized, serving in various roles from R&D Engineer, Head of Applied Technologies, Chief Innovation Officer and CTO. Now his current role at Rivian is VP of Future Programs.'
This comes on the back of Rivian registering an electric bike trademark for the first time, possibly signalling a broader family of electric products.
Whilst auto makers have long used e-bike launches as marketing exercises to promote their other vehicles, recent launches show perhaps a more serious intent to come up with their own e-bike products and technology, rather than just 'badge-engineered' marketing exercises. EBR recently covered the launch of new models in Mercedes' N+ e-bike lineup, including an unusual dual motor single speed model. Porsche also appears serious about getting into e-bikes, with the recent news of their takeover of Fazua who make lightweight e-bike drive systems.
HEAVY DUTY CARGO ROUNDUP
New Finnish company Ouca have just announced they will be launching what they describe as 'the ultimate cargo bike' at Eurobike 2022 in Frankfurt, Germany, 13 to 17 July 2022.
There will be three models as Ouca explain:
'As an Ouca Kiddiebus, it is designed to transport up to 8 children. As an Ouca Space, it is intended for delivery services and offers up to 870 liters of loading capacity. The cargo is protected from the weather and prying eyes. And as an Ouca transport, it is suitable for people, tools and cargo with a loading volume of 570 liters.' Payload will be up to 560lbs / 255kg.
It uses a Revonte mid-drive which combines gearing with motor power. It's a fairly complex system but claims to deliver more power and torque over a wide range of cadences, as explained in the video below:
The design has echoes of the incredible Urban Arrows Tender designed to take two Euro pallets and with a max front load of 660lbs / 300kg.
There's no word on prices just yet or on what countries the Ouca will be available in but EBR will keep you posted.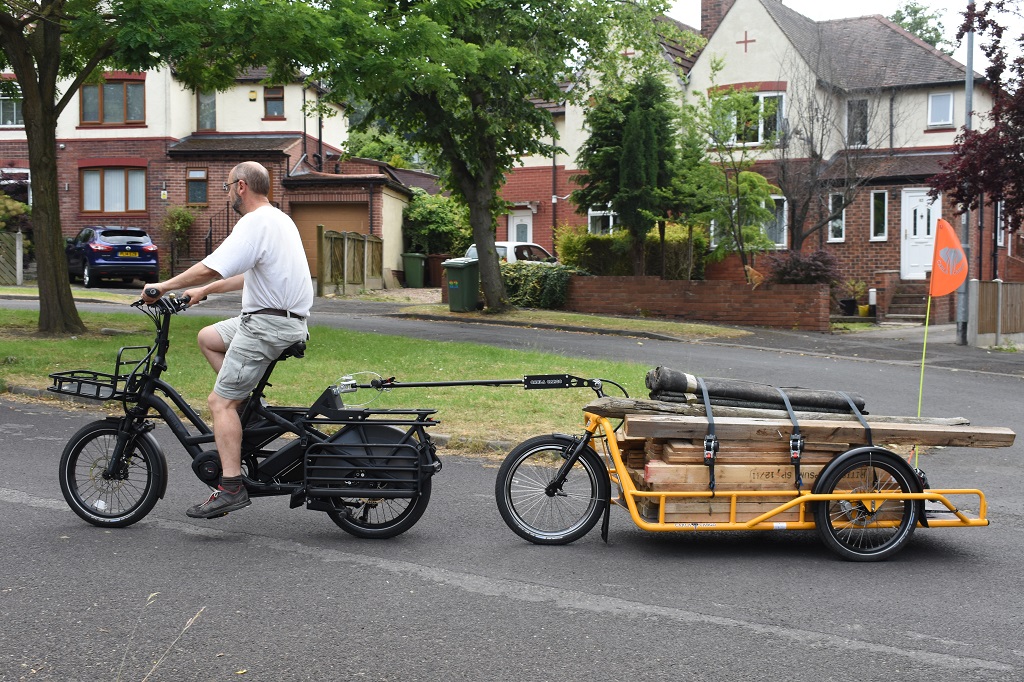 Over in the UK Manchester Bikes have sent news they will be rolling out the incredible Carla Cargo trailers via a dealer network over the course of the year. The trailers have a payload of 440lbs / 200kg and come in motorised and non-motorised versions. EBR's Richard Peace has been lucky enough to try one out and is very impressed – the above picture shows him hauling 330lbs / 150kg of building materials with the Tern GSD and special trailer hitch – a superb heavy duty load hauling combo. This particular setup has been distributed in the US by Stile Products since 2020.
GECKO PUNCTURE-PROOF CELLULAR TIRES LAUNCH ON KICKSTARTER
UK-based Gecko tyres have launched a Kickstarter campaign for the newly developed latest version of their puncture-proof, cellular rubber tires. Gecko say the tires are lightweight, comfortable and 100% recyclable. They can easily be installed by the end user in less than five minutes.
Gecko Rubber was founded by Richard Adams, a chemist and rubber technologist with over 35 years experience in tire manufacturing. Richard has a long experience in developing the cellular rubber technology that Gecko uses.
Gecko say their patented cellular rubber technology 'enables precise control over the properties of the final material. The unique blend of polymers and additives gives a lightweight formulation, and our two-stage rubber moulding process refines the end properties to give bounce, improving the overall feel and comfort of the tyres.'
Gecko say 'we are very excited to launch our tyres through the Kickstarter campaign! We really believe these are the best airless tyres on the market and can't wait to get them out into the world! A huge thank you to those who have pledged in the first few hours, it's great to see support for our mission and we are looking forward to providing more updates throughout the 30 day campaign.'
Three of the commonest size tires will initially be developed with the new 2nd generation lightweight material with the option to produce moulds for other sizes in the future.
700 diameter x 28mm width (quoted weight 14.1 ounces / 400g)
26″ x 1.5″ (650mm diameter x 35mm width – quoted weight 1.1lbs / 500g)
700 diameter x 43 mm width (quoted weight 1.9lbs / 850g)
Prices for a pair of tires in any of the above sizes are £110 (30% reduction of full retail price), this price includes tax and free UK shipping, additional costs are for shipping outside the UK (various) with estimated delivery for January 2023.
1st generation Gecko tires have already been through several iterations and EBR have tested several of them and been impressed and found them particularly suitable for commuting e-bikes.