E-bike News: Xtra-light E-MTBs from Orbea and Scott, Two New E-trikes and Much More!
With every new e-bike launch the trends are becoming clearer; sub 20kg e-mtbs are much more common and even full suspension sub 33lb / 16kg models are now beginning to appear more regularly – as witnessed by launches from Orbea and Scott this week – though you will still need very deep pockets to opt for the very lightest option out there.
E-trikes look to be on the up too; EBR was often asked about these in the past and we have to admit it was a struggle to recommend ones we had any personal experience of and a struggle to get review models in – now two have come along at once, one from Denmark's Mate and the other from the one of the biggest names on the US e-bike scene, Rad Power. So we hope there will be more on e-trikes over the coming months…..
In this week's e-bike news:
Orbea Rise full-sus e-mtb now lighter than ever


Scott Lumen range goes light with the TQ-HPR-50 mid-drive

New e-trikes from Rad Power and Mate


Pierer to sell Gasgas e-bikes in N American market

Continental's new, tough e-bike tire
ORBEA RISE E-MTB NOW LIGHTER THAN EVER
We enthusiastically greeted the arrival of the Orbea Rise back in 2020, calling it 'an obvious shot across the bow to the Specialized Turbo Levo SL, which is Specialized's light-weight EMTB. Coming in just above 35 lbs for the highest/most expensive version of the bike, the Orbea Rise is lighter than the Specialized Turbo Levo SL but has more torque (60 Nm vs 35 Nm).'
Now Orbea has announced the 2023 Rise, saying the new version is 'lighter than ever with more battery options, ready to open up longer adventures and take you to even more epic locations.'
The 2023 Rise has both carbon and aluminium alloy framed options; both use similarly powerful Shimano Steps mid-motors (EP801 RS and EP601 RS on the two frame options respectively), updated in mid-2022, but Orbea have software-limited the torque to 60Nm with the aim of extending battery life and giving a more natural feeling ride. The EP801 motor is the latest upgrade of the EP8 with extended electronic gear shifting options on the latest version – apparently the new Rise gears will shift without pedalling.
Most significant is the new lower weight; by using larger 21,700 cells in the 360Wh battery, Orbea say the battery is 300g lighter than the previous Rise battery and that's part of the reason the top end model has a new lightest ever claimed weight of 15.9kg / 33lbs (360Wh option) – lighter than many non-electric enduro e-mtbs. There's also the option to spec a 540Wh battery – yes, it even fits in that thin looking downtube!
Price range is US$5,299 to US$11,499 £4999 – £9999
SCOTT LUMEN EMTB CLAIMS 34LB WEIGHT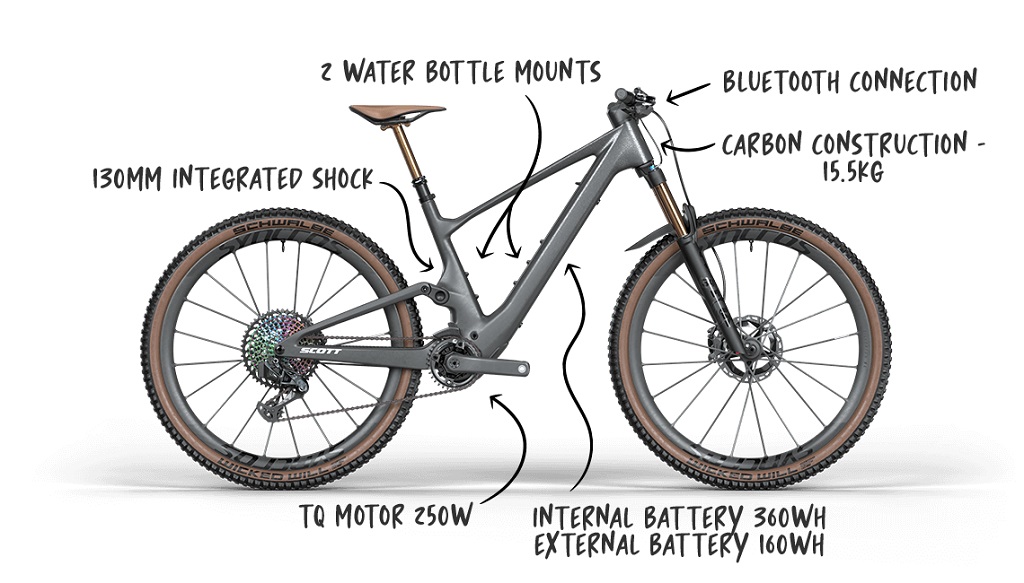 Just like the 2023 Orbea Rise, the newly announced Scott Lumen claims to have broken the 16kg barrier by weighing in at 34lbs by using the virtually new-out-of-the-box, German designed, TQ-HPR50 mid-drive – lighter than the Rise's EP801 RS motor at 4.1lbs but with a lower torque rating of 50Nm. This is combined with a 360Wh battery (range extender available), a small display in the top tube and a handlebar remote. The whole system comes in at 3.9kg.
It's only the top-of-the line Lumen eRide 900 SL that dips below the magic 35lb/16kg mark and it will cost you a staggering US$ $15,999 / £14,699.
Prices and weights for other models are:
Contessa Lumen eRide 900: £6,499 (not available in the USA) 38lbs-13oz/17.6kg
Lumen eRide 910 US$6,999 / £6,499 38lbs-13oz/17.6kg
Lumen eRide 900 US$9,999 / £9,299 35lbs-15oz/16.3kg
Here are Scott themselves to give you the technical low down:
RAD POWER LAUNCHES FIRST ELECTRIC TRICYCLE
Rad Power has just launched its first electric trike, not surprisingly called the Rad Trike.
It's designed to be stable, with an extra wide wheelbase, to carry plenty with racks front and rear and even to fold up for storage and transport.
It has pedal assist and throttle control and a single gear. It has a top speed of 14mh but is optimised to go around 8-12mph – slow compared to many other e-bikes but it's based on the fact that it will make the trike seem more stable and friendly to ride, after all many trike riders will be new to riding them and it is a learning experience.
The basic spec sees a steel frame housing a 750W front hub motor and a 500Wh battery. It has a reverse gear for easy manoeuvring and a rear coaster brake.
The $2499 pre order price tag (shipping mid-Jan 23) might seem steep, but in e-trike terms it's highly competitive.
EBR has looked at the Rad Trike in more detail here.
DENMARK'S MATE LAUNCHES E-TRIKE CALLED THE 'SUV'
Mate's new SUV is not the usual two-wheeled e-bike labelled an SUV (typically able to carry large loads and go off-road) – it's an electric trike with a large carrying capacity.
Mate say the frame is made from 90 per cent recycled aluminium. The SUV is powered by a 250W rated mid-drive motor and also has Envilio stepless hub gears and hydraulic disc brakes. Other interesting features include hardwired LED lights and 4G connectivity that allows vehicle tracking.
The carrying area has numerous options including box, roof and seats and has a claimed capacity of 210 litres (Mate say that equates to two children or one adult).
It's available to pre-order now for €49 and a final estimated RRP of around €6,499 / £5,600 a 'current estimated delivery time is September 2023' with availability in UK and Europe.
PIERER TO SELL GAS GAS E-BIKES IN NORTH AMERICAN MARKET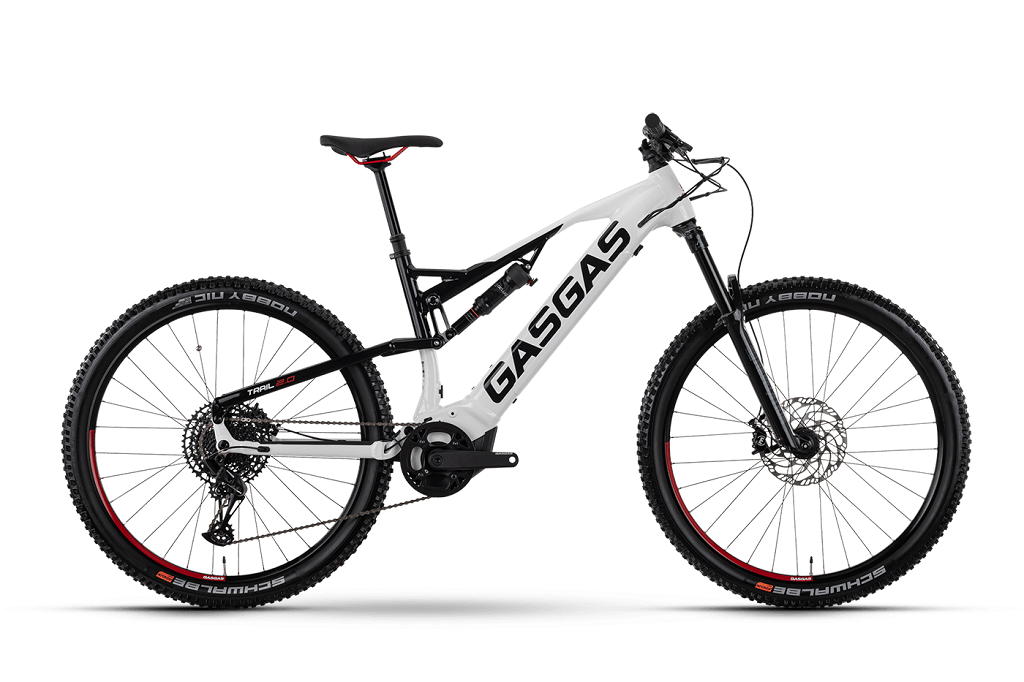 Bicycle Retailer and Industry News (BRAIN) reports that 'Pierer E-Bikes North America is tweaking its name and announced it is now importing a third e-bike brand — GASGAS — to the U.S. market.
The new name for the North American operations of Austria's Pierer Mobility AG is: PIERER New Mobility North America Inc.
The company currently sells its Husvarna e-bikes through its U.S. and Canadian motorcycle dealers. It sells Felt bicycles, which it bought last year through bicycle dealers. GASGAS e-bikes will be initially sold through motorcycle dealers in North America.
GASGAS began in Spain in 1985 and was first known as a trials motorcycle brand. Under Pierer, which purchased the brand in 2019, it has expanded into more motorcycle categories and added e-bikes.'
CONTINENTAL LAUNCH E-CONTACT PLUS TIRE FOR E-BIKES
The UK's Bikebiz report on Continental's new e-bike specific tire:
'The eContact Plus is a specialist clincher tire developed for the commuting and load-carrying demands of e-bikes. It features a compact tread pattern to keep rolling resistance low and boost the range of each battery charge, plus unique tread and construction technologies for protection from puncture hazards such as nails and glass.
Available in a broad range of sizes from 50-406 to 62-622, to suit e-bikes and e-cargo bikes travelling at speeds of up to 50 km/h, Continental says the eContact Plus can support load-carrying up to 128kg per tire. Drawing on more than a century of experience designing and manufacturing motorcycle and moped tires, this latest urban tire is also certified for S-Pedelecs.'