E-bike News: Thömus Claim 32.18lb Full-sus Emtb, Frey Hub E-bike and Much More!
The incredibly light mid-drive e-mtb from Swiss firm Thömus and the powerful hub motor options on offer with Frey's latest e-bike might initially grab the most attention this week, but there are arguably more innovative developments happening in the seemingly more modest announcements; here Honbike look to further develop their funky-looking and low maintenance die-cast e-bikes whilst Enviolo's latest stepless hub gears are rated to work on electric cargo bikes and vehicles with loads up a huge 1100lbs / 500kg.
In this week's e-bike news:
Thömus Lightrider full-sus e-mtb claims sub 33lb weight

Frey Savannah Hybrid Runner – their first hub motor e-bike

Honbike's innovative e-bikes continue in the shape of the U4

Funky, folding Mirider now with three gears

Lavita Boost – the minimalist retrofit kit from the UK

Heavy duty stepless gearing with Enviolo's Extreme range

Solid state batteries promise lower carbon footprint

New (e)revolution show for Denver in 2023
IS THE THÖMUS LIGHTRIDER THE LIGHTEST PRODUCTION FULL-SUS E-MTB IN THE WORLD?
At 14.6 kg / 32.18lbs Switzerland's Thömus Lightrider range claims to contain the lightest e-mtb in the world. It combines a carbon frame and the lightest components with the bijou Maxon BIKEDRIVE-AIR mid-drive system with a claimed total additional weight of 3.5 kg / 7.7lbs.
Previous self-proclaimed holder of the lightest full-sus e-mtb crown was Trek's top-of-the-line E-Caliber 9.9 XX1 AXS, claiming a 15.75 kg (34.72 lb) overall weight and using the Fazua drive system.
If the claimed weight for the Lightrider is accurate, it's some achievement in a field – full-suspension e-mtbs – where a sub 20kg / 44lb machine is a fairly rare occurrence. It features a 250Wh battery and 30Nm rated mid-drive and these relatively modest stats no doubt also help to keep the weight down.
Prices are from 6390 Swiss Francs or around $6570.
MID MOTOR SPECIALIST FREY LAUNCH LOWER PRICED HUB MODEL
China-based Frey – known for powerful and pricey mid-motor e-bikes – have just launched their first hub motor e-bike, the Savannah Hybrid Runner which starts at $2,580. The spec outlined below looks like a lot of bike for the money but the downside is that Frey are a buy-direct-from-the-manufacturer outfit, so you won't have the benefit of local dealer backup.
Despite the hub motor, it's a high-spec trekking style e-bike with a massive 1,008 Wh removable, frame-integrated battery, RockShox Recon fork (29″ or 27.5″ choice of wheel size), four-piston Tektro HD hydraulic disc brakes and 9-speed derailleur gearing.
Bafang rear hub motors come in 250W, 500W, or 1,000W specs and are all combined with torque-assisting power delivery.
It looks a very capable load hauler, with a 330 lb total weight rating and has the option of front and rear lights and rear rack. The bike itself is no lightweight however, with a quoted weight range of 60-65lbs / 27.2 to 29.5 kg.
HONBIKE U4 LAUNCHED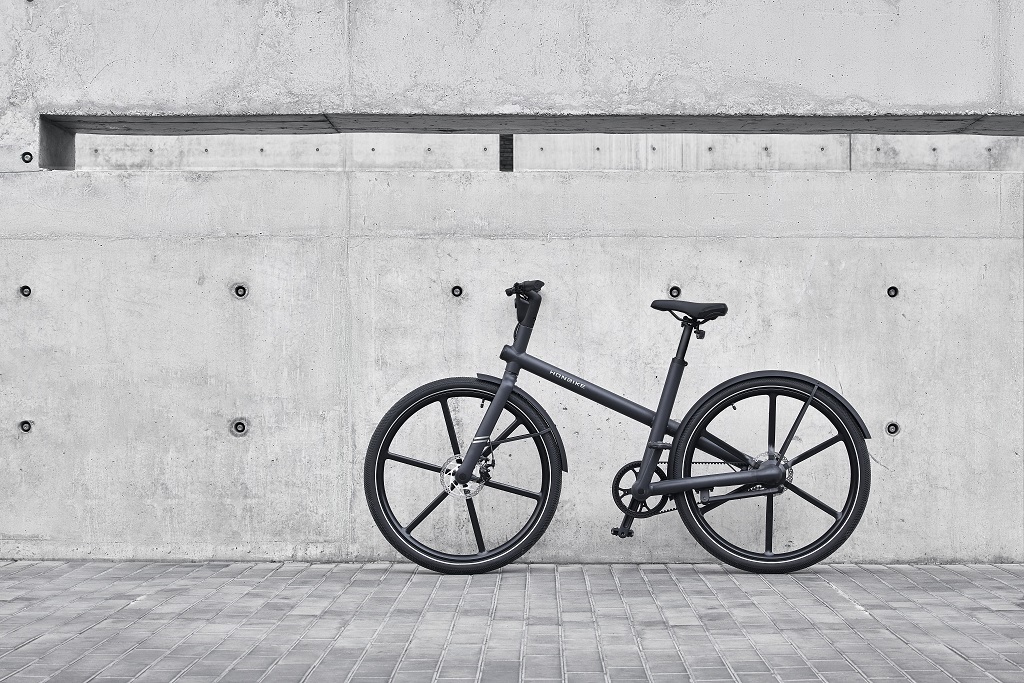 EBR has recently reviewed the folding Honbike HF 01 and whilst we felt there were many innovative aspects to its design, we did have some issues with the shaft drive.
Now comes the U4 – a full size bike with a single gear belt drive competitively priced at $1699. All Honbikes have quirky frames and the U4 is no exception – something apparently made possible by their integral die-casting technology from the automotive industry, used to produce frames, forks, and wheel hubs. With no welding or heat treatment processes necessary this also helps keep costs down.
The U4 is powered by a rear hub motor and a 432Wh frame-integrated battery with Honbike saying the inbuilt gradient sensor dictates the amount of assist on hills. Claimed weight for the bike is 44.5 lbs.
UK'S POPULAR MIRIDER E-FOLDER NOW 3 SPEED
The UK's Mirider have an impressive track record making folding single speed e-bikes with nippy rear hub motors.
August will see their first multi-geared e-bike available for purchase in the UK, the Mirider One GB3, at £2495 (their single speed models start at £1595). Much of the spec is similar, from the 16 inch wheels to the funky magnesium frame. The gears are courtesy of the innovative Efneo system located around the pedal cranks.
LAVITA BOOST – THE NEW MINIMALIST RETROFIT KIT FROM THE UK
Rear hub motor retrofit kits are rare for the simple reason that front hub motor kits are easier to fit. So it's a pleasant surprise to see the UK-based Lavita Boost now on the market. The price of £575 including a bespoke wheelbuild (but excluding shipping) is also eye catching, with offerings in 700C and 26" wheel sizes.
The technology looks interesting too, with no separate motion sensor for pedal movement to activate power, as is the way with many budget kits; the motor itself has an inbuilt motion sensor and this greatly simplifies the design; you just have a motor and a battery (there is also a related app though it's not necessary to the operation of the system).
NEW STEPLESS HUB GEARS FROM ENVIOLO NOW SUPERTOUGH FOR E-CARGOBIKES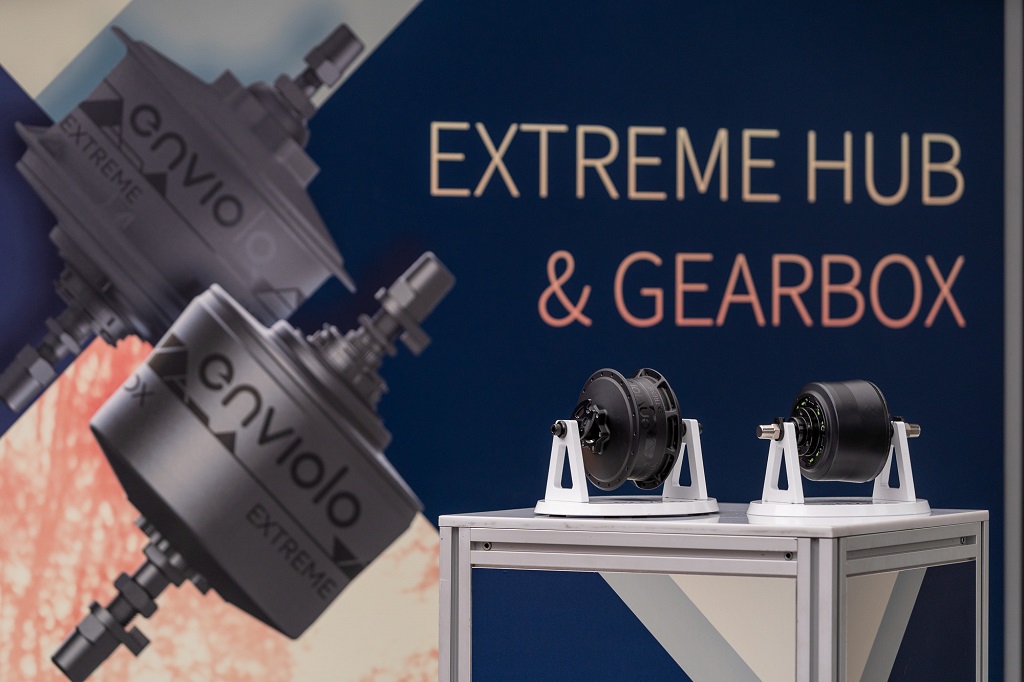 Enviolo, known for its unique stepless gear shifting products, announced two new rear wheel gear hubs recently in the form of the EXTREME range.
Precise technical details and costings are not available yet but the company says 'The EXTREME gearbox has specifically been designed for the multi-lane last-mile delivery bike segment to transport heavy cargo loads up to 500 kg / 1100lbs and is optimally used in combination with enviolo's AUTOMATiQ system. The new EXTREME products are durable and robust and have a 380% ratio range.
STUDY HIGHLIGHTS GREEN CREDENTIALS OF FUTURE SOLID STATE BATTERIES

Solid state batteries are something of a holy grail for the electric vehicle industry, promising greater power density – in other words more mileage for less weight – through the use of solid rather than gel electrolyte plus solid electrodes.
Should they ever make out of the experimental stage and into the real world, they could be good news for the environment too, as Transport Environment reports on a new study on the carbon footprint of SS batteries;
'A solid state battery, which stores more energy with less materials,can reduce the already decreasing carbon footprint of an electric car battery by a further 24%, the study finds..'
NEW E-BIKE TRADE SHOW IN DENVER IN 2023
Bicycle Retailer and Industry News reports:
'The first national e-bike trade show announced Wednesday that the National Bicycle Dealers Association and PeopleForBikes will partner with the event.
The (e)revolution show taking place next year will donate a portion of exhibitor booth sales to each group to support their advocacy work. Lost Paddle Events, which owns the Big Gear Show, is organizing the show.
(e)revolution will be held at the Colorado Convention Center in Denver on June 8-11. Exhibitor and retailer registration will commence in late August 2022.
The second edition of the Big Gear Show is being held Aug. 2-3 in Park City, Utah. The event is expected to host about 200 total brands from 145 registered exhibitors. Exhibiting bike brands included Aventon, Bianchi, Highway 2, SRAM, Pinarello, Tern, Yakima, QuietKat and Diamondback.