Honbike HF01 Review 2023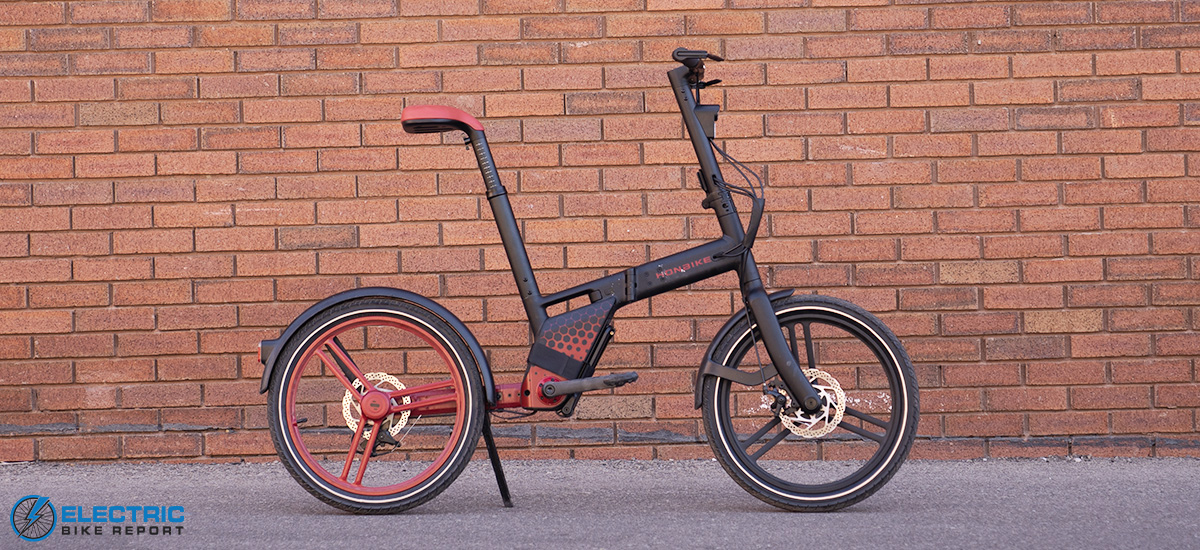 After spending some time riding and reviewing the Honbike HF01 it became apparent what problems exist within the world of e-bikes that Honbike was aiming to solve. When it comes to durability, ease of maintenance and cleanliness, most modern electric bikes are lacking in some — if not all — departments.
Unlike most transportation built for the masses, such as automobiles and motorcycles, e-bikes are a Christmas tree of components hung from a frame; fragile parts exposed to the elements, threatening wayward pant legs with greasy mastication. Many of those components are also wear parts that stretch or degrade with normal use, with maintenance or replacement intervals in terms of hundreds or the low thousands of miles — comparably short to similar components on cars or motorcycles.
But slowly, e-bike manufacturers are catching on and lessons from the automotive industry are being applied to make bikes that are cleaner, simpler and much longer lasting.
In this Honbike HF01 review, we take a look at one e-bike attempting to apply several of those lessons. Built on a folding frame, a 250W front hub motor and cast magnesium wheels, the Honbike HF01 uses an innovative drive shaft in place of a traditional chain and sprocket drivetrain to make a ride that's clean, simple and, allegedly, far more durable than your average e-bike.
Mixed in with all that innovation is also some of the quirkiest bike design we've ever seen at Electric Bike Report, including a golf club-shaped seat and brake levers that attach on the outside of the handlebars.
Bike Class:
Class 1: Pedal assistance to 15.5 mph
Honbike HF01 Video Review

Pro's
It's a bike that's won awards for design, and it certainly is a unique looking e-bike that will turn heads.
The folding mechanism is very simple and feels secure.
The integrated LCD display is very nice and sleek.
The drivetrain is encapsulated, meaning any greasy bits are kept away from pant legs.
The magnesium wheels should, in theory, never go out of true.
The driveshaft boasts a claimed 40,000 km lifespan, which, if true, will certainly outlast the rest of the bike.
The Honbike HF01 is attempting to be ahead of its time, so there are many features that are just different and early adopters will find appealing points about this bike.

Con's
The driveshaft made an audible popping noise under hard pedaling that could be felt through the cranks.
The golf club shaped seat is not particularly comfortable and can't be swapped out.
The trifecta of sensors is a good idea on paper that needs more work in execution.
ELECTRICAL SPECS & FEATURES
Battery: 36V, 6Ah (216Wh)
Display: LCD Display
Motor: 250W front hub motor
Headlight: Integrated
Taillights: Integrated
Peal Assist: Five levels of pedal assist, torque sensor, gyroscope and angle alert sensor
Range: 24.9 miles (estimate)
Throttle: N/A
Weight & Dimensions
Claimed weight: 45.9 lbs
Maximum rider weight: 220 lbs (max payload)
Maximum load on rear rack: N/A
Components & Accessories
Brakes: Mechanical disk brakes
Fenders: Included
Fork: Rigid single-sided fork
Frame: Alloy frame
Drivetrain: Single-speed shaft drive
Grips: Rubber
Saddle: "Golf Seat"
Handlebar: Integrated flat bar with slight sweep
Kickstand: Included
Pedals: Plastic
Honbike HF01 Review: Bike Overview
As the bike industry adapts to the idea of e-bikes as a mobility solution over a fun toy, there have been increasing calls to fix one issue that has long plagued commuters and casual riders: wear parts.
I'm talking about chains, cables, sprockets, brake pads, tires — the components that are impermanent fixtures of a bicycle that, due to how they mesh together, wear and degrade over time. I'm sure many of you out there have an old bike in the garage that's sitting unused due to some of these wear parts going out of tune.
Maybe the shifting has stopped working, or the chain is so dry and dirty it hardly turns around the sprockets. The automotive and motorcycle industries have long ago found solutions that make service intervals longer and maintenance less frequent, and now, with e-bikes and the new breed of riders they've been flooding into the market, the bicycle world is beginning to follow suit.
The Honbike HF01 is one example of this. Designed by a team that allegedly heralds from Honda's motorcycle division, the Honbike has done away with many of the most problematic wear parts on a bicycle.
The centerpiece of this is its driveshaft, which replaces the traditional chain and sprocket drivetrain we usually see on e-bikes. Honbike claims this driveshaft is good for up to 40,000 kilometers of use, which is absurdly long and, if true, will undoubtedly outlast the actual lifespan of the bicycle itself. The wheels are also cast magnesium, so there are no spokes to go out of true.
The motor is a super light 250w front hub unit that employs a unique combination of torque sensor, gyroscope and angle-alert sensor to detect if you're going uphill, downhill or leaning into a corner.
The brakes are a traditional mechanical disk setup paired with the most bizzare brake levers I've ever used. There's just one gear (remember the drive shaft) and it folds. It's pretty light at just a hair under 46 lbs and has an integrated display.
Lastly, couched above the bottom bracket is a 36V, 6Ah (216wh) battery.
It's compact, unique and sports the most bizzare seat I've ever seen.
Honbike HF01 Review: Motor Performance, Speed and Acceleration
The Honbike is fitted with a 250W front hub motor with five levels of pedal assist, all of which are capped at 15.5 mph making this a Class 1 e-bike.
Controlling that motor is a trifecta of sensors, including a torque sensor, gyroscope and an angle alert sensor. The torque sensor measures whether you're pedaling and how hard, telling the motor to deliver power accordingly; the gyroscope detects if you're on a hill, and allegedly helps you get started on hills; and the angle alert sensor cuts the power if you're leaning the bike past 30 degrees. This last one is a safety measure.
Now, how does all this tech work together? Pretty OK. From a dead stop until about 10 mph you can really feel that torque sensor. It's certainly not the most responsive and seems to lag a bit, but it does help the bike respond to how hard or softly you're pedaling.
But once you reach about 10 mph, the single-speed driveshaft begins to feel a bit spinny. You stop being able to really put much oomph into the pedals and you start soft pedaling. On normal torque sensor e-bikes, soft pedaling equals soft motor power, but not this one. This thing continues to accelerate until about 15 mph, where it'll stay until you stop pedaling.
I never really felt the effects of the angle attack sensor. Thirty degrees of lean, where that sensor purportedly kicks in, is a pretty severe degree to tip a bike while riding. I'd imagine this is a safety measure so that the motor kicks off in an emergency situation, but it's not something we saw in action while testing.
I personally think the motor engagement is one of this bike's weak points. When I think of the Honbike's motor engagement the word that pops into my head is "jagged." The torque sensor isn't as sensitive as it should be and that gyroscope does detect inclines and declines, but it would unexpectedly give motor power, including one time on a downhill while I was trying to carefully pass a walker. It all feels like a good idea that needs more refining.
As with all the e-bikes we review, we did put the Honbike to the test on our circuit course to get an idea of how it performs in each PAS level. With the exception of PAS 1, which gave virtually no assistance, the bike has a good breakdown — with each level giving slightly more power.
Honbike HF01 Review: Range Test & Battery Performance
Even for a small in stature, lightweight and modestly powered e-bike such as this one, its 36V, 6Ah (216Wh) battery is fairly small. I like to see about a 1:1 motor wattage to battery watt hour ratio on bikes I review, and obviously this is a little less than that.
For those unfamiliar with watt hours, it indicates how large of a motor the battery can power at full power for one hour. So, in the case of this battery, it could power a 216W motor at full power for exactly one hour before dying. Apply that to the Honbike's 250W front hub motor, and you're looking at approximately four fifths of an hour at full power.
Obviously that little breakdown only applies to lab-controlled scenarios, so how does the battery perform in the real world? We did two range tests — one in PAS 2 and again in PAS 5 — to get an idea of how the battery performs should you ride conservatively or heavily rely on the motor.
In PAS 2, we got a range of 20.8 miles and in PAS 5 the bike lasted for 14.58 miles. Decent results, considering the battery size, but this bike is no long-hauler. That's OK, I think. My take is few people are going to be going for distance on the Honbike, rather they're going to be commuting in urban settings.
Honbike HF01 Review: Hill Test
Like most other lightweight and lightly powered electric folding bikes, the Honbike HF01 is not the most stellar hill climber.
On our test hill Hell Hole, a one-third of a mile steep section of bike path that pitches up to 12 percent, the Honbike's 250W motor had enough juice to climb the bottom quarter of the hill before petering out.
While we expected Hell Hole to get the best of the Honbike, what we weren't expecting was that the shaft drive system also seemed to struggle. Uphill — and in some other situations where a lot of force was being put into the pedals, such as accelerating — the single-speed drive shaft appeared to slip, creating an audible popping noise that could be felt through the pedals.
I can't speak for how this apparent slippage might impact the driveshaft's longevity — though it's worth noting that on a traditional chain and sprocket drivetrain slipping gears likely means more wear — but it absolutely impacts the rider's experience. You can feel it, and it doesn't feel great.
Honbike also says that the bike's gyroscope can detect when you're starting from a stop on a hill, and should give a little extra motor power to help you get going. I did notice this, and on hills with mellow grades it actually worked fairly well.
Honbike HF01 Review: Brakes and the Brake Test
Aside from the driveshaft and seat, one of the most eye-catching design elements on the Honbike are its reversed brake levers.
As opposed to normal brake levers, which attach to the handlebar inside of the grips, the brake levers on the Honbike attach at the very outside of the bars and pivot inward. It's a super unique (borderline bizarre) design that looks interesting and actually feels pretty OK while riding.
Those levers attach to a set of mechanical disk brake calipers that clamp down on 160 mm rotors front and rear. So aside from their looks, the brakeset on the Honbike is actually fairly standard-issue.
We typically test e-bikes brakes by putting them through five full power stops from 20 mph and taking an average stopping distance. We did this on the Honbike, but due to its limited top speed of just 15.5 mph, we can't compare its results against the braking performances of all the other e-bikes we've reviewed thus far. This is why long-time readers of EBR will notice we're lacking our brake test chart with the hierarchy of brake test performers.
On average, from the bike's top speed of 15.5 mph, the Honbike skidded to a stop in 11-feet 7-inches, which is appropriately short for an e-bike of this speed.
Honbike HF01 Review: Ride Comfort, Handling and Cockpit
In the Honbike's mission to fix the rather large issue of wear parts on electric bicycles, I think the designers may have gotten a bit carried away and started fixing things that just didn't need fixing.
I'm talking about the seat and those backwards brake levers.
Seats are obviously a very personal thing — not two butts are exactly alike — but I feel confident in saying that the Honbike's golf club-shaped noseless saddle will probably not be comfortable for most riders. The nose of a bike saddle serves the very important function of supporting your body as you're leaning forward on a bike. Yes, that means it's likely applying pressure to sensitive bits of your undercarriage, but that's why saddles are interchangeable and come in all shapes and sizes — they're meant to be swapped out if uncomfortable.
Remove the nose, as Honbike has, and there is nothing preventing you from sliding off the front of the saddle. For me, this meant continuously scooching back as I slid forward and putting considerable pressure on my hands. There are also several slits in the saddle, which I'm assuming are for airflow (no arguing with a little breeze), but the unintended side effect is they also serve as little inconveniently placed troughs for your sit bones — the little pointy parts on the bottom of your pelvis that support most of your weight when sitting on a bike seat — to fall in to. For me and my butt, the spacing between these slits meant I had one sit bone in a trough and one on the foam; leaving me a bit cockeyed and uncomfortable on the seat.
It's rare I ever write this much about the saddle of a bike we review, but here's the kicker: the Honbike's weird 5-wood of a bike saddle can't be replaced. It's integrated into the seatpost, which is also proprietary to the bike. If you buy the Honbike, you're committing to its saddle. More than its weird design; more than its discomfort; I think this is the Honbike saddle's fatal flaw — you can't swap it out.
While the seat is a pretty big sticking point for me, the brake levers are not. They're just kind of bizarre and I'm not sure they warranted a redesign. The levers on the Honbike are backwards, with the hinges on the outside ends of the bars and the end of the levers pointing inward.
The ergonomics of this work surprisingly OK, and the lever feel is fine, you're again going to run into replacement issues. Brake levers often bend in falls or if the bike gets tipped over, and I'd wager the likelihood of finding exact replacement to the ones on the Honbike are fairly slim.
As for the rest of the bike, its handling is fairly on par with other small electric folders we've tested — agile and light. But one last thing we noticed is the bike has a considerable amount of lateral flex in the frame. This could be due to its size, the spindly spokes of the cast magnesium wheels or, very likely, the fact that it uses a single sided front fork and the only thing supporting the rear wheel is the drive shaft.
Under load, such as in corners or in the bottom of a drainage culvert, this frame flex manifests as a sort of squishy or wallowy feeling. It's a sensation I got used to, but one that likely impacts handling.
Honbike HF01 Review: Summary / Where to Buy
The Honbike, in many ways, feels to me like an experimental e-bike; a proof of concept that e-bikes of the future can and will be built around ultra-durable componentry pioneered in the automotive and motorcycle industries.
The shaft drive is the Honbike's centerpiece. It's an undeniably good idea and I feel that more and more e-bikes like this — ones that are built for long-term function — are going to be built around them, but even that shaft drive presented some issues. As you may have heard during some of our GoPro footage if you watched the video review, it would emit a knocking or popping sound under any sort of strenuous pedaling, indicating there might be slippage in the mechanism or something that's not quite right.
The motor and battery were also good and surprisingly lightweight, which is super important for a folding bike like this. Even the trio of sensors controlling that motor are cool ideas on paper — a torque sensor paired with devices to detect angle of attack — but their real world function just isn't fully there yet.
Lastly, there is that seat. I never thought I'd spend so much time in a bike review talking about the seat; all bodies are different and seats are a very personal choice. But beyond its lack of nose and my own discomfort while using it, what warrants its mention to this degree is the fact that you can't swap it out. That's a big deal, especially when a designer has taken the liberty of drastically redesigning an ergonomic touchpoint that isn't a universal fit for everyone, but has had the same generally agreed upon design for a very, very long time.
The Honbike is an e-bike for the early-adopter crowd. Those who really enjoy getting their hands on tech that's attempting to be ahead of its time will find some interesting swings at innovation – a harbinger of tech and design to come. But as a real-world ride, I'm not sure it will appease the masses. At least not quite yet.
If you are interested in the Honbike HF01 you can order it from Honbike's website and have it shipped to your front door from the button above.
'Happy Riding, make sure to let us know if you have any questions down in our comments section or if you think we left anything out in this review of the Honbike HF01.
Reader Interactions