E-bike News: Specialized Tero-X, Dahon Folding E-cargobike, RadRunner 3 Plus and Much More !
Yet another major US company with a strong background in making high end sports bikes and e-bikes has joined the ranks of ultra-practical e-bike manufacturers with the Tero X – a high quality full-sus utility e-bike from Specialized. This comes hot on last week's news that Trek had launched two European style e-cargo bikes. Meanwhile over in Europe itself Dahon have announced what really could be a first – a folding e-cargo trike. And with Rad Power taking its classic Rad Runner design upmarket, and two German companies looking to completely reimagine the heavy duty e-cargo drivetrain by making it electrical and chainless, you get the feeling the electric cargo market is only just beginning to hot up.
In this week's e-bike news:
Specialized Tero X – a do anything and everything full-suspension e-bike

Dahon's foldable cargo e-bike – the name says it all

Rad Announces RadRunner Plus 3

Aventon Launches Its First Cargo Bike

No chain, no belt, no wheel connection – the e-bike drivetrain reimagined

Tampa e-bike voucher program

Battery safety roundup
SPECIALIZED'S NEW E-BIKE IS AN SUV, NOT AN MTB
At first glance it might look like a full-sus e-mtb but it's not. Trek say their new Tero X model will 'allow desk jockeys and armchair quarterbacks alike the opportunity to experience the escape they so desperately are longing for.'
In other words it blends off-road features like high quality full-suspension and wider tyres with a low step frame and upright riding geometry. There are also plenty of practical everyday riding features not found on most e-mtbs such as lights, rack and mudguard.
Specialized even namecheck one of their main competitors in this increasingly popular area, saying the Tero X is 'essentially Specialized's version of the Riese & Muller Delite'.
Power is courtesy of a Brose-based Specialized Full Power 2.2 mid-drive combined with a frame-integrated battery of 530 or 710Wh depending on model. All Tero X models get a highly functional Mastermind display. Quoted bike weights vary between 58.2lbs / 26.4kg and 60lbs / 27.2kg.
There are three variants sharing the same motor but differing in battery size, derailleur gearing (all 12 speed) and lighting power.
International pricing for the three variants are:
Tero X 4.0 $4,500 / £4,000
Tero X 5.0 $5,500 / £5,000
Tero X 6.0 $6,500 / £6,000
COULD YOU USE A FOLDABLE E-CARGO BIKE? DAHON HAVE LAUNCHED ONE
Electric cargo bikes are hugely popular in the Netherlands so it's perhaps not surprising that the Dutch city of Utrecht has seen the launch of a new e-cargo bike. What's different about this is that it comes from folding bike specialist Dahon and…that's right, it folds.
The aptly named Foldable Cargo E-Bike is actually an electric cargo trike and claims to fold to 35% of its unfolded size – going from unfolded dimensions of L 2032 (80") x W 937 (36.9") x H 877mm (34.5") to a folded footprint of L 1273 (50.1") x W 937 (36.9") x H 877mm (34.5").
Other features include 24″ front wheels and a 20″ rear wheel, 5 hub gears, disc brakes, a 250W mid motor, and a 960Wh Samsung battery. Max cargo capacity is stated to be 250kg (551 lbs) and child seats can be fitted.
No word as yet on date availability and price.
RAD POWER LAUNCHES UPGRADED RAD RUNNER MODEL
The original RadRunner had arguably become a classic – it's certainly spawned many imitators on the back of its many rave reviews. The latest iteration, the Rad Runner 3 Plus, now boasts a redesigned 750W rear hub motor that claims 10% faster hillclimbing, a new frame design that includes a longer bench seat and a semi-integrated battery (still 672Wh) – though Rad Power say a second optional battery is on the way too. Extra stopping power is available in the form of Tektro hydraulic disc brakes and there's seven-speed derailleur changing with more comfort up front with an adjustable front fork. In tandem with the Rad Runner 3 announcement, Rad Power have also launched the Rad Trailer with a compatible pet carrier too – just in case you haven't enough load hauling space on the bike itself! The Rad Trailer is compatible with most Rad Power models though you should check if it fits your specific Rad Power bike.
The Rad Runner 3 is available in US and Euro markets – with speed specs to suit each market – $2,499 in the US and UK £2,199 / EU €2,499 elsewhere.
For more on our thoughts on the bike, see our first look RadRunner 3 Plus review here.
AVENTON LAUNCHES COMPELLING NEW E-CARGO OPTION
Aventon has produced a number of popular e-bike models (and we've reviewed most Aventon e-bikes if you want to see more). One that was absent from the lineup was a cargo bike. Well, it's absent no more.
Aventon announced the all-new Aventon Abound cargo bike. It has a better look in a sea of utilitarian design, but it doesn't skimp on features with a 750W motor, front suspension fork (uncommon on cargo bikes), and it changes the game by including features that are typically add-ons with runner boards and a center compartment for carrying smaller items by the seat post. Priced a little above the $2000 mark, it'll be interesting to see how shoppers respond to another competitor in the ever-growing cargo bike market
We took a closer look at the newly announce cargo carrier in our first-look review of the Aventon Abound. EBR will have its full review available very soon.
THESE COMPANIES WANT TO REDESIGN THE DRIVETRAIN FOR HEAVY DUTY E-BIKE USE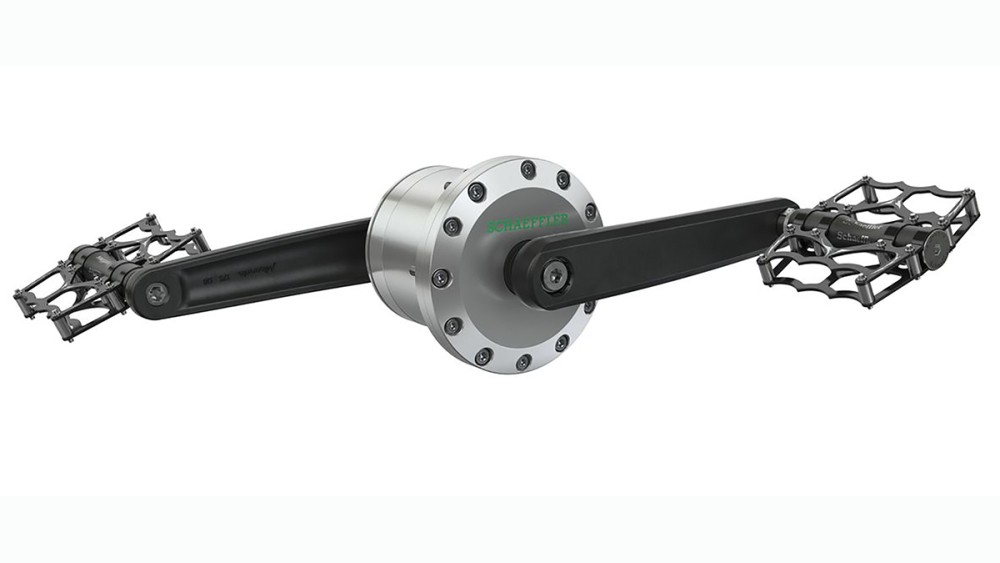 Talking of e-cargo bikes, a number of companies have designed extra heavy duty components designed to take the stresses and strains of hauling those heavy loads.
The traditional chain drive is certainly an area of wear and tear and even more so when carrying heavy loads. It's still surprising to see that the totally chain free Free Drive system from German companies Schaeffler and Heinzmann, is now said to be in production. That's because it is a revolutionary design that totally does away with any direct mechanical connection between pedals and wheels. Instead the rider is essentially pedalling an electrical generator that powers the motor with any excess electrical energy stored in a battery which can then provide extra electrical energy when the going gets tough.
The drive itself was announced some time ago and it has also been confirmed that such 'chainless' e-bikes known as series hybrids will be classed as e-bikes – after all you still need to turn the pedals to make the system work which is part of the European definition of a legal e-bike. The Free Drive also has its first customer, CIP Mobility, which will feature them on their Mocci Smart Pedal Vehicles, aimed at the urban delivery market.
The Mocci is an interesting looking machine, featuring integrated bespoke software with many bodywork components apparently made from recyclable high-performance plastic, which the firm claims creates 68 per cent fewer CO2 emissions to produce than an
TAMPA LAUNCHES E-BIKE VOUCHER
The latest US area to launch an e-bike subsidy program is Florida's Tampa. Vouchers from $500 to $2000 can be used at qualifying bike shops. You need to be 18 or older and a resident of the city of Tampa. Applications open at the end of March. More info on the program itself here.
BATTERY SAFETY ROUNDUP
Bicycle and Retailer Industry News reports that:
' After another fire in the city Friday that officials say was caused by a lithium-ion battery, FDNY and sheriff's office officials inspected five Manhattan bike shops and other locations and found improper storage and charging of hundreds of batteries and dozens of e-mobility devices that violated fire codes.
A total of 25 fire protection inspectors, marshals, and City of New York Sheriff's deputies identified "numerous dangerous conditions, unsafe electrical practices, and other assorted fire safety violations. …," according to a FDNY Instagram post.
That led to 11 FDNY summonses, 14 violation orders, and six criminal summonses.'
On a more positive note, the UK's Cycling Industry News reports that 'Bicycle Association (the trade association for the UK cycle industry) has revealed that it will set up an electric bike battery collection and recycling offshoot to its services……With this in mind, the BA is again acting as a middleman to connect bike businesses to its chosen company, ERP UK, which will now take delivery of bike industry cells.'