E-Bike News: New Models from Cowboy, Tenways and Peugeot and Lots More!
The contradictory themes of simplicity and complexity run through this week's news. Cowboy, who have just announced their new Cruiser model, are proponents of the simplest looking, simplest to operate e-bike, albeit one with some fairly advanced tech in the form of wireless tech and inductive wireless phone charging. Similarly Tenways have gone for the low maintenance simplicity of 'stepless' hub gearing and a belt drive with their brand new powerful mid-drive city e-bike.
The future seems far more complex in design terms – at least if you think Canyon will follow through on their declared intention of introducing the futuristic sounding 'V2X' (vehicle to everything) wireless technology that will let all vehicles on the road electronically 'talk' to each other (along with suitably equipped stationary objects). Is this the point at which the increasing cost and complexity of technology get halted by the demands of reality or will it prove to be a landmark safety development?
In this week's e-bike news:
Cowboy's comfiest e-bike yet – the Cruiser

Tenways AGO T – a city e-bike with powerful drive and stepless gears

Peugeot's new Digital range of connected e-bikes

Canyon look to 'vehicle to everything' communication as the future

Chinese carmaker NIO to roll out semi-solid state batteries
Cowboy Cruiser – a More Comfortable Cowboy
Belgium's Cowboy have just launched their brand new Cruiser e-bike – it's main new element being the 'upright and relaxed ride position'. Cowboy say it has 'comfort grips on a distinctive raised and curved handlebar to facilitate a natural hand position. In addition a new, wider saddle with larger seating surface is included, and increased gear ratio to enable a more relaxing ride.'
Stated weight is 19.3kg and as with previous models it includes a wireless charging phone mount on the handlebars, single speed carbon belt drive to a small rear hub motor, hydraulic disc brakes, mudguards and puncture resistant 47mm Cowboy custom tyres.
Their are two frame designs, diamond frame and step-thru (ST), both with a retail price of US$3490.
Tenways Expands its Mid-drive Range with the AGO T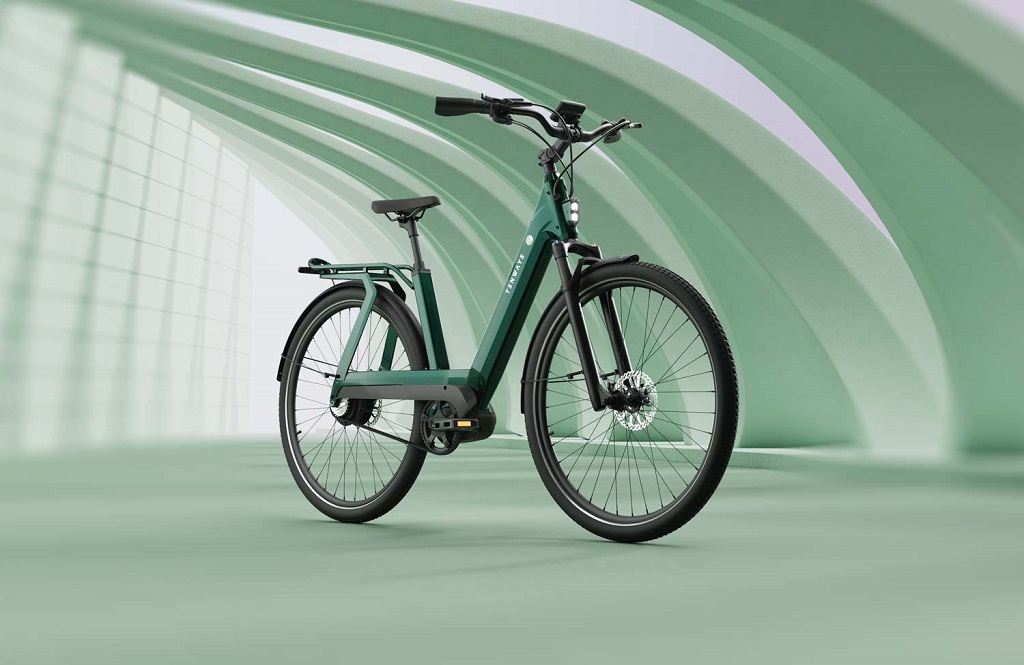 We've already reviewed two Tenways models, the CGO600 Pro and the CGO800S – both powered by the small but impressive rear hub motor from Mivice.
Tenways launched into the mid-drive space with the mountain-bike styled AGO X not that long ago and now comes the city-styled AGO T that also uses a powerful-sounding Bafang mid-drive (M410 model) with claimed 80Nm of torque (similar to Bosch's top-end mid-drives).
In contrast to the AGO X however, the AGO T swaps derailleur gears for the stepless, belt-driven Enviolo hub gear with an impressive 380% range and it also gets a comfortable looking step-thru frame in place of a step-over one. Quoted weight is an unsurprisingly hefty 30kg (Enviolo systems are great for ease of use and low maintenance but they are pretty heavy).
We couldn't see a US$ price quoted but UK retail price will be £2531 when the bike is available to order from 10th July.
Peugeot Announces Updated 'Digital' Models
The UK's Ebiketips reports on three new e-bike models from the French vehicle manufacturer that will 'come with enhanced connectivity features. Through a smartphone app, users can access features such as electric assistance adjustments, an anti-theft system, an alarm, bike location tracking, route navigation, statistics, and weather forecasts.'
The three models are:

Little specific info other than the above images is currently available but EBR will keep you posted on specs and prices when they become available.
Canyon's E-bikes Will be Able to Talk to Other Road Vehicles….by 2026
'Canyon and Autotalks, a leader in V2X (Vehicle-to-Everything) communication solutions, have announced a technology development partnership to help reduce cycling accidents and improve cycling safety in traffic. The German bike brand will lead the first-of-its-kind mass integration of V2X technology into some of its premium e-bikes, allowing other V2X equipped vehicles and infrastructure to receive a notification when a Canyon bike is nearby.'
Equipping bikes with V2X technology will help bicycles get noticed on the road, increasing the safety of cyclists, and giving them extra confidence on the road.'
Apparently, 'Currently, there are approximately one million cars on European roads equipped with V2X technology, and around 20,000 roadside units equipped for the infrastructure. These numbers are expected to greatly increase in the coming years.Canyon expects to have commercial availability of this technology by the end of 2026 on bicycles.'
Nio to use 150 kWh semi-solid state batteries…in Electric Cars
For the past few years there seems to have been a steady flow of stories promising longer range, more power-dense 'solid-state' batteries – that is batteries that have a 'solid' electrolyte between that anode and cathode. Traditional lithium ion batteries feature liquid or gel-like electrolyte but solid-state batteries use a solid-state electrolyte – typically a ceramic or polymer material that allows electrical ions to flow through it. Whilst theoretically safer and more power dense than conventional lithium batteries, solid state batteries are clearly some distance away from mass production with the sheer complexity and attendant cost of making them being one of the main hurdles.
Now there are signs that parts of this solid state technology may be about to be deployed commercially, though in the electric car rather than the e-bike world. Electrive reports that 'In China, battery specialist WeLion has delivered its first semi-solid-state battery cells to electric car manufacturer Nio. Nio will use the cells in its 150 kWh battery pack and is aiming for the first deliveries of e-cars with these battery packs before the end of July.'
Whilst the promised energy density looks highly impressive at 360Wh/kg – to put that into context, if your e-bike battery manages over 200Wh/kg that is pretty good going. Those figures suggest you might get an 80% increase in range using a semi-solid state battery compared to a conventional one with gel electrolyte of the same size and weight.
Other details are scarce – one nagging omission from the article being exactly what 'semi solid state' means, though experiments with this kind of battery have centred on electrolyte materials such as clay or resin.
Reader Interactions