E-bike News: New E-bikes from Rad Power Bikes, Dahon, GT and Norco
It's great to see e-bike companies doing all they can to offer ever better e-bikes and it's interesting to see just how they go about it. For Rad Power Bikes it's about making just about everything on the bike a bit better or easier to use as typified by the RadRover 6, just announced. For Dahon it's about bringing mid-motor power to the world of small-wheeled and relatively lightweight commuting style folders – something not often done. For Norco it's the combo of the most powerful motor and the biggest batteries out there whilst Italy's Bad Bike think the e-bike could be used to repopularise sidecars. It doesn't matter so much exactly what each company's take on what's needed in the e-bike market is – what matters is that they all want to make the next model of e-bike better than the last one…
In this week's news:
RadRover 6 redesigned from the ground up

Dahon Unio E9 – lightweight mid-drive e-folder

Norco e-mtb range with EP8 power and bigger batteries

Bad Bike's e-fat bike with sidecar

GT's new BMX inspired street e-bike, the Performer

Askoll makes big claims for its mid-drive

Cytronex now offering bigger, bluetooth-enabled bottle battery unit

Bike path surveying with an electric buggy

E-bike sales in US and UK compared – is lack of infrastructure holding e-bikes back?
RADROVER 6 UNVEILED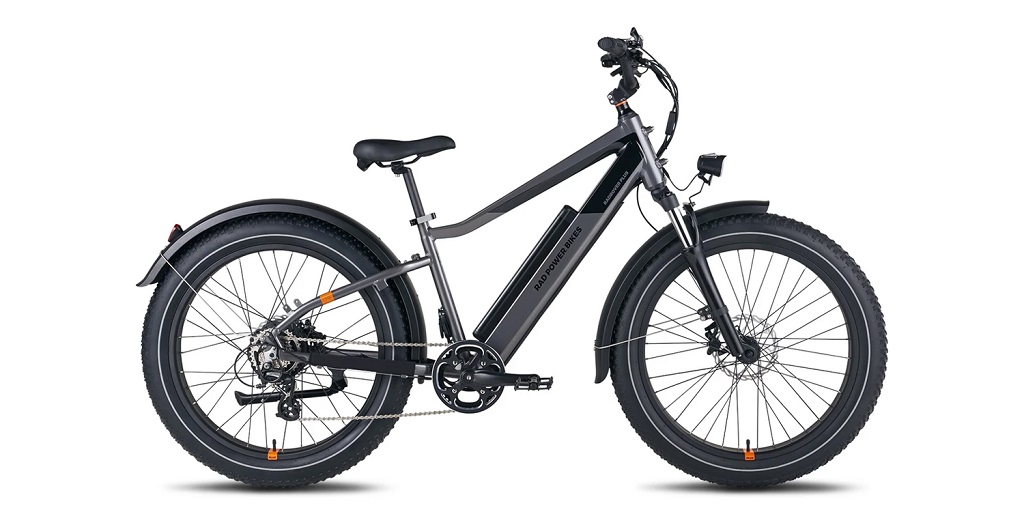 The totally redesigned RadRover 6 from Rad Power Bikes is the on the way and just about everything is upgraded or redesigned with highlights including an easier to get on frame design, peppier hub motor for better hillclimbing and more integrated battery. That's just the start, with many components totally redesigned and much more of the work done in house to things just the way Rad Power want. For a fuller run down of the new developments check out our video below or see our full report here.
DAHON UNIO E9 – THE ELECTRIC FOLDER WITH MID-DRIVE
There aren't many folders around with mid-drives as electric folders often opt for the lightest motors out there which are currently small hub motors.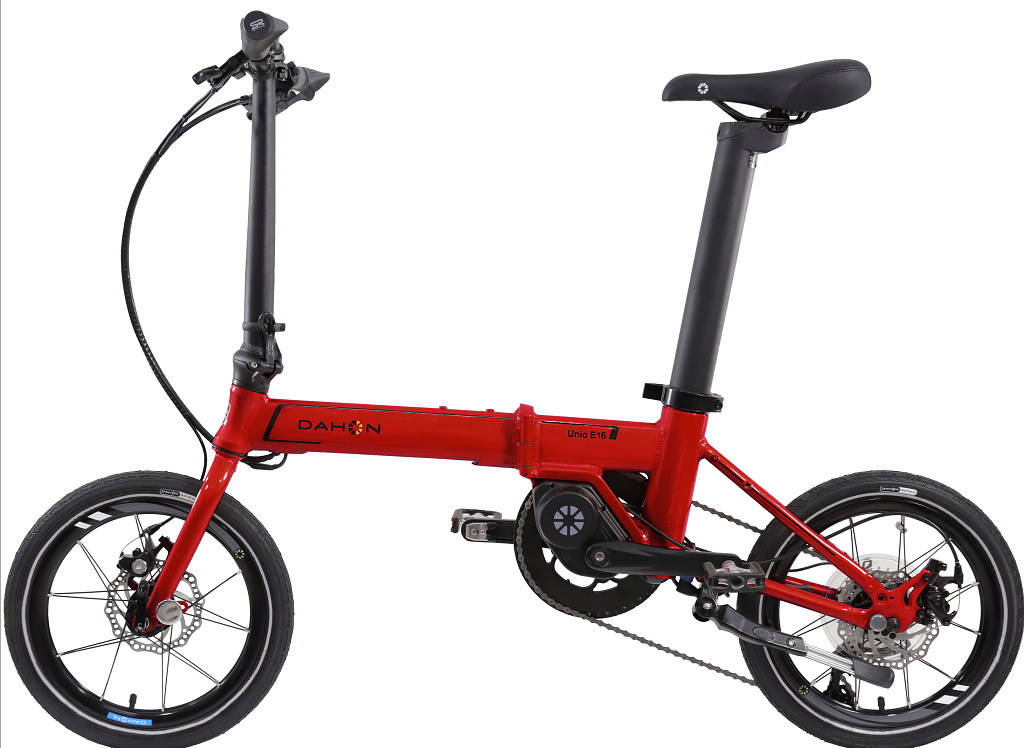 However, folding bike specialist Dahon has opted for a neat and compact looking mid-drive on its latest electric folder, the Unio E9. Dahon doesn't specify the make of the mid-drive but does say it is rated at 36V/200W.
The 313Wh battery is neatly integrated into the seatpost and it comes in 16 inch and 20 inch wheeled options. Stated weight and folded size are 16.1 kg / 35.5lbs and 69 x 38 x 75cm (27 x 15 x 29.5 inches).
Other spec includes a 9-speed rear derailleur and cable operated disk brakes.
NORCO ANNOUNCE OVERHAULED RANGE, FLUID AND SIGHT VLT EMTBS
Shimano's EP8 mid-drive was credited with breaking new ground when it arrived on the market and it's fair to say it is giving market leader Bosch a run for its money in the best in class e-mtb motor stakes.
So it's not surprising that Canadian brand Norco have chosen it to power three newly overhauled full-sus e-mytbs, the Range VLT, Sight VLT and Fluid VLT. There is new geometry, new suspension linkage, new motor and bigger batteries – and of course that potent Shimano STEPS EP8 mid drive.
From an electric point of view the new batteries sound as exciting as the motor; they start at 540Wh and you can also choose from 720 Wh or 900Wh – that's the biggest capacity battery we are aware of for trail style e-mtbs like these, only matched by Italian brand Olympia. The batteries are sold separately to the bikes so you can choose whatever capacity you would like with whatever model. They can be easily removed from the frame for charging or storage elsewhere.
The three ranges are mainly differentiated by the amount of suspension travel each offers.
Prices start at US$4,199 USD with batteries sold separately and costing $749, $999 and $1,199 respectively.
COULD E-BIKES HELP SIDECARS MAKE A COMEBACK?
The heyday of the motorbike sidecar was in the mid-twentieth century and they became particularly popular after WWII, when cash-strapped families could take entire families out in them without having to invest in a motor car. Over time of course more cars in the wealthier countries meant less motorbike sidecars.
But now Italian e-bike manufacturer Bad Bike is tapping into the e-bike's potential in the hope it can help the sidecar make a comeback. Bad Bike's Beach Vintage Side Fat is an e-fatbike with sidecar.
It's available in two variants, a pedelec with a 250 watt motor and one with a 500 watt motor.
The sidecar has a 35 kg / 77lb rating so is clearly meant for children not adults. Other spec includes 468Wh battery and Tektro disk brakes.
Prices from €3245 plus purchase taxes
GT GET BMX INSPIRATION FOR NEW E-BIKE
The latest e-bike from GT, the Life+ Performer, looks to blur the line between BMX and cruiser styling and has a Bafang rear hub motor and 418Wh battery added for good measure.
UK RRP is £1,799.99 and stock is expected to arrive soon.
ASKOLL MAKE BIG CLAIMS FOR NEW MOTOR
Bike-EU reports that 'the Askoll Drive C90A is the latest bottom bracket motor developed for high-end e-mountain bikes. The Italian company has a long history of developing synchronous technology applied to electric motors……The C90A is the company's next-generation drive system with a maximum motor output of 700 W and an optimised torque of 90 Nm between 60 and 80 pedal strokes per minute.'
Synchronous technology offers the opportunity to create electric motors that can save over 50% of energy compared to traditional ones, Askoll claims.
CYTRONEX INCREASE BATTERY SIZE AND INCORPORATE BLUETOOTH
We have tested Cytonex's Brompton electric conversion kit here and really liked it.
The UK-based company have recently launched a new, larger capacity 'bottle battery' unit. It gets an extra 10% or so of capacity, increasing from 180Wh to 198Wh but keeping the same physical size, so it is retrofittable for those who already have Cytronex systems.
It also now features Bluetooth connectivity and the associated app, available for iPhones and Android, lets you tweak performance parameters too.
INNOVATIVE BIKE PATH SURVEYING, ELECTRIC STYLE
Cycle paths are great, but like any infrastructure they need upkeep to stop their condition deteriorating.
Germany's North Rhine Westphalia region has been using an interesting electric vehicle since 2020 that allows it to locate and report repair recommendations with pinpoint accuracy, reports E-bike News.
This article tells us 'A small buggy, hardly larger than a conventional quad, but with a covered driver's cab, measures the condition of the cycle paths in NRW by laser. The data provide conclusions about damage and the need for action.' The buggy is, of course, electrically powered…
WILL LACK OF INFRASTRUCTURE HAMPER THE GROWTH OF E-BIKES?
'In response to a recent revelation from the U.K. Bicycle Association that retailers in Great Britain had sold an e-bike roughly once every three minutes in 2020, advocates here crunched the numbers to reveal that 600,000 e-bikes were sold last year in the U.S. — a rate of about once every 52 seconds.'
So says this interesting Streetsblog article. As the article points out, that's a slower per-capita sales rate for the United States, but it still means that two-wheeled electric vehicles outsold four-wheeled ones more than two to one.
Whilst this might seem like a fun competition between the two nations and an encouraging sign that e-bikes are doing well in both countries, the article makes a more serious point. E-bikes and bike infrastructure receive next to no federal subsidies when compared to the $7.5 billion plus proposed for electric car chargers as part of Biden's American Jobs Plan.
So it all begs the question, if the federal government put some really serious dollars behind e-bikes and bike infrastructure just how popular would e-bikes get? Just don't see it happening the US? Well, the country was a world bike lane leader at one point as this Vox article points out.
Reader Interactions