E-bike News: Moped Style Bikes from Juiced and Bixtrix, New VELLO+ E-Bike, New eCargobikes, and more!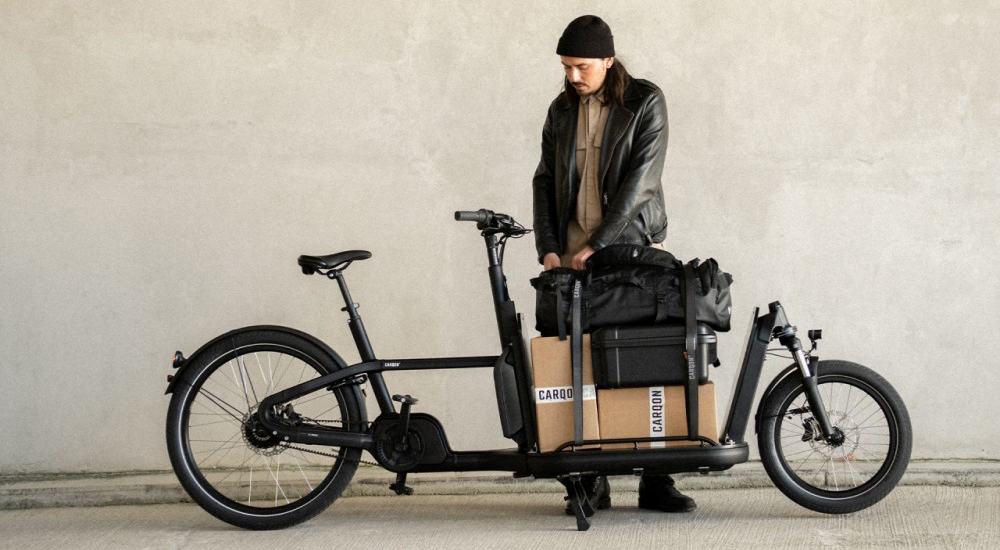 eBike News:
In This Week's E-Bike News:
This week there really is a flavour of the sheer variety that e-bikes encompass, from the moped styling of Juiced's latest Scorpion X to the ultra-lightweight titanium version of Vello's latest electric folder, not to mention an extremely capable-looking load hauler from Carqon.
If you want e-bike ideas for getting out on your e-bike, read about trail plans for California's Lake Tahoe or the emtb World Series of races in some of Europe's most glamorous locations and the chance to ride one of the courses at Sea Otter Europe.
Moped Style eBikes from Juiced and Bixtrix
VELLO+, the 28.4lb e-bike
eCargobikes – High Quality Carqon Flatbed and Theft of Fiil Prototype
Further eBike Access for Lake Tahoe?
French Government Progresses 'eBikes for Old Cars' Law
Massless Batteries on the Horizon?
Minneapolis eBike Share Ramps Up
No, London's Cycle Superhighways Do Not Cause Traffic Jams
All the Latest eBike Biz
New eBikes & eBike Systems
JUICED SCORPION X 28MPH MACHINE LAUNCHED
It looks like a moped but has a 28 mph (class 3) top assisted speed – meet the new Juiced Scorpion X.
Juiced say the new Scorpion X is 'Equipped with a new electronics system and custom RetroBlade motor, Scorpion X offers an epic e-bike value loaded with super premium features.'
Features include 750W Bafang rear hub motor, torque and pedal cadence sensors, 780Wh battery, 8-speed derailleur gears, 100 db horn and rear RelayRack pannier rack (compatible with the Cargo Platform adaptor kit).
Juiced dropped the original Scorpion electric model earlier in the year and Juiced say the new X model has a motor with higher peak power and bigger battery plus upgraded gearing and power sensing . While the Scorpion X carries an MSRP of $2,100, it will start at a discounted £1,999. Order from April 20th with deliveries expected to begin by late April.
BIXTRIX LAUNCHES MOPED STYLE MOTO E-BIKE
Canadian brand Bixtrix, known for its large batteried, powerful e-bikes with fat tires a speciality, has launched the Moto, with a claimed range of over 100 miles if you have the option of dual 1008Wh batteries. It also features a 750W Bafang rear hub motor and a single-speed drivetrain. There is also a choice of 20" and 24" wheels to suit a range of rider sizes.
Retail prices start from $2299 with mid-Appril shipping.
Read our full report here.
VELLO ANNOUNCES GEN2 FURTHER FEATURES
VELLO Bike+ is a lightweight folding e-bike that uses the innovative all-in-one Zehus rear hub motor system with all the electric drive elements inside the rear hub. The titanium option is claimed to weigh an impressive 12.9kg / 28.4lbs and retails at just under 4,000 euros.
New features recently announced for 2021 include a smartphone operated immobiliser with motion detector and a theft location and a boost button for an extra kick of electric power.
NEW CARQON ECARGOBIKE
Carqon hail from the Netherlands where cargo bikes and e-cargobikes are a vital everyday tool for many families and businesses. They have just launched a new flatbed electric model based around an aluminium frame with Bosch Cargo Line mid-motor and with the dual battery option they claim a 75-85 mile range.
The loadbed is decked out with 3M anti-slip tape and there is also stepless Enviolo hub gearing.
Prices range from €5,099 with a 400Wh battery to €6,299 with dual 500Wh batteries.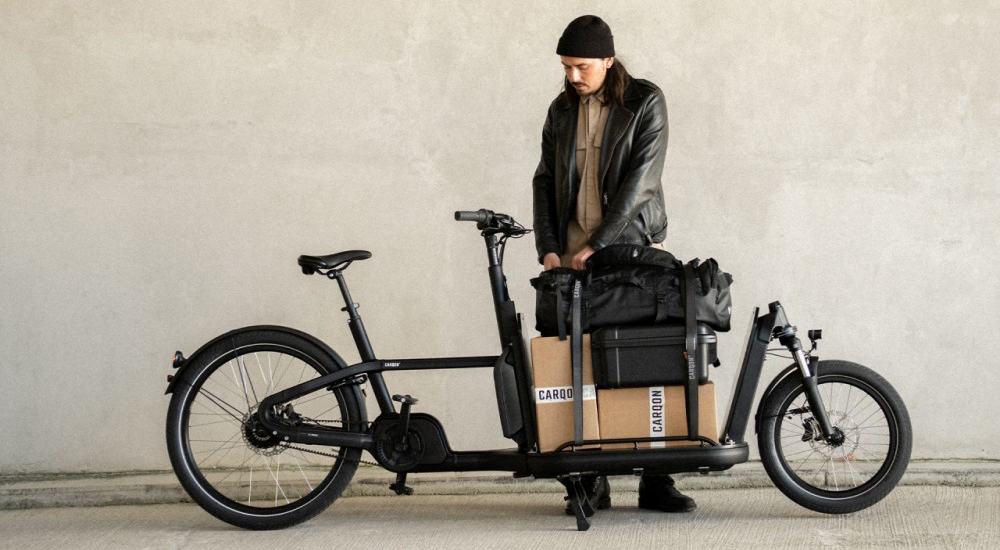 eBike Tech
UNIQUE eCARGOBIKE TECH HIGHLIGHTED AFTER THEFT
Cycling Industry News reported how ' Fiil Bikes wrote on how its first generation three wheel F3 e-motion electric cargo bike prototype has been stolen from the Mekhalfia Group building in Kensington and Chelsea (London, UK). The bike was not only locked with a high strength chain, which was cut with an angle grinder, but the firm's in-built bike security was enabled. Fiil said on the social media network that the thieves have since jammed the bike's GPS, suggesting professionals are likely to have been involved.'
A £3,000 reward has now been offered up for the recovery of the bike and arrest of the thief. "You can speak to us by calling our UK Contact Number 0207 126 7171, or Email us at [email protected]. Or Call the Police which is open 24/7 using Ref: 5604 600/21."
Fiil use 'titling' steering technology on their nascent e-cargobike model which they say is rated to carry 150kg load and is EU spec (15.5mph assist and 250W rated motor).
eBike Access
FIVE TIMES MORE eBIKE TRAILS FOR LAKE TAHOE?
'The U.S. Forest Service is proposing a five-fold increase in the number of miles of trails open to certain electric bikes in the forests surrounding Lake Tahoe' according to the strapline in this brief KALW piece.
At this stage it's only a proposal with the final decision expected by the end of the year.
'The Lake Basin Management Unit covers parts of six counties in California and Nevada and the proposal would add 120 miles to the current 25 that allow such access. The forest unit has a total of 385 miles of trails.
One very popular and very spectacular looking existing trail open to e-bikes is Lake Tahoe's East Shore trail, opened in June 2019.
FRANCE'S CLUNKERS FOR EBIKES INCENTIVE
Reuters reports on how Lawmakers in France's National Assembly have just passed a preliminary vote on offering the owners of older more polluting cars the opportunity to hand over their vehicles for scrap in return for a 2,500 euro ($2,975.00) grant to buy an e-bike.
The measure was an amendment to a draft climate bill passing through parliament that aims to reduce greenhouse emissions by 40% in 2030 from 1990 levels.
As the UK's Bikebiz notes whilst reporting the story, 'Cycling Industries Europe and other cycling associations have called for Governments across the EU to expand the €1 billion spent on COVID-related cycling measures in 2020 into a multi-billion Euro package of cycling infrastructure and financial support for bike purchase and bike sharing.'
Get Inspired
SEA OTTER EUROPE TO RUN WORLD E-BIKE SERIES EVENT
Sea Otter Europe has announced the addition of an electric bike World Cup event when the public show is held in Girona and the Costa Brava from 24th-26th September.
It is part of the The World E-Bike Series – the electric MTB World Cup organised by the UCI – it consists of five other events in addition to the Girona event, taking place across France, Italy, Spain and Switzerland this spring and summer
There will also be a Demobike programme with more than 500 bikes available for test riding on the same circuit that will host the World E-Bike Series competition. Brands including Bergamont, BH, BMC, Bulls, Cannondale, Canyon, Corratec, Cube, Fischer, Ghost, Haibike, Intense, KTM, Lapierre, Massi, Megamo, MMR, Moustache, Orbea, Riese and Mueller, Scott and Specialized have already confirmed they will be taking part in Sea Otter Europe's Demobike.
Battery Watch
'MASSLESS' BATTERIES TAKE A STEP FORWARD
Bike Europe reports on a very innovative sounding, if somewhat futuristic battery technology – making an e-bike frame double as part of a battery component, so saving weight.
Researchers at Chalmers University of Technology in Gothenburg, Sweden claim their new battery technology performs ten times battery than all previous versions. Part of the secret is that it contains carbon fibre that serves simultaneously as an electrode, conductor, and load-bearing material. According to the bike Europe article 'This means the battery can serve as an energy store as well as a frame.'
The research still sounds to be at early stages with potentially superlight consumer products (including e-bikes) some years down the line – as the article points out, the latest Swedish battery still only has an energy density of 24 Wh/kg, meaning approximately 20% capacity compared to comparable lithium-ion batteries currently available.
eMicromobility Share
1000 SHARE eBIKES HEAD TO MINNEAPOLIS
Star Tribune reports that Nice Ride Minnesota is soon to deploy 1,000 e-bikes in Minneapolis with e-scooters to follow soon.
Nice Ride is in its 12th season and according to the article is 'looking to rebound from a year that saw an overall drop in ridership largely attributed to stay-at-home orders and fears about using public transportation during the pandemic.'
The article adds:
'Nice Ride's ridership was down 41% in May last year,compared with the same month in 2019. Ridership on the nation's five largest bike share systems was down 45% between March and May last year, according to the U.S. Bureau of Transportation Statistics.'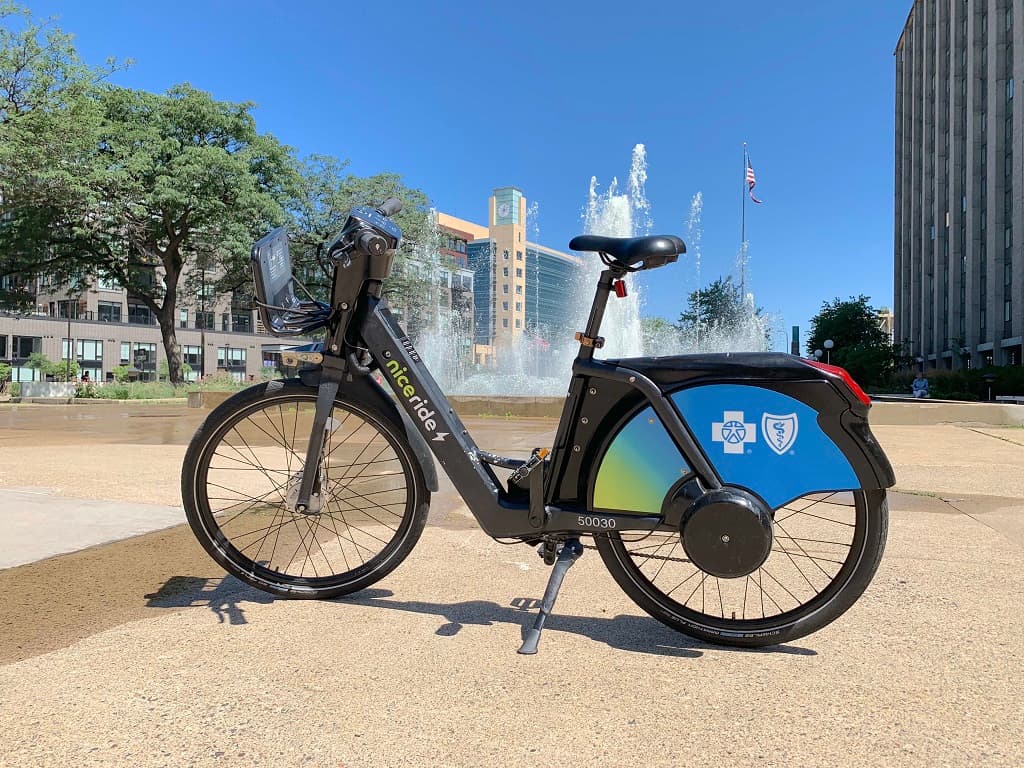 Infrastructure
BOFFINS FIND NO EVIDENCE THAT LONDON CYCLE LANES CAUSE CONGESTION
'Researchers with Imperial College London's Department of Mathematics, among other academic institutions, have found that London's Cycle Superhighway lanes do not negatively impact traffic speed' says Cycling Industry News.
"Our method provides evidence that Cycle Superhighways can be an effective intervention in metropolitan cities like London, which are heavily affected by congestion. We hope the method can also assist in effective decision making to improve the performance of the traffic and cycling network in cities." said lead researcher Prajamitra Bhuyan of the department of Mathematics at Imperial College London.
Several political figures in the UK have sought to suggest that the construction of London's Cycle Superhighways have actively caused greater congestion but the Imperial study suggests there are many more important factors such as land use and the presence of bus stops.
eBike Biz
ESTONIA'S AMPLER PLANS TO BUILD ON RECORD GROWTH
2020 was a record year for e-bike sales for many in the industry. But of course the next question is what comes next? Extra factories, investment into R&D or new efforts to secure reliable supply chains which are under going difficulties right now in the turmoil caused by numerous factors including a pandemic.
This interesting Elektrek article shows how one particular e-bike firm, Estonia's Ampler, known for their lightweight city style e-bikes, is planning to respond to the highly unusual circumstances we are left in after the rollercoaster year that was 2020. Elektrek say new figures released by the company show that Ampler grew its revenue by 115% year-over-year in 2020
Ampler is a direct to consumer brand and sells most of its e-bikes on the German market but now intends to target other countries such as Switzerland and the Netherlands where the company has plans to open flagship stores in 2021.
Electrek says 'Ampler's second German showroom was opened last spring in Cologne, and the company appears intent on growing its physical retail space as it eyes a return of customers to physical storefronts.'
Stay tuned for more e-bike news and reviews and thanks for reading!
Rich