E-bike News: Fiido's Familiar Looking T1 Cargo, Eovolt E-folders Up Quality & More!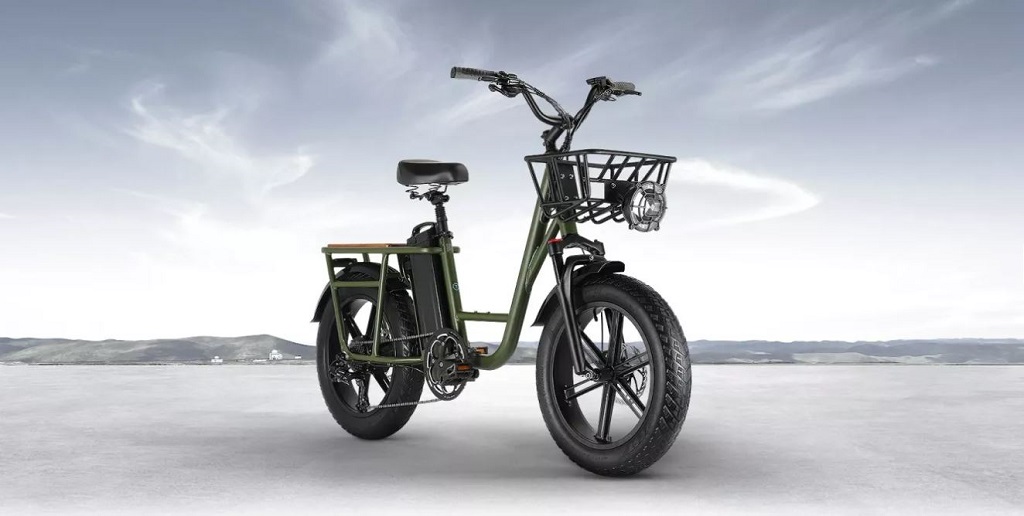 Are there any new ideas left in bike and e-bike design? That's a question this week's news seems to throw up more than once. Giant's latest e-mtb is an update on an existing model – albeit an extremely high tech one that promises to take performance to an even higher level with the introduction of the company's latest mid-drive. Elsewhere the Asian firm Fiido have clearly been 'inspired' by a popular design from the one of the US's leading e-bike manufacturers and there are suggestions a frame material that was tried and didn't succeed in the1980s is being tried again. It brings a whole new meaning to the buzzword circular economy….
In this week's news:
Recognise the design of Fiido's T1 e-cargo bike already?

Eovolt's attractive and high quality 2022 lineup of e-folders unveiled

Giant Trance E+ gets new motor and huge battery option for 2022

Will the Freeflow mid-drive finally achieve a breakthrough?

Plastic e-bike anyone?

Why France's new light electric vehicle category muddies the waters further

UK's new Highway Code

Giant PON group head to Lithuania
FIDO'S T1 – DOES IT LOOK FAMILIAR?
New Atlas reports on the US launch of a perhaps familiar looking but new mini-cargo e-bike from Fiido:
'After aiming for commuters with a couple of successful crowdfunding campaigns for the D11 and X fast folders, it looks like China's Fiido is now looking to ride into the US utility ebike market with a familiar-looking model called the T1 Cargo.'
And if imitation is the sincerest form of flattery then Rad Power Bikes should be flattered given the remarkable similarity of the T1 Cargo to their own RadRunner.
Whilst the T1 is not an exact copy of the RadRunner, the likeness is unmistakable given the T1 uses a very similar shaped frame and has chunky 20" tyres like the RadRunner. The T1 is specced with a 750-W rear hub motor and thumb throttle for a 31 mph top speed and the 960Wh battery should give good range too.
The Fiido T1 is on sale now for US$1,599.
2022 EOVOLT RANGE REVEALED
Eovolt is a French brand who have their own production site in Lyon and specialise in the design and production of electric folding bikes. They have recently launched their 2022 UK range and the first 20" wheeled models will be available in the UK from next week.
With much of the design and manufacturing process under their control, Eovolt are keen to emphasise the advantages of their e-bikes over cheaper imports from the Far East; 'Eovolt….have far superior reliability, premium quality and specification which through their own research and development team improves year on year. You also have the peace of mind of warranty and parts support from an established European brand' say the company.
There are three models currently making their way into premium UK retailers such as Pure Electric and JE James and detailed below. All feature rear wheel hub motors and seatpost integrated batteries and have premium features such as super smooth welds and cables routed via the frame:
Eovolt Morning 16" Folding E bike
Compact, folding e bike featuring 16" wheels , 4 gears, hydraulic disc brakes and 230Wh battery. RRP £1699. Stock due April 2022
Eovolt Afternoon 20" Folding E Bike
Compact 20" folding e bike featuring 20" wheels, 7 gears, hydraulic disc brakes, suspension forks and a 504Wh battery.
The Afternoon is described as 'equally at home in the city as it is on the bridleways and canal towpaths.' RRP £2099. In Stock now.
Eovolt Evening 24" Compact Step Through Semi Folding E Bike
Brand new model for 2022 is the Evening 24" compact step through semi folding e bike featuring 7 gears, hydraulic disc brakes and a 504Wh battery.
Eovolt say 'The compact step through e-bike with folding attributes…also gives you a great storage solution. No more handlebars and pedals protruding make it great for storing in your apartment, motorhome or on your vehicle cycle rack.'
RRP £2099. Stock due February 2022
GIANT'S ALLOY-FRAMED TRANCE X E+ E-MTB JOINS THE CARBON FRAMED ADVANCE
Back in late November
EBR reported
on the arrival of Giant's carbon-framed, high tech
Trance X Advanced E+
.
Now comes the 2022 updated Trance X E+ with alloy frame. Like the Advanced carbon version it uses the sub-6lb, 85Nm SynchDrive Pro mid-drive, co-developed by Giant and Yamaha and the top of the range E+1 model gets a huge 750Wh battery (the two lower spec models get very respectably sized 625Wh batteries).
US prices haven't been announced yet but in the UK Trance X E+ models range from £4,699 to £5,699. All three models get new RideControl Go switches on the top of the top tube and a new RideControl Ergo 3 bar remote.
WILL FREEFLOW'S NEW MOTOR BE A SUCCESS?
Cycling Industry News
reports on the
Freeflow
mid-drive from Scotland and how it is being trialled by a number of smaller brands, including the interesting looking
Twmpa
wooden bikes.
It looks a lightweight and well-integrated system and CIN say 'By the time you are reading this the system will be in production and likely have passed its final validation testing with a view to enabling manufacturers to purchase the system from February. At a time when the order books with some major motor suppliers are essentially closed, Freeflow's appeal to UK bike designers in particular will naturally grow.'
EBR will keep you posted on its progress – three are few very lightweight mid-drive systems about so it will be interesting to see if Freeflow can give the likes of Fazua and Specialized/Mahle a run for their money.
WOULD YOU RIDE A PLASTIC E-BIKE?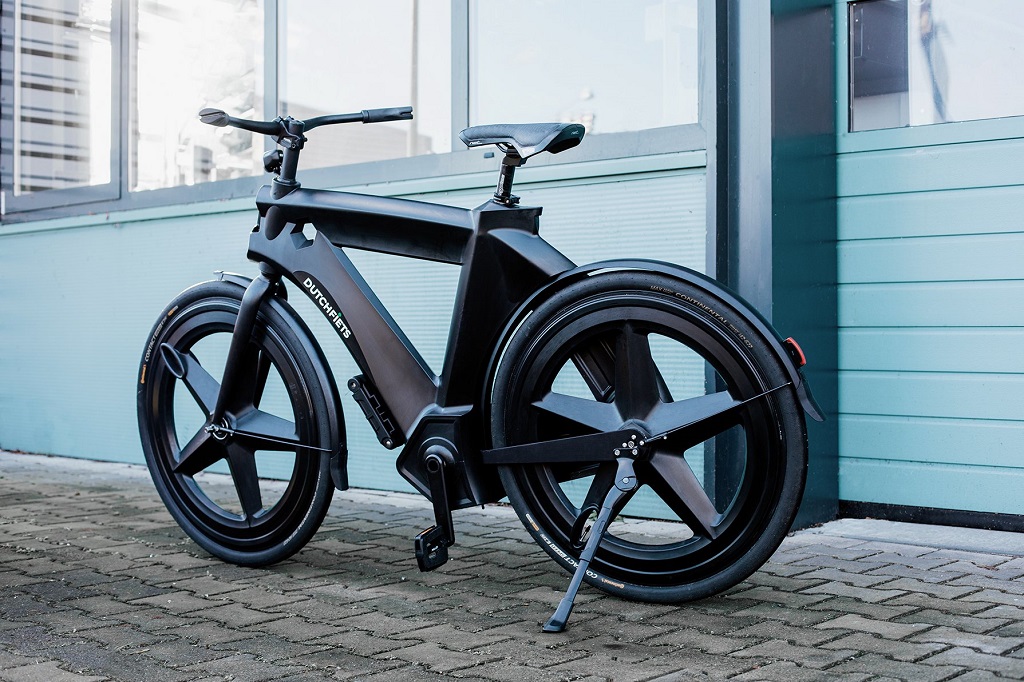 German language reports suggest that a plastic e-bike may be a reality by the end of the year – in prototype form at least. Plastics manufacturer Igus is planning a bicycle that does not require a metal frame or wheels. It is made of recycled plastic. To date the Cologne-based company Igus has only produced bearings and other plastic parts for component manufacturers such as SRAM, Magura or Crank Brothers.
It is to be hoped that the Igus fares better than the Itera – an all plastic bike produced in quite large numbers in the 1980s but now consigned to the Museum of Failure due to the large number of breakages they suffered. Its history hasn't stopped Dutchfiets trying to commercialise the idea in present times – their bike is pictured above.
FRANCE'S NEW CYCLOMOBILES LÉGERS CATEGORY FURTHER INCREASES CONFUSION
Bike Europe reports on 'the creation of a new vehicle category in the French traffic code. The new so-called 'cyclomobiles légers' or light mopeds…'
In terms of vehicles now legalised to travel on public roads in France, there are, in theory, a new range of vehicles but as one industry commentator notes in the article "The initiative seems to be aimed at accommodating e-scooters with a saddle and e-bikes without pedals. Unfortunately, there are hardly any legal vehicles to populate this category."
Add to this the fact that the vehicle must be type-approved (an extra and very significant cost for manufacturers) and you can see why the new law appears to be of little practical help to anyone. As the article again points out, Vässla is one of the few manufacturers that has a type-approved e-bike without pedals on the market and thus complies with the new traffic code in France.
Currently private e-scooters in France are allowed but subject to fairly complex rules (unlike the UK where they are banned with only authorised hire schemes allowed to operate them).
Confused? So are we….
WILL THE UK'S REVAMPED HIGHWAY CODE MAKE LIFE SAFER FOR CYCLISTS?
Bikebiz reports 'The latest changes to the Highway Code are a "hugely important step" towards making the roads safer for everyone, Cycling UK has said.'
The changes to the leading authority on rules of the road in the UK are currently heading through parliament and if approved will see changes such as a new hierarchy of road-users (ensuring quicker or heavier modes of travel have the greatest responsibility to reduce the danger or threat they may pose to others on the road) and motorists being encouraged to adopt the 'Dutch Reach' – opening the door next to them with the opposite hand so they look over their shoulder, meaning they're less likely to injure passing cyclists and pedestrians.
CANNONDALE OWNER PON HEADS TO LITHUANIA
Cycling Industry News reports that 'PON.bike has announced that it will open a new manufacturing facility in Lithuania by 2024, which could reach an annual output of 600,000 bikes. The new parent to Cannondale and longer-term umbrella for Gazelle, Kalkhoff, Focus and Urban Arrow, among others, will hire in the region of 300 to 500 staff in the future to manage expansion of its production capability, adding to its global workforce of around 2,400.'