E-bike News: Electric Bike Company's F for Folder, US vs UK Markets and Much More!
Whilst this week's headline news is a new release from one of the US's best known and most respected e-bike manufacturers, there's an unusually lengthy article on the US and UK markets and what kinds of e-bikes are appearing there – and what kinds are likely to appear in the future. Whilst there's no revolutionary new tech on the horizon it's clear there are lots of price pressures and we look in a bit more detail at what it might mean. Could there be cheaper mid-drive models on the horizon? Will the likes of Cannondale and Trek head increasingly down the hub motor route to keep prices in line? We take a look at these questions as reflected in recent news.
In this week's e-bike news:
Electric Bike Company Launches a 24" wheeled folder

US & UK market analysis – hub motor price pressure

US company invests in German four-wheeled e-cargo bike

Tier's smart e-bikes can now test if you are drunk

Germany's four-wheeler e-cargo Antic gets seven figure US investment
ELECTRIC BIKE COMPANY'S MODEL F – A FOLDING E-BIKE, CRUISER STYLE
Well-known, Californian-based e-bike manufacturers Electric Bike Company have just launched an all new Model F. The company describe it as a 'foldable electric cruiser', cruiser style e-bikes being what the company is primarily known for.
Whilst it is 28mph capable, EBC's website says that the factory settings are 20 mph throttle and 20 mph PAS, which means it comes as a class 2 machine.
The F stands for folding, and to keep things manageable when the bike is folded down, EBC have opted for smaller than usual 24″ wheels. Like other EBD models it comes as a single speed, though unlike other modes there is no seven speed derailleur option.
It has a 750 watt rated rear hub motor with a ten year warranty and a frame integrated but removable battery that EBC say is good for up to 50 miles and which is guaranteed for five years. There is plenty of stopping power courtesy of powerful hydraulic disc brakes with effectively large 180mm rotors.
Although it is their first folding model, The Model F has many of EBC's well known cruiser design traits including adjustable handlebar stem and various stainless steel components. It is offered in white, red, and black and currently priced at $1,799.
INTERESTING ANALYSES OF US AND UK MARKETS
Two interesting bits of news from the US and the UK respectively show some similar trends towards cheaper hub motored e-bikes. This is a change to our usual news take which emphasises the differences, with the US preferring higher powered, throttle-controlled machines and higher powered motors and heavier e-bikes in general.
Bicycle Retailer and Industry News (BRAIN) looks at the old chestnut of hub motors vs mid-drives with a fresh take – what the trends will be for the US market and what kinds of -bikes you might expect to see in the near future.
As the BRAIN article notes, those looking for higher quality e-bikes are traditionally steered towards mid-drives, typically costing many thousands of $. As they say, '…the humble hub motor….until recent years has been largely shunned in the brick-and-mortar e-bike marketplace. Electric bikes with mid-drive motors such as those made by Bosch, Shimano, Brose, and others largely have dominated showroom floors.'
The article suggests that 'that dynamic is changing, thanks to the lower cost of hub motors compared to mid-drives, and as legacy brands chase the cost-conscious consumers who have turned to Rad Power Bikes and other online sellers peddling sub-$2,000 e-bikes.'
Hence it reminds us that back in May Specialized's Globe project suggested they would launch a hub motor model (of course they never actually said that and they could just be being a little mischievous…).
In the article Alex Dunn, general manager of Seattle E-Bike, estimates that about two-thirds of the e-bikes sold in his shop were mid-drives. Now it's roughly 50-50. However this is partly due to what he calls "…nice sub-40-pound e-bikes with lightweight hub motors..". Dunn gives the example of Cannondale's $2,500 Treadwell Neo with a Mahle hub motor as an example.
Rather than premium e-bike manufacturers looking to introduce hub motor models, another way they could counter the rise of cheaper hub motor models is to find ways to pare down the cost of mid-drive models.
Intriguingly "It's possible to manufacture and sell a Bosch e-bike for less than $2,000," says Zach Krapfl in the article (Krapl is co-founder of VPL, which distributes Bosch motors in North America to small- and medium-sized brands). Krapl adds "I know it's doable, and that people are evaluating how to do it."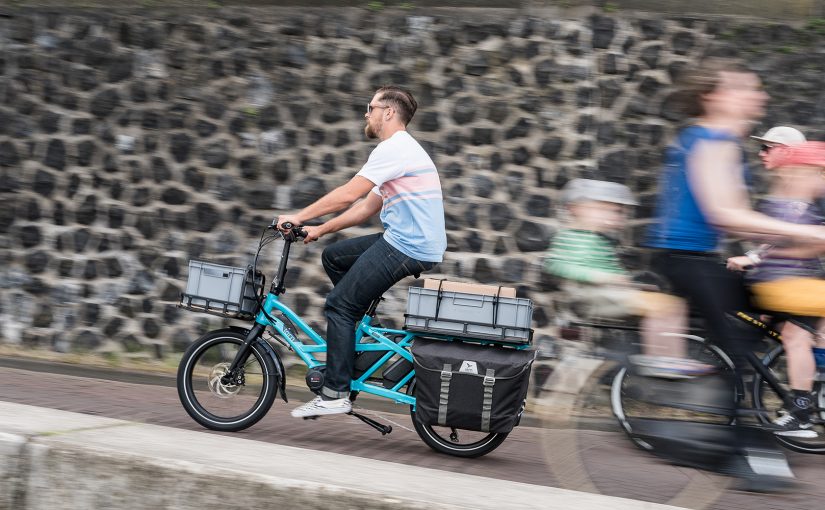 Meanwhile, over in the UK The Bicycle Association (BA) has released its 2022 half-year report: A Bumpier Ride: Challenges and Prospects in the UK Cycling Market. After what is described as the 'biggest cycling market boom in recent history….the BA's half year 2022 report shows how the cycling market is coping with the challenges of rising inflation and declining consumer confidence.'
2019 is seen as the most meaningful comparison date, as the Covid bike boom can be viewed rightly as a historic 'one off'. Overall market value for the first half of 2022 remained 17% higher than in 2019, and one of the key factors here was 'the growing proportion of e-bikes in the overall sales mix..'
The strength of electric sales is further emphasised as 'e-bike volume sales during the first half of 2022 are almost double the pre-Covid period' and 'sales of e-bikes in the Generalist market segment have performed better than Specialist sales during the first half of 2022. This is driven by an influx of lower-priced e-bikes, said the BA, and product shortages at the premium end.'
So, the cheaper competition is starting to have an effect on the UK market too it seems, according to the article. However, electric cargo bikes (generally not a cheap option) are also an emerging product category. Volume sales during the 12 months ending June 2022 increased by 40%, compared with July 2020-June 2021.'
This move to 'better value' e-bikes in the UK is typified by the fact that 'Rad Power has brought its latest folding e-bike, the RadExpand 5 to the European market. It's available in the UK for £1,349' – as reported in ebiketips. Rad Power also has its own recently launched UK specific website.
With inflation forecast to rise across much of the globe it will be interesting to see how the turbulent global situation affects major e-bike markets.
TIER TRIALS E-SCOOTERS 'WITH A BRAIN' TO PREVENT ANTI-SOCIAL USE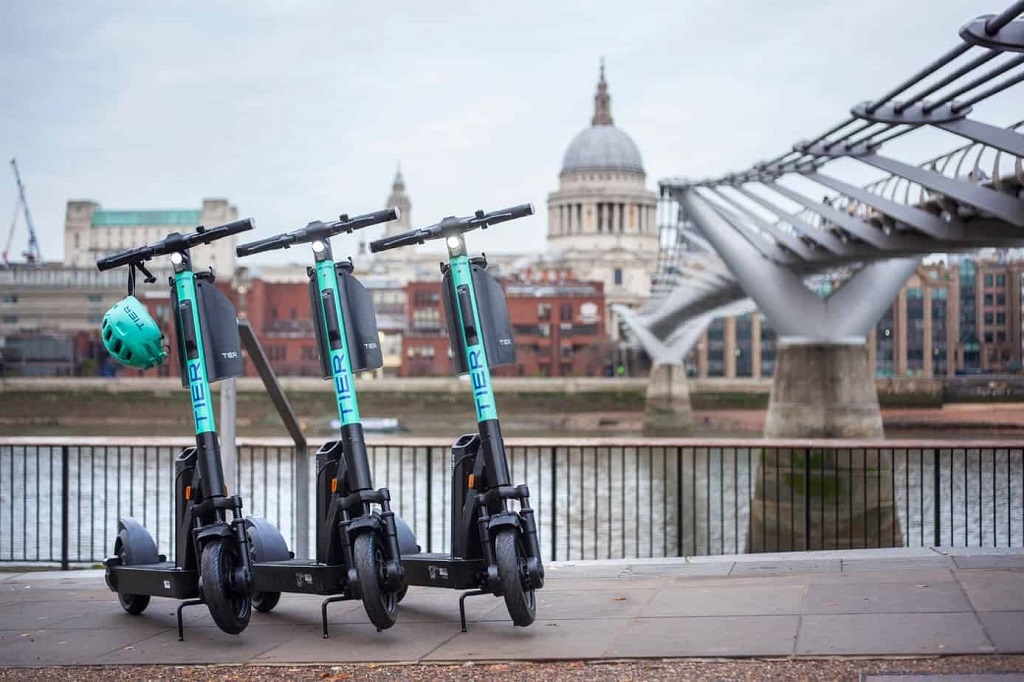 Intelligent Transport reports that 60 e-scooters have been deployed in London with an upgraded e-scooter 'brain'. This technology has been developed in-house by TIER to deliver improved vehicle positioning, geo-fencing and connectivity.
The new features of our e-scooter brains include sensors, stronger processing power and 4G capability. This technology, dubbed 'Parrot', will be trialled first in London, with further trials taking place in Norway and France in the coming months.
Perhaps of more interest to the average shared e-scooter rider is what this is actually meant to achieve in the real world. Tier says 'Our main goal when developing this technology was to increase vehicle positioning and parking accuracy, and to tackle issues like drunk or unsafe riding.'
Specifically, the e-scooters incorporate a test designed to prevent drunk riding, with potential riders asked to match the angle of their phone with an angle displayed on a screen. Tier also say the improved geofencing will mean more accuracy when speed controls are applied in specific areas.
US COMPANY INVESTS IN GERMAN FOUR-WHEELER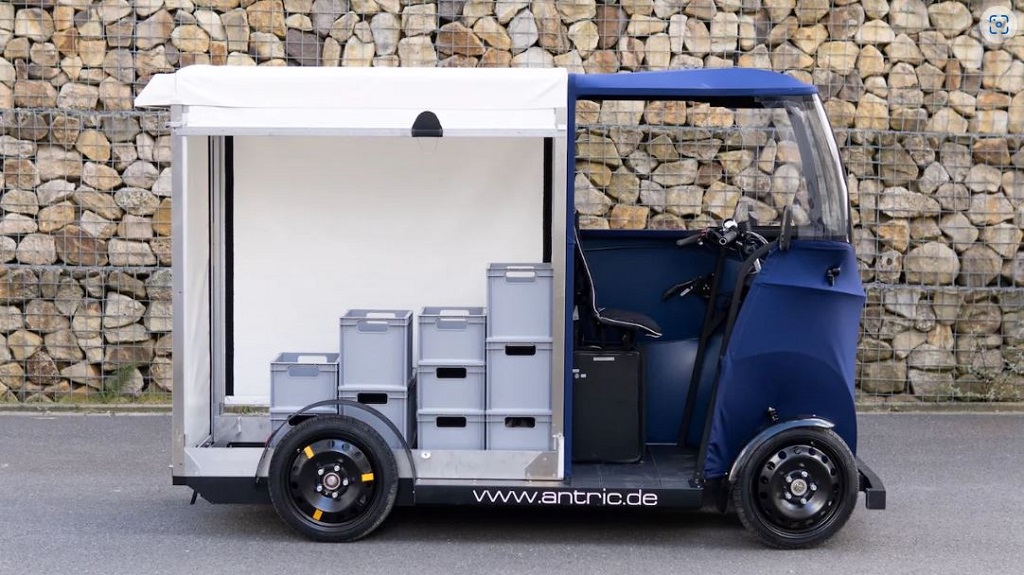 Bike Europe reports that Germany's Antric 'has designed and engineered the Antric One, an auto-grade four-wheeled e-cargo bike that has been successfully piloted in Europe. The cargobike has been purpose-built for delivery services and general cargo transport.'
The article reveals 'The US-based electric vehicle technology company, Cenntro Electric Group Limited, has acquired a minority stake of 25% in Antric GmbH, a German-based e-cargo designer. Through the seven-figure investment Cenntro will support manufacturing the company's Antric One e-cargo bike in Germany and market the product globally.'
This is an encouraging move for that rarest of beasts, the four-wheeled e-cargo bike. EBR recently reported on the scaling up plans of the UK's EAV. So, despite the fact that the likes of Drycycle and Bio-Hybrid have come and gone, this story proves there are still major investors ready to back the idea.