E-bike News: Econic One US Arrival, Speed E-bikes and Lots More!
It's an interesting time for an EU bike company to launch an e-bike in the US and Econic One are a little different to most EU e-bikes coming there. Many US brands are based on a ready supply of competitively priced Asian components and systems, whereas classic EU brands like Riese and Muller and Gazelle opt for premium motor systems like Bosch and Shimano and charge a premium price, choosing not to compete on price with most other brands, but to stand out for their quality, longevity and practicality. Econic One, though EU-based, use motor systems from Bafang but spec higher quality gearing and brakes than most budget brands that use the ikes of Bafang and also feature GPS tracking and locking features. It's an interesting approach and it will be fascinating to see if they succeed.
Elsewhere we look at the question of speed pedelecs and even faster e-bikes, prompted by three announcements hot on each other's heels on e-bikes that will assist you up to at least 28mph. Class 3 e-bikes assist you up to 28mph but you need to be pedalling and there are restrictions on where you can take them – some bike paths may be off limits for example. In contrast class 2 e-bikes assist up to 20mph and you can use a throttle. Class 2 are a little more popular, but it's clear from three recent launches that e-bike companies believe plenty of potential riders want the extra speed.
In this week's e-bike news:
Econic One – a new e-brand for the US

High speed e-bikes from Volcon, KK and Aventon

Swytch's new lightweight kit now available to order

Electra launch Polynesian-inspired e-bike

Other news from Boston, Buffalo and Japan
ECONIC ONE COME TO THE US
There's a new e-bike brand called Econic One just arrived in the US from Europe. Eonic One say that 'After a long and highly successful EU presence – they're currently available in over 20 countries – they've recently launched in the US…'
They're offering three of their most popular models in the US with more to follow soon. Econic One say that what sets all their e-bikes apart is their proprietary 'smart' tech which 'enables riders to remotely lock/unlock the bike (with its built-in lock), set off a loud alarm, track the bike's location and more.' The three models available in the US now are;
Econic One Comfort Limited is described as their 'lightest step-through model for urban explorers…. for daily errands, commuting….'. It has a Bafang rear hub motor, 360Wh battery, nine speed derailleur and hydraulic disc brakes and is fully equipped with hardwired lights, mudguards and rear rack. Quoted weight is 49lbs / 22kg and it's a 20mph PAS model (USA) / 25kph PAS (EU). MSRP $1999.
Econic One Bandit is 'equally at home on dirt roads, pavement and gravel'. Features a 250W-rated Bafang M410 mid-drive with torque sensor, 460Wh battery, ten derailleur gears, hydraulic disc brakes and powerful front LED. Quoted weight is 51lbs / 23kg and it's a 20mph PAS model (USA) / 25kph PAS (EU). MSRP $3199.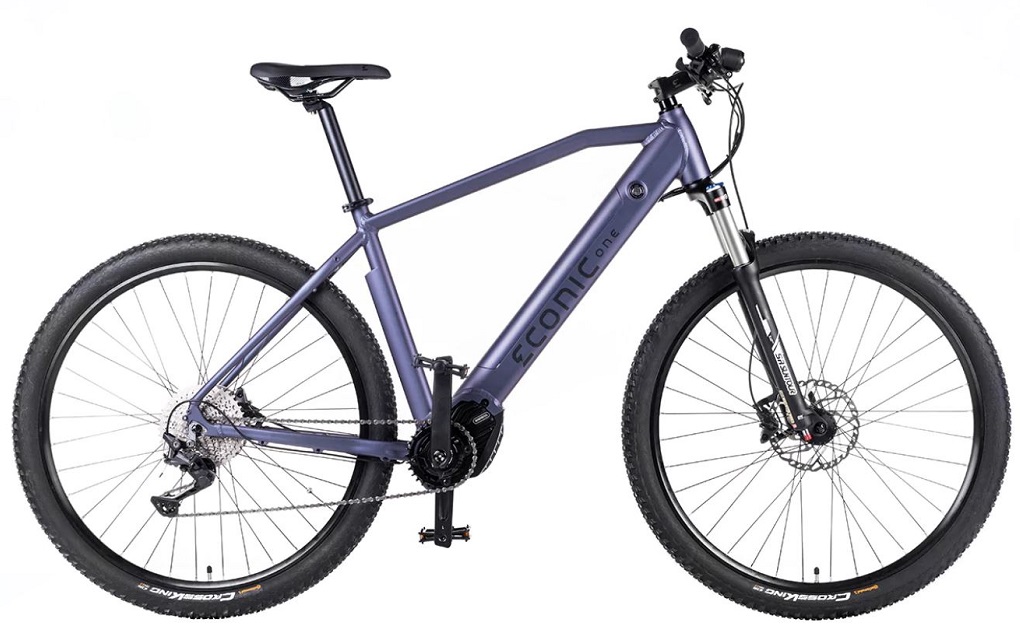 Econic One Adventure is 'a smart hardtail e-MTB with a high-torque mid-drive motor and suspension fork'. Similar spec to the Bandit but with 2.35" wide knobbly tyres and SR Suntour Raidon suspension forks with 100mm travel. Quoted weight is 49lbs / 22kg and it's a 20mph PAS model (USA) / 25kph PAS (EU). MSRP $3399.
TRIO OF HIGH-SPEED E-BIKE LAUNCHES FROM VOLCON, KK AND AVENTON
With availability slated for November, Texas-based Volcon have finally announced the arrival of the motorcycle-style Brat which was extensively 'teased' prior to the official launch of full details. This is Volcon's first e-bike as it has previously specialised in off-road motorbikes and the incredible looking Stag four-wheeler.
The Volcon Brat on paper is a Class 2 e-bike with assisted speed up to 20 mph using throttle control or pedal assist. However there is an extra fourth mode that means a 28+ mph speed for 'off-road riding only'. Volcon are being rather coy in saying how much more than 28mph top assisted speed will be.
The chunky 750watt rear rated motor and beefy front and rear suspension certainly give the impression it would be capable of giving plenty of high speed, off-road fun. There's also a large capacity battery, hydraulic disc brakes, derailleur gearing, a smartphone-connectable display and Volcon app. Quoted weight is 86 lbs (39 kg) and MSRP from $2799.
KKbikes are taking a similar tack of high speed plus full suspension in the form of their new K26S, a fat-tire e-mtb style model. Top assisted speed is quoted as 31mph, strangely, just above the 28mph class 3 limit.
Like the Volcon it uses a 750W rated rear hub motor with peak power at 1,200 watts and a torque rating of 85 Nm – certainly far more power than found on your average e-bike. Quoted weight is 73lbs (33 kg) and MSRP $2599 (currently discounted to $1999).
Finally one of our favourite brands, Aventon, have launched the Level.2 – an upgraded version of the 28mph Level which we reviewed here. The main upgrade is the addition of a torque sensor for smoother power. It retains the 500W rated rear hub motor and 672Wh frame-integrated battery. It is capable of 20 mph assisted speed under throttle power alone or 28 mph with pedal assist. MSRP of the Level.2 is $1949.
NEW LIGHTWEIGHT SWYTCH KIT NOW AVAILABLE TO ORDER
We previously reported on how the popular 'traditional' version of the Swytch kit – which we reviewed here and liked – was due to be relaunched with a new, smaller battery.
The new kit is now available to order with a battery reduced in size by 70% and weight by 50% so it will now fit in the palm of your hand. Note this is based on the smaller of the two batteries, the 90Wh Air which claims to weigh 1.54lbs / 700g and measures little more than 20x10x2.5cm. Keeping the battery size small avoids having too much weight on the handlebars which can affect bike handling and secondly it is much easier to transport
when off the bike. It's also easy enough to take a spare around with you.
Full RRP is £999 but if you are happy with a 3 month lead time it is £499 and £399 for those willing to wait 6 months. Worldwide shipping is available and there is a 20mph US spec available as well as the EU 15.5mph spec.
ELECTRA LAUNCH POLYNESIAN-INSPIRED KAKAU GO!
Electra is probably best described as Trek's lifestyle or leisure bike brand. They produce practical e-bikes but ones that also have a sense of style and fun about them.
So then, maybe it shouldn't be a surprise to see them launch the Kakau Go! e-bike, described as 'an homage to the islands that make up Polynesia, the birthplace of surf. The Matte Ember frame, reminiscent of lava rock that can be found throughout the islands, is complimented by a tribal pattern inspired by the traditional tattoo art form, known as Kākau. A wood grain underlay throughout represents the Koa tree and wood used for early surfboards.'
On a more practical level it uses a Hyena rear hub motor, 250Wh frame integral battery, mechanical disk brakes and a powerful front LED light. Stated weight is 47.8 lbs (21.7 kg) with a payload rating of 300lbs (136 kg). A surfboard rack is an optional extra. The Kakau Go! retails a t$1799.
IN OTHER NEWS
Streetsblog reports ' Boston Mayor Michelle Wu announced that the city would undertake a major expansion in the city's network of separated bike lanes, with a goal to put 50 percent of the city's population within a 3-minute walk of a protected bike lane within the next three years.
"We are adding 9.4 miles of new bike lanes by the end of next year, to mend key gaps and expand our network," said Mayor Wu.