E-Bike News: EBC's 28mph Model J, more Motor E-bikes, Velotric Lightweights, Denago Mid-drives and More!
How much e-bike can you get for how little money seems to be the question posed by this week's crop of new releases. EBC's model J is a 28 mph e-bike for only $1199 whilst the triple battery option of the Eunorau gives you 2,808Wh of capacity. Engwe have also added to the moto e-bike fray with the option of a 1,248Wh battery model for $1599.
Of course people love big batteries and low prices but the question for the future is how far you can push the envelope in both directions. With battery safety concerns certainly making waves in the wider media the answer seems to be only so far. As we've mentioned before, some kind of battery standards would be a welcome move for many in the industry.
In this week's e-bike news:
EBC's Model J – a 28 mph moto style model with huge customisation options

More moto e-bikes from Engwe and Eunorau

Velotric's lightweight Thunder range

Denago's first mid-drives

NY's e-bike subscription service Whizz gets a serious cash injection
EBC's 28mph new model from $1199 – meet the Model J
EBC will be known to many readers as the Californian-based e-bike makers specialising in models that are customer-customizable to a huge degree. They have just announced the Model J, which they describe as 'a smaller, nimbler, moto-inspired e-bike geared toward the young adult consumer.'
What's more, if unlocked from the factory set 20 mph limit, the Model J can reach 28 mph speeds e-bike. It features a rear hub motor, dual-piston hydraulic disc brakes, hardwired LED lighting, colour display with USB charger, and EBC's trademark stainless-steel rust-free hardware throughout. Battery options are 672Wh, 1,344Wh, and 2,016Wh and torque-sensing is available as an optional extra.
A torque sensor is available as an optional upgrade and on top of the standard spec above of course most other elements are customisable in true EBC-style.
The Model J has launched with a limited time introductory price of $1199 (SRP is $1499 and up) with shipping in '5 to 6 weeks'.
And yet more moped style e-bikes…..
Clearly moped-style e-bikes are the flavor of the month as announcements of new models have been rolling out of the PR mill….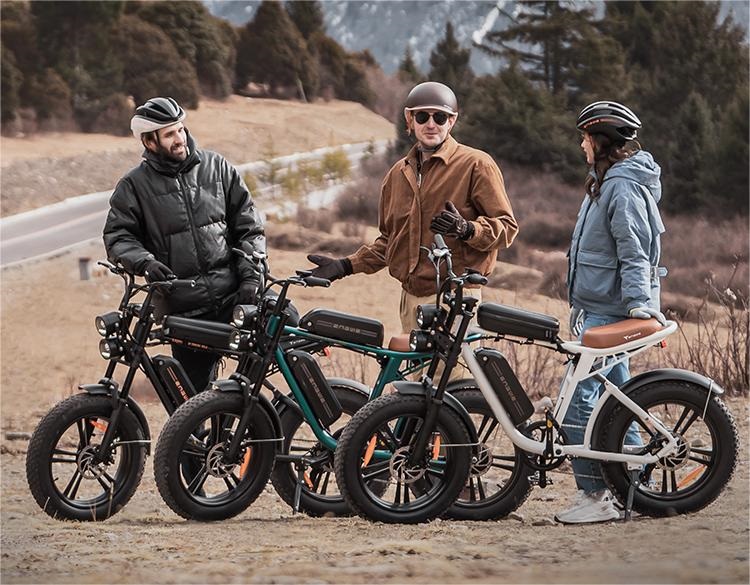 Engwe is a Shenzhen-based company specialising in very competitively priced folding fat-bike style e-bikes. Their latest model the M20 jumps on the moto-style bandwagon and like EBC's model J has a 28mph speed pedelec rating. It comes with a 624 Wh battery and a 750W rated rear hub motor. RRP is $1299 or $1599 for a double battery model. The M20 is now retailing at £1,049 in the UK where Engwe have recently established a warehouse.
Taking things another step still in terms of motor power and battery capacity is the Eunorau Flash. The base model has a 750W hub motor but there's also the option of doubling the hub motors for a 1,500W all-wheel-drive configuration. Or you could spec a 1,000W mid-drive motor with torque sensing and / or plump for two or three on-board batteries – three would give 2808Wh capacity!
It's now on Indiegogo with shipping slated for August 2023 and prices starting at $1499.
Velotric go lightweight with new Thunder 1
Velotric's latest and lightweight offering, the Velotric Thunder 1 range, has just been launched. Claimed weight is 36 lb (16 kg), the Thunder 1 and Thunder 1 ST and both model ranges feature hydraulic disc brakes, torque sensing, 8-speed derailleur gearing and hardwired LED lights.
Anti-theft tracking is a feature of both bikes, with the 1 variant boasting built-in GPS tracking, fingerprint unlocking and the option of a range extender for a claimed 50% more range.
The lower-priced Thunder 1 ST has Apple's Find My integration, which only works in areas where there are plenty of Apple iPhones and the like (i.e. the ST variant's tracking gives urban coverage only).
Out of the box the Thunder is a Class 1 e-bike but unlocking results in a class 3, 28mph pedelec (no throttle option is available). There's a 600W peak-rated hub motor and the frame hides a 352 Wh battery.
The Thunder 1 ST retails at at $1,499 and the Thunder 1 at $1,799
Denago's first mid-drive e-bikes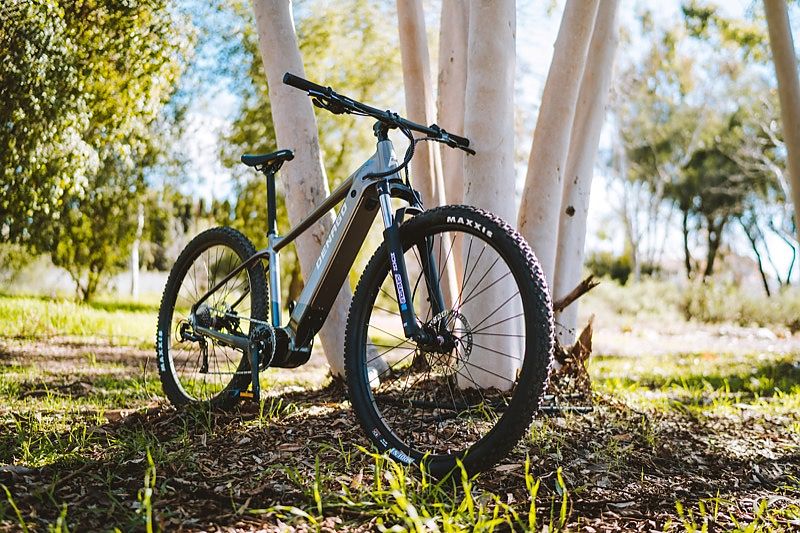 Bicycle Retailer and Industry News (BRAIN) reports that 'E-bike start-up Denago has released their first mid-drives, the eXC1 and eXC2 models. The eXC1 retails for $2,749 with a Bafang M410 motor and Suntour XCM32 fork with a 500Wh battery; the upgraded eXC2 model ($3,199 retail) adds a dropper seatpost, Bafang M510 motor, and larger 672Wh battery.'
EBR has tried several Denago models already – here, here and here.
Whizz raises $3.4M to fuel the rapid growth of its e-bike rental platform
Founded in 2021, Whizz describes itself as 'an e-bike subscription platform that offers long-range e-bikes, on-demand maintenance and same-day replacements for last-mile delivery drivers powered by its unique Whizz Automation Platform. The company operates in New York and works with drivers from the biggest names in last-mile delivery such as Uber Eats, Doordash and Grubhub.'
Whizz recently announced they raised $3.4 million from Joint Journey, TMT Investments and a group of angel investors in a Seed Round of funding. The investment brings the company's total fundraising to date to $4.5M. The funds will be used to fuel the company's 'explosive growth'; intensively upgrade the Whizz Automation Platform, its one-of-a-kind ERP system for business process automation; and set up new locations in New York equipped with lounge zones, bike maintenance and repair stations, and overnight storage facilities.
As Whizz explains, the average e-bike costs more than $1,500, which many drivers — often immigrant workers without the credit history to gain approval for a loan — simply cannot afford. Whizz offers an affordable alternative, enabling drivers to rent purpose-built e-bikes offering 8-hour battery life, GPS trackers and built-in anti-theft systems, as well as on-demand maintenance and repairs.
With subscriptions starting from $159/month, Whizz claims to be 20% cheaper than competing services and it 'aims to become the top choice for delivery drivers in New York by opening new locations and providing additional services, before expanding to other geographies ahead of its Series A funding round in 2024.'
Reader Interactions