E-bike News: Bosch Smart System Expands, Dahon, Ride 1Up and Much More!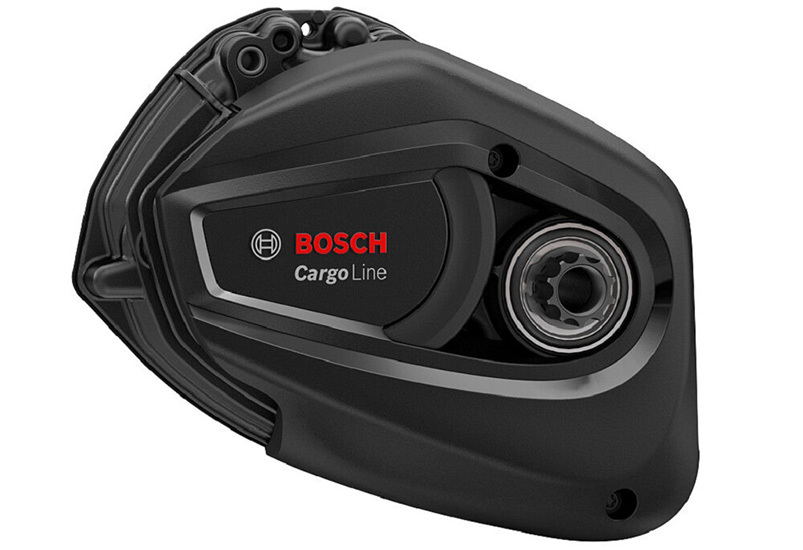 Bosch are the European market leader in terms of premium quality mid-drive systems and have been a little quiet of late. So it's good news to see more detail on exactly what features are arriving in the wake of the announcement of the new Smart system – all detailed below. These features are likely to be seen on European available e-bikes first of all but US riders will no doubt see many of the features too in 2023 and 2024.
Dominant as Bosch is, there's plenty of variety out there in the e-bike world as we also look at a new e-folder, hear about exciting new places to ride in the US and hear the thoughts of the incredible EAV delivery e-bike from the UK.
In this week's e-bike news:
More features for the Bosch Smart system

Dahon Curl Ei4 – a small e-folder

Ride 1UP upgrades Core 5

US national bike route network gets an extra 650 miles

Kitzuma and BikeExchange expand US e-bike offering

EAV – the UK e-bike that wants to replace vans – an in depth podcast
BOSCH SMART SYSTEM EXPANDS FOR 2023 E-BIKES
Around a year ago EBR reported on the appearance of Bosch's new Smart system. At the time this consisted of a new 750Wh in-frame battery, a new app, a handful of software updates and a new Bluetooth remote and display, but with promises of more connected features in future.
In the wake of announcements at Eurobike let's take a peak on new aspects of the Smart system that will be appearing on 2023 e-bikes.
On 2022 e-bikes the Smart system was only available with the Performance Line CX motor and only with the 750Wh battery. For 2023 other Bosch hardware options will appear in the Smart pantheon of options too. That means the Performance Line Gen 3, Performance Line Speed and Cargo Line mid-drives will be able to connect to the Flow app and will have the option of the large 750 Wh battery.
It also means frame integrated Powertube 500Wh and 625Wh battery options (for smaller frame designs and lower priced e-bikes, but also with the Smart system – this was not possible before). There are also new larger external battery options too; Powerpack 545 and Powerpack 725. Bosch makes it clear, however, that both are intended for special applications where internal batteries are not an option, such as cargo bikes.
Bosch's ABS anti-lock braking system was already common knowledge but Bosch confirmed it should start appearing on 2023 e-bikes – it certainly looks discreet as it is 77 per cent smaller and 55 per cent lighter than its predecessor. There will be specific versions for different styles of e-bike i.e. cargo, emtb etc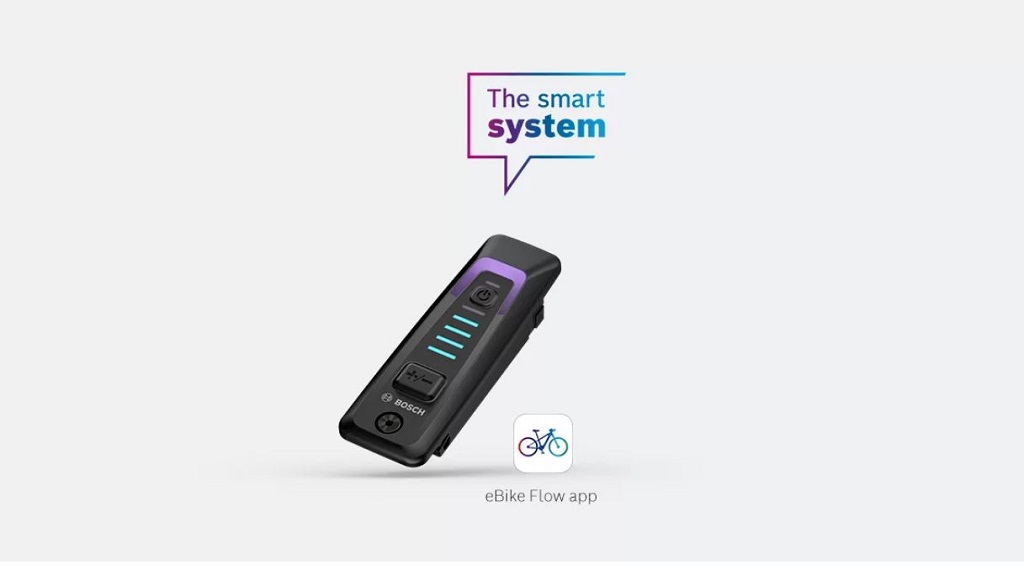 Bosch will also roll out their smallest yet control button and it will be top tube integrated, with the option of a wireless control on the handlebars too. It's just this kind of minimalist layout that features on many top end e-mtbs. It's dubbed the System Controller and Mini Remote and features a bank of LEDs that provide information about the charge level of the battery and the support level. The appearance of the Intuiva display has also been updated as it becomes the Intuiva 100.
Bosch's 2022 Flow app gets new 2023 features. An alarm function – actually announced last year – was detailed at Eurobike and it will appear on 2023 e-bikes. It means the e-bike can be put into an alarm state, with movement triggering a message to the Flow app. Tracking is also activated and a loud physical alarm sounds on the bike itself. The motor drive is also deactivated and can only be brought back to life with the owner's Flow app. Note after initial purchase there will be a subscription fee for aspects of this service.
Small enhancements have been made to the navigation facilities too with the addition of a small map on the Kiox 300 display. Bosch say they are also working on integrating Komoot into the Flow app: Then routes can be planned in Komoot and transferred to the Flow app.
Hill Hold is an added feature to mode Walk Assist; when you take your finger off the Walk Assist button the bike no longer rolls backwards but remains in place whilst you take a rest. It sounds like a minor thing but if you do use Walk Assist regularly up steep and difficult obstacles it could be very welcome.
DAHON INTRODUCES E VERSION OF CURL i4 FOLDER
Bikebiz reports Dahon has introduced an electric version of its Curl i4 folding bike, the Curl Ei4.
Features of the Curl Ei4 include Dahon patented Flip Frame with Autolatch, roller rack and 4 internal hub gears. There is a 36V/250W motor, 252Wh battery, and 16-inch 'fat' tyres. Stated weight is 37.48 lbs (17 kg).
No price details are available yet but shipping is slated for Nov/Dec 2022.
RIDE 1UP CORE 5 – SAME PRICE, NEW UPGRADES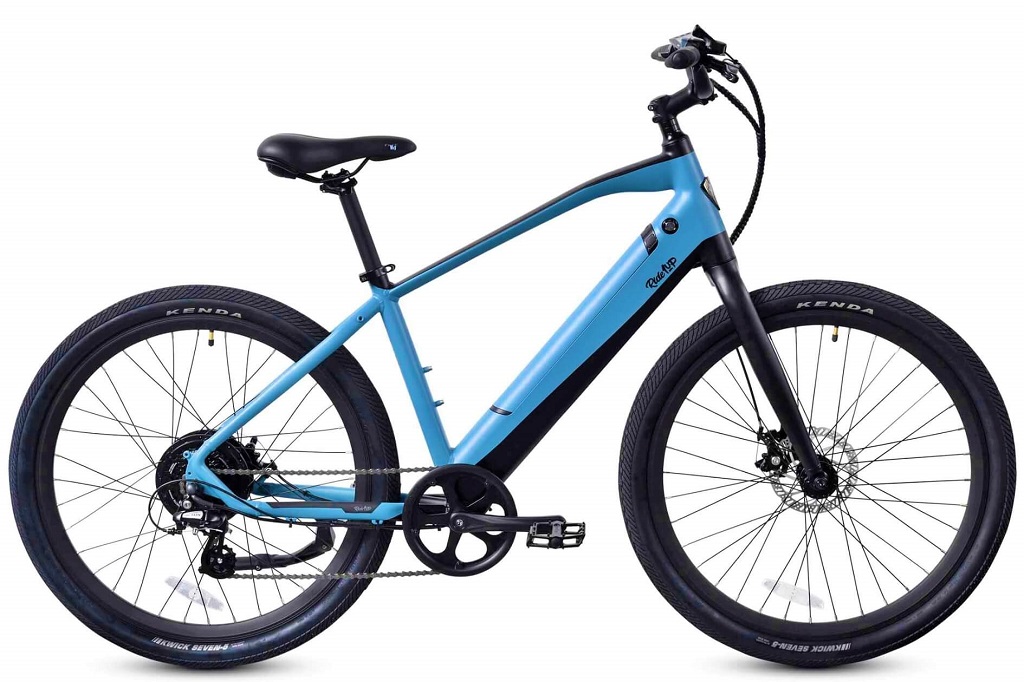 The Ride 1 Up Core 5 was always a bargain at $1195 but just got better in the value for money stakes. They have increased battery size by 25% to 614Wh and also added a front LED light. All whilst keeping the same $1195 price tag.
EBR has reviewed the previous version of the Core 5 here and as you can see it's an impressive performer.
650 MILES ADDED TO US BICYCLE ROUTE SYSTEM
Adventure Cycling report that in July 'three new routes were approved alongside a couple of adjustments to existing routes. These routes add more than 650 miles to the U.S. Bicycle Route System bringing the total number of miles to 18,534! Two new states join the USBRS fold: Oklahoma and Delaware with USBR 66 and USBR 201 respectively. Minnesota added a fourth route with USBR 20 while Indiana and Michigan made some minor (though significant) adjustments to two USBRS routes.'
There's a great page of USBRS digital resources here.
KITZUMA AND BIKEEXCHANGE ANNOUNCE EXPANSION OF US E-BIKE DELIVERY SERVICE
Cycling Industry News reports 'Kitzuma, the BikeExchange owned cycling goods logistics business that is delivering built bikes to consumers doorsteps, has announced an expansion of its U.S. footprint with the opening of a 20,000 square foot North Carolina base.'
E-bike brands available via this service include Econic One, a European eBike manufacturer expanding rapidly across the U.S. market and global brand Zoomo.
The article adds an interesting UK perspective on the growth of e-bikes in the US:
'A sharp growth in electric bike brands selling direct to consumer and also via the retail network will be Kitzuma's key clientele. The market data from the USA illustrates that, despite once again being overlooked in key legislation, Americans are buying into eBikes at a faster rate than four wheeled EVs. The USA imported nearly 790,000 electric bikes in 2021, while Americans bought 652,000 EV cars. This, say many commentators, is down in large part to the unaffordability of EV cars to younger generations, who have instead shown a propensity to use sharing apps, or look at cheaper transport like bikes.'
INSIGHT INTO EAV LAST MILE DELIVERY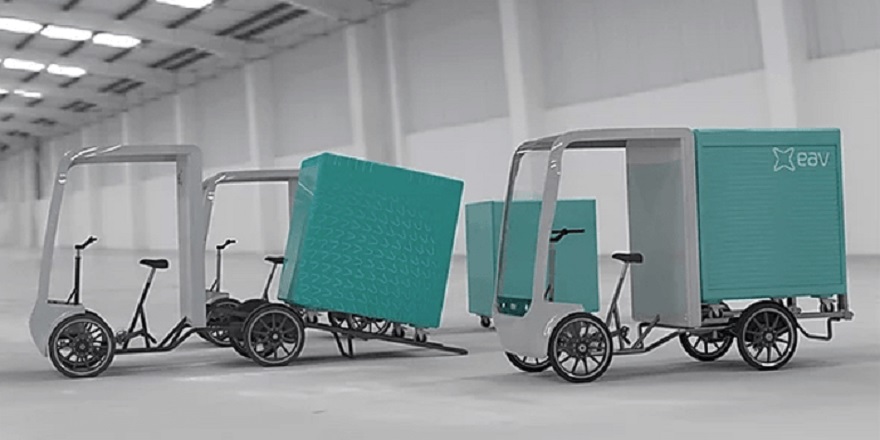 If you have 40 minutes to spare and are interested in how e-bikes might replace van deliveries this Micromobility podcast takes a look at the growth of UK based EAV who make four wheeled delivery 'e-bikes' with features such as a covered cab for the rider and indicators for safe use in city traffic.
You'd never guess from looking at it that the EAV is a totally legal e-bike with no requirements for registration, insurance etc. It's aimed at 'last mile' city centre deliveries (apparently 50% of the cost of delivery of goods is racked up by the 'last mile') and has a metal frame with composite bodyshell.
Amongst the interesting points EAV founder Adam Barmby highlights are the following;
Despite the fact they are rare, he states four wheel e-cargo bikes are inherently more stable than three wheelers or two wheelers.
EAV make 85% of their components in-house
EAV vehicles are capable of making 350 deliveries per day in busy city centres like London where they are currently operating
Their immediate production target for their Oxfordshire manufacturing base is 100 units per month.
They are working on a so-called L7 class light electric cargo vehicle, measuring 4m x 2m and capable of 30mph, to enable commercial cargo to be brought into city centre hubs from the city's edge, (where their smaller vehicle could take over).
For their planned expansion into Europe and beyond EAV are working on a 'flatpack' solution, to allow their vehicles to be transported long distances more sustainably.