E-bike News: Biktrix's New Monster Mid-drive, Cannondale Goes Smart Bosch and Lots More!
This week's news on the forthcoming 'ultra-powerful' Biktrix XD mid-drive looks like it might spark off the old e-bike debates 'how much speed is too much speed' and 'when does an e-bike become a motorbike?'. EBR usually excludes such superfast machines and, indeed, has written an article warning against them here.
However, we included the Biktrix XD on the grounds it has some interesting new tech and also because all the details aren't yet clear; whilst it has a throttle and a claimed humungous 2000W plus peak power rating, the claimed assisted speed of 50kmh is only just above the current 'speed pedelec' limit that is a legal e-bike category in many US states. Much more speed than this and, pedals or no pedals, you are clearly looking at motorbike equivalent speeds beyond the remit of conventional e-bikes. But the XD does pose an interesting question, even with some reasonable speed cap as a limit, how much power should e-bikes be allowed in future (for example if we want e-bikes capable of towing truly heavy loads or conquering extreme terrain) and how should it be activated?
In this week's e-bike news:
Biktrix XD mid-drive with novel design and high power

Cannondale go with New Bosch Smart System for 2022 Tesoro Neo X 1

Aventon Sinch now has a Step-Through option

Z-Triton bike-boat going into production

Brands Hatch electric lap records

E-bike price rises

Clean Air Zones from the UK
BIKTRIX ANNOUNCE NEW ULTRA POWERFUL MOTOR – CLAIMED NOT TO MASH YOUR TRANSMISSION
Summer 2022 will see Canadian firm Biktrix launch one of the most powerful mid-drives out there, with a claimed 300Nm of torque. To put that into context, the 120Nm rated TQ mid drive from Germany is one of the most powerful on the European market – you can read more about TQ's unique and very high tech design here, the article including teaser info that something even more powerful may be in the works…
There are plenty of mega-powerful drives out there of course, but what makes
Bixtrix's new XD mid-drive different is itsunique design – it is effectively a dual motor/human drive, with the motor power transferred to what is traditionally the non-drive side of the bike. This means derailleur, chain and rear sprocket get a much easier life with less risk if being shredded by direct application of the motor power.
The first XD-powered model will be the Juggernaut XD with highlight specs including up to 1300Wh of battery capacity and 4.8" wide fat tires.
Projected retail price is $5999 USD and there is an early-bird launch price of $4999 which you can lock into with a $50 deposit by applying via the link above.
CANNONDALE'S NEW COMMUTER – TOP OF THE LINE, 'SMART' AND LONG RANGE
Cannondale has announced the release of an updated 2022 model of the Tesoro Neo X 1, an e-bike capable of trekking, touring and light off-road duties too.
It's notable as one of the few models to use the relatively new Bosch 'Smart' system (announced in August 2021) which means a new huge capacity 750Wh in-frame battery, a new app and a new Bluetooth remote and display. It uses the top of the line Bosch Performance Line CX mid-drive which is highly regarded and has been used on many e-bikes across many brands over the past few years. It also uses the premium Shimano LinkGlide drivetrain said to be optimized for smooth and long lasting e-bike use.
There are three different frame design options; high top tube, dropped top tube and step-through.
The Neo X 1 sits at the top of Cannondale's Tesoro range, retailing for £5,000 / €4,999 (no details as yet on US availability and prices).
AVENTON SINCH NOW STEP-THROUGH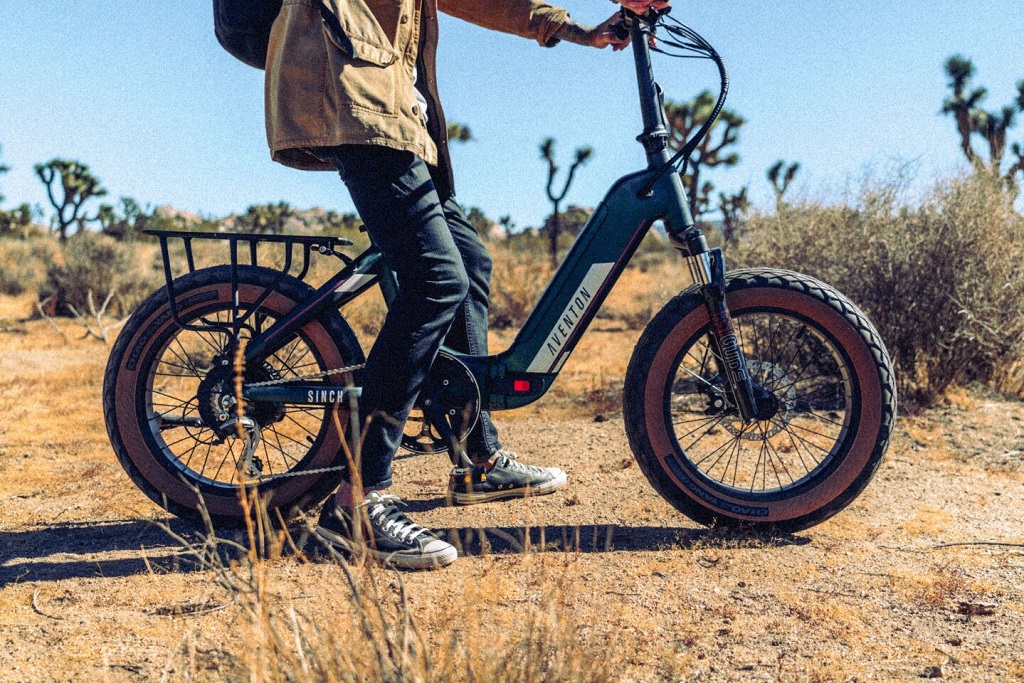 Aventon has just launched the Sinch Step-Through, a low step, accessible version of its popular Sinch model. The new Step-Through retails at $1799 (the Sinch retails at $1699).
For a detailed look at what's new on the Step-Through – compared to the existing Sinch – take a look at our full report here.
FAIRPHONE – LESSONS FOR E-BIKES?
EBR recently looked into the subject of battery compatibility and what your options are when your e-bike battery runs out of capacity or fails.
A timely article on the BBC website suggests there is no good reason – perhaps other than commercial disincentive – why e-bike battery manufacturers should not make their batteries modular and repairable (as we mention in the above article, Pedego have such a battery).
The BBC article looks at a specific brand of smartphone and tells us 'With a modular design, Fairphone devices allow components such as the display screen, battery, USB ports and cameras to easily be exchanged, repaired and customised by their owners.'
OK, e-bike battery voltages are higher and they have much more energy stored in them than phone batteries, so perhaps advocating self-repair is not as advisable as with phones. However, if such small and complex devices can be made to a modular and repairable design why shouldn't e-bike batteries be made so they can be easily and economically repaired or upgraded by a qualified dealer?
The first XD-powered model will be the Juggernaut XD with highlight specs including up to 1300Wh of battery capacity and 4.8" wide fat tires.
Projected retail price is $5999 USD and there is an early-bird launch price of $4999 which you can lock into with a $50 deposit by applying via the link above.
'CRAZIEST E-BIKE EVER' GOES INTO PRODUCTION
German language reports suggest the Z-Triton – an e-bike and houseboat in one – will now be commercially available at a price of around 14,500 euros.
Latvian founder Aigars Lauzis got the idea whilst cycling from London to Tokyo and encountering problems crossing rivers with his bike in remote areas…..could the Z-Triton be the answer?
UK'S BRANDS HATCH ELECTRIC LAP RECORDS INCLUDE THE GOCYCLE G4
If you want proof of the diversity of electric vehicles check out this fun video staged at one of the UK's most important motorsport venues, Brands Hatch. Whilst the participating e-bikes came 6th and 7th out of, erm, 7 that's simply because they are road legal e-bikes and were up against more deregulated machines…
IN OTHER NEWS
We've reported before on recent e-bike price hikes from the likes of Rad Power, but news from the UK's BikeBiz shows these are a continuing trend, at least for some brands.
'The director of the UK's longest established e-bike specialist has warned that price hikes are on the way for the sector, due to consistently high demand.
Eddie Kehoe, director of electricbikesales.co.uk, which has stores in Cambridge, Bristol, Oxford, and York, has said demand is so high for electric bikes that supply is not able to keep pace….But with the ongoing demand, combined with manufacturers struggling to get materials and components, brands are already feeling the pinch. German e-bike manufacturer Riese and Müller has already announced a 4.9% price increase for March 2022.'
Also in the UK, it looks like the politics of cleaning up the country's cities (and making them more e-bike friendly) with Clean Air Zones (CAZs) is getting dirty. According to the Guardian;
'In 2017 the government ordered Greater Manchester to clean up illegal levels of air pollution after clean air campaigners won a case at the supreme court in 2017. Along with a number of other urban areas, it was told to use a charging zone as the "default option" in order to encourage people to scrap polluting vehicles. Despite the order coming from the Conservative government, Tory MPs and even Boris Johnson have become loud opponents of the Greater Manchester CAZ.'
In the past year CAZs have launched in Birmingham, Bath and Portsmouth, with other schemes set for Bradford and Bristol by the end of the year, but it appears that there are still opponents of them out there…