E-bike News: Ares sub 20lb E-road Bike, Eskute Go Mid-drive, E-bike Speed Debate & More!
Lighter, faster, greener, smarter. All themes that crop up regularly with e-bike and e-scooter companies wanting to claim they have the lightest or fastest or greenest or smartest product out there.
Ares have broken the seductive 20lb weight barrier with an e-road bike, BMW want variable e-bikes with a near-on 40mph speed capability on their latest concept vehicle, Unagi claim their new e-scooter is the smartest out there and the UK's Royal Mail are heading for greener and greener ways of electric delivery. Read on for more detail…
Ares use HPS Watt Assist system to launch their first sub-20lb e-bike

Switzerland's FLYER head to the US

UK's Eskute launch Bafang powered mid-drive models

Royal Mail trialing micro electric vehicles from Norway and France

Fazua acquires innovative hub drive company

European e-bike speed debate hots up

Unagi's new 'smart' e-scooter with sensors

Chicago set for more bike lanes
ARES LAYS CLAIM TO DISPUTED WORLD'S LIGHTEST E-BIKE TAG
'Luxury Italian coachbuilder ARES has teamed up with HPS, creators of the world's lightest e-bike propulsion system to produce a stunning ultra-lightweight e-bike. The two companies have come together to co-create the most unique e-bike in the world' says ARES' recent press release.
It might sound like hype but the stats of their limited edition e-road bike are pretty mind-boggling, with a claimed weight of just 9kg / 19lbs and a similarly eye-catching price tag of €18,950 for each of the 24 bikes that will be produced.
The system uses a tiny Watt Assist motor made by HPS housed at the bottom of the bike's seat tube that drives onto the pedal axle and is modestly rated at 200W. The 'world's lightest' claim appears to be contradicted by HPS themselves who produced a 'Domestique' model early in 2021 with a claimed weight of only 8.5kg / 18.7lbs – though it's not clear if pedals are included on the ARES bike, whilst the HPS riders need to add their own pedals.
FLYER HEAD TO THE US
'Switzerland's FLYER will begin distributing its e-bikes in North America after developing and selling models in Europe for 25 years' says Bicycle Retailer and Industry News (BRAIN).
Relevant models include the Uproc6, an enduro bike with 17/160mm travel, the compact Upstreet1 city model, the folding Upstreet2, and the FLYER Tandem.
FLYER is looking for dealer partners in the U.S. and Canada to begin distribution next spring.
FAZUA ACQUIRES LIGHTWEIGHT HUB MOTOR MAKER INNOTORQ
Fazua has signed an agreement to take over fellow Munich-based business Innotorq, a maker of light weight hub motors and smart sensors reports Cycling Industry News.
As well as being designed with e-bikes in mind, Innotorq's motor has also been used within rehab systems for people looking to recover from injury. CIN says 'The firm's patented Innotorq sensor is designed to calculate in real time pedal force data, which in turn determines an assistance level delivered in tandem for a seamless experience.'
As for the hub motor, Innotorq's offering tips the scales at just 1.9kg, making it among the lightest hub drives on the market. This is part down to the size; it measures just slightly larger than a regular bicycle hub.
Fazua seems to have found considerable success with it's own removable mid-drive, the removable motor component of which also has a claimed weight of only 1.9kg.
EURO DEBATE ON SPEED RULES HEATS UP
Cycling Industry News often has interesting takes on the main issues in the e-bike industry and this recent article on the diverging perspectives from the automotive and e-bike industries was no different.
'The bike and automotive industries appear to have different ideas on what the future e-bike regulations may look like, with dialogues from this month's IAA Mobility and Eurobike shows illustrating a divergence in ambition' it reports.
There seemed to be consensus from the e-bike industry that 'toying with current legislation will pose an enormous threat to the bike industry's key growth market at the worst possible time.'
A possible increase in the legal speed limit was a real bone of contention with Bosch CEO Calus Fischer calling the Euro 15.5mph limit 'our treasure'. The article also points out that there are those that believe that speeds more aligned to traffic are safer than the 15.5mph assisted limiter on European laws presently held.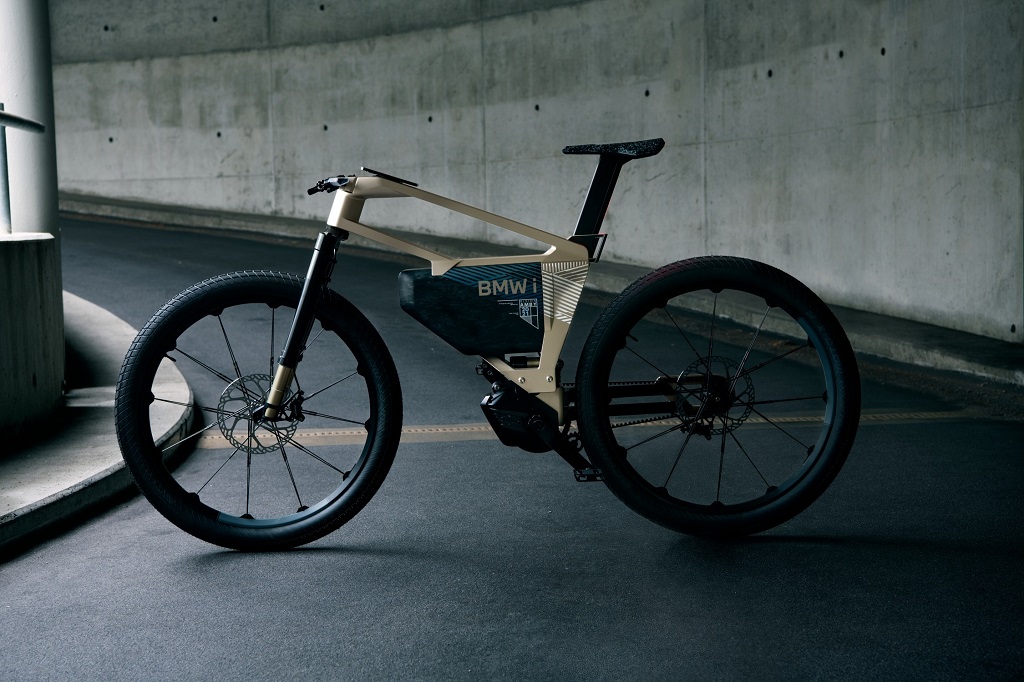 By way of contrast BMW recently argued for the introduction of legislation for 'mulit-speed' e-bikes that would need insuring and licencing. The drive system on their i Vision AMBY concept 'e-bike' enables speeds of up to 15.5 mph on cycle tracks, 28 mph on city-centre roads and 37 mph on multi-lane roads and outside urban areas.
UNAGI'S NEW E-SCOOTER CLAIMS ADVANCE WARNING OF STOP SIGNS AND POTHOLES
According to Mashable 'Unagi's new electric scooter can tell you when you're approaching a stop sign or a giant pothole.'
The Model Eleven e-scooter boasts 'object detection' thanks to built-in camera and sensors.
Apparently 'While the scooter isn't autonomous, a "longer-term vision" is to use all the information from the camera and sensor to prompt the scooter to take over and brake, or slow down, in dangerous situations. But it's not there yet.'
NEW BUDGET PRICED MID-DRIVE MODELS FROM ESKUTE
EBR'S UK team recently tested Eskute's city e-bike the Wayfarer and the leisure e-mtb the Voyager and, overall, we were impressed.
The company is now about to offer 'Pro' versions featuring Bafang's 250W rated M200 mid-drive. It is specifically made to bring all the performance benefits mid-drives have over hub motors at the most competitive price possible. With both models to be on sale in the UK for £1549 it looks like they have managed that – the best priced mid-drives currently start at around £2000.
As well as the more sophisticated looking motor system the Pro versions also feature hydraulic rather than cable operated disk brakes found on the cheaper hub motored models (both of which retails at £999). Advance spec details show the Wayfarer Pro has a frame-integrated 432Wh battery whilst the Voyager Pro has some 540Wh on-board.
Eskute say both new models should be available around 3rd October.
The Pro versions look to share some similar frame attributes with their hub motor cousins and you can check out the video review of the Voyager and Wayfarer below.
UK'S ROYAL MAIL TO TRIAL TWO LIGHT ELECTRIC VEHICLES
The UK's Royal Mail, the country's main delivery service for letters and smaller parcels, is embarking on a six-month trial of two types of what it calls micro-electric vehicles (MEVs) to be used for deliveries in five UK towns and cities.
The vehicles in question are the Paxster Cargo and the Ligier Pulse 4. Both vehicles claim a top speed of 28mph with claimed ranges of 88 miles and 74 miles respectively.
Royal Mail says it has the UK's largest "feet on the street" network of over 85,000 postmen and women leading to the lowest reported CO2e emissions per parcel amongst major UK delivery companies. These trials are clearly an attempt to assess if that emissions per parcel figure can be lowered still further.
You can take a closer look at the Paxster in their video detailing its abilities;
CHICAGO AIMS FOR 100 MILES OF BIKE LANE COSTING US$17 MILLION BY 2022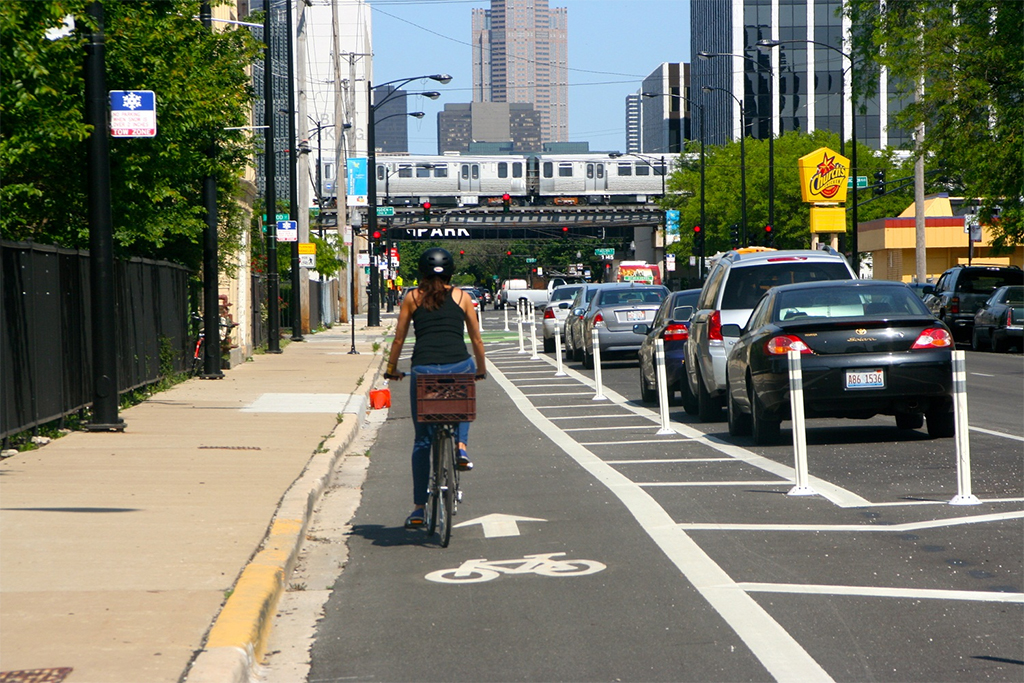 According to the
Chicago Sun Times
'Chicago Department of Transportation will spend $17 million over the next two years to add bike lanes across the city, with a focus on the South and West sides.'
Reader Interactions