E-Bike News: Amazon Deliveries, Bamboo eBike, Tandem eBike, Austin Fleet, & More!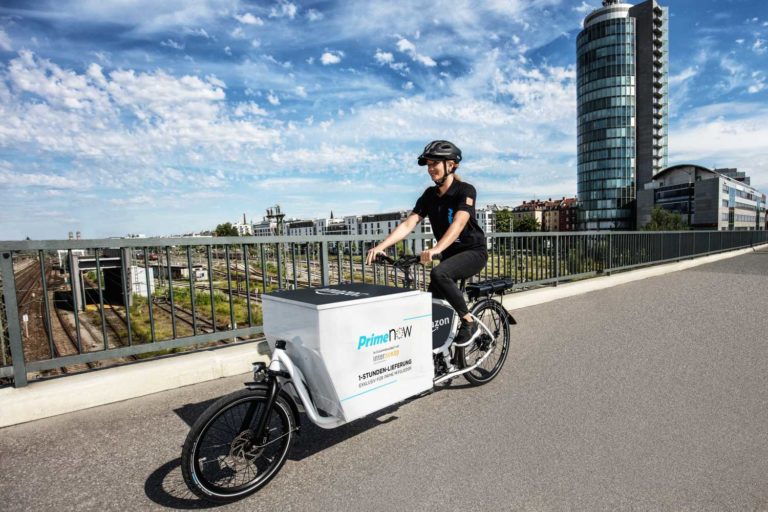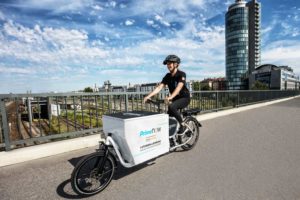 By Richard Peace
Amazon Prime starts superfast deliveries by e-bike
German Amazon customers can now take advantage of superfast e-bike delivery (within two or one hours of ordering) if they live in Berlin or Munich.
The e-bike aspect of the service was rolled out in Berlin in the spring and has just become available in Munich.
Two hour delivery is free, whilst the one hour service costs 6.99 euros and is based around the 'Prime Now' app, available, of course on most devices and platforms, which allows you to track real time delivery (though there is a minimum order of 20 euros for the Prime Now service).
As well as the standard book and DVD items Amazon is perhaps best known for, the Prime Now service also seems particularly suited for regional speciality items and also fresh and frozen food, all of which are offered (sweet mustard and locally made lager are examples of local specialities quoted on Prime Now).
Many items are delivered in reusable paper bags rather than bulky cardboard packaging, the bags being returnable to the e-bike rider.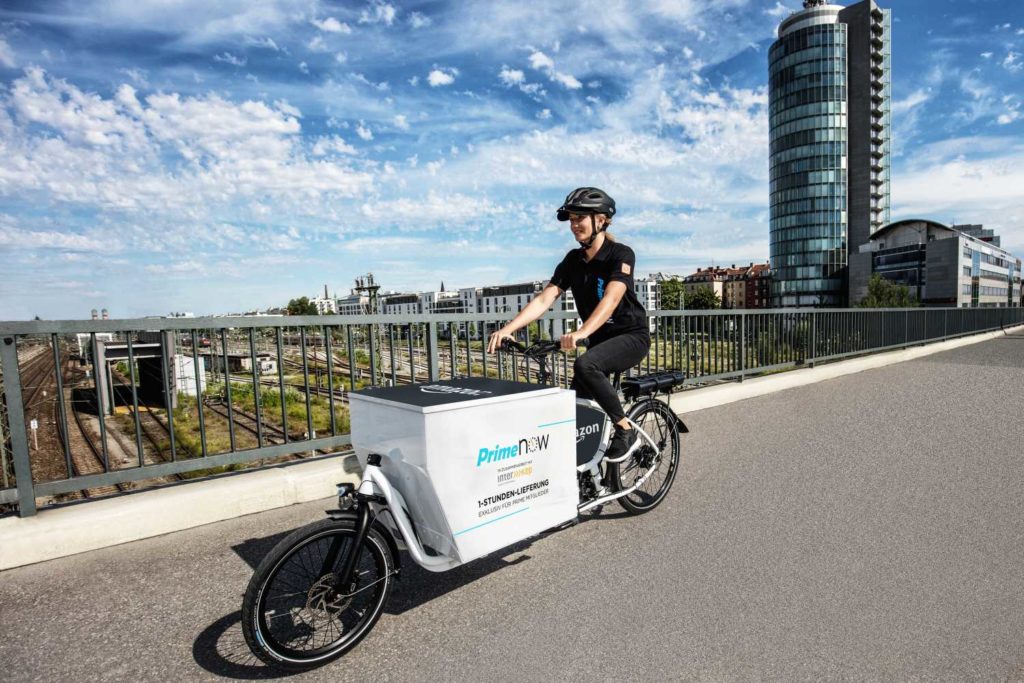 The Prime Now service has been available since 2015 in a number of countries but this appears to be the first use of e-cargo bikes within it.
Low Tech to High Tech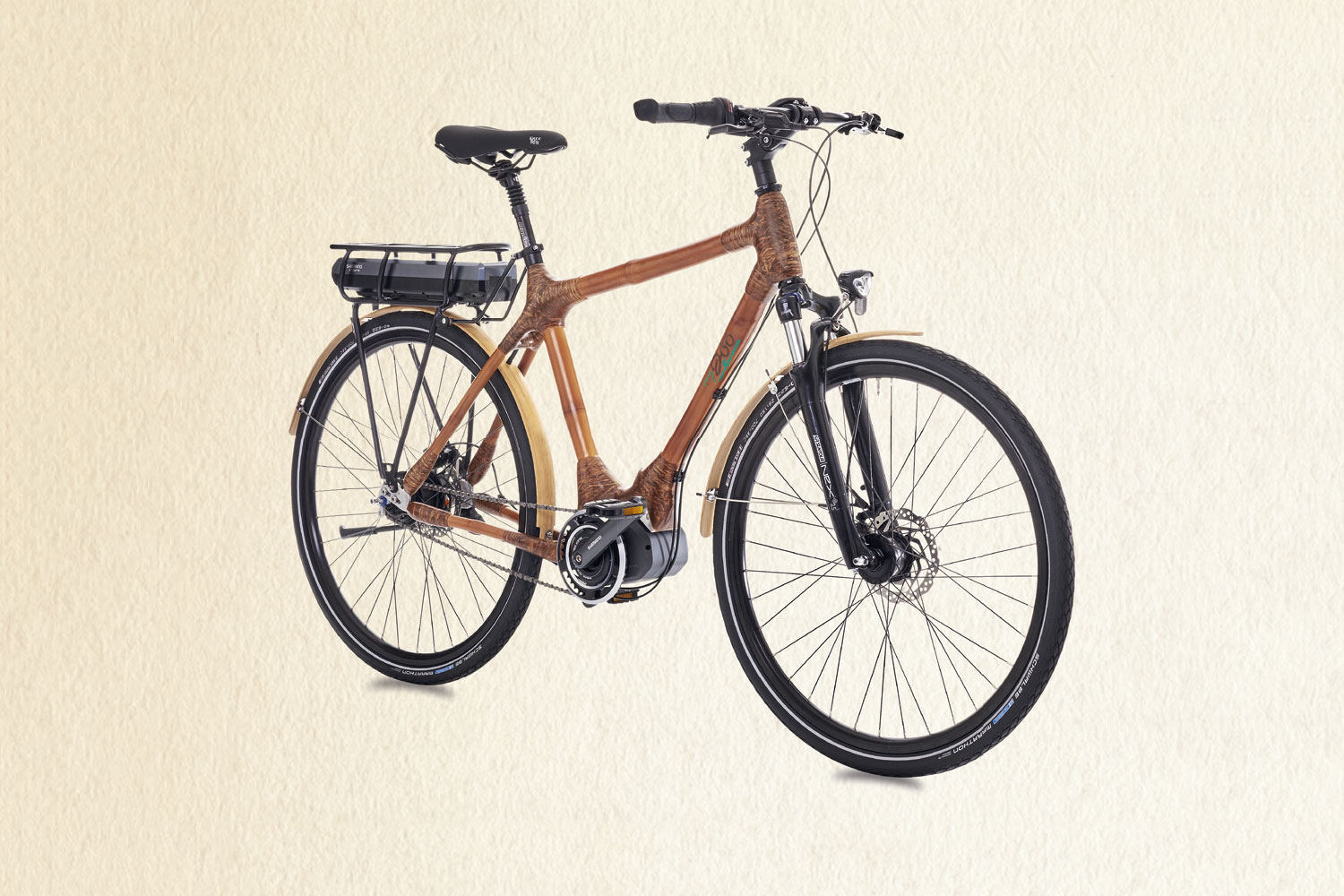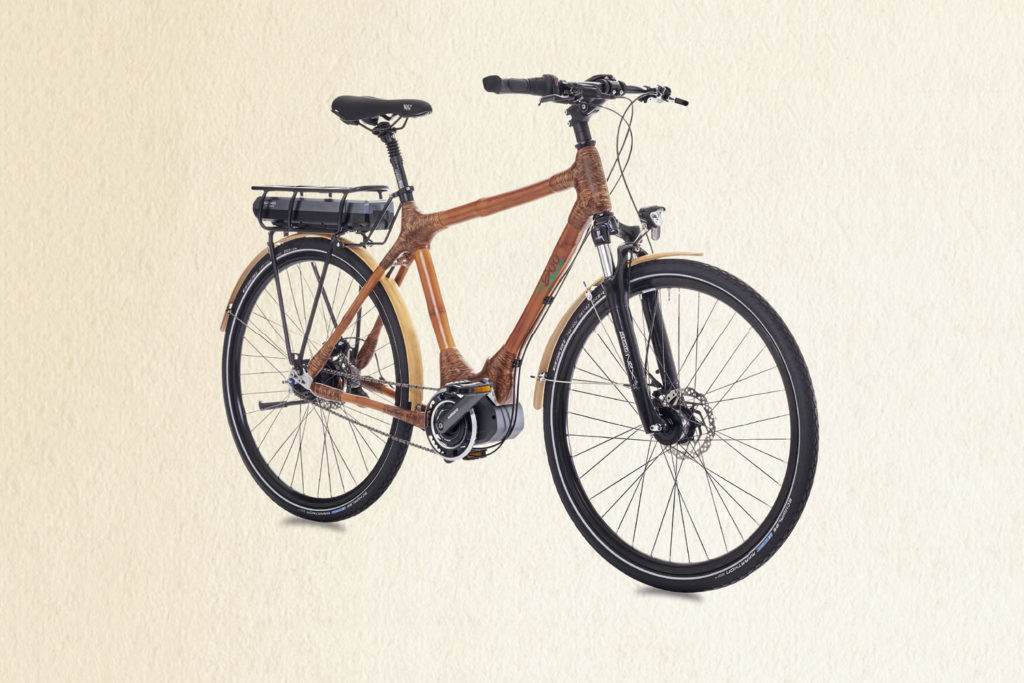 Boomers bamboo bike frames have been around for a while now, but the Ghana-based company have just announced My Volta, apparently the world's first bamboo mid-motor model, to be premiered at Eurobike 2016.
The bike enterprise is part of the Yonso project that ploughs profits back into microloans and educational projects in Ghana. My Volta combines a Shimano Steps E-6000 drive unit, lighting, Shimano Nexus 8 gearing and is claimed to weight less than 20kg. Availability in Germany will be from spring 2017 and the cost in Germany is 3799 euros from My Boo.
VDL is a large Dutch conglomerate, working largely behind the scenes in the auto industry and has been developing the Trefecta e-bike since 2012. The company's website says 'The Trefecta eBike is an electric bike that is designed to function under the most extreme conditions, such as rough off-road terrain. That makes this eBike a professional, sustainable means of transport for users such as police and defence personnel.' 
Although details are scarce, Bike Europe could offer the following: 'Trefecta bikes are electrically powered foldable bicycles. Besides the fact that they can reach top speeds of 90 to 100 kilometers per hour they are also special because they can carry up to 160 kilos of weight. Trefecta e-bikes have a fully integrated communication system and are designed for use under extremely tough conditions.'
Product Launches
Think you've seen every e-bike design there is?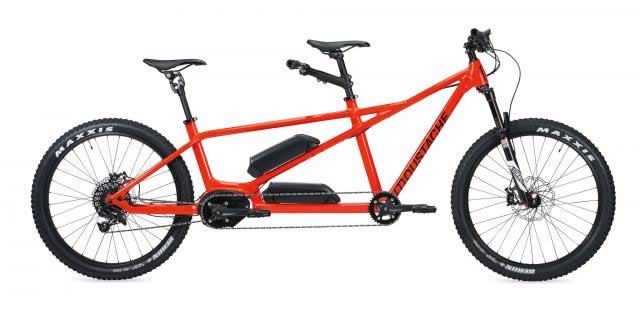 Meet the e-MTB tandem from French firm Moustache, the 27 x 2, new in their 2017 line up. It's a Bosch powered e-MTB tandem produced by French bike brand Moustache and one of the first production models using the Bosch dual battery system featured previously at EBR. The Samedi 27×2 will retail for $8000 USD say US dealer Propel Bikes, though quantities will be limited.
E-bikes move up a gear
Electronic shifting has been around on commuter e-bikes for a short while but is yet to appear on large numbers of e-MTBs. That's all set to change on 2017 models say Eurobike trade show organisers, as it looks set to become a more mainstream trend. Shimano's XTR line has been available as a high-end electronic gear shift for e-MTBs, but Shimano say they will be introducing e-shifting at lower price ranges. For example the XT line will cost around half as much as the exclusive XTR line.
SRAM is concnetrating more on mechanical shifting; expect to see more e-MTBs kitted out with their new single chainring, 12 gear, 500% gear range system!
Self-adjusting suspension also looks due to appear on more e-MTBs; EBR will keep you posted about the latest bikes featuring these systems as and when they appear.
E-bikes to make analogue bikes a thing of the past? 
German e-bike guru Hannes Neupert was recently interviewed by leading UK cycle journalist and publisher Carlton Reid, founder of Bikebiz. The article makes interesting reading.
As well as a potted history of Neupert's achievements – promoting and testing e-bikes for the last quarter of a century, it details the testing and promotional work done by Neupert in Tanna in eastern Germany, the HQ of his organisation ExtraEnergy.
Reid details the extraordinary exhibits amongst the 1,200 e-vehicles in the museum there, including a folding e-bike produced for BMW for the 2012 London Olympics, a tiny solar-powered e-car, made by Maserati in 1973 at the height of oil crisis, and Lotte, a solar-powered airship which flew across Australia in 1993, built by Neupert as part of a college project.
Apparently the conventional non-electric pedal bike was once described by Neupert as a "fossilised cult object" destined to be consigned to the dustbin of history, though he has since back-pedalled a little, conceding there may be a small place for 'analogue' bikes in the future!
Austin City Hall help out with Bike Texas
BikeTexas in Austin, Texas has just received a rebate for a 25 strong e-bike fleet.
Austin looks to be making strides towards an electric transport future. Riders will be able to charge their bikes at a solar kiosk on Electric Drive near the former Seaholm Power Plant that will be installed by the fall. There are also over 100 Austin Energy public charging stations with 110-volt capabilities throughout Austin using 100 percent renewable energy, according to a recent press release from City Hall.
The fleet rebate program organised by Austin Energy and Austin City Hall is said to be  the first of its kind in the nation. To get a fleet rebate from Austin Energy applicants have to purchase five to 25 qualifying E Bikes.
eBikes in the mainstream news
EVELO electric bikes was featured in this article from The New York Times titled: "The Hottest Start-Up Market? Baby Boomers"
Electric mountain bikes were featured in this article from The Wall Street Journal: "Think Off-Road Biking's Too Tough for You? These Mountain Bikes Will Change Your Mind"
Stay tuned for more e-bike news.
P.S. Don't forget to join the Electric Bike Report community for updates from the electric bike world, plus ebike riding and maintenance tips!
Reader Interactions